Words: Louise Miller   Photos: Monica Tindall
Given the vast range and great quality of food available in Kuala Lumpur, it has often surprised me that Vietnamese restaurants are so few and far between here. I am a huge fan of our neighbours' clean aromatic recipes and have often felt disappointed by the lack of choice when in need of a pho fix. To my great delight though, La Juiceria founder, Anabelle Co-Martinent (and her partners) also recognised this gap in the market and is now bridging it by launching a new eatery, Super Saigon Pho Cafe.
The cafe's vivid colour scheme perfectly represents the fresh clean flavours of its cuisine. Cobalt blue and white walls and fittings are softened with foliage, fun artwork and a cluster of decorative plates. A blue trellis partition separates the front bar and canteen style dining area from a cosy seating area at the rear. A huge faux tree in the centre is surrounded by smaller tables and lends an atrium feel to the setting. We settle in at one of these and ready ourselves for some serious feasting.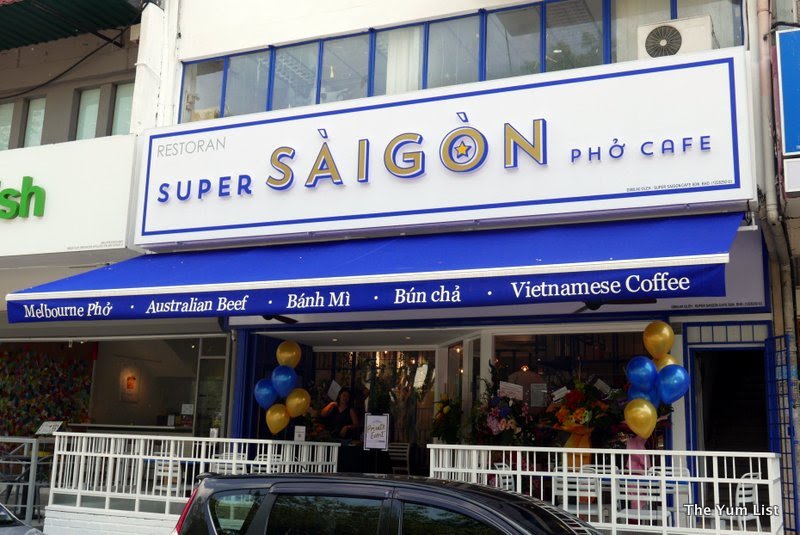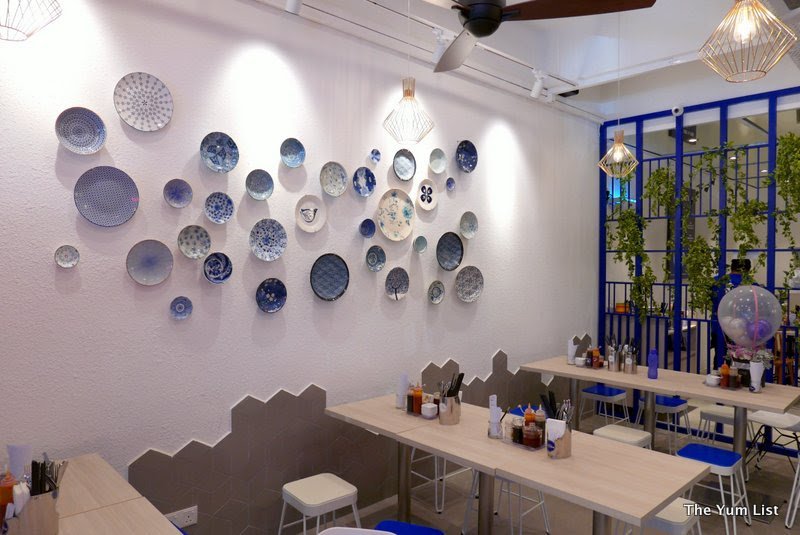 Pho at Super Saigon Pho Cafe
Super Saigon Pho Cafe serves the eponymous soup dish 'Melbourne style'. Anabelle explains that this simply means that it's served with a satay sauce and eaten with a spoon and chopsticks. No fewer than thirteen different Pho variations are on offer here. We choose one with medium rare sliced beef and beef balls (RM18.90) and, a first for me, a vegetarian pho (RM14.90). They are both delicious! Broccoli, carrot, onion, capsicum and Chinese broccoli give the meatless pho layers of veggie goodness and tofu slices provide protein and silky texture. All in all, this is a tasty and well-balanced choice for vegetarians who are no doubt often excluded from enjoying pho delights.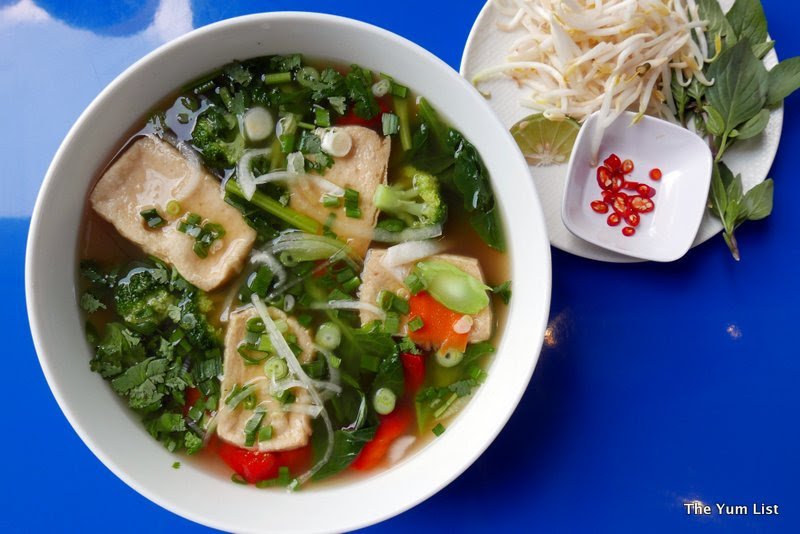 The intense flavour of the beef pho is undoubtedly largely attributable to the delicious broth. A soothing elixir resulting from eight hours of simmering beef bones and secret spices, it really seems to have medicinal properties. The bowl is generously laden with springy noodles, tasty meat and accompanied with bean sprouts, herbs and lime wedges to lend a citrusy lift. I could honestly eat this every day and not get bored!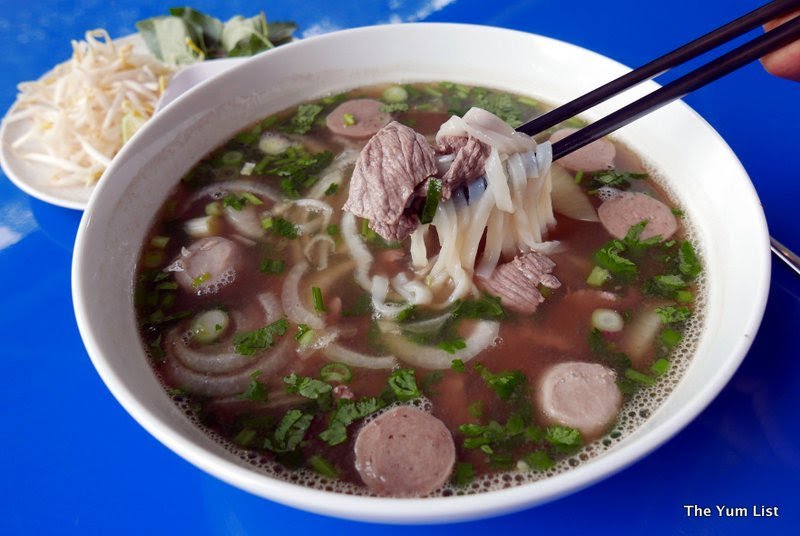 Entrees & Salads
Fresh Rice paper Rolls (RM12.90) are stuffed with chicken and prawns vermicelli noodles and salad leaves. As their name suggests, they are bundles of freshness, super tasty and just perfect when dipped in the accompanying peanut sauce and eaten with the crunchy juliennes of pickled carrot and radish.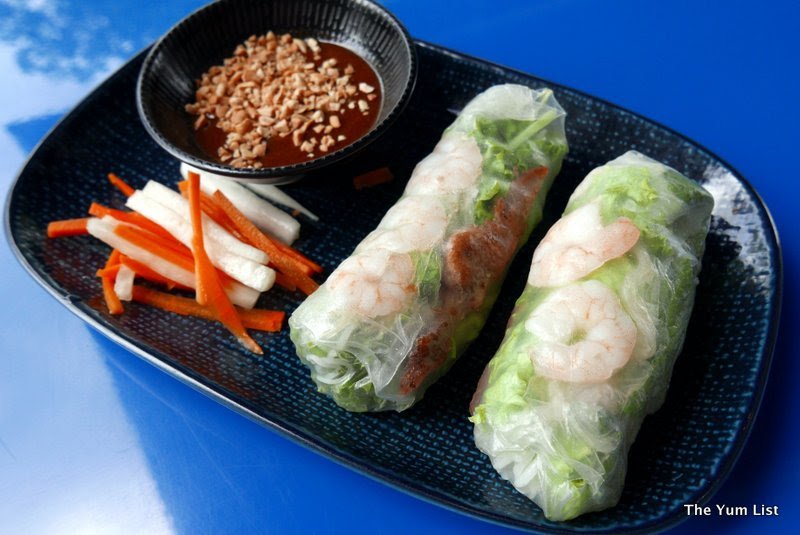 Saigon Salad (RM15.90) provides an injection of zing. Juicy prawns and succulent shredded chicken are interlaced with coriander leaves and fine ribbons of young mango, pickled carrot and radish. Bedded on salad leaves and topped with crushed peanuts and prawn crackers, it's packed full of addictive flavours and crunchy textures.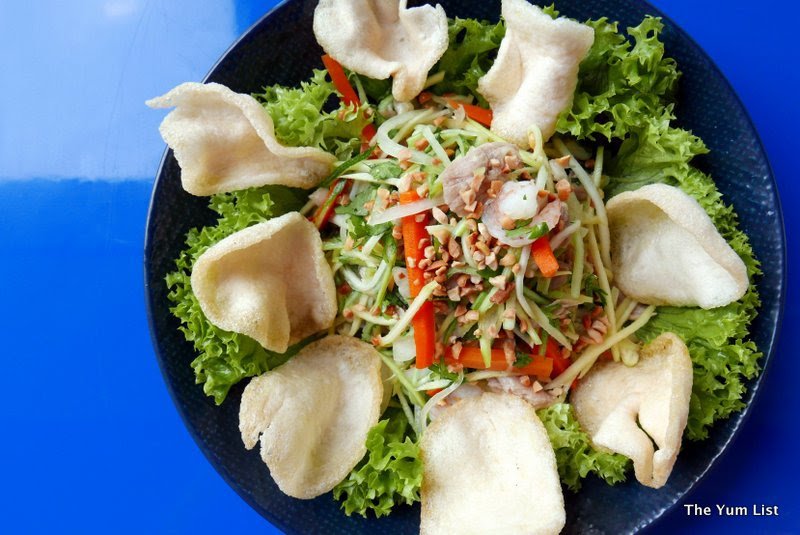 Bun Cha
Traditionally a grilled pork dish originating from Hanoi, Bun Cha is given a Super Saigon Pho Cafe transformation in which the pork is replaced by chicken, beef, tofu or lamb. We opt for Fragrant Grilled Lamb Chop & Crispy Spring Roll (RM18.90). Served on a bed of vermicelli with salad leaves, pickled vegetables, shredded cucumber and sprinkled with crushed peanuts, its numerous components make this a great choice for the indecisive diner.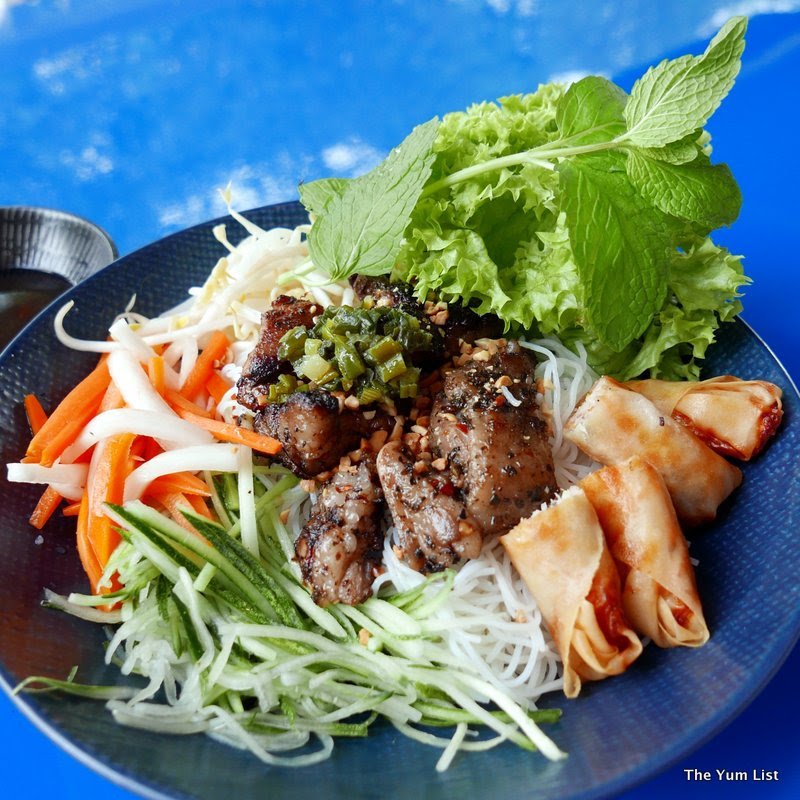 Broken Rice
Grilled Lemongrass Chicken (RM16.90) is the star of our Broken Rice plate. This multi-component dish offers the said fragrant chicken with slices of rich chicken meatloaf. A golden yolked fried kampung egg tops the mound of rice and pickled vegetables offer a contrasting zing to the dish.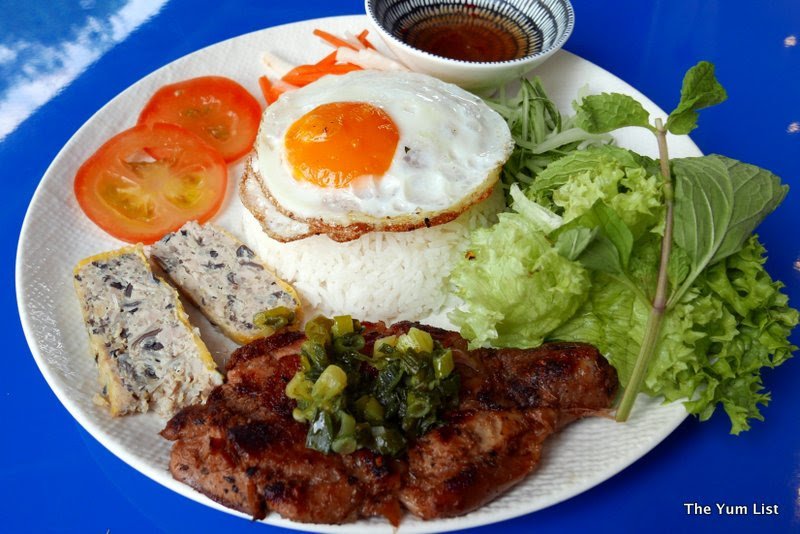 Banh Mi
I have to confess to never having tried Banh Mi before. To be honest, it's never really appealed. Why of all of the glorious Vietnamese food options would anyone choose what I'd considered to be a glorified sandwich? I push my scepticism aside however and try the Aromatic Grilled Lemongrass Chicken (RM12.90) to immediately discover how wrong I'd been. The crusty and flaky Banh Mi roll sandwiches chicken liver pate and shredded vegetables along with the succulent grilled chicken. Given a further flavour lift by spring onions, egg mayonnaise and super fiery fresh chillis, this is far more exciting than I ever thought a chicken sandwich could be.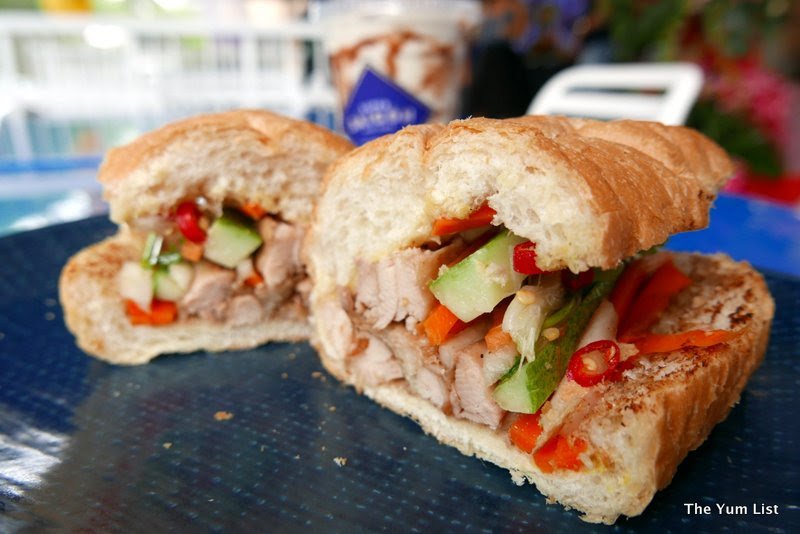 Stir Fry Noodles
Having had more than our fair share of meat, we end with a veggie option. The Kuey Teow Noodles with Tofu (RM16.90) are presented in a rich soupy mix of Chinese broccoli, capsicum, onion and carrot. As in all of the preceding dishes, the flavours are fresh and wholesome. Each mouthful tastes of veggie goodness and ends our meal with a guilt-free feel good factor.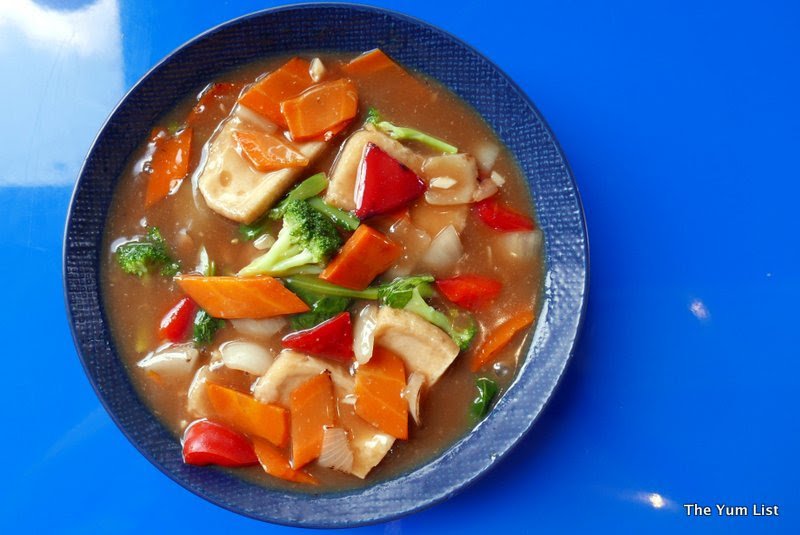 Drinks
No Vietnamese meal would be complete though without a Hot Vietnamese Coffee (RM7.90). For the uninitiated, even if you don't particularly like coffee, I urge you to try this! We were given a demonstration and a hands-on experience of making the coffee ourselves, The Vietnamese ground coffee is packed into the metal filter device and dampened to densen the powder and improve its filtering capacity. When the hot water is poured in, it slowly drips through coffee onto the layer of sweetened condensed milk in the glass below thereby creating a rich, almost chocolatey flavour. I love this and show some serious self-restraint by limiting myself to only one glass.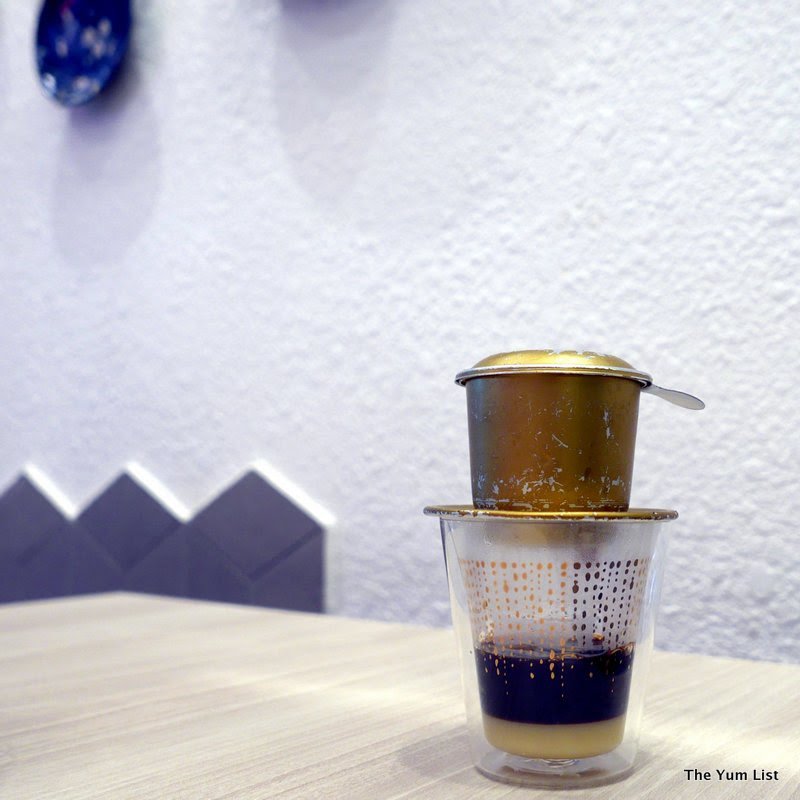 Reasons to visit: Great authentic Vietnamese flavours with loads of vegetarian choices and excellent value for money. Pho, Fresh Rice Paper Rolls and the Saigon Salad were our highlights.
Super Saigon Pho Cafe
28, Jalan Datuk Suliaman,
Tamun Tun Dr Ismail
6000 Kuala Lumpur
Malaysia
+6 03 7732 8874
www.supersaigon.com.my