Words: Craig J Selby . Photos: Monica Tindall
Recently Lonely Planet listed Damansara Heights as one of the ten emerging neighbourhoods to visit worldwide. I can see why. With restaurants in the area like Tiki Taka shaking up the neighbourhood's culinary scene, it's not hard to understand why this long-established publication provides such a recommendation.
We were fortunate enough to experience Tiki Taka mid-afternoon, just before the rush hour traffic. The sun was out, we had a great seat outside overlooking the leafy neighbourhood, and the temperature was right just for a cool drink outside, and some great tapas-style dishes.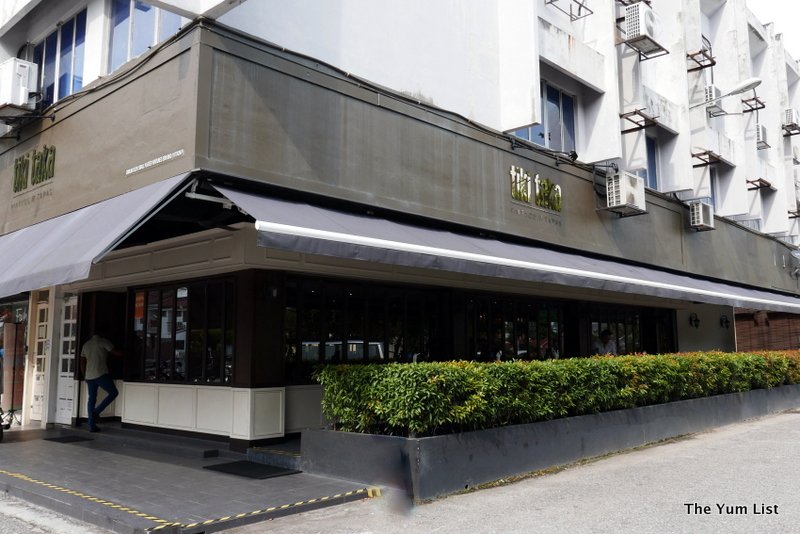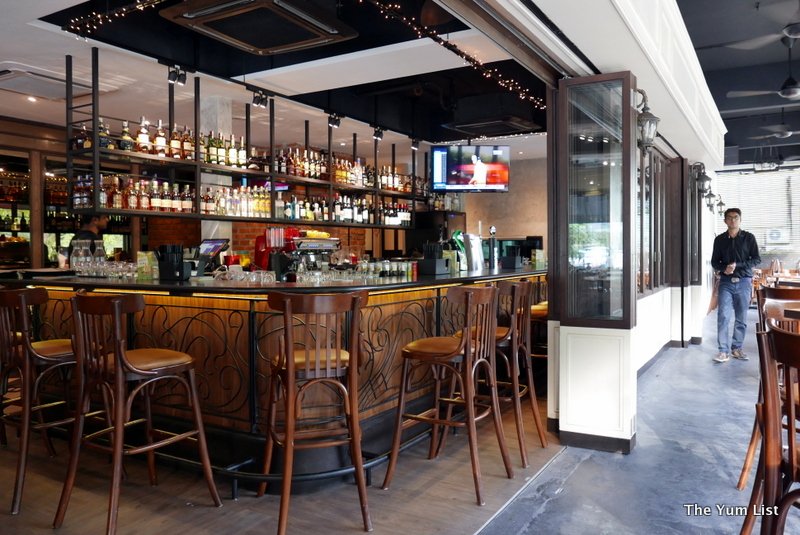 Cocktails at Tiki Taka
Tiki Taka are known for their inventive twist on cocktails. Always using local herbs and flavours, they elevate the classics with distinctive Malaysian flair. Copacabana (RM 29) for example is rum, Malibu and pineapple juice – add to that coconut cream, lime, and fresh mint. As our ice-breaker drink, it transported us from "being at work mode" to "being at play mode," with a serious emphasis on play.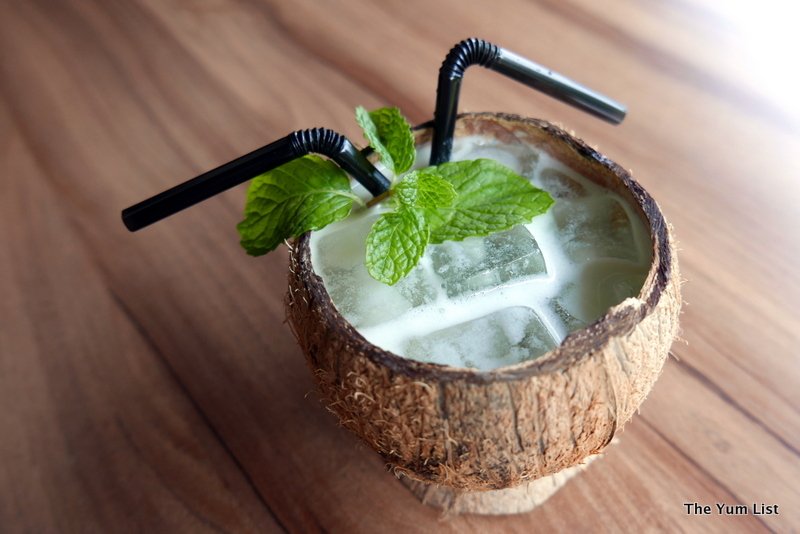 Gin is perhaps my favourite spirit, certainly ideal for the balmy Malaysian heat. The Ginza (RM 29) is a hand-shaken gin-based cocktail (pretty strong on the gin, too) with the herbaceous addition of rosemary and basil leaves. For the uninitiated, it could be considered overpowering, but for me, rosemary is great in both cuisine and cocktails, and adds a mild yet fresh lift to the drink. Well, it's mid-afternoon, so we deserve a treat.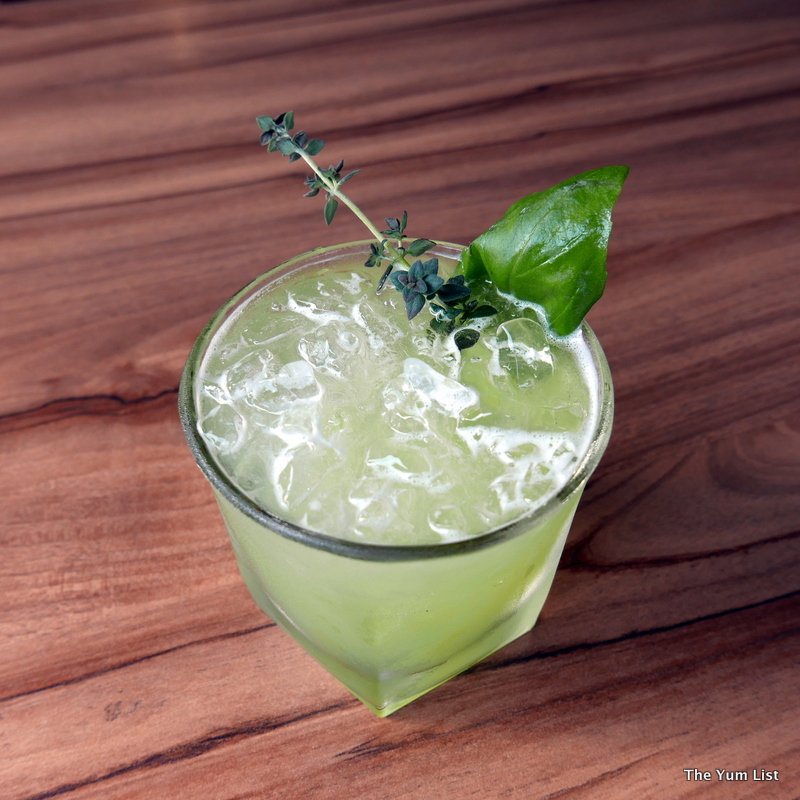 More feminine is the Champs-Elysees (RM 29), composed of Midori (that bright green stuff we might remember from teenage hangovers), Absolut Vodka, egg white and fresh lemon juice. To me, perhaps a little too sweet, but visually attractive and flavourful all the same.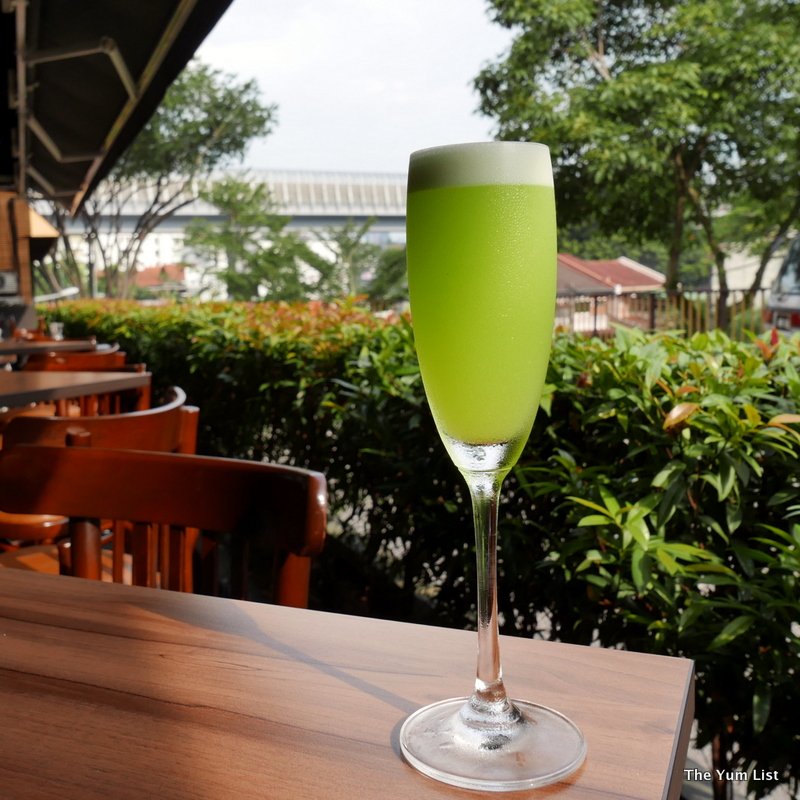 What impressed me most about Tiki Taka though was the cuisine. Tapas-styled plates, incorporating great Malaysian produce with innovative flavour combinations and presentation. For an afternoon, or dinner with friends, this is the place to try.
Creative Pintxos at Tiki Taka
We started out with the Mini Pork Burger (RM 11). Succulently grilled pork patty (pretty thick and juicy too) sandwiched between a beetroot brioche bun. The beet colours the soft bun in a pink shade. Pink being the theme, the strawberry pink peppercorn ketchup added both sweetness and warmth to the burger, and really should be bottled and sold to all who enjoy it. These bite-sized burgers not only look great but taste spectacular.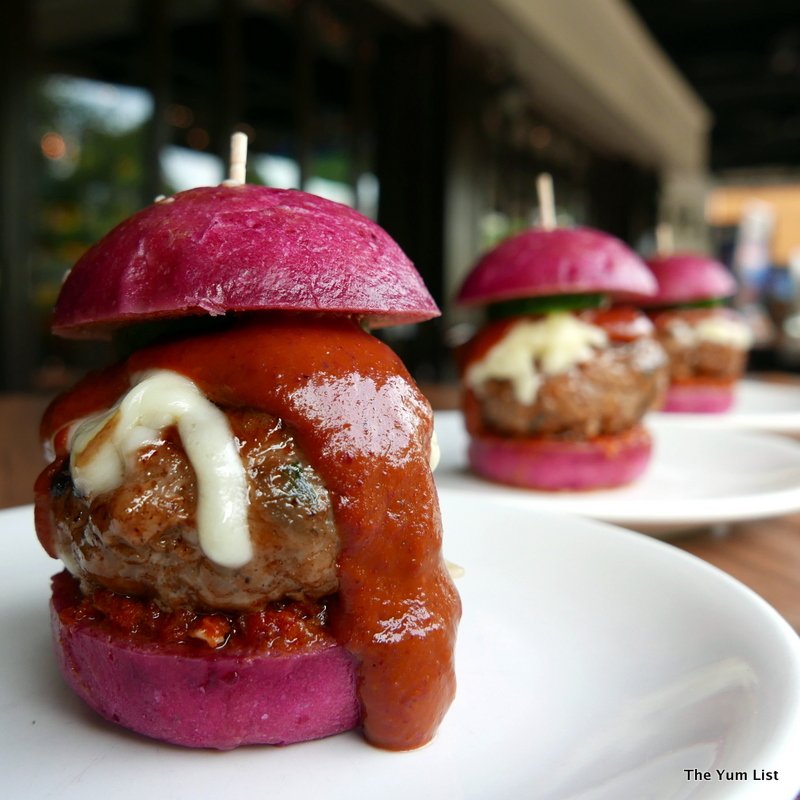 Salmon Crema (RM 9), home-cured in beetroot and orange (I'm sensing a theme here), with dill cream cheese provided is with a delightful flavour burst. I love salmon. The beetroot and orange added to the enjoyment. Not at all earthy, but zesty and fresh. The orange gel, the fresh chives – modern twists on traditional accompaniments.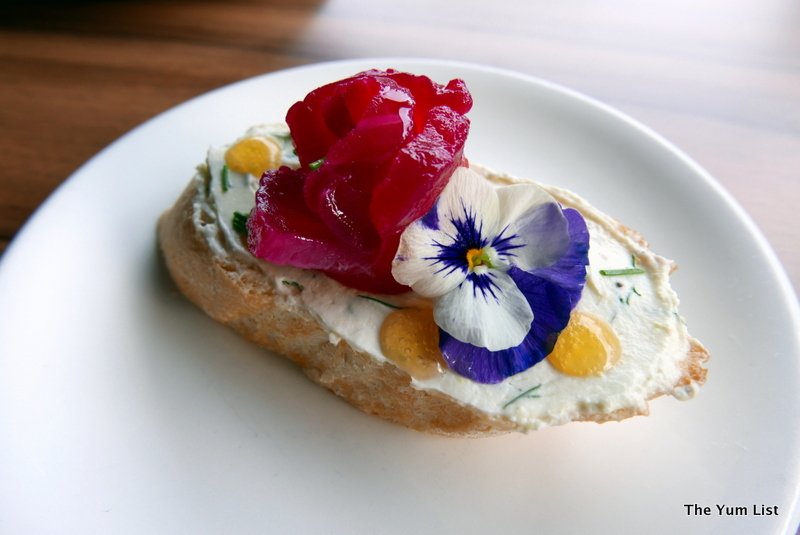 Tapas
A creamy Pumpkin Hummus (RM 19) served with herb crispbread was next. Hummus is a great versatile staple, and the addition of paprika helped to heighten the flavour. I like spice, and I particularly enjoyed how it gave a little lift to this creamy hummus. Olive oil, feta cubes and parsley provided the traditional ambience to this dish. The feta contributed saltiness to the spiciness – well appreciated at our table.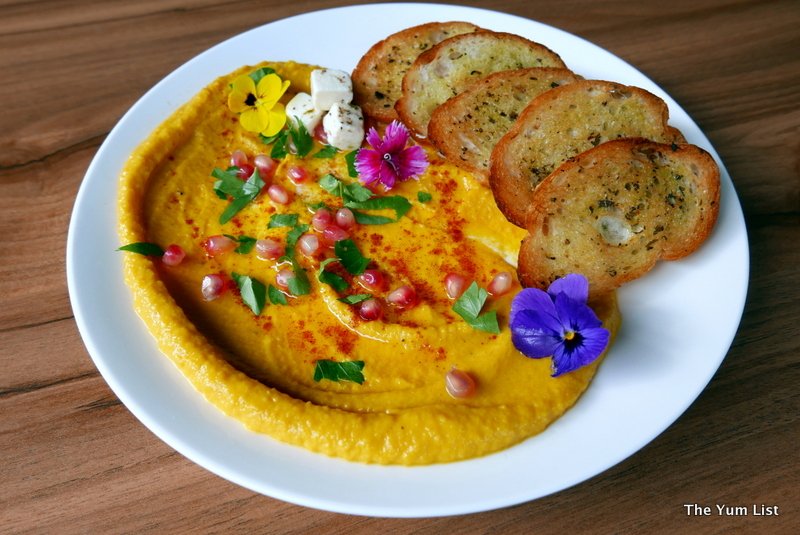 Then came heaven! Okay, I might be a bit biased, as I am a red meat guy. This Australian Angus beef Chimichurri Flank Steak (RM 31) ranks up there with some of the best. And, I've eaten a lot of steak. Recommended to be served medium-rare or medium only (as flank steak tends to be a little more challenging on the teeth otherwise), we opted for medium-rare (as close to red as possible). Thin slices of grilled beef, an incredible Chimichurri sauce, and chilli oil continued to give spicy flavour bursts with every mouthful. The sauce was the hero – hot enough to remind you that a little bit of spice is always a good thing, but not too overpowering to scare off the novices.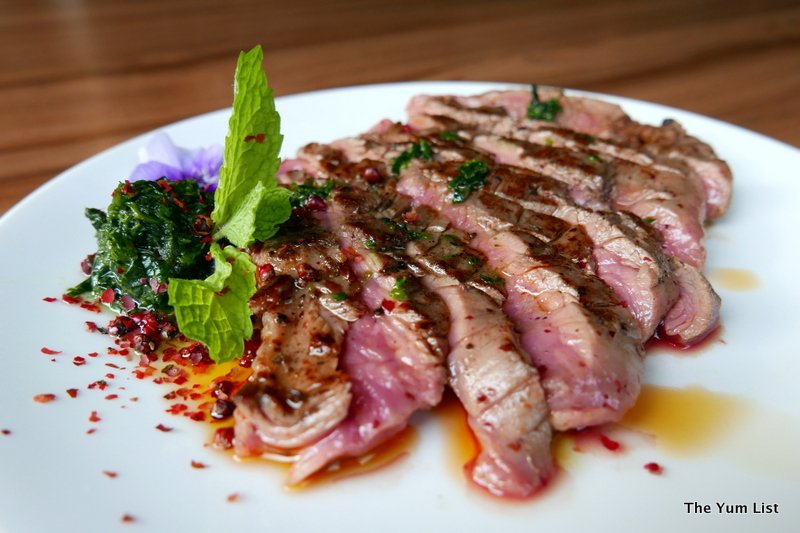 Mains at Tiki Taka
Not being a fish person has always been a challenge for me at The Yum List. However, today, I proudly overcame that hurdle. The Miso Cod (RM 45) was sublime. Beautifully cooked, succulent, tender cod. A nice thick fillet too. Caramelised in a miso dressing, the fish was both light and sweet, and definitely distinctive. Add to that a miso butterscotch sauce (yes, butterscotch – not a typo) for a different level of sweetness, and pickled rose apple, fruit salsa for some sharpness. Innovative, creative, playful! Bring me another plate. Oh, and if you're not convinced about the butterscotch – pass your plate my way, please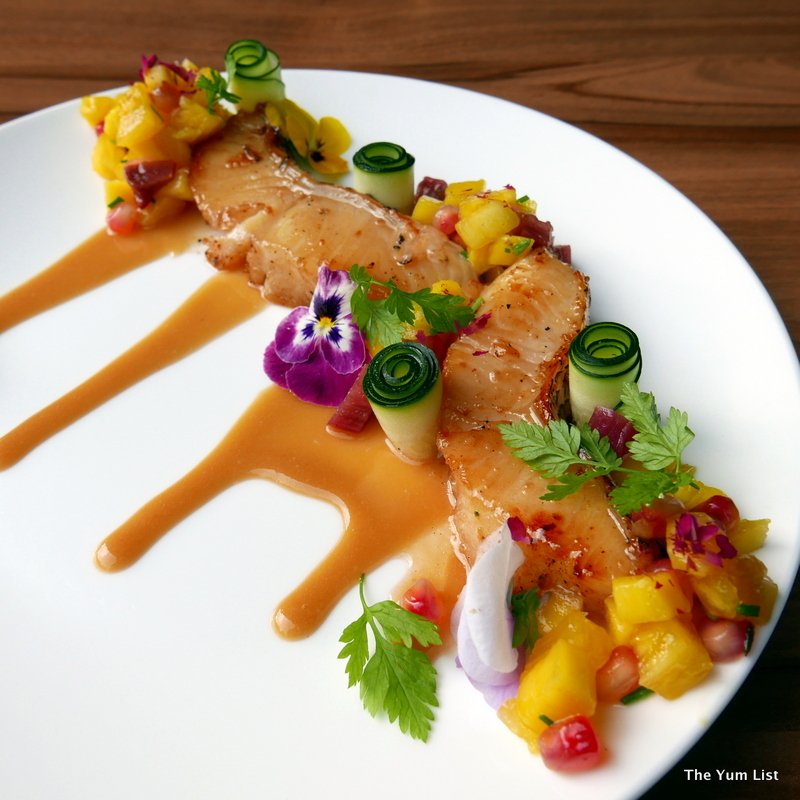 Dessert
So I found out that chef loves playfulness in her creations. She grew up, up north in Penang, and loves elements of her childhood memories to be infused into her kitchen delights. Dessert was simply called Childhood Treats (RM 19), and whilst one might think it hard for .a westerner to identify with a Penang childhood, this transcended location and has shared elements which we can all relate to.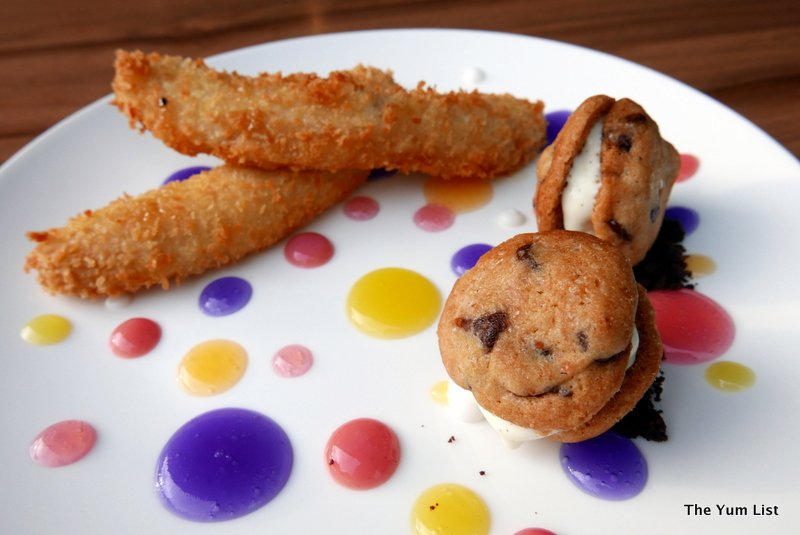 Yummy banana fritters, deep-fried in a Panko crust – who doesn't love fried banana? An ice cream sandwich – moist, luxurious chocolate chip cookie smothered with Madagascan vanilla ice cream, fresh fruit gels and chocolate soil. I love chocolate soil as it reminds me of so many things – chocolate-covered coco-pops, chocolate raisins, even Oreo cookie crumbs. All good things from childhood.
Reasons to visit: easy-going atmosphere; fun creative dishes; don't miss the Miso Cod, Chimichurri Flank Steak or the Mini Pork Burgers.




Tiki Taka
138 Jalan Kasah
Medan Damansara
50490 Kuala Lumpur
Malaysia
+6 016 328 7438
www.facebook.com/tikitakamy