Words: Jane Speechley          Images: Jane Speechley and supplied.
Joe's Bar in the lobby of East Hotel in Kingston has been a popular installation on the Canberra dining scene since it opened its doors in August 2016.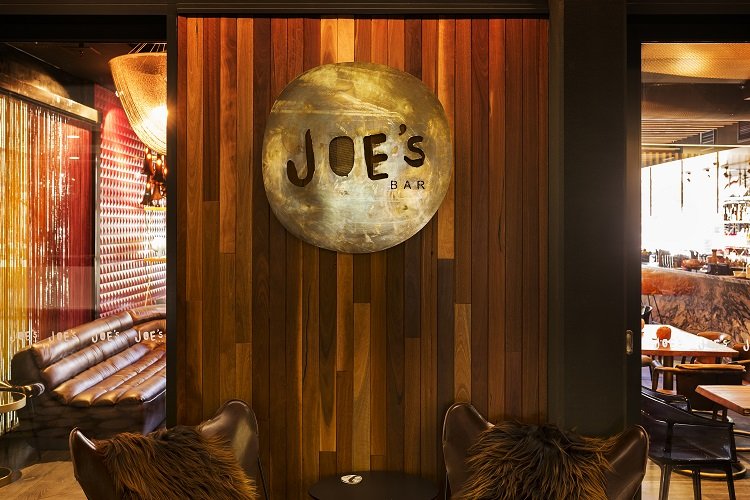 Though it's only been open a relatively short time, in Canberra as much as anywhere else, the key to survival in the local bar and dining scene seems to be, evolve or die.
With a seemingly endless stream of new establishments opening up every week, restaurant owners can't afford to allow their venues to become stale, and Joe's Bar is no exception.
Since The Yum List last visited in August 2016, the has team revamped the space next door, that formerly housed the Ox Eatery, and opened Agostini's in April 2017. They then took the opportunity to reconsider how Joe's Bar would fit into the East Hotel's culinary experience.
The solution was to re-cast the space for casual pre-dinner drinks and nibbles, rather than more formal sit-down dining. So, gone are the cafe tables with seats for two or four; in their place is a quirky mix of low-slung chairs, cabaret tables, leather lounges and quirky faux-fur cushions. There are still plenty of options to accommodate groups as well as singles and couples, though.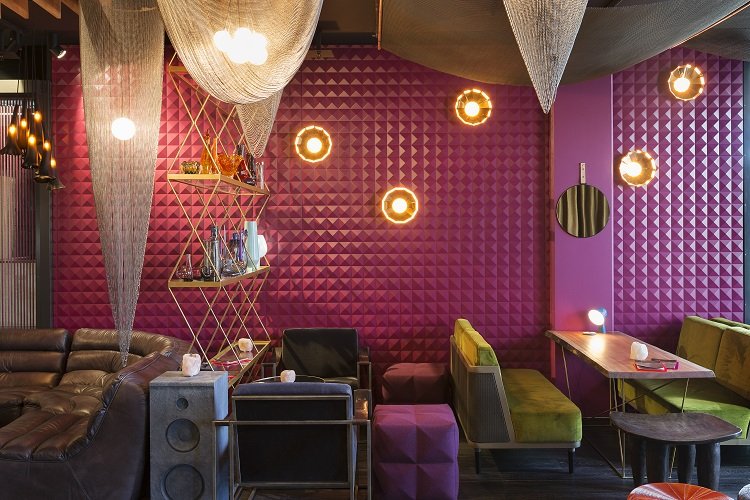 Design-wise, the warmth of the atmosphere is aided by the addition of intricate chandeliers, lots of decorative vintage glassware, and rose-coloured salt lamps on each table.
The Joe is Joe's Bar is the father of hotel owners Dan and Dion Bisa, and founder of the Bisa Group. Importantly, the venue's new look continues to reflect his character, combining touches of authentic central Italy with warm hospitality and no-fuss practicality.
To celebrate the new design, Joe's also launched an Art of Aperitivo menu that celebrates a renewed focus on the Italian cultural tradition of aperitivo.
In Italian, 'aperto' means 'to open', and while aperitivo literally translates to appetiser, the meaning is to 'open' the stomach in preparation for the rich or heavy meal to follow.
The concept of aperitivo, which is believed to have emerged in northern Italy in the late 18th century, is based around a social gathering, where light snacks and bitter or tart drinks are consumed to whet the appetite and prime the digestive system for the meal to come.
Search online for images of aperitivo and you'll find a flourish of red and orange colours, thanks to the Aperol and Campari that rightly feature on almost every menu. So naturally, these ingredients star in our drinks on arrival.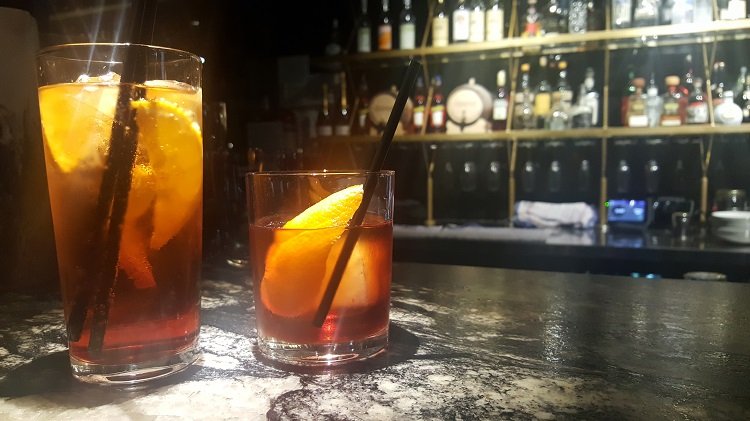 The Americano ($14) has been made since the 1860s with equal parts semi-sweet red vermouth (in this case, Cinzano Rosso), Campari and soda water (club soda). It may be served in an Old Fashioned or taller glass, on the rocks and traditionally garnished with a slice of fresh lemon or sometimes orange.
The Negroni ($16) is a heavier adaptation of the original Americano recipe that emerged in the early 20th century. It replaces the soda water with gin but is also served in an Old Fashioned glass over ice and with a slice of orange. The Joe's version is made with Bulldog Gin, Cinzano Rosso and Campari, for that classic, tart, citrusy taste.
Of course, if the cocktails don't take your fancy, there's an extensive menu of local, interstate and imported wines, beers, ciders and other spirits. Because the drinks are such an important part of the experience, the selection changes regularly, so the hot tip is to ask your waiter or the bartender for their current recommendations.
When I mentioned I was dining at Joe's, friends and colleagues were quick to insist I had to try the famous spiced popcorn, so I was delighted to see this was the first dish delivered to us by our waiter Ash, as part of the new menu.
The highly-anticipated treat (it's complimentary) arrives in a deliciously generous serve, with golden crumbs of the savoury seasoning visibly scattered among the toasted kernels.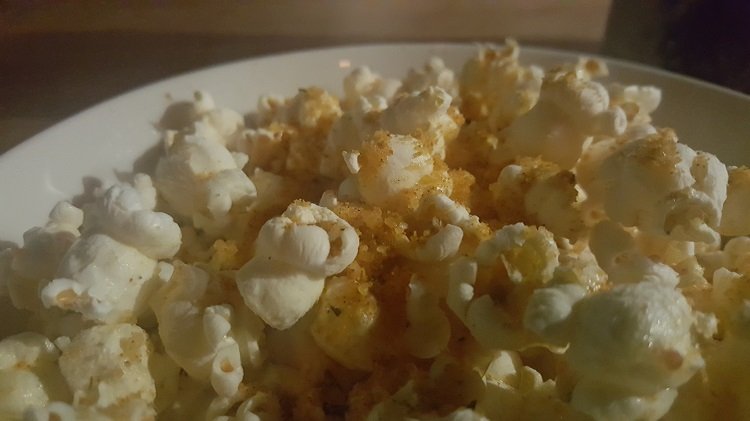 The flavouring is a simple but genius combination of warm clarified butter, salt and pepper, and various other seasonings. The addition of the butter means the flavouring is evenly distributed throughout the dish, so you won't be fighting for crumbs pooled at the bottom.
The recipe changes often, depending on the chef's preference and the ingredients available; tonight, our blend includes paprika and authentic Italian Parmesan cheese, freshly grated.
I'm equally pleased to see that Arancini ($12) also features on the menu, as it's a real favourite of mine. Here, four small globes arrive on a gorgeously rustic black slate platter, perched on top of a generous dollop of herbed aioli.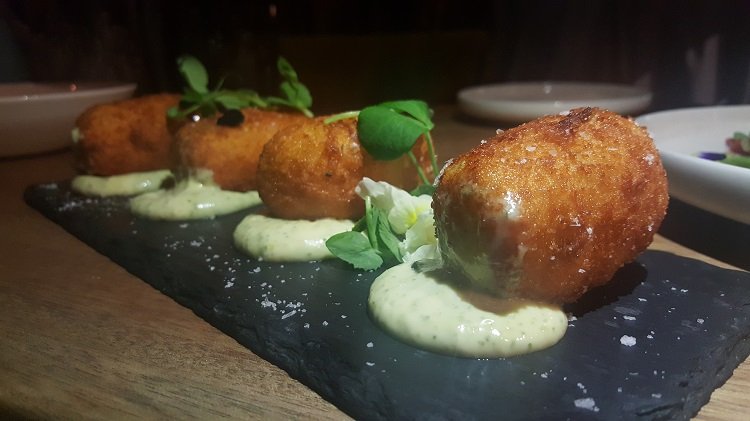 Each delicious mouthful is coated in crunchy breadcrumbs and deep-fried to a delectable golden brown. The risotto is held together with melted, stretchy mozzarella cheese and wrapped around a filling of sweet garden peas. Unsurprisingly, it's my pick of the evening's selection, a perfect starter and difficult to share.
The next dish we try, the Carpaccio di Marzo ($16), is a refreshing change of pace. It's a carpaccio of raw grain-fed beef fillet that's visually splendid, scattered with pink pepper, herbs and jalapenos. It's also decorated with colourful edible flowers, and all drizzled with a tangy, house-made guava vinaigrette.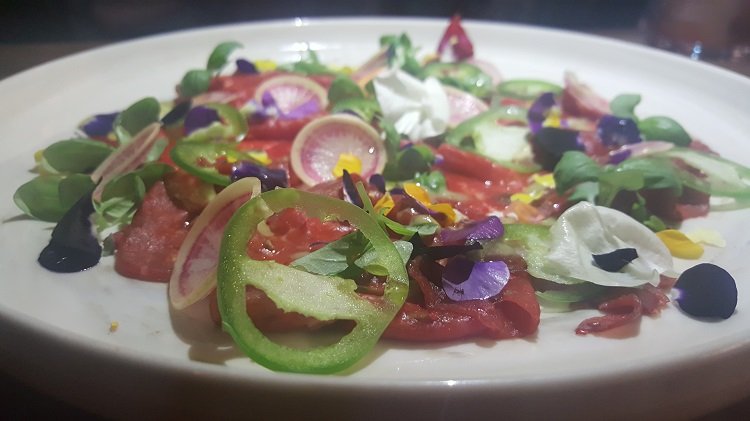 We're warned it might be a little spicy, but in fact, that's not the case at all, though we get an occasional hit of heat from the pepper. The real highlights of this dish are that it's quite remarkably beautiful to look at and incredibly fragrant, and it's lifted by the generous squeeze of fresh lime juice offered.
In between plates, we delight in an exquisite cocktail that's a local interpretation of a Limoncello Prosecco Float, or Sgroppino ($16). Served in a tall champagne tulip glass, it starts with a small scoop of lemon sorbet that's made in-house, to which is added a splash of limoncello. It's then topped up with prosecco Italian sparkling wine, and in this case, garnished with a single yellow-and-purple viola flower.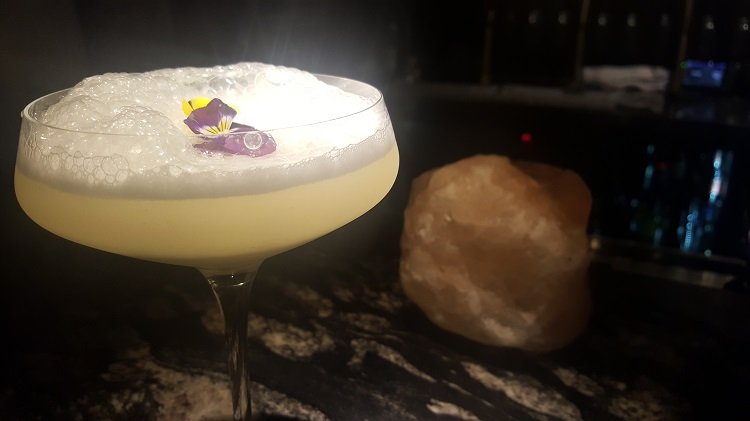 Described to me by Theo behind the bar as a 'little Italian bubbly bath', it's bright, fresh and frothy – a little taste of heaven.
This palate cleanser prepares us well for our next dish, which is seafood. Calamari is an option that's often dismissed because it appears so simple, and is very easy to get wrong – but when it's done well, it's excellent, and that's certainly the case in Joe's kitchen.
The Calamari Fritti ($13) consists of six or so large rings of squid that are cooked to absolute perfection in a light but crunchy batter. Later, I find out the pieces are soaked in milk for 24 before they're cooked, to tenderise them. They're nestled into a bed of spicy capsicum aioli that's delicious, and also delivers the spiciness promised by the previous dish.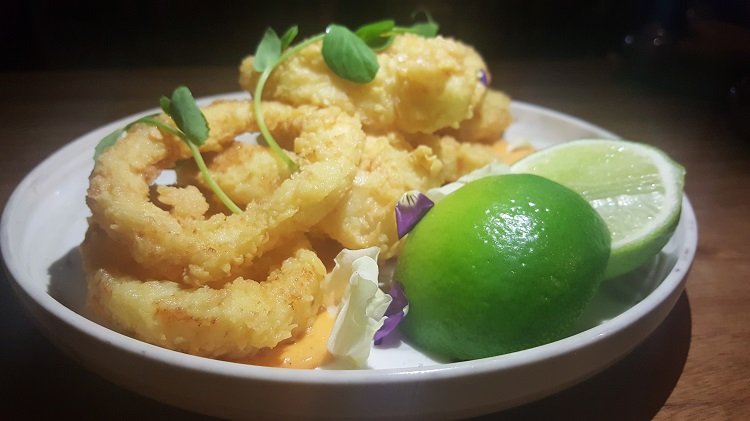 Served in a sparkling white bowl, with a scattering of herbs and edible flowers and set off by a big, bright green wedge of lime – suffice to say, it's a feast for the eyes as well, and we're really starting to see the 'art' in this aperitivo menu.
The Formaggio con il Peperoncino (AUD12) is a visual masterpiece as well, with a perfect swirl of goat's cheese that's been whipped with pure cream to lighten up the flavour of texture. It's sprinkled with flowers and tiny fine slivers of chilli, and accompanied by a bowl of warm focaccia.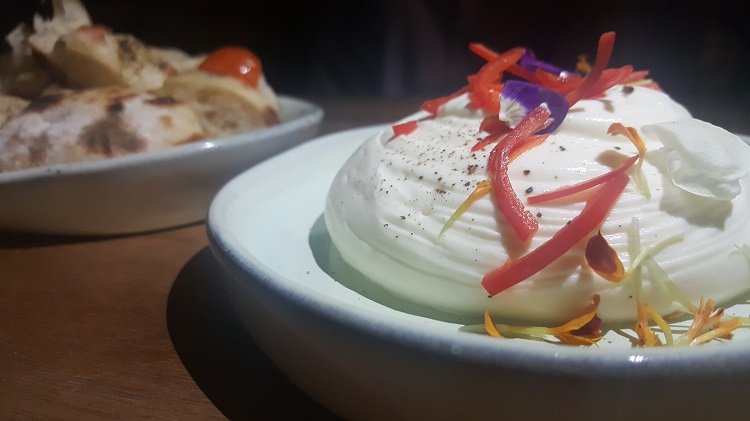 The secret to Joe's focaccia is that it's doused in rich garlic butter and topped with cherry tomatoes and herbs before being baked in their enormous wood-fired pizza oven. The result is a crunchy texture and punch of flavour that perfect for scooping up the cool white goat's cheese creation.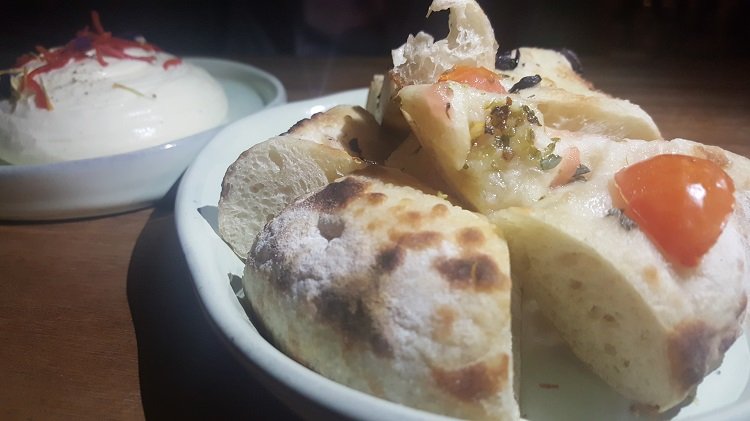 By this stage, we're more than full but can't resist a taste of the intriguingly-named Rita's Cantucci con Passito ($13). Cantucci is the Tuscan variety of Italy's almond biscotti, and 'Rita's' is made to according to Chef Francesco Balestrieri's mother's family recipe. We're served two big wedges that are generously dotted with almonds and pistachios.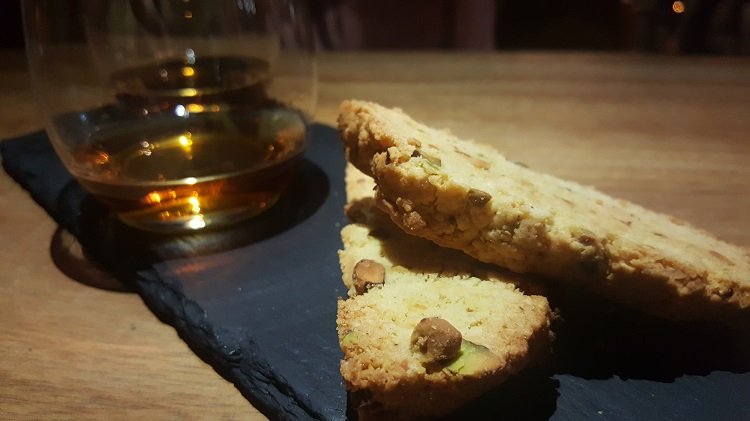 Passito is a variety of the famous Italian raisin wine, also sometimes known as straw wine. It's made by drying clusters of grapes in the sun (often on straw mats – hence the nickname), and using them to create very sweet, dense wine that's deep golden in colour and served very cold.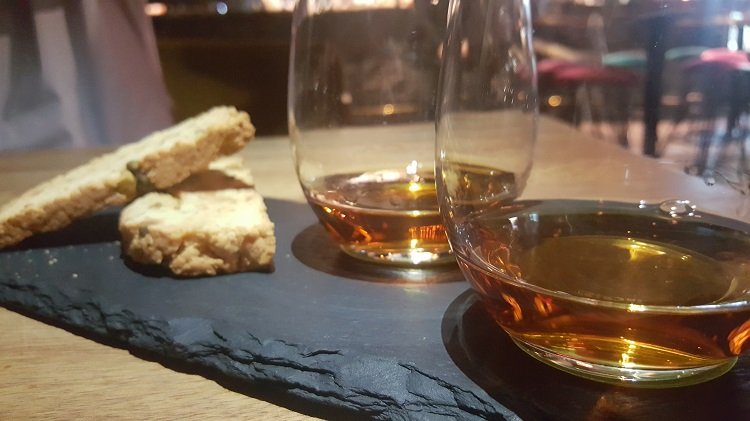 I make an impressive mess trying to show my companion how the cantucci should be – properly – dipped into the chilled liqueur. A smarter idea might be to alternate bites and sips, savouring the combination of flavours and textures.
My lack of coordination aside, we leave Joe's feeling like we've taken a stroll through an art gallery, but one where you leave feeling very satisfied.
Joe's Bar – where aperitivo is, literally, an art form.
Reasons to visit: simple and affordable light meals that are visually beautiful and totally Instaworthy; fun and friendly staff; and an authentic little Italian aperitivo experience right here in Canberra. The 'Italian bubble bath' is a must try for summer!
Joe's Bar at East Hotel
69 Canberra Avenue,
Kingston ACT 2604
+61 2 6295 6925
[email protected]
www.joesateast.com