Words: Robin Pascucci     Photos: Monica Tindall
It's more than just the view. Anyone who has tried Nobu, the famous upscale Japanese chain with its up-close-and-personal view of the Petronas Towers can tell you that yes, the view alone is worth the trip. But add to that the friendly service and the unique flavors of their Japanese-with-a-twist dishes and you're getting warmer. Now add one more bonus: Nobu's Premium High Tea set. Just when you thought it couldn't get any better…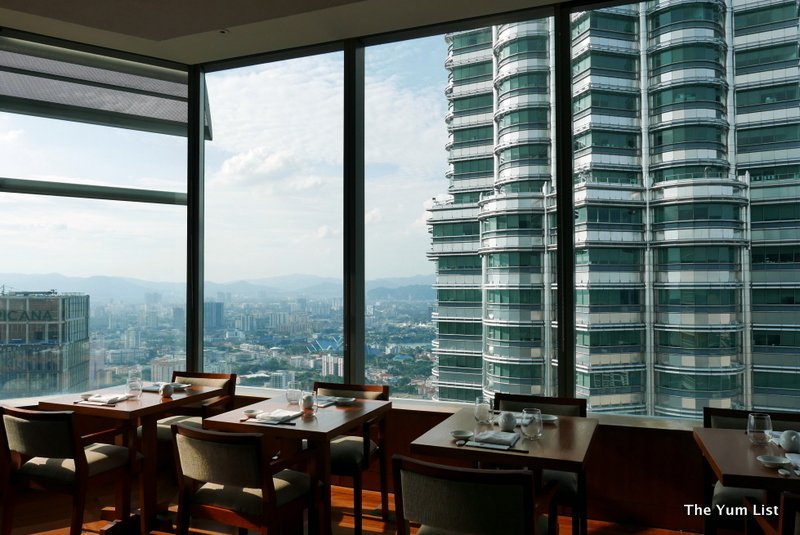 Nobu's Premium High Tea
This delectable spread is offered every Saturday and Sunday from 1:00 pm to 4:00 pm. Where there was once just the Signature Nobu High Tea (RM 93), there is now another option – its classier cousin, the Premium High Tea (RM 138). Both come with the standard pot of green tea, and customers can supplement either of the sets with a selection of dishes from the famous a la carte menu. Going with the Premium Set we decided to lush it up even more with a glass of crisp, dry Noche y Dia Spanish Cava (RM 50 per glass). We think bubbly is always a good idea.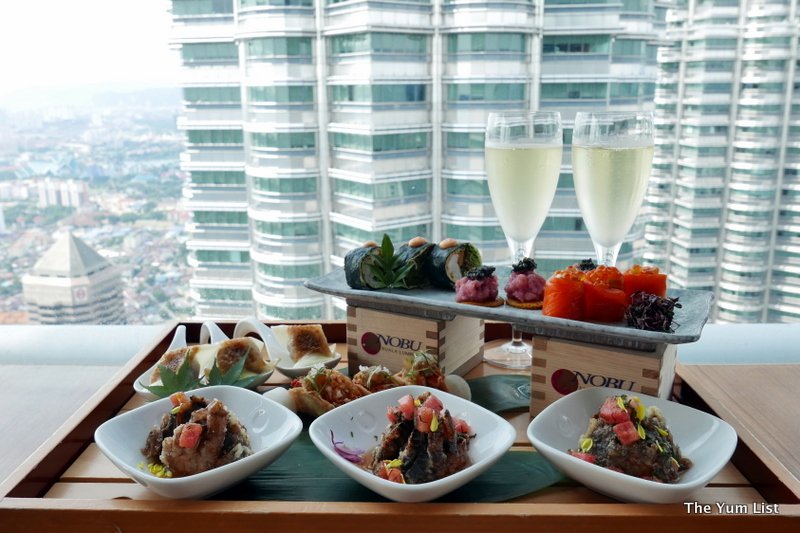 Cold Savories
The savories were brought out all at once, a virtual culinary tableau with the colorful cold dishes on the upper tier of the serving platter and the hot dishes on the lower tier. Starting with the cold items, we each began with a delicate Shrimp Roll. The quality of the ingredients stood out, from the freshness of the shrimp to the toasted nori, to the crisp radish in the middle that gave the roll its crunch. Toro Tartar alone would have been delicious, but pumpkin chips and caviar really rounded it off both in flavor and texture. The Salmon Roll with cream cheese, cucumber and salmon roe also struck the right balance between the cool freshness of the fish and the crunch of the cucumber. We savored all three cold dishes with equal enthusiasm.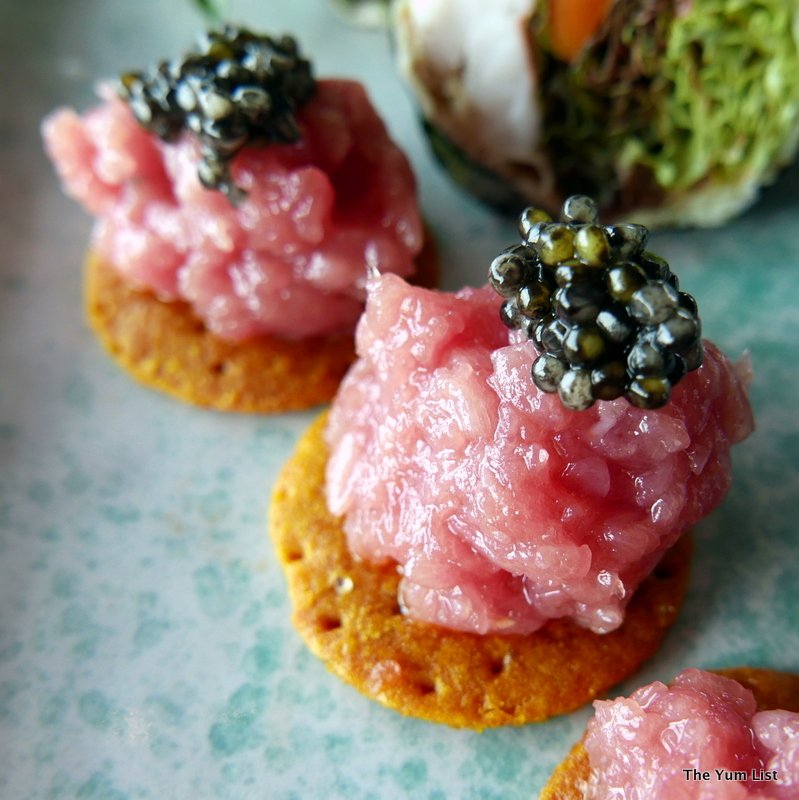 Hot Savories
The hot dishes were even more artful. The Wagyu Gyoza, buttery beef gyoza with mayonnaise, had the meat-lovers in our group singing their praises. The Soft-Shell Crab Tempura was set to be the winner for me, brilliantly combined with tiny cubes of watermelon marinated in Hamazu Ponzu (soy, rice vinegar, ponzu, and fresh coriander). This crisp, nutty, salty-sweet dish had my heart until the lobster tacos stole it. Fresh lobster with tomato salsa and fresh coriander in a crispy, flaky home-made miniature shell – I could have eaten a plateful of these!
Sweets
The delicate sweets were just as lovely as their savory partners. Creamy Miso Mousse with Chocolate Cake – balls of jelly-coated cake filled with rich mousse were delightful. Then there was the Yuzu Cream Foile, a flaky pastry filled with tart, sweet yuzu cream – mmmm. Green Tea Cake with red bean paste topped off with a nutty green tea tuile with sesame was another hit. Finally, the beautiful Almond Financier came in a mini teacup covered by a chocolate shell. Hot sakura sauce is steadily poured over the top breaking through the chocolate wrapper and soaking into light, fluffy almond cake beneath. It's a winner in my books for both creativity and taste.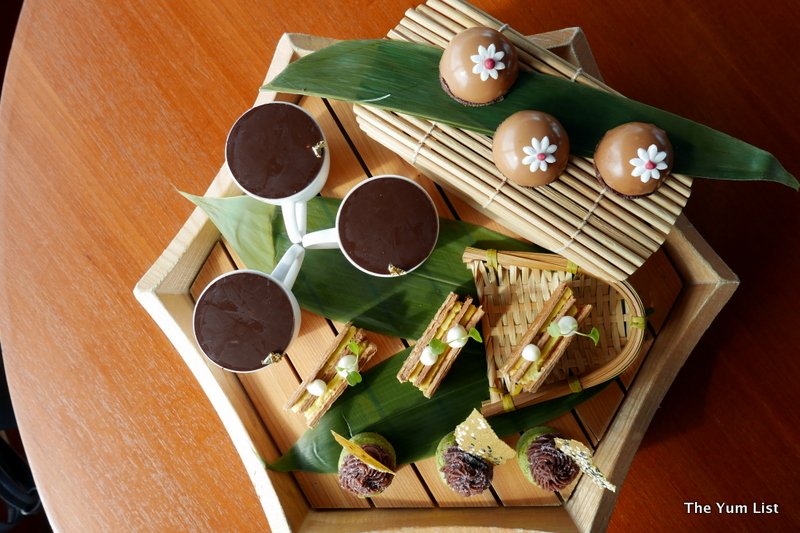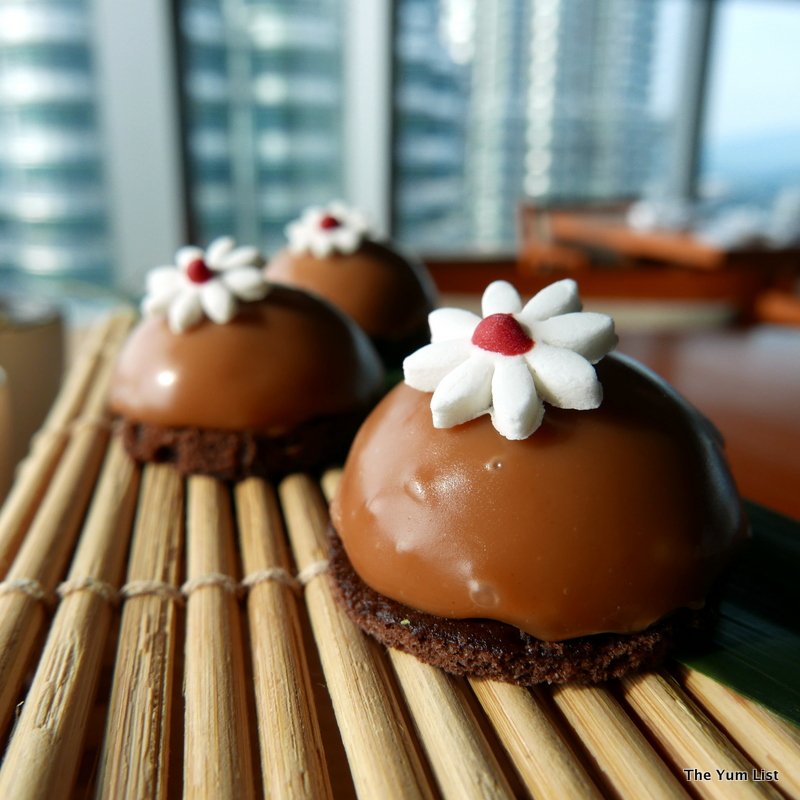 Unique Drinks
Nothing is every ordinary at Nobu Kuala Lumpur and that includes the drinks menu. How do these sound for some afternoon inspiration: Strawberry Matcha (RM 26), Coffee Jelly with Cream (RM 20) and Shichimi Passion (RM 28)? All three were jazzier than anything I had had for an afternoon tea. Who would have thought to put the sweet, fruity flavors of strawberries with the nutty, slightly bitter flavors of matcha? Or even wilder, to make powerful espresso into jelly (Jello, for Americans) and then pour a layer of cream on top? One spoonful of this and I was ready to run laps around the table (I am admittedly oversensitive to caffeine, but still, this is not a pre-bedtime drink). And who would think that Shichimi, a Japanese spice, would pair so well with passionfruit in the refreshingly sweet and tart mocktail?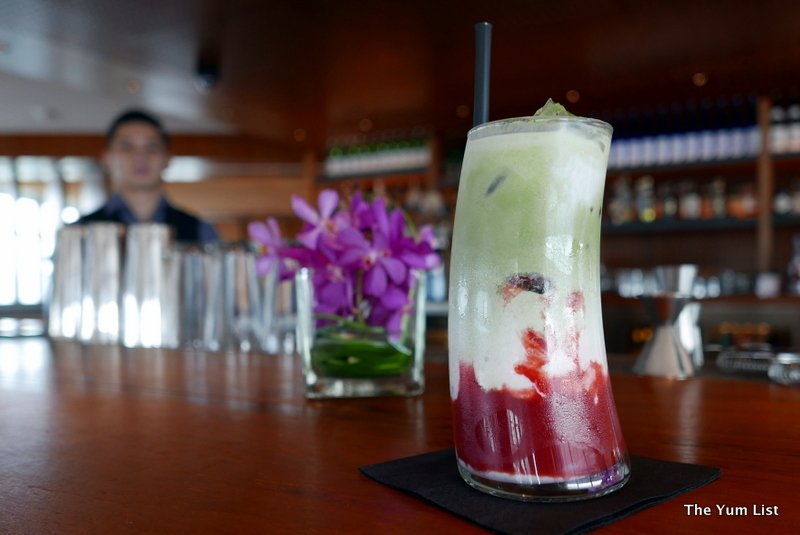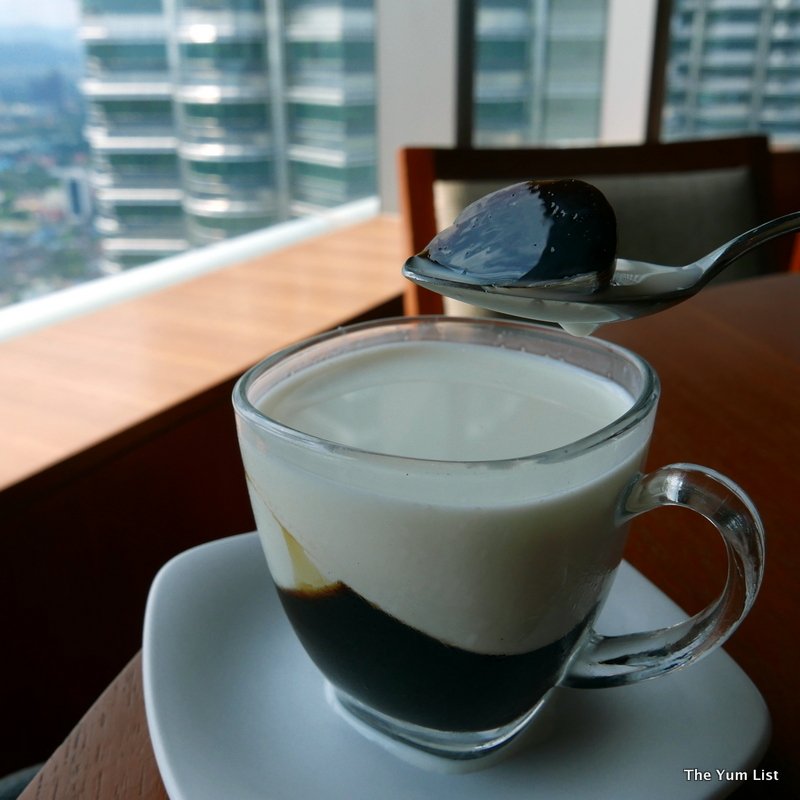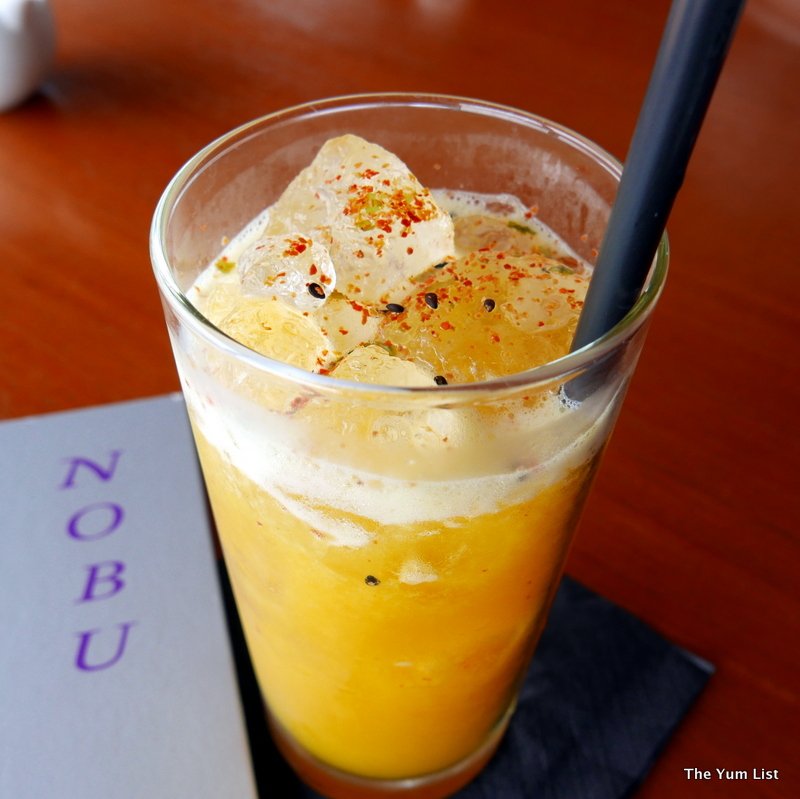 A La Carte
We'd be perfectly happy with the high tea and creative beverages, but for those wanting to really fill their tummies, you can supplement the afternoon with a number of a la carte options.
Crispy Rice with Spicy Tuna (RM 35) was a hit with Monica as she enjoyed the crisp, chewy texture of the miniature rice cakes contrasted with the soft, mildly spicy, raw fish.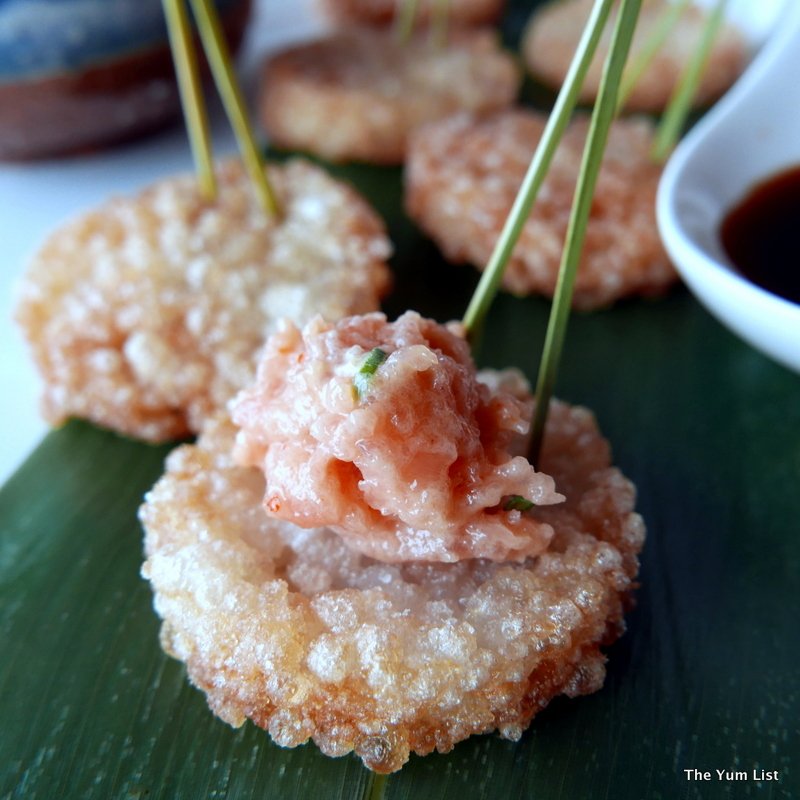 Padron Peppers with Shimeji (RM 28) was another nice nibble. The peppers were mild – though we were warned that every once in a while, a rogue hot pepper will get in there and surprise a customer. The meaty mushrooms in this dish soaked up the flavors of the peppers and the nutty sesame yuzu dressing.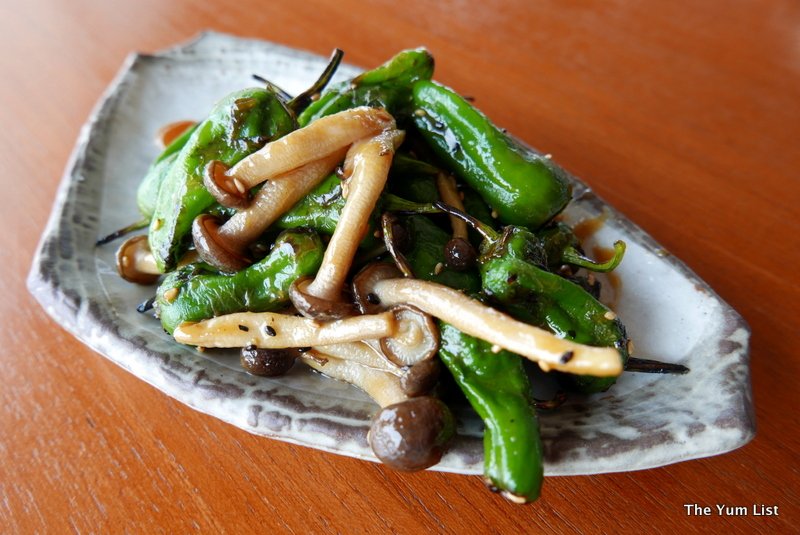 The White Fish Tiradito, Nobu Style (RM 75) is a must-try. They take fine slices of Peruvian-style sashimi, add yuzu, little cucumber bites, and top it all with dried miso powder and a dab of rocoto (Peruvian chili). It was a phenomenal taste experience, outdone only by the next dish, a popular pick off the lunch menu.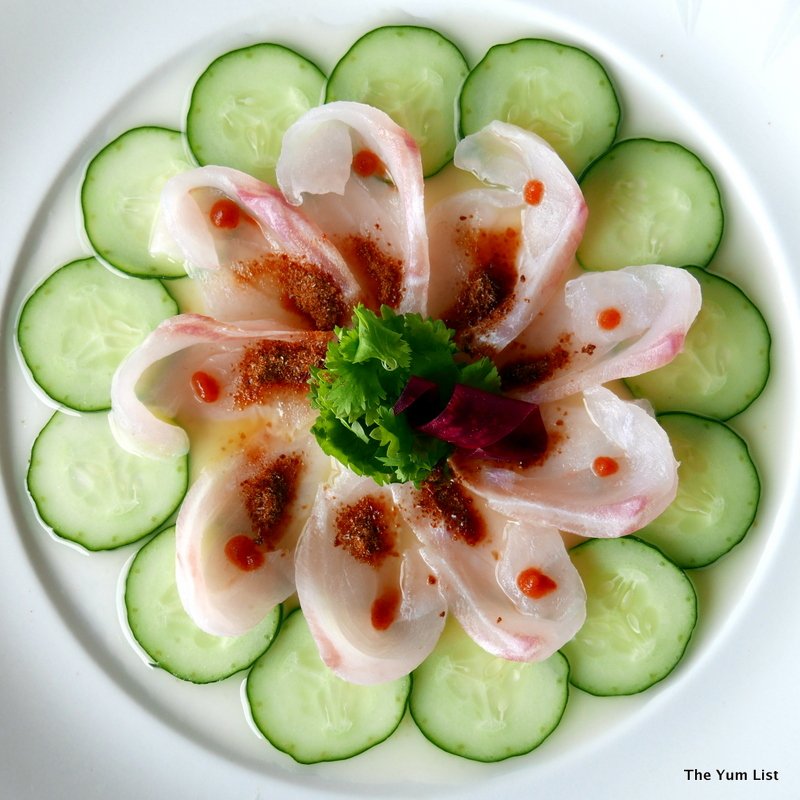 Salmon New-Style Sashimi (RM 75) is normally only available off the main menu, but we were lucky that chef had the time, ingredients and kindness to prepare it for us in the mid-afternoon. Just the memory of this dish will pull me back to the restaurant again. The fish was lightly seared and served with yuzu soy, hot sesame oil and olive oil, ginger, garlic puree, and shavings of fresh truffles. Yes, pretty much all the tastiest ingredients you can imagine together in a single dish. There is no description that will do it justice.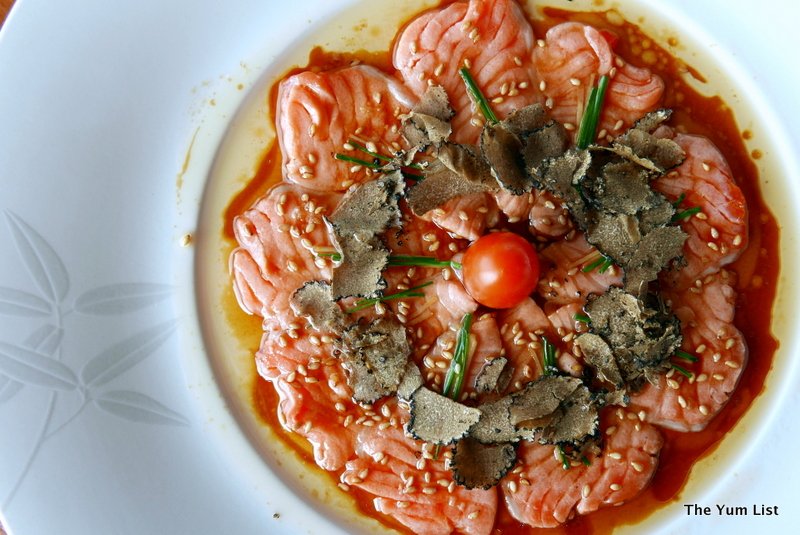 Happy Hours at Nobu Kuala Lumpur
Stunning views, a superb afternoon tea, creative drinks and some of the best contemporary Japanese cuisine in the city are more than reason enough to make a date at Nobu Kuala Lumpur, but, wait, there's still more!
Considering the location, quality of product, and level of service at Nobu Kuala Lumpur, Happy Hour deals priced at RM 58 for two cocktails and two bar bites, or RM 98 for two premium cocktails and four bar bites, are some of the best value proposals in the city! From 6:00 pm to 8:00 pm, Sunday to Thursday, you can sip a unique beverage and snack while you look down on KL under a setting sun, and it won't hurt your wallet too much while doing so either.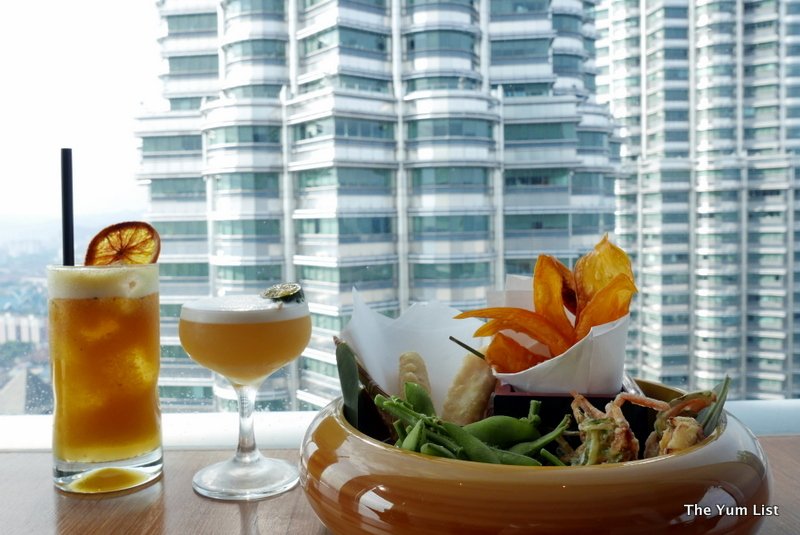 We can recommend the refreshingly tangy MIA Margarita (tequila, passion fruit puree, cinnamon-anise syrup, cloves, lemon, honey, orange and lemon peels) and the complex Ocha Chamomile Martini (calamansi, Cointreau, simple syrup, gin infused with Genmai matcha, topped off with frothed egg whites) from the premium menu. Crispy rice, thin salted banana chips, edamame (so fresh it was still on the stem), white fish tempura in a light batter, and sakura ebi kakiage (light, fried vegetables with a mild shrimp flavor) make delicious nibbling. Snacks change according to the availability of ingredients and chef's inspiration.
While we sat back and digested all these works of culinary art, we watched the late afternoon light bouncing off the towers across from us. Nobu Kuala Lumpur is all about the food, for sure. But wow, that view.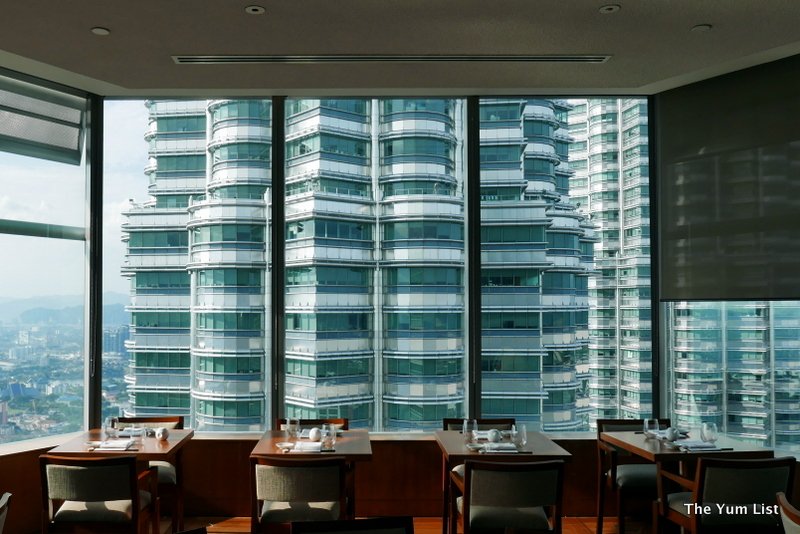 Reasons to visit Nobu Kuala Lumpur: The view, the variety of unique flavors, and the friendly service. The High Tea (regular or premium). Must tries: the White Fish Tiradito and the Salmon New-Style Sashimi. Excellent happy hour deals.
Nobu Kuala Lumpur
Level 56 Menara 3 Petronas
Persiaran KLCC
Kuala Lumpur 50088
Malaysia
www.noburestaurants.com/kuala-lumpur
+60 3 2164 5084
Whatsapp +6 019 389 5085