Words: R. Koret .   Photos: Monica Tindall
Kurin: Clean Fresh Protein in a Pokéritto, Good to Go!
Kurin means "clean" in Japanese, and this spanking new grab-and-go resto just opened next to the cinema on the 5th level of NU Sentral, lives up to its name. The place is spotless in front and behind the counter, with an emphasis on fresh food well-presented. There are just a few tables in the center, and a small dining bar with stools on the left for solo diners, with handy electrical outlets for charging your phone or using a laptop. But most customer seems to go for the take-away option.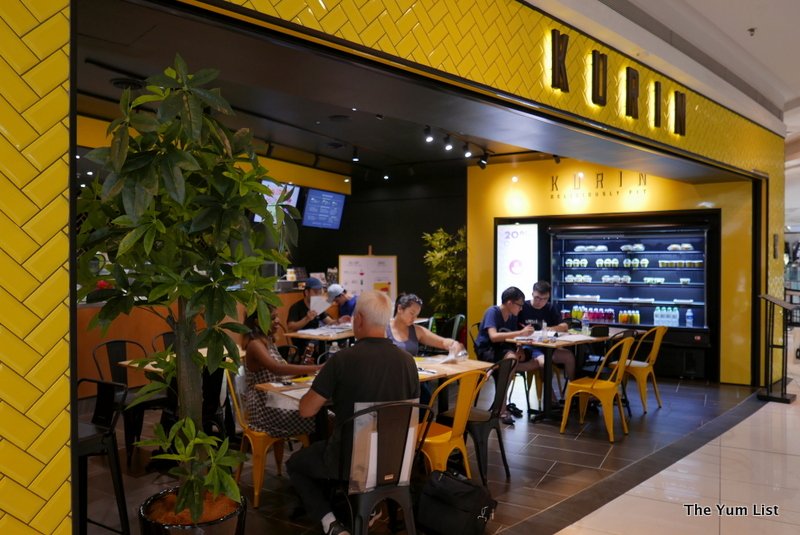 Kurin: Fast But Wholesome
Kurin's specialises in the kind of fusion fast-but-wholesome foods which has been the hallmark of California and Hawaii. The signature dish is the pokéritto, which wraps the contents of a poké bowl (also known in Japanese as a Don) in a seaweed skin and serves it like a giant sushi burrito. In your two hands it feels like Mexico City, but on your tongue it tastes like Tokyo.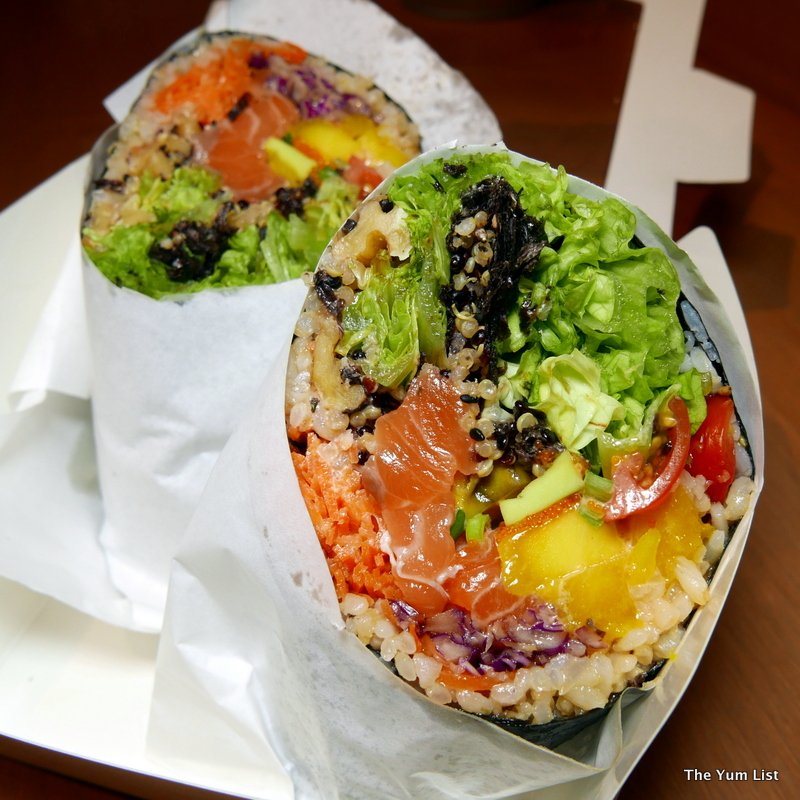 Self-service is at the counter, pay-and-play, Subway-style. After ordering you are invited to choose among three main forms of presentation: in a bowl (Don), in a pokéritto, or on a salad. All are prepared fresh in front of your eyes, through hygienically protected glass by gloved servers.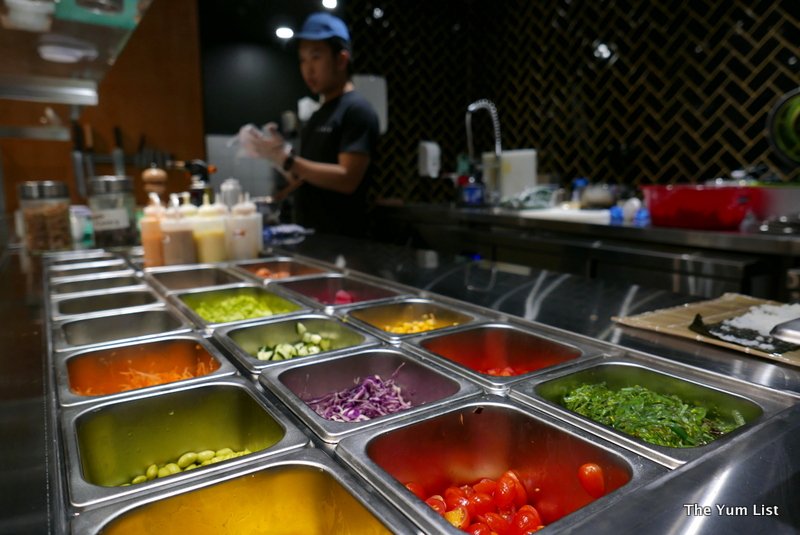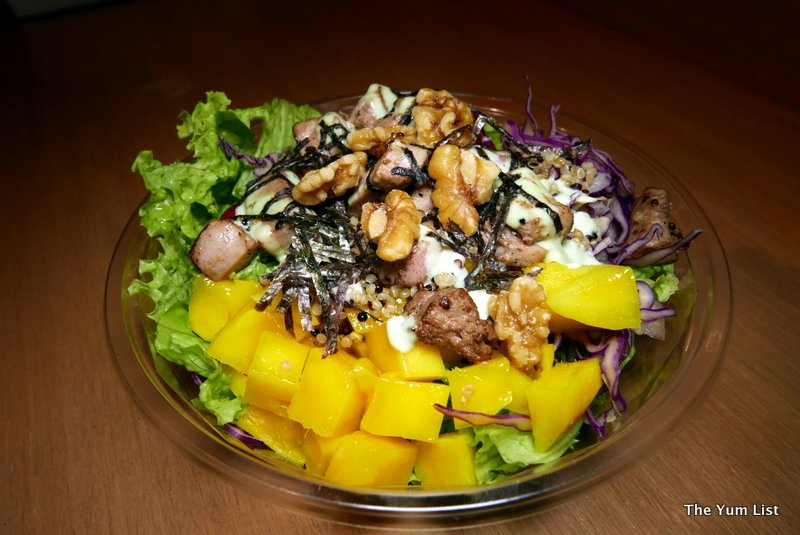 Every component was colorful and fresh, attractively displayed. You choose between small (RM19) and large (RM24). Even the small portion was quite generous, so we didn't over-indulge.
There are six choices for the "main ingredient" – choose your base protein from among raw or torched salmon cubes, raw or torched diced tuna, grilled skinless chicken or torched tofu. I am not fond of the aftertaste of blow-torching, but maybe that's just me. The marinated fish and grilled chicken were scrumptious "as is".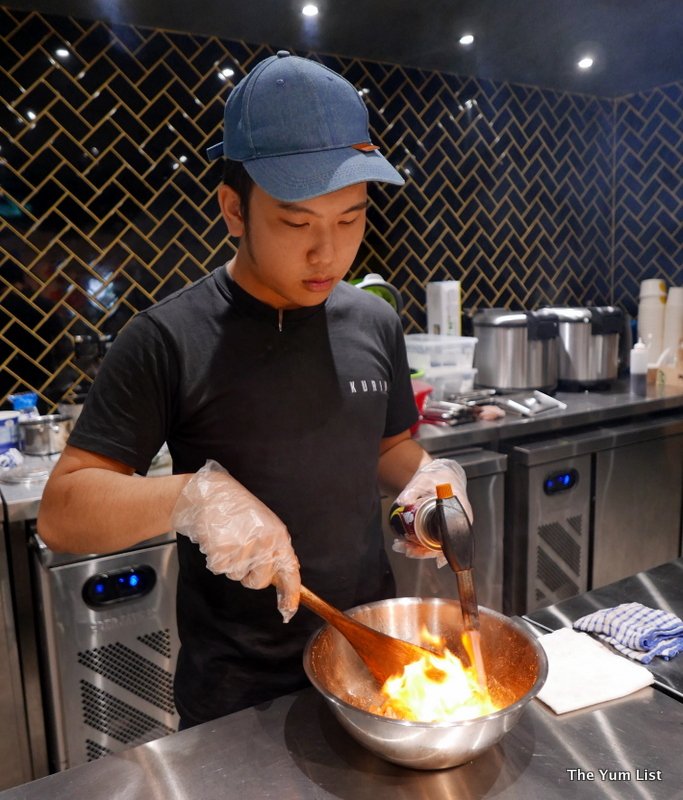 In addition to your protein of choice, you choose fruit and veggies (3 for small, 4 for large portions). Most are included in the basic prices, or you can opt for premium add-ons: salmon skin, crushed walnuts, or onsen egg for RM3, avocado or quinoa for RM4. As a bed for your protein of choice, you can choose among brown rice, Japanese short grain or, if you who want to avoid carbs altogether, a lettuce and cabbage bed.
The fish, we are told, are flown in daily — the salmon all the way from Norway. They arrive whole –the cleaning and filet is done each morning in the restaurant. While we didn't witness the salmon arriving in a crate, we sampled it in several dishes, each time fresh, flavorful and bone-free.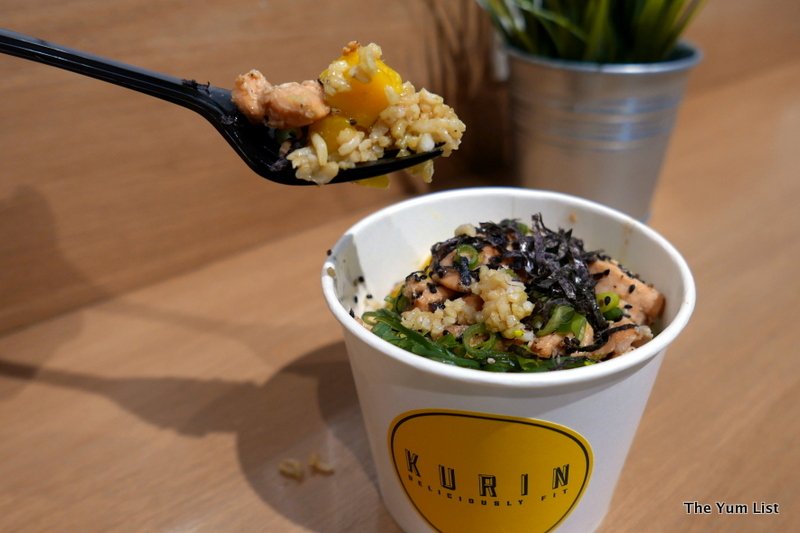 There is a good selection of homemade sauces to choose from to pimp your pokéritto ride, including wasabi or creamy sriracha mayo, a citrus-infused soy, a mirin-free teriyaki, or a classic shouyu-sesame oil dressing. My dinner guests and I sampled all these condiments: none were found lacking. You can also add crispy garlic, lotus and almonds to add that extra zing to the mix.
Kurin: Healthy Food To-Go
In addition to the main build-your-own course, you can choose from among some interesting ready-made-that-day side dishes, such as the delicious sushi donuts – first-class!!– and soba noodles.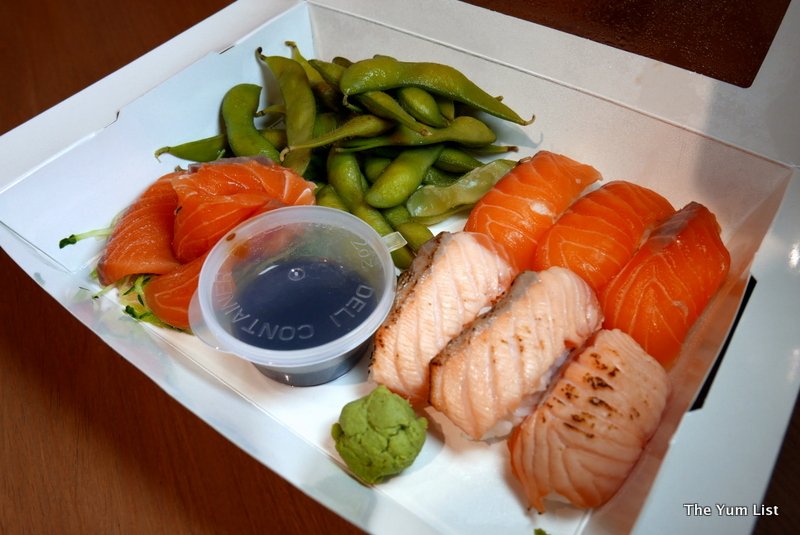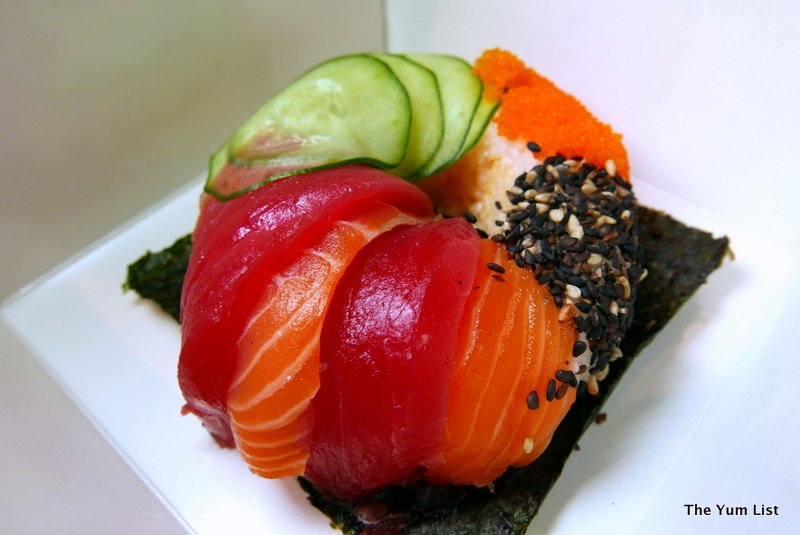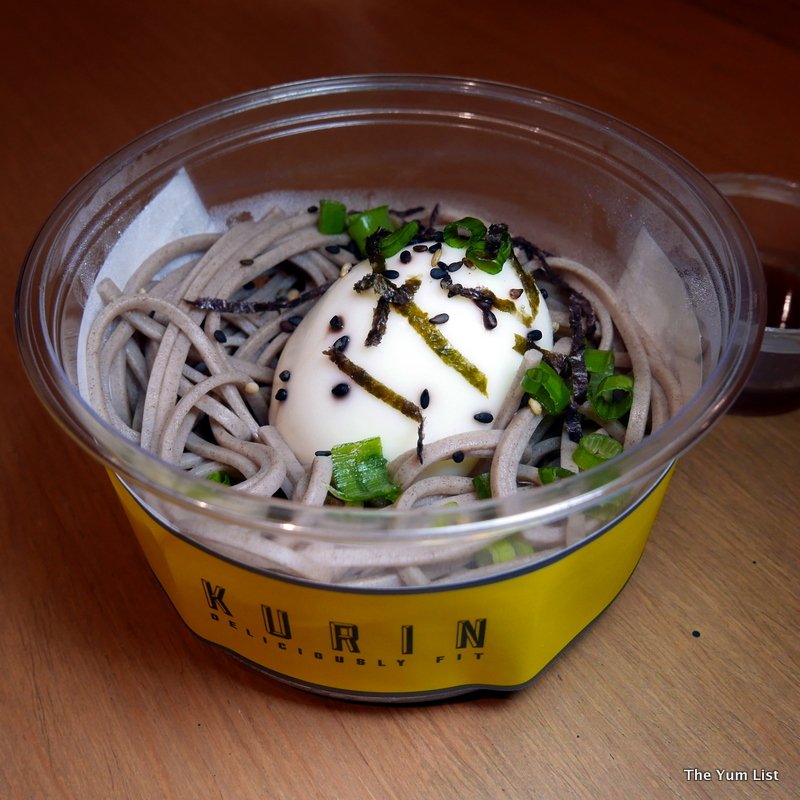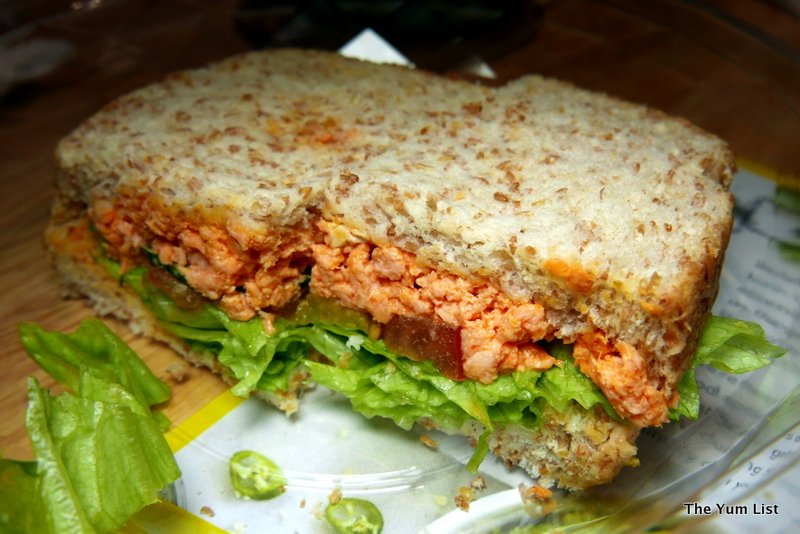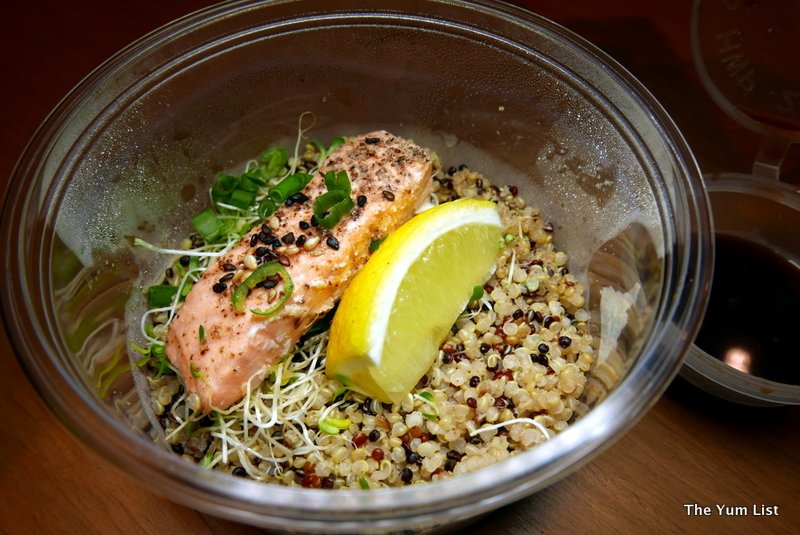 There is a selection of bottled fruit juices and soft drinks from the restaurant's partners, and there are also a couple of flavorful desserts. The pudding with chia seeds was especially delicious.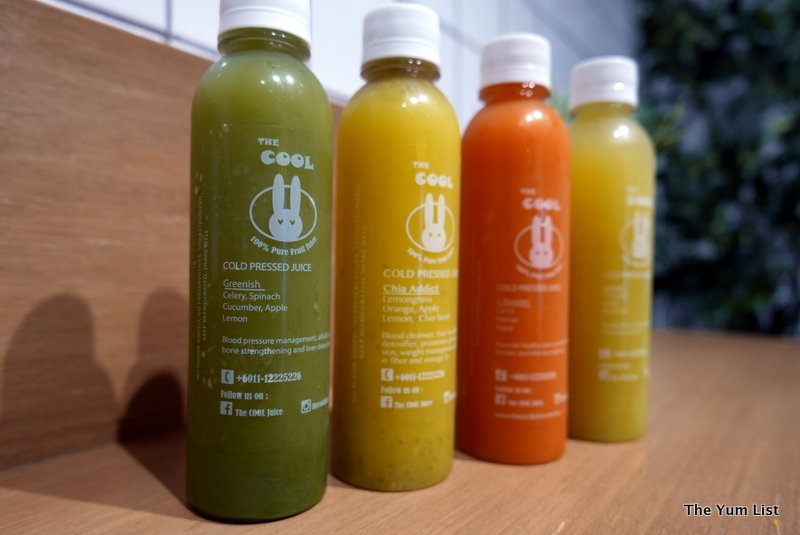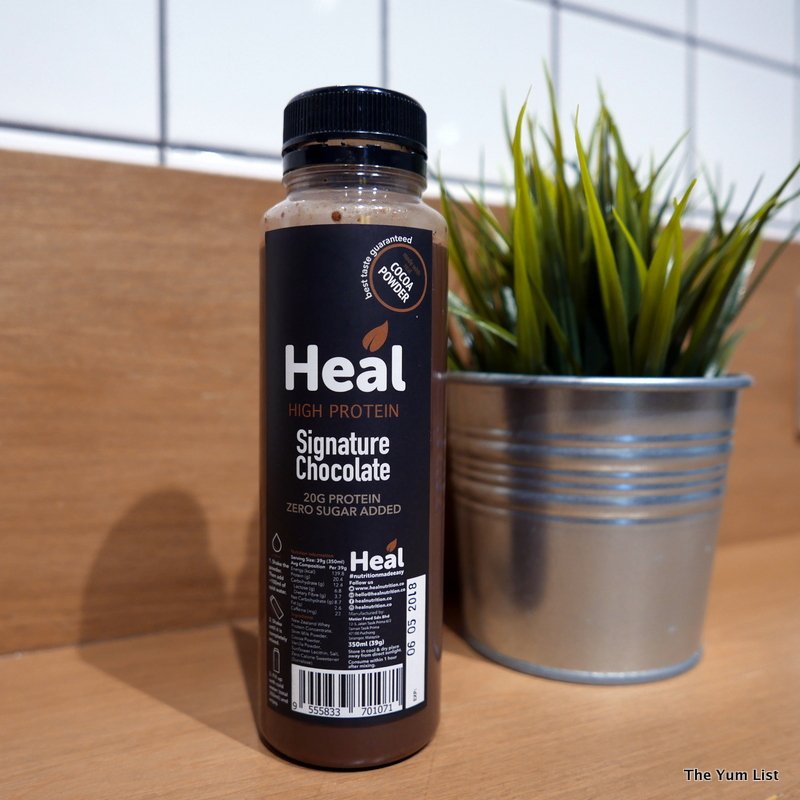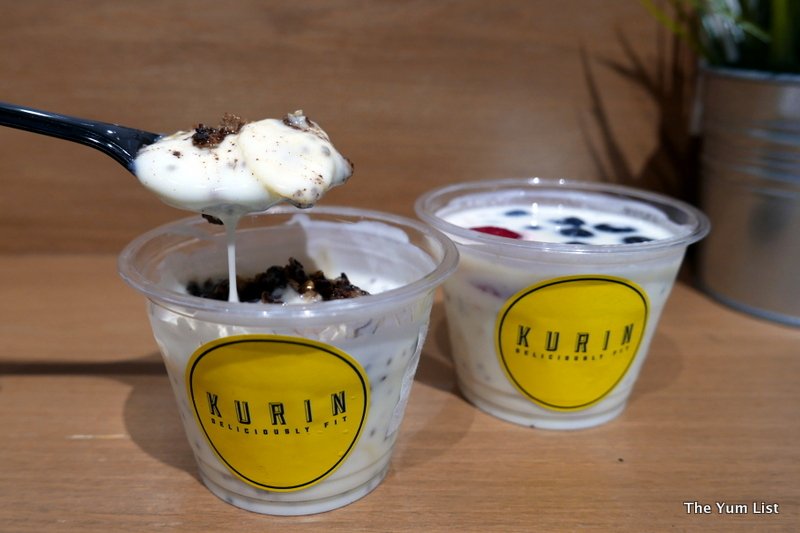 The restaurant says that any leftover food is donated to selected charities at the end of the day. The next day brings a whole new batch of fish, fresh produce, and sauces.
Kurin makes clear that they are set up to satisfy the time-constrained businesspeople and shoppers who pass through the mall. The resto also offers daily discounts and promotions as well as online ordering. Free miso soup is added to large orders. Large orders after seven in the evening also get an extra scoop of protein. The RM5 delivery fee is waived for orders over RM50.
Reasons to visit: a quick healthy bite when in Nu Sentral.
KURIN
Lot 5-10
NU Sentral Mall
201 Jalan Tun Sambanthan
4
50470 Kuala Lumpur
Malaysia
www.kurin.com.my