Words: Patricia Podorsek Photos: Monica Tindall
When I think of celebrities I tend to conjure up the likes of talented athletes like David Beckham or talented actors like Nicole Kidman, but not often talented chefs. Yet recently, FirstClasse Malaysia released a programme, Chef on Chef, featuring five of the most talented chefs in Malaysia. One of them was Chef Evert Onderbeke from Soleil Restaurant at Damansara City Mall. Soft-spoken and understated in demeanor, he may not be lighting up billboards and red carpets, but his talent with food deserves some limelight all the same.
Soleil's New Location in DC Mall
Recently moved from Petaling Jaya, Soleil can be found in the bright and airy Damansara City Mall. The atrium in the center court provides natural light to the restaurant without the stickiness of being outdoors. Guests may choose to sit in this 'outside' section or within the chic steel and granite interior. The design is finished with dark woods for a cool and elegant ambience.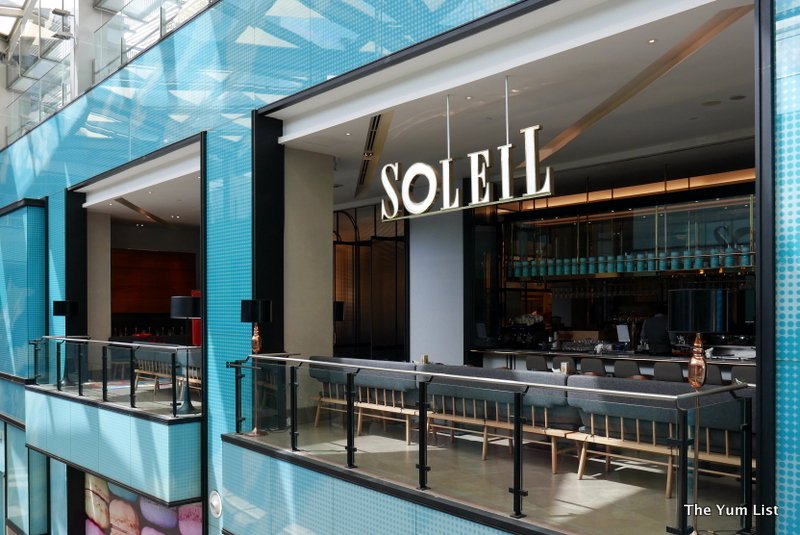 Sunday Brunch at Soleil
To celebrate the restaurant's fourth anniversary, Soleil has initiated a monthly Sunday brunch, held the last Sunday of every month from 11:00 a.m. to 3:00 p.m. Chef Evert has designed a menu that is largely a la minute with a few notable buffet items.
Starters at Soleil
Eight options grace the starters selection, every one tastier than the next. At work in all of them is Chef Evert's sense of balance and artistry. Flavors work together in harmony with the centerpiece item, in original combinations and classic forms.
In some of the starters, Chef Evert infuses the best of European cuisine with well-chosen Asian overtures of his new home. Japanese tempura dresses soft-shell crab served with a dab of chili aioli. Pearls of black caviar adorn the Fine de Claire oysters splashed with yuzu ponzu. The clear and bright duck consommé is deepened by the essence of Shimeji mushroom. East meets West in refreshing, clean, and balanced flavors.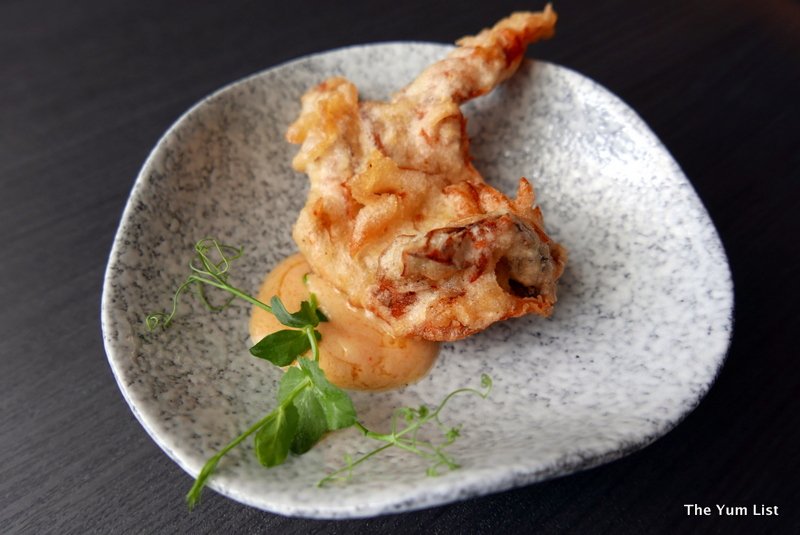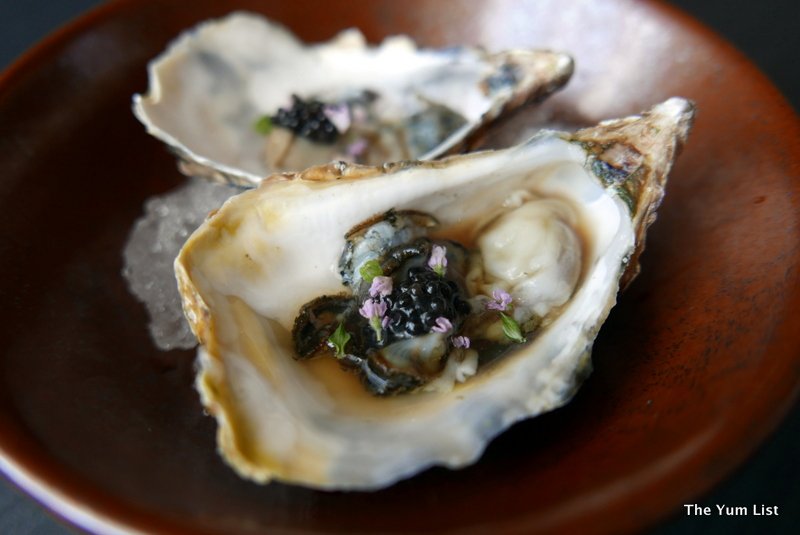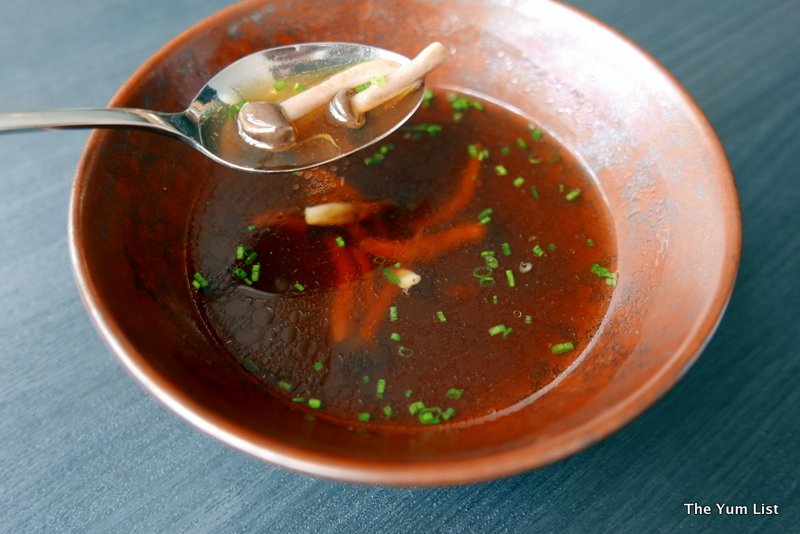 More classic among the starters, the Belgian mussel pot offers a kiss of brine and wine to the lips. The grilled Spanish octopus is among the most tender I've had, and the bone marrow of the braised oxtail is dark and secretive in its intensity.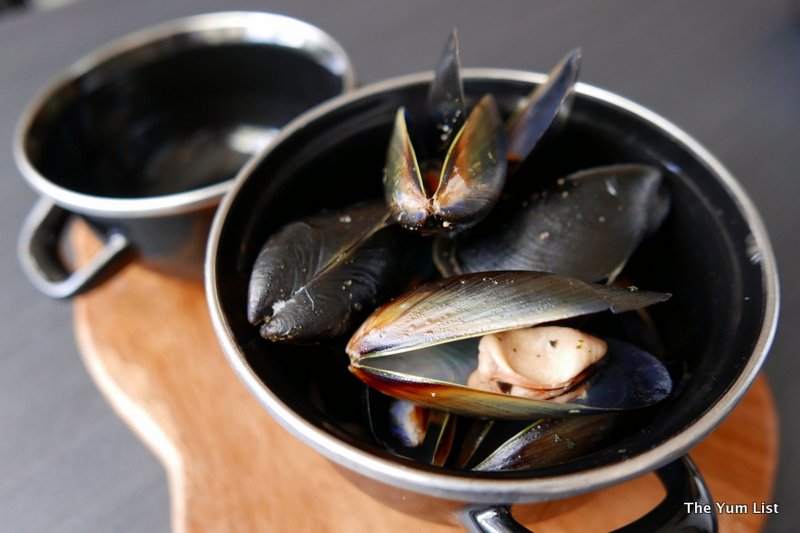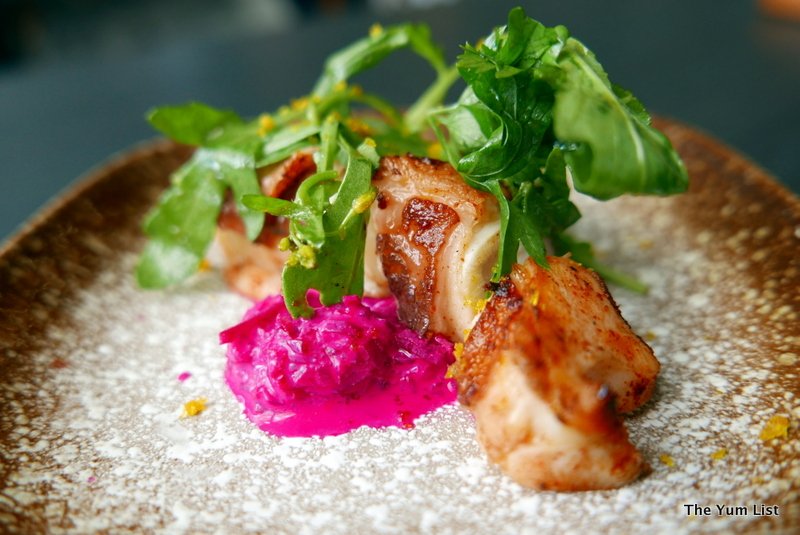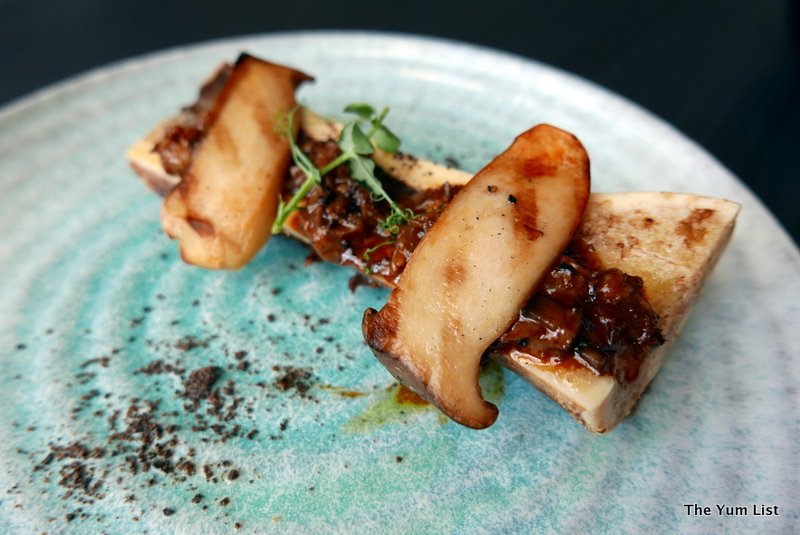 Cooler on the palate, the experimental side of Chef Evert emerges in the tenderloin tartare served with pecorino sorbet and the prawn ceviche served with avocado ice cream. Pecorino sorbet! Avocado ice cream! I love the crossover of sweet to savory and dessert to starter.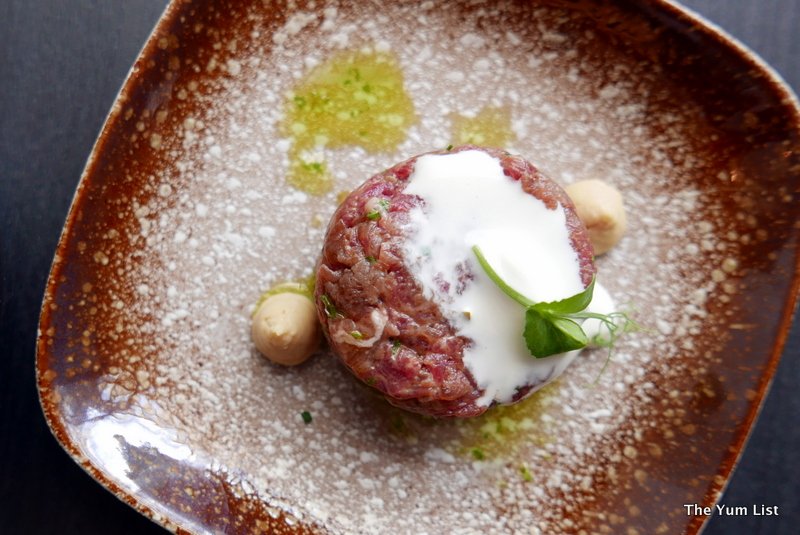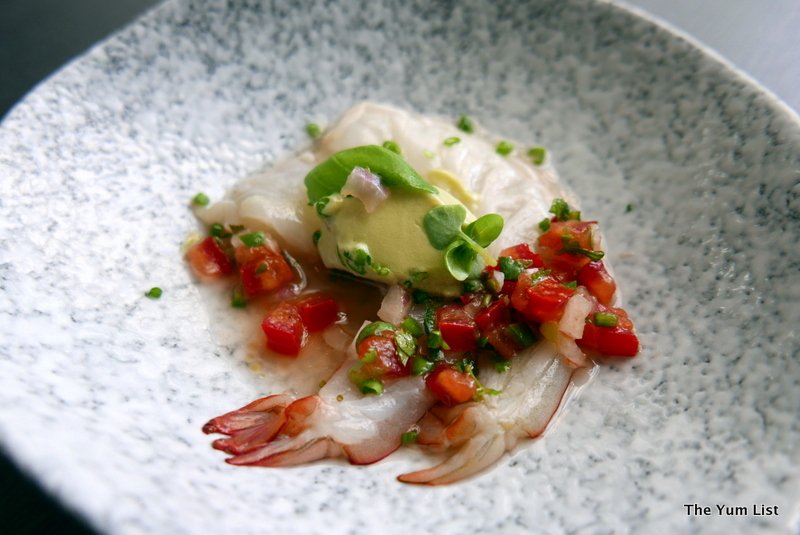 Main Courses
The main courses at brunch are served buffet-style. A carving station features roasted beef and lamb with a selection of sauces, including a classic mint sauce, kizami wasabi, and kampot pepper sauce. Traditionalists will appreciate the Yorkshire pudding and roasted vegetables on the side. Not unexpected, the meats were tender, flavorful, and juicy.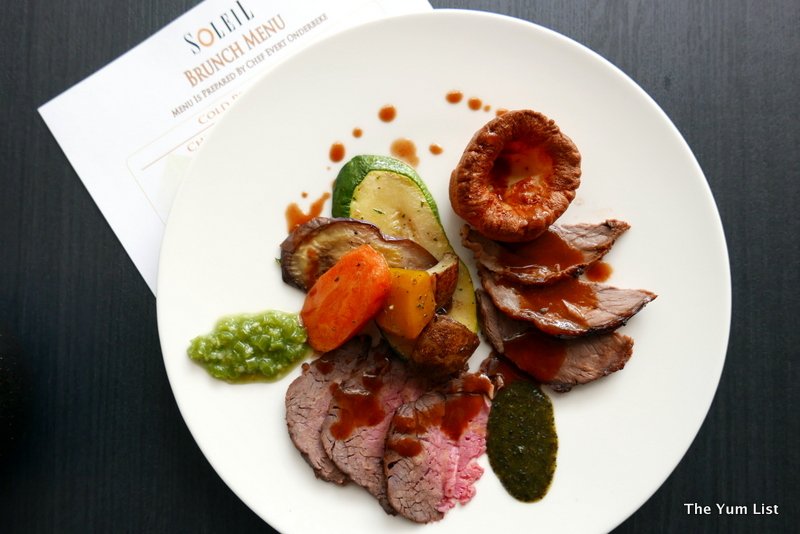 A pasta station offers permutations of angel hair, penne and tagliatelle with cream, spice, bisque and oil. Among the combinations we sampled, including a spicy arrabiata and a simple aglio olio, the bacon, mushroom, and cream was as decadent as it sounds.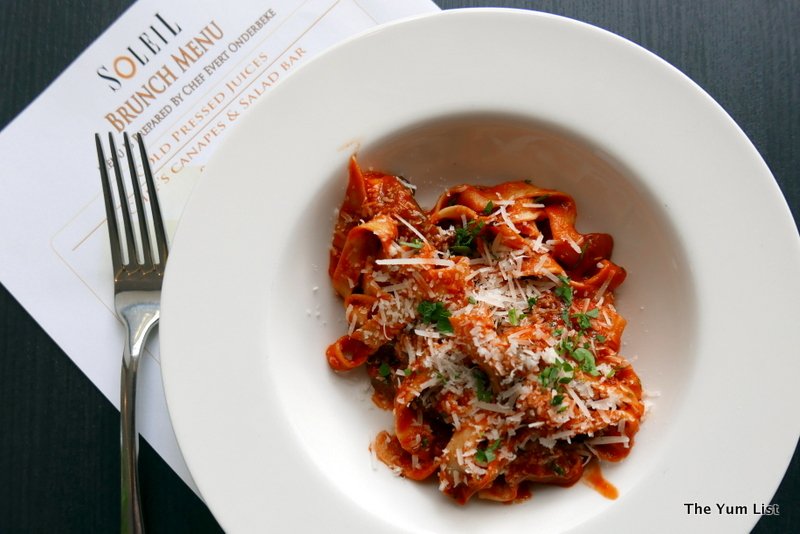 Hard to justify a celebratory brunch without some kind of eggs, and here again, we see the mastery of the kitchen. The mushroom omelet was so fluffy as to be a souffle, earth and air whipped together into a slice of pure heaven.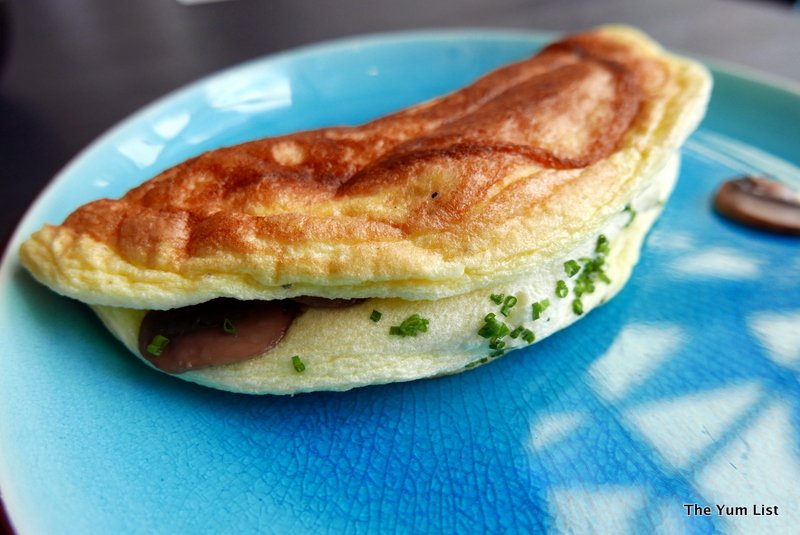 Buffet Backing Up the Brunch at Soleil
Other bites at the buffet included a full salad bar, with nibbles of beef carpaccio, seared tuna, dressed tomatoes, and flaky croissants.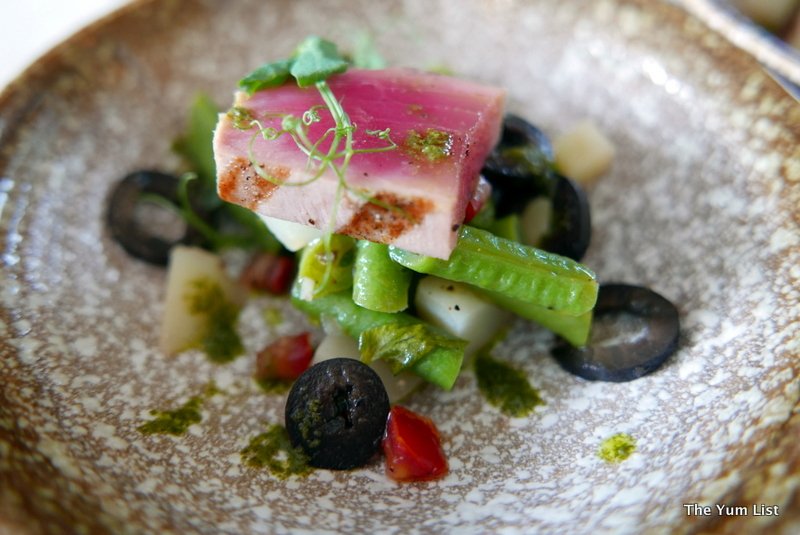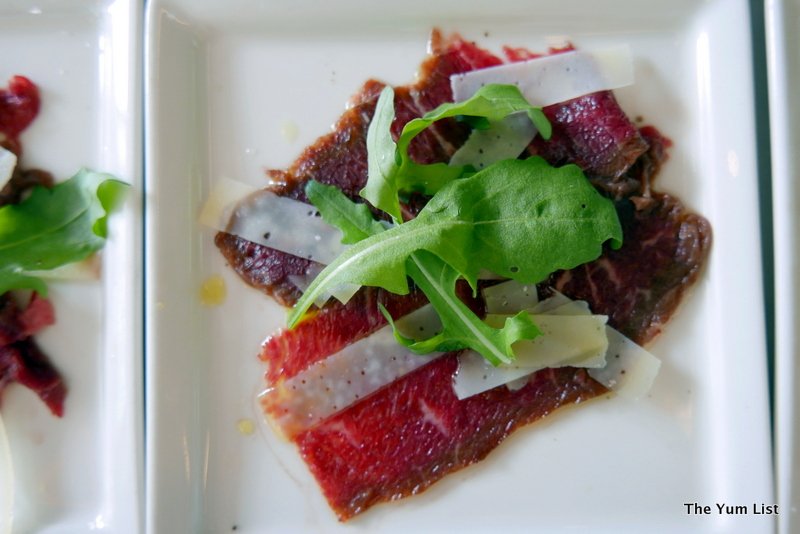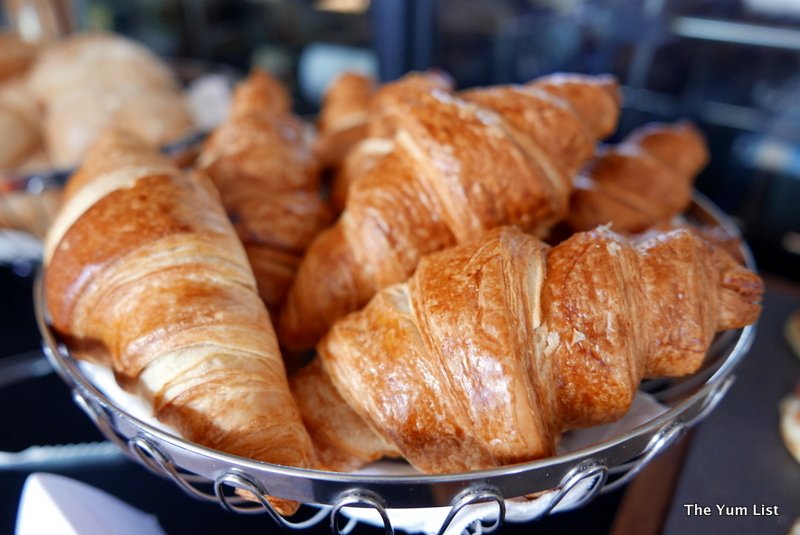 Brunchy Beverages
Supporting such balance and variety within the food options, you'd expect a strong beverage selection as well. Soleil does not disappoint. On the coffee side, the long black is smooth with full body. The unpretentious cappuccino delivers a medium roast with a good balance of milk and foam.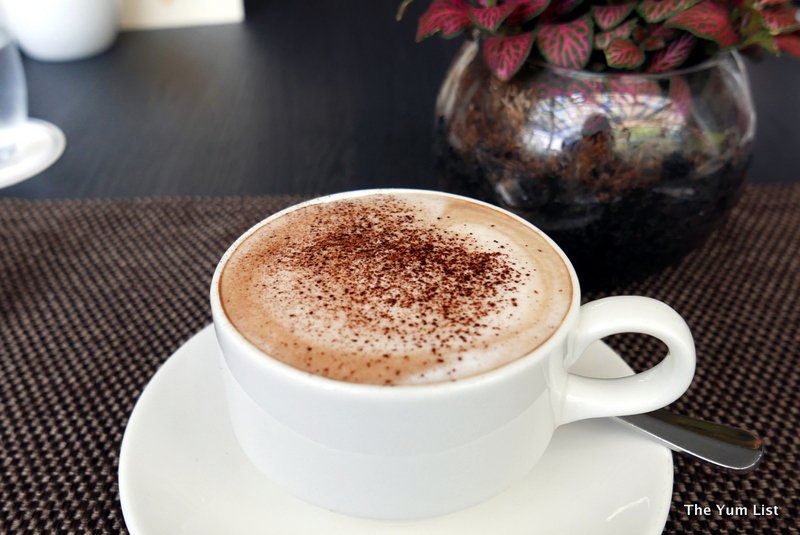 Cold-pressed juices are iced in little bottles near the salad bar. The Apple-Orange-Cucumber-Celery combo cuts into the sugar of the fruit for a crisp and well-balanced juice. Likewise, the ginger in the Ginger-Beetroot-Carrot-Apple blend adds zip to the sweetness.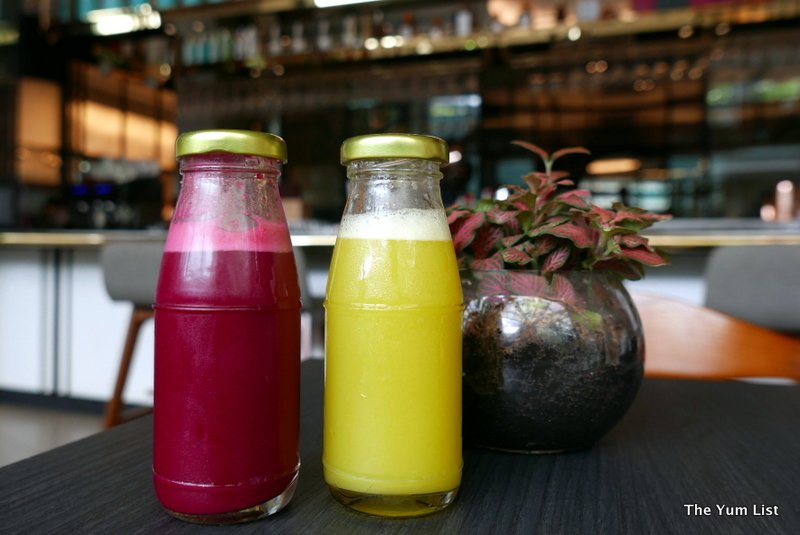 Soleil's mixologist has engineered a set of specialty cocktails for the brunch menu. A tomato juice fan at brunches, I opted for the Red Snapper, a Bloody Mary take-off made with gin instead of vodka for an extra herbally drink. Caning wanted to try the Beer Mimosa, and found citrusy effervescence not quite as sweet as a shandy. At our host's recommendation, we also tried the Sea Complex, a multi-layered cocktail capturing spice and fruit from rum and pineapple, with undertones of bitter from Fernet Branca and floral from rose pandan.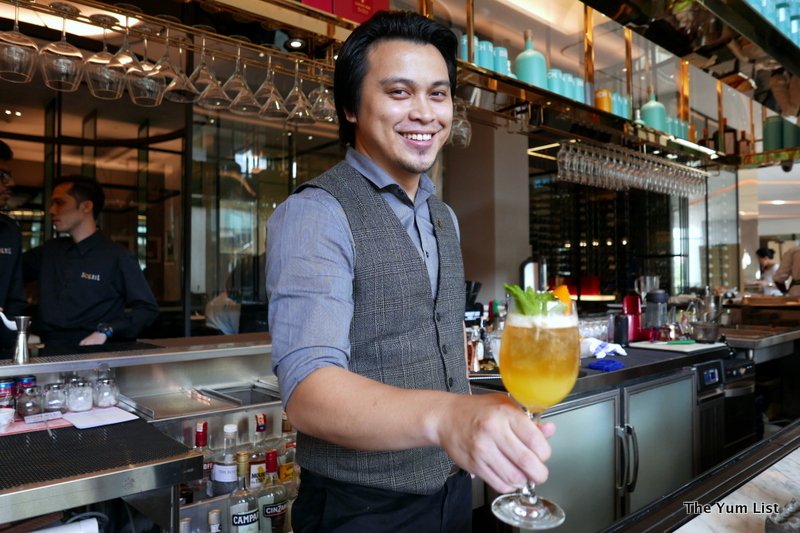 Soleil's wine cellar features enough depth and variety that you'd be remiss if you didn't sample at least one of the contents of its glass walls. We shared an Ata Rangi 2014 Martinborough Pinot Noir with our hosts that was complex and silky, but light enough to support the variety of foods on the table. The story has it that the vines are the offspring of stolen cuttings from one of Burgundy's finest estates, the legendary Domaine de la Romanée-Conti (read the full story here).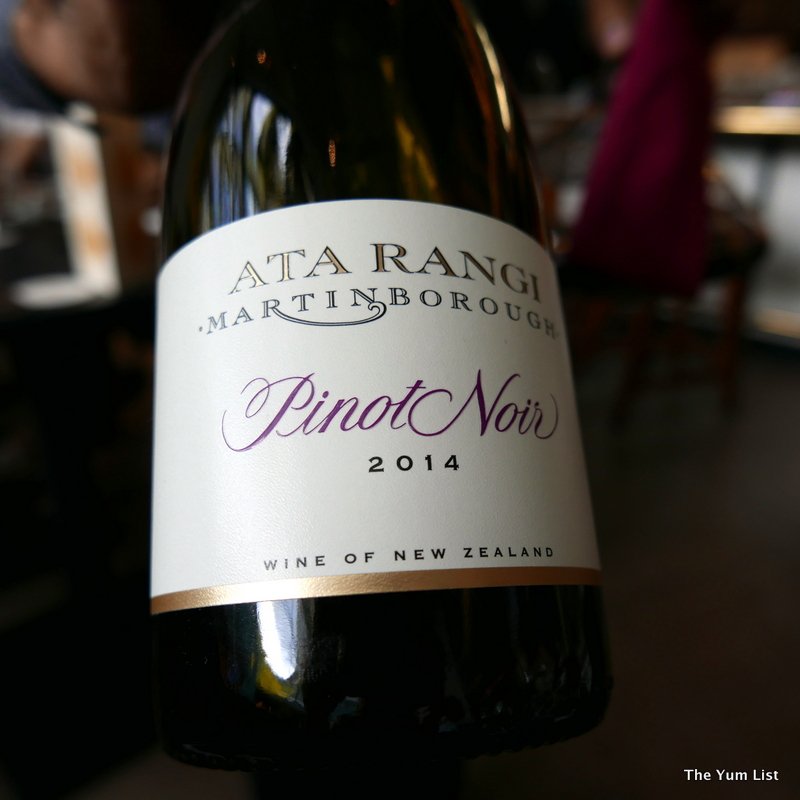 Dessert at Soleil's Sunday Brunch
Dessert brought us back to the a la minute specialities of the starters. Five options await the sweet tooth, from apple crumble to tiramisu. The Belgian waffle is straightforward, perfectly crisp and humbly laced by deep chocolate. The banana crepe sweeps up elements of Malaysia with hints of pandan and gula Melaka, and the pannacotta oozes raspberry divinity in the sorbet, the sauce, and the garnish.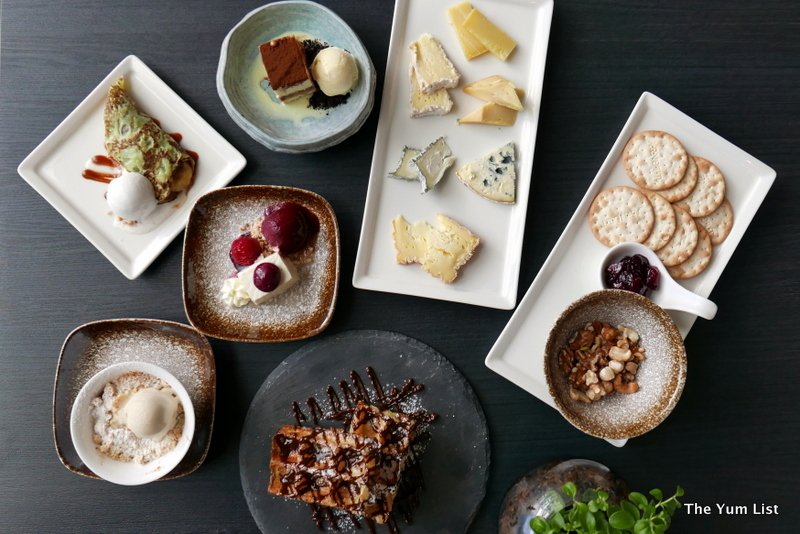 No respectable French restaurant can boast so much haute cuisine without offering a selection of cheeses as part of the finish. Specialty options like Livarot, Selles sur Cher, and Fourme d'Ambert dwell alongside deeply-aged camembert and comte for a sophisticated end to the meal.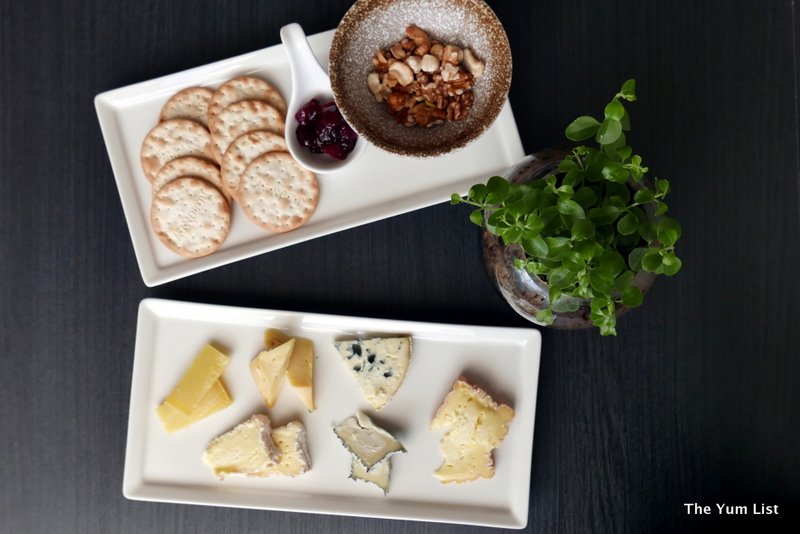 Fanfare and paparazzi may not track Chef Onderbeke's every move as with other celebrities, but he certainly brings talent and flair to his work. Bring your taste buds as a pen, and you'll be sure to get his autograph in every dish.
Soleil will host its next Sunday brunch on 29th October at a cost of RM150++. Alcohol is not included but wine promotions and cocktail specials are available. Reservations are recommended.
Soleil is also open daily for lunch and dinner until 10:30 p.m.
Reasons to visit: The balance and artistry of Chef Evert Onderbeke, preparing French favorites with an Asian twist.


Soleil
DC Mall Plaza DC
Jalan Damaniela, Pusat Bandar Damansara
50490 Damansara City, Malaysia
+60 3 2011 8261
www.soleil.my