Monica Tindall
Now with direct flights from Kuala Lumpur, a booming food and beverage scene and the beautiful laid-back setting of the Mekong, The Yum List anticipates Luang Prabang as the next hotspot for travel within Asia. And, we have found a stellar accommodation option to make your stay both stylish and comfortable: Azerai Luang Prabang.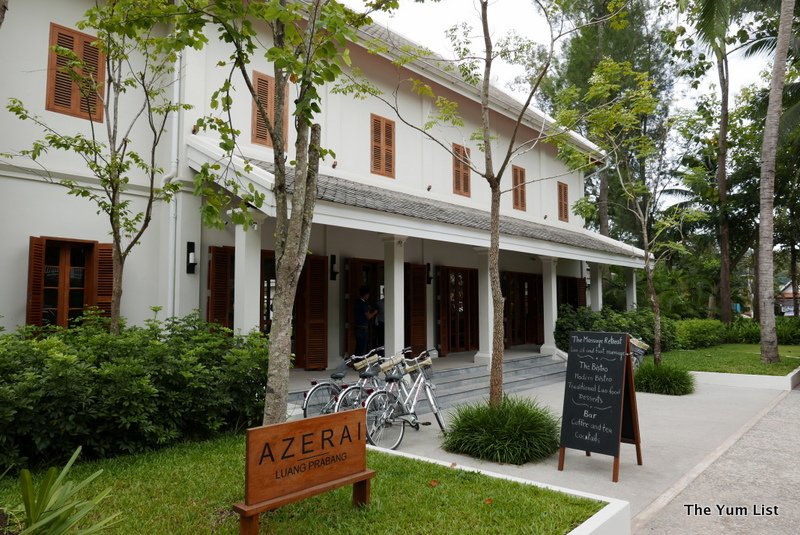 Laotian Charm, Contemporary Flair
Azerai Luang Prabang oozes sophistication in the most relaxed of ways. Marrying Laotian charm with contemporary flair, the property builds on local architecture to create luxurious spaces with a seamless modern design.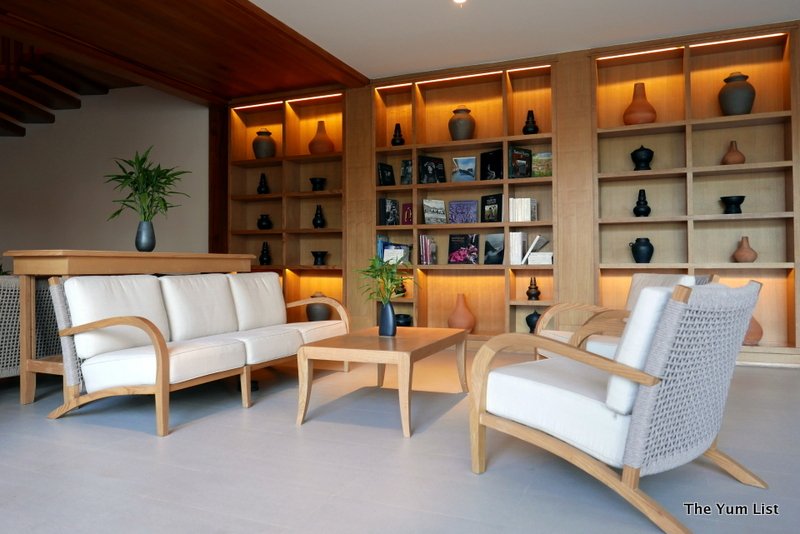 At certain times of the day, the façade appears as a dream from an old Colonial movie, especially with bicycles propped up at the entrance, verdant trees trimming the fringe and a trail of saffron-robed monks contrasting the white-wash frontage.
Warm greetings beckon guests from the lobby, and we quickly discover that we have very little need to plan our days as the staff are ready with suggestions, maps and the ability to hail and negotiate a ride for us from the street within minutes.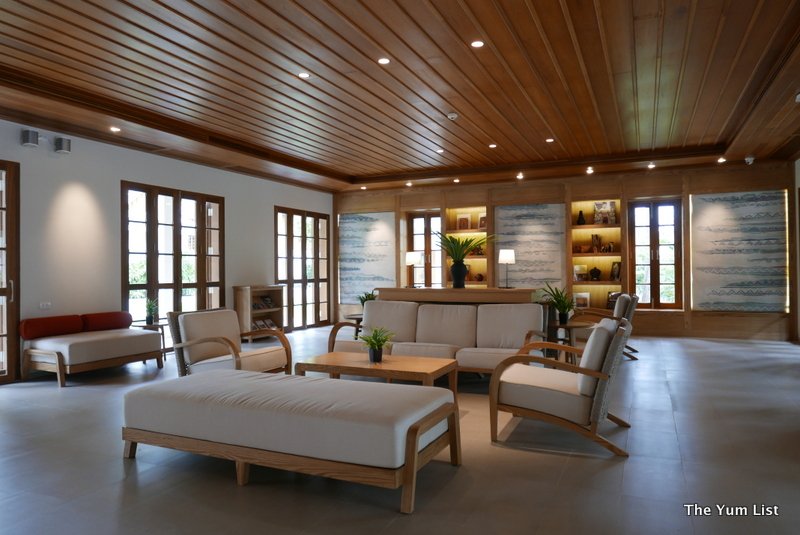 Moving inside the property, fifty-three rooms are built around a central courtyard, all with a balcony and views of either greenery or the pool. The pool, by the way, is rightly honoured as the centre of attention. Surrounded by grand old trees and manicured gardens, it's the perfect respite after a sight-seeing expedition or even as HQ for the entire day.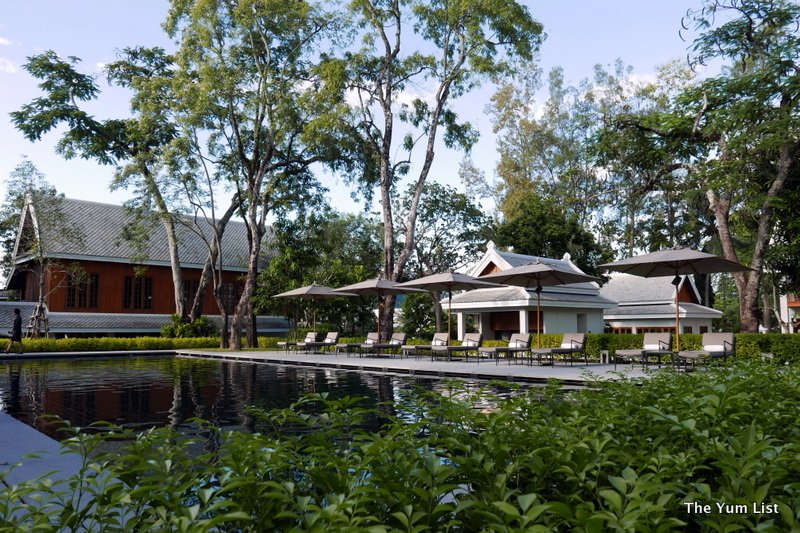 Stylish Event Space
Besides the pool, the heart of the hotel rolls green from the edge of the sun chairs to the border of the accommodation. It makes a fantastic lawn for events such as the charity concert by the Bangkok Philharmonic Orchestra that we witnessed in aid of the local children's hospital during our stay, a cocktail event or even a small wedding.
Rooms at Azerai Luang Prabang
Modern panache with a classic elegance continues into the rooms and we find the style is one that is poised to stand the test of time. I have a designer friend who says, "be yourself, it never goes out of fashion," and I have the same feeling at the Azerai Luang Prabang. The brand has a strong sense of identity and the appeal in self-confidence will carry the look through many years to come.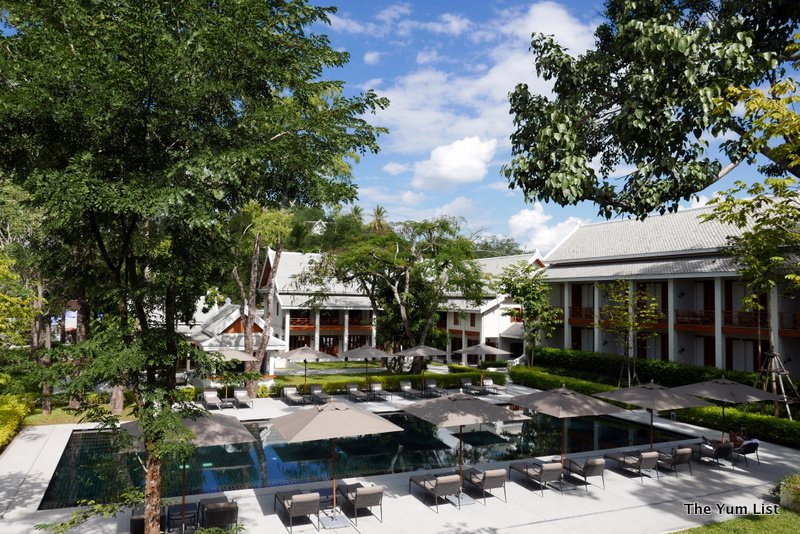 Beige walls and upholstery are marked with teak furnishings: just the right amount to gift a sense of timelessness but not too much to give the impression of being transfixed in the past. Bathing quarters, the bedroom, and a balcony divide the room into three distinct spaces with soft curtains and French doors providing the separation.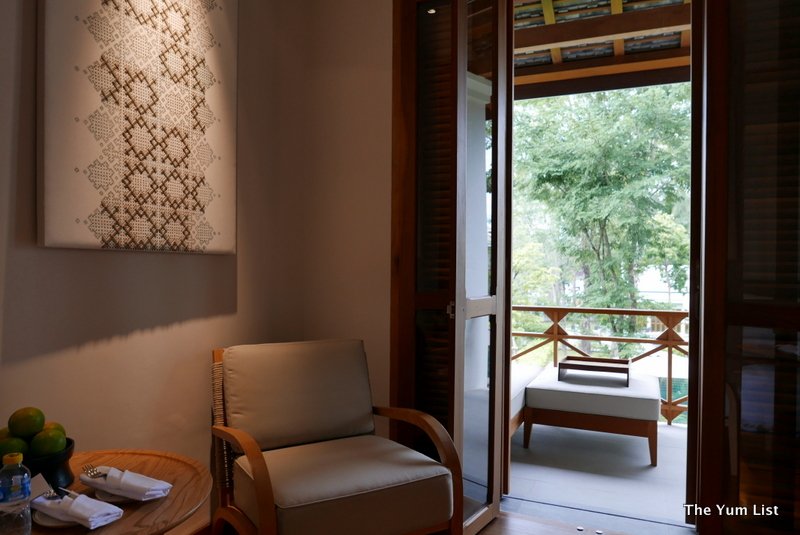 Rooms have all the luxuries we desire and none that we don't; and as with every good stay, the experience is in the detail. An espresso machine, bowl of fruit and house-made snacks of biscotti and banana chips are highly appreciated. Make-up mirror with light, individual reading lamps and bedside light controls don't go unnoticed either. There are lush toiletries in the bathroom and a darn good hairdryer too (those with long hair know how much this is valued). A daily gift accompanies turndown service, each made locally and complemented with a note to tell its story. But, most importantly, the bedding is superb and the shower is high-pressured with instant hot water.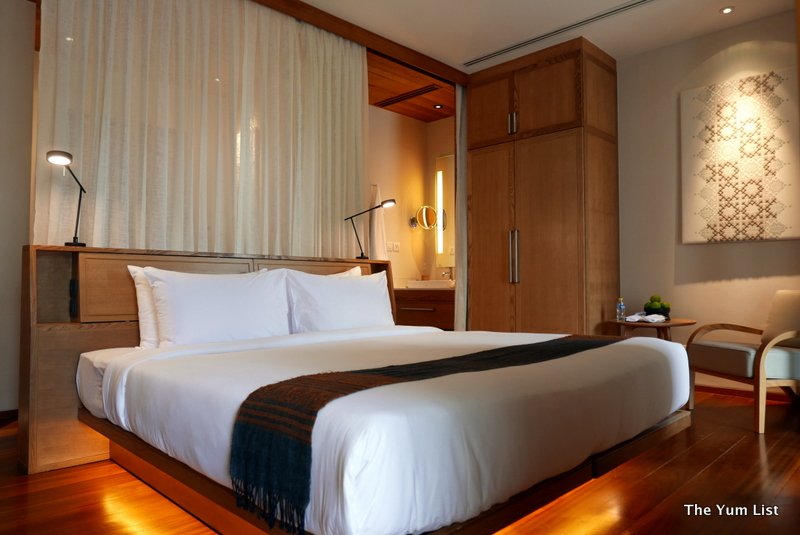 Spa and Gym
Even though the hotel is only 53 rooms, it's equipped with a good fitness room (quality Precor equipment) and spa. Cardio machines, hand weights, benches and a variety of supporting accessories such as mats and balls make it easy to get some cardio, strength training and stretching. The spa is a lovely retreat with excellent massage beds and chairs for reflexology too. Utilising Laotian and Asian techniques, therapists are skilled and provide a service that is professional with a sense of care that seems to emanate from this part of the world.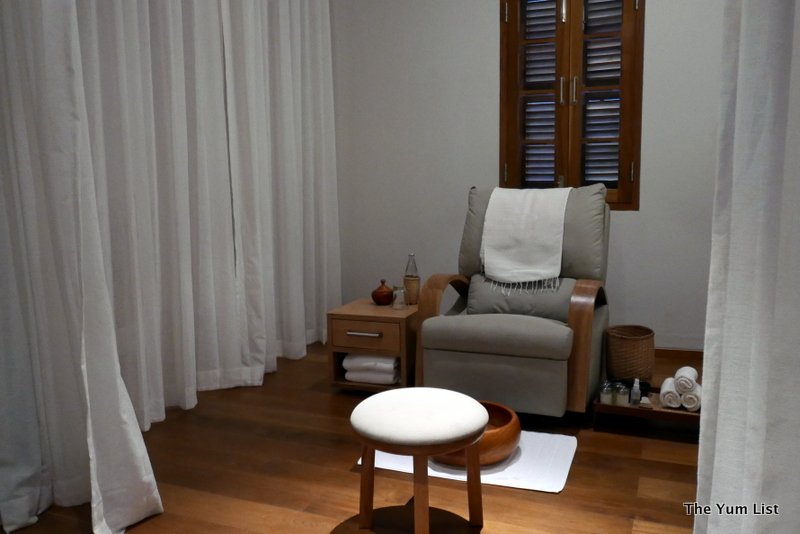 Serious Food and Beverage at Azerai Luang Prabang
If we've got in a good workout, surely we deserve some good food, right? The first thing I notice about Azerai Bistro is the gorgeous crockery. Handmade bowls, plates, cups and saucers make fantastic presentation pieces without taking away from the chef's creative plating. The second thing I note is that the chef has been handpicked by the GM who is a former chef and big foodie himself; I know we're in for a serious food and beverage experience.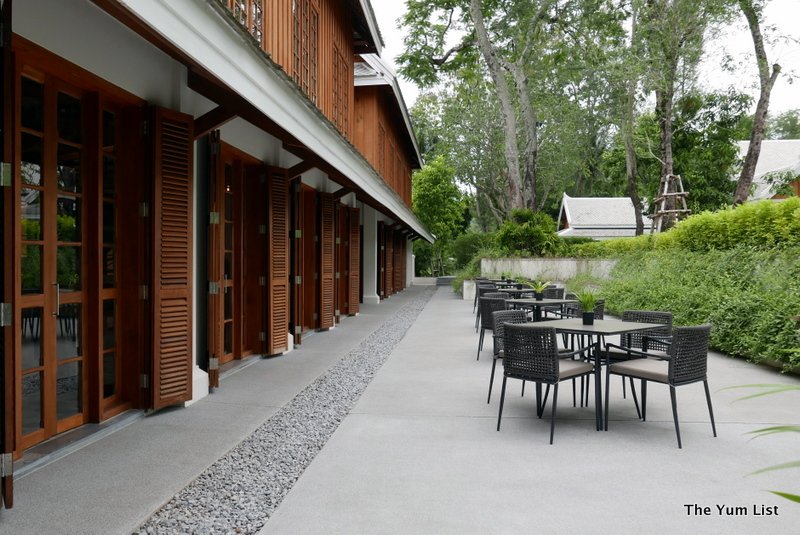 My heart is happy when I see the brekkie menu. A compact buffet of quality items is supported by a short à la carte menu. Everything is premium and just about everything is made either in-house from scratch or sourced from local producers. Cheese, cold cuts and select pastries grab hubby's attention and healthful goodies such as chia seed pudding, house-made muesli and a good assortment of local fruits have me smiling. Coffee is good too. Saffron Coffee is the supplier of beans grown in the north and the roast is medium to dark with a chocolatey bitter finish – perfect for espresso-based milk coffees.
From the à la carte menu, Vegetable Fritters ($5) are super tasty and packed with shredded veg. Green mango chutney, a boiled egg and mixed greens come with them adding textural balance. Hubby is pleased with the Grilled Banana Pancakes ($5), which are thick substantial rounds with yoghurt, crushed walnuts passion fruit and Lao honey as a topping. On subsequent days we have eggs made to order, but we claim that we're really just doing our job by continuing to order from the à la carte menu to showcase to you, as the morning spread is more than enough.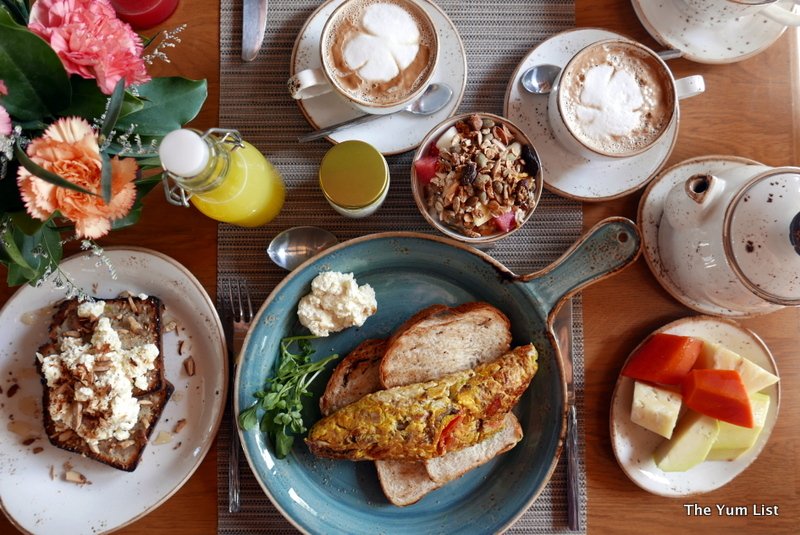 Heartened by the gourmet breakfast choices we can't wait to dine on a dinner or lunch here. Chef Ben Faker uses modern cooking techniques (in a kitchen setup we hear is pretty fab) and local ingredients to create an epicurean menu that rivals any contemporary bistro in a larger city. Of particular note, is the terrific integration of local produce (perhaps unfamiliar to many foreigners) into recipes in a seamlessly delicious fashion. We loved our dinner at Azerai Bistro so much that I wrote a separate article on it here.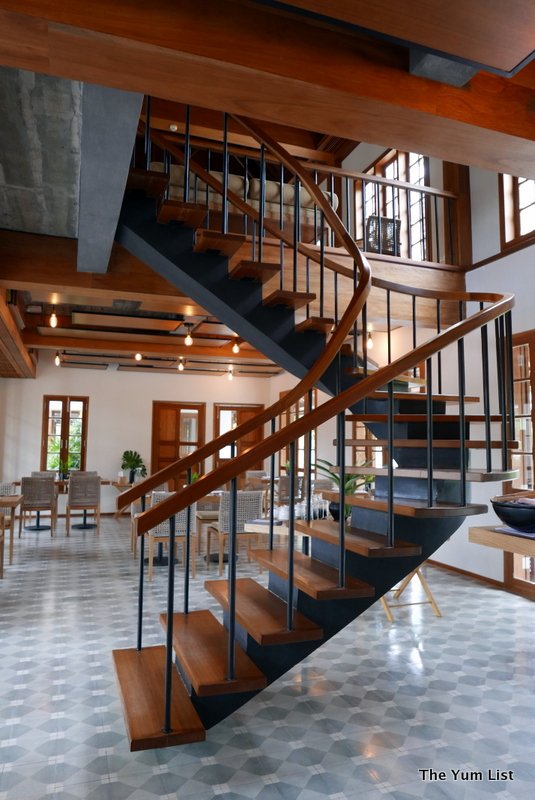 With a menu this good and a bar upstairs too it would be easy to have all of our meals at Azerai Luang Prabang. There is exploration to be done, however, and Luang Prabang provides an exciting food and beverage scene, cultural sites and the beautiful Mekong and its lush surrounds to explore.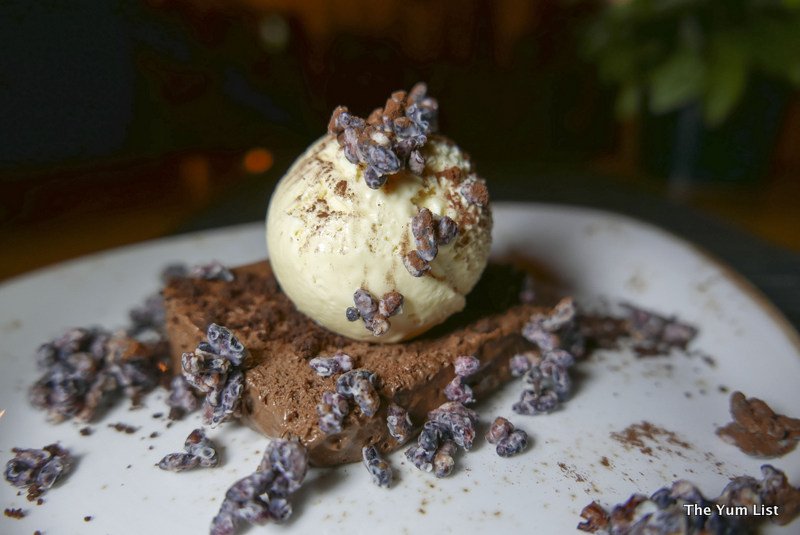 Getting Local
You can't beat the location of Azerai Luang Prabang. Grandly sitting on a corner plot, it's mere steps from the main street. The river is a block away, the night market begins across the road, and saffron-robed monks pass by at dawn for the giving alms ceremony.
A good orientation to Luang Prabang is with a half-day guided walk around the town and the hotel arranges this with trusted guides. We embark on a walking tour with Khamla, a former monk and Laos national. Khamla brings meaning to the sites with stories and personal anecdotes. Highlights are the morning market with a vast range of locally grown organic vegetables and insect proteins, the museum and a climb to the summit of Chomsy Hill and temple.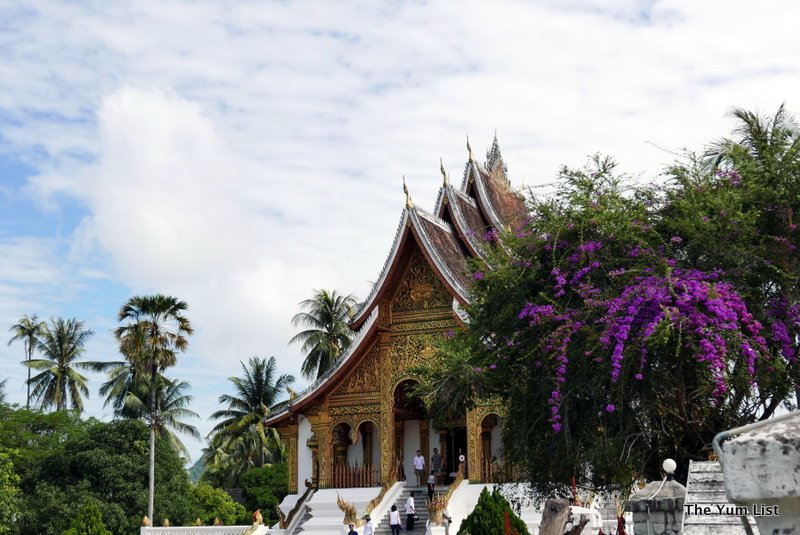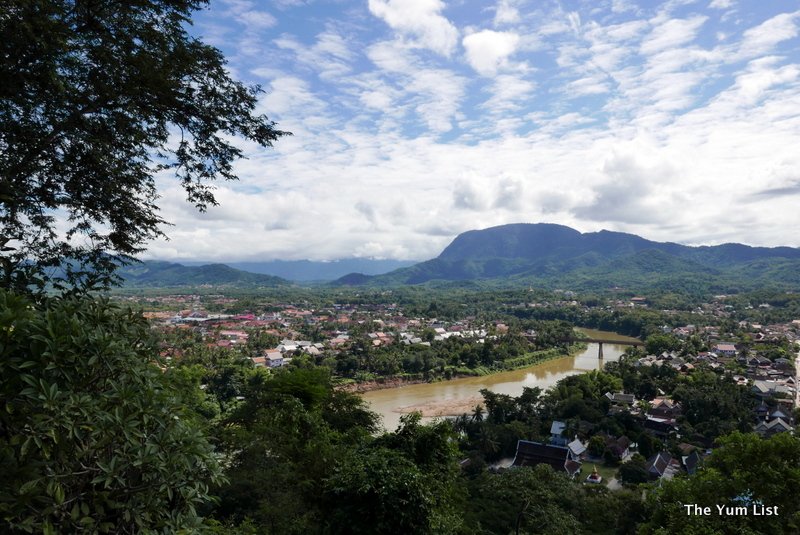 Going further afield is just as easily organised by the hotel too, and I don't mean an expensive hotel tour. The staff happily make suggestions and help us negotiate with a local driver. Azerai Luang Prabang is integrated with the local community; it's a feel-good synergy. Kuangsi waterfalls, botanical gardens, and Laos' first buffalo dairy farm are all worth a visit. Read more about them here.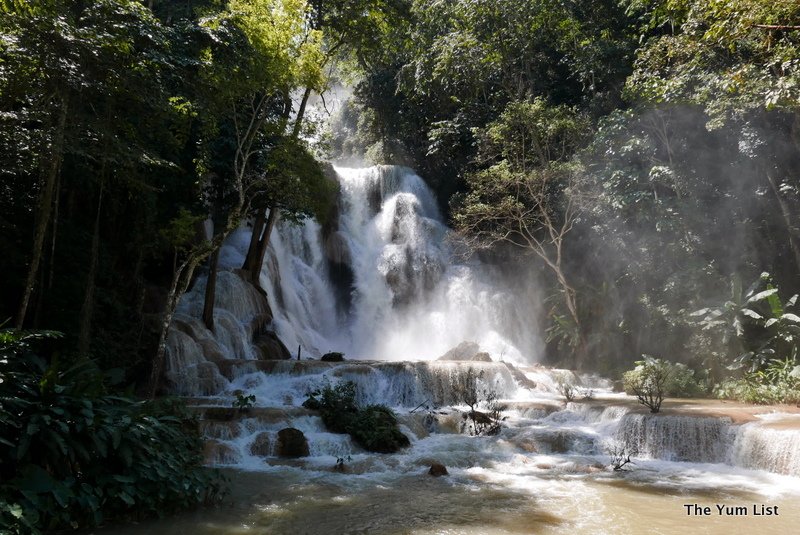 The value of respect for the local culture and environment is apparent throughout the daily practices and code of conduct at Azerai Luang Prabang. One such instance is giving alms. A sacred tradition, monks walk in silent procession at dawn to collect food for the day. Locals give homemade fare in equally soundless and respectful fashion. Azerai Luang Prabang enables guests to join this ceremony by providing packets of food made in their own kitchen, mats to kneel on and instruction in courteous deportment.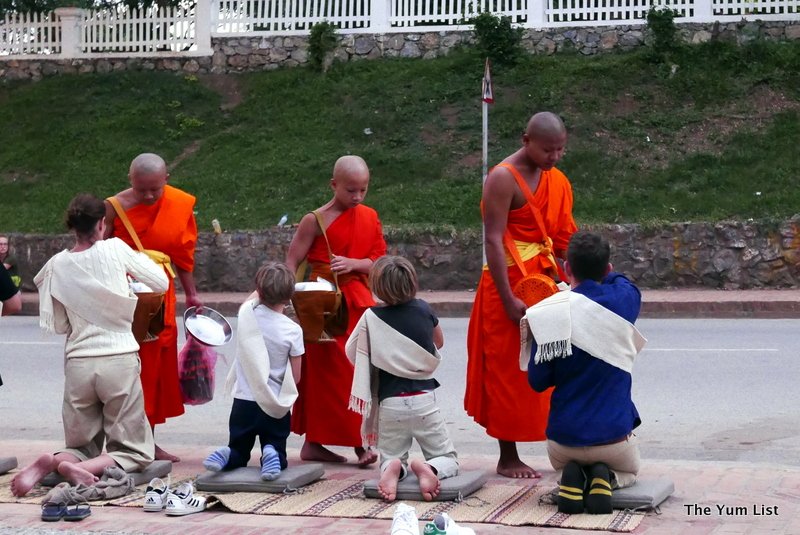 Overall Experience
When you have a good set of core values and a strong sense of identity, this effortlessly transfers to the guest experience. A solid foundation of excellent location, great food and beverage, and stylish rooms, is enhanced by service staff that seem as though they could make the impossible possible, or at least give it a try. Azerai Luang Prabang is a place where the answer is always, "Yes," and a hotel that pledges affordable luxury in Asia's next hottest travel destination.
Reasons to visit: stylish affordable luxury very well located in Luang Prabang; beautiful pool; excellent bistro; gorgeous breakfast; superbly friendly and accommodating service staff.
Azerai Luang Prabang
Azerai Setthathirath Road
Hua Xieng Village
Luang Prabang
LAO PDR 06000
+856 71 262333
[email protected]
www.azerai.com