Monica Tindall
Tapas Club, one of Singapore's latest restaurant openings, promises value-for-money authentic Spanish fare in a fun, casual environment.
Found at the top of the escalators on the first floor of Orchard Central, Tapas Club quickly revives our fond memories of travels through Spain with wine-red hues splashing the walls, hardwood flooring, and images from Malaga, Barcelona and Alhambra bedecking the restaurant. Latin pop music gifts a lively mood as we bop to our seats and appreciate exposed bricks, patterned tiles, and wrought iron balconies with hanging floral arrangements – just like the south of Spain in the summer.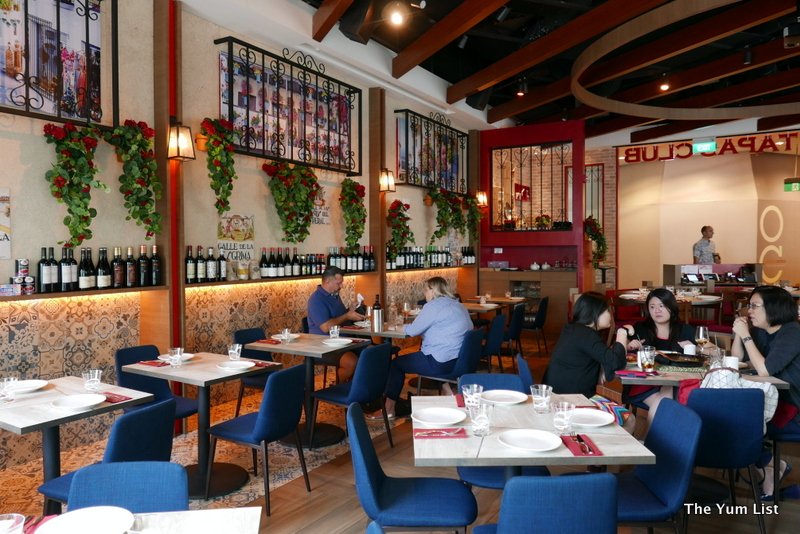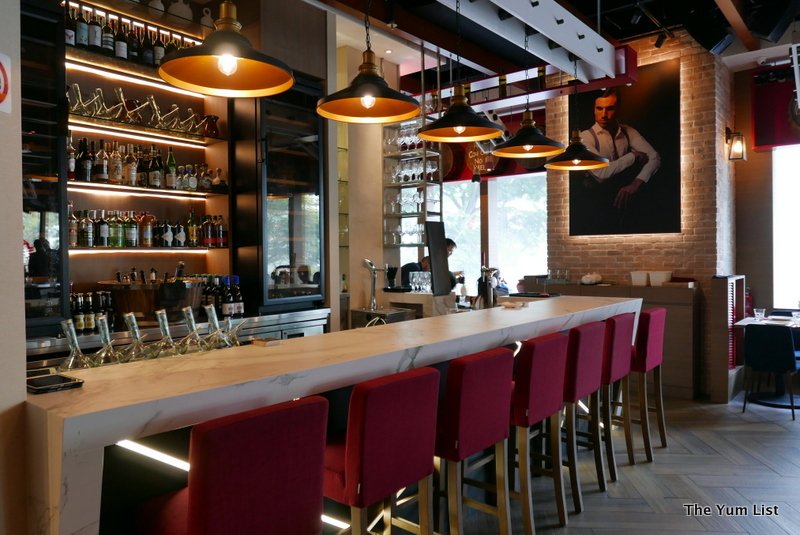 Drinks at Tapas Club
Backing up a menu of reasonably priced food, is an equally fair drinks menu. Beer, wine and cocktails, all Spanish in style, pledges to quench any thirst.
Beer
The official beer of Tapas Club is Amber, the first beer produced in Spain. Brewed in La Zaragozana, Amber is an award-winning beer and proudly claimed as the nation's most loved. Our opening is a Caña, a small glass of tap beer, (200ml $4.50) of Amber Especial – this year's prize taker for best beer in Spain. Later we try a bottle of Ambar Export Tres Maltas ($11), another award-winning beer, a little heavier and more complex in flavour.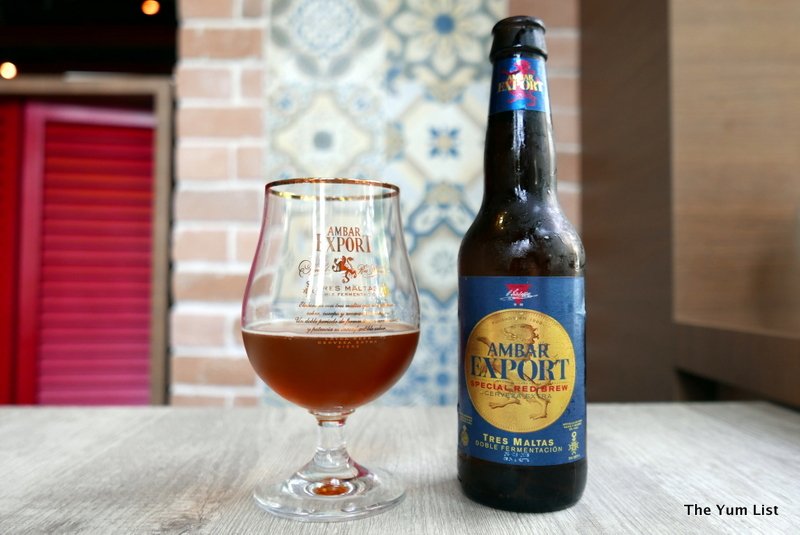 Sangria
What Spanish meal would be complete without a glass of sangria? "None," I hear you say, so we also sample a Red Wine Sangria ($12), which is a simple mix of red wine, orange, apple and cinnamon. It's light and refreshing, a perfect respite from the warm tropical climate. There's also an intriguing Cava Sangria ($14), which is as equally light, but with a bubbly fizz that whispers "fiesta!" Sweetened with banana and orange it's another beverage well-suited to the tropics.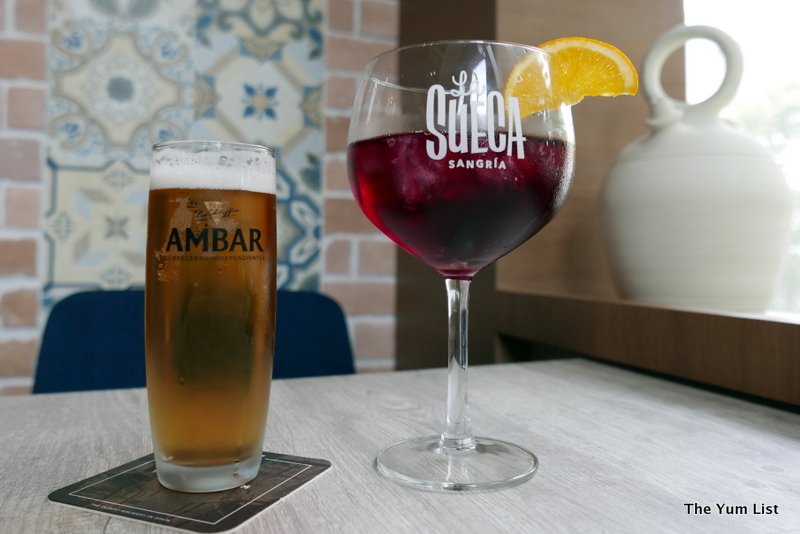 Wine
Sourced from small bodegas across Spain, the wine list enhances the experience by providing a number of new-to-the-market and boutique labels. All are reasonably priced and guests benefit from the personal contacts of the Spanish chefs who run the establishment. Having their own import license allows the group to bring in wines from small-batch producers, all of which they personally know. Serious in their offerings, nearly two handfuls of wines are available by the glass, with a greater selection found by bottle, and also for retail purchase. Also serious in our work, we do our best to try most of them.
Spanish White Wine
Relat de la Picossa ($10.50), a 2016 white Garnacha from Terra Alta presents a floral nose following by a lively minerality and long round finish. A 2016 Verdejo from Rueda by Cuatro Rayas ($8.50) is a classic expression of the grape, fresh and crisp; an easy drinking and versatile wine. Brezo, Godello/ Dona Blanca, Bierzo 2015 ($11.50) is the most complex of the trio. An attractive nose continues with fruity flavours in the mouth and a medium finish.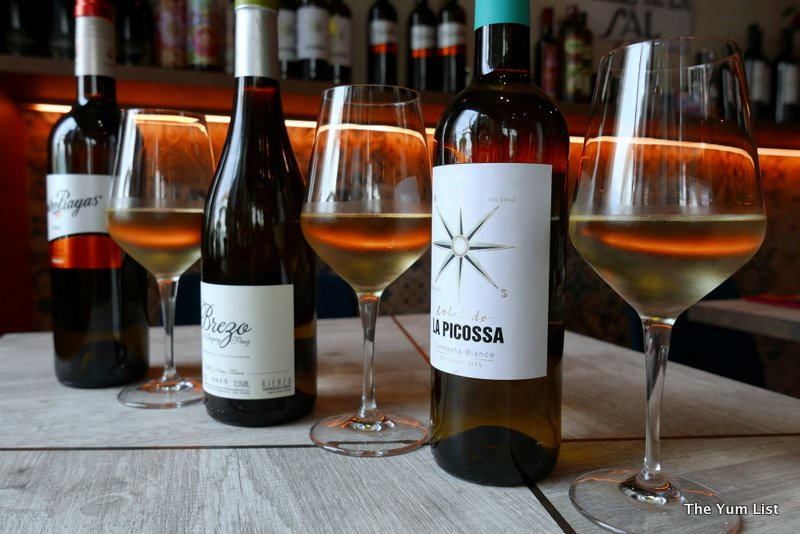 Spanish Red Wine
Aradon, Tempranillo, Rioja 2016 ($10.5) is a young red; light, fresh and goes down a little too easily. With light aromas of oak and a mild fruitiness it does well with a range of food. Lagares Crianza ($11.50), a 2013 cabernet sauvignon from Valencia is a little more serious with increased structure. Red fruits, sweet spices and tobacco tickle the nose and in the mouth the wine is well-balanced with a hint of balsamic.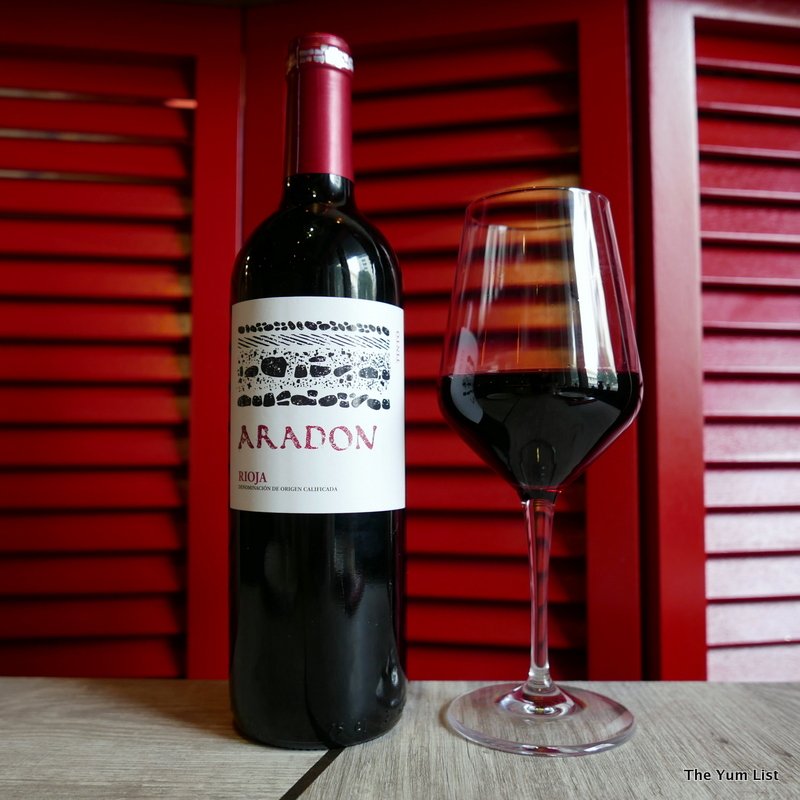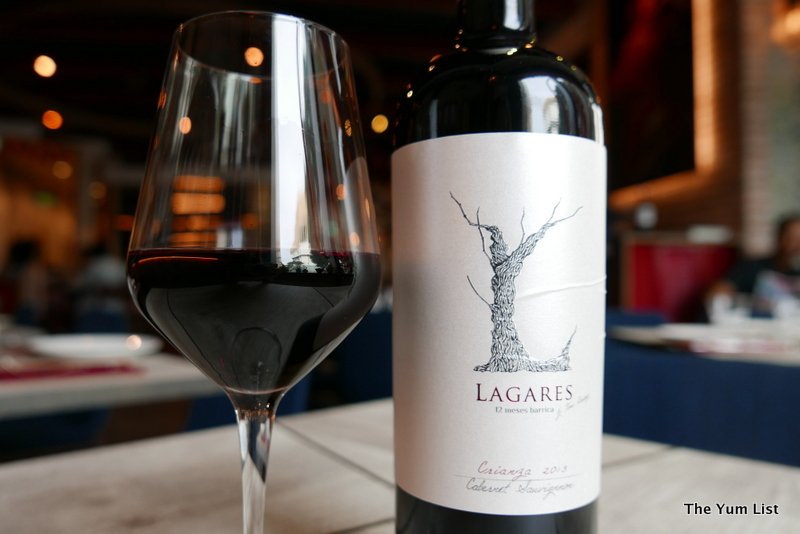 Tapas Club – Authentic Spanish Cuisine
Not one, but two Spanish chefs bring an authentic taste of Spain and the popular style of eating across small plates to Orchard Central, Singapore. As mentioned earlier, one of their primary goals is to create affordable dining in a fun and casual setting. At first glance, most dishes seem to be priced between $5 and $20, and every item is accompanied by a photo of the dish.
Tapas
Pan Con Aceite y Vinagre ($5) is a must order and a house specialty of Tapas Club. Deliciously chewy slices of toasted sourdough are served with caviar pearls in olive oil. A creative twist on the common oil and vinegar starts smooth in the mouth and then petite bursts of flavour surprise the palate with a mild tang. Scrumptious.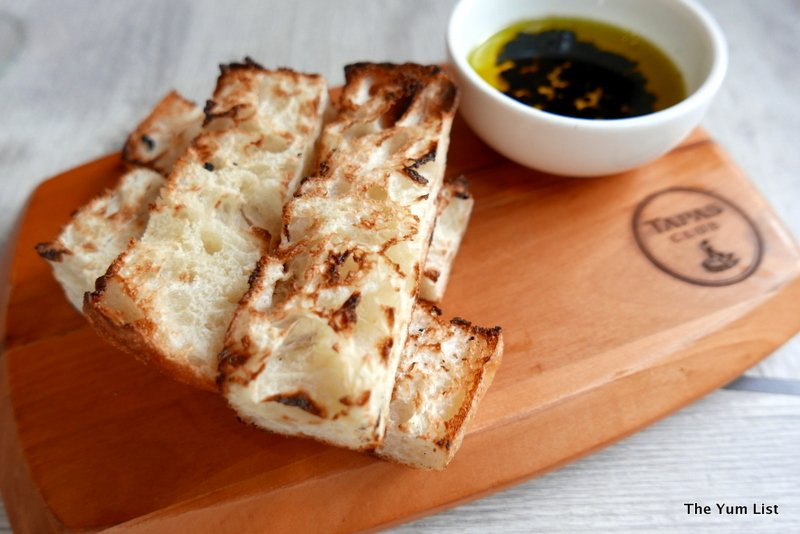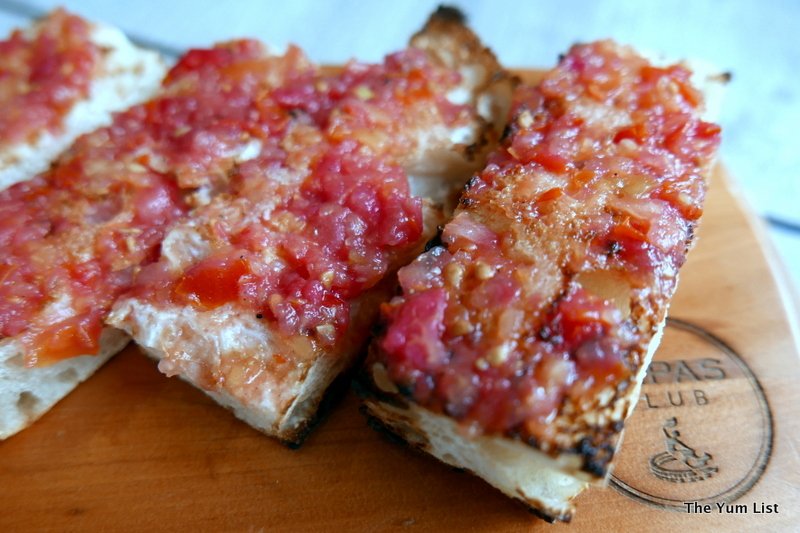 Esparragos a la Brasa con Panceta ($12.90) features beautiful plump grilled spears of asparagus wrapped with thinly sliced pork belly. The crisp, yet tender, spears are contrasted with a smooth potato puree with truffle.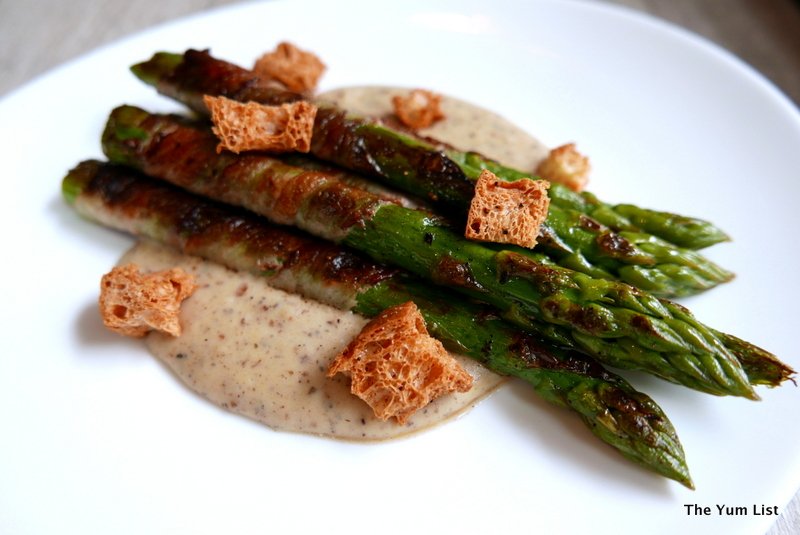 Another fantastic dish, and perhaps my favourite (if I was forced to choose), is the Ensalada de Tomate ($9.90). Something so simple, yet so good the fresh salad of tomatoes is based with gazpacho, a chilled Anda Lucian soup of red capsicum. It's refreshing and a great choice as a starter.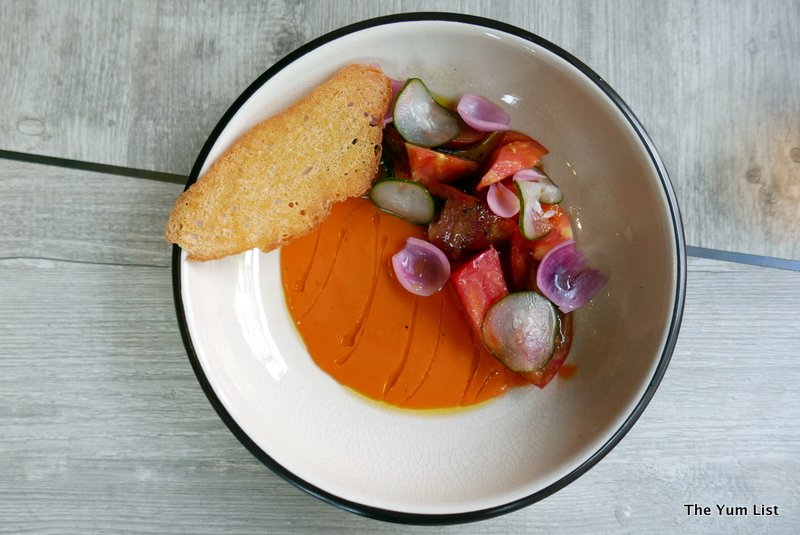 A classic, Gambas al Ajillo ($12.90), or garlic prawns, are presented in a cast iron pan with fingers of that tasty house bread that we can't seem to get enough of flanking the edges. A generous portion sees no less than 10 prawns in the dish and the broth of fish, oil, fried garlic and chillies quickly gets mopped up with the bread sticks.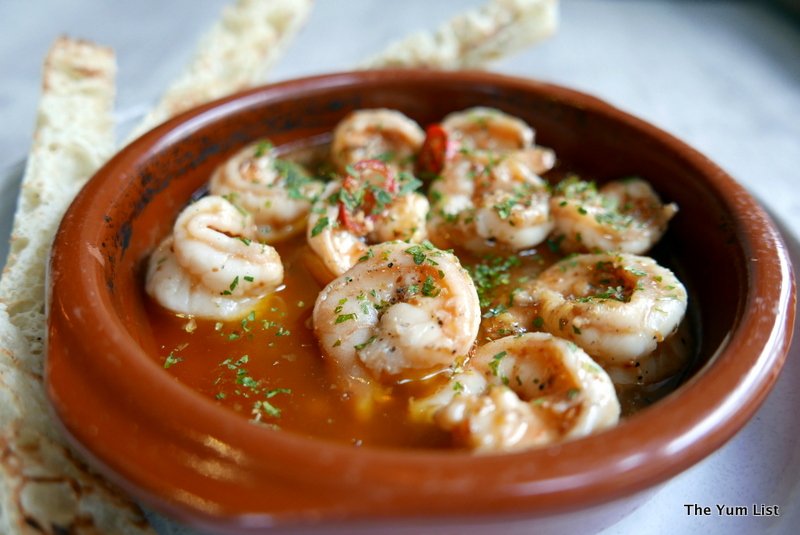 Champiñones con Cangrejo ($12.90) is something that our Spanish-loving taste buds have surprisingly not yet come across. The stems of mushrooms are removed and mixed with fresh crab meat and used to fill the upturned mushrooms. A pond of duxelles is the perfect excuse for a second order of that bread, and a dob of aioli topped with chives breaks the brown colour palette.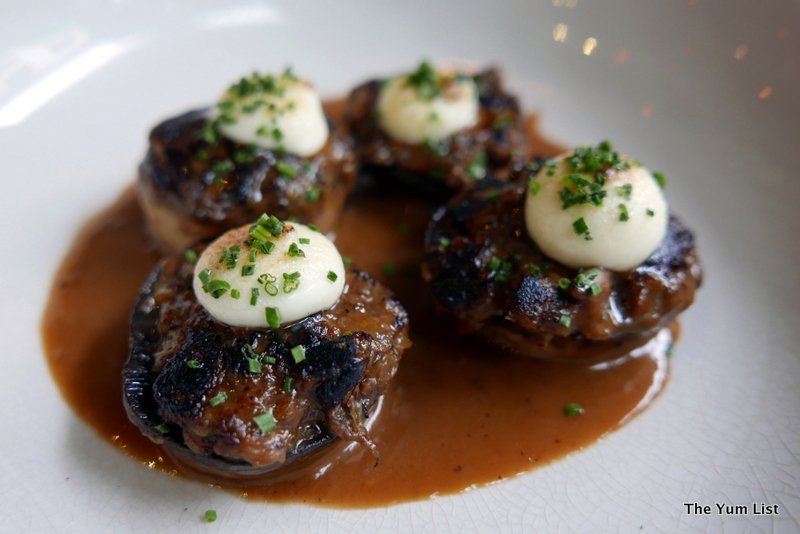 Perfect pickings for Spanish beer is an order of the Sardinitas con Salsa Espinaler ($12.90). Baby sardines are coated in a crispy puffy batter and served with tasty Espinaler sauce – a typical Catalunian recipe made with red capsicum, chicken stock, black pepper and salt. It's smoky with a hint of spice and is enhanced with a mouthful of the Amber Export.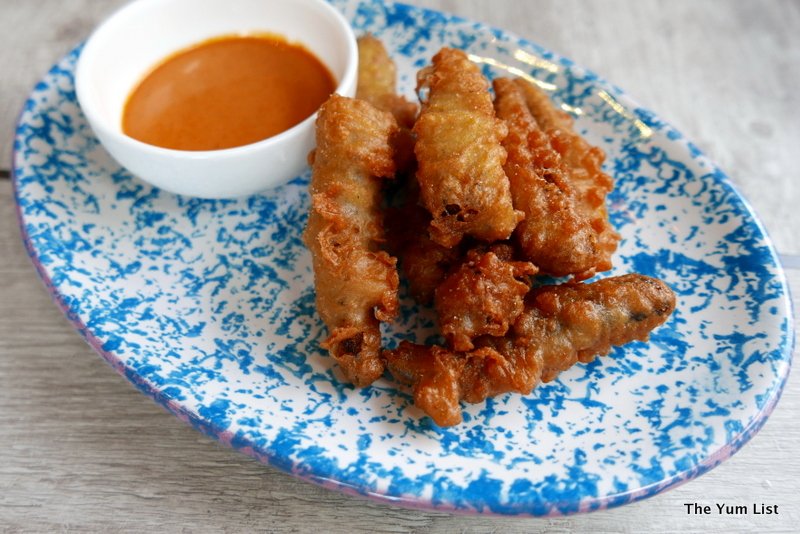 Another typical Spanish tapas dish is found in the Patatas Bravas ($9.90). Double fried to get just the right texture, and accompanied by a red capsicum sauce and aioli, they're another plate that is a good mate for a glass of beer.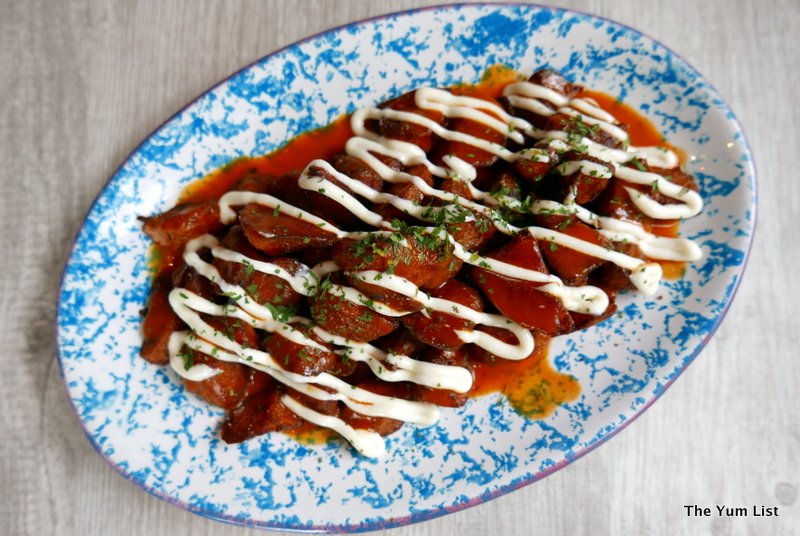 Tapas +
The Tapas + section of the menu is composed of plates that are slightly larger in portion and come with a side dish. They too can be shared, or eaten as a more substantial main.
A local seabass is used to make the Lubina a la Bilbaina ($18). It's proof that often the simplest of recipes are the best. Simply pan-fried with garlic and chili, it's flaky, fresh and very good. Smokey grilled vegetables on the side turn the fish into a complete meal.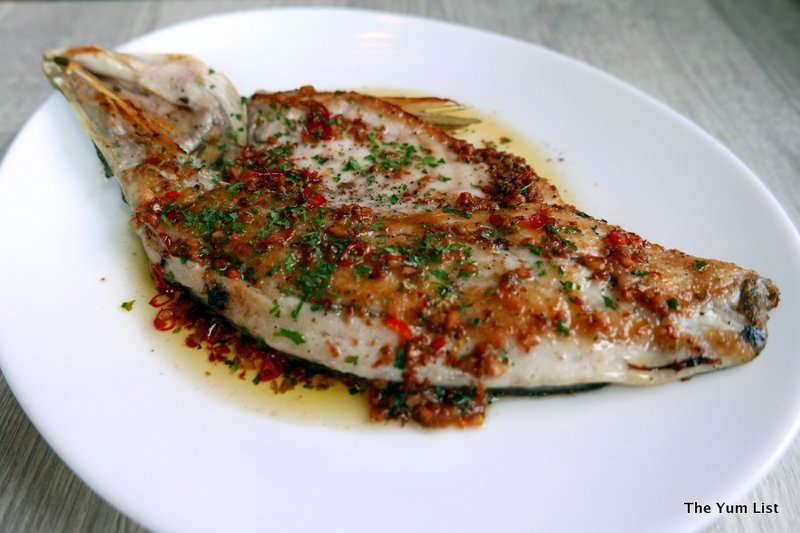 Five paellas show the diversity of Spanish produce. The common base of rice cooked in stock in a paellera (round cast iron pan) is eaten around the country but the addition of protein and vegetables is dependent on what's grown locally. Paella Mixta ($25) sees a combination of chicken and seafood (prawns and clams), utilizing gems from the land and the sea, backed up with green peas and a green sauce. It's common knowledge that the best bits are those caramelized grains around the edges, but did you know that it's not a just a side product of the recipe, but a specific cooking technique that Spanish chefs must master? It's called Socarras, and the key is to achieve the crispy chewy texture without a scorched flavour – it has to be toasted but not burnt.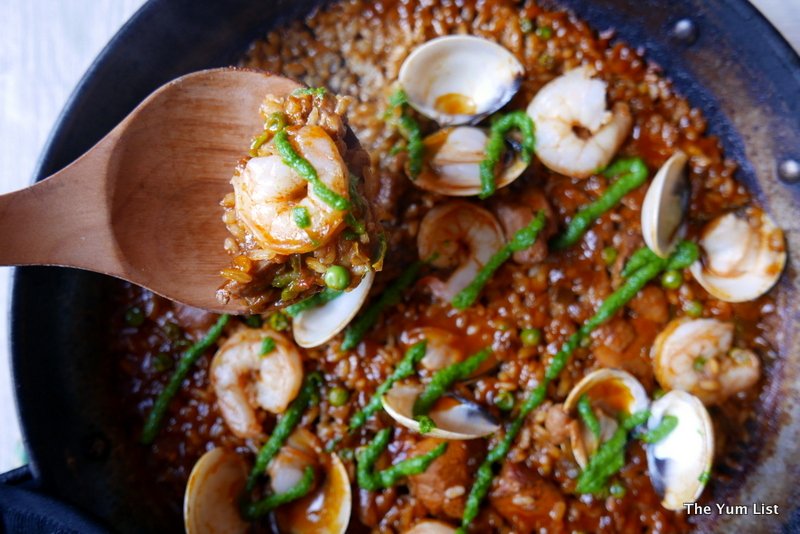 Desserts
If you want to taste what perfect churros should be, come to Tapas Club, and here you can taste them in all their variations. Churros Con Chocolate ($8), churros with chocolate sauce, are the most classic form. Churros Rellenos ($10), are stuffed with chocolate and white chocolate with cinnamon, and Sandwich de Churros ($12), are a churros sandwich hugging creamy scoops of ice cream.
In Spain, churros are historically eaten as a breakfast dish and the thick chocolate companion is drunk at the end. The rest of the world, however, has embraced churros as a dessert, so here you find it at as a sweets option. Now, the key to the perfect churro… It must be crispy outside without being oily, and the inside has to be a little less cooked but not so much that you taste the dough. The result is a texture profile that starts as soft in the core, chewy in between and crisp on the crust. To see what I mean, visit Tapas Club.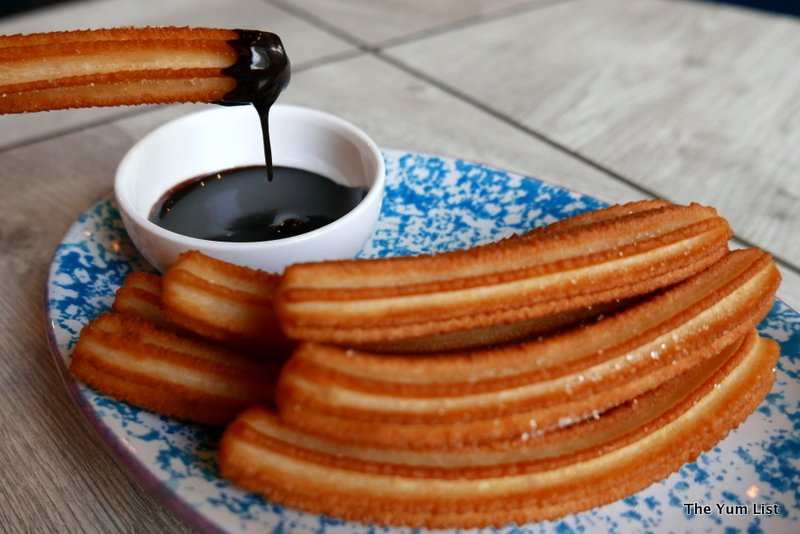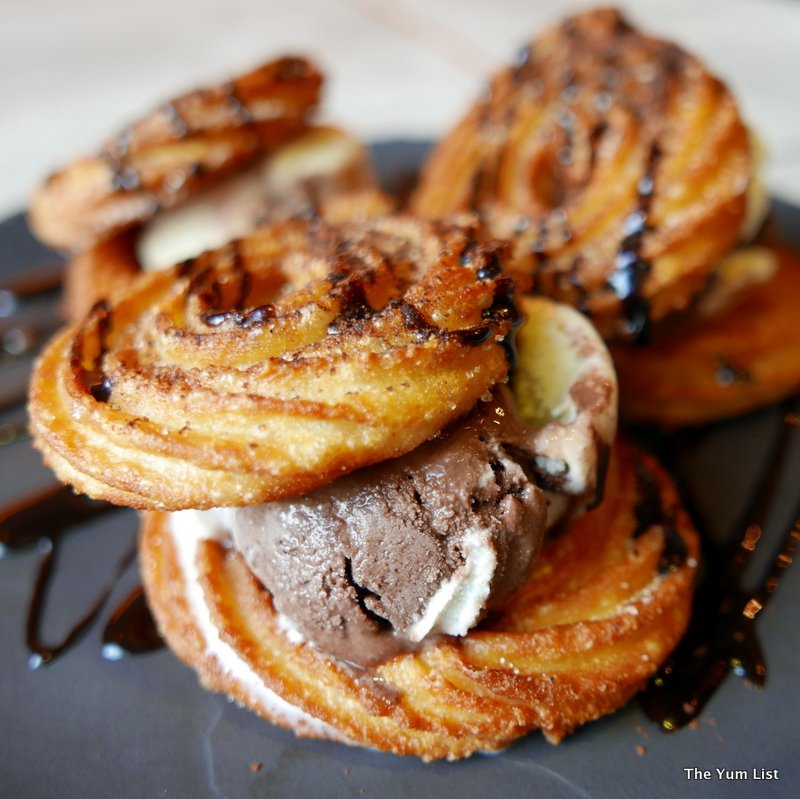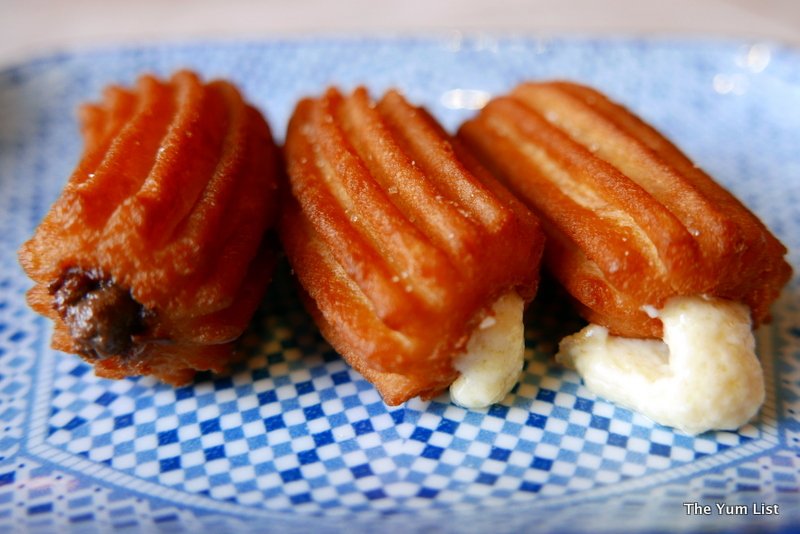 Retail Section at Tapas Club
Those small-batch wines we enjoyed so much earlier, along with a number of items flown in from Spain are available for purchase to take home at Tapas Club retail corner. Designed more as an attempt to increase awareness of Spanish products and encourage the eating of Spanish recipes at home, we're happy to know that there's no mark up on the prices; shoppers get them for the same price the restaurant does.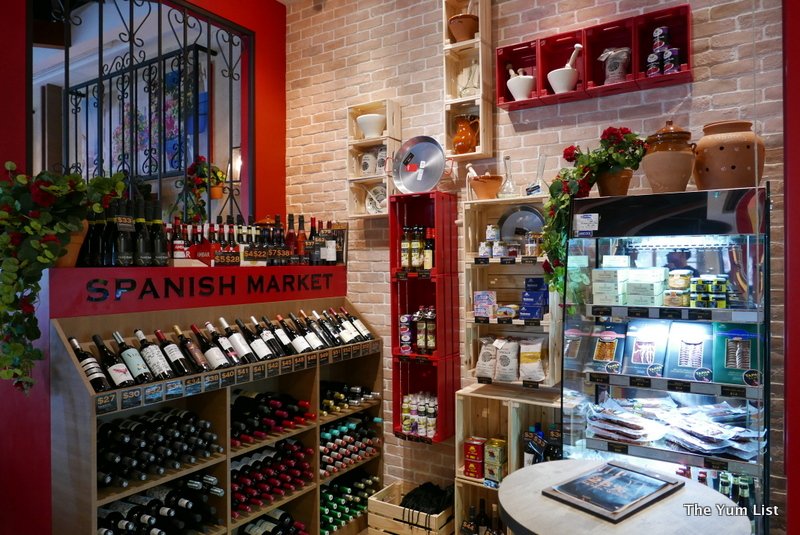 Tapas Club is relaxed, fun and easy. Come by yourself, come as two or come as a large group and I bet you'll still have a good time. Singapore too far for you to travel? Stay tuned to this space as we know of plans for Tapas Club to come to Malaysia!
Reasons to visit: casual cheery setting; value-for-money authentic Spanish fare; don't miss the house bread, the asparagus, tomato salad, garlic prawns and be sure to save some space for the perfect churro.
Tapas Club
#02-03 Orchard Central
181 Orchard Road
Singapore, 238896
www.tapasclub.com