Words: Matt Jones    Photos: Monica Tindall
Want to make your bottle of sparkling sparkle? Your Veuve more vivacious? Moet even more moorish? Now it's not just you that you can accessorise fabulously!
Think chandeliers for your champagne bottle, beaded frocks for your wine glasses and bedazzled bodycon gowns for your bottles to transit in, this glamorous collection of blinged up accessories for your imbibing pleasure, presented by Wine Stoppers Australia, will definitely elevate you to be the 'hostess with the mostess'.
I recently had the pleasure (over bubbles of course) of meeting Pauline, the brainchild and mastermind of this unique and incredible business. As sparkling and glamorous as the products she has deigned and created, her effervescence and enthusiasm for all things bling is infectious. Indeed, the night we met, she'd brought her gold coloured champagne popper (complete with its own matching satin drawstring bag) to the venue, and popped it straight onto our bottle of Piper Heidsieck.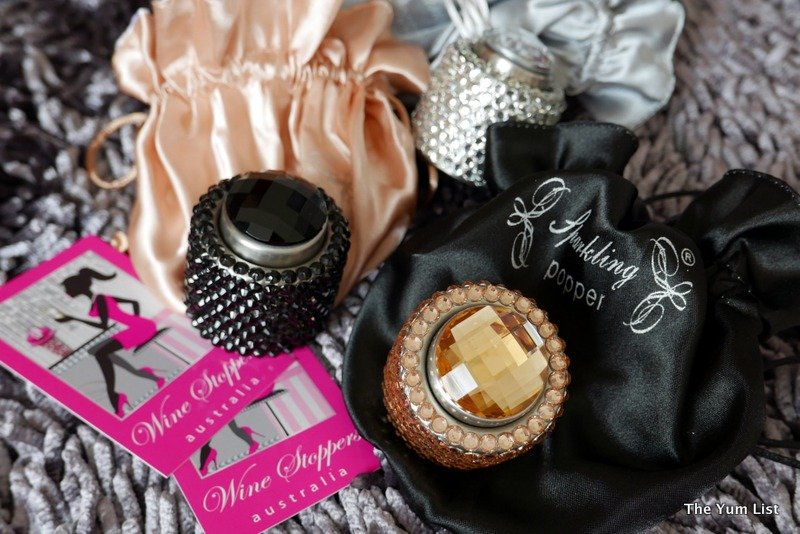 Like an iridescent magnet, heads were turning and conversations were starting. "Oh wow, where did you get that?" from the lady at the next table. "We need those here in our champagne bar!" from the sommelier serving us. An absolute talking point, the pieces are as functional as they are beautiful. Even though our bottle didn't last that long (I'm never one to let champagne get warm!), the stopper will actually keep the fizz in your Freycinet for up to a month, or even longer.
The champagne popper range features a number of gorgeous colours, all tailored to suit the occasion. Sparkling silver, soft rose pink, champagne gold, and sophisticated black (all at $38AUD) among others. For a more art deco look, the Luxe collection have baguette-cut stones and come in three stunning colours ($49AUD).
Your wine bottles won't miss out either; Manolo up your Merlot or Christian Laboutin your chardonnay with these stiletto stoppers. Again in a range of patterns and colours, Monica immediately fell in love with the Luxe Wine Stopper, glistening in red ($35AUD). Made from zinc alloy, it won't rust, discolour or change the flavour of your wine, and the rubber stoppers ensure a secure fit to almost any neck size bottle.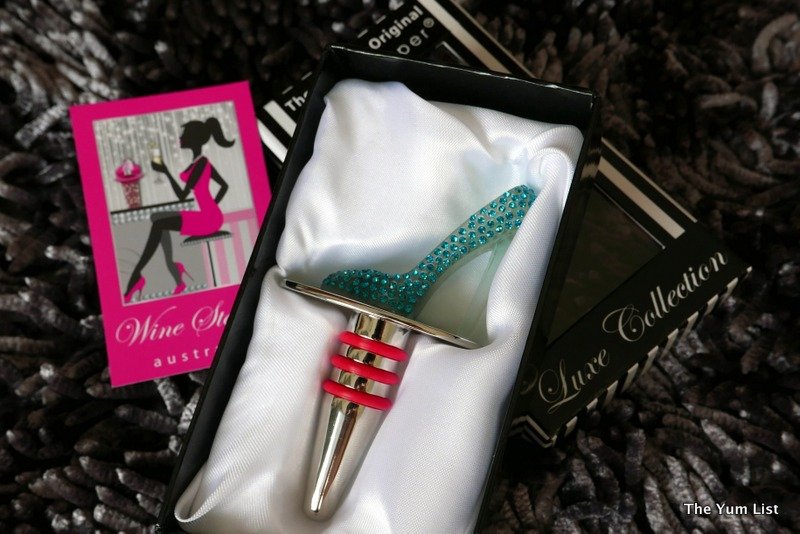 Pauline's collection also includes a selection of matching accessories; dress up your wine or champagne glass with a bedazzling, diamanted neoprene suit ($16AUD), or a bottle cooler to keep your bottle cold while you head to your next event. These stunning sheaths are so gorgeous and expensive-looking, I wanted to use mine as a handbag. In three colours of pink, white and black ($30AUD) you can match them with your own outfit.
Given the stunning packaging of each item (beautiful satin drawstring bags, or boxed depending on the product) they make perfect gifts, and even more perfect wedding favours to give your special day that truly special touch.
Available online through their website www.winestoppersaustralia.com or via their Facebook page, you can contact Pauline in Australia.