Words: Jane Speechley          Images: Jane Speechley and supplied.
It's been exactly three years since Akiba Canberra turned on the neon signs and opened its doors, but in a city where both menus and venues seem to change with the seasons, this busy little eatery is still going strong.
I'm no stranger to Akiba Canberra – it's a regular favourite to visit with friends and work colleagues alike. As many of us tend to do, however, I'd developed a routine of sticking to ordering the dishes I know and love.
So the chance to formally review the restaurant earlier this month also afforded an opportunity to place myself in the chef's hands and step outside my comfort zone.
Akiba is located on the edge of Canberra's CBD, in a popular dining and entertainment precinct where it faces stiff competition from both established venues and new contenders.
However, the buzzing crowd that builds here when we visit on a supposedly 'quiet' Monday night suggests that keeping on doing what it does very well is working out just fine for Akiba. Among the patrons are families with young children, as well as university students and businesspeople.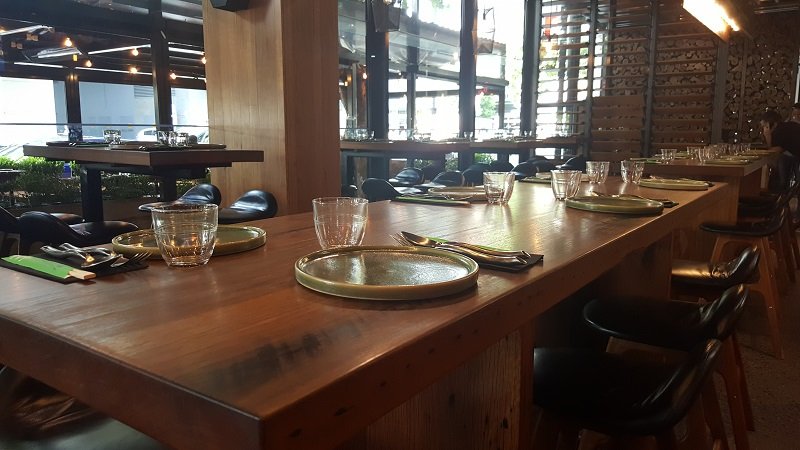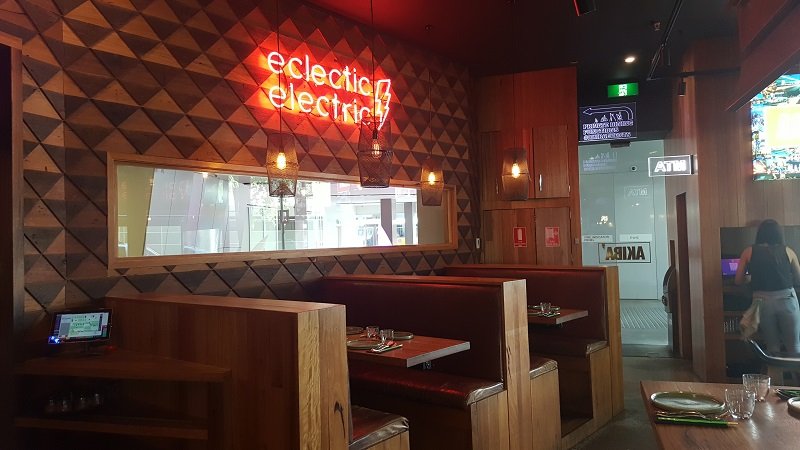 Arriving early, we have the luxury of choice of where to sit, and so we take waitress Lily's suggestion and opt to perch up in front of the raw bar where we're closer to the action in the kitchen. And action there is: the whole vibe at Akiba is busy, loud and fast-paced, and the kitchen is no exception. It's alive with chatter and laughter from the staff, punctuated by the frequent loud hand-claps that are used to signal to wait staff that a dish is ready to go.
Part of Akiba's approach is to make dining out fast, easy and fun, so in fact, my inclination to stick to routine is not unwelcome here. You won't find complicated menus that change radically with the seasons – the focus is on providing a few familiar and trusted favourites, as well as a few adventurous alternatives to try.
Whether it's your first visit or your tenth, I'd strongly suggest starting with the 'just feed me' special (AU$49 per person), which will see you served with eight of the most popular dishes. It's a great way to get a snapshot of the full menu of Asian barbecue, raw bar, and modern-day dim sum offerings.
These are perfectly complemented by a range of local and imported beers and wines, but especially, by the widely-lauded cocktail selection. This includes a number of signature cocktails that are available on tap!
Therefore, we can't resist an invitation to start with two of the new summer cocktail range and put our trust in Lily's selections.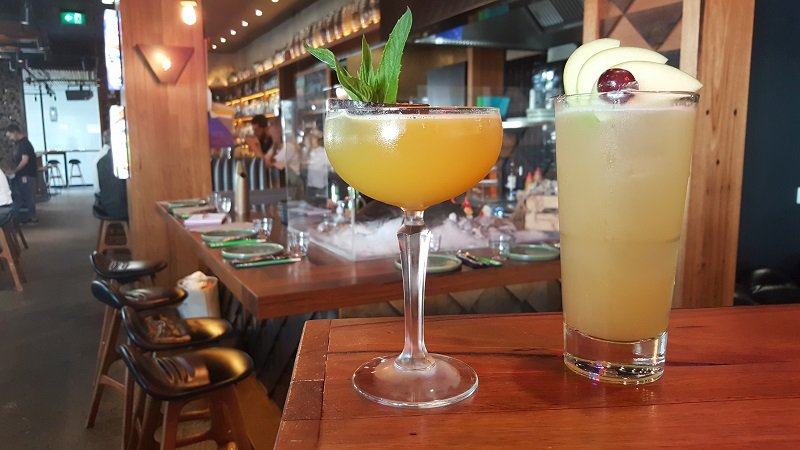 The AKIBA'S Cooler (AU$16) is a mango vodka, sauvignon blanc, fresh pressed apple juice and red grapes. It's icy cold, very refreshing and dangerously easy to drink. It's also served in a tall glass with a clever apple and red grape decoration that my dining companion points out looks a little like a tribute to the Sydney Opera House.
A slightly milder and sweeter taste but equally delicious is the romantically-named The Love Boat (AU$18), am apparent sentimental tribute to the 1980's television series. It consists of Wyborowa Vodka, fiorente elderflower fresh pressed apple juice, lemon, passionfruit and mint, topped up with sparkling wine and served in a classic retro champagne saucer.
Both are sure to be crowd-pleasers among the summer dining crowd.
Our first dish is served to us directly from the Raw Bar where we're seated, by second-year apprentice Sam, who has knowledge beyond his experience. He confirms the Kingfish, Coconut, Nam Jim, Coriander (AU$14 if purchased on its own) in one of the restaurant's most popular choices, so not surprisingly, it's our pick of the night.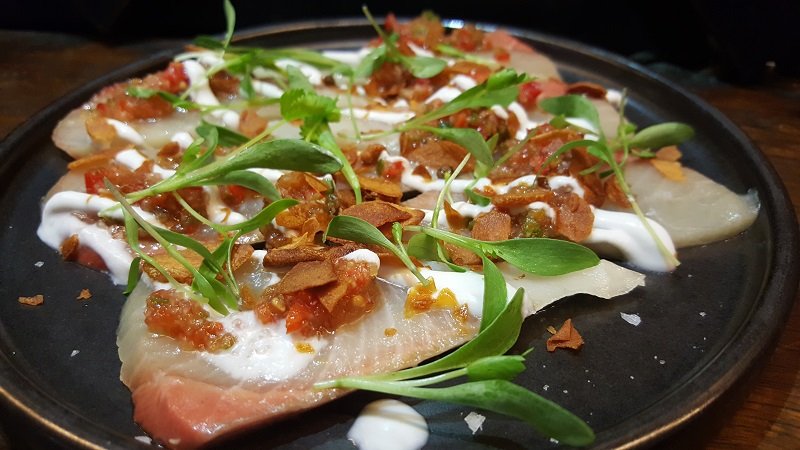 Delicate and delightfully sweet pieces of freshly-sliced kingfish sashimi are topped with dollops of nam jim, a traditional hot/sour/spicy Thai dressing. The dish is then drizzled with coconut cream and garnished with crunchy pieces of fried garlic and coriander. The coriander adds a big hit of flavour, but the amount of heat and spice in the dish is just right, and contrast beautifully against the cold sweet fish. It's one of those dishes that gets better with every bite.
The other hot favourite from the menu appears next, as our following three dishes are chosen from the Snacks and Street Food menu.
The Pork Belly Bun, Char Sui, Asian Slaw (AU$8 each) edges out the pulled beef and soft shell crab varieties on the menu for top billing. It's loved by many for the sticky sweet char sui (Chinese BBQ) coating, perfectly balanced by a dense soft bun that's made in-house every night, a creamy coleslaw accompaniment and tangy sliced pickles.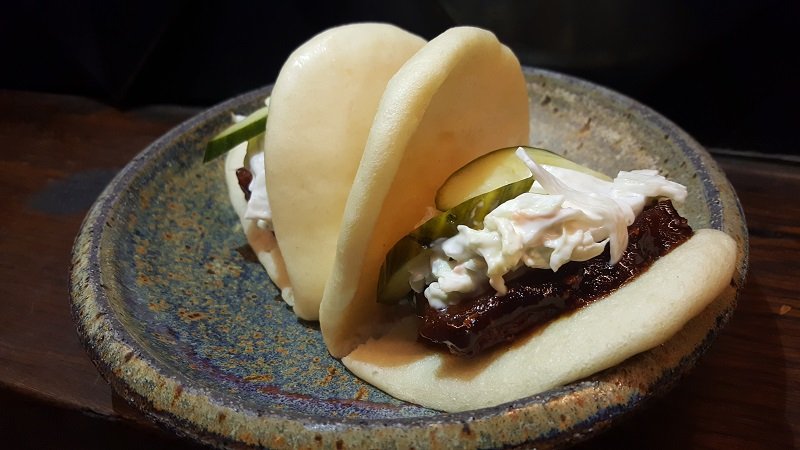 It's simply delicious, and though tricky to eat without making a mess, you'll absolutely love every moment of licking your fingers clean.
By comparison, the Kimchi and Angasi Pancake, Kewpie Mayo, Sriracha, Itogaki (AU$10 for 4 pieces) is a bolder and less mainstream choice.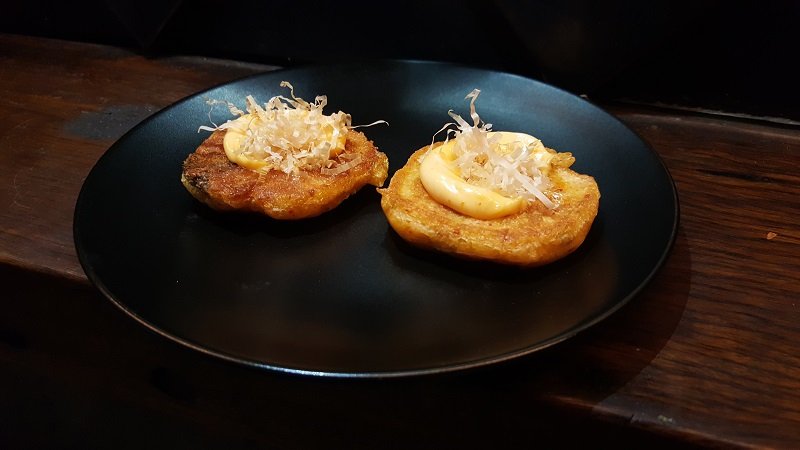 Small, soft kimchi pancakes (made with a sourdough base) are topped with a swirl of sweet Japanese mayonnaise that's been mixed with a spicy sriracha seasoning. There's a little bit of theatre on this dish as well, as the fine threads of itogaki (dried tuna flakes) wave and move gently in the current of heat rising from the dish. It's as though they're alive, and quite mesmerising.
With stronger flavours and unusual ingredients, this is a dish that may not suit everyone's palate, but we loved it. It packs a big, bold umami punch, with hints of sweetness and a tartness. Once again, Akiba serves up a little of what you know, then pushes you to try something new.
Another complex and sophisticated flavour thump can be found in the ginger and black vinegar dressing that surrounds the Prawn and Chicken Dumplings (AU$11 for 4 pieces). It's an interesting combination: the relatively mild flavours of prawn and chicken topped with sweet caramelised onion and only just holding their own against the spice of the dressing.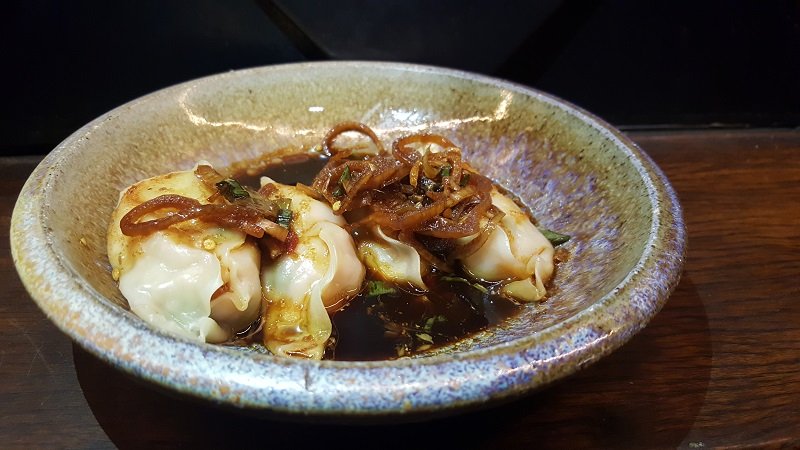 The dressing itself is so tasty, it's too tempting to try it on its own with your spoon – but be warned! – it's divine, but definitely punchy. You might want to make sure you have a drink close at hand!
We're filling up fast, but we've only just reached the 'mains' portion of the menu. Beef Short Rib, Tamarind Caramel, Thai Basil (AU$24) is chosen for us from the Share Plates section and tastes as good as it sounds. The beef is fall-apart-on-the-plate tender, fatty and rich, and smothered in a sticky sweet sauce. It's topped with leaves of Thai basil that add freshness and vibrancy to the dish, plus plentiful shreds of the intriguing tamarind caramel, which is both sweet and slightly burnt/bitter, as good caramel should be.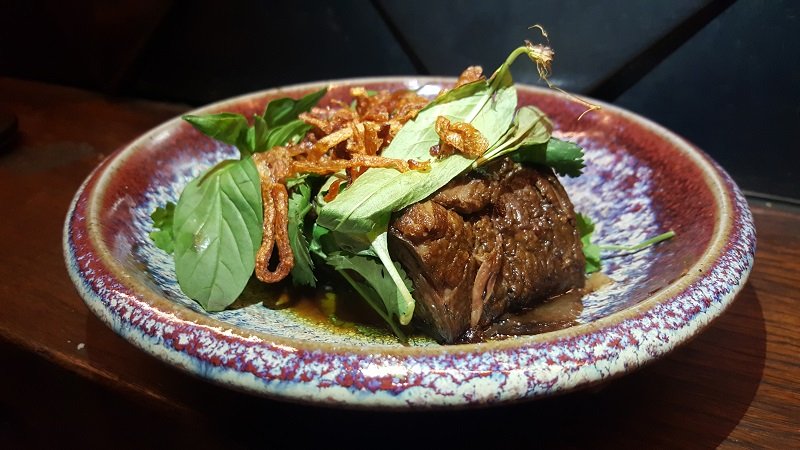 Arriving with the beef is a bowl of the King Prawn Fried Rice, Snake Beans, Chilli Fried Egg (AU$21) from the Noodles and Rice menu. This is fried rice, but not as you know it, and on another level to your local Chinese restaurant.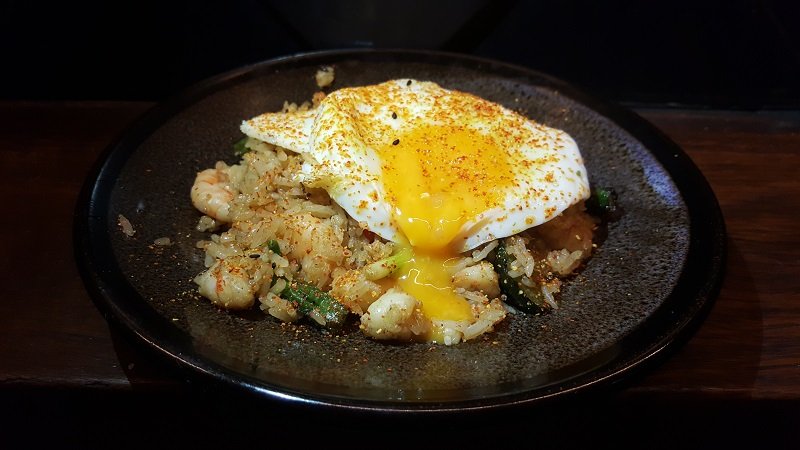 The snake beans have been chargrilled until they're thoroughly toasted and blackened, before being added to a mix of rice with cooked cucumber, shallots, and red onions that have been blended into the sauce. The whole lot is then topped with a soft-fried egg that been sprinkled with a dried chili powder blend, just begging to be broken apart and stirred through the other ingredients.
The result is a nutty and spicy combination that means the chunks of sweet prawn meat aren't the only highlight.
The dining staff again showed their understanding of the components of a good meal, by then breaking up these heavier dishes with a simple bowl of Chinese Broccoli, Oyster Sauce, Lemon (AU$9 on its own). Vibrant and colourful, the vegetables are perfectly cooked and a delicious dish on their own.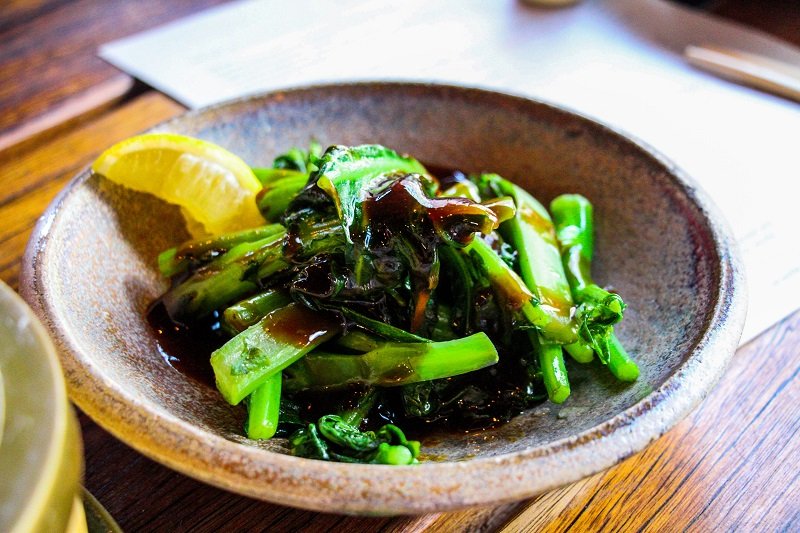 Finally, with very little room left in our tummies, we only just manage to squeeze in the final dish of the evening. Thankfully, it's a lovely light dessert, the Lemon Tofu Cheesecake, Anzac Crumb, Pandan Jelly (AU$9).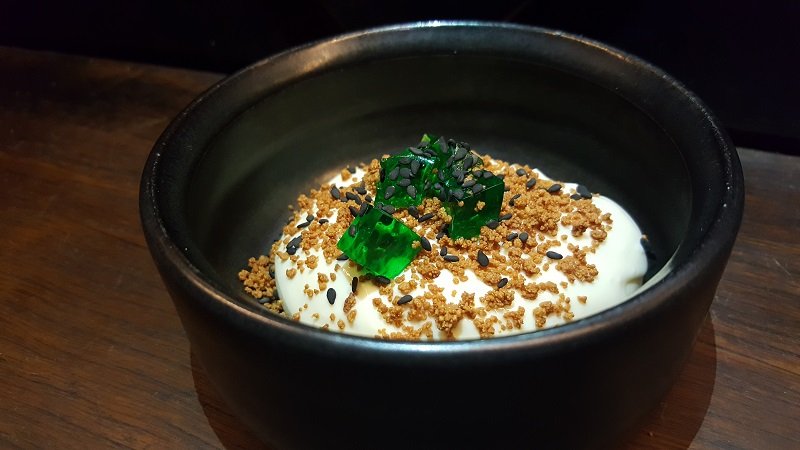 If you're not familiar, Anzac Biscuits are an almost-sacred tradition in Australia, so-named because the simple and long-lasting recipe was ideal to make and send biscuits in care packages to soldiers fighting in World War II.
They get a new twist in this deconstructed dish, crumbed and sprinkled over an incredibly silky, smooth and generous dollop of lemon-scented 'cheesecake', alongside neat little cubes of bright green pandan fruit jelly and black sesame seeds. It's the perfect conclusion to the meal, a delightful blend of citrusy and nutty flavours with creaminess and crunch.
Despite being already quite full, we clean the bowl.
Just over a year ago, Akiba was given a remarkable accolade, announced as the winner of the Top Restaurants People's Choice Award for Best Restaurant in Australia – the first time this accolade had ever been won by a Canberra restaurant.
Such publicity doesn't always translate into sustainable success. But repeated visits to Akiba Canberra show the team is sticking with what they know and doing it well, and the crowd here suggests that's still a winning formula.
Reasons to visit Akiba Canberra: To check out the #1 People's Choice restaurant in Australia! A little taste of Tokyo life nestled in the middle of Canberra. Perfect for a cheerful catch up with friends or a quick bite before a show. The kingfish sashimi and pork belly buns are must-try.
Akiba Canberra
40 Bunda Street
Canberra City ACT 2601
Canberra
Australia
+61 2 6162 0602
www.akiba.com.au