Words: Matt Jones  Photos: Monica Tindall
I'm dreaming of a white Christmas… and while here in the sunny climes of Kuala Lumpur I might be dreaming that dream in shorts and a t-shirt by the pool, the InterContinental Hotel Kuala Lumpur is bringing that dream to life. Instead of slaving away over an equally hot kitchen, juggling pots, pans, kids and extended family (not to mention negotiating having the washing up done) I'm staying by the pool and sipping on my chilled mulled wine and eggnog cocktails and letting the kitchen crew at the InterContinental Hotel Kuala Lumpur do all the work.
Christmas Take-Away Menu, InterContinental Hotel Kuala Lumpur
This year, instead of dreaming of that wonderfully smooth, stress-free joyful family Christmas get-together at home (why travel when the rest of the family can enjoy the luxury and comfort of your place), let the InterContinental Hotel Kuala Lumpur help you create it with their home-delivered, specially chef-designed and prepared Christmas feast package. Just like home cooking but with that extra polished panache that only the 5-star hotel can deliver (to your door, and piping hot and ready to set out and eat), the menu choices are as extensive as they are delicious.
The Festive Gourmet Corner, available in the lobby from December 1 to 26, has been crafted to curate Santa's perfect naughty or nice gifting list, thoughtfully divided up into meal, accompaniments, or sweets and gifts chapters.
'From The Hot Counter' furnishes you with the main meats and all the trimmings you'll need to complete your family feast. For me, nothing screams Christmas like a turkey, so naturally, we went for the Roasted Whole Traditional Turkey with Sage chestnut Stuffing (RM598/5kg). The sage stuffing comes as a separate dish and looks great on its own plate beside the whole bird. Being traditionalists, our trimmings included the Roasted Root Vegetables and Brussel Sprouts (RM26/200g) with gravy and sauces.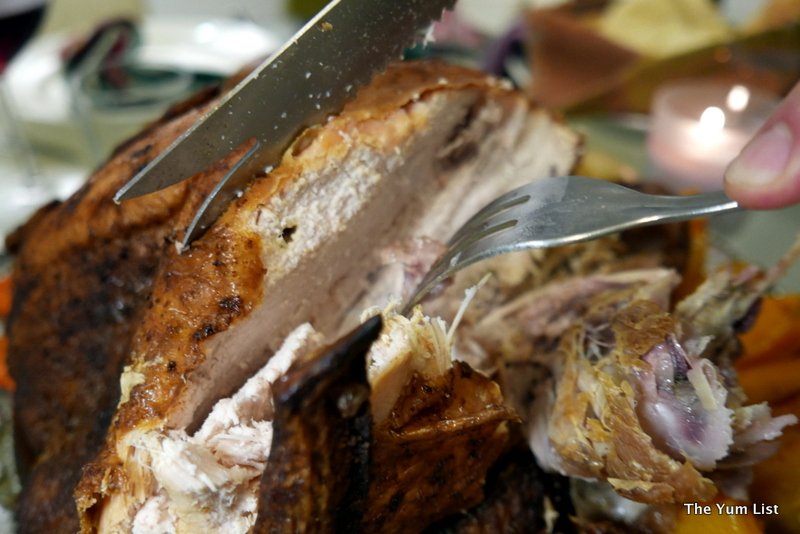 The 'Homemade Christmas Cookies' section is where all the yummy sweet stuff sits… who doesn't want a Gingerbread Santa, let alone his whole house! For us, a Christmas dinner isn't finished until the Christmas Pudding is presented, with Traditional Brandy Sauce (RM26/200g), ideally followed by post-lunch sherries with the Panforte (RM26).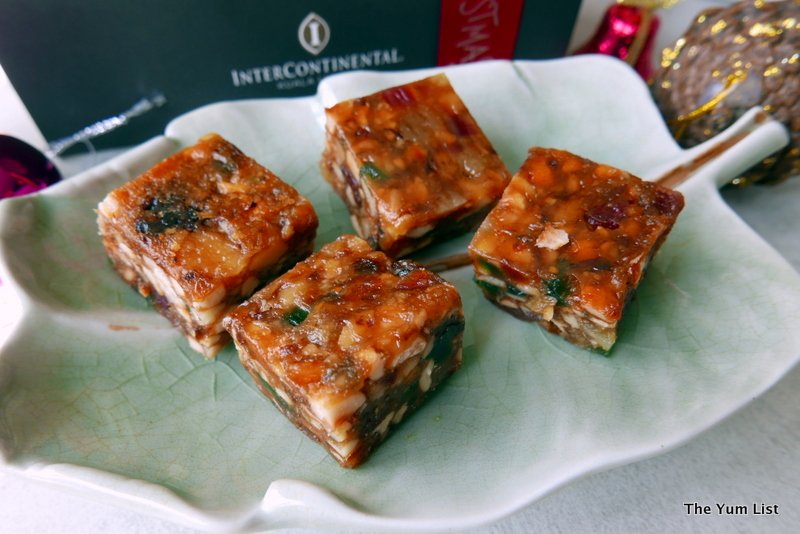 Also on offer are an array of Yule-tide logs and a cornucopia of Christmas cookies, of which we sampled the Mailaenderli (vanilla and lemon), the Brunsli (almond and chocolate) and traditional Gingerbread (all RM18).
For those last minute gifting delicacy necessities, the 'Premium Chocolate Collection' section solves everything. The available parade of Santa's and snowmen smiling and waving will delight every recipient. There's also a Christmas Collection Festive Hamper available.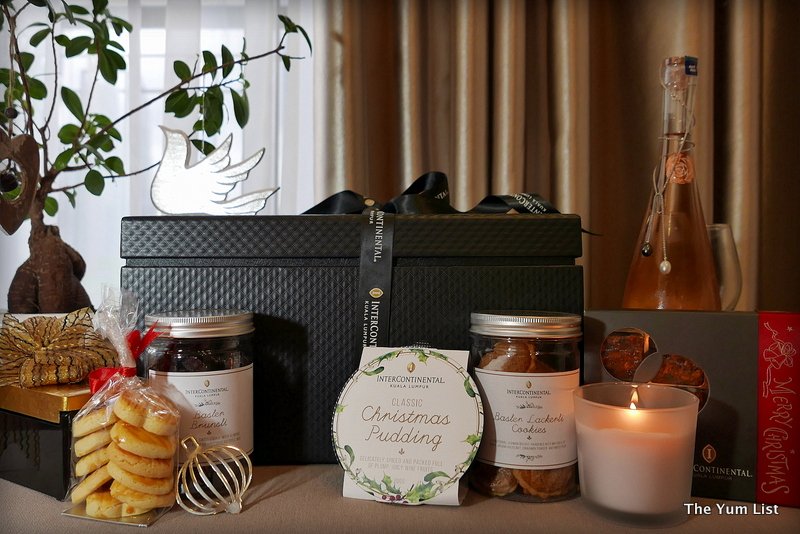 Christmas at the InterContinental Hotel Kuala Lumpur
If dressing up and heading out is more your style, the seasonal celebrations at the InterContinental Hotel Kuala Lumpur are centred around a month-long 'Glittery white' festival. An incandescent and inviting nod to the celebratory season sparkles in silver, gold and arctic white, featuring as its centrepiece a magnificent 18 foot Christmas tree, and seasonally-designed specialities across their smorgasbord of venues.
From December 24 – 26, Serena Brasserie, Tao Chinese Cuisine and Tatsu Japanese are offering up a whole Christmas themed buffet of exquisite buffets, a la carte and set menu lunches, brunches and dinners, and again for New Year's Eve and New Year's Day festivities.
Merry Christmas and happy Yuletide feasting!
InterContinental Hotel Kuala Lumpur
165 Jalan Ampang
50450 Kuala Lumpur
Malaysia
+6 03 2161 1111

kualalumpur.intercontinental.com
+603 2782 6000 / +603 2782 6398
[email protected]