Words: Claire Matheson .   Photos: Monica Tindall
Luxury (noun) – "a material object, service, etc., conducive to sumptuous living, usually a delicacy, elegance, or refinement of living… a pleasure out of the ordinary allowed to oneself."
Kuala Lumpur has long had a love affair with luxury. From the exquisite goods lining the walls of Gucci, Prada, Chanel and Dior stores, to the sumptuous interiors of the Grand Hyatt, The Ritz-Carlton and Hilton hotels, the search for the superlative and most exclusive pleasures are for some, an obsession with the art of living.
In the realm of food, there is only one language of luxury: The Michelin Star. Heralded as the ultimate pinnacle of achievement and desirability, the awardance of a star accolade signifies quality and innovation the like of which most chefs only dare to dream. Yet Jeff Ramsey, having already won one of the coveted stars, is not one to rest on his laurels. Having coined his own cuisine at Babe KL, a fusion of Japanese and tapas with a modern twist – dubbed 'Japas', his playful craftsmanship and dynamic flair will test the boundaries of how you think food should taste, look, smell and feel. The creation of his art is purposeful – to surprise and enrapture the senses for fun and pleasure.
What better way to indulge in edible artistry than a twelve-course gastronomic degustation tasting menu at Babe KL?
Set against the stunning backdrop of the night skyline of Kuala Lumpur, we are invited to partake of the 'Fun Dining Menu November 2017' at Babe KL in Damansara Heights. The restaurant is adorned in smooth, clean lines with eclectic, chaotic light installations and sensuous photographs of female lips, biting into dark berries and dripping liquid lipstick. An edgy and enigmatic playlist sets the tone, and there is brilliance in the details, such as the gold-plated streamlined cutlery. It is edgy, fun and a little bit daring, themes carried across into the menu. The menu itself is an adventure via the senses and designed to be shared, for you will need someone to accompany you through the experience of tastes and sensations as you react to the unexpected and question everything you thought you knew about food.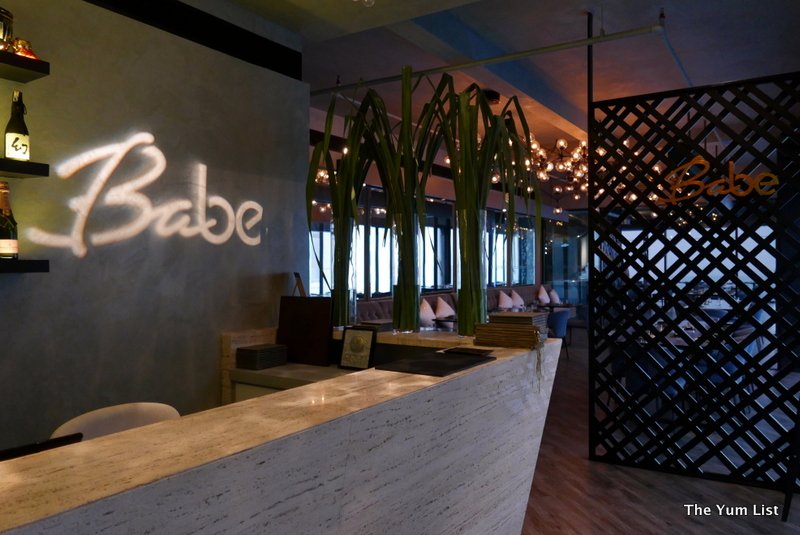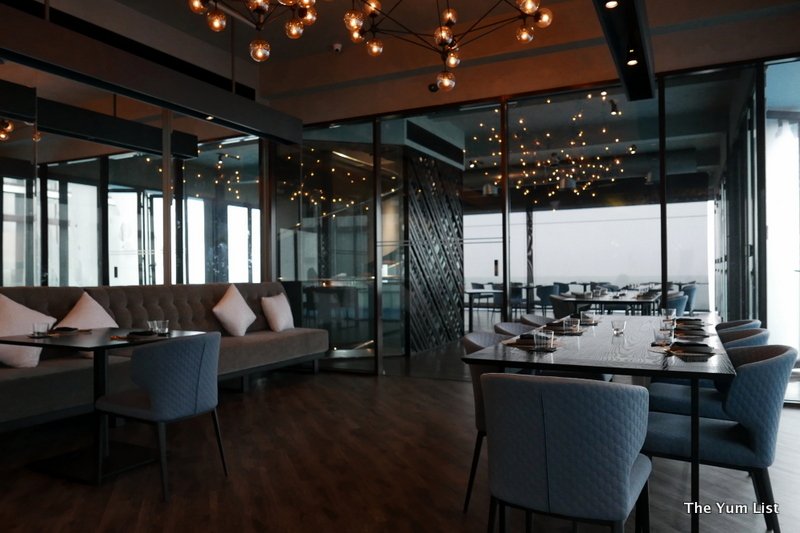 Jeff started his culinary journey as a sushi chef, later studying under Masayoshi Kazato and winning the Sushi of the Year award at the Seven Sushi Samurai Competition in London for his electric eel, before moving on to lead the opening of the Tapas Molecular Bar in Tokyo's six-star Mandarin Oriental Hotel. This was where he won his Michelin star in 2008 and is currently the only American to receive a star outside the US. The blending of his Japanese and Western cultures have led to his unique philosophy and purpose, believing his career is a story that "should be inspiring, created with intention… have a greater purpose, [and] feel like an adventure," as his experiences and choices will transcend and shape the food he creates.
'Top Babe' Celina Wu greets us and joins us for our meal, forewarning us with a giggle and a grin that the adventure and story that lay ahead of us would equate to Wonderland, "You can let expectation and preconception cloud your experience, or you can be like Alice, and wander down the rabbit hole." Pouring water on the little white pills lying on a plate in front of us, she watches our incredulity as they bend and quiver, expanding and morphing into pillowy oshiburi towels for washing our hands. And with that, the indulgence begins with our amuse bouche as two test tubes are placed on the table accompanied by tags reading 'Drink Me'. Of the two tubes, one contains a white liquid and the other is red, but do not accept what you see as the colour is meant to confuse. Each tube contains a liquid encapsulating the flavours of a full meal, though what that meal is you must guess, and each tube is different. I won't spoil the surprise, but I must admit trying to match your taste memory with something wholly removed from the visual cues is an disorientating diversion!
Our first and second courses arrive, and it is here that we start to see the faint echoes of sushi within Ramsey's work. The Lomi Lomi Salmon is a mouthful of fresh, lightly salted Hawaiian salmon with cool and juicy tomato, and a burst of flowering allium onion wrapped in a crisp outer cone of nori sheet. The two cones sit appealingly perched in their own hand carved wooden tree holder. The second dish comes served on a plate of coloured stones, the Prawn Siu Mai, has a small lemony prawn, bursting with flavour, ensconced in a thin purple potato skin shell with a surprise of middle eastern spiced couscous lying hidden beneath the surface. Taking traditional Eastern appetisers, they each have an startling pairing with Western flavour elements designed to play off your expectations.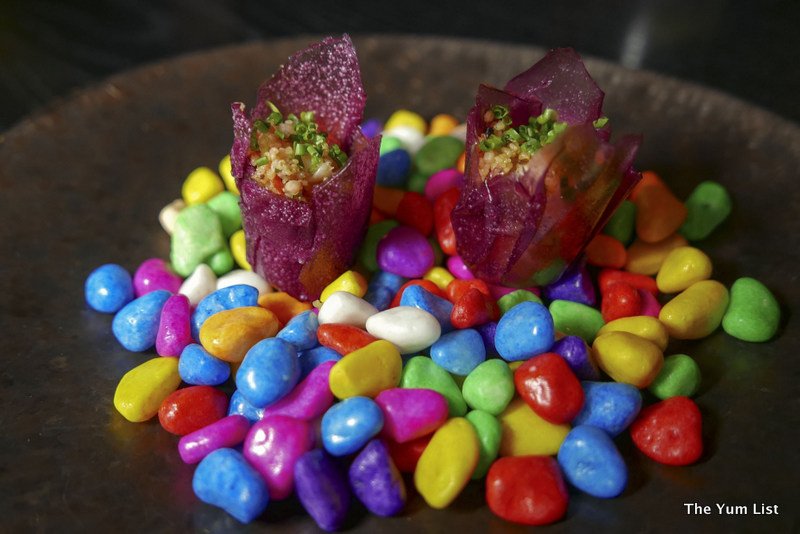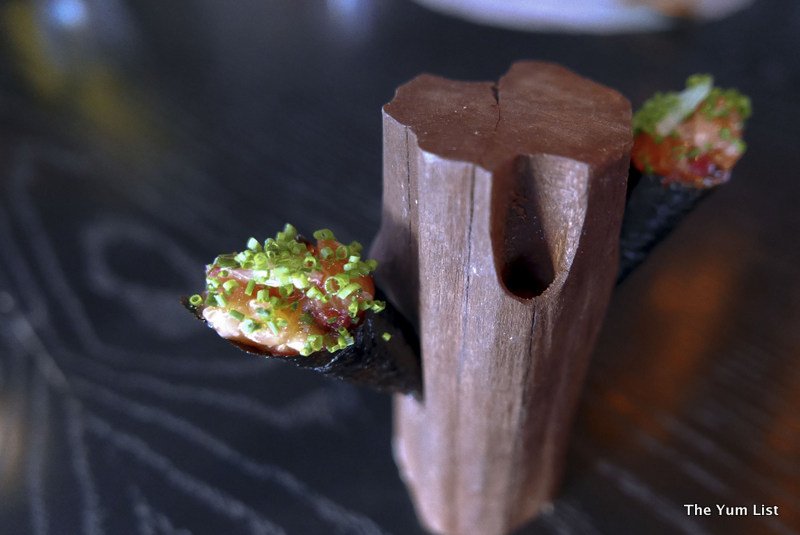 Dish number three is a stunning plating of kanpachi noodles with a small side bowl of liquid, to be drunk first. The liquid is tomato water with basil oil and shiso flowers, wholly condensing the flavour of a fresh (and solid) mediterranean tomato salad in one swallow. The noodles are not noodles at all, but long slivers of delicate kanpachi fish on a bed of full and heady tomato, topped with a whisper thin gelatine sheet of calamansi citrus and a sprinkle of edible flowers. We are already forming the impression that Ramsey likes to subvert the subconscious prejudices established through the accepted appearance of food. Appearances are deceiving and nothing is as it seems.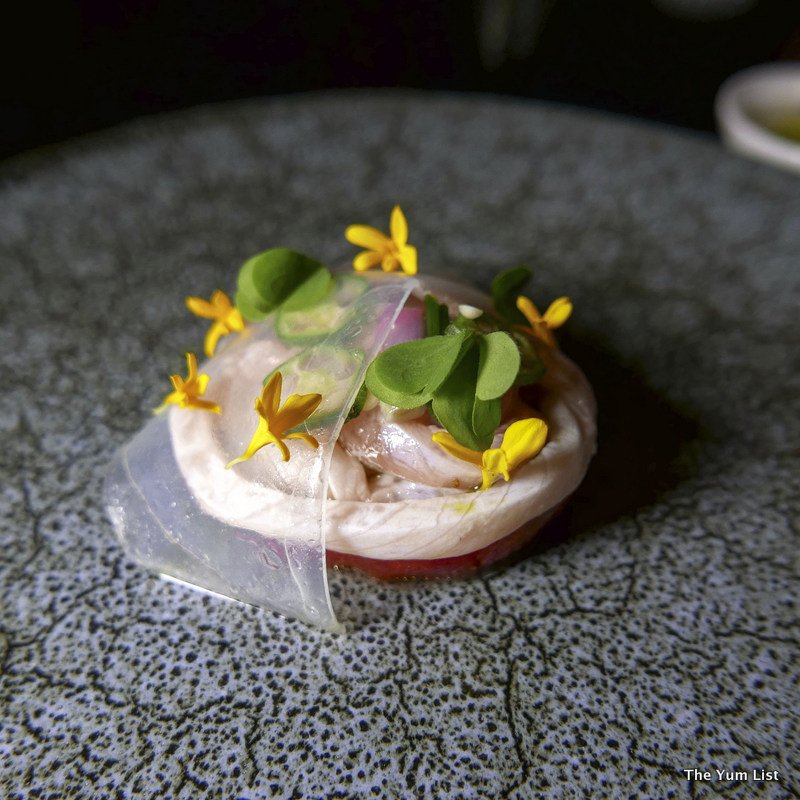 A liquid Mai Tai deconstructed into solid edible form is next, arriving in an iced glass dome with a colourful display of marigolds and snap dragons. Thick pineapple chunks are injected with passionfruit and white rum, forming all the key notes of a classic mai tai cocktail, and should be eaten with the mint leaf garnish. Our 'drink' is served alongside what seems to be long, thin fish steaks with pops of yellow and green edible flowers on a display of neutral coloured stones. Upon closer inspection, the steaks are actually crispy, miniature baguettes, topped with a sliver of cured marbled otoro or fatty tuna fish belly, the most prized part of the tuna. This dish is to be eaten much like a sandwich, the oozing filling of crab mousse decadently bursting through the mouth as you bite down. The flowers are actually baby marigolds, with a not unwelcome slightly bitter hint of mint. Celina tells us the baguettes are drilled into with a customised tool similar to a dental drill, and then syringed full of mousse to prevent them from shattering, giving you something of an indication of the forethought and planning required in the preparation stages.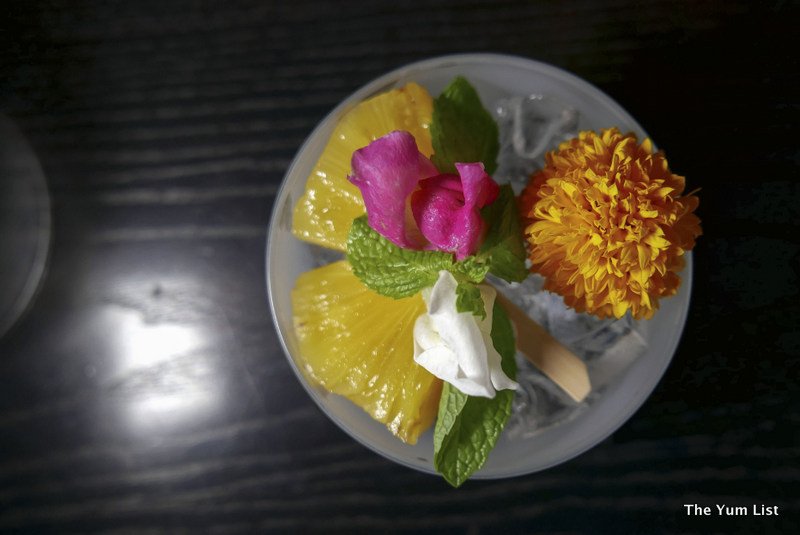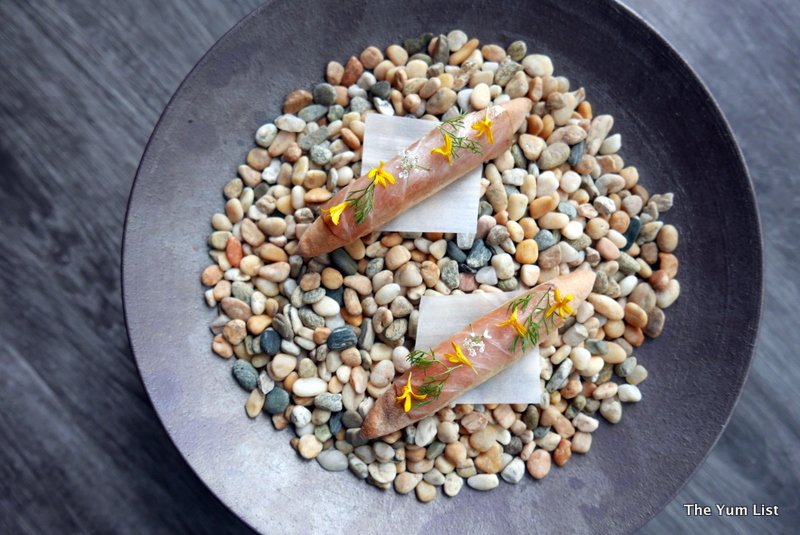 With five dishes down, we decide to supplement our water with some alcohol and Celina has a treat in-store, a bottle of Estrella Damm Inedit beer, crafted by the famous Spanish brewery in partnershipaward-winninginning chef Ferran Adrià. Smooth and bubbly with a clean, crisp finish, this is a beer designed to be drunk as a food accompaniment alternative to wine and it does not disappoint. In the spirit of serving duck with a fruit glaze, the next dish gains its sweetness from an unlikely source. A sliver of gelatinous jellied coke is sandwiched between layers of supple duck confit, rich foie gras and crisp outer chicken skin wafers embossed with the Babe logo, for a textural triumph. The cola is a not-too-sweet replacement to more traditional orange, plum or cranberry combinations, mimicking the caramelised tones of roasted or poached fruits.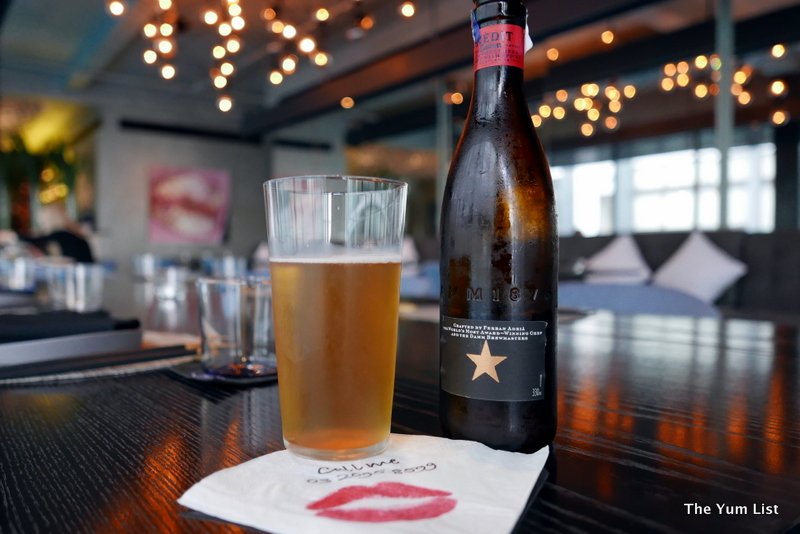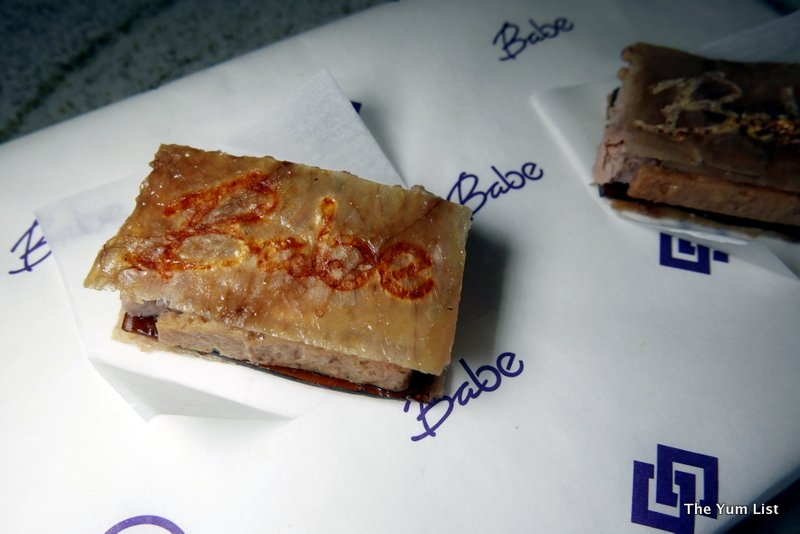 The 'Steak' Sandwich is a play on a Western favourite, but an exercise in rebelling against the status quo. Arriving in its own kitsch take away container with cartoon placard, we are unsure what to expect. The mouthful tastes for all the world like a steak sandwich, but as we have learnt, tastes can be deceiving. While there is indeed a thinly sliced folding of beef, the 'bread' is not bread, the 'lettuce' is not lettuce, the chopped 'tomato' is not tomato, and that yellow sauce is not mustard. Not to mention, we can't find the cheese, yet we sense it's there somewhere. Guessing what you are eating, and in what form is all part of the fun, so we won't spoil the surprise of unravelling the mystery within.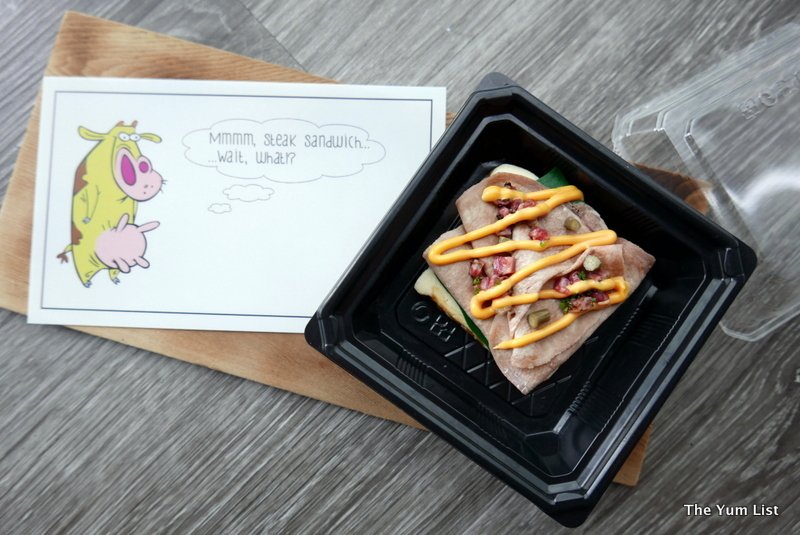 Having completed the more tapas style selections from the menu, we make our way to the more formally plated fare. Unagi, or fresh eel, comes resting on a bed of ultra-creamy sunchoke, or Jerusalem artichoke, completed with curls of sweet, woody and nutty fried burdock root, or gobo. More burdock root is hidden underneath, prepared in a method that echoes European uses of asparagus. Beads of savoury vanilla and thyme caviar are extravagantly perched on top. Falling apart in large segmented flakes, is the Abura Bouzu or (sustainably sourced) Japanese skilfish which feels and tastes similar to black cod. Braised in a custom yuzu sauce it is enlivened by a ginger foam that diffuses on the tongue, filling your palate with a heady rush. Beads of bouzu sauce burst open in your mouth with a warm wave. A smattering of artfully cut summer vegetables add the finishing touch to a very stimulating sensation.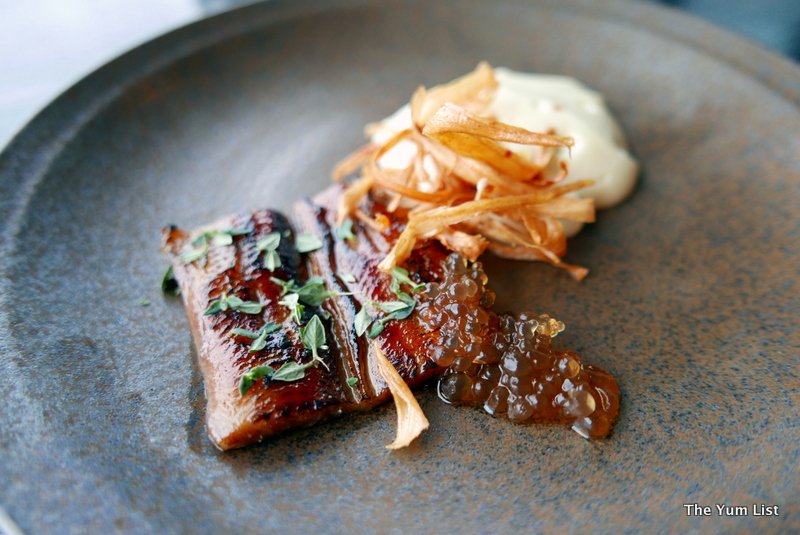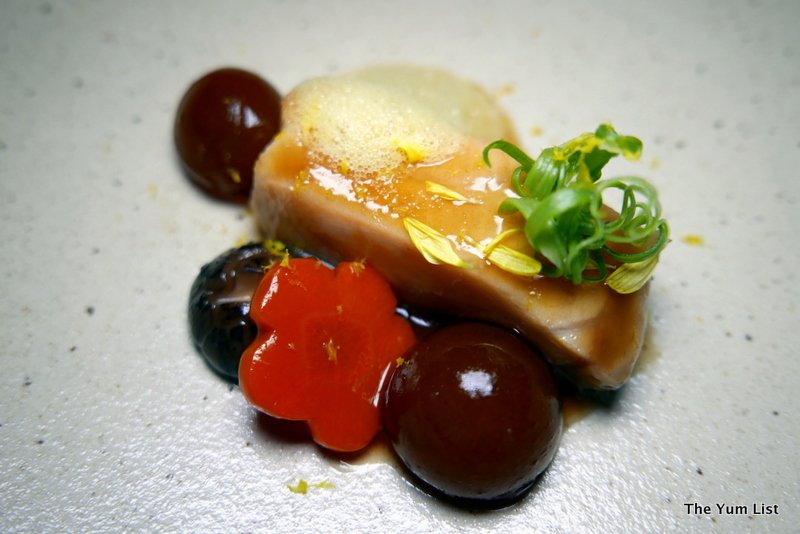 For a spot of theatre, the Kagoshima A5 Sukiyaki is prepared on-table. Thin cut heritage beef, eringi mushrooms and chrysanthemum leaves are sauteed in a garlicky house sauce. Once cooked to your liking, you drop them into a bowl holding your truffled onsen egg, allowing the creamy yolk to spread and seep through the tender beef, warming with the transferred heat. A good choice to cook at table, the seductive smells emanating from our cooker are head-turning.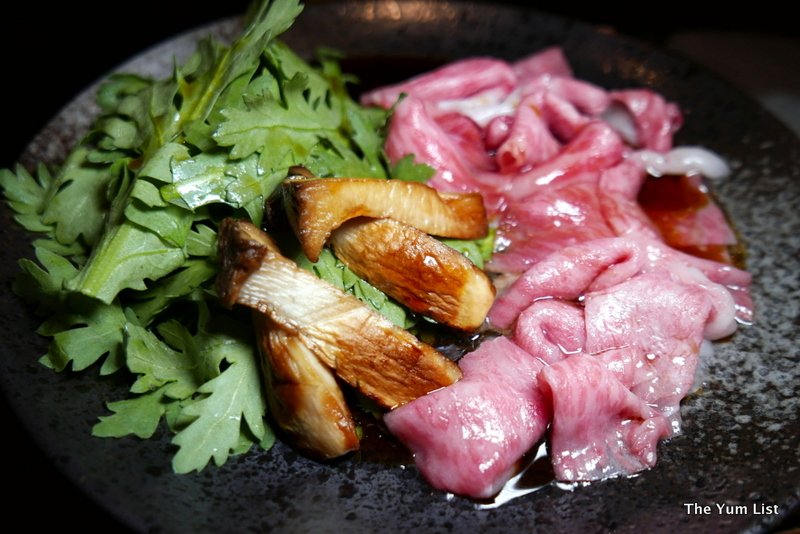 A palate cleanser separating savoury and sweet Japas, the Lie-Mau is served nestled within its own leafy garden. A buttery, tangy kaffir lime, calamansi and casturi lime curd centre unexpectedly oozes and seeps out of its deep green milk tea gummy shell when bitten. For dessert we have a deconstructed strawberry shortcake, with an intensely pure strawberry sponge outer ring hiding an inner treasure of velvety almond cake and chantilly cream mousse. A curved sculpture of sugary French sable butter biscuit with extra butter adds flair along with edible clover leaves and pickled rose petals. For a small dish, this is perhaps one of the most startlingly strong in flavour, with lashings of strawberries, cream, vanilla, butter and rose cultivated and condensed in each morsel.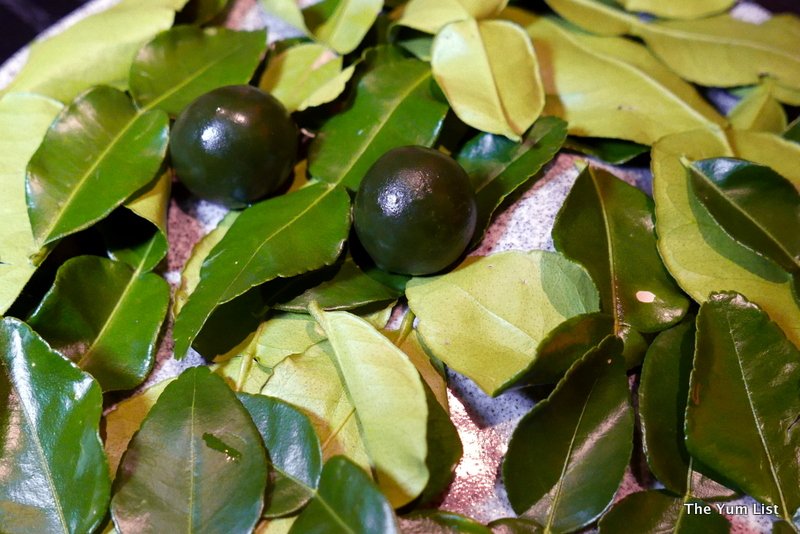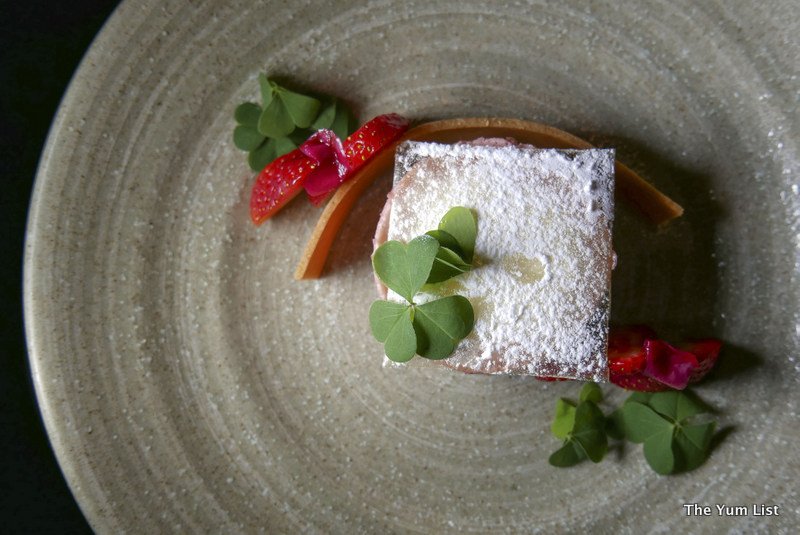 For Jeff Ramsey, creating such luxurious epicurean artworks is "not work, it's passion." Taking on the Fun Dining Menu at Babe (RM450) is strictly reserved for those willing to relinquish all expectation and prejudice over to the Michelin award-winning chef for a remarkable and memorable experience. If twelve courses are a little overwhelming, you can create your own shared tasting menu from his list of Japas plates. There is also an impressive range of sake and wine on offer, including three or four-course drink 'flights'. Your understanding of the potential flavours and textures of food will shrink, while your appreciation of the creative ingenuity and invention involved will grow and swell as you follow him down the rabbit hole. It is quite an adventure.
Babe – Japas Fun Dining
11th Floor, [email protected], Changkat Semantan
Damansara Heights, 50490 Kuala Lumpur
+6 03 2095 8599
[email protected]
babe.com.my