Monica Tindall
Newly opened and well-located, Sofitel Kuala Lumpur Damansara is poised as an excellent choice of stay for business travelers but too makes a great weekend staycation for KL residents. The stylish digs of a suite at the hotel is our home for the weekend, and here we take you through our itinerary, one that you also might enjoy following.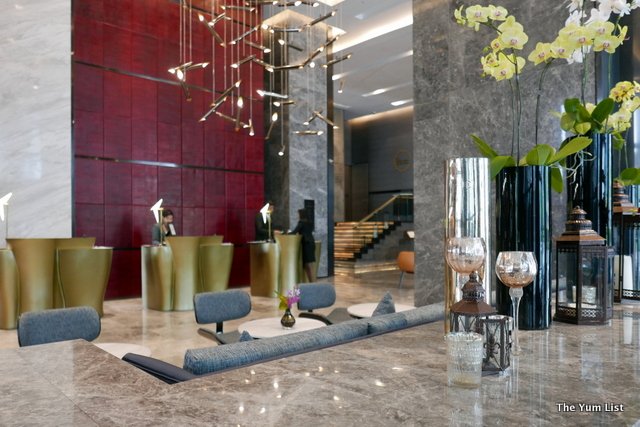 Friday Afternoon Check-in
Leaving work Friday afternoon, the last thing we want to do is spend hours traveling. Conveniently nested between Bangsar and Damansara, we're at the Sofitel Kuala Lumpur Damansara in less than 20-minutes from knock-off. Allowing us to quickly get to the business of weekend fun is check-in at Club Millésime.
Club Millésime
The club lounge at Sofitel Kuala Lumpur Damansara is one of the most sophisticated in the city. Appealing high ceilings present a sense of space and luxury that permeates the entire hotel. Grey marbled floors, natural hued walls, comfortably upholstered chairs, artworks and a variety of down lighting, uplighting, chandeliers and lamps, create a warm atmosphere while maintaining a classy allure. For those staying in a club room, check-in here is welcomed with a seat and beverage of our choice while the details of the room are worked out.
At first glance, with its shiny surfaces and contemporary furnishings, Club Millésime could be straight out of a designer showroom. The closer we look, however, the more details we see and find character in every corner, such as the top hat chandelier hanging above reception and the carefully curated display of books that we could happily spend the rest of the weekend reading.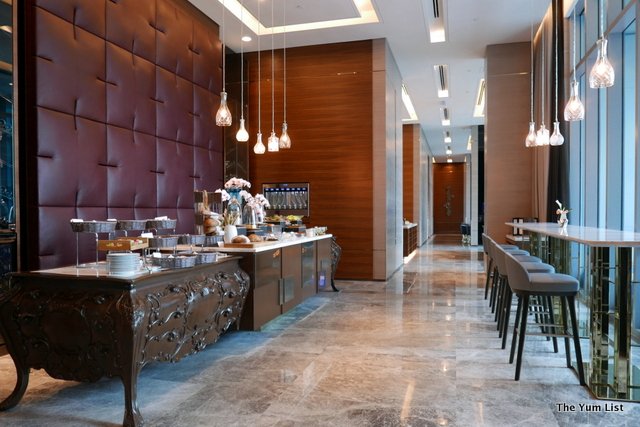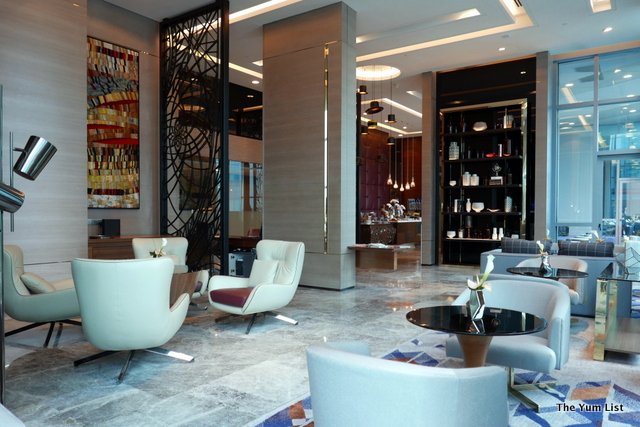 Cocktails at Club Millésime
As with all good club lounges, breakfast, some lighter fare during the day, and evening cocktails are served at Club Millésime. We love the French influence in the evening cocktails. Champagne, cheese, quality bread – I need no more. But, there is more. Devilled eggs, crudités, fresh fruit, cured meats, petite sweets including handcrafted macarons are on display, as well as hot canapés made fresh and passed around by staff. There's an extensive selection of spirits to make any number of cocktails along with wine and beer, but it's Friday so we opt for a glass of bubbly.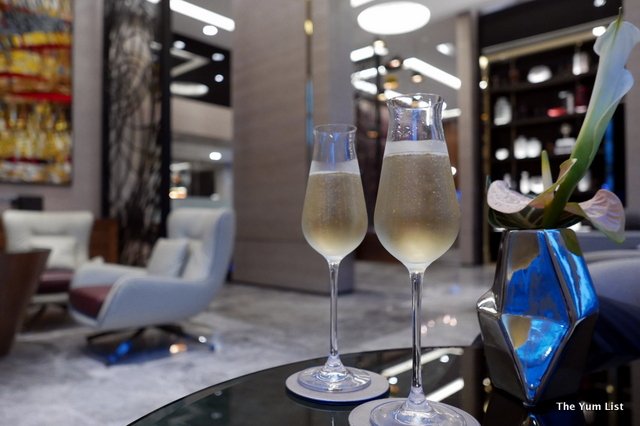 Dinner at Kwee Zeen
After a pre-dinner drink in the club, Sofitel Kuala Lumpur Damansara's all-day-dining restaurant, Kwee Zeen is an easy choice for Friday night dinner. It's a vibrant space of modern design with high ceilings and a variety of seating for couples, families and groups of friends or colleagues. Serving a buffet of Pan-Asian cuisine we don't have to think too much and enjoy, in particular, the live cooking stations where chefs grill us up fresh seafood and serve it directly to our table. Read a more extensive round-up of what Kwee Zeen has to offer here.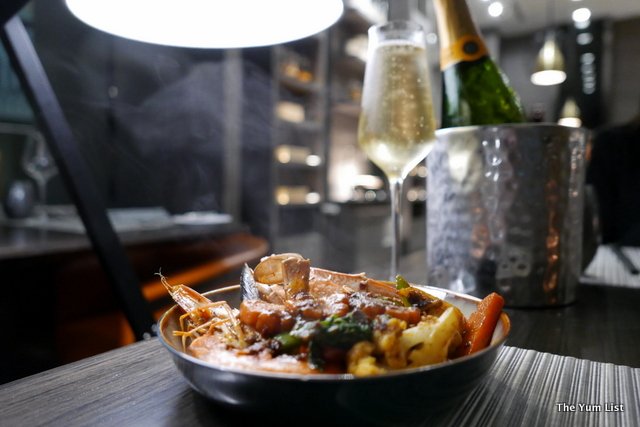 A Good Night's Sleep at Sofitel Kuala Lumpur Damansara
Our corner suite is wonderfully spacious with separate bathing, dressing, living and sleeping quarters all divided by solid sliding doors, ensuring that our different sleeping and waking patterns don't disturb each other too much.
All bathrooms feature twin sinks and a fab bathtub, lit make-up mirrors and look modern and polished with solid marble and lots of mirrors. Hermes bath products and a high pressured shower (with adjustable shower streams) cleanse the work week away and it's not long before we hit the hay.
MyBed, branded bedding by Sofitel, is the perfect balance between firm and soft. Catching the tail end of a movie on the quality wall-fitted TV screen from the king-sized bed, we nod off into blissful slumber.
If it weren't for my natural alarm clock, it would be easy to have a good sleep in here. The room is soundproof and blackout curtains seal out the day's light. I'm up though, early as usual, and ever so grateful for the espresso machine to grab a shot before I hit the gym Saturday morning.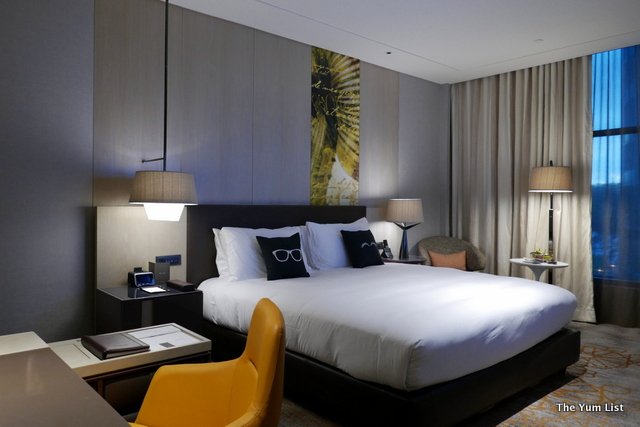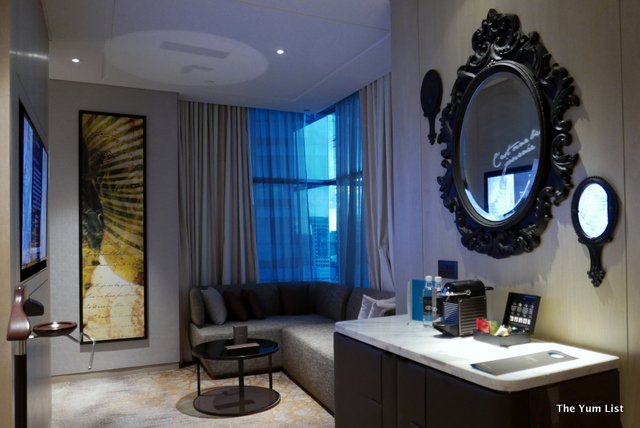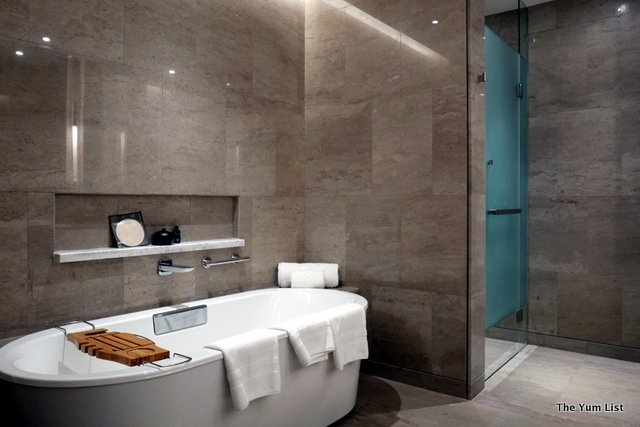 Workout at SoFit
Brand new equipment and a view of the pool are the highlights of Sofitel Kuala Lumpur Damansara's fitness room. Technogym cardio machines are an industry leader and they're backed up with a good selection of free weights, mats and balls.
Breakfast at Club Millésime
Following a shower and waking up hubby, we head to the club for a late brekkie (on the weekend it's available until 11 am, which is much appreciated). Breakfast at Millésime is right up our alley. The environment is quiet, the room lit with natural daylight and a compact quality buffet is supported by items ordered à la carte.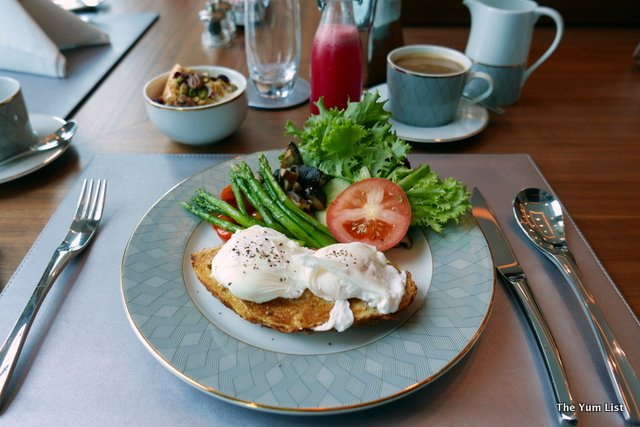 Dip and Relaxation By the Pool
Stoked to see blue skies outside we head for a dip and some relaxation by the pool. Even though by now it's past the middle of the day, the elevation and openness of the area draws a lovely cool breeze. Striped sun umbrellas make the deck look like a French resort and the built in water jets in the Jacuzzi section of the pool give our backs a great massage. Books, newspapers and a nap or two keep us here for a good few hours, that is, until tummies rumble once again.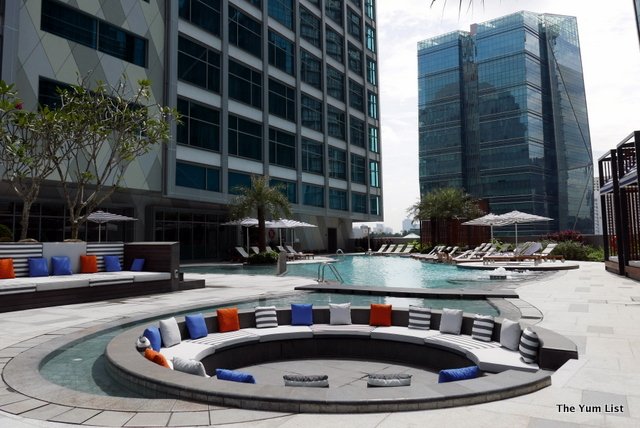 Le Goûter at Club Millésime
With breakfast not too far behind us and knowing that we have a big dinner ahead of us, afternoon tea (complimentary for club guests) at Club Millésime is all that we need to take the edge off hunger and get us through to the evening meal. Tea or coffee and a tray of handcrafted sweets are prettily presented, and a table by the window makes pleasant seating.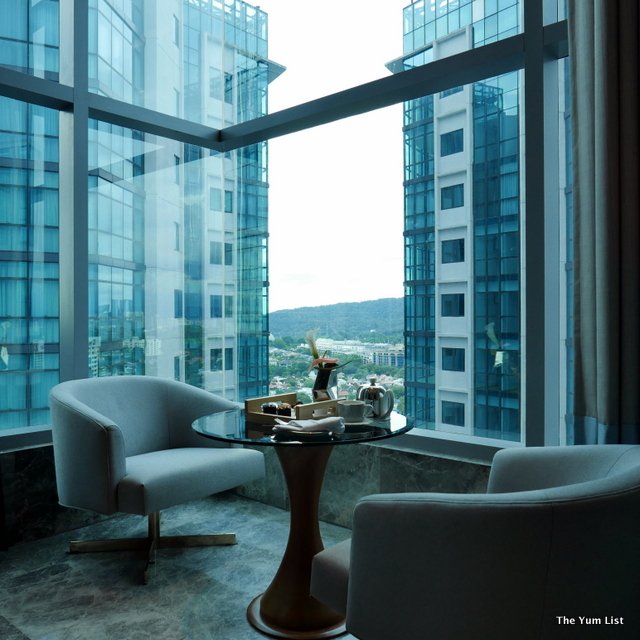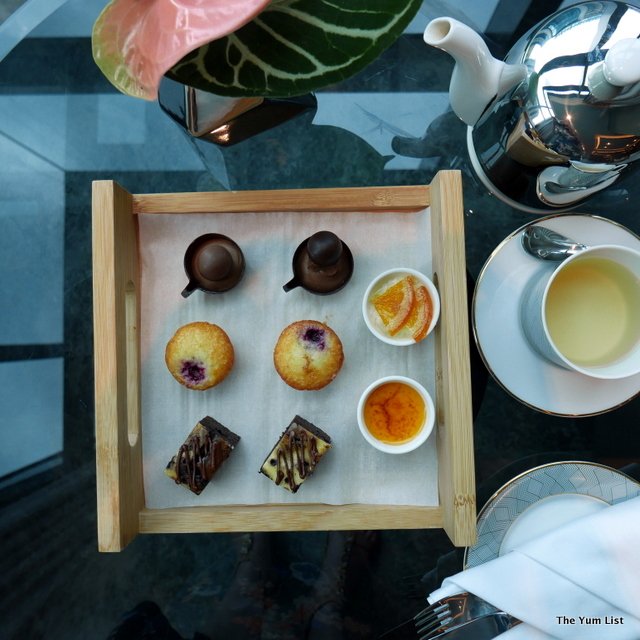 A Spot of Shopping in Nearby Malls
We're not shoppers and actually are quite happy not leaving the hotel at all, but if you are, Sofitel Kuala Lumpur Damansara is built adjacent to DC Mall, minutes from Bangsar Shopping Centre and the soon-to-be-opened Pavilion Mall, which provide endless opportunities for retail therapy. It's also only a 5-minute walk to the MRT station gifting easy access to anywhere on the train line.
Cocktails at Le Bar
Gee, how time flies! It's aperitif time again, and Le Bar, the hotel's lobby bar hosts a wide selection of drinks. It's equally versatile for a coffee with a business colleague, some light bites with the family, or some cocktails and wine with a date or friends. Le Bar's Signature Cocktail is worth an order and so too are a number of other beverages. Read more about what Le Bar has to offer here.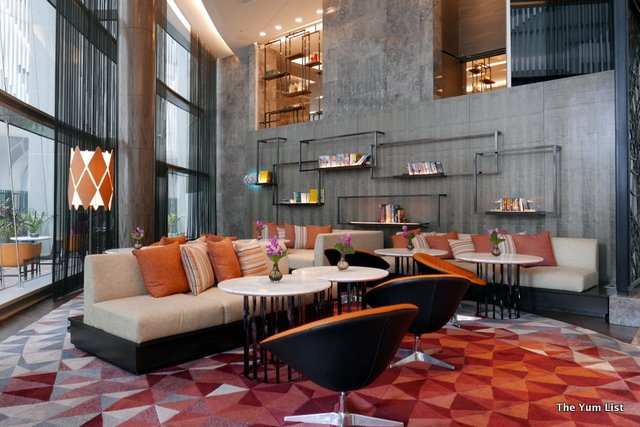 Dinner at Wan Chung Ting
With Saturday evening upon us, we're ready for something a little fancy and Wan Chung Ting, the hotel's Chinese restaurant serving Cantonese imperial cuisine, fits the bill. Known for its custom-made wood-fired grill and the roast duck that is cooked in it, that's exactly what we order. The comprehensive menu is supported by a hefty wine list and we discover a number of new loves in both. Follow this link to read the full review.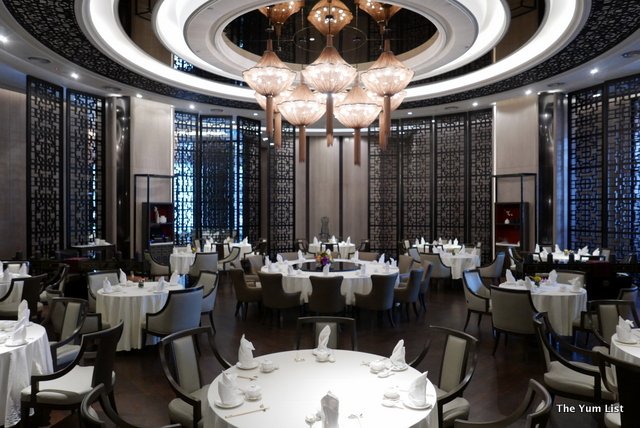 Exercise and Pool
Sunday morning, we make the most of the hotel's facilities by beginning the day with a run around nearby lake gardens (the hotel has a morning and evening transfer service for those who like to work out outdoors) and a swim in the pool. Appetites well and truly worked up, we're ready for a final meal at the hotel, and return to Wan Chung Ting for Sunday dim sum brunch.
Dim Sum Brunch at Wan Chung Ting
Revisiting Sofitel Kuala Lumpur Damansara's Wan Chun Ting for brunch, we're glad that we've ticked off "exercise" on our daily to do list. Sunday dim sum brunch runs for a leisurely four and a half hours from 10:30 am to 3 pm, and we can see ourselves spending quite some time here joined by friends and lots of dishes to try. Amongst others, highlights are the vegetarian rolls, baked egg tarts and steamed trio style chives dumplings – check out a thorough exploration of the menu here.
The hotel is set to open a spa and another two food and beverage outlets before the year's end, giving guests even more reasons to visit and explore. Friday afternoon to Sunday lunch, a stay at Sofitel Kuala Lumpur Damansara is simply magnifique.
Reasons to visit: contemporary stylish hotel in Kuala Lumpur; great club lounge; sophisticated suites; good food and beverage options; modern fitness facilities; superb pool lazing opportunities; an excellent hotel for a staycation.
Sofitel Kuala Lumpur Damansara
5 Jalan Damanlela
Bukit Damansara
50490 Kuala Lumpur
Malaysia
+6 03 2720 6688
[email protected]
www.sofitel.com