Monica Tindall
Known for selling the best and widest selection of European style breads in Kuala Lumpur and some hearty sit-down meals, Der Backmeister German Bakery has become a go-to spot for lingering weekend brekkies and a weekly stop for picking up bread and pastries. It's popular with local residents from the surrounding TTDI neighbourhood, but we also know expats who are willing to make a regular hike across town just for a loaf of 'real' bread too.
Der Backmeister is a family friendly place where everyone feels welcome. The bordering streets are wide and lined with trees. The pace in the suburb is unhurried, and life just seems to be comfortable over this side of the city. Owned by four friends, Oliver, Bobby, Chris and Steve, the bakery reflects this community spirit and it seems everyone that walks in is greeted personally by the staff and owners who every now and then sit down to have a chat with a regular at one of the tables.
Meaning the Bake Master in German, the team at Der Backmeister sure do take their baking seriously. Insisting on using only quality ingredients with no sugar, no preservatives and no chemicals, all of their breads are made from scratch and naturally leavened with their own sourdough starter. Cooked in a stone-plated oven, the team attempt to replicate old-school cooking techniques the way it was done 300 years ago in Germany.
Drinks
Alongside a compact selection of soft drinks and juices (an organic chilled brand, Rauch, from Austria) are espresso based coffees – most important for a bakery don't you think? A local roaster provides a blend of Costa Rican and Javanese beans that is nicely balanced with whispers of nuts and chocolate, that goes pleasantly with milk. When the shop is not too full, the barista can take a little more time with the brew and create cute foam art such as in my Latte (RM11) below.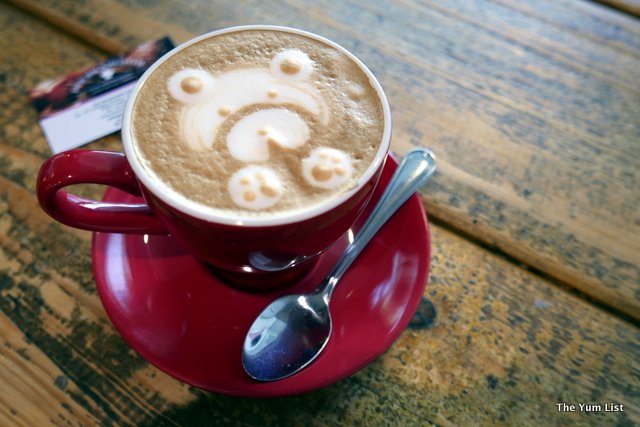 Der Backmeister German Bakery
We're here to check out Der Backmeister's eat-in menu, but can't help but drool over the huge variety of European breads on display. Crusty, seeded, rounds and loaves are hot selling items; mostly gone by lunch with the last few clearing the shelves by the end of the day. As the meal progresses we get to taste a good number of these in sandwiches and mains and do bring a bunch back with us before we leave.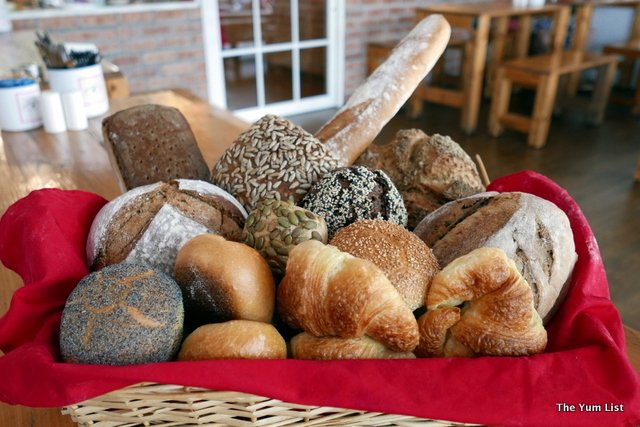 Breakfast
Starting with brekkie, The Big Backmeister (RM33) is indeed for "the hungry wolves." A mixed platter of chorizo, pepperoni, bresaola, meatloaf, ham, camembert, butter, jam and eggs comes with a warm basket of breads and buns. Wow! This is not one for going solo. Bring your friends, bring your family, bring your stomach. It's so large that it needs three plates to fit it all on. The bread basket is scrumptious and thanks to the warmth of its contents smells like the oven as it's brought out. Backmeister special, multigrain, tea bread (their version of a white bread), croissant, chia seed bread, pumpkin seed bun, sesame bun, and poppy seed bun fill today's hamper. This could easily do two to three people and is a fantastic way to get a taste of some of their bread varieties before deciding on what you might later want to purchase to take home.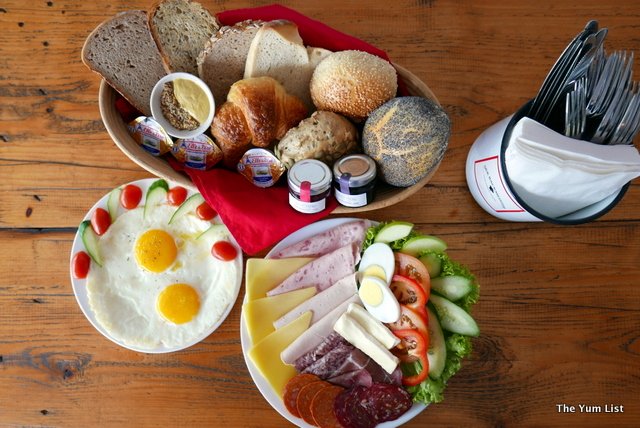 German Specials
Oliver (managing director) jokes that he doesn't know how I'm going to make German sausages look good enough for my Instagram account, but we'll see about that…
Turns out that the servings are enormous, and without even worrying about the plating, the sheer size of each dish is enough to get cameras and phones out snapping. The first of the German specials, Curry Sausage (RM15), or Currywurst, is a chicken sausage topped with a tomato based curry. It comes with a plain white bun (which is like no bun you've ever tasted before in Malaysia) and a show of greens. Currywurst is Germany's roadside dish. Oliver says on every corner there's a currywurst stall back home. The sauce topping the sausage is German-style spicy, not really Malaysian spicy, and some pineapple in the recipe gives it a little sweetness – the sliced buns do well catching every last drop of it.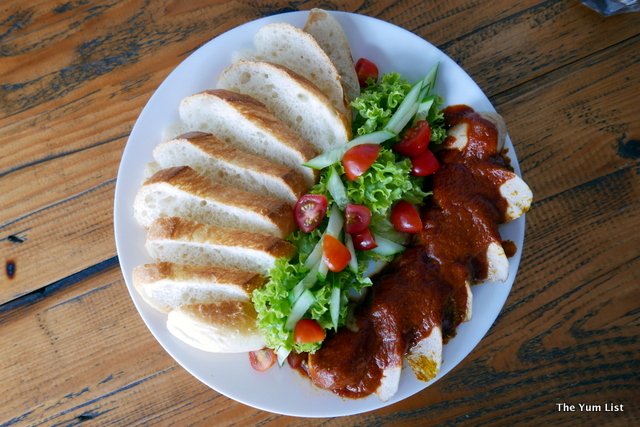 Sunny Meatloaf (RM19), Leberkase Mit Spiegelei, sees a thick, smooth slice of meatloaf topped with a sunny side up egg, and again a multitude of slices of fresh bread come along with it. This German favourite I think is given a Malaysian touch with the fried egg on top, but it turns out that this is also a tradition in Germany.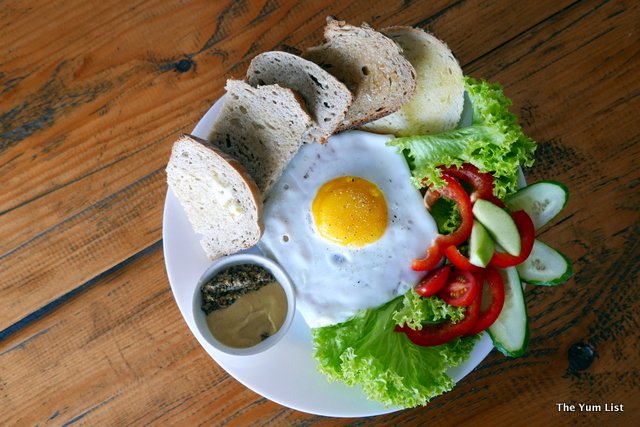 Goulash Soup (RM16) beef goulash is, yes, originally from Hungary, but apparently the German's like it just as much as the Hungarians. This version is thick and seasoned with paprika, pepper and a touch of chilli, and bulked up with capsicum, potatoes and onions. I'm told there are a few secret ingredients that give it the distinct taste and, of course, it's the perfect dipping material for Der Backmeister's awesome breads. The recipe comes from master baker, Claus, who helped get the kitchen up and running. Sitting spooning up this rich thick mix makes me want it to rain outside so I can sit rugged up in a blanket with the air-con nice and chilly faking a winter in Malaysia to go with the goulash.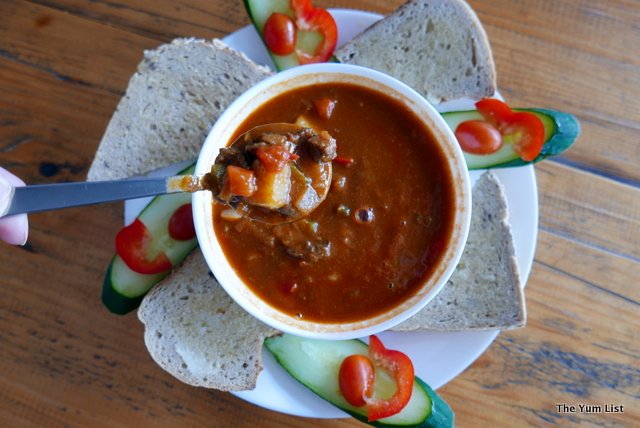 Chicken Leek Soup (RM18) runs a close second to the goulash in terms of the most popular orders. Minced chicken is combined with cream cheese and fresh garden leek, and as you're now getting the pattern, sumptuous slices of bread. The original recipe is by Claus' wife, Monica, and it's wonderfully balanced: rich and creamy, yet not overly so.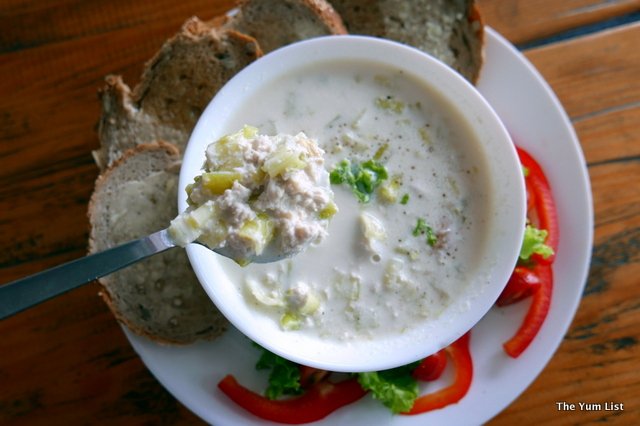 I'm dying to try the Munich Style Brezel (RM10) freshly baked from the stone oven but they only bake forty of them daily and are already sold out! Come early if you want one of these.
Sandwiches at Der Backmeister
Don't come to Der Backmeister thinking you're just going to have a light lunch by ordering a sandwich! These beauties are huge and I swear half a loaf of bread has been used in each one. The fillings are all fresh and homemade and guests can choose between sourdough, ciabatta and multigrain breads, toasted or not. The Der Backmeister team, however, have already experimented and think they've found the best bread for each filling, so you might just want to go along with their recommendation on your first visit.
The Salmon Sandwich (RM21) is served on a giant spongy ciabatta and backed up with egg and greens. Italian Caprese (RM28) also comes on ciabatta and is moist with buffalo mozzarella, thick slices of tomato and pesto. The description for the Avocado Egg (RM18) reads, "This is a healthy one. Have this one before you go for your medical checkup," and arrives fat and filling on multigrain slices.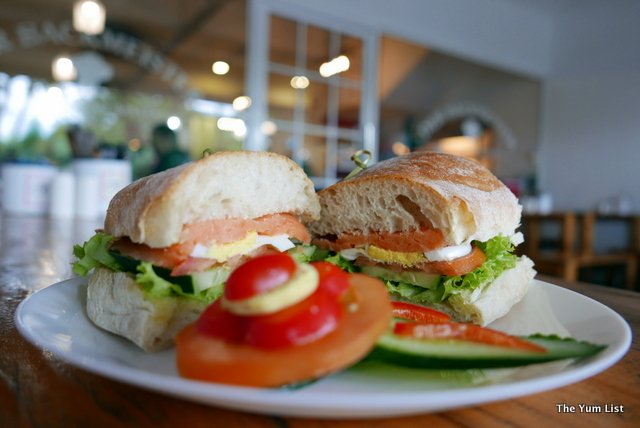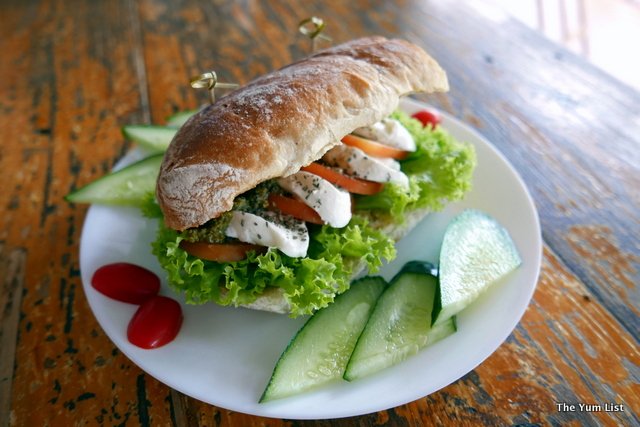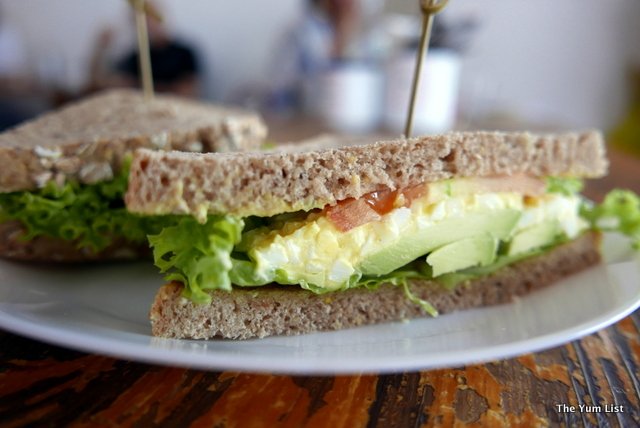 For something even heartier, we can recommend two hot sandwiches: Rib Eye and Cheese Sandwich (RM38 – basically a Philly cheesesteak) and the Grilled Chicken Pesto (RM18). As the meats are being seared the aroma tickles the air in the bakery making us salivate, which only doubles when cheese is also melted over the top. The former features a mammoth 200 grams of thinly sliced prime ribeye beef and the latter a succulent grilled breast of chicken with pesto.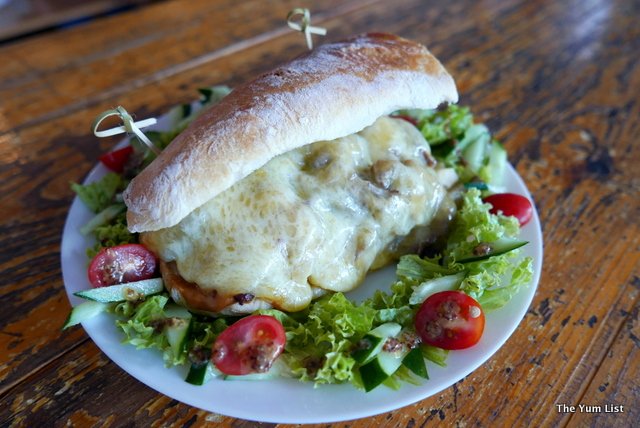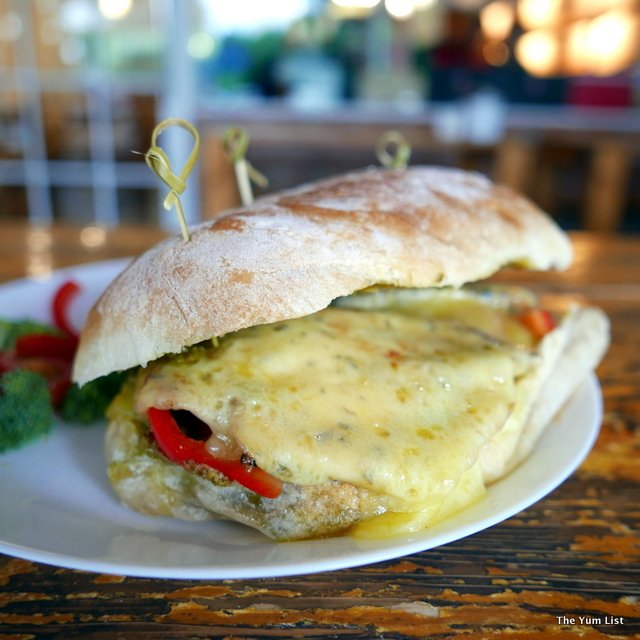 It's a futile task trying to select a favourite sandwich as all are fresh, good value for money and the bread on each is superb. In the end it will just have to come down to what you're feeling on the day as to the best selection.
Pastries and Sweets at Der Backmeister
With a glass of Tanariva Milk Hot Chocolate (RM13) you won't need a dessert, but it would be silly to fill up on this (no matter how good it is) as there are lots of pastries to try. The Do-It-Yourself drink, sees a tall warm glass of milk topped with chocolate Valrhona buttons stirred and melted in upon serving. It's warm and very comforting.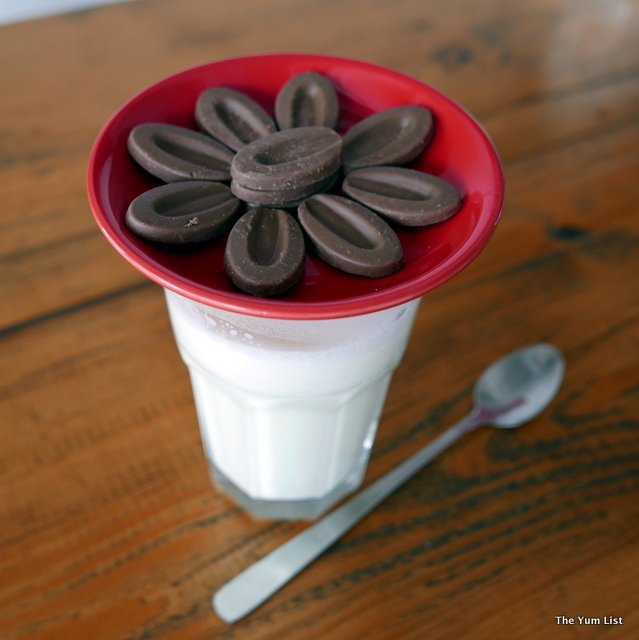 Of course the bakery has more sweets than we can possibly sample in one sitting, but we do our best to fit in a good number. One of Der Backmeister's bestsellers is the Apple Strudel (RM12) and it's PACKED with apple slices. It's perfectly tart and almost feels healthy. The pastry is folded 32 times to create aerated layers encasing the stewed fruit in a buttery, flaky hug.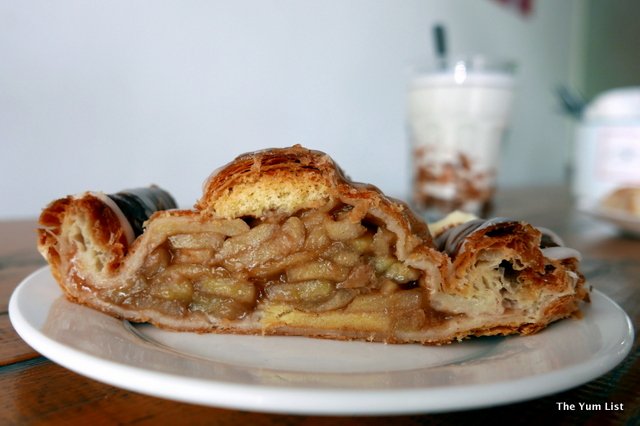 Apparently, even Der Backmeister's French clients, give high praise for the croissants. Plain (RM6) and chocolate (RM7 – the hottest selling item in the bakery) are made with French butter and imported flours, and although the shape might not be perfect, the layers are delicate and the flavour first-rate.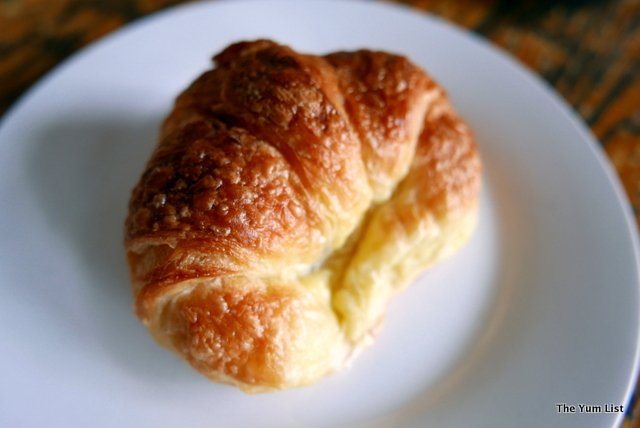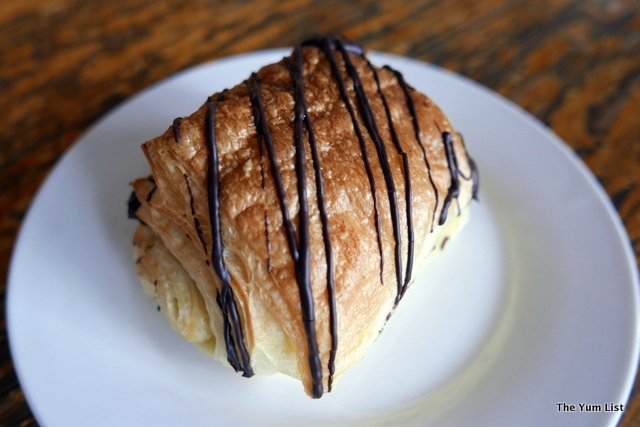 Custard Danish (RM7) filled with custard is not only popular in Germany, but is also a hit amongst us Yum Listers. It's absolutely big enough to share, unless you have a hubby like mine at the table who turns into Cookie (or Danish) Monster at the sight of cream and custard. Another sweet delight is the Frankfurter Roll (RM10). It resembles a Swiss roll with its spiral of sponge cake rolled with raspberry jam and butter cream but in the mouth is much more substantial with a notch more flavour and an increase in density.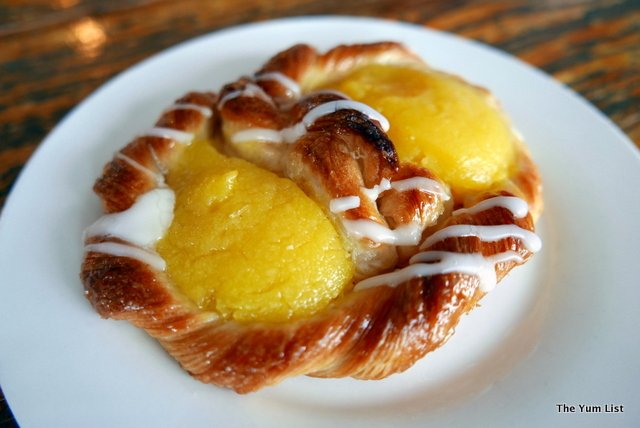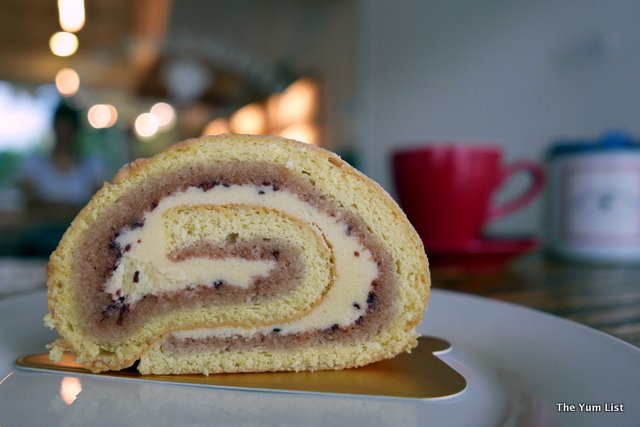 Marzipan Choc (RM12) looks like an innocent ball of sweet until it's broken open and the insides off marzipan with a dense cake dough border are revealed. The whole ball is coated in chocolate and rolled in crushed caramelised almonds – divine.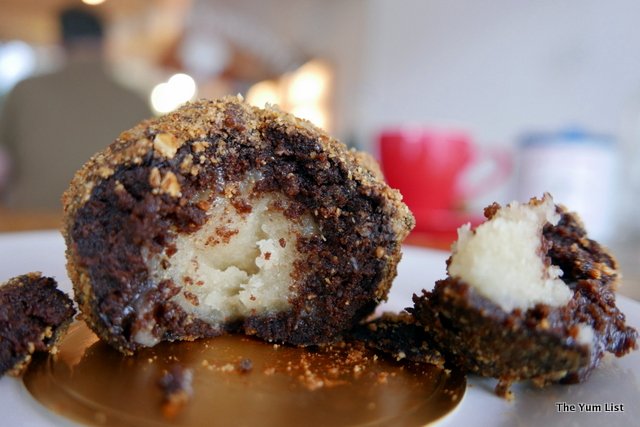 When the biggest complaint is "the portion is too big," you know you should bring friends, your second stomach or some reusable containers to pack your leftovers for home. Der Backmeister not only ensures that every craving for satisfying loaves of crusty substantial breads and pastries are met, but also guarantees that no one leaves hungry. Ever.
Reasons to visit: hearty European breads in a huge range of varieties, all made from scratch with no sugar or chemicals; welcoming casual atmosphere; enormous sandwiches; don't miss the apple strudel or marzipan choc for dessert.
Der Backmeister German Bakery
40 Persiaran Za'aba
Taman Tun Dr Ismail
60000 Kuala Lumpur
Malaysia
+6 03 2856 0613
www.derbackmeister.com
TTDI
Open 8 am – 7pm
Ampang
8:30am – 9:30pm
KPJ Ampang Puteri Hospital
1, Jalan Mamanda 9,
68000 Ampang, Selangor
Malaysia
+6 03 4265 0222
7.30am – 9.30pm
daily
* Delivery can be ordered through Der Backmesiter's website for the same price as if you were dining in. You only pay the delivery fee which is between RM10 – RM25 and they even deliver as far as Ampang. You get a free pastry when you order online. It's best to give about two to three hours-notice when making your order.