Monica Tindall
Channeling the spirited vibe of Thai street markets, Baan Talat is a buzzing hub of smells, sounds and tastes. Open for dinner on Saturday nights, the event promises to recreate local street food favourites in a vibrant and stylish setting.
Located in the central courtyard of The Ritz-Carlton, Koh Samui, Baan Talat presents close to ten stalls each specializing in a number of local recipes. The atmosphere is especially pleasant lit with flaming torches and cooled by the soft sea breeze. Guests wander between stalls, chatting with chefs and getting insight into the intricacies of Thai cooking.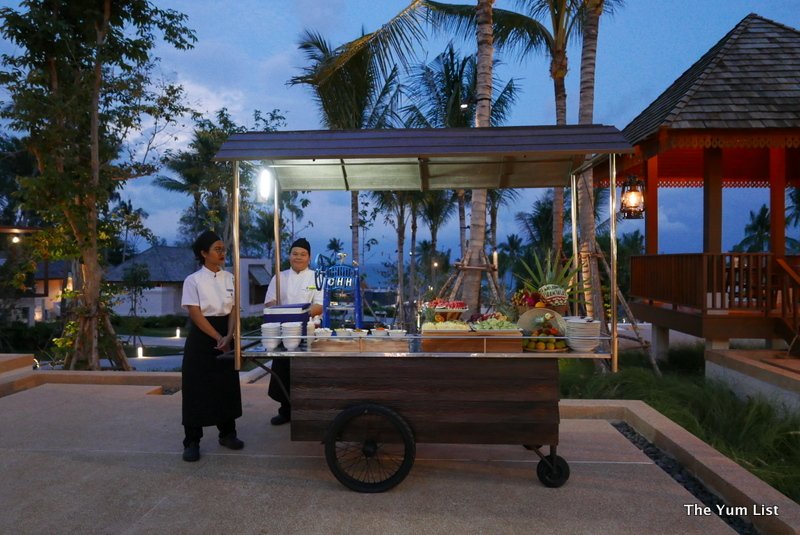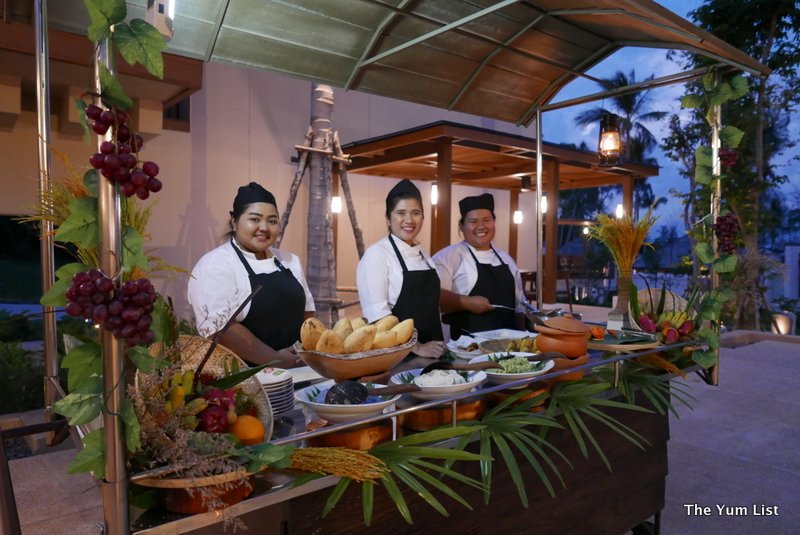 Drinks at Baan Talat
Our first stop is the beverage station where fruits are juiced on the spot, wine is available by the glass and beer by the bottle. The mood is friendly and we natter with other patrons as we consider where our second stop should be.
Appetizers
The crew at the appetizer cart are chopping, slicing, and tossing papaya salad to order. Restaurant manager Pla shares that Som Tum is usually the first food Thai people think of when they don't know what to eat. It's a refreshing recipe with lime juice, fish sauce, palm sugar, tomato, garlic, chilli, dried shrimp and of course shredded green papaya. This one goes down all too easily but leaves my lips and tongue tingling with heat. An added advantage of having everything made on the spot is that we can request recipes adjusted to individual preferences – in this case, I'll remember to ask for less spice!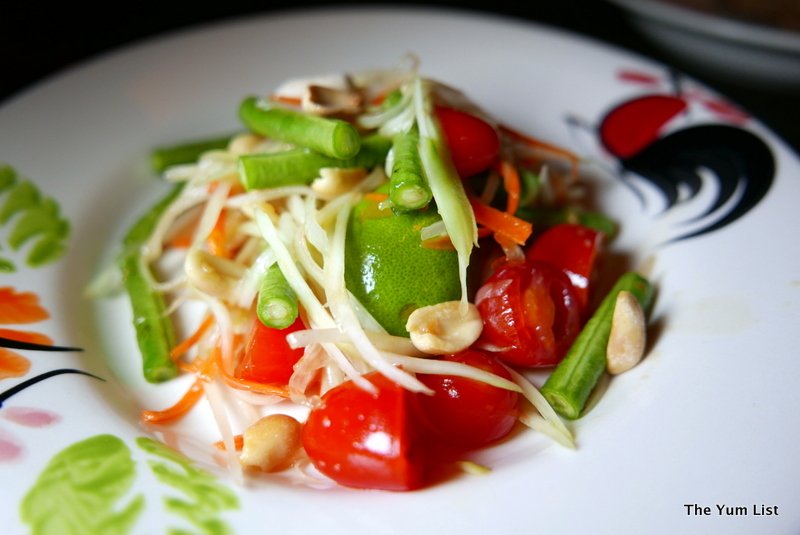 Also making a great starter are skewers of barbecued pork. The meat has been marinated overnight in black soy sauce, soya salt, palm sugar, garlic and pepper. It's grilled over charcoal and the sugar gives it an irresistible caramelized finish.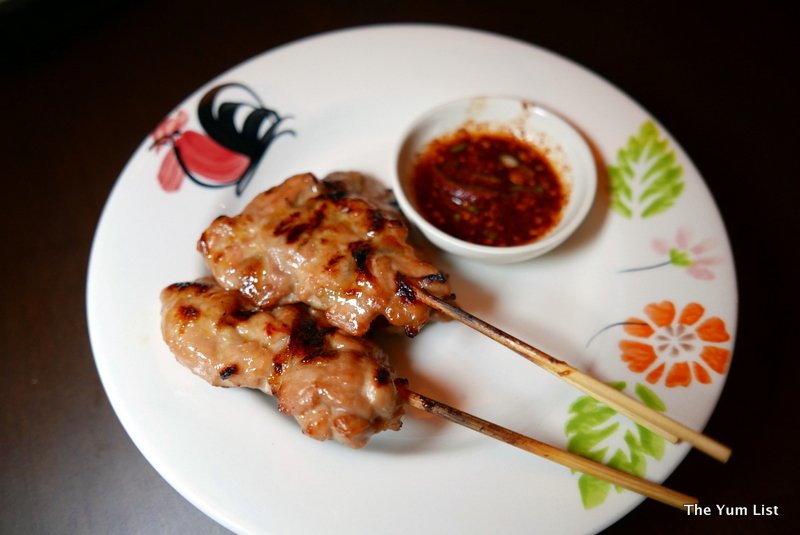 Thai Specialties
Hailing from Thailand's south, massaman curry has long been a personal favourite. Living in Malaysia for so many years I find the sweet peanut sauce associated with satay comforting and the addition of coconut and sweet potato delightful. It's best sopped up with pieces of roti, of which we grab a stack hot off the griddle. The difference between the street version we know and The Ritz-Carlton recipe is the quality in the cuts of meat. This takes a classic up a notch or two. You must try it.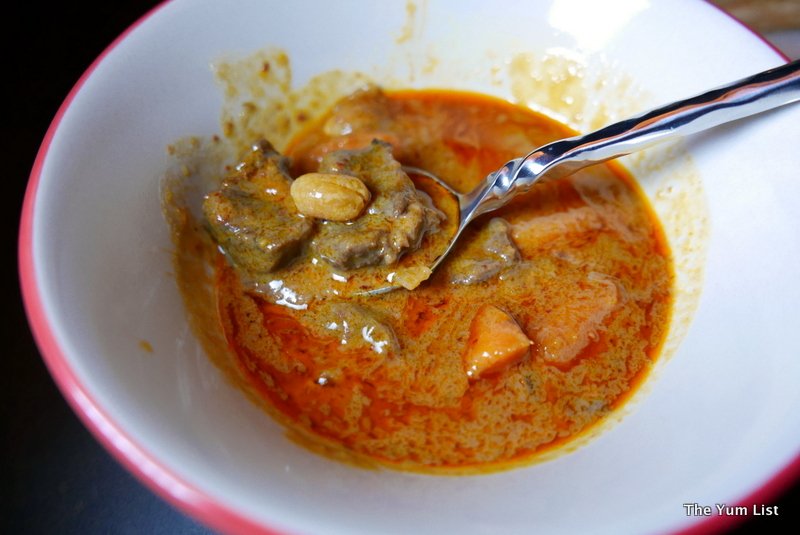 Half-way into the curry, howling and cheering intervene, signifying the start of a live performance. Dancers adorned in colourful silks sashay their way to the courtyard accompanied by percussionists, where they continue with a lively production serving to elevate the happy vibe in the crowd even more so.
We've paused to watch the show and have not yet left the Thai Specialties cart as we're after another dish just off the pan. Hoy Tot, an oyster omelette (only here made with New Zealand mussels), is fabulous with the crisply fried bean sprouts that base it and the classic sweet-spicy Thai sauce that sides it.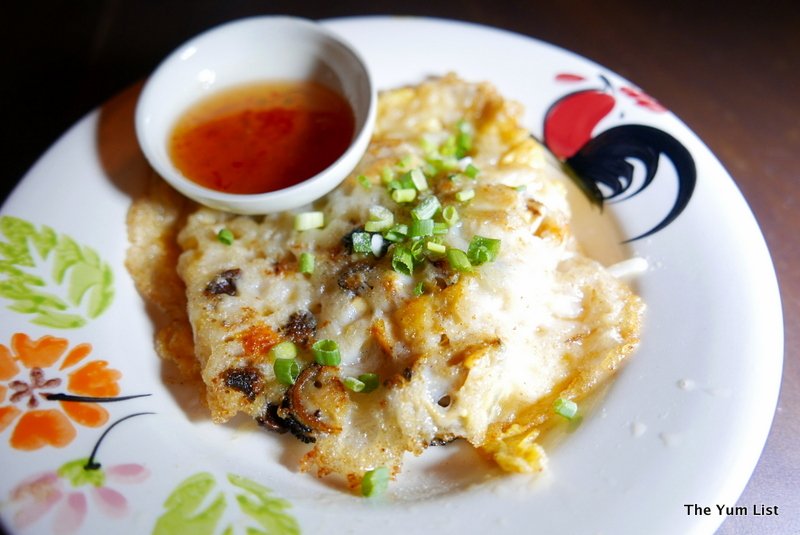 Soup
Another dish I encourage you to try is the duck noodle soup. It's slow cooked for five to six hours and develops into a rich round broth. Chinese herbs including cinnamon and star anise come to the forefront of the palate, thin vermicelli rice noodles bulk up the bowl, and celery, morning glory, fried garlic and bean sprouts contribute a contrast in texture as well as intensity.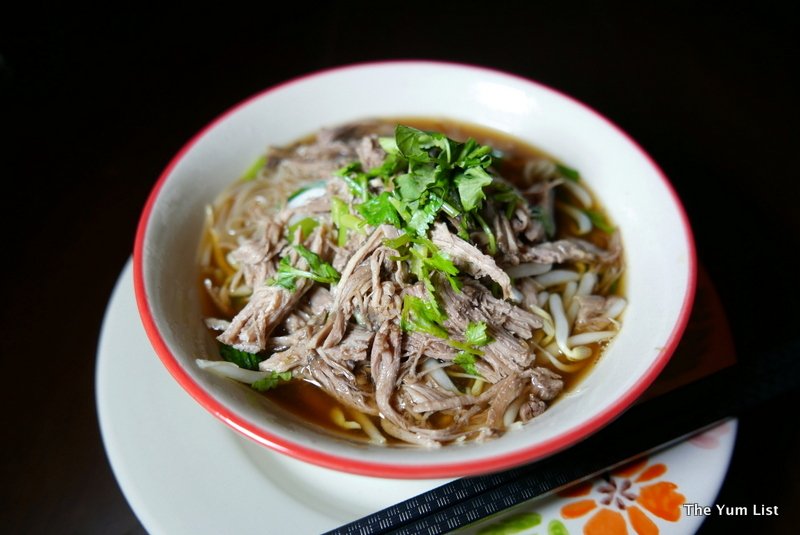 Rice and Grilled Fish
From the rice and seafood stall, we take a freshwater fish that has been crusted with sea salt and cooked over the charcoal grill. The salty case makes the flesh sweeter and juicier according to our sources. The local way to eat this is to pluck a chunk of fish, place it on a lettuce leaf, add some rice noodles, then one of the chili sauces (the brighter red one has a sour tang and the paler one is sweet with crushed peanuts), make it into a parcel and pop it into your mouth. The fish has been stuffed with lemongrass and local herbs and the flavours are deliciously infused into the flesh.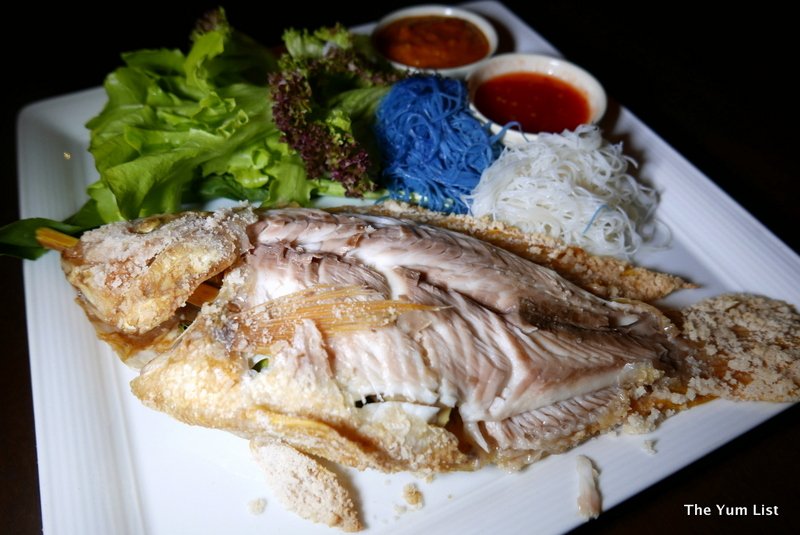 Noodles
"Where is the pad Thai?" you might be asking. Don't worry, this street food classic has not been forgotten, rather we've saved it for last (for the savouries that it is). Made with flat rice noodles the signature dish has been cooked with tofu, shallots, eggs and prawns. The sauce is on the sweeter side; a combination of soy, tamarind, palm sugar and red chilli, which gives colour but not heat. It's finished off with chives, bean sprouts, and ground peanuts. We're glad we didn't begin with this one, otherwise, we might not have had room to try the rest.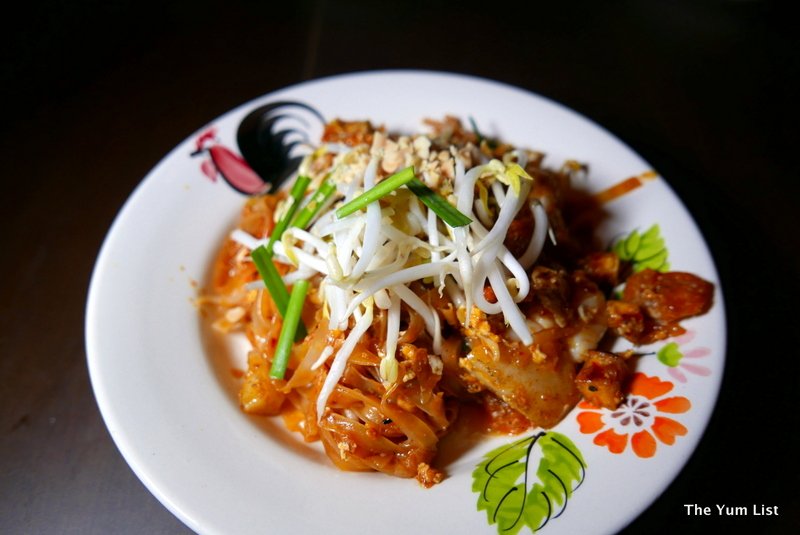 Mango Sticky Rice
A trio of sticky rice (white, blue with butterfly pea and green with pandan) pretties up my fave Thai dish, mango sticky rice. The expansion of the rice types is attractive, but oh, that Thai mango – sweet, sour, plump – is oh so good!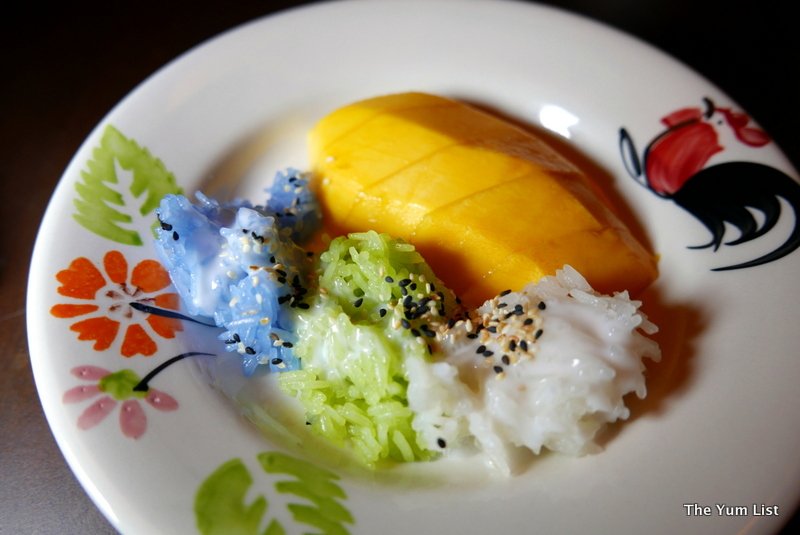 Dessert
The final station is the red ruby and shaved ice, but I just can't fit a single grain of anything more in. If you try it, please let us know in a comment below.
Baan Talat is priced at THB2000++ per person. The spread includes an unlimited number of dishes made on the spot, free-flow of freshly squeezed juices, soft drinks, wine, Thai beer and live Thai music and dance performances. Baan Talat runs every Saturday evening from 6 pm until 10 pm. Reservations are highly recommended.
Reasons to visit: a great way to try multiple Thai classics of high quality in a fun and stylish setting; free-flow food and drinks; entertainment; must-tries are the massaman curry, grilled fish, duck noodles and the mango sticky rice.
Baan Talat
The Ritz-Carlton, Koh Samui
9/123 Moo 5
Tambon Bophut
Koh Samui
Surat Thani, 84320 Thailand
+66 77 915 777
www.ritzcarlton.com