Words: Matt Jones    Photos: Monica Tindall
Dessert fans and sweet tooths, step to the front! You'll be right at home at Maison, the brand new artisan sandwich and dessert destination in Pavilion. This glistening glass gem of a restaurant nestled amongst the Cole Haan and Victoria's Secret boutiques on Level 2 is an island oasis of five-star dining, specializing in artisanal sandwiches, gourmet dishes, and the piece de resistance, spectacular work-of-art desserts.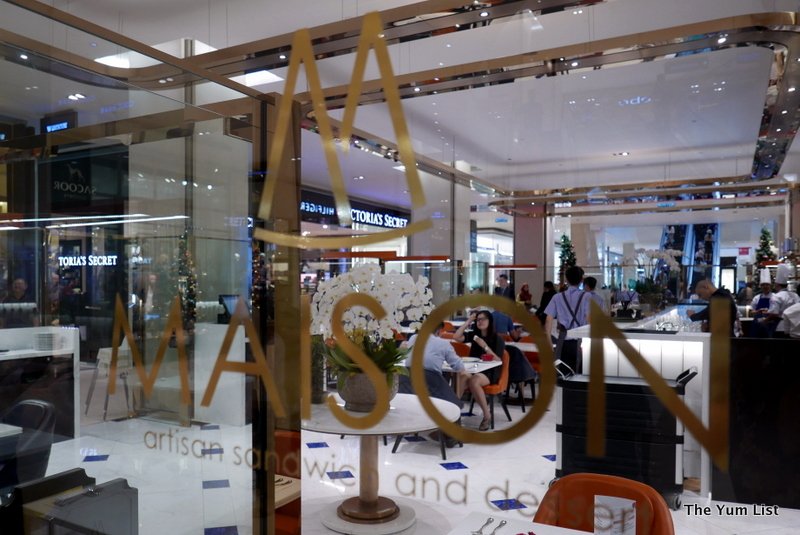 Maison Arte at Maison Pavilion
Normally I'd take you on a sequential tour through the courses, but for Maison, I'm going to have to start with the thing we had last. I say 'thing' because I'm not quite sure how else to describe it… monumental? Phenomenal? Spectacular? A visual explosion of sweet seduction? Artfully described as 'Maison Arte' (RM178) from the 'Curated Artisan Dessert' section, this party on a Perspex platter is truly something out of this world. Arriving in pieces via a caravan of chefs and wait staff, this signature masterpiece is hand painted and hand built at the table by the pastry chef. A combination of art and theatre, this ceremony of sweetness begins with the laying of the clear Perspex sheet atop the (four-person) table. Sticky sauces of berry and chocolate are brushed on in swirls, black sesame sponges and polenta cupcakes sit amongst mounds of crushed nut crumbles and shaved tempered chocolate, and homemade melt-in-the-mouth marshmallows sit beside variously sized macaroons. Squirts of strawberry mousse are projected around scoops of passionfruit, mango and plum gelato, fresh berries are scattered throughout and then, just when you think there couldn't possibly be anything more to top this triumph of tasty treats… but not being a plot spoiler, here is where I leave you to experience the grand finale for yourself. And it's explosive! The menu suggests this is a dish to be shared amongst four, but I think you'd still have leftovers after a group of eight attacked it. Magnificent.
Drinks Menu, Maison Pavilion
Ok so back to the beginning! With a full bar and drinks menu, we set lunch rolling with a glass of Moet and a round of cocktails. Naturally, a 'Vodka Martini' (RM28) for me, a 'Rosemary Collins' (RM28) with a sprig of rosemary and a lime wedge for Monica, and a 'Siderit Ginger Lime' (RM35) for Caning.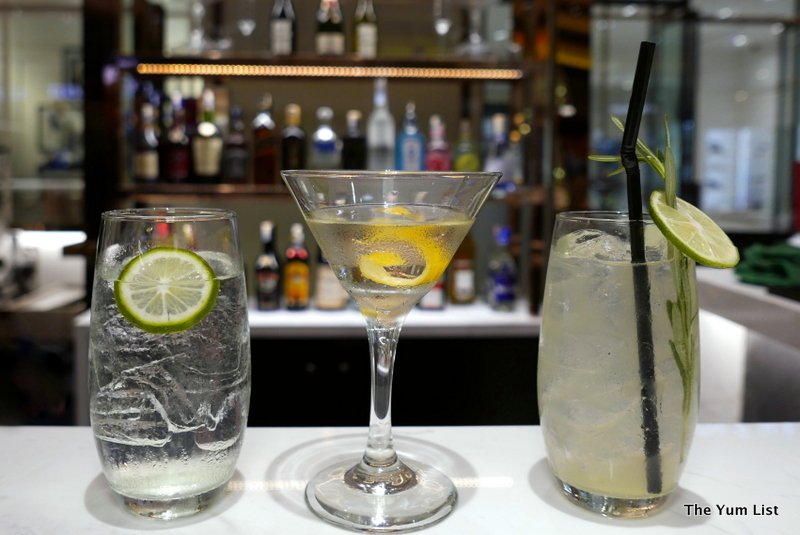 Savoury Menu, Maison Pavilion
Specialising in sandwiches, we went with the house favourite, 'Roast Chicken' (RM38); that classic combination of a juicy chicken breast with brie, walnuts and cranberry jam served with a side salad, gherkin garnish, and a flourish of edible flowers.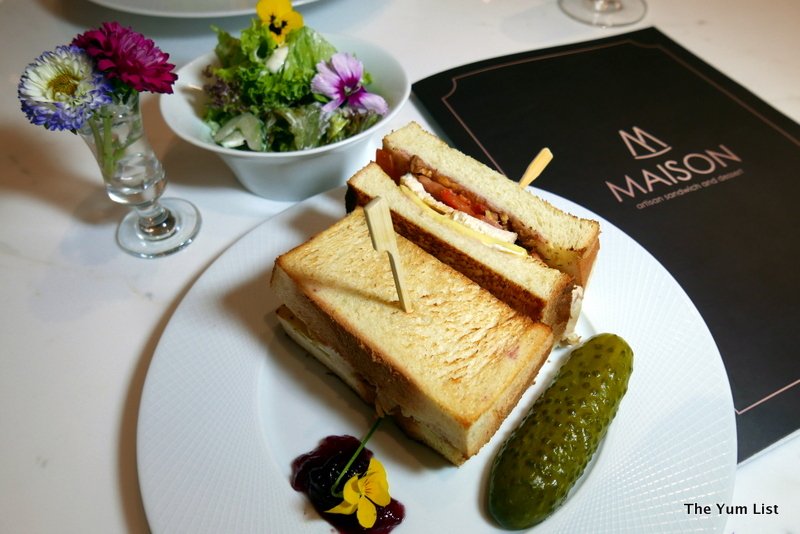 'Fresh From The Land' features more substantial meats and meals of which we chose 'Moussaka Eggplant' (RM45); a whole roasted eggplant stuffed with an Angus beef and carrot ragout and topped with crumbled feta and mint. Lovely. 'Brochette Duo' (RM68) is a twinset of grilled, marinated chicken and salmon skewers served with whole baby chat potatoes and a parsley and tarragon beurre blanc sauce; the perfect combination of land and sea. Another dish you should definitely try is their 'Maison Signature Roasted Beef' (Prices differ according to the meat selection of the day so ask the wait staff). Ours was a Scottish Black Angus prime rib roast beef, perfectly cooked and hand carved by the chef from the silver warmer in the centre of the dining room; buttery soft melt-in-the-mouth slices of beef served with roast vegetables and a Bordelaise gravy.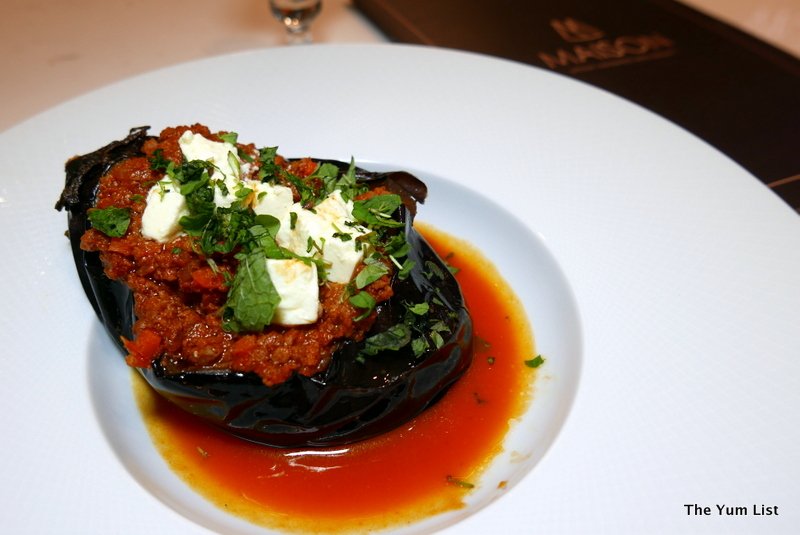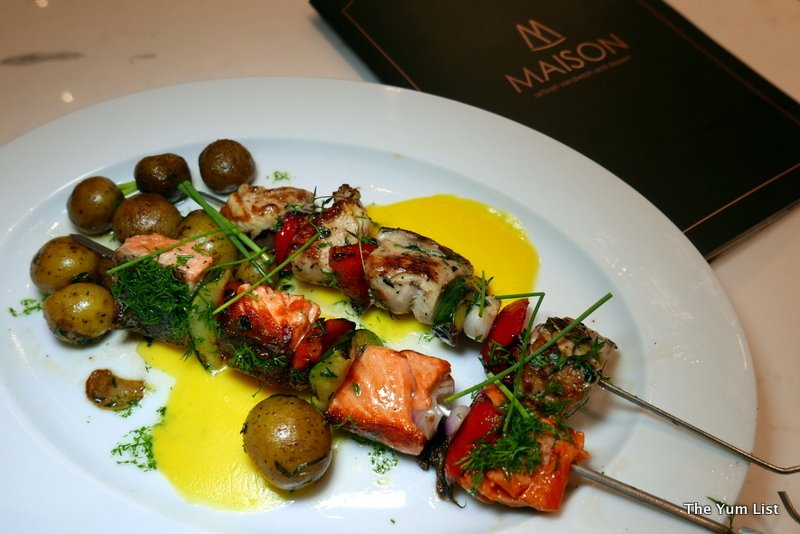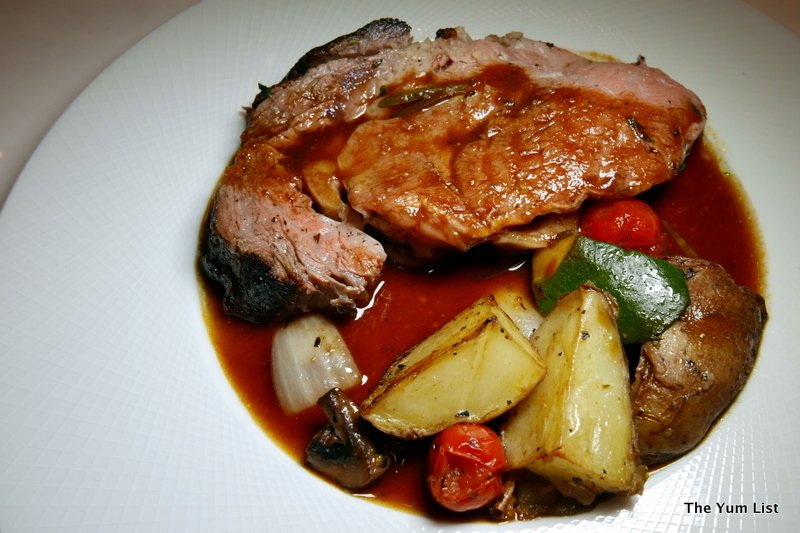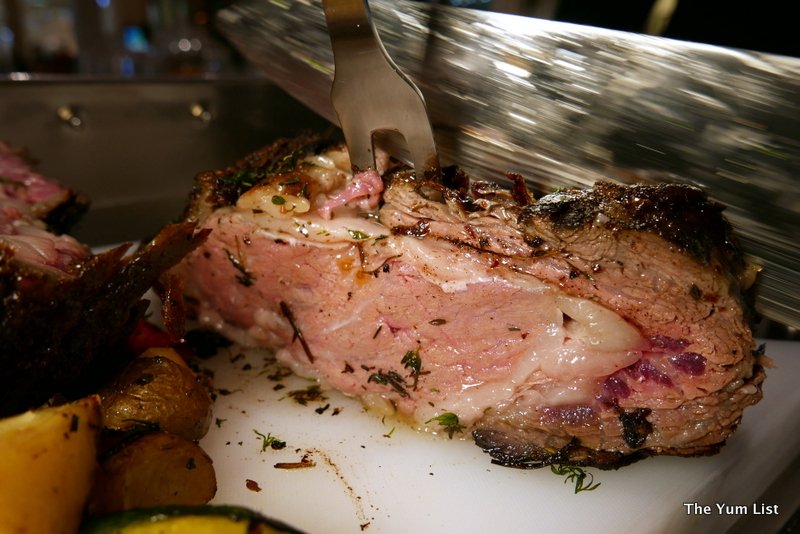 'Fresh From The Sea' had us trawling for 'Hokkaido Scallops' (RM85), juicy fat scallops pan-fried with a ponzu and black truffle jus and served on a potato mash with slivers of roasted garlic.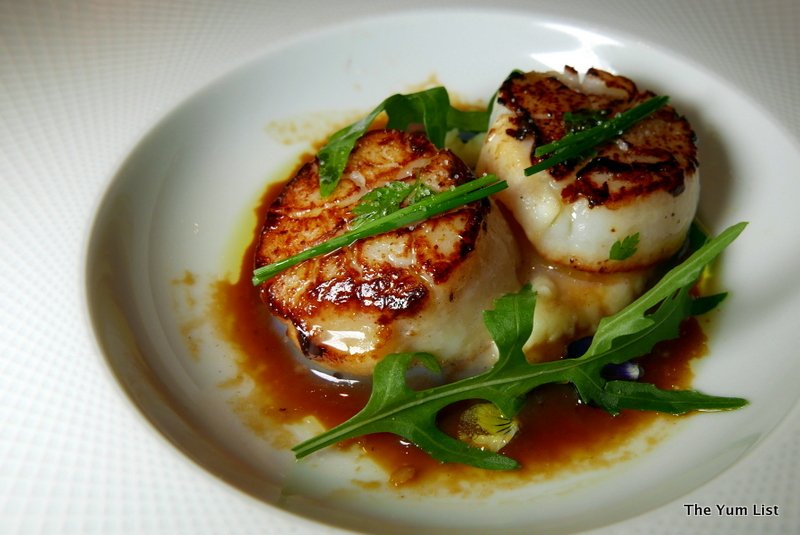 We shared a 'Goji Berries Salad' (RM32), a superfood explosion of fresh greens with goji berries, blueberries, pumpkin seeds, flaked almonds and cherry tomatoes lightly drizzled in a yuzu and olive oil dressing.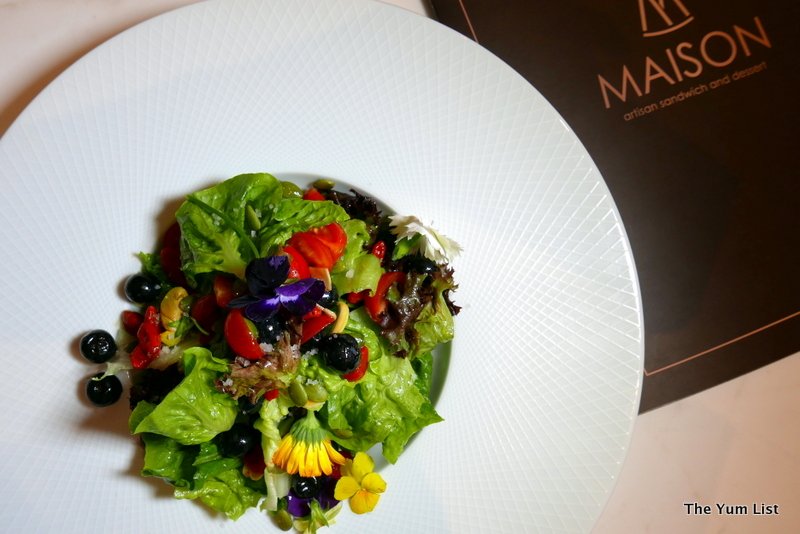 Incredible Desserts at Maison Pavilion
Coming full circle back to the dessert artworks, these fanciful whimsical confections are as delightful as they are delicious. 'Seaside Romance' (RM78) tells the story of when 'my girlfriend dropped her ice-cream in the sand'; a beach picnic on a plate of pineapple and salted fudge cake under a picture postcard fondant drape, with gelato, a raspberry tart, berry chocolate mousse, and an actual lipstick of red chocolate (which conveniently fitted perfectly into Monica's purse and was brought out for regular touch-ups throughout the rest of the afternoon). 'Enchanted Stones' (RM55) are lactose-free chocolate covered pebbles of coconut mousse and cherry jam on an edible soil of cocoa almond crumbs, while the 'Poison Apple' (RM65) is a symphony of caramelized apple cubes with an apple crémeux inside handmade sugar apples, surrounded by a cinnamon crumb.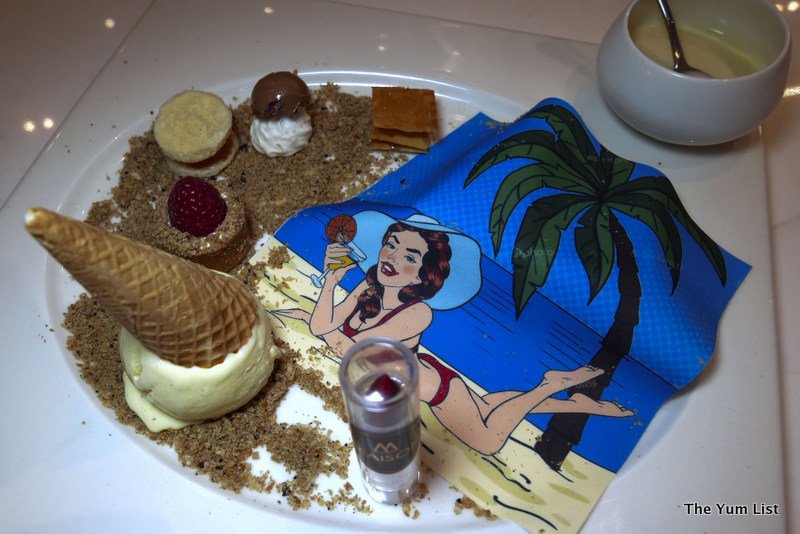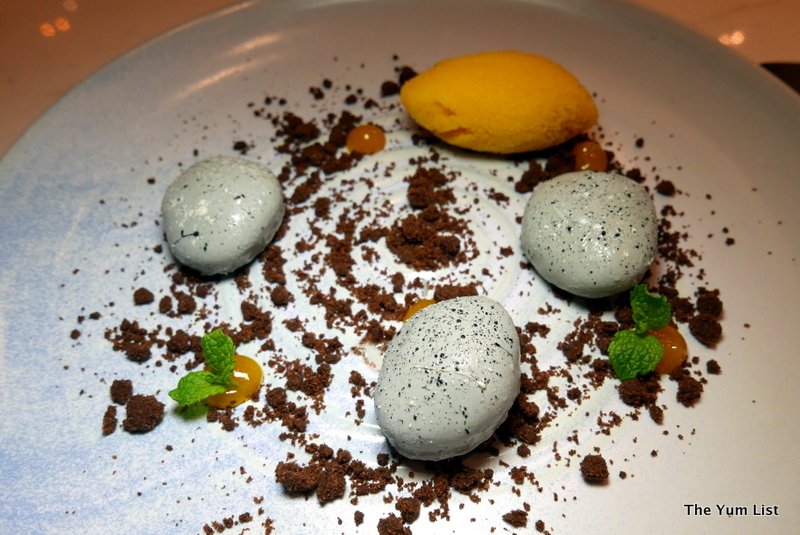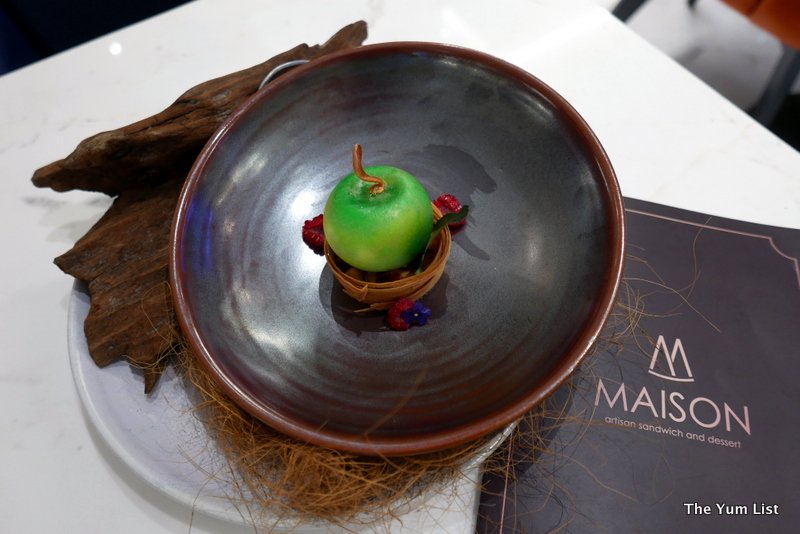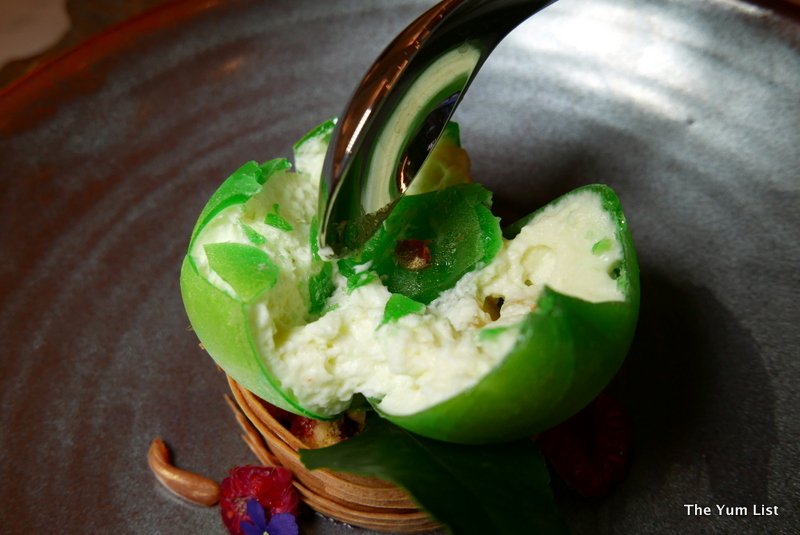 Maison Pavilion also has a selection of breakfast and lunch sets available that you can enjoy in the calming, contemporary and rather charming French-styled interior. Honed from a canvas of white marble and brass-trimmed glass punctuated with orange and navy leather chairs and a white marble floor infused with navy blue accents, Maison retains a relaxing and private vibe despite the chaotic surroundings of the shopper-packed shopping centre swirling around us.
Bon appétit!
Reasons to visit Maison Pavilion: DESSERT!
Maison Pavilion
Artisan Sandwich and Dessert Café
Lot P2.01.01 & 2.01.9B
Level 2, Pavilion Kuala Lumpur
168 Jalan Bukit Bintang
55100 Kuala Lumpur, Malaysia
+6 03 2148 8999
Facebook