Monica Tindall
White sandy beaches, aquamarine waters and rugged tropical palms; they're the things that set the scene for many a holiday dream. Punctuated with stylish accommodation and gracious service, The Ritz-Carlton, Koh Samui turns my fantasies of island luxuries into reality. But, going beyond the luxury travel standard, the resort sets itself above the rest with some standout provisions unique to the location.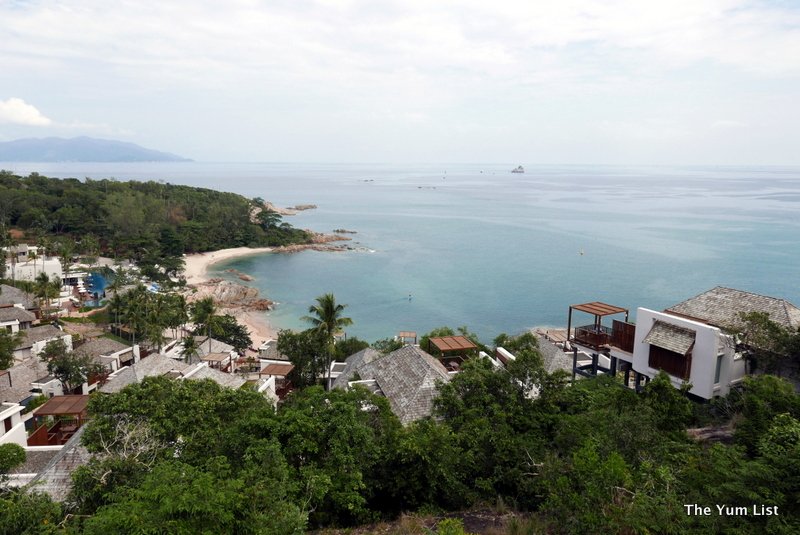 Location
On the northern tip of the island and only a 10-minute drive from the airport, The Ritz-Carlton, Koh Samui boasts not one, but two, private beaches and stunning ocean frontage. One hundred and seventy-five pool villas and suites are built on a grand 58-acre property. Formerly a coconut plantation, the land's past use and cultural connection continue to be honoured with the integration of natural materials and design into the landscaping, facilities and service.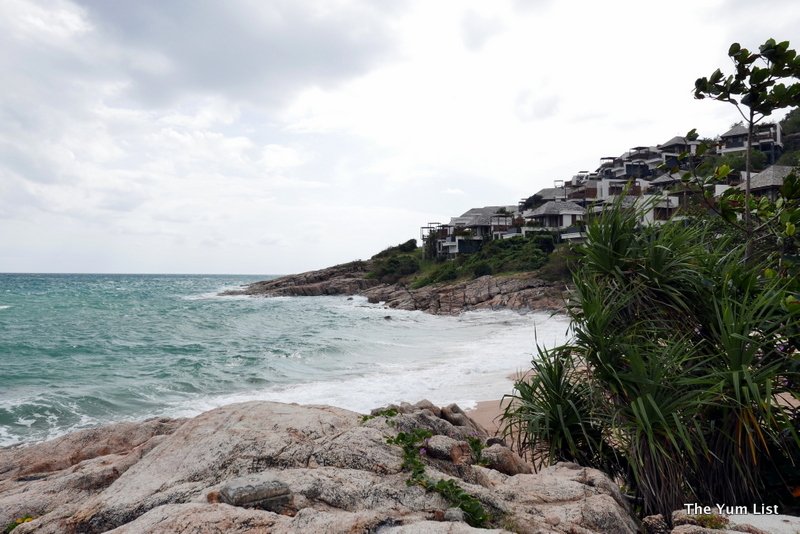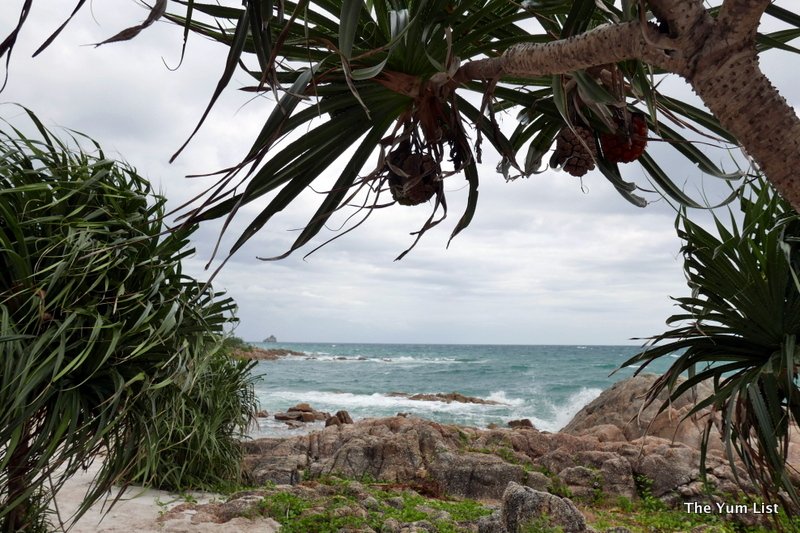 Suites and Villas
Guests have a choice of pool villas and suites with the selection being big or bigger! Suites begin with a luxurious 93sqm of living area and continue up to 255sqm of royal abundance in the villas. Local architecture of contemporary design takes advantage of the natural seaside surrounds in spaces that seamlessly flow from the indoors to the out. Neutral hues, combined with nothing but blue from the outside to the horizon, invoke a natural state of calm.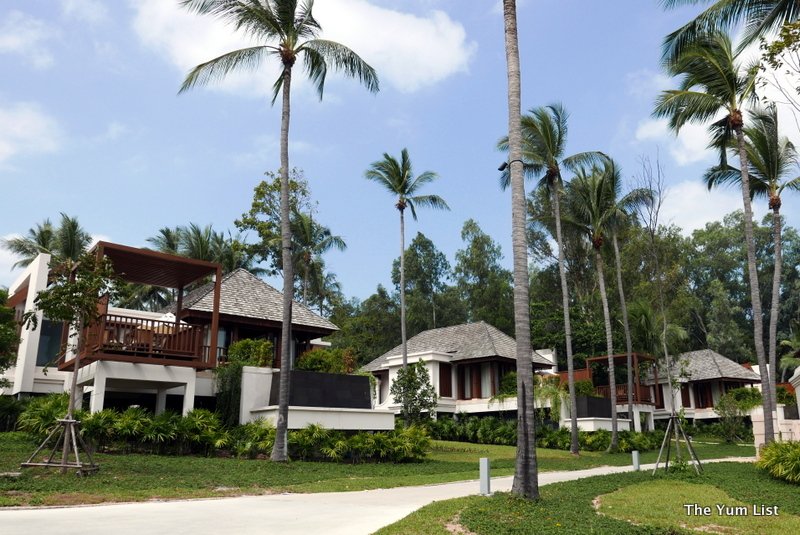 The Ocean View Pool Villa, our digs for three days, features three distinct areas privatized or opened up with solid sliding doors forming a cocooned sleeping area for a peaceful night of rest or spacious openness that frees the mind. Feather duvets and cloud-like pillows make sleep-ins a daily comfort and we find ourselves drifting off for regular blissful afternoon naps escaping the peak temperatures of the day too.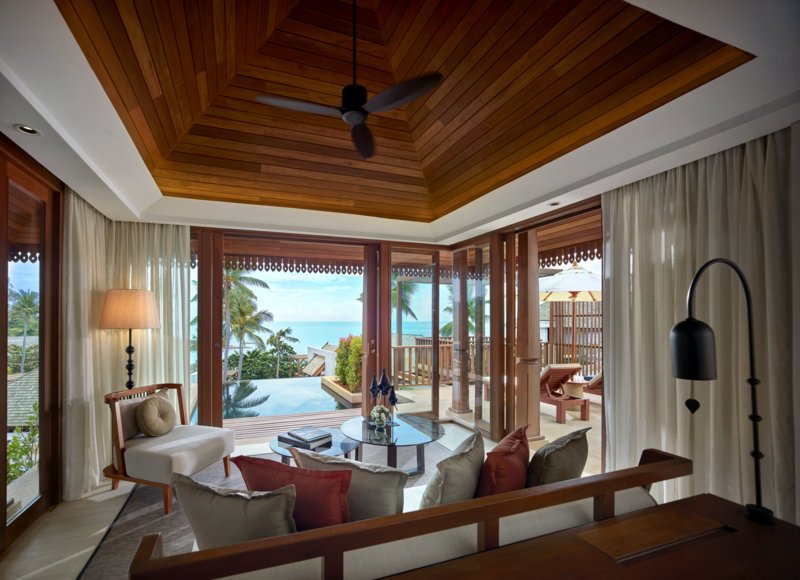 Separate tub, rain shower, wardrobe and twin vanities compose the bathroom and it's supplied with Asprey toiletries, plush robes and slippers. Natural stone is complemented with cool shades of grey and pristinely white towels. The small but important details, of a make-up mirror and a decently powerful hairdryer, give much appreciated touches of home.
Besides the sumptuous king-size bed in the living area, a writing desk with plenty of ports and power points, a lounge and coffee table are further comforts. Hubby quickly unwinds into full slouch mode, with his fingers the only part of his body getting a workout – using the remote for the high-definition LCD television and quality sound system.
My comfort though is the terrace with sun recliners, a dining table and a wonderfully fabulous infinity pool that appears to drop down to the sea. The view is unbeatable. In the cooler hours of the morning and later afternoon, this becomes my writing hub (but could just as easily be a reading retreat, or wine drinking roost if you prefer). And, of course, the pool gets well used for repeated dips to awaken first thing in the morning and to cool off throughout the day.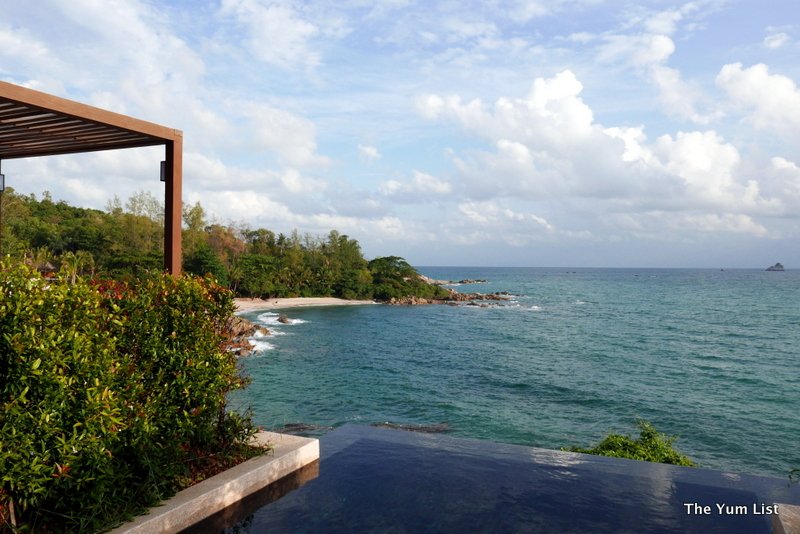 Dining at The Ritz-Carlton, Koh Samui
The Ritz-Carlton, Koh Samui provides 24-hour in-room dining, which is rather tempting given our lodgings. The food and beverage outlets, however, are worthy of exploration. Open for breakfast and dinner, Shook! serves Asian and Western dishes with a fine wine list as complement. Our villa package includes brekkie, and while there's surely a fine selection of local cuisine, it's eggs, fresh fruit and coffee that tickle our taste buds, along with the indulgence of my addiction to mango sticky rice and fresh coconut being fulfilled daily.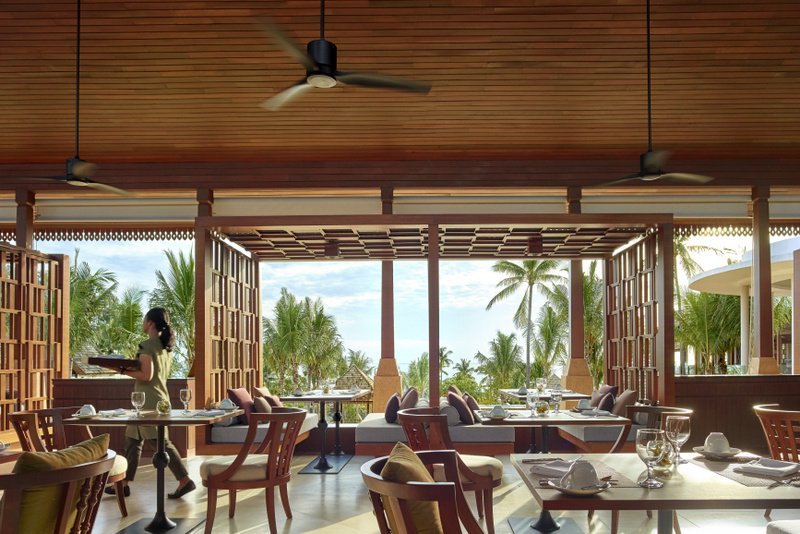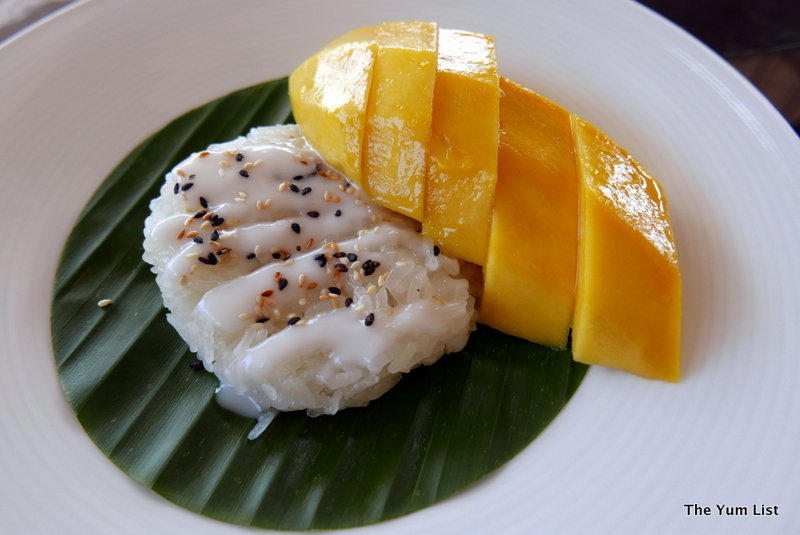 Baan Talat is the place to head to feast like a local on flavour-packed Thai street food (read the full article here), poolside dining is found in the casual setting of Sea Salt (review here), and romance is assured at Pak Tai with a menu of southern Thai cuisine served in your own personal dining space (link to more here).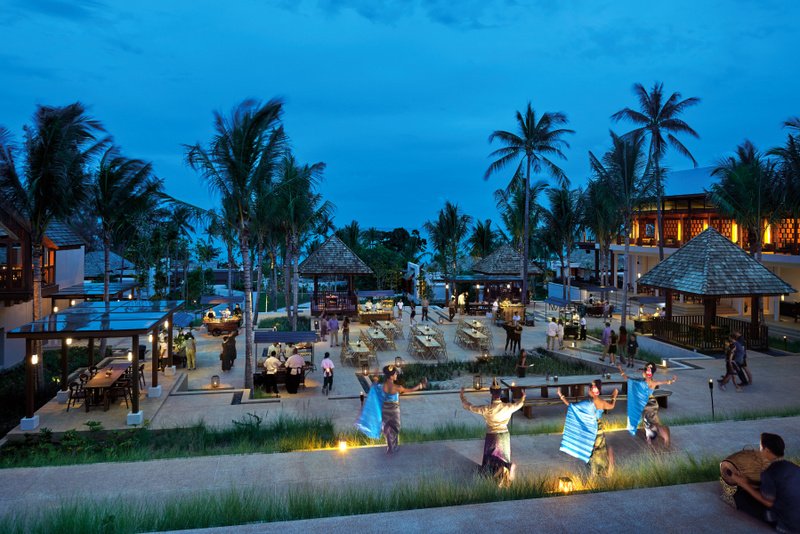 For something more beverage focused, Tides and One Rai have comprehensive drinks' lists. The former is the first cevicheria I hear of in Asia and we're excited to have a poolside cocktail here with the day's ocean catch (read the full article here). And, I don't know about you, but a vacation by the beach is not done right unless there's at least one cocktail relished at sundown. The ring shaped One Rai bar is just the spot to do so. While it doesn't face the eventide, when the sky is not darkened by clouds the light from the descending sun casts a golden glow out to the sea. This is the spot for textbook cocktails or classics with a Thai twist. Warning: the bar snacks of nuts and crisps, which have been seasoned in house with local spice, are irresistibly addictive!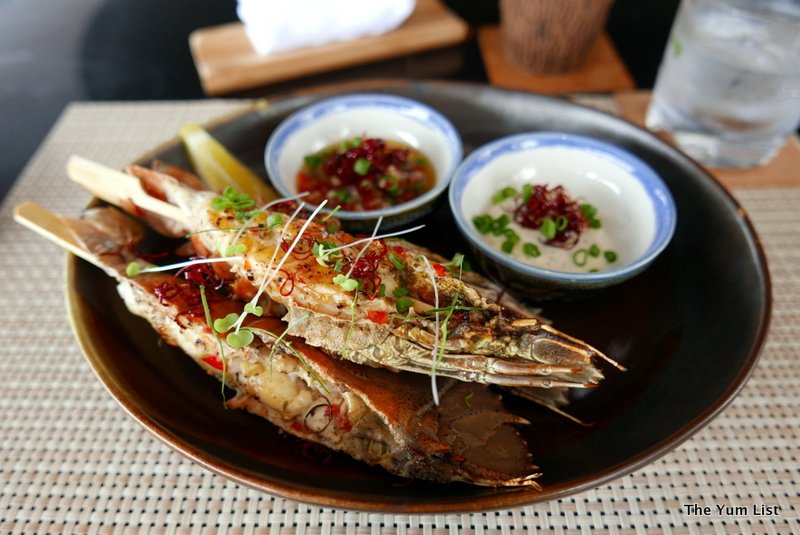 Spa Village, The Ritz-Carlton, Koh Samui
With ownership by YTL (a Malaysian powerhouse in luxury properties), the only choice of spa is that by Spa Village. Leaders in creating luxurious spa environments and menus by incorporating local wisdom and product, Spa Villages across Asia have become known as some of the finest in the industry. Even if you are not staying in the hotel, a session here should be on every spa lover's agenda. Pre-spa rituals are a 'thing' at Spa Villages; some of them being known to contribute an additional hour to treatments. Here, at The Ritz-Carlton, Koh Samui, it's the Songkran Shower. Inspired by the yearly Songkran festival, which is basically one enormous water fight, the team take the theme of abundance in water and give guests a scrub down with coconut husks, followed by a drenching with warm and chilled water, and for a spot of fun, douse you with a bowl of scented water for good luck and longevity. All of this aqua indulgence happens before the scheduled treatment even begins. We partake in a locally inspired session, Samui's Coconut Heritage; read more about our experience by following this link.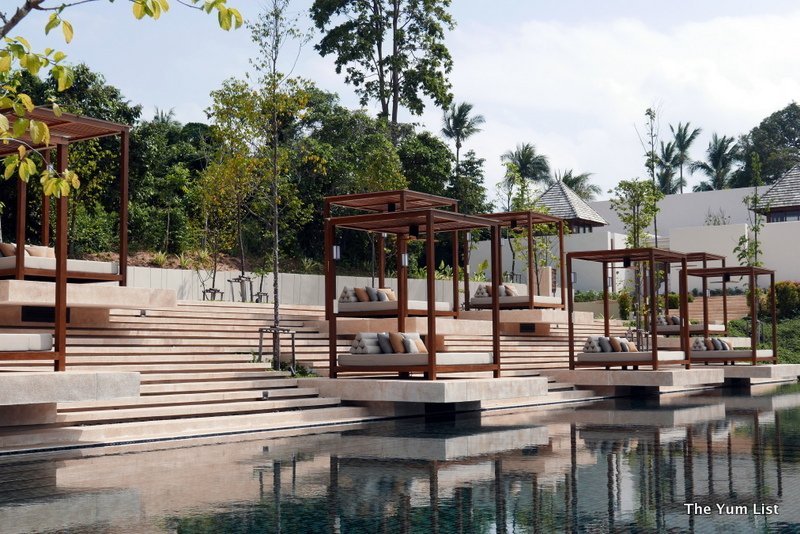 Fitness Centre
Not only does the spa take inspiration from local customs and traditions but so too does the fitness centre. State-of-the-art cardio and strength equipment are as expected for this calibre of hotel, but in addition there's a Muay Thai training ring. "The art of eight limbs" is one of the best workouts I've ever engaged in. Siwat (our expert trainer) ensures neither hubby or I walk out of the ring until we've learned the basics and burned every last calorie of mango sticky rice and cocktail we've consumed on this holiday. Actually, it took me a while to write about it as my hands felt as though they weren't attached to my forearms for a good two days following my session – you might say I'm an enthusiastic learner or that Siwat ensures that every client gets value for money.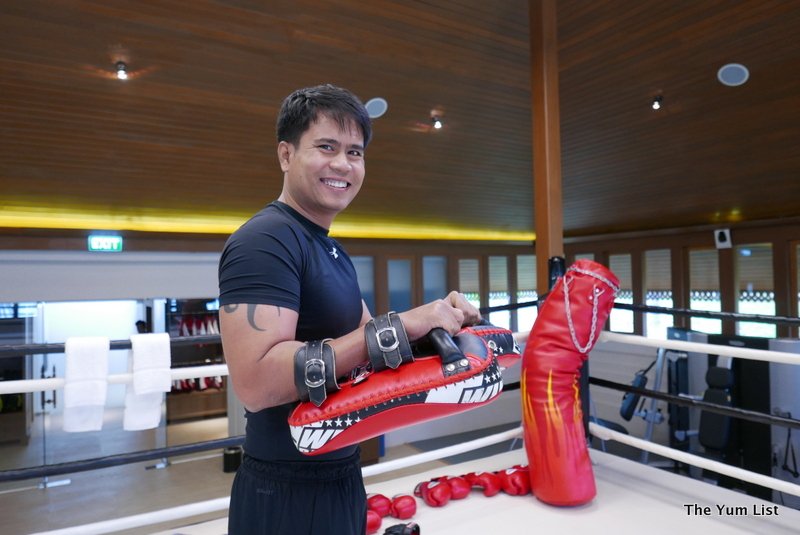 And, oh, hubby would not be pleased if I forgot to mention the tennis courts. Yes, there are tennis courts and they're "fantastic," according to him. Hard courts, lit at night and with spectacular views over the bay were just the beginning. Besides providing raquets and balls, The Ritz team were also able to network with other guests and actually find him partners to play with. Good for him and great for me – a little mansitting is much appreciated at times.
Swim Reef, The Ritz-Carlton, Koh Samui, Thailand
Besides two fabulous pools, a red sand beach and a white sand beach, The Ritz-Carlton, Koh Samui has the largest, one-of-a-kind swim reef in Southeast Asia! The in-house reef is teeming with marine life and various species of tropical fish. "The advanced filtration systems ensure that pollutants, jellyfish and suspended solids in the seawater are removed, resulting in a temperate and safe environment all year round. Strategically placed artificial coral reef structures allow for optimum fish viewing and cultivates a conducive habitat for clownfish breeding and coral propagation programmes supported by the local authorities." Guests have access to this reef on guided swims and scheduled fish feeding. Hubby immerses himself in the experience and, even as a diver, is amazed at the opportunities for viewing the marine life up close and personal.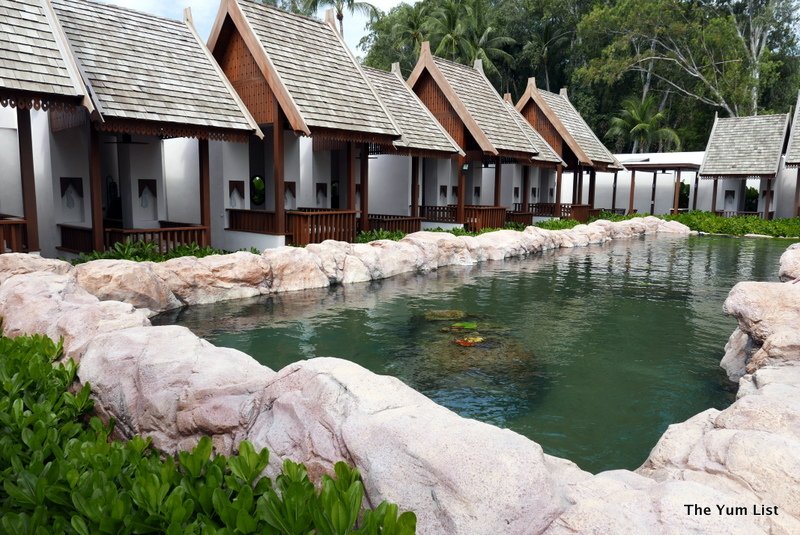 The Ritz-Carlton, Koh Samui goes beyond the standard offerings of a 5-star resort. In addition to superb accommodation, delicious food and beverage options, and fine service; the unique Spa Village, Muay Thai boxing ring and Southeast Asia's largest Swim Reef are standouts that not many (if any) other resorts provide. In the competitive world of luxury travel The Ritz-Carlton, Koh Samui has more than made its mark.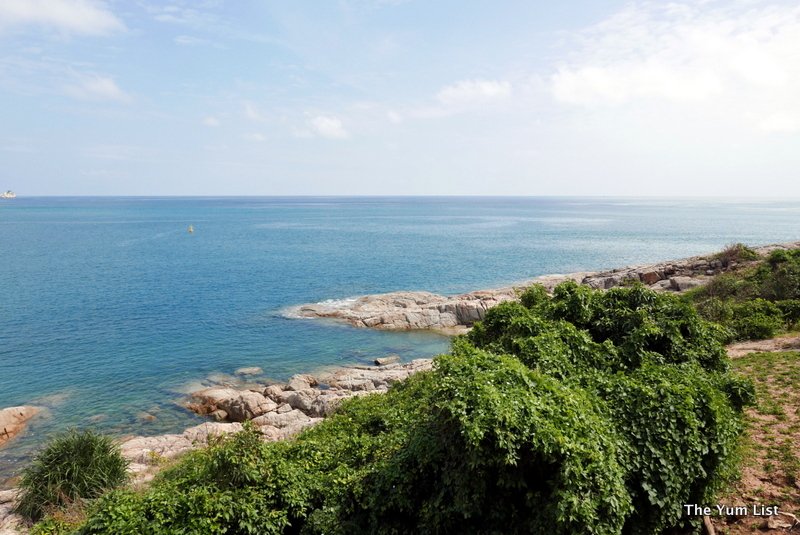 Reasons to visit: stunning location and stylish rooms; standout experiences are the Spa Village, Swim Reef and Muay Thai.
The Ritz-Carlton, Koh Samui
9/123 Moo 5
Tambon Bophut
Koh Samui
Surat Thani, 84320 Thailand
+66 77 915 777
www.ritzcarlton.com