Monica Tindall
Hidden in a sleepy residential street in Melawati, Tiny Garden Café offers a welcoming green escape from hectic city life.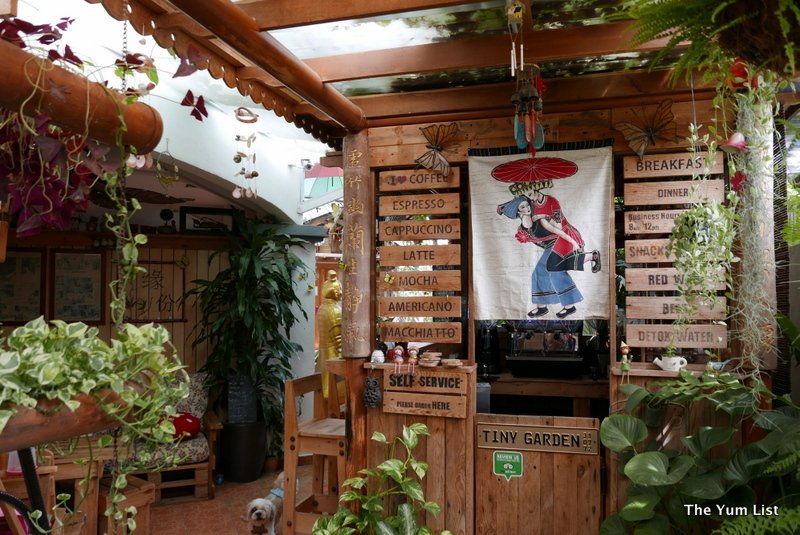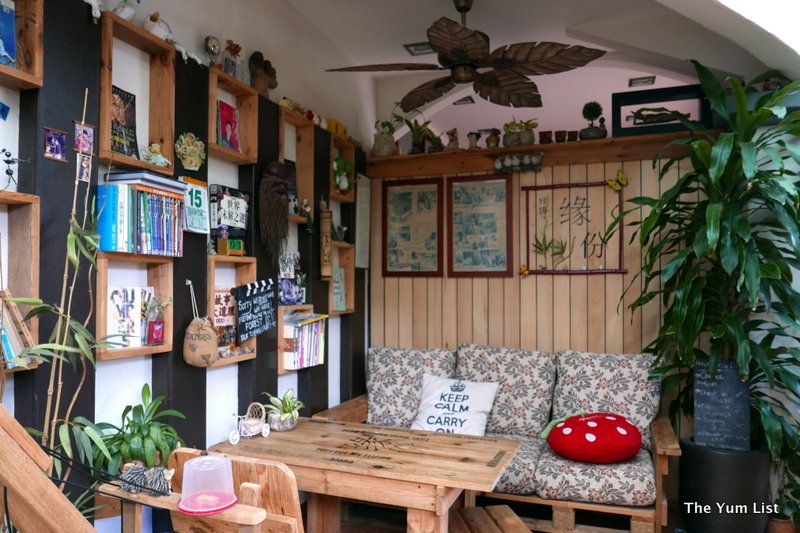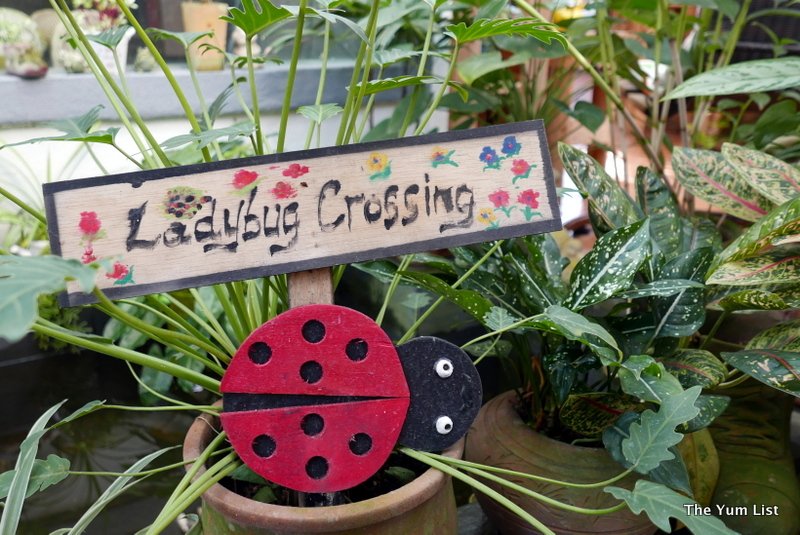 An empty nest (hence an empty bedroom), spare time discovered in retirement, and joy found in meeting people from around the world, led owners Shirley and Raymond to first open a bed and breakfast around four years back. One thing led to another and just a year ago they added a weekend café to their portfolio. Raymond made all of the furniture by hand including a very cool barista bar. Green-thumb Shirley fills the space with a jungle of plants and plates of "mama food," and adding the final touch, daughter Carmen operates the coffee machine and takes care of the baked goodies.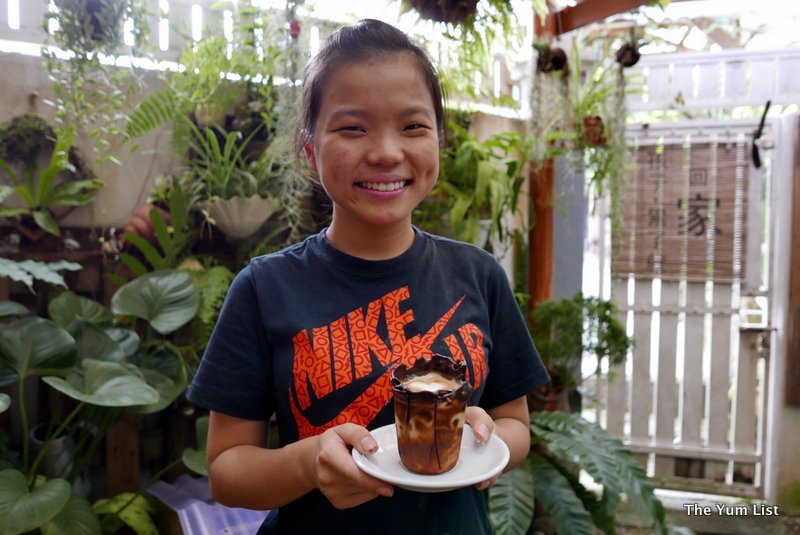 Tiny Garden Café is only opened on the weekends for breakfast and brunch between 8 am and 12 noon. And, you must have a reservation – no walk-ins are entertained. Once you're through the gate, however, be prepared for a warm welcome by Bobo (pictured below), affectionately dubbed the CEO, who with a wag of his tail, guides you to your seat and then returns to his greeting station ready for the next guest.
Drinks at Tiny Garden Café
Your first order must be a Confee (RM15)! It's a latte served in a cone cup layered with thick melty layers of chocolate. It turns the concept of dipping your biscuits in a hot beverage inside out. For those who don't drink coffee, it can also be made with matcha, hot milk or for dedicated chocolate lovers you can get a double dose with a filling of hot chocolate.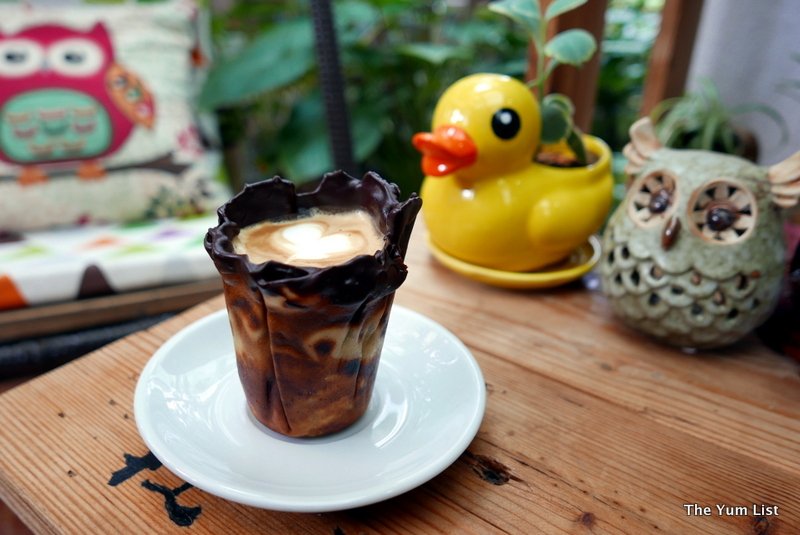 Barista style coffee must be the best value in all of Kuala Lumpur with lattes and other milk-added espresso-based drinks only RM7! Robusta beans from Indonesia make a surprisingly delicious base and Carmen works her magic with a bit of foam art too.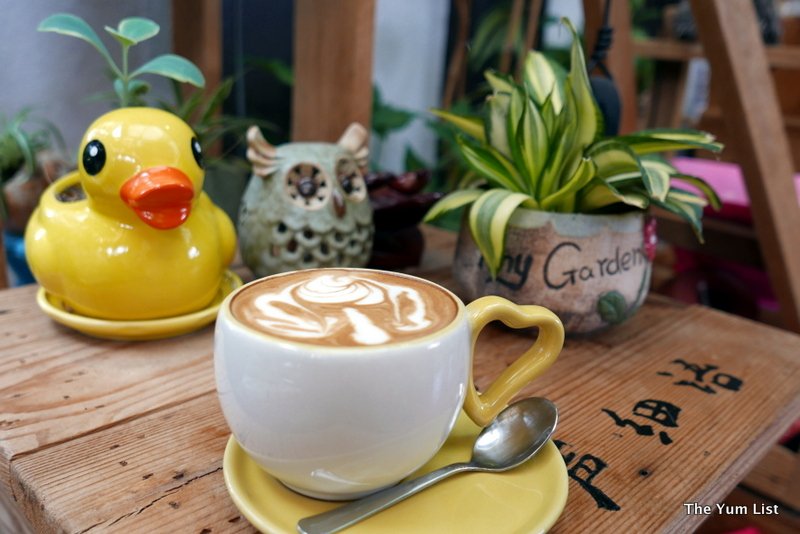 Menu, Tiny Garden Café
There's no set menu at Tiny Garden Café but you can be guaranteed that everything is made in-house with love. Breakfast changes every week but there are always some egg dishes and sandwiches on the menu along with heartier items too.
Mushroom Soup (RM8) is smartly presented with a cover of toasted garlic bread with a heart shape lost from the middle and found again on the spoon beside it. There's something in it that I can't quite detect, but it lightens the profile. When asked about her secret as to why it's so light, Shirley says, "I don't know, I just cook. I'm an aunty." Carmen chimes in saying, "She just takes a pinch of this and a pinch of that. Her food has the mama feel, the mama love."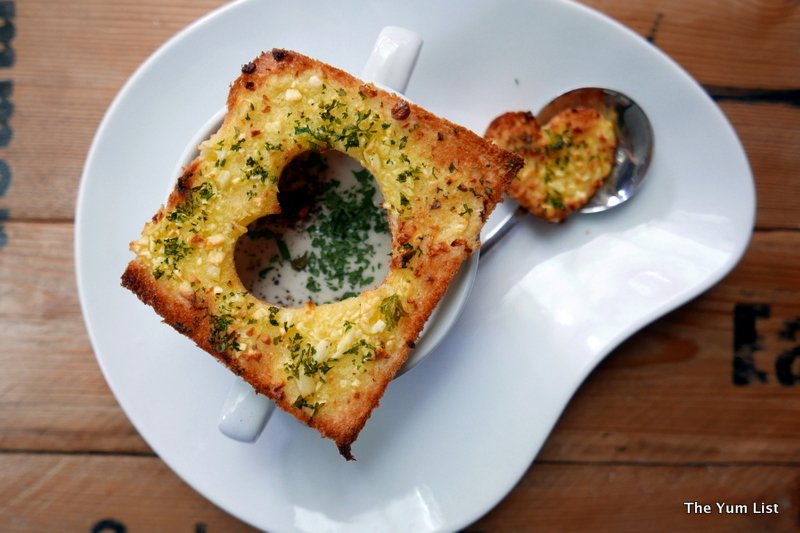 If you're game, try the Petai Pasta (RM20). A tongue-tingling chilli kick is quickly followed by the pungent stinkiness of the petai beans making their existence well noted and remembered long after eating. Carmen says it's her version of a fusion dish, using pasta instead of rice with distinctively local ingredients, it's a mix of western and Chinese.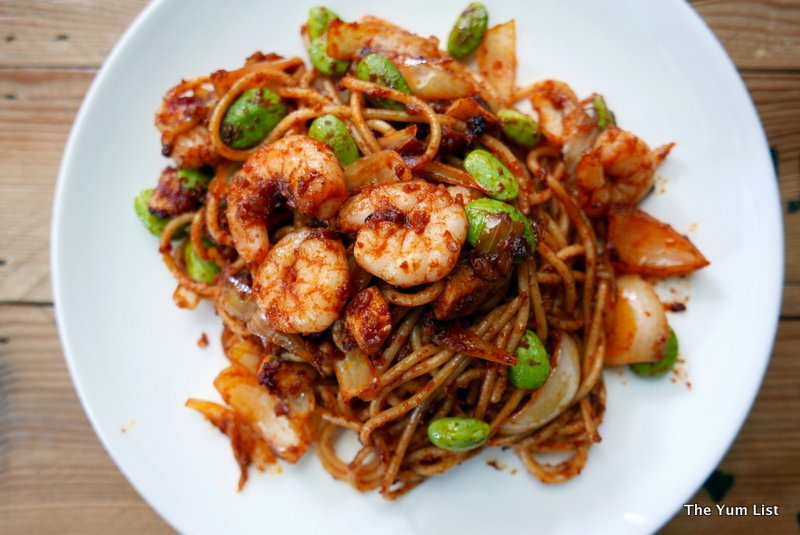 The Smoked Duck Pasta (RM23) features fat strings of spaghetti coated in herbs, spices and a light olive oil. Tender pieces of smoked duck are tasty on top and juicy stuffed mushrooms are a delish accompaniment.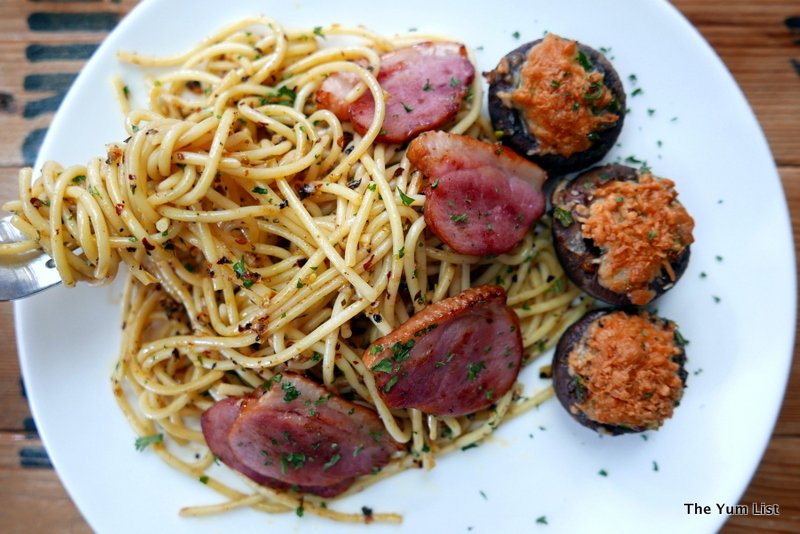 Pressed to pick the cafés most popular item, Shirley says it's the Chicken Chop with Tiny Garden Signature Sauce (RM20). It turns out to be my favourite item on the menu with its moist thigh meat covered with a creamy mushroom wine sauce. On the side are crinkle cut fries, a holt of broccoli and some fresh salad.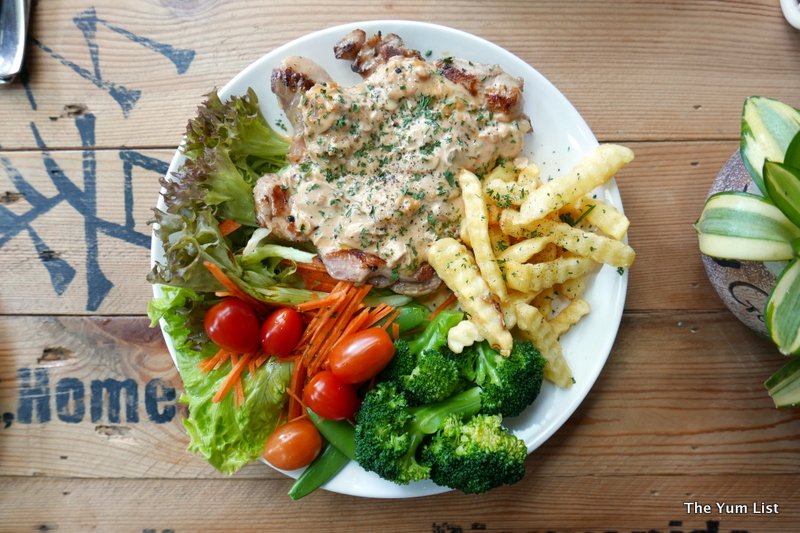 Sweets at Tiny Garden Café
While Shirley is the cook, Carmen is the baker and each week there's something different coming from the oven depending on her mood. This round I have a slice of Earl Grey Cake (RM12). It's superbly aerated and the tea savour really comes through.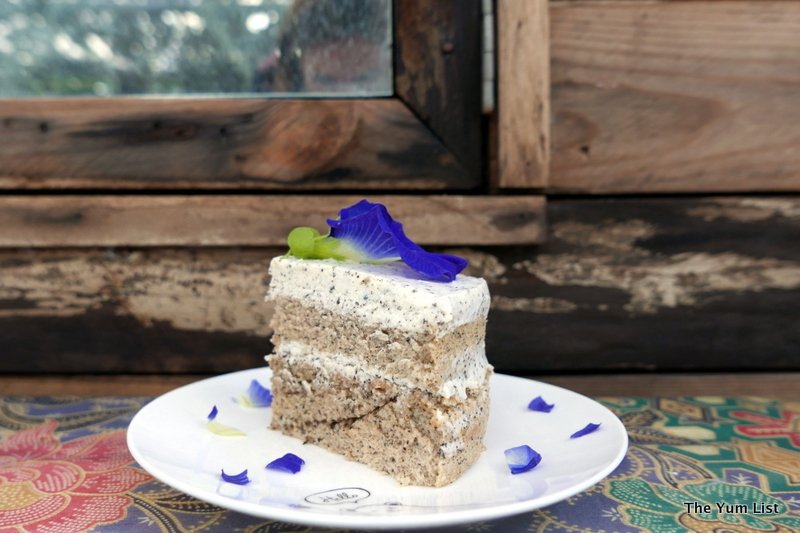 Jackfruit Cake (RM12) is another moist spongy dessert with a creamy fruit topping. The seed is not usually eaten but when cooked it can be and here the seed, wrapped in its fruit jacket, sits atop the cake as an edible garnish.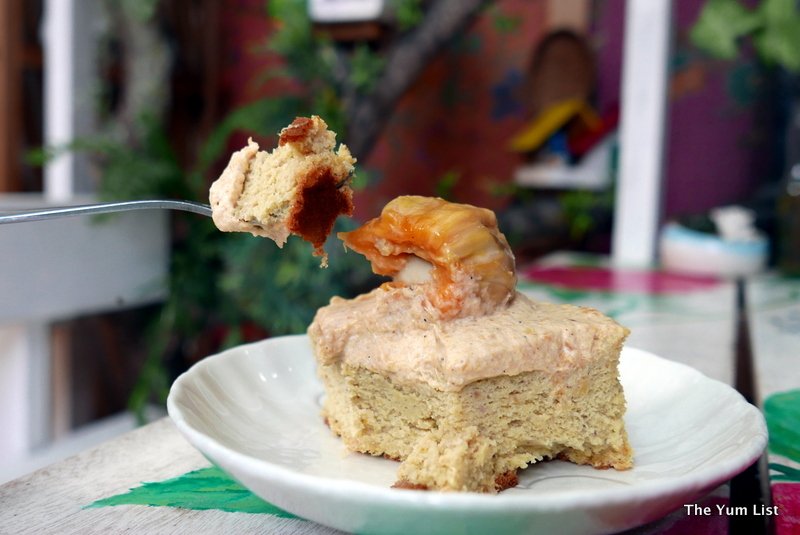 Nibbling on the last of the cake crumbs, I ask if there's anything else they'd like guests to know about Tiny Garden Café. Carmen and Shirley laugh and almost say at the same time, "There's no Wi-Fi!" and point to the sign (pictured below). "We want you to talk to each other, not play with your phone. When you don't have Wi-Fi you can chat with the hosts, enjoy the environment and give Bobo some attention."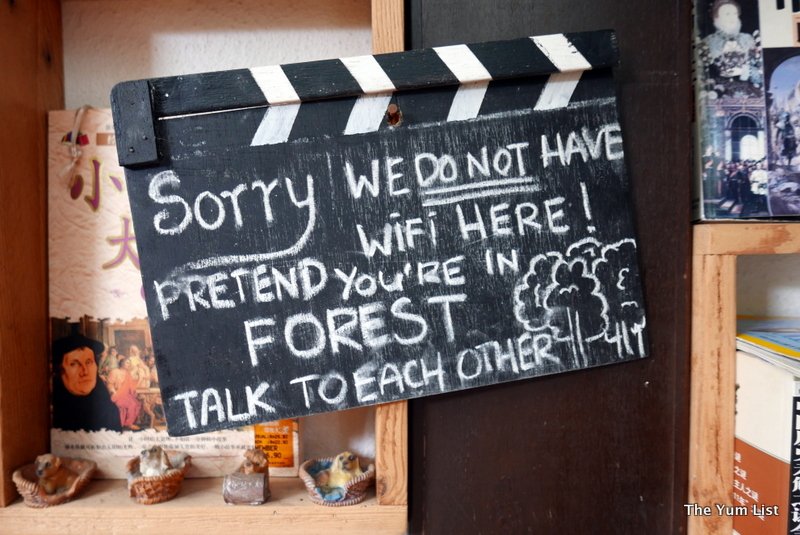 As I leave, Carmen translates the words on the back of the gate on the path out. They're written as if from a parent to a child, "When you're tired you can always come home." It's a reminder that there's always someone at home waiting for you just like Tiny Garden Café will always be here as a haven from the busy-ness of life, a green space filled with comfort food, good coffee and the warmth of family love.
Reasons to visit: one of the cutest cafes around; LOADS of green; simple and tasty comfort food very reasonably priced; must-order a Confee and a piece of cake.
Tiny Garden Café
25 Jalan Wangsa Murni 7
Wangsa Melawati
53300 Kuala Lumpur, Malaysia
+6 012 392 9282
www.facebook.com/tinygarden.bnb/