7 Bars, 4 Buddies, 1 Brilliant Hong Kong Bar Crawl – In and Around Bars in Central, Hong Kong
Words: Matt Jones  Photos: Monica Tindall  Tour Guide: Tron Young  Entertainment: Caning J
Bar hopping is always heaps of fun, but a bar hop with Tron Young of The Bar Awards on a guided tour of the winners from last year is epic! Apparently, who cares if we did this on a Monday night, as Hong Kong's bar scene was absolutely pumping despite our early-in-the-week school night outing.
A Cocktail Crawl Around Some of the Best Bars in Hong Kong
So who were last year's winners, and what were they like? We toured around seven of them, starting with '8 ½  Otto e Mezzo Bombana' in The Landmark, winner of Best Restaurant Bar 2018 and Bartender of the Year 2018 Devender Kumar (who just happens to be as handsome as he is talented). When you have the Bartender of the Year personally serving you, you go with his suggestions, and marvel at his masterfully flair-filled show to create them. First to land was the 'Optimist' ($150HK), a sweet and savoury honey and ginger twist on the classic daiquiri, with fresh basil leaves and a slice of cucumber. The '8½ Negroni' ($150HK) is a deliciously sweet and syrupy Milanese native of a cocktail of gin, sweet vermouth and Campari, updated by the addition of Amaro Averna, Barolo Chinato and grapefruit and orange bitters. Bright and zesty! Completing the tipple trilogy, the 'Pocket Square' ($150HK) is a decidedly gentlemanly cognac with the punch of ginger, silky touch of honey, and rounded off with citrus and floral notes.
You'll adore the Grandma's cabinet of vintage crystal that Devender selects his glasses from, either before or after dinner at this 3-Star Michelin outfit. As Tron so perfectly summed up the atmosphere, "It's the place I bring my first dates to." I'm looking forward to my second one there!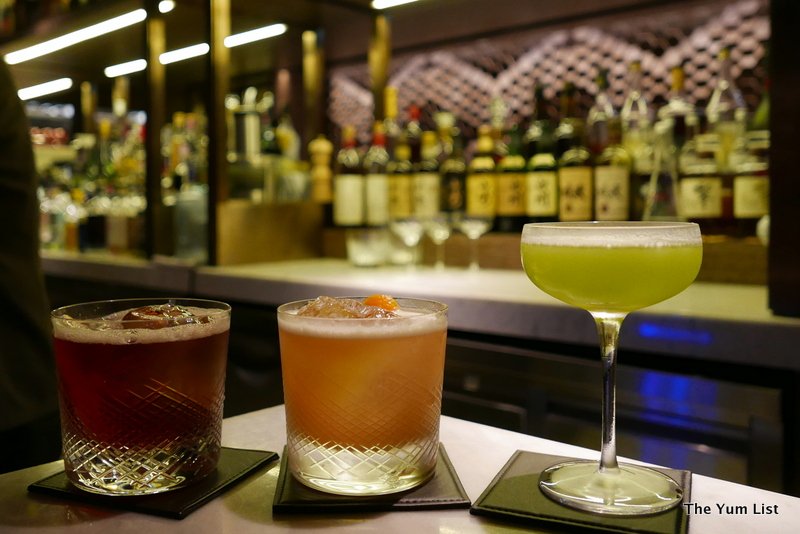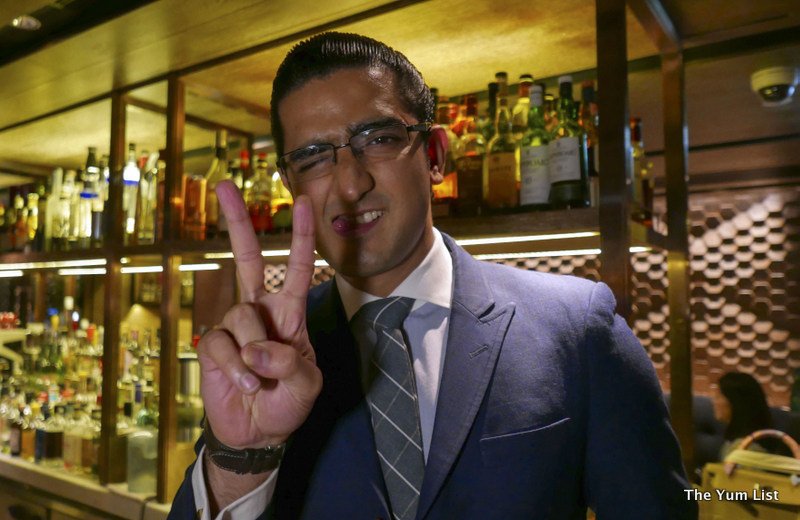 Next cab off the rank was the secretive speakeasy 'Dr Fern's Gin Parlour,' essentially the consulting rooms and dispensary for Dr Fern, an eccentric physician who has dedicated his life to treating your ailments and stress-related conditions with botanicals and fresh local herbs. Not needing much curing having just come from Otto e Mezzo, we still opted for the remedial treatments of gin cocktails from our white lab-coated and highly affable Manager-clinician William Lee, who after an immediate diagnosis of chronic Mondayitis, prescribed for us one of Bar Manager Paul Chan's 'Crazy Monday Gin' cocktails ($220HK). Made with a blend of juniper berries, coriander, angelica root, cardamom, orris root, lime zest, blueberries, black pepper, and laraha zest, this botanical-rich gin, paired with Fever-Tree Elderflower Tonic and garnished with thyme, pink peppercorn, lime zest and blueberry already has me overdue for a repeat on my prescription, so if I can manage to find the front door again (head for the First Basement Floor in Landmark Atrium and look for the Dr Fern's Waiting Room door) I'll be feeling much better.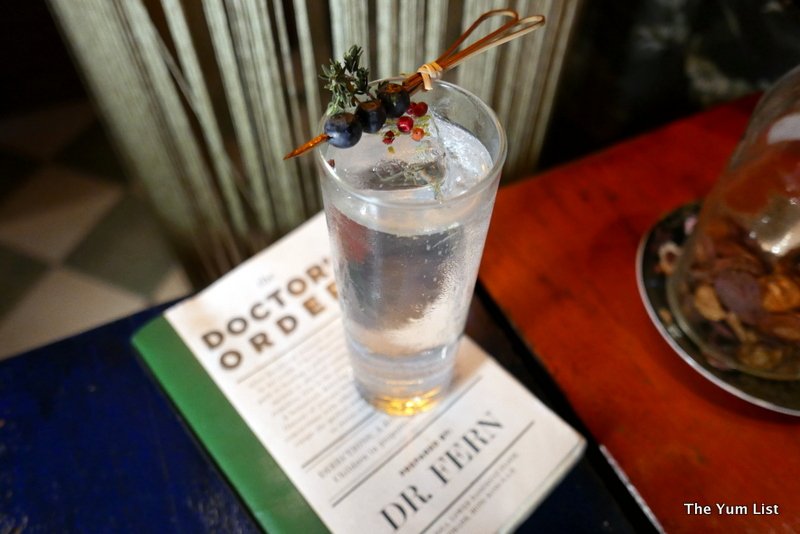 Venue three had us heading up Lan Kwai Fong to 'Employees Only,' winner of Best New Bar 2017. This super-buzzing speakeasy aims to offer "flawlessly executed cocktails and delicious, elevated food, served in a beautiful space without any pretense" and even though they happened to be hosting a private event for Atom Capsule that night, the tailor-made cocktails from the celebrity guest barmen (KL's very own Karl Too as one of them!) mixing for us certainly lived up to that. My 'Espresso Martini' definitely kept me going for the next four venues!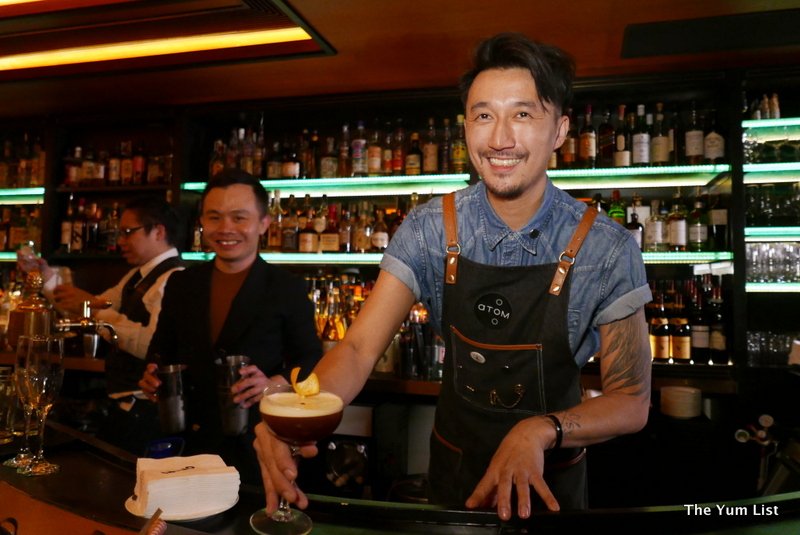 'Stockton,' upstairs at the tail end of Wellington St, evokes the bygone era of the speakeasy bar through the vehicle of the noir fiction authors of the day. I enjoyed Ernest Hemingway's 'Big Dick' ($130HK), a boozy slab of house rum, Irish whiskey, Pedro Ximenez Sherry, malted banana, lime and mace, which went down really, really well. Monica got 'Macabre' ($130HK) with Edgar Allen Poe; an absinthe and Cognac-based character laced with tonka beans, beeswax and Peychaud and Angostura Bitters, while Caning lived it up with Dorothy Parker's 'Fiery Ginger' ($140HK), another Cognac concoction enhanced with caraway, pistachio, ginger, celery shrub and walnut. Tron chose to order from the snacks menu, where 'Duck Scotch Egg' ($90HK), 'Black Truffle risotto Balls' ($130HK) and 'Roast Beef Sandwich' ($165HK) will have your mouth watering. Winner of 'The Rising Star 2018' for Mixologist Ajit Gurung, 'Best Hospitality Team 2018' and 'Bar of the Year 2017' awards, if the accreditations and penmanship don't get you, the wall while you're waiting for the bathroom certainly will (not giving away any secrets just be sure use the loo when you visit)!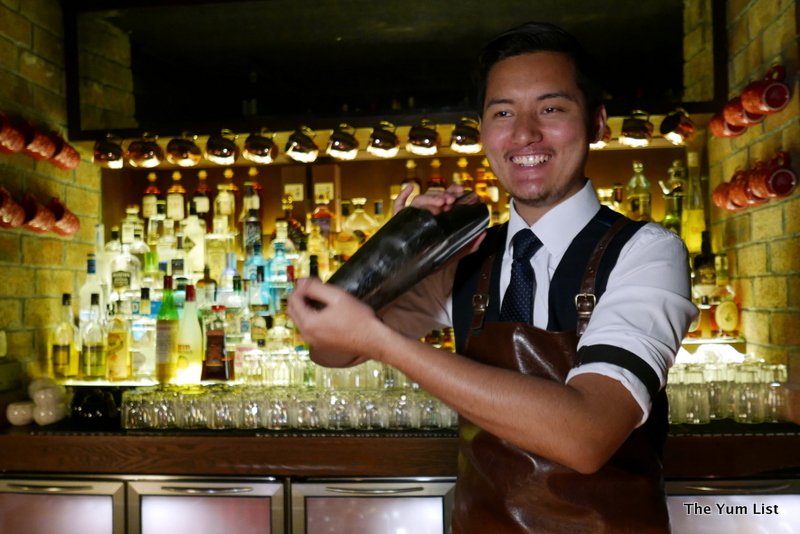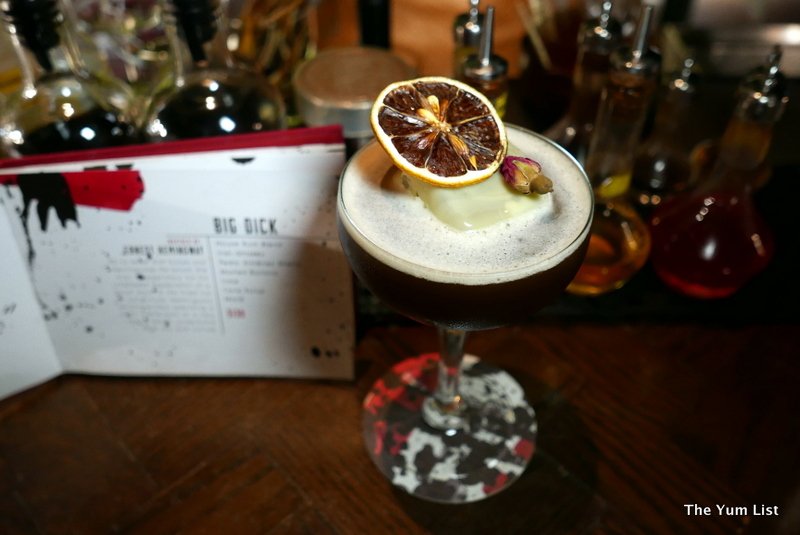 If you go down to 'The Woods' tonight you're in for a big surprise… they won 'Most Creative Cocktail Program 2018,' and under the creative guidance of Mixology magician Alex Pun it's easy to see why. With a basement fit-out on Hollywood Rd derived from everything woody, organically and naturally-sourced, be prepared to enjoy a 'Beet Negroni' ($125HK) of beetroot-infused Tanqueray Gin, Dolin Rosso Vermouth and Campari. As Alex informs me, the raw chopped beetroot spends 48 hours infusing in the Gin, and is garnished with a dehydrated slice of white beetroot, or the bespoke 'Tom Yum Gong for TYL', a kaffir-lime-infused vodka with a hint of red Thai chilli and served with a lemongrass stem. Sublime.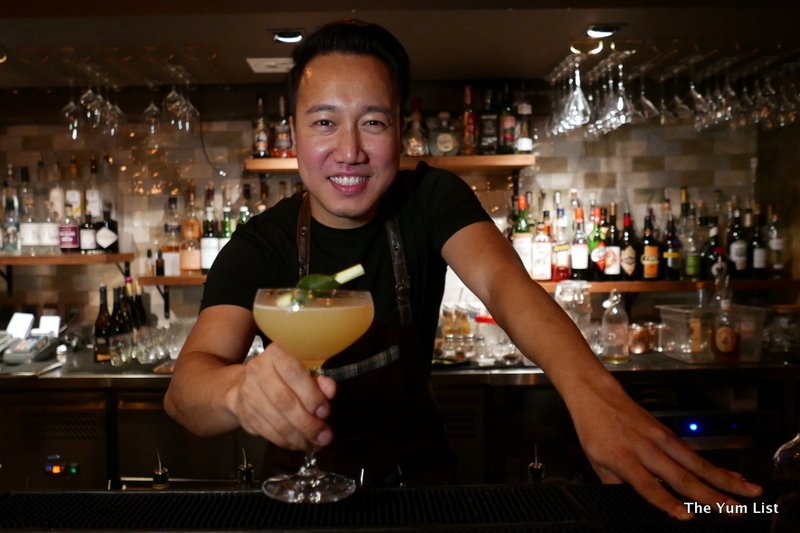 Quinary on Hollywood Rd is the molecular bar using Sonic, Freeze-drying and Distillation machinery techniques to create cutting-edge cocktails, bringing home the 'Most Creative Cocktail Program 2017' and 'Bar of the Year 2018' awards. With a dessert concept, expect 'Lavender Meringue Pie' ($130HK) a sweet foamy mountain of marshmallow and limoncello atop lavender re-distilled Tanqueray gin, or an 'Earl Grey Caviar Martini' ($130HK), Quinary's signature bestseller, mixing Cointreau, Ketel One Citroen vodka and elderflower syrup topped with earl grey caviar and… air! Monica met her match with 'Miss Roza Fizz', a gin gimlet twist of Tanqueray gin, dried tangerine peel and homemade rose water cordial served with a lemon-verbena scented cacao ice cube and a Willy Wonka whirl of a lollipop sitting on top.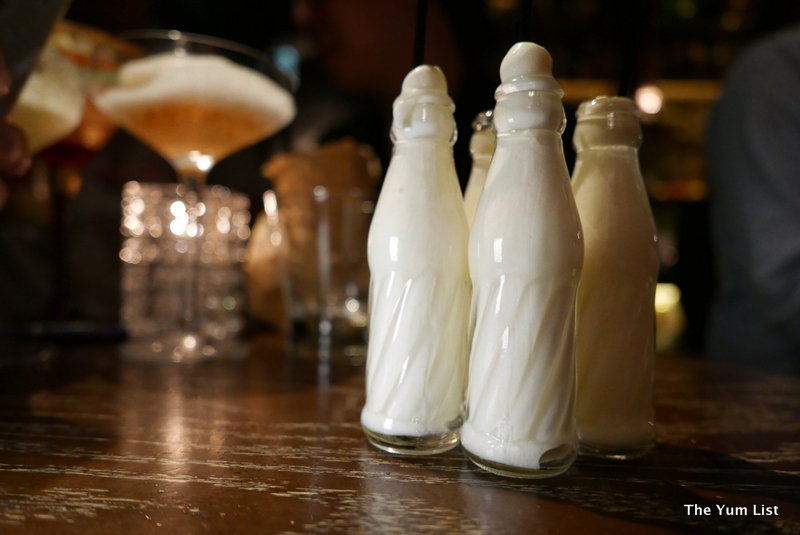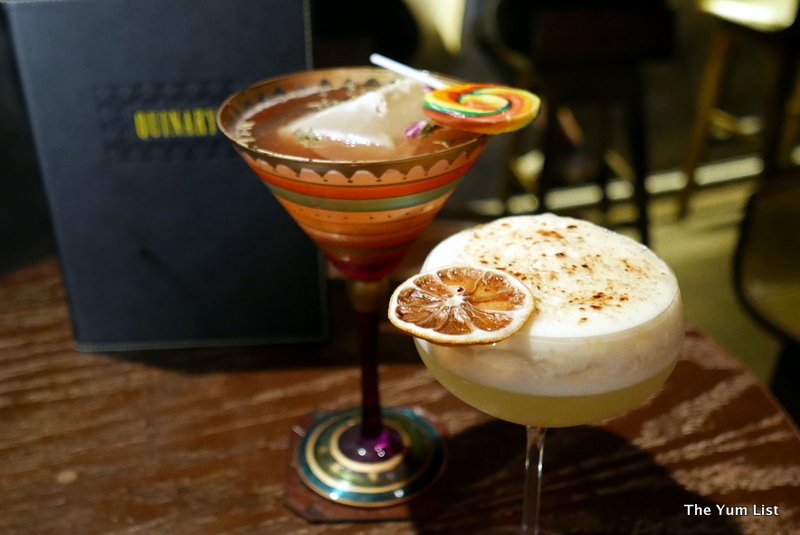 Ending up at 'The Old Man' down a slither of a side alley off Aberdeen St winning 'Best Hospitality Ambassador 2018' thanks to Agung Prabowo, this Ernest Hemingway-inspired Art Deco era speakeasy served us up 'The Snows of Kilimanjaro 1936' ($!10HK) of Marshmallows gin, lacto-fermented raspberry, citrus and gruyere as well as 'Islands In the Stream 1970' ($120HK) which uses clarified pink grapefruit (Hemingway was a diabetic, apparently, so sugar was substituted for other flavours) and salted gin. Why use ice when your coaster is a frozen brass strip running down the entire length of the runway-style bar!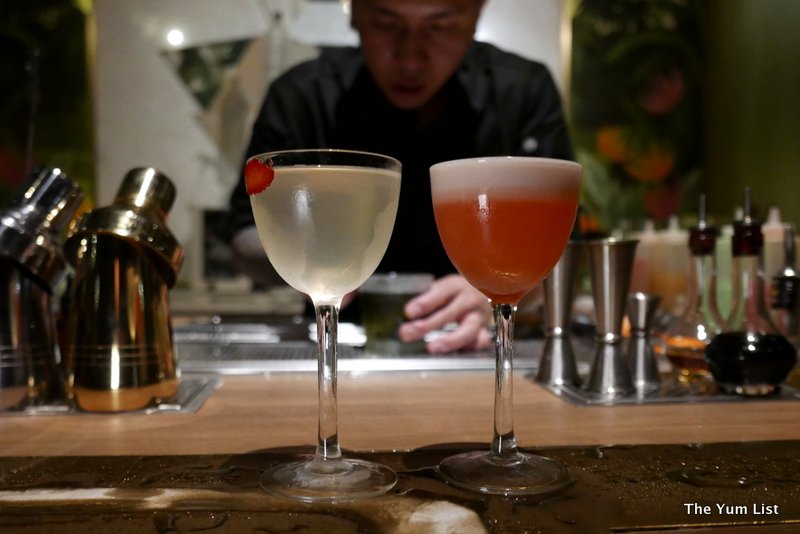 Best Bars in Hong Kong
Canvassing, celebrating and commemorating the best in bars and bar talent across the social scenes of Bangkok, Singapore, Kuala Lumpur, 2018 represents the third year in Hong Kong for The Bar Awards, and this year Macau has been added to the list. Anyone and everyone can nominate for their favourite bars and bartenders (just go to www.thebarawards.com/nominate) and, with the competition running from March 26 through to April 8 (winners to be announced on Sunday, May 20) it's sure to be hot.
If you'd like to be in the running for The Bar Awards Hong Kong and Macau 2018 please email the team directly via [email protected]