Monica Tindall
After a much-awaited debut, SoSPA at Sofitel Kuala Lumpur Damansara opened this March bringing French wisdom and style to the KL spa scene. I've been itching to take a look ever since the hotel launched in 2017 and so you can rest assured that I'm delighted to finally get to sign up for a session.
The entrance feels immediately cocooning; as if we're caterpillars going in with hopes of emerging as butterflies. Everything is soft and curvaceous so, despite the clean lines and minimalist design, the natural curves, soft lighting and gentle pastel hues make the space warm and inviting.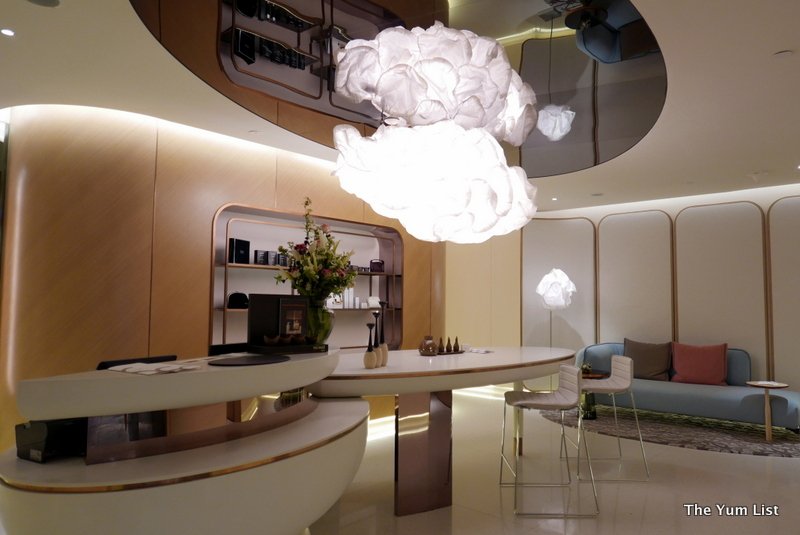 Spa Menu – SoSPA at Sofitel Kuala Lumpur Damansara
We take a moment to soak up its welcome with a chilled hibiscus beverage and moist towel while we browse the spa menu. An extensive compilation of massages, facials, body wraps and scrubs are what we'd expect from SoSPA. What's new and exciting, however, is SoSPA's very own Hammam.
So Hammam Ritual (120 minutes RM590 per person)
To appreciate the uniqueness of SoSPA at Sofitel Kuala Lumpur Damansara it's recommended to book the So Hammam Ritual. A Maghreb traditional treatment is one of the oldest cleansing customs in the world.
Wrapped in a sarong and shod with wooden clogs the experience begins in a private steam room. The hot water vapour opens pores and prepares my skin (and mind) for the cleansing ahead.
Around five minutes into the steam, a therapist invites me to lay on a marble bed where she pours warm water from a copper jug. She rubs me from shoulder to toe with Savon Noir Beldi, an olive-rich soap that is blended with eucalyptus giving off a menthol scent and I believe also has a mild antiseptic property.
After the initial wash down the serious work begins. A finely grained but sturdy Kassa glove is used to rub down the skin's surface. With repeated steady strokes, dead and dry cells are removed resulting in one of the most thorough exfoliations I've encountered.
Another dousing with water precedes a body mask, time in the steam room for the mask to work its magic, more bathing, and a final extravagance; luxury soap bubbles. I usually relax with my eyes closed during treatments but this section is worthy of attention. The therapist takes a strip of material resembling a large pillow case and shakes it about filling it with air so that it inflates like a balloon and froths with velvety soap bubbles. This then glides over the body like silk and is a welcome contrast to the coarser exfoliation from earlier on.
My face has been left mostly untouched leading up to this moment but the finale sees a gentle massage with the soap bubbles removing any last traces of make-up and leaving the entire skin surface feeling smooth and pristine. Bringing the Hammam session to a close, I'm bathed one last time with warm water before drying off and transitioning to part two.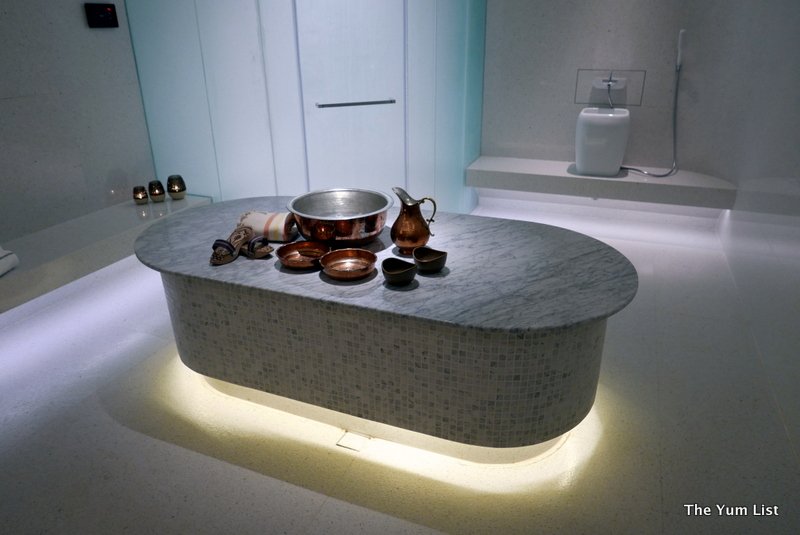 Dry and wrapped again in a soft and seriously lush dressing gown (if I had one of these at home I think I'd be tempted to lounge it in all day, housebound, not wanting to leave its comfort) I reunite with hubby in the relaxation lounge.
Relaxation Lounge at SoSPA at Sofitel Kuala Lumpur Damansara
Embracing the French roots of the Sofitel brand, gastronomy plays a significant role in the overall experience. The relaxation lounge is centred with a display of glass jars of dried fruit, nuts and biscuits. A bowl of fresh fruit adds colour and a trio of loose leaf teas and lemon infused water is also for the taking. A light nibble, a few moments of reflection on the first segment of our session and we move into a stylish couple's treatment room.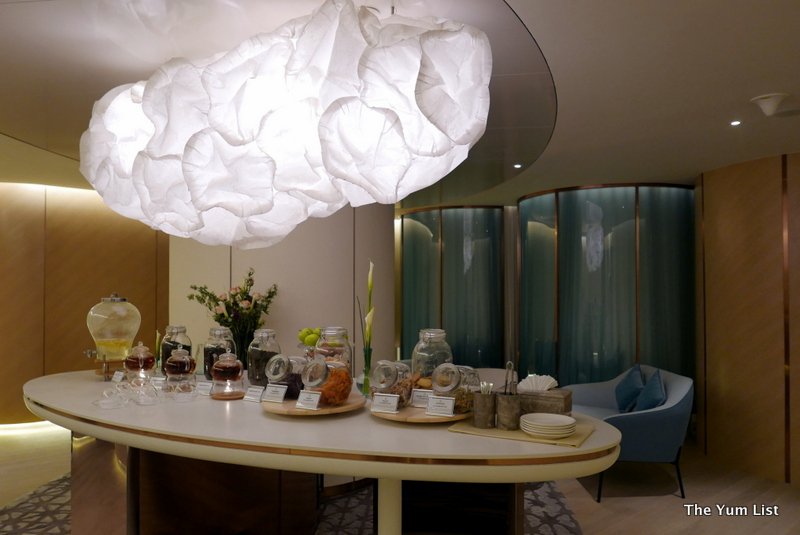 Treatment Rooms at SoSPA at Sofitel Kuala Lumpur Damansara
One of five treatment rooms, our couple's chamber is spacious without being overwhelming. The same soft curves found in the lounge and Hammam are continued with an additional feature on the ceiling giving an impression of tens of flowy curtains bunched together with only the bottom section visible. The mood is warm and welcoming and high-quality massage beds further add to the comfort.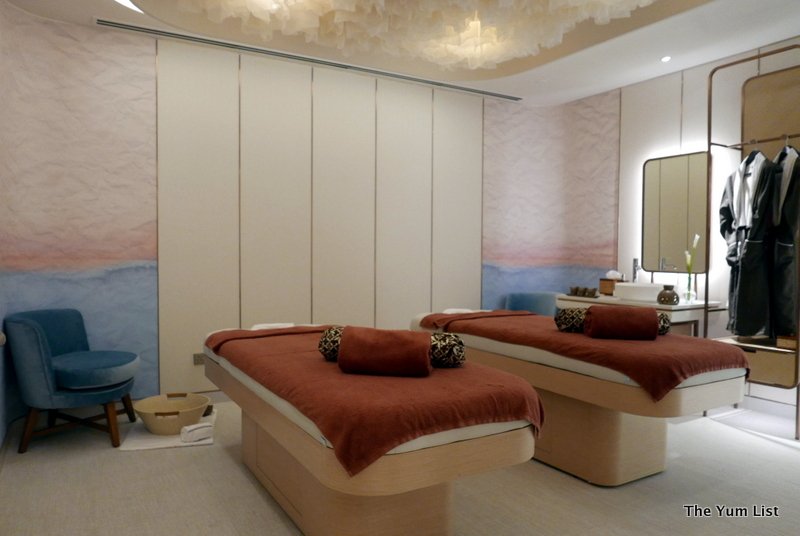 Body Massage at SoSPA at Sofitel Kuala Lumpur Damansara
A full body massage with tea elixir and Argon oil fills the final hour of our So Hammam Ritual. The pressure and style is adapted to our preference and with both hubby and I preferring firm strokes we're happy to find our therapists with strength and endurance. Thumbs and heals of the hands reach deep into our muscles releasing tension and coaxing us into gentle slumber.
We're gradually awakened with the removal of excess oil with a warm moist towel and edged into a seated position with the motorized massage bed. Tea and snacks await us if we so choose and time is allowed in the lounge for us to decide when we're ready for the outside world again.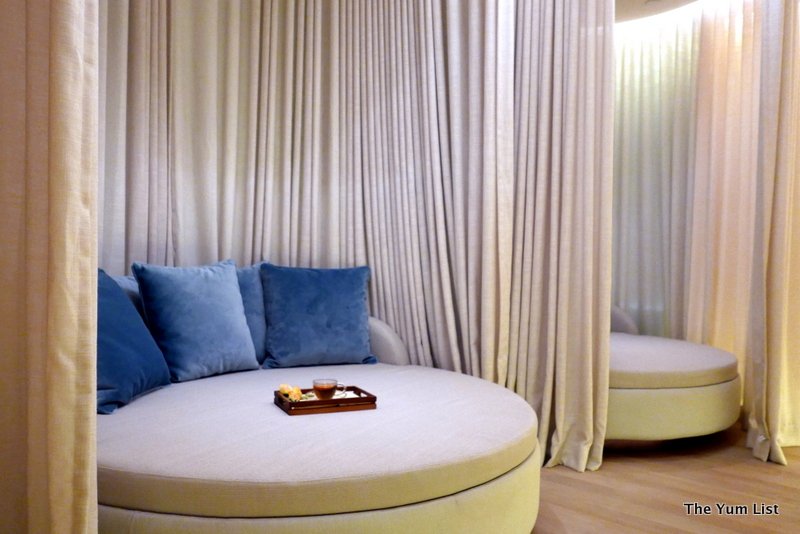 Reasons to visit: the only hotel in Kuala Lumpur with a Hammam; a luxurious spa experience with all of the trimmings such as lush robes, first-rate products, stylish spaces and therapists confident in their practice.
SoSPA at Sofitel Kuala Lumpur Damansara
6 Jalan Damanlela, Bukit Damansara
50490 Kuala Lumpur
Malaysia
+6 03 2720 6688
[email protected]
www.sofitel.com
Open daily 10 am – 10 pm