Words: Margaret Elizabeth  Photos: Monica Tindall
Brasserie Fritz, WOLO Hotel in Bukit Bintang is just what this area of Kuala Lumpur needs. It is wonderfully located opposite Lot 10, a few steps from the Pavilion mall and right next to Bukit Bintang Monorail: easy to walk, easy to ride, easy to drive and with 7 am to 1 am opening hours and an extensive menu to match your mood at every time of the day, it is a must-visit dining experience.
Brasserie Fritz Happy Hours
Brasserie Fritz is on the ground floor level and useful to know, there's a stylish bar above and a bakery, perfect for breakfast, on the ground floor. So much to enjoy, it is an eating, drinking and social emporium. Our intrepid trio, the MMC: Monica, Mags and Caning began our Brasserie Fritz experience with Happy Hour in the first-floor bar. And yes, we were very happy to do that! Sitting in a chic bar with great views of Bukit Bintang and the business of life in a major city buzzing by, we sipped a mean Gin and Tonic and my choice, tangy Aperol Spritz alongside innovative snacks that included curried duck puff and fries with Romesco mayo. This playfulness across cultural cuisines, grounded in typical French cooking techniques and flavours, is typical of Brasserie Fritz. Happy hours, very generously, run from 4 pm to 8 pm daily with a handful of drinks including selected cocktails, wine and beer at only RM15++ with complimentary snacks. It's definitely worth starting your Brasserie Fritz experience here after giving your all at work or in the mall. Or, just because you want to.
Brasserie Fritz Bakery and Hot Drinks
After that, we headed downstairs past the bakery with a wide selection of French pastries and cakes and yes we did just have time to sneak some pastries. I highly recommend them, they are made fresh each day by the pastry chef at Brasserie Fritz. The flaky, pastry and filling combination is divine. Eat together with excellent coffee, tea or juice or select from a range of single origin hot or cold chocolate (RM18++). The artesian chocolate made in Pahang, Malaysia (RM28++) is well worth its price tag and with 70% cocoa content it has to be good for you. Well, this is my story and I'm sticking to it! Coffee is a good option too, especially when it has gorgeous latte art such as this design of a kissing couple below.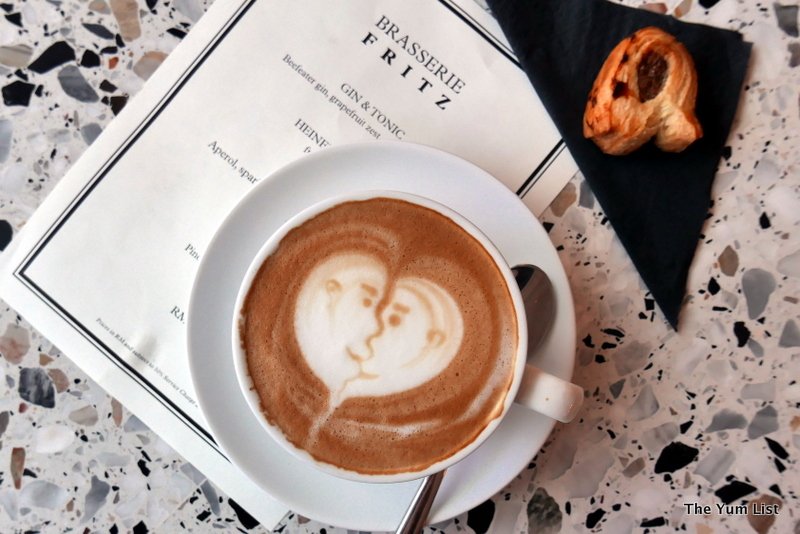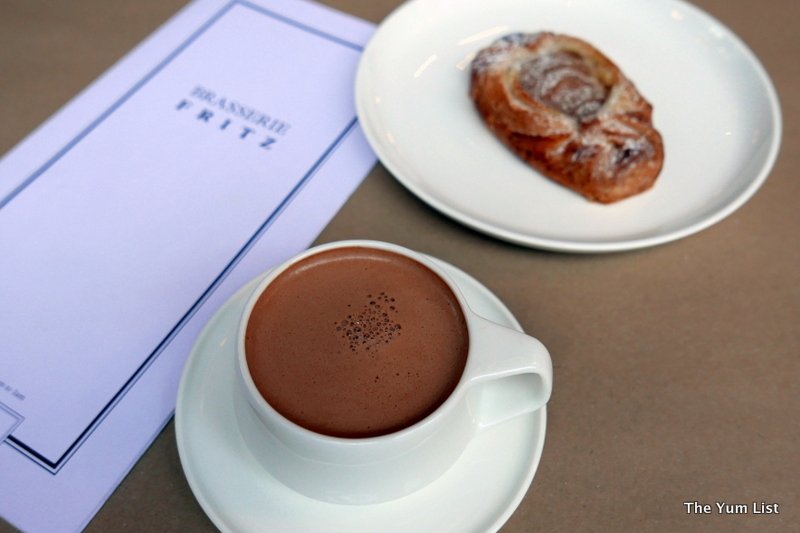 Brasserie Fritz Set Menu
Plat du Jour (RM65++) is a set menu of three courses changing monthly. We chose Cucumber Salad with Mint and Salmon Roe, a light and refreshing appetiser of cucumber pieces in a creamy yoghurt dressing, sprinkled with salmon roe and delicately garnished with pretty purple micro leaves and mint. This deceptively simple salad was a delicious and clever play on textures and flavours. The cucumber was pleasantly crunchy, with a hint of sea salt from the salmon roe. As the salad was nestled in yoghurt dressing rather than mixed through I was able to taste the individual ingredients and select how much dressing suited my personal taste. A little zing from the mint leaves, whet our appetites for the next course.
Our choice was Duck Breast with Apple Calvados. The duck breast was cut into thick, geometric wedges that showed off the pink duck meat beautifully and you could see that it was cooked to exactly the right point. The duck skin was perfectly seared and the flesh felt satisfyingly hearty and flavoursome in the mouth combined with the sweetness of the subtly chunky, apple Calvados sauce. Served with grilled asparagus sliced to visually pair with the duck, this plate was appealing and delivered what it promised.
Dessert was an absolutely yummy Chocolate Mousse with Hazelnut Crumble. The chocolate flavour was divine and for those of you who have ever eaten a Crunchie confectionery bar, you will recognise a nod to the sticky yet crunchy interior that is recreated more finely here, in the hazelnut crumb. Quality chocolate has to be the secret of this mousse that was light, gooey and glorious in equal measure.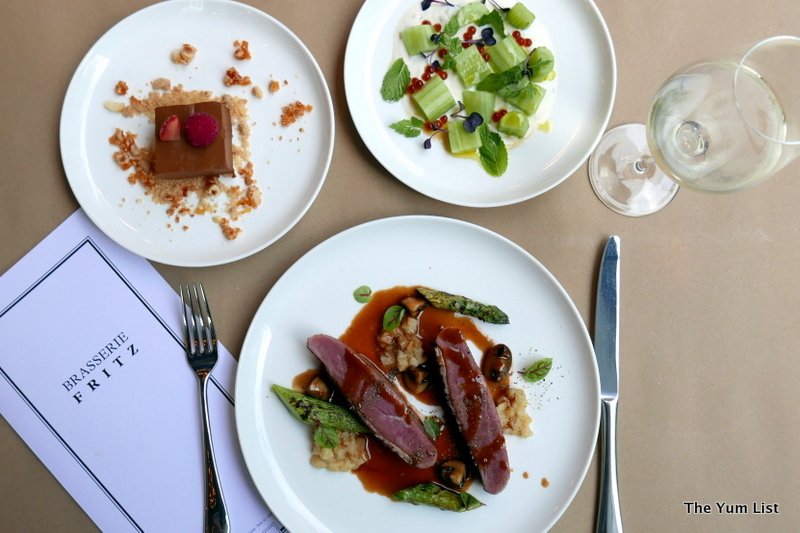 Main Menu Brasserie Fritz
From the main menu, we chose Spring Chicken (RM58), fermented poultry, braised burdock, and chicken velouté. The velouté sauce was glossy, light and velvety as this classic French sauce should be. When I ate my first mouthful of poussin and velouté I thought, "Perfect!" The chicken was juicy and the combination of flavours was great.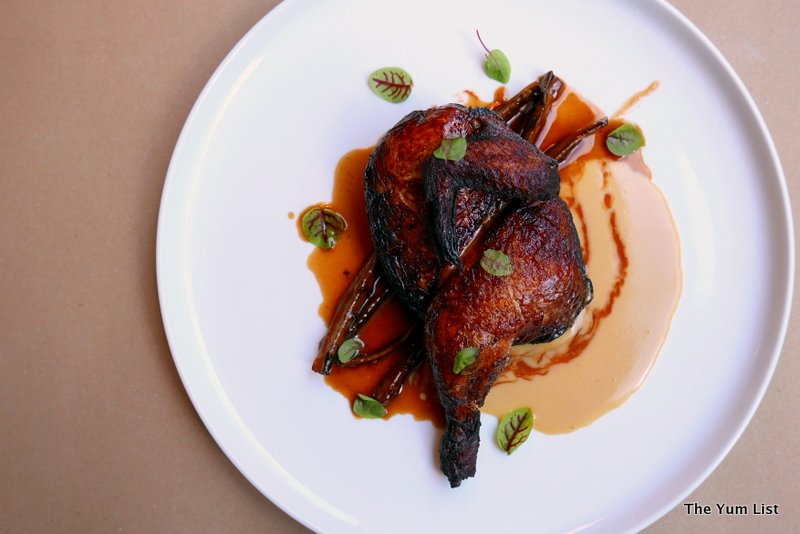 Sticking with the classically French fare, we selected Sole Meuniere with burnt lemon, baby spinach and noisette butter (RM185++). We were delighted to see this flat, fleshy fish on the menu as it is not so easy to find in Kuala Lumpur. Kudos to the chef who brought out the full flavour of the fish whilst maintaining the integrity of the texture. As we ate this dish we chatted about why classic dishes are classic, a testament as to how much we enjoyed it.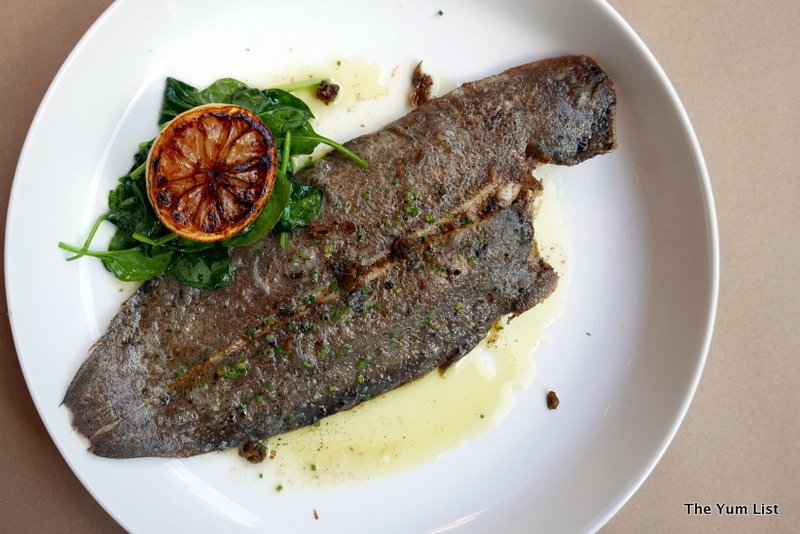 Our next classically inspired dish was Lamb Blanquette (RM52++) juicy and lamb served with baby endive, button mushroom, burnt leek, sweet peas, carrot and pistachio. This plate conjured up hearty fare at a French farmhouse with a subtle delicacy that lightened the overall intensity of the dish. The sauce, treatment of vegetables and inclusion of pistachio elevated this dish out of the farm house and into the brasserie. It was good to see leek make an appearance, this onion family vegetable is often over looked and one of my favourites. A good choice if you are feeling very hungry.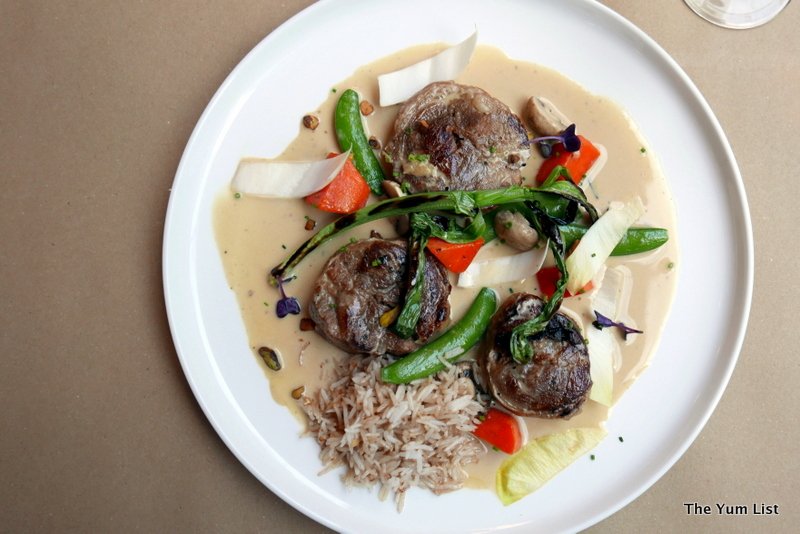 Perhaps surprisingly, we also ordered Fish and Chips (RM75++) and it was fantastic! Of course, good food starts with quality ingredients and this dish was made with cod, the traditional fish and chips, fish. Black cod is a meaty bite of fish that matched so well with the robust, crispiness of batter. The dish was a modern riff on a traditional dish with thosai batter, tandoori spice and calamansi lime, accompanied by cucumber raita. This plate seemed uniquely Kuala Lumpur with such a happy marriage of cultural flavours and ideas on one plate. The counterplay of French and Indian cuisine was spot on. I was particularly impressed with the mashed peas on my plate, deliciously minty, some smashed and some whole, almost like having your cake and eating it, to mix my metaphors! I also appreciated the contrast between hot and cold that was created when chilled, cucumber raita met hot crispy fish. So what about the chips or fries as some people call them? They were chunky, golden and crispy exactly as they are supposed to be.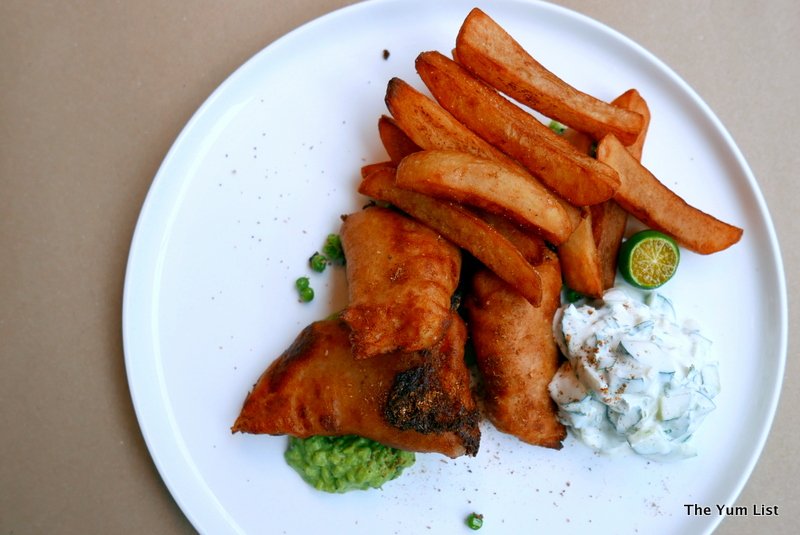 Brasserie Fritz also has a Seafood Counter and what a joy to behold it is, with a glorious range of fresh, fresh, fresh seafood. You can choose to have a light, healthy snack, a starter to your individually selected meal or to share a platter unless of course, you want to eat it all yourself. From the Seafood Counter, the MMC decided to choose a fish less familiar to us, Saba, marinated with tomato and ginger flower espuma, (RM33++). The texture of the saba reminded me of tuna sashimi with a lightness that I enjoyed as I could eat more of it , always a good thing! For those of you who may not have heard, espuma is the name that Spanish chef Ferran Adrià, uses for the froth or foam technique that he developed. It was divine. Saba where have you been hiding all my life?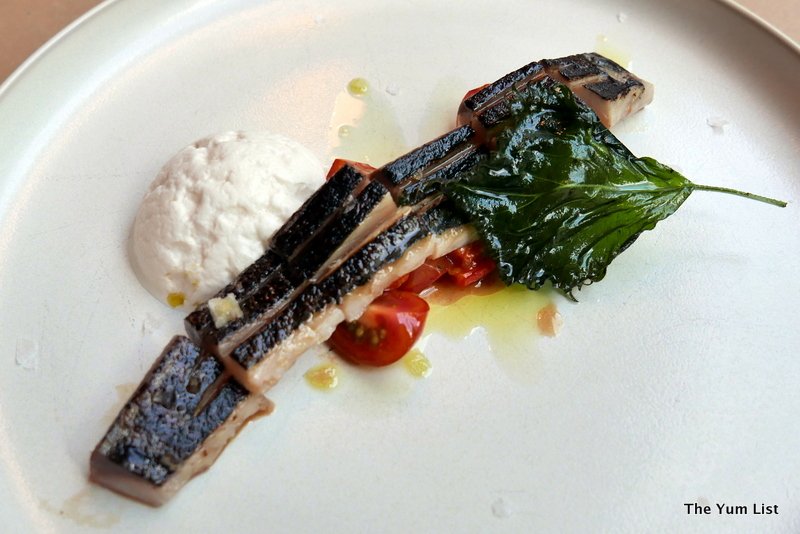 Brasserie Fritz, WOLO Hotel in Bukit Bintang
The overall attention to the smallest detail makes Brasserie Fritz a wonderful place to hang out, eat, drink and chill. The decor is stylish, welcoming and comfortable. You feel as if the owners Christian Bauer and Eddie Chew have invited you into their home and want to spoil you. Staff were knowledgeable, attentive and friendly, especially the wonderful Priscilla who was our host for the evening. The MMC had a wonderful time.
Leaving Brasserie Fritz I found myself wondering how soon I could go back. If you work or live in the city centre you are lucky to be able to call Fritz Brasserie local; a definite go-to place.
Reasons to visit: There truly is something delicious for everyone and every occasion at Brasserie Fritz. Excellent happy hours. Must try the Fish and Chips, Poussin and Hot Chocolate, not necessarily together!
Brasserie Fritz
WOLO Hotel
Jalan Bukit Bintang
55100 Kuala Lumpur
+603 4065 0876
www.facebook.com/brasseriefritzkl