Monica Tindall
Ask for a recommendation of where to dine in Hong Kong and Dragon Noodles Academy is bound to come up at some point in the conversation. Known for their Insta-worthy dim sum, eye-catching restaurant design and a refreshing take on traditional dumplings, noodles and Cantonese classics, DNA is a hotspot for foodies in Central.
Guests are greeted by a five-metre long hand-carved dragon painted in gold and a setting reminiscent of a 1970s Kung Fu Academy. The 10-seater cocktail bar advances a step back in time with its shelves of booze and house-made syrups stored in antique Chinese herb containers. Apothecary cabinets link private rooms and Wing Chun wooden dummies (you know the stands you see in Chinese martial arts movies where the protagonist spends hours refining technique before defeating the baddie) mark the entrance. Finally, a dozen artisan lion heads furnish a spectacular feature across the back wall; each made by special order by Keung's Dragon & Lion Dance Team.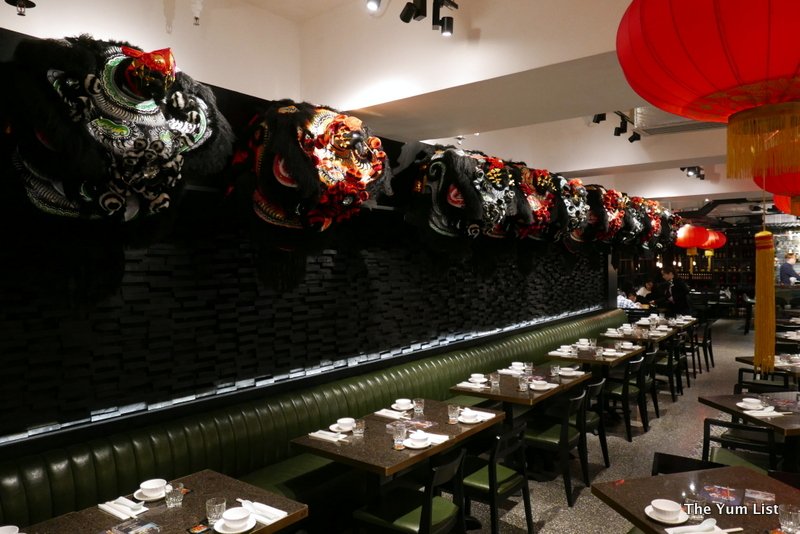 Chefs at Dragon Noodles Academy
Executive chef, Winson Yip is responsible for surprising diners at Dragon Noodles Academy with his unconventional plating of dim sum and traditional Chinese cuisine. Like many a chef, Yip's inspiration comes from fond memories of his childhood and his mother's handcrafted meals. Chef takes these youthful impressions one step further, however, by bringing his favourite characters from Japanese animation to life, designing edible artworks that captivate both adults and children alike (his cartoon creations in the group's sister restaurant Yum Cha are one of the most photographed foods in Hong Kong).
K.C. Mak, deputy executive chef, is the man on the wok. Drawing from an international resume of culinary experience he coats his pan with Pan-Asian influence. And, just like his colleague Yip, gives equal attention to taste and presentation ensuring our contemporary desire for all things photogenic is met with every dish.
Dragon Noodles Academy Menu
Appetizers
We kick off our meal with one of Dragon Noodles Academy's most Instagrammed creations, the Crispy Lobster Puff ($69). Besides being extraordinarily tasty with a buttery pastry casing and fleshy lobster stuffing, colouring with carrot juice and hand folding of the pastry layers make the dish appear as if it's the actual lobster tail! Fabulous. You must order this one.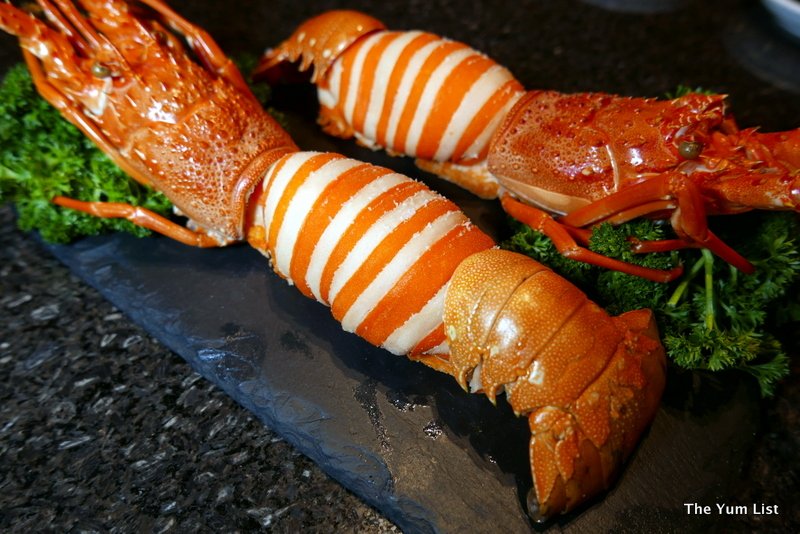 The Chinese name of the Sous-vide Ginger Chicken Rolls ($59) translates to the "chicken that makes you drool." It's a cold dish with a sweet and spicy sauce topped off with whole peanuts. The more I eat, the more I understand the "drooling" statement. The spice slowly creeps up on me causing my tongue to tingle and the saltiness of the seasoning literally does have me salivating, almost uncontrollably. This dish tastes good but it's equally intriguing for the sensory effect in the mouth. You should try it at least once.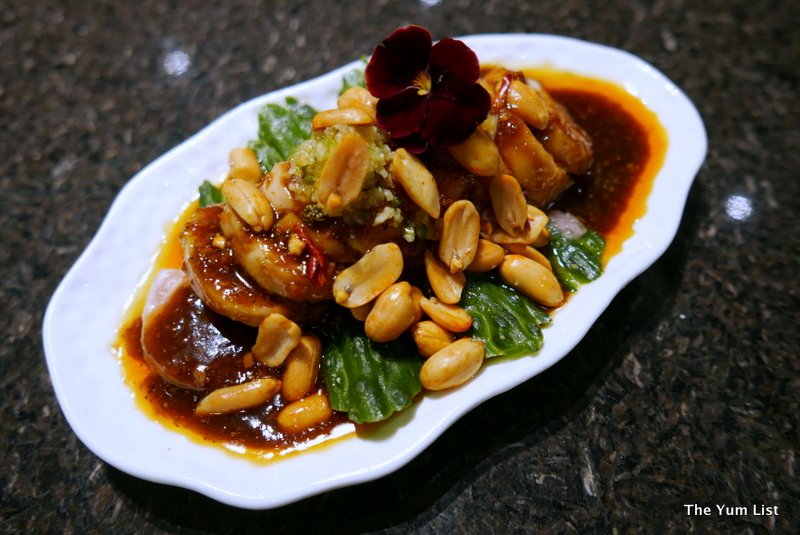 Mains
Served in a slow-cooked master broth, Lobster Tail in Soup Noodles ($149 per person), is one of Dragon Noodles Academy's signatures. Diners can peer into the open kitchen and gaze in wonder as noodles are handmade from scratch for this dish and then marvel once again with every spoonful at the wonderful balance of flavours and textures in this recipe. This one's another must-order.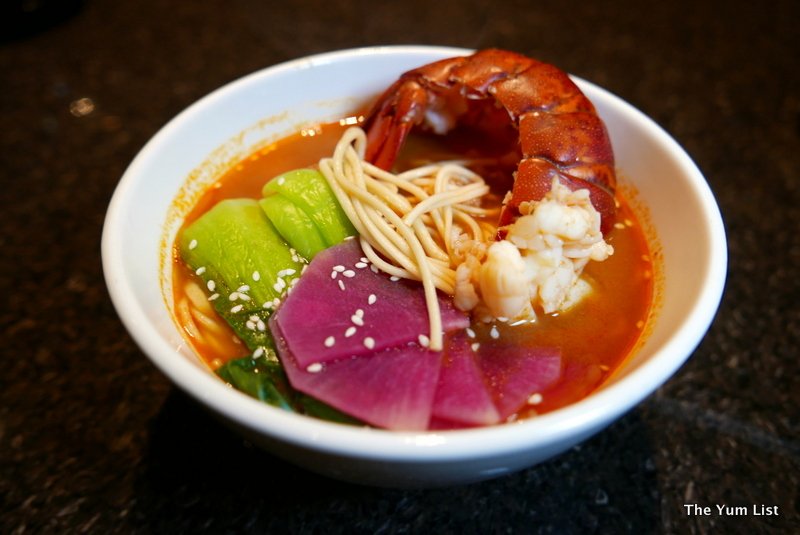 Wood-oven Half Peking Duck with Pancakes ($289) sees the poultry given a smoky richness through roasting with applewood chips. Paper thin pancakes make flawless coats for the moist flesh and crispy skin, and the house-made sauce completes every bite with perfection. It's not just one sauce though, there's a rainbow of offerings and each one is made for different parts of the duck. The skin goes with the brown sugar, meat with the sweet brown sauce with peanut sauce swirled through, and only the last mix of fat, skin and meat goes with the garlic sauce, sliced veggies and pancake wrappers. Chopped and sliced tableside, guests get a little bit of eatertainment with their meal.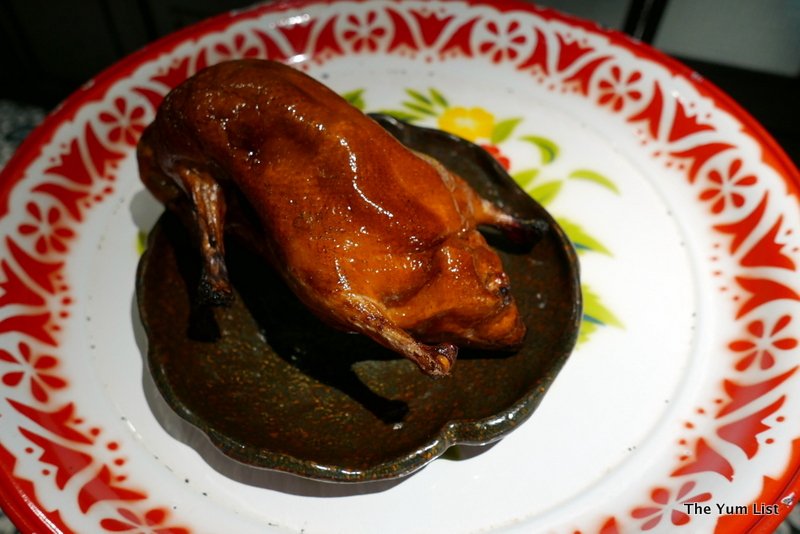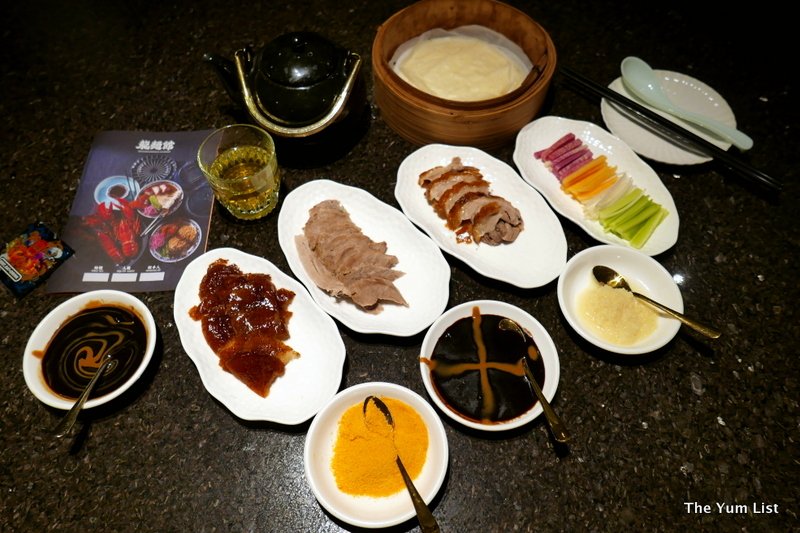 Our veggie dish is possibly one of the most attractive we've recently come across. Baby Cabbage Florets with Parma Ham ($109) mirror white spring lotus blossoms with a touch of colour (given by tiny dried shrimp) in the centre. The ham broth balances out the saltiness of the shrimp and infuses into each cabbage stalk. They're "almost" too pretty to eat. I'm not particularly a fan of cabbage or dried shrimp (I find the flavours too intense) but my dining mate from Hong Kong is happy with these traditional tastes and gives the dish a thumbs-up.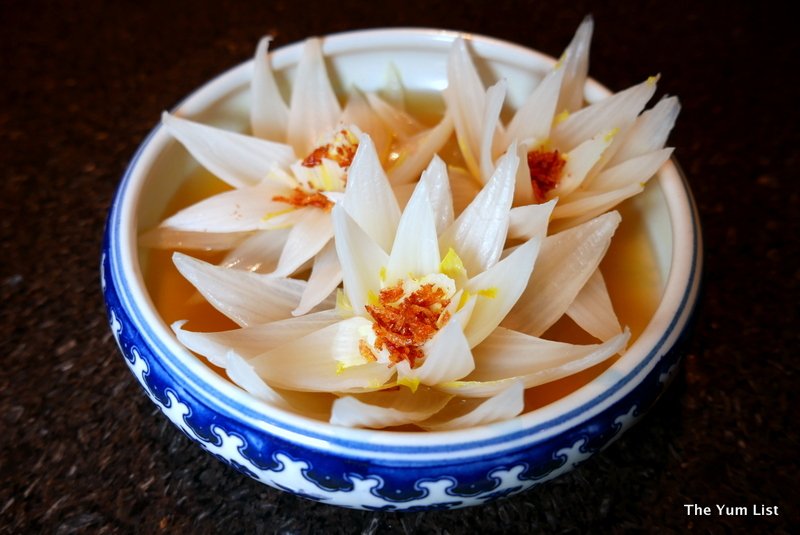 Desserts at Dragon Noodles Academy
You could be forgiven for thinking that our first dessert is a chrysanthemum. Tofu has been sliced and arranged in such a design for the Flowering Tofu ($49) that it might be mistaken for a table decoration, a flower in a bowl perhaps. It's both sweet and sticky, and, of course, very photogenic.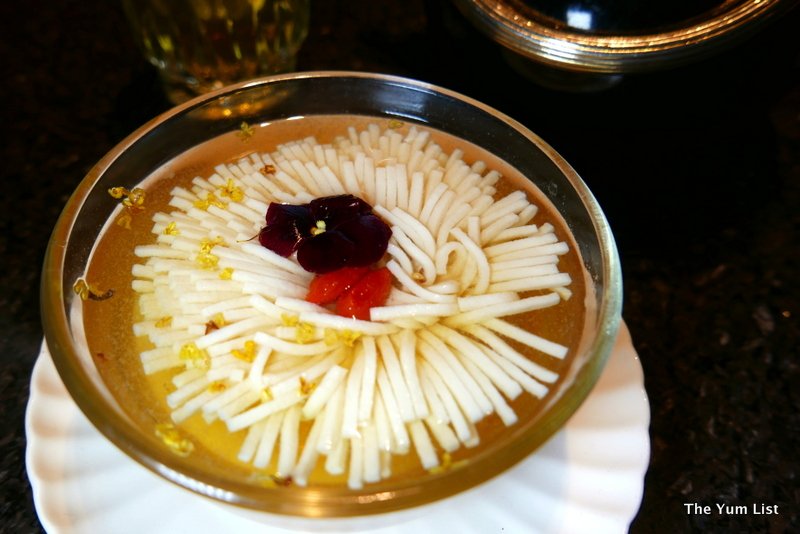 Deceptively shaped as miniature pears, the Baked Pineapple Puffs (3 pieces $49) are served warm in a basket. They are comforting, gently sweet and oh-so-delicious – my favourite.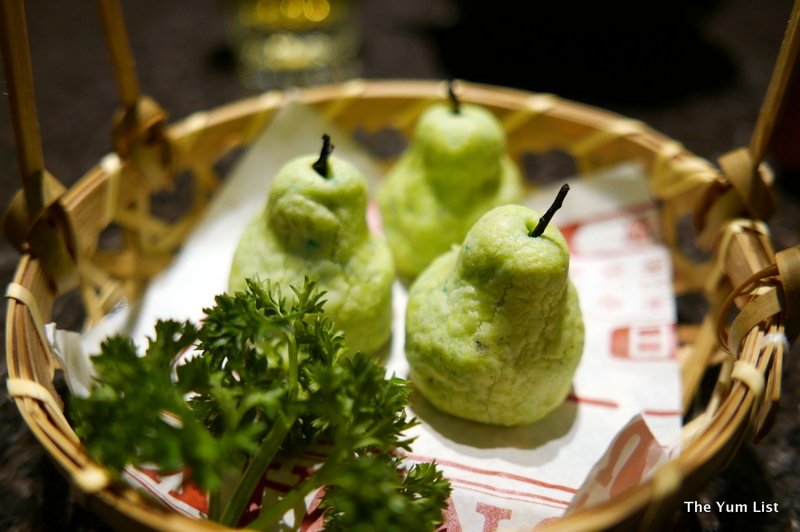 Saving the most dramatic for last, the Flower in Jelly with Gum Tragacanth ($49) comes out with flashing colours in a cloud of dry ice steam. The gum is derived from the sap of a Middle Eastern legume sometimes known as goat's thorn and acts as a natural jelly. Again, this is a texture that my western taste buds are not accustomed too; my local Honkee girlfriend, however, praises it as "just right." Still, it's worth an order just to get a short video clip and wow all of your friends with the "coolness" of the dining options in Hong Kong.
Reasons to visit: authentic Cantonese flavours with eye-catching presentation; must-orders are the Crispy Lobster Puff, Lobster Tail in Soup Noodles and the Baked Pineapple Puffs.
Dragon Noodles Academy
Shop G04, G/F, Man Yee Arcade,
Man Yee Building
68 Des Voeux Road Central, Central
Hong Kong
(852) 2561-6688
dragon-noodles.com
www.facebook.com/dnahkg
Opening Hours Dragon Noodle Academy
Restaurant: 11:30 am – 11:00 pm (Last order at 10:30pm)
Bar: Last order at 10:30 pm
*No MSG