Words: Craig J Selby   Photos: Monica Tindall
It wasn't that long since we'd headed out the door from Grandma's Table brunch at Nero Nero DC Mall that Chef Giuseppe Lioce invited The Yum List back to sample some of his additions to the menu. Clearly, Chef wants to make his mark on this fantastic restaurant, and he is certainly doing that through the gorgeous dishes he conjures up.
What I enjoy so much about Chef Giuseppe is that his food tells his journey – one of family, one of friends, one of love for his native Italy. I just hope I can do him justice with my words.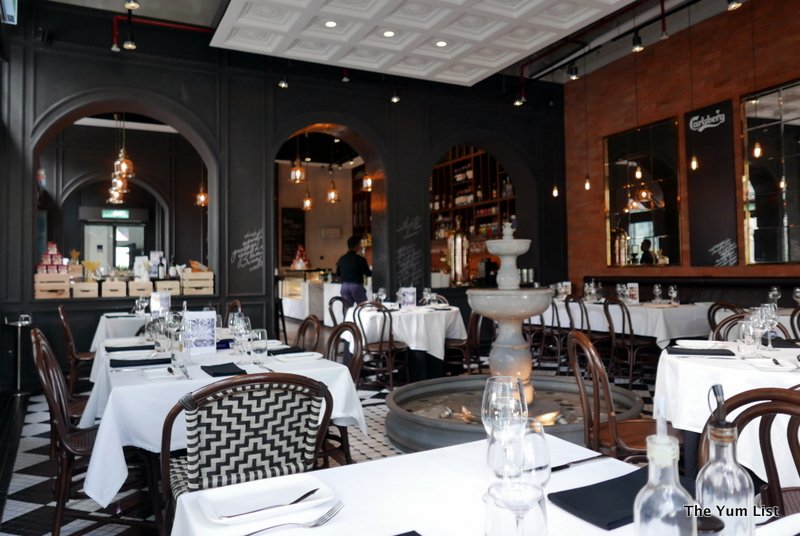 Nero Nero DC Mall Drinks List
Our early dinner started with an Italian classic, an Aperol Spritz, which is a bitter beverage softened with prosecco, very refreshing, and Mon's favourite way to kick off an afternoon. We also tottered on to some Italian wines, beginning with a crisp Masottina Pinot Grigio (RM 160 bottle), fresh and fruity on the nose following through with citrus and balanced acidity in the mouth. Chef's hometown furnished the red wine, Gran Sasso Montepulciano d'Abruzzo (RM 145 bottle) providing a well-rounded red with scents of plum, a full body and lingering finish. All are good value for the quality.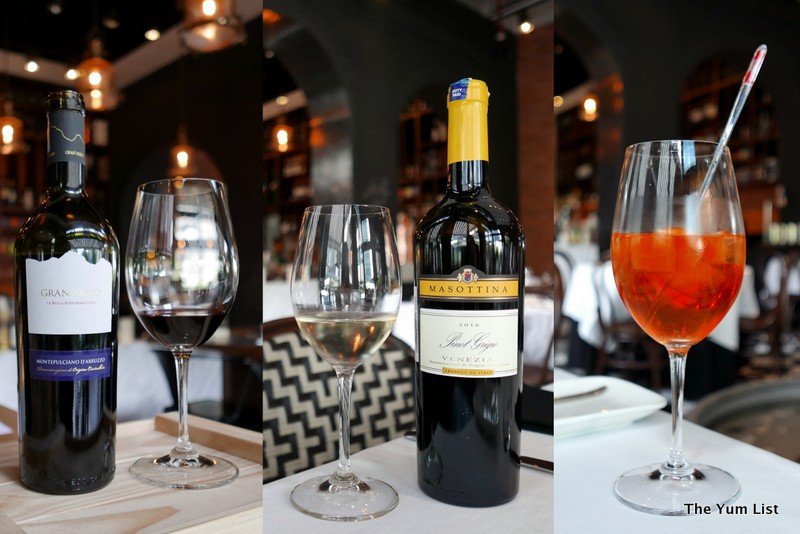 Appetizers Nero Nero Damansara City Mall
Out to the table first was the Carpaccio di Manzo Angus (RM 55++) featuring thin slices of Black Angus steak, balsamic, shaved Parmesan, and dressed with a light lemon and mustard sauce. Add to that an aged balsamic caviar, and the dish is complete. Chef enjoys a little theatre too – and sprays a lemon perfume onto the carpaccio. Beautifully light and fresh, the slices melted in our mouths. What a lovely start to a meal.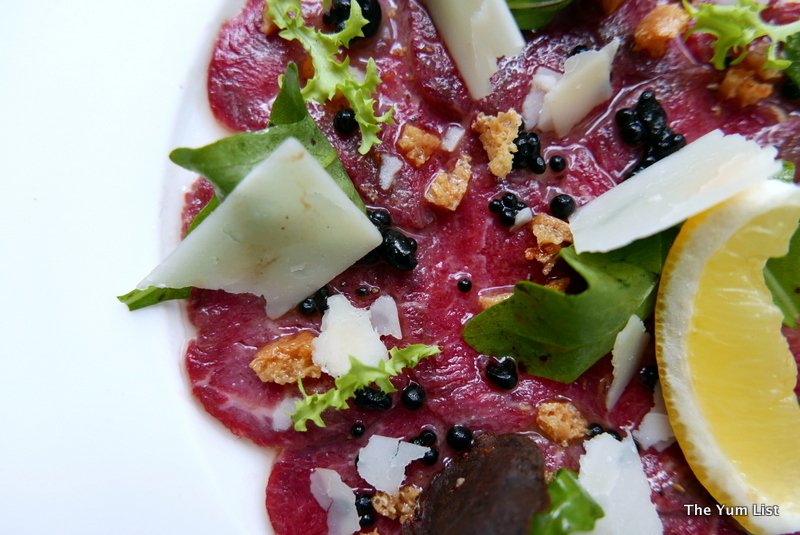 A creamy burrata Caprese (RM 38++) was next. It's served with roasted cherry tomatoes, and marinated in garlic, olive oil, and basil, with crispy Sardinia style bread. Delicious, light and creamy, the flavours of Italy came to our mouths with the soft burrata and olive oil. This slightly deconstructed caprese not only looks great, but the char on the roasted tomato adds depth to the profile and the creaminess of the cheese is divine.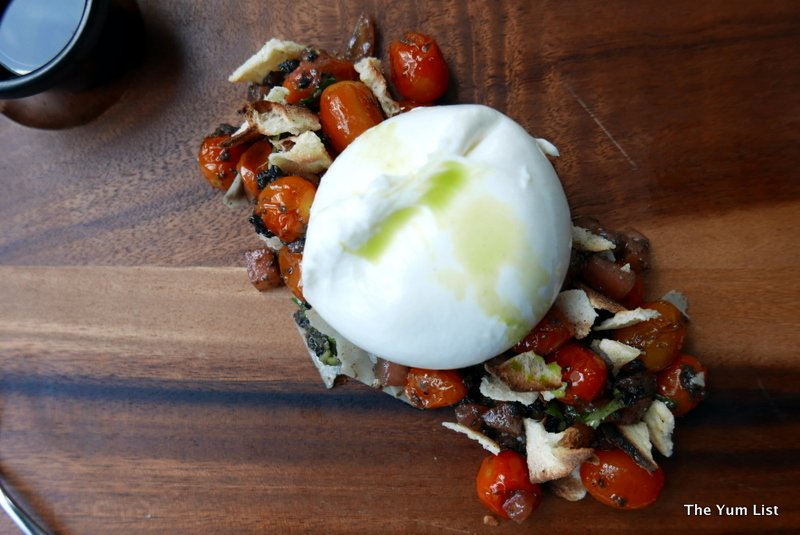 Next to taste was Bruschetta Pugliese (RM 28++). Memories of teenage years and football were the inspirations for this one – a recipe from grandma. Three different tomatoes (plum, Roma, and cherry), extra virgin olive oil, olive tapenade, and shaved pecorino cheese, make this bruschetta special. Apparently, these were "snacks of the poor people" but we all know just how evolved this simple snack can become.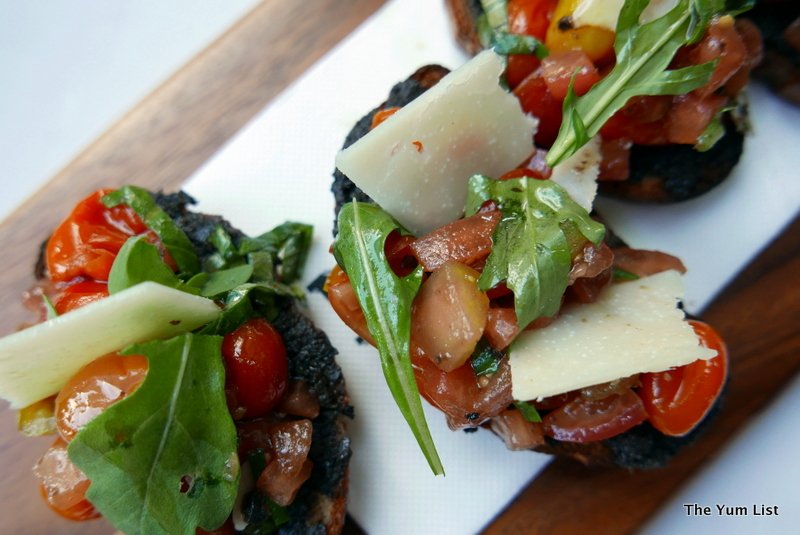 Nero Nero DC Mall Menu – Pasta
Something new for me was the Pasta e Patate (RM 45++) – pasta and potatoes. Served together in a single pot, this dish is both cheesy and spicy. Pasta, potato, broth, chilli oil, fried onion and Provolone cheese make this recipe both comforting and irresistible. Think winter nights, huddled around the fireplace. Think family. Think cosy. Think delicious.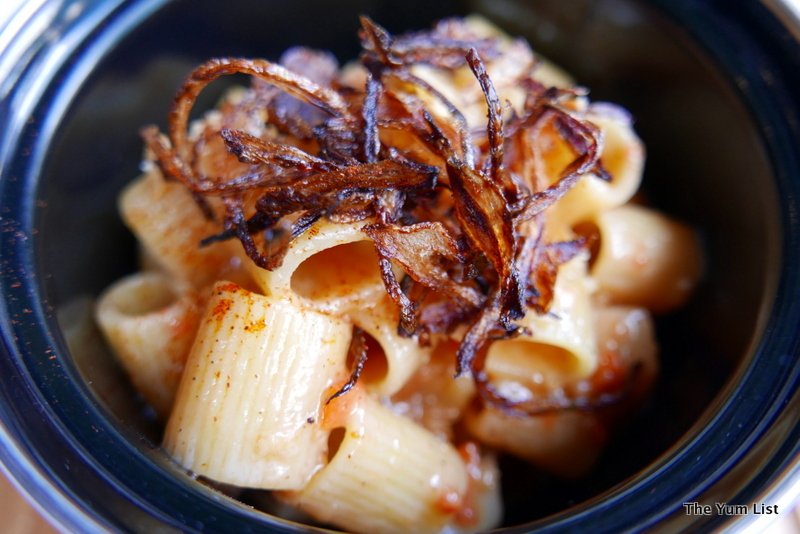 Having spent two years in the north learning to make pasta from a 75-year-old expert we're excited to try some of chef Lioce's handmade pasta with Ravioli al Gorgonzola (RM 59++). It's packed with punch with its gorgonzola, Parmesan and olive filling and balanced by a rich tomato sauce. With the soft cheese, it becomes melt-in-your-mouth consistency. Sublime.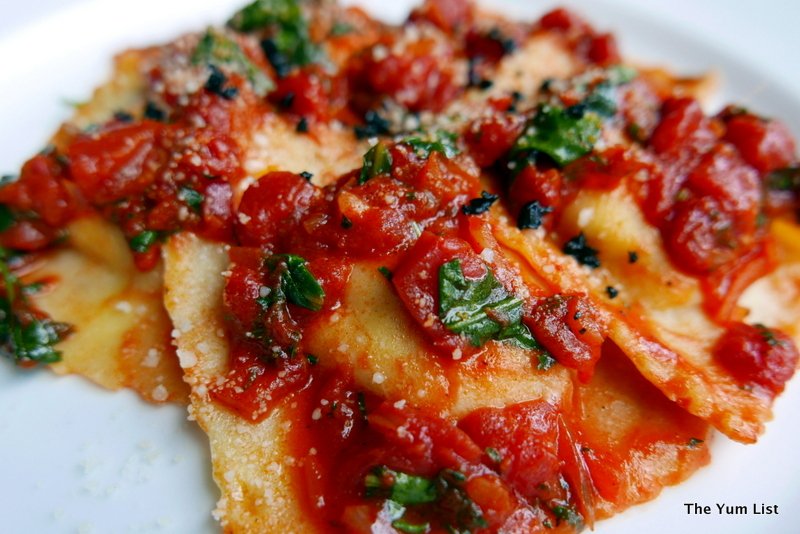 Nero Nero DC Mall Menu – Mains
As we moved into the more substantial, we learned that the menu is moving Nero Nero towards a home-styled family-friendly restaurant – great food with a familiar comfortable atmosphere. The next dish certainly reminded me of home.
Stracotto d'Agnello (RM 120++), an Aussie lamb shank is slow cooked in Chianti for 24 hours. Yes, 24 hours cooking in beautiful Chianti. Served with creamy polenta, crispy vegetables, and a rosemary sauce, the lamb falls off the bone as it is being served. The polenta is soft and fluffy, and the rich rosemary gravy binds it all together. Lamb shank has fast become a best-seller and deservedly so.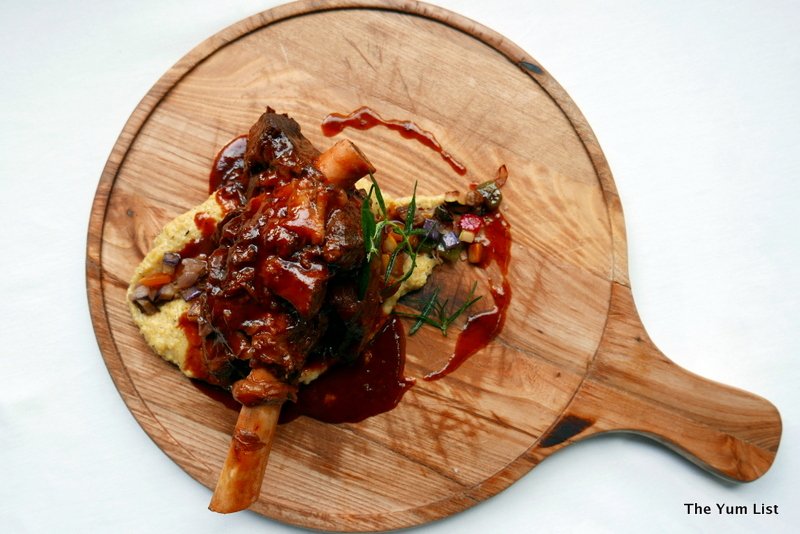 The final main of today was the Salmon alle Erbe (RM 90 ++) – a herb-crusted salmon fillet served with seasonal vegetables. This thick slice of salmon was perfectly cooked – just look at the crunchy top and moist flesh in the pic below. Served on a chickpea mash, this dish pays homage to the Arabic influences in the south of Italy. Unique to this dish is the squid ink chip and marinara sauce. It's a must-order for salmon fans.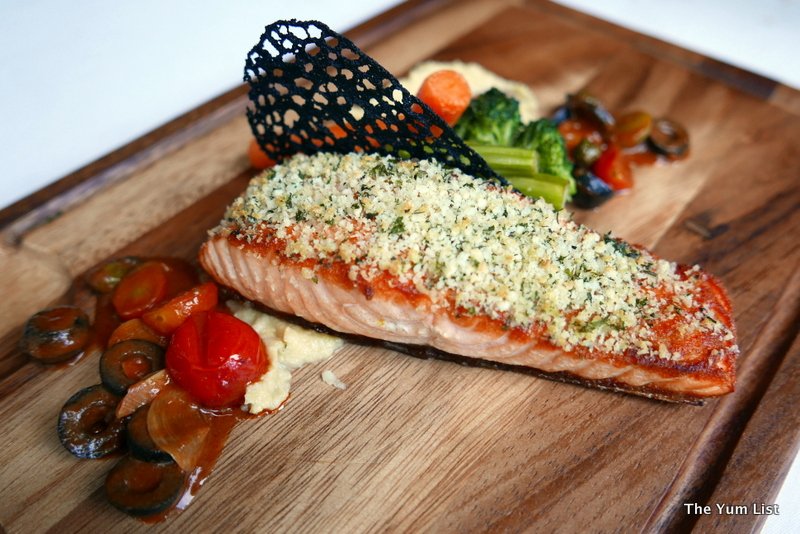 Nero Nero Damansara City Mall Menu – Desserts
Our sweet conclusion ended with two desserts, a Millefoglie (RM 35++) and Torta Caprese (RM 35++). The former has already become a favourite on the menu at Nero Nero with its flaky pastry and layers of creamy custard with vanilla gelato. The second is a gluten-free almond cake, mildly crumbly in texture with a good nuttiness to finish.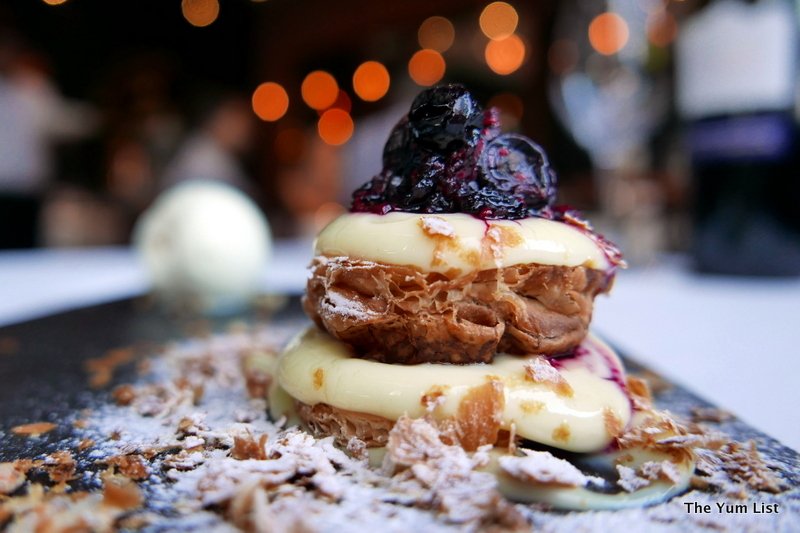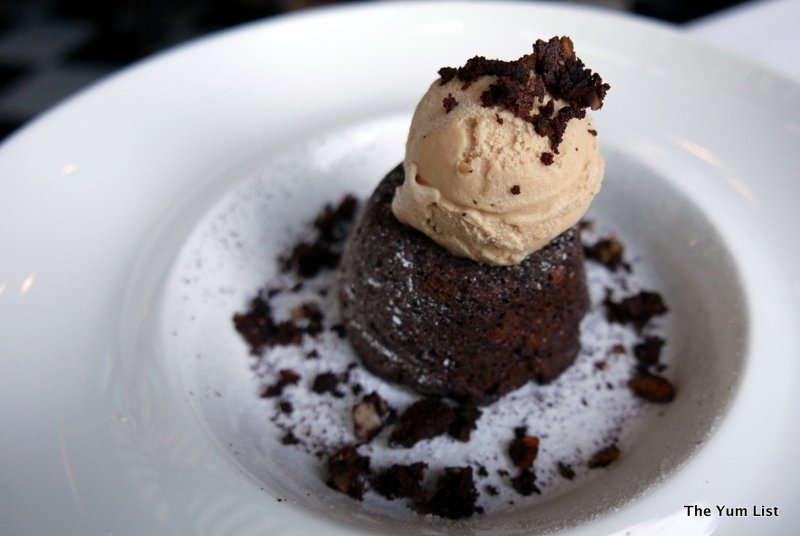 Reflecting on a fabulous meal, what impressed me also about Nero Nero DC Mall beyond the cuisine is the friendliness and the depth of knowledge of the staff. They not only understood the food but could explain it well too. For me, that makes a huge difference, as they spoke about the cuisine, and the chef's inspiration for it, with great passion and knowledge.
Reason to visit: home-crafted Italian dishes from the heart, superb service, great atmosphere.
Nero Nero DC Mall
California Italian Restaurant
L3 – 02 Jalan Damanlela
Damansara City Mall
Damansara Town Centre
50490 Wilayah Persekutuan Kuala Lumpur
Malaysia
+60 3 2011 3811
www.neronero-dc3.com
Open: Monday – Sunday
12.00noon – 2.30pm (Lunch)
2.30pm – 5.30pm
(Limited Menu)
6.00pm – 11.00pm (Dinner ; Kitchen closes at 10.00pm)
Happy Hours
5.00pm – 8.00pm
(Daily)