Monica Tindall
Delivering healthy lunches straight to your desk, Kuala Lumpur's latest food subscription service Nourish Me, makes staying on track with your positive lifestyle goals affordable, tasty and most of all easy.
Nourish Me supplies a variety of nutritious meals daily with a choice of six different recipes each day. All meals are freshly cooked and delivered directly to your office with no additional fee. Designed by a nutritionist, the only thing you need to do is subscribe: no meal planning, no shopping, cooking or cleaning. Easy peasy.
Meal selection is done on-line with an extremely easy to use form. Click on the photo of each meal and a description of the ingredients along with number or calories, fats, carbs and protein is listed. There are close to 40 recipes to choose from and they're divided into categories such as Asian, Western, vegetarian, low carb, low fat, gluten-free and Keto.
I try out six dishes over a week.
Veggie Rice Bowl
The veggie rice bowl was one of my favourites. I appreciated the use of local veggies – sautéed kangkung and stir-fried brinjal – not only making a healthy meal but a more sustainable one too. It's all served over a nutty brown rice and baked tofu provides additional texture and bulks up the meal.
Cal: 234 Fat: 4 Protein: 10 Carbs: 41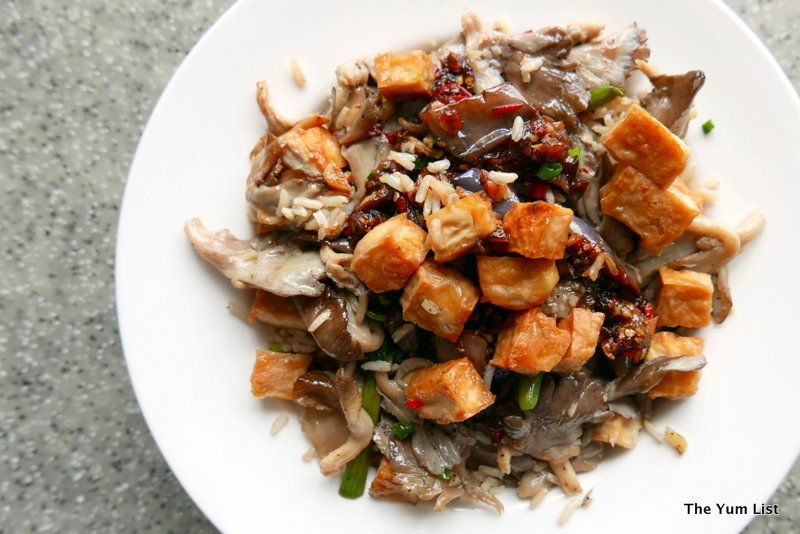 Mediterranean Baked Fish
The Mediterranean baked fish was the dish that hubby enjoyed the most. It's very low in calories for a non-plant-based meal and the fish was extraordinarily moist and flaky as it was steamed in a parcel also maintaining nutrients. A mountain of sun-dried tomatoes, lemon and herbs topped it and steamed veggies (broccoli and cauliflower) were cooked lightly keeping their crunch, just as I like them.
Cal: 220, Fat: 4, Protein: 41, Carbs: 7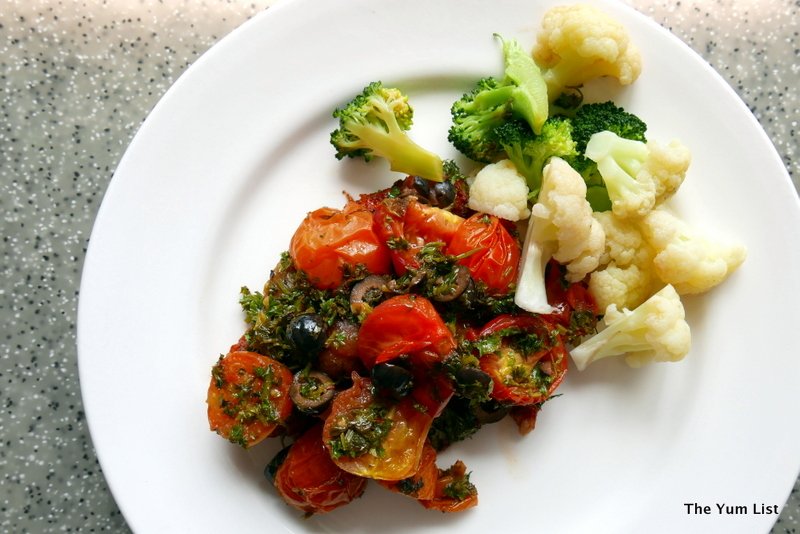 Brown Rice Bibimbap
The brown rice bibimbap is similar to the veggie rice bowl except that the toppings are mushrooms, egg and tofu, and a spicy (yep, proceed with caution!) red sauce comes on the side.
Cal: 385, Fat: 13, Protein: 19, Carbs: 53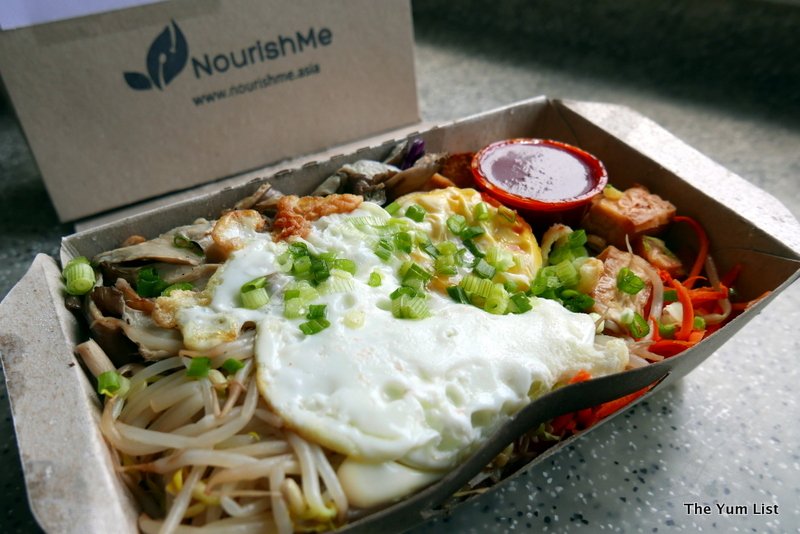 Vietnamese Noodle Salad
Something light and fresh was the Vietnamese noodle salad. Loaded with fresh raw shredded veggies, this cold noodle salad was topped with baked chicken and a tangy dressing served apart for seasoning at your own will. Stir in the red chilli slices (or not) to adjust the level of heat to your liking.
Cal: 305, Fat: 6, Protein: 17, Carbs: 45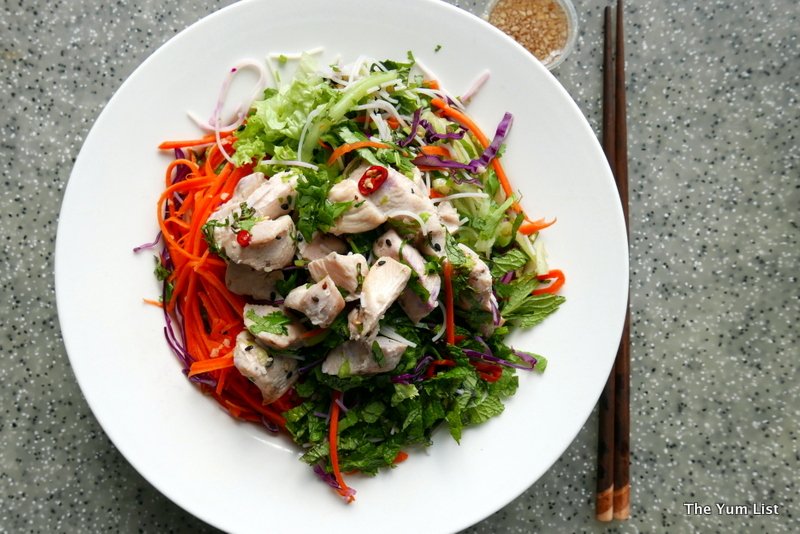 Tuna Poke Bowl
If I had to rank the half-dozen dishes I tried from Nourish Me, the tuna poke bowl would come out sixth. I didn't not like it by any means but I delighted in the others so much that even though it was an enjoyable recipe, it had some tough competition. A base of brown rice was crowned with mango, tomatoes, cucumber, fresh herbs and, of course, tuna and came with an orange ginger sauce for tossing through on the side.
Cal: 396, Fat: 17, Protein: 16, Carbs: 46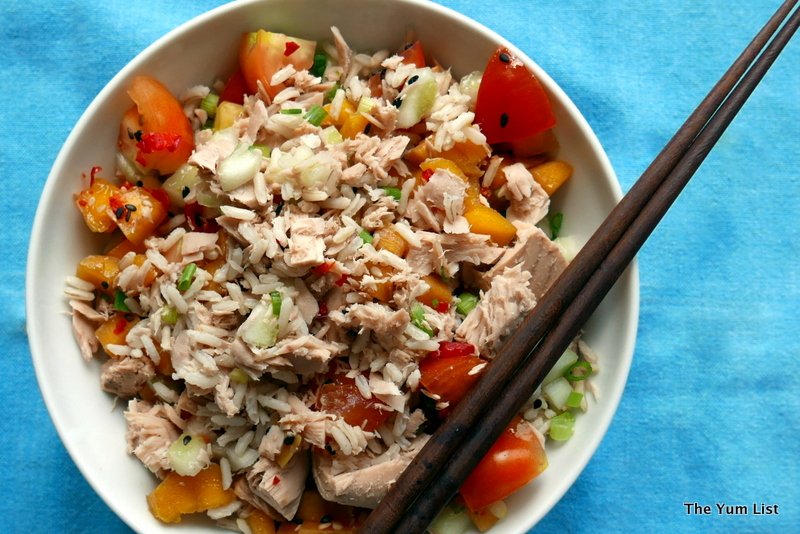 Pumpkin & Barley Salad
The pumpkin barley salad was another one at the top of my Nourish Me list, not only because it's a vegetarian option but for the fact that I adore the chewy texture of barley. Besides the named ingredients it also contains tomatoes, olives, capers, fresh basil and is tossed with a dressing that has a nice zip to it.
Cal: 192 Fat: 16 Protein: 3 Carbs: 14
Reasons to order Nourish Me: Plans of 10, 15 or 20 deliveries a month begin from as low as RM12.50 a meal. Considering each recipe has been designed by a nutritionist and that I haven't had to do any planning, shopping, cooking or cleaning, I think that's incredibly good value. And, if you're not convinced, The Yum List readers get 20% off the first month of subscription by using the promo code NOURISHYUMLIST (valid until 30 April, 2018) making it even more affordable.