Monica Tindall
Eat Mindful – Shop Artisanal – Raise Awareness
AnnaMaya Delhi, the welcoming kitchen of Andaz Delhi, is formulated around a whimsical story of an Indian lawyer settled in the US but yearning for his children to experience joys like the ones he recalls from his childhood; the nostalgia he felt remembering family gatherings and grandma's food. Returning to India, he created a place, a contemporary kind of foodhall with open kitchens, a place where his children could encounter the tastes and smells of recipes simmering away on hot stoves just as he so fondly did in his youth. Named after his daughters, Annapurna, the god of greens and Maya, the god of magic, AnnaMaya came to fruition.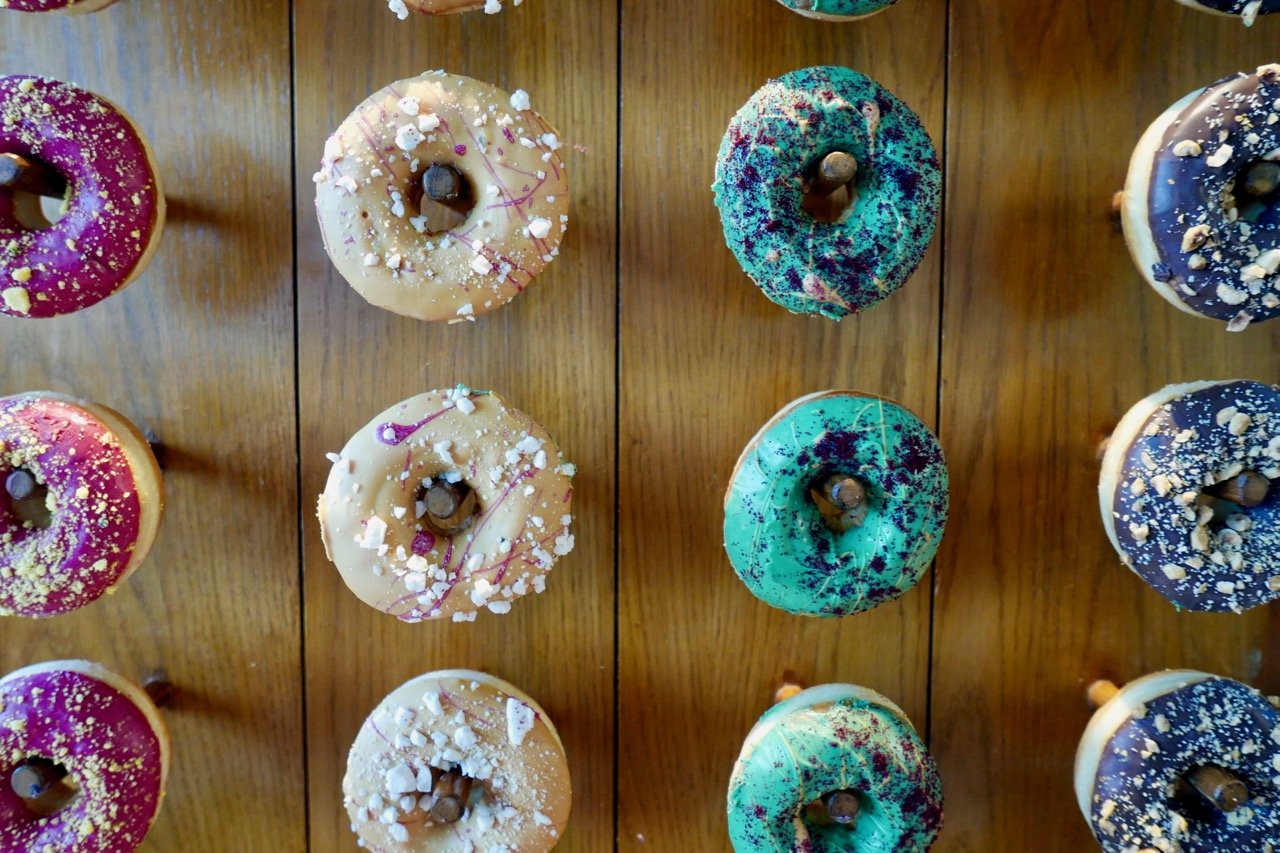 Entering, it's difficult not to pass the sweet counter on the right without at least a little gasp, jump and clap of childhood glee. Ice cream, meringues, cakes, muffins, pies and lollies, lollies, lollies establish a rainbow of sugar! The reasoning for the saccharine ingress is that in India everything starts with a sweet. If you want to start something new you eat something sweet. If something comes to an end you consume sweets. You want to bless a home? You need something sweet. So, in blessing our meal at AnnaMaya Delhi, we're greeted with sweets.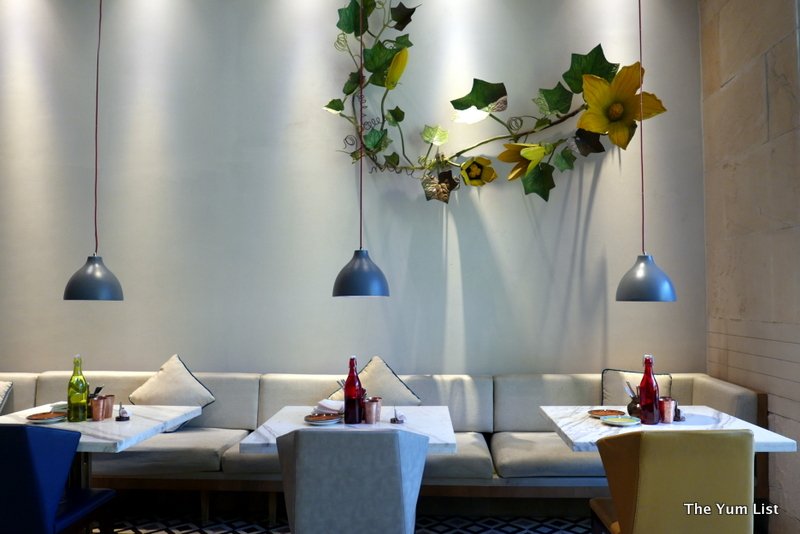 Continuing inside, the space is attractive with coloured glass windows, antique doors hanging from the ceiling and sculptures of edible indigenous flowers adorning the walls. Table settings are not choreographed, instead, they resemble a home of a traveller, someone who has collected special items from their journeys and used them lovingly, reliving a memory from each, at home. A retail section invites guests to bring home memories of their meal with artisanal products made locally, supporting a social cause. You can pick up "zero-mileage salad," which is grown right there in the fridge, or rock salt and a grater for self-grinding at the table – it's not easy to shake it on, you have to work for it, making yourself more mindful and hopefully more aware of the effort that is made to get food to the table.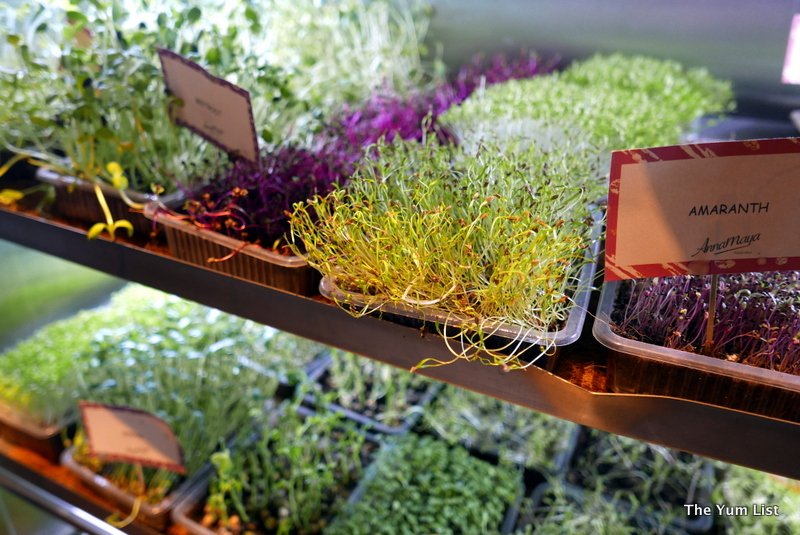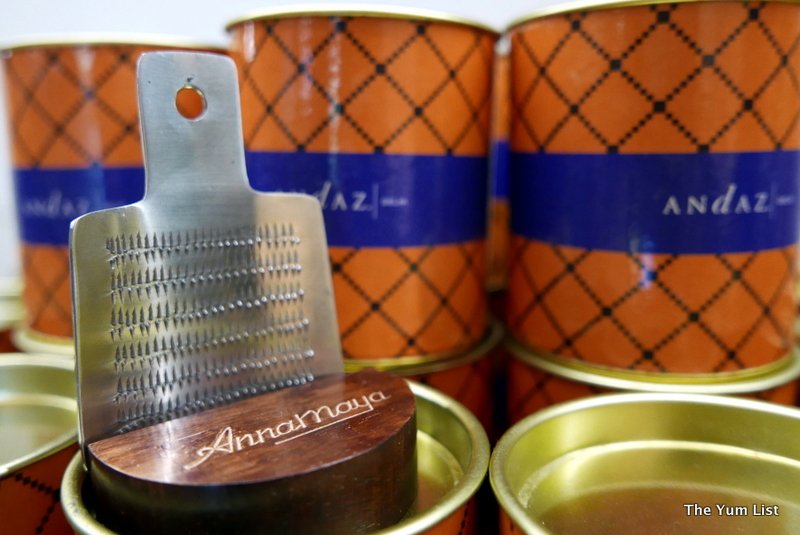 AnnaMaya Review Andaz Delhi
The breakfast at Andaz Delhi is one of the best hotel buffets we've encountered. The superiority of ingredients, quality of preparation and thoughtful deliberation of recipes radiates throughout the spread. It's mindful eating with a sense of luxury. More about that though in an upcoming hotel review as now we're here for lunch.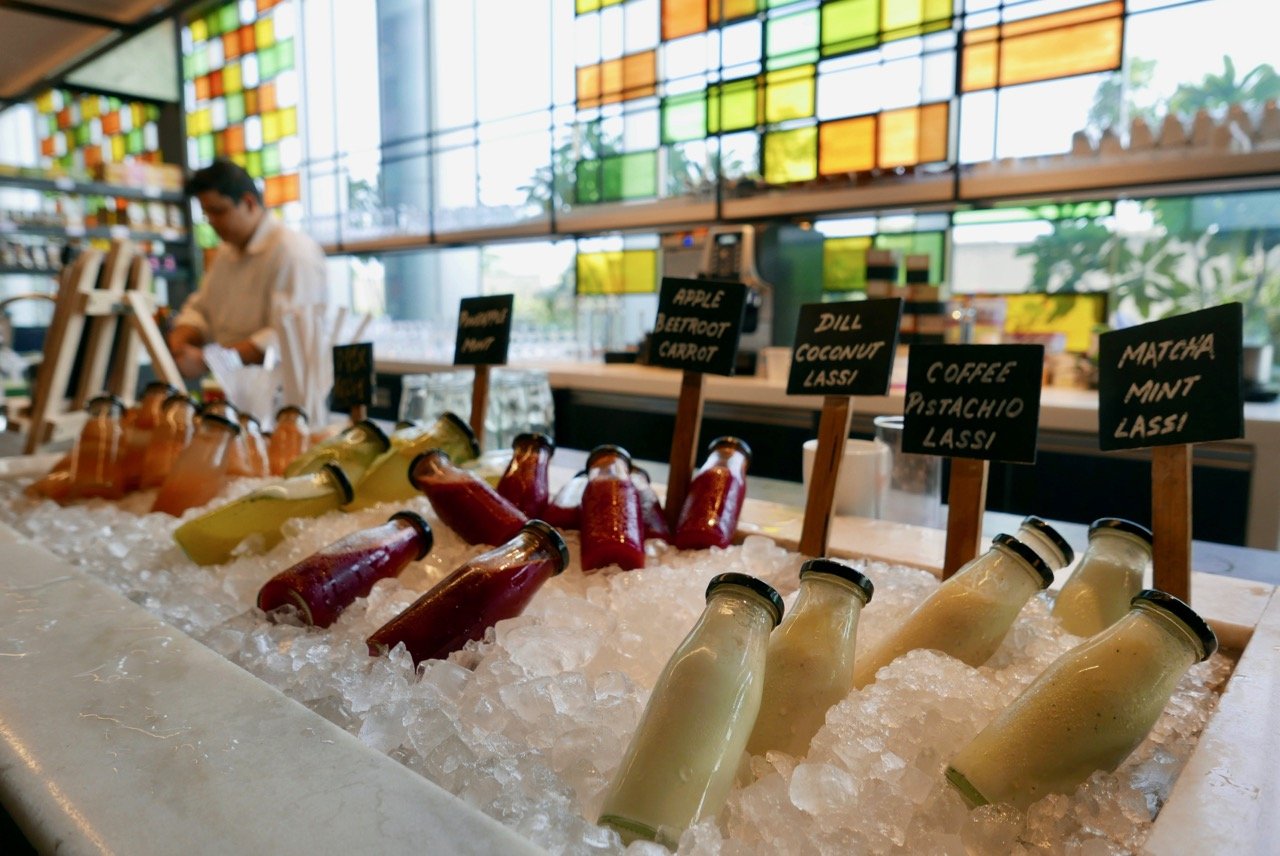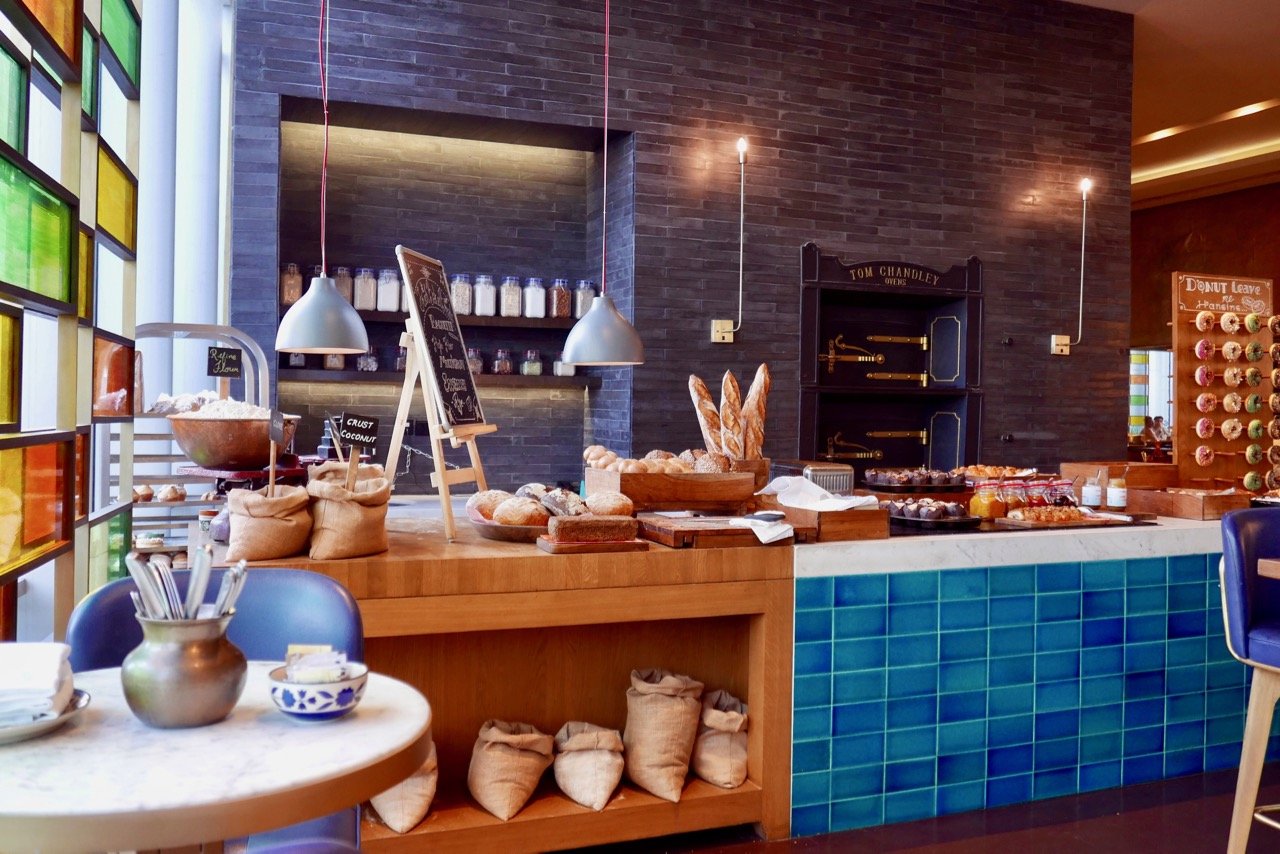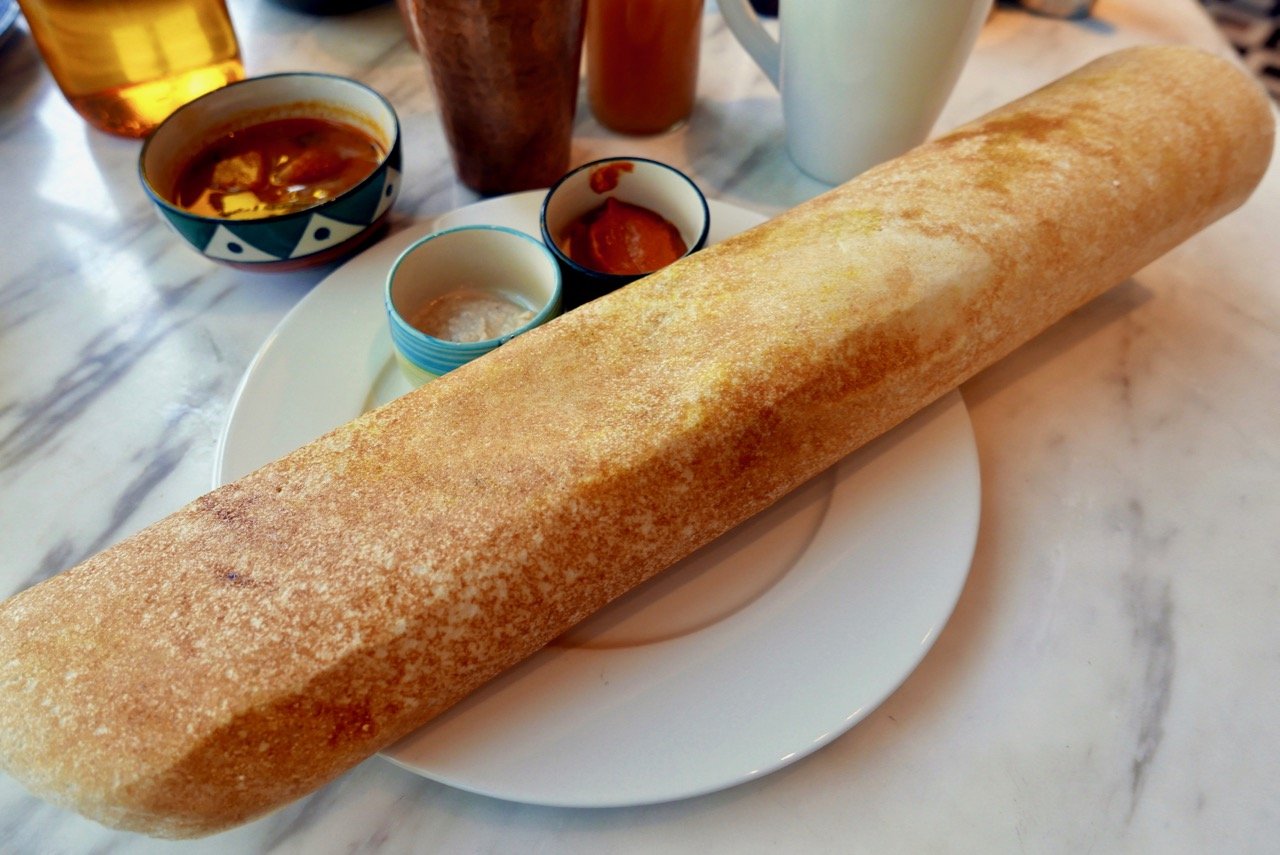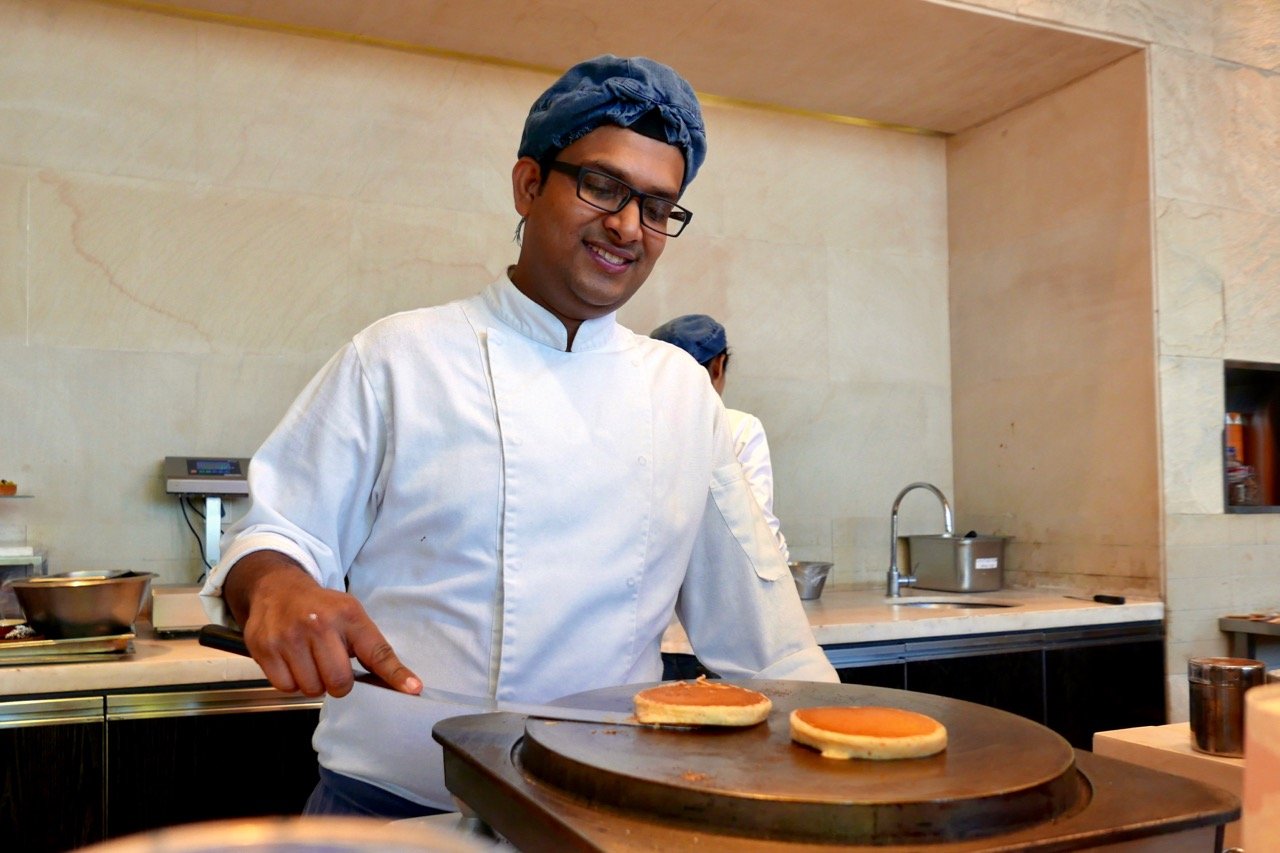 AnnaMaya Menu Andaz Delhi
Cucumber, Elderflower and Lime Lemonade (220) is a refreshing in-house blend and goes magically well with my Burrata (1080) from Bangalore. The cheese is a beautiful plump ball that oozes from the middle when sliced. A sprinkling of pink peppercorns breaks up the white, and red-wine-soaked figs and micro greens make a vibrant plate. These are the very same greens we spied in the fridge on the way in, promoting a zero-mileage salad.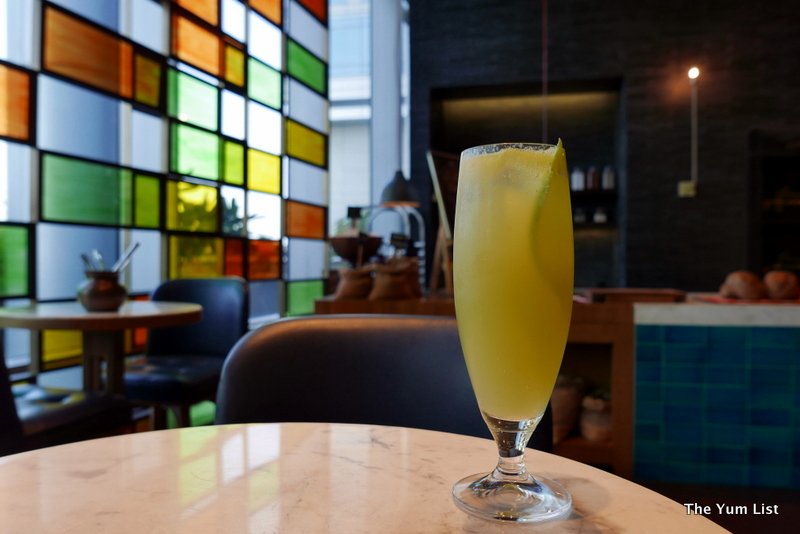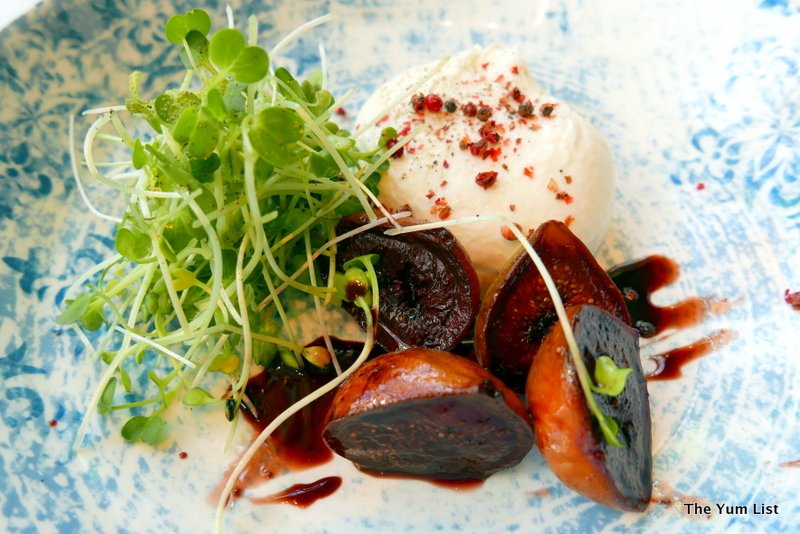 Soups
Coconut Carrot Soup, Ginger and Turmeric (580) is divine! Oh my, give me something with coconut and I'm in heaven. Hubby tries the Hearty and Healthy Vegetable Soup (580). Supported with basil and pecorino cheese it's a nutritious, comforting dish.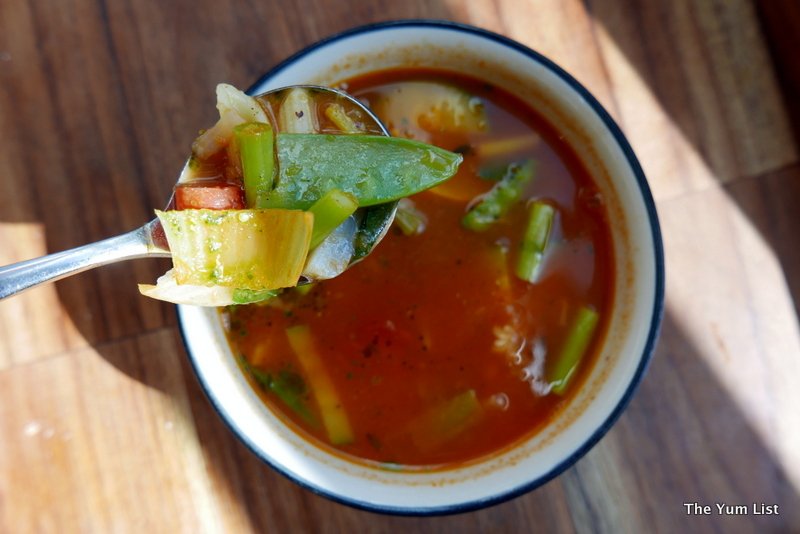 Main Menu at AnnaMaya Andaz Delhi
Making use of local grains is something the chefs aim to promote and the Stewed Barley (980), made with pearls from the north, is a brilliant take on risotto. Asparagus and Kashmiri morels add more texture and finely grated Parmesan melts into cheesy yumminess.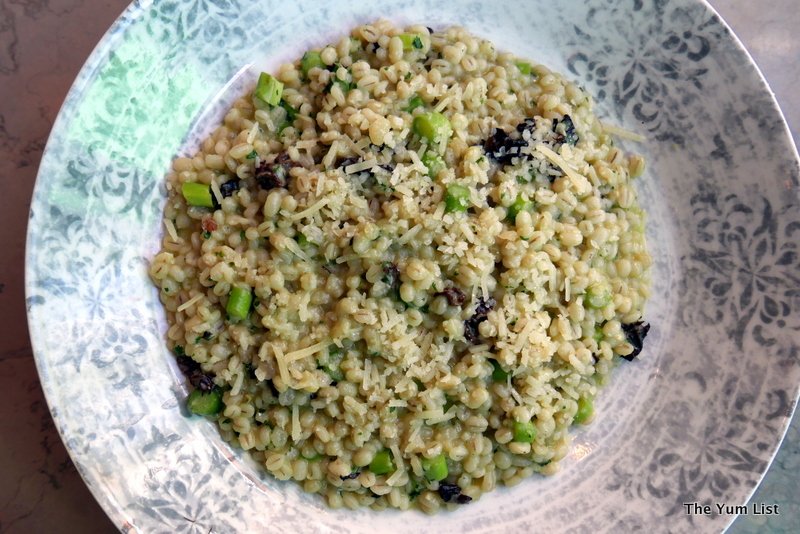 Hubby's Turkey Burger (1180) comes fat and juicy on a house-baked multigrain bun. Grilled pineapple, melted cheese and a free-range fried egg would usually bulk up the burger but hubby, with all of his allergies, has opted for just turkey and bun.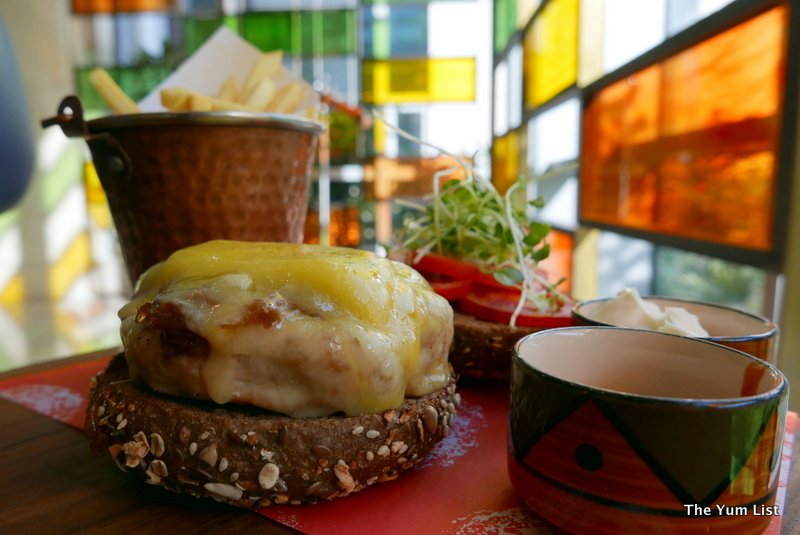 Our stay happens to coincide with the Navrati Festival. During this period Hindus should consume less so that there is no excess food in the body and many devotees only take one meal a day prepared with organic fruits and vegetables. Chefs at AnnaMaya have curated a Navratri Thali (INR1180), which is a compilation of foodhall specialities designed to honour the cusp of spring and summer.
We get a special "petite" tasting platter enabling us to have a taste on top of everything else we have ordered. Mini bowls are arranged around a single platter holding: Dahi Bhalla – dumplings of buckwheat flour in sweet yoghurt topped with pomegranate; Kaddu Bharta – roasted pumpkin, dry mango powder, chillies; Aloo Bhaajiya – shredded potatoes and buckwheat deep-fried in batter; Shahi Paneer – cottage cheese cooked in tomato and yoghurt, gravy and turmeric; Aloo Ki Subji – chunks of potatoes with tomato and yoghurt gravy; Sabudana Khichdi – roasted sago cooked with chillies and roasted peanuts; Gulab Ki Kheer – rose flavoured reduced milk pudding; Badam Ka Halwa – traditional Indian sweet cooked with almond paste and ghee; Kaju Katli – Indian sweets prepared with cashews and ghee; Samvak Chawal – boiled barnyard millet; Kottu Poori – buckwheat poori and lastly, Sabudana Papad – sago papadums. It's a fantastic way to sample a number of dishes and this is something I would surely look out for, whether it's the period of Navrati or not.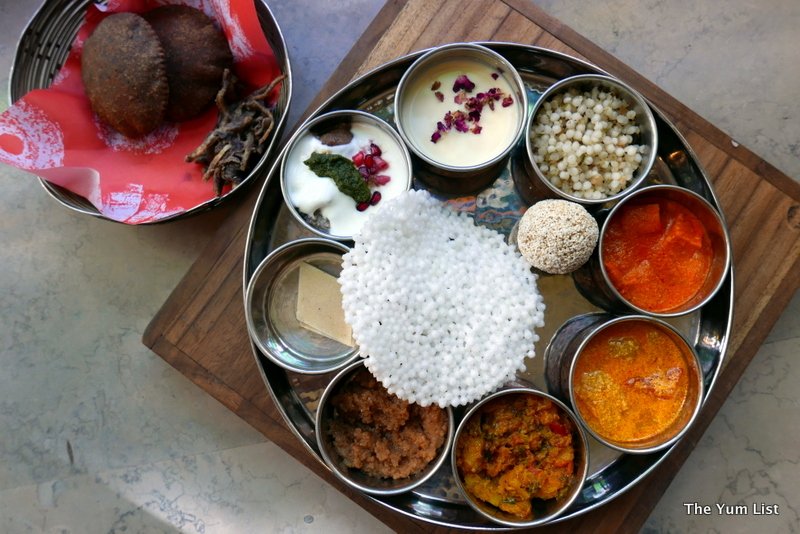 As we're about to have a gin tasting at Juniper Bar, followed by dinner at Hong Kong Club, we take it easy on our orders. Give us a few extra days though and we would devour the entire menu at AnnaMaya; it all looks so good, and based on today's meal promises to deliver.
Reasons to visit AnnaMaya Andaz Delhi: ethically sourced ingredients; contemporary menu; stylish setting; an all-around positive vibe; don't miss a chance to eat breakfast at Andaz Delhi even if you're not staying in the hotel.
AnnaMaya Andaz Delhi
Asset No. 1, Northern Access Road
Aerocity, Hospitality District
Indira Gandhi International Airport
New Delhi, Delhi 110037, India
delhi.andaz.hyatt.com
+91 11 49031234
#eatstories #annamaya