Words:  Kitty Lang   Photos:  Monica Tindall
A little Italian oasis, far from the madding crowd.
Arriving at Sassorosso, I was surprised just how close to 'civilisation' yet hidden away it was. The crisp white linen tablecloths contrasted nicely with the brick red walls, in turn, complemented by the resplendent greenery surrounding the restaurant, giving the illusion of being in the secluded Italian countryside. It's all set off with a fantastic, temperature controlled glass wine cellar, housing some of the 100+ Italian wines that owner Giovanni imports.
I was warmly welcomed and had a moment to look over the vast grappa collection whilst awaiting my lunch buddies. Giovanni, our host, showed us his authentic pizza oven, imported from Italy and built in situ. More about the pizza later!
Sassorosso is the brainchild and 'original' KL Italian restaurant of Giovanni. The business has been going for the last 11 years and it's clear to understand how it has maintained its success. For Giovanni, it is all about the ingredients. Ricotta is home-made, using milk which is procured from a herd of Australian cattle based in Ipoh – these are the lengths that he goes to, to find 'the best'. His veal is imported from Italy, cod sourced from the Swedish seas and beef from Australia.
Aperitif at Sassorosso KL
As a self-confessed gin connoisseur, I have never come across, let alone tried, an Italian gin. It seems I have been missing out!! Marconi 46 (RM38), so called for the alcohol volume and also the name of the street where the distillery is located is a revelation. With botanicals of the ubiquitous juniper, cardamom, coriander and pine, the combination leads to an initial violet palate with a herbaceous length. I liked it so much, I bought a bottle to take home with me! The tonic chosen to serve with this was Acqual Brillante; not too sweet and not too bitter.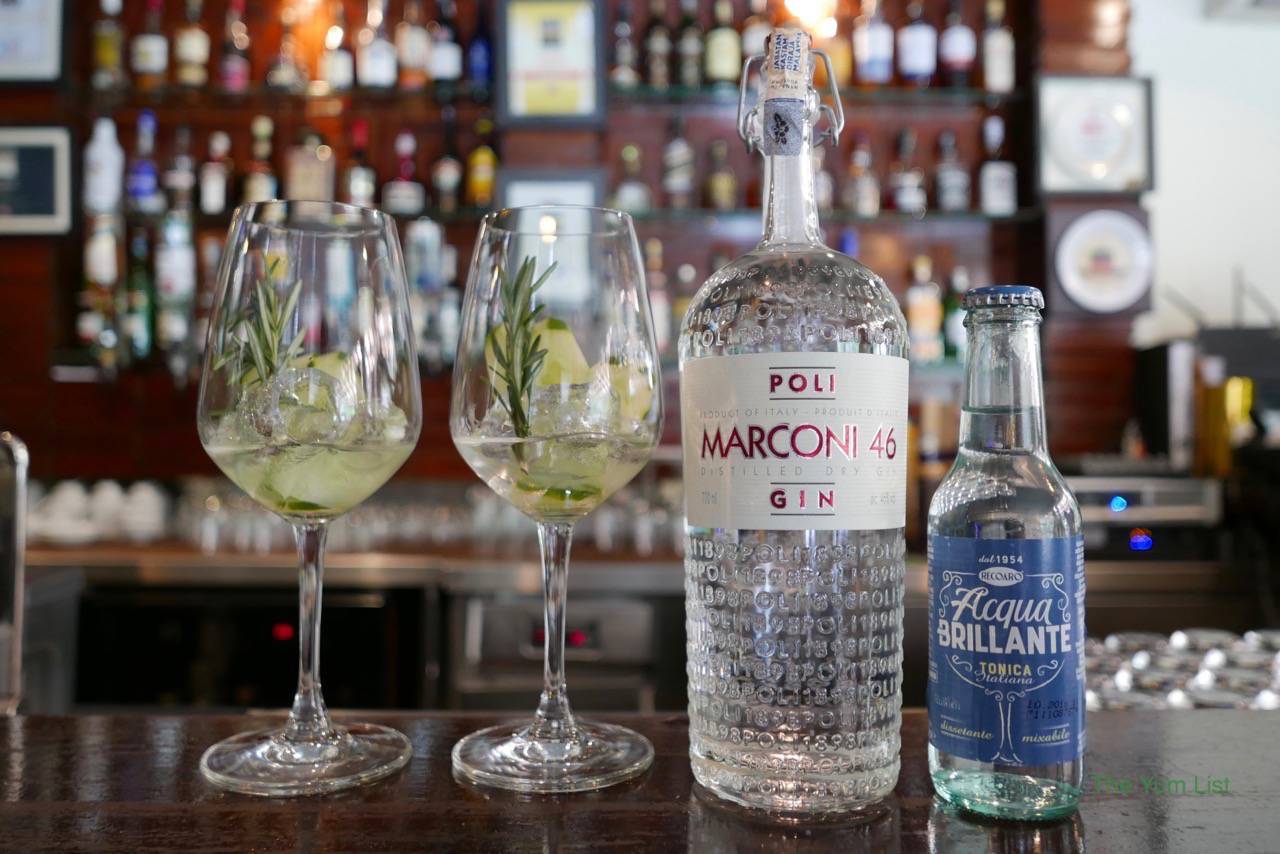 Food Menu Sassorosso Kuala Lumpur
The signature dish was the first to get our taste-buds tingling. The Parmigiana (RM42), a recipe that traditionally, differs from family to family, boasted sweet, soft aubergine (eggplant), mozzarella and a rich, tangy tomato sauce. Hardly a lunch or dinner guest leaves without having ordered the dish and it's easy to understand why. Freshly made for each diner, this is a true Italian classic that lives up to its reputation.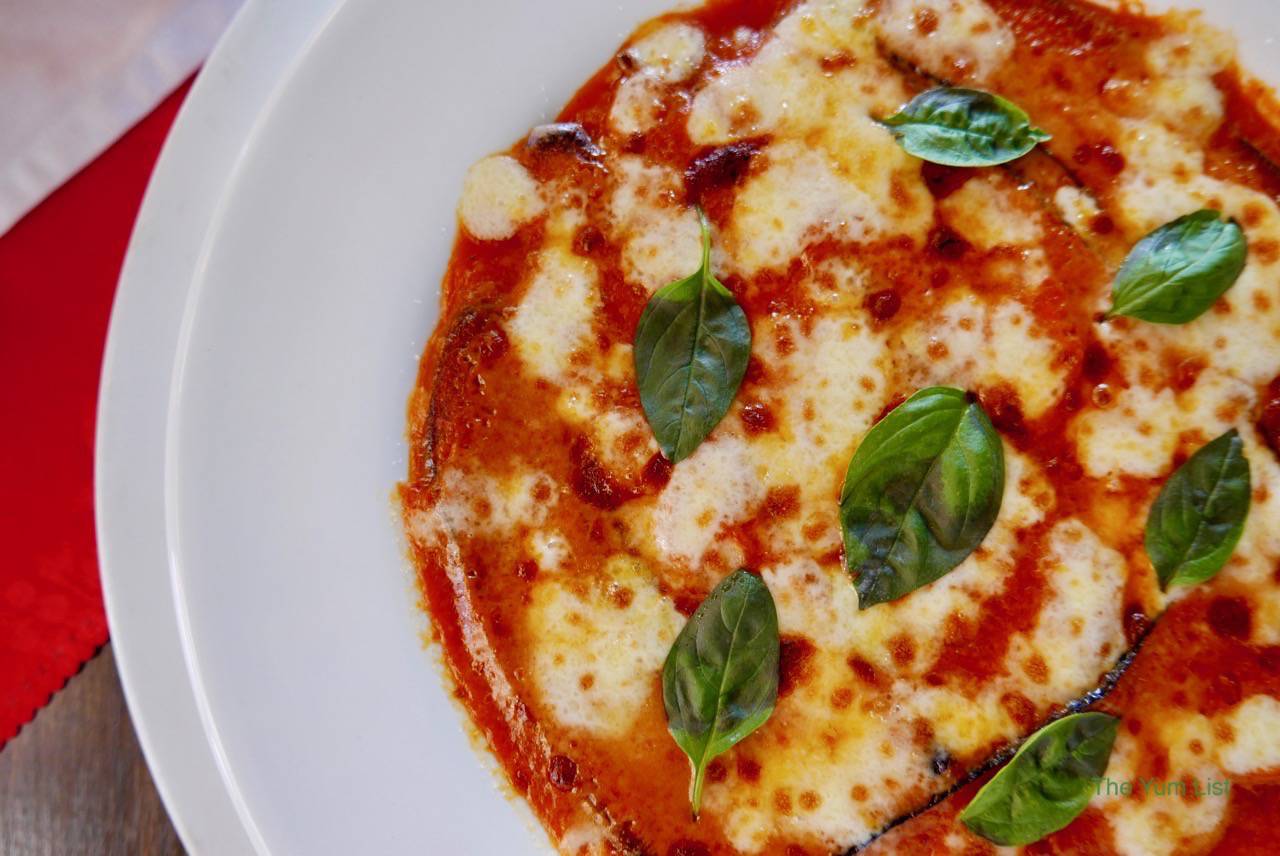 We were given a basket of hand-made baguette and rosemary-topped crisp-bread served with authentic Balsamic vinegar and a lovingly chosen Greek, extra virgin olive oil. The slight bitterness, balanced by the sweetness of the vinegar made for delicious dipping.
Homemade Ricotta and Cod Fish Ravioli with Truffle Butter and Bottarga Powder (RM128 4 pieces) was the star of the show for me. Fluffy pillows of handmade, silky pasta were oozing with the whipped consistency of ricotta and fresh cod and smothered in a salty lemon butter. Alternating sprinklings of black, earthy, summer truffles and bottarga powder (salted, cured grey mullet fish roe) worked like magic giving the dish an extra gracious oomph. The glorious flavours continued to linger for a full five minutes after eating. It was with a small amount of modesty and a large amount of willpower that prevented me from picking up the generous serving dish and licking up the remaining sauce!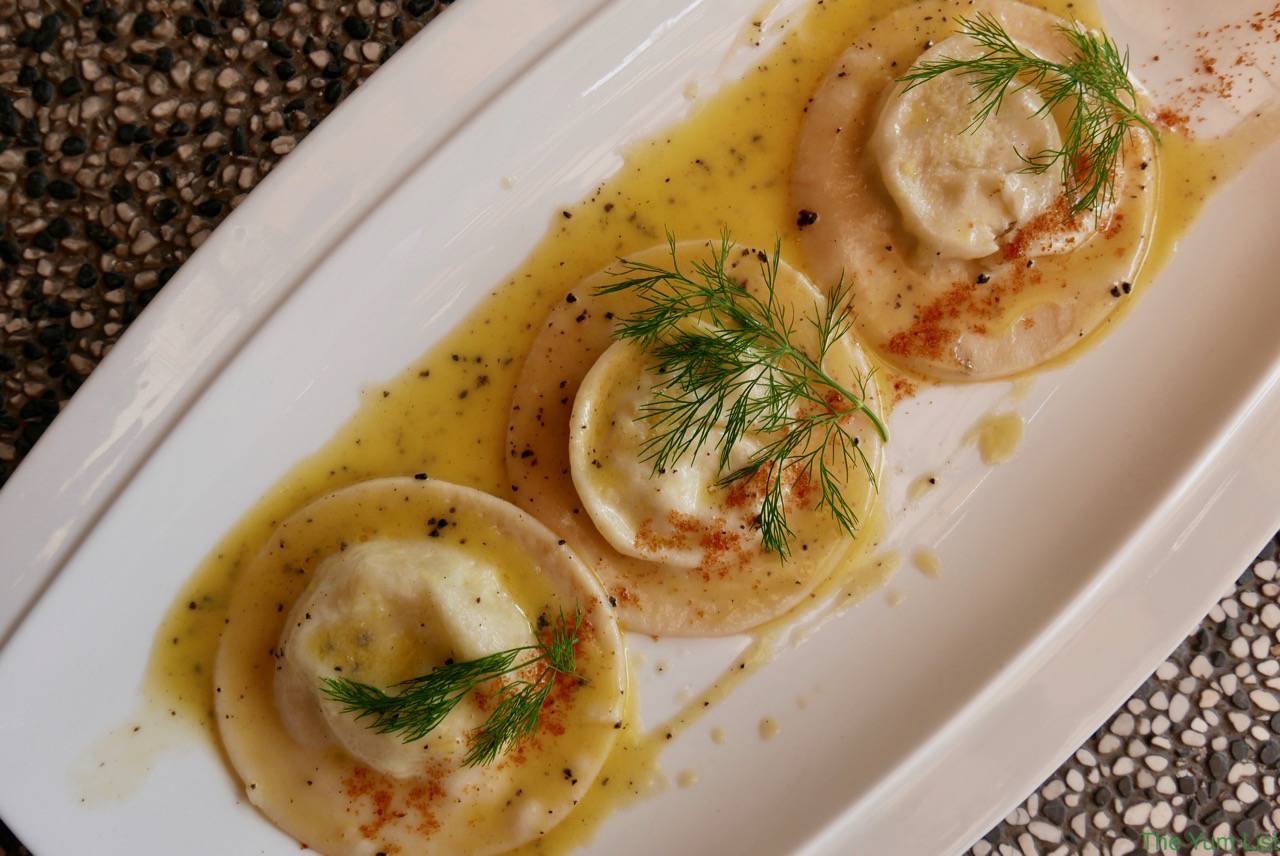 No decent Italian meal is complete without a paired wine and this is exactly what we got in the Venica Collio Sauvignon Blanc (RM53 glass, RM258 bottle). Light straw in colour with pronounced pear and mango on the nose, lead to a surprising honey hit, with a long mineral and citrus finish. Wine Spectator gave the wine a value of 90 out of 100. Somewhat more restrained than your more typical Sauvignon Blanc, which went incredibly well with the ravioli.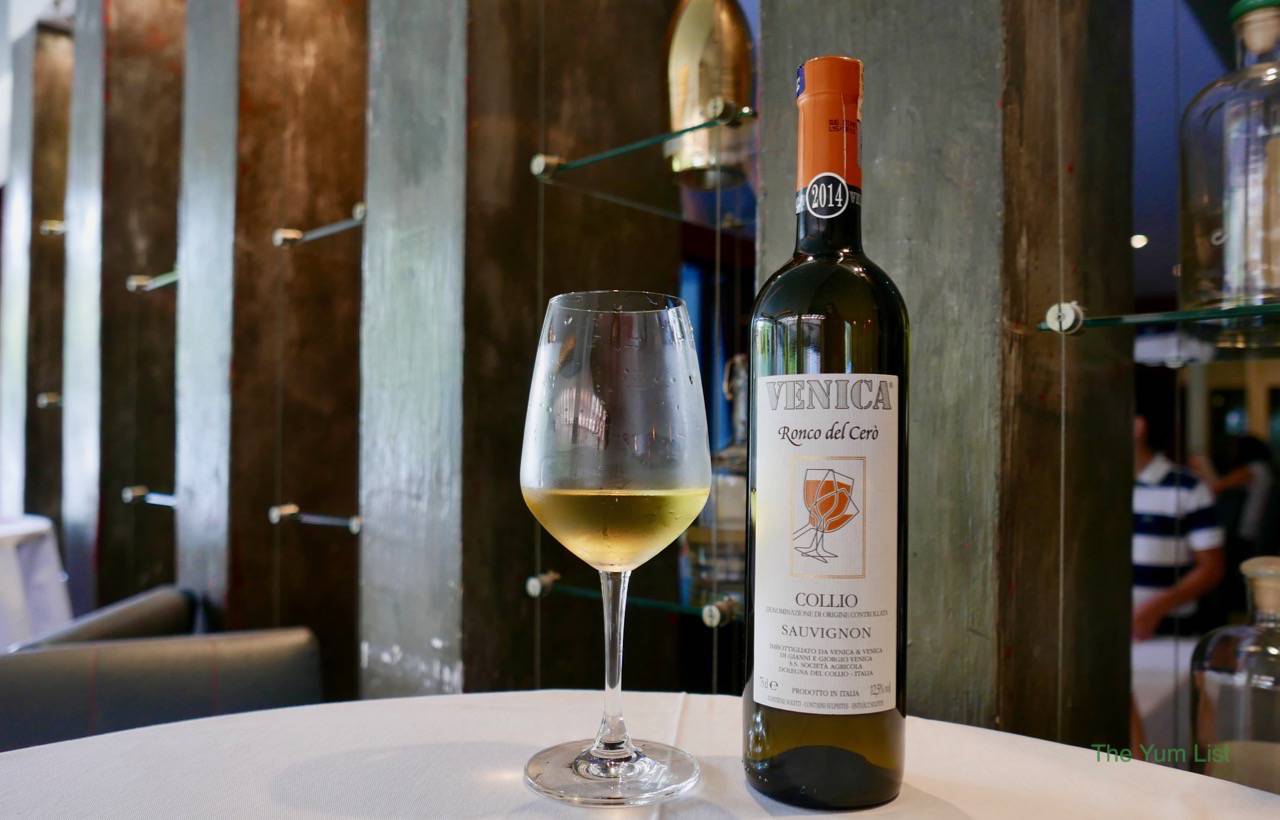 The Pan-Seared Salmon Trout (RM88) served with cauliflower puree and grain mustard and a cherry tomato salad was just as salmon should be, soft and juicy on the inside (perfectly cooked for my dining partner – I prefer it a little pinker) and crispy skin on the outside. The broccoli was al dente and the smooth, creamy sauce had just the right acidity to counter the very fresh salmon trout (incidentally, I learned that 'salmon trout' is so called as it is found in estuaries, hence being neither salmon or trout – every day is a school day!).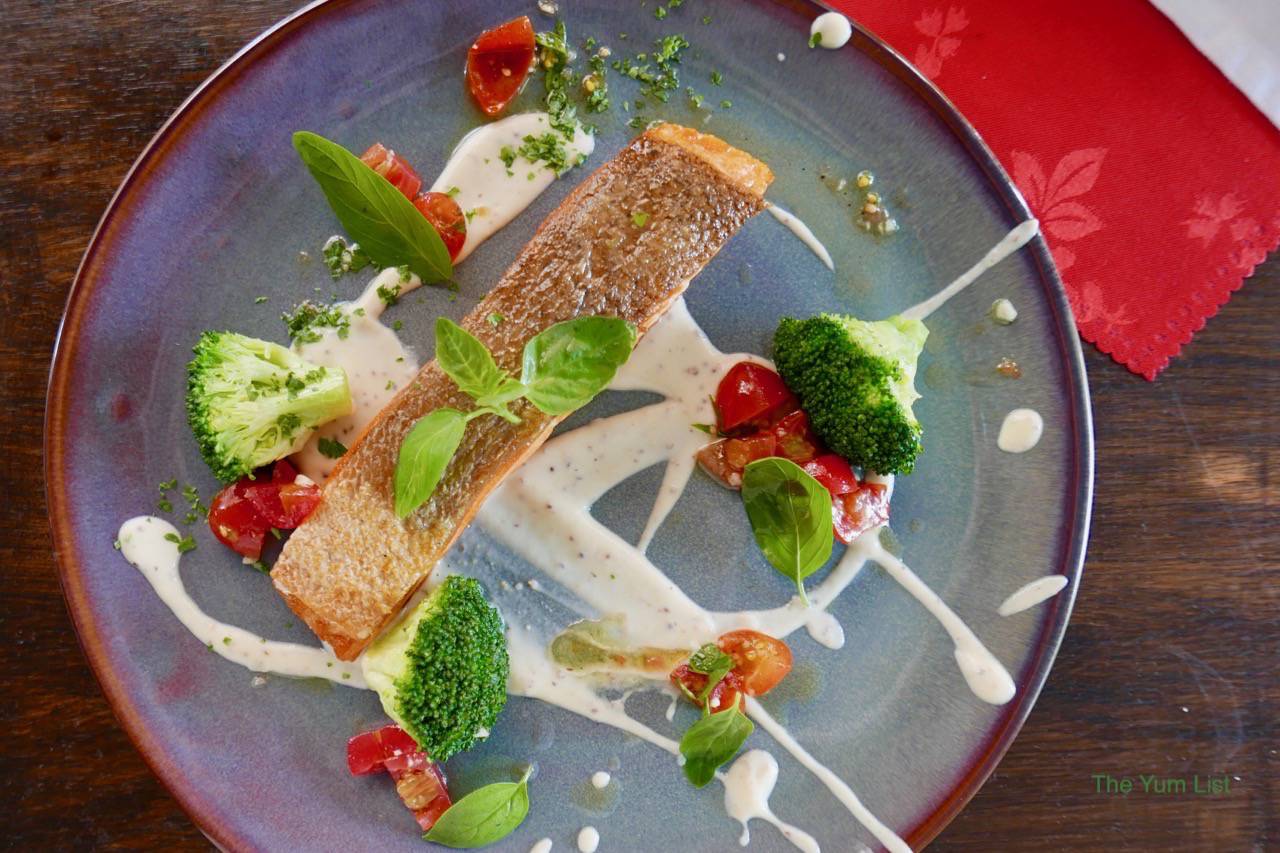 Rabbit, a rarely found ingredient in KL, was the focus of our next dish. Braised Rabbit (RM72) served with truffle mashed potato where the rabbit was braised in red wine and was jauntily served atop a beautiful creamy mashed potato and gravy. It was well cooked without having dried out, which rabbit can have a tendency to do.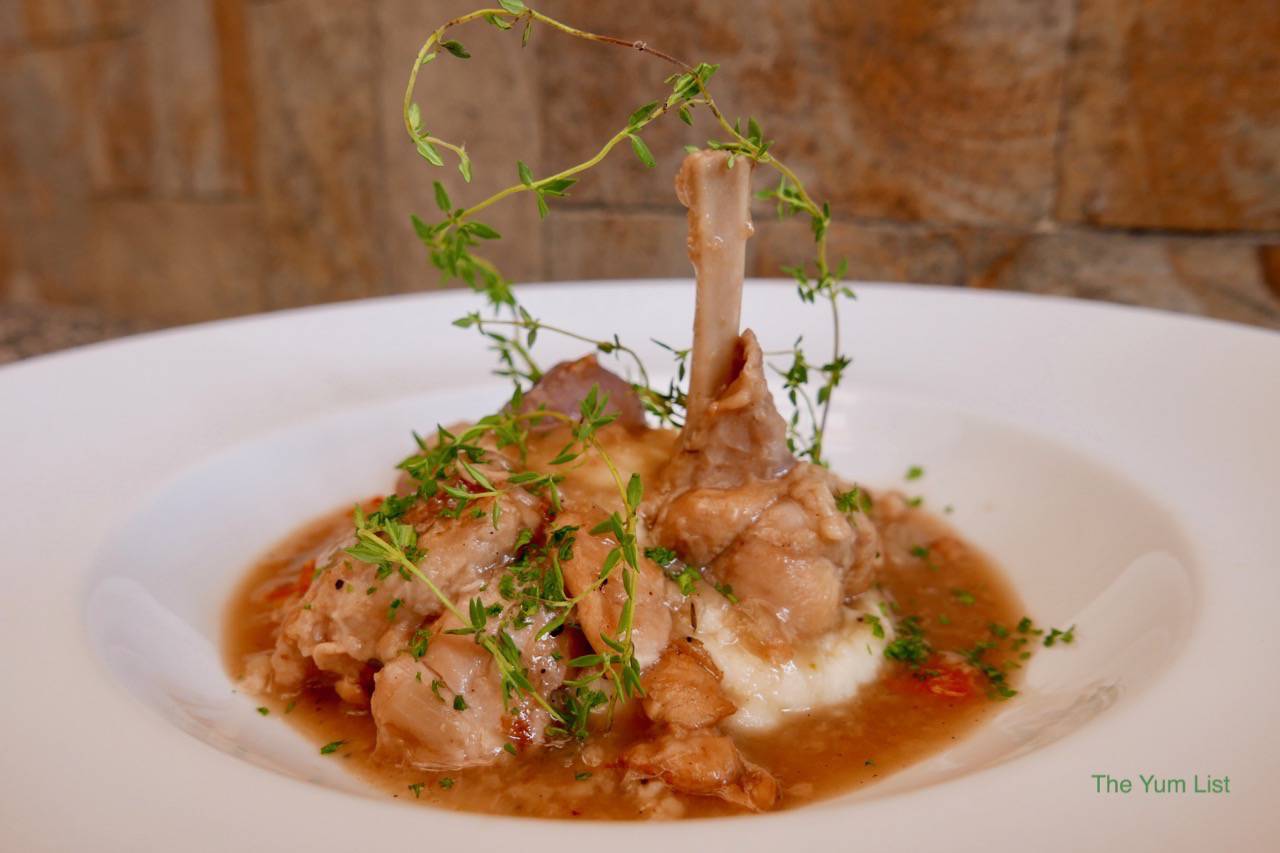 Fine Italian Wine, Sassorosso Kuala Lumpur
This was an appropriate time to move on to a red wine. As a proud Italian, Giovanni serves a 10-year-old Sangiovese by the glass, to make it accessible to those who might not want a whole bottle (not a problem I've ever faced!). The Castello de Querceto Querciolaia Sangiovese (RM68 glass, RM378 bottle) boasts heavy warm fruits (blackcurrant and plum) giving way to leathery tannins, the ageing clearly shining through with its well-rounded finish. It was improved further by the unique pizza that was next on our magical mystery tour of Italy.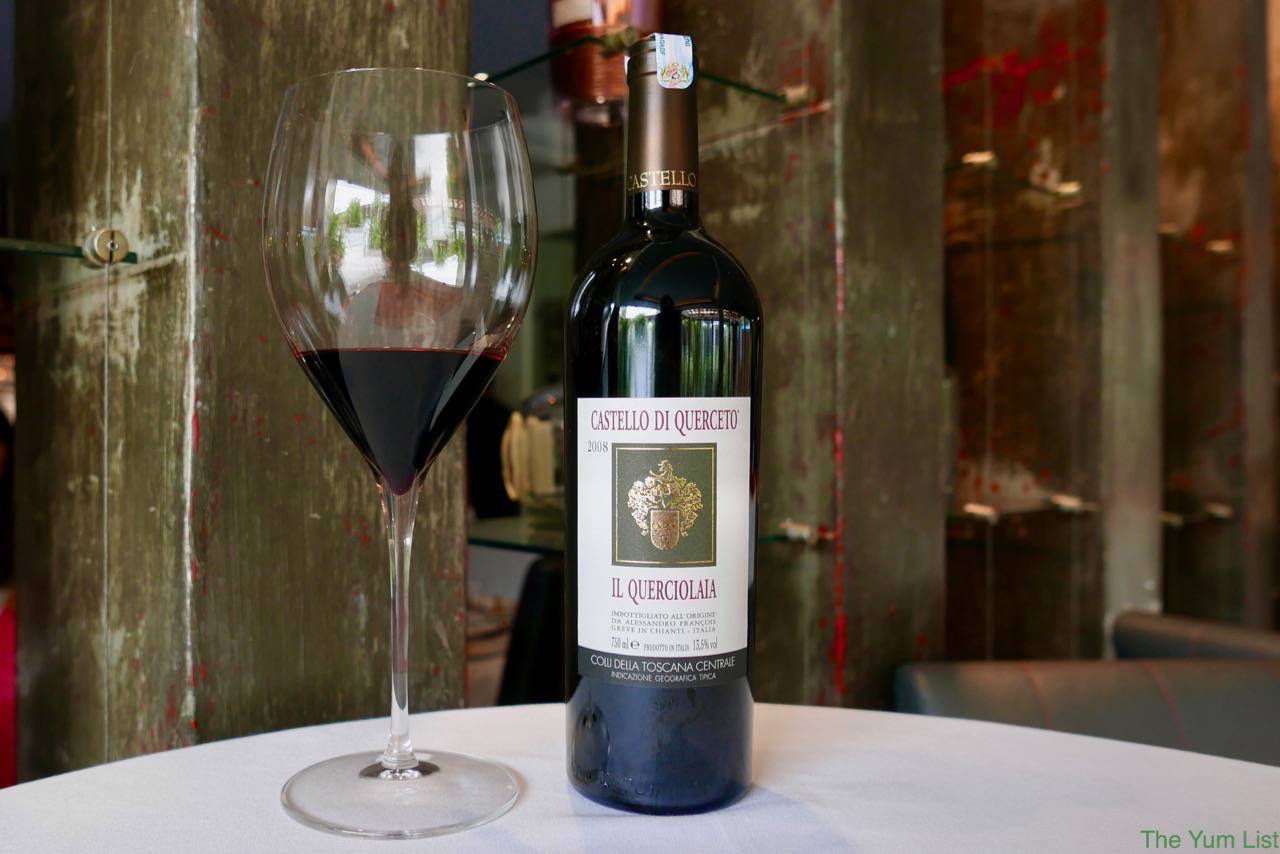 The Sassorosso (RM68), their signature pizza, starts life as a homemade pizza dough, made with a secret that is surely what gives it the light crispiness to the base and wonderful crust. Of course, made in their rubber wood-fired pizza oven. The topping was a tomato sauce that wasn't too rich, soft, gooey mozzarella and the shining ingredients of escargot (yes, really!), big, juicy prawns, marinated mushrooms and topped with citrusy basil. I have to confess, I'm not generally much of a pizza lover, but I am now a convert.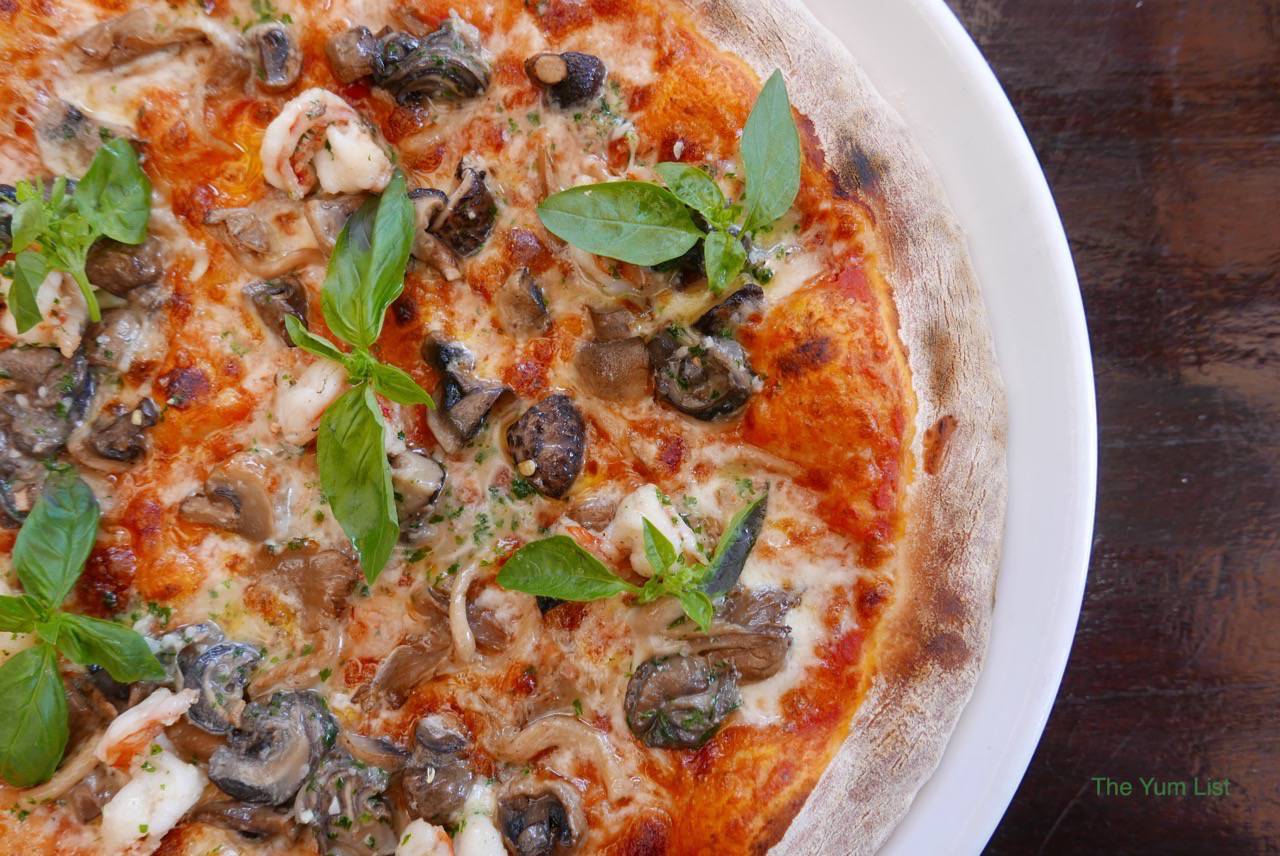 Italian Desserts, Sassorosso Kuala Lumpur
By this stage, we barely had space for desserts, but in the interest of true reporting, we had to sample the delights on offer. Cannoli Siciliani (RM20) – crispy pastry stuffed with another offering of the homemade ricotta, chocolate chip and dipped in pistachio – was light and palate cleansing and very manageable. The Mango Cheesecake (RM35) one of the current specials, was splendid! This was an unbaked cheesecake (hurrah, I haven't yet found many of those in Malaysia) with a homemade crumble base, cream cheese and mango coulis, sugar and a touch of gelatin topped by fresh mango and more mango coulis to finish. The perfect end to a delightful lunch.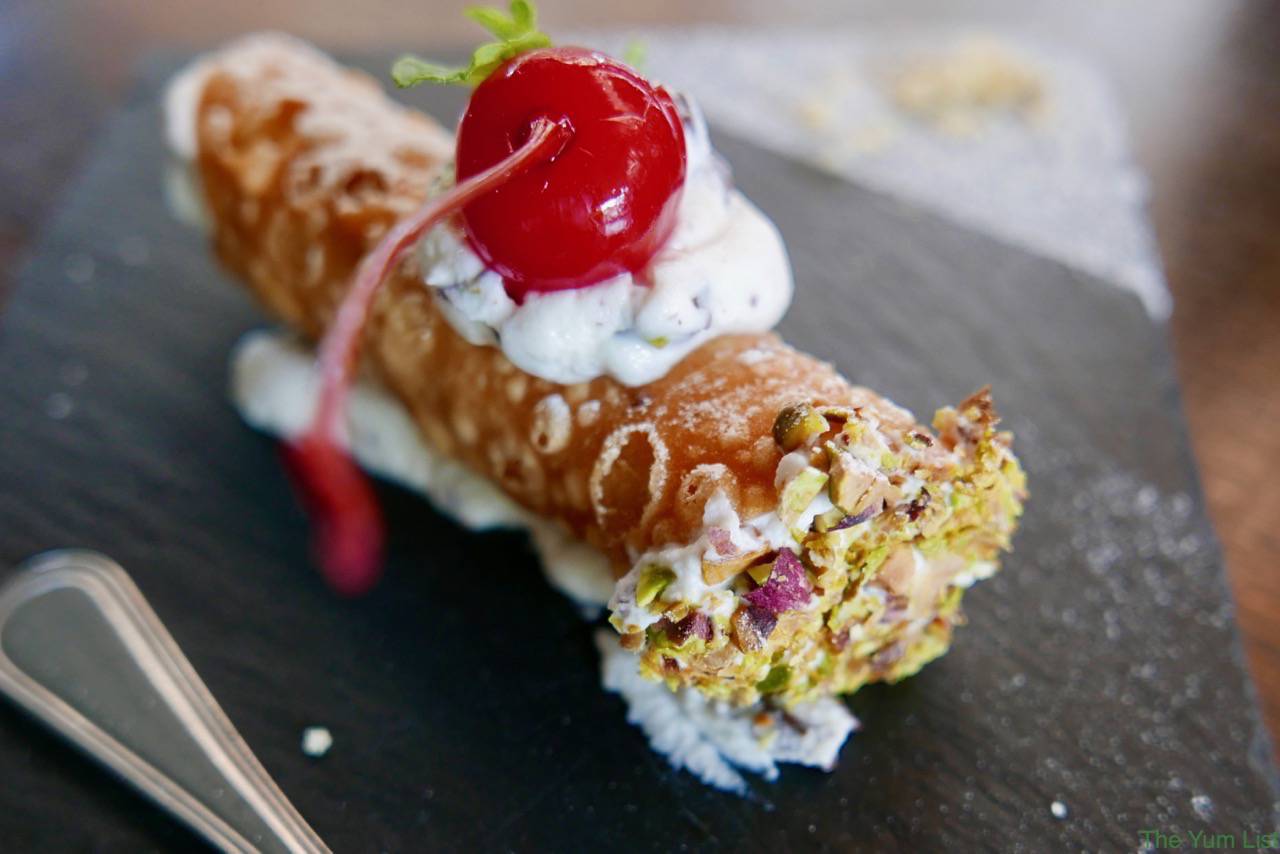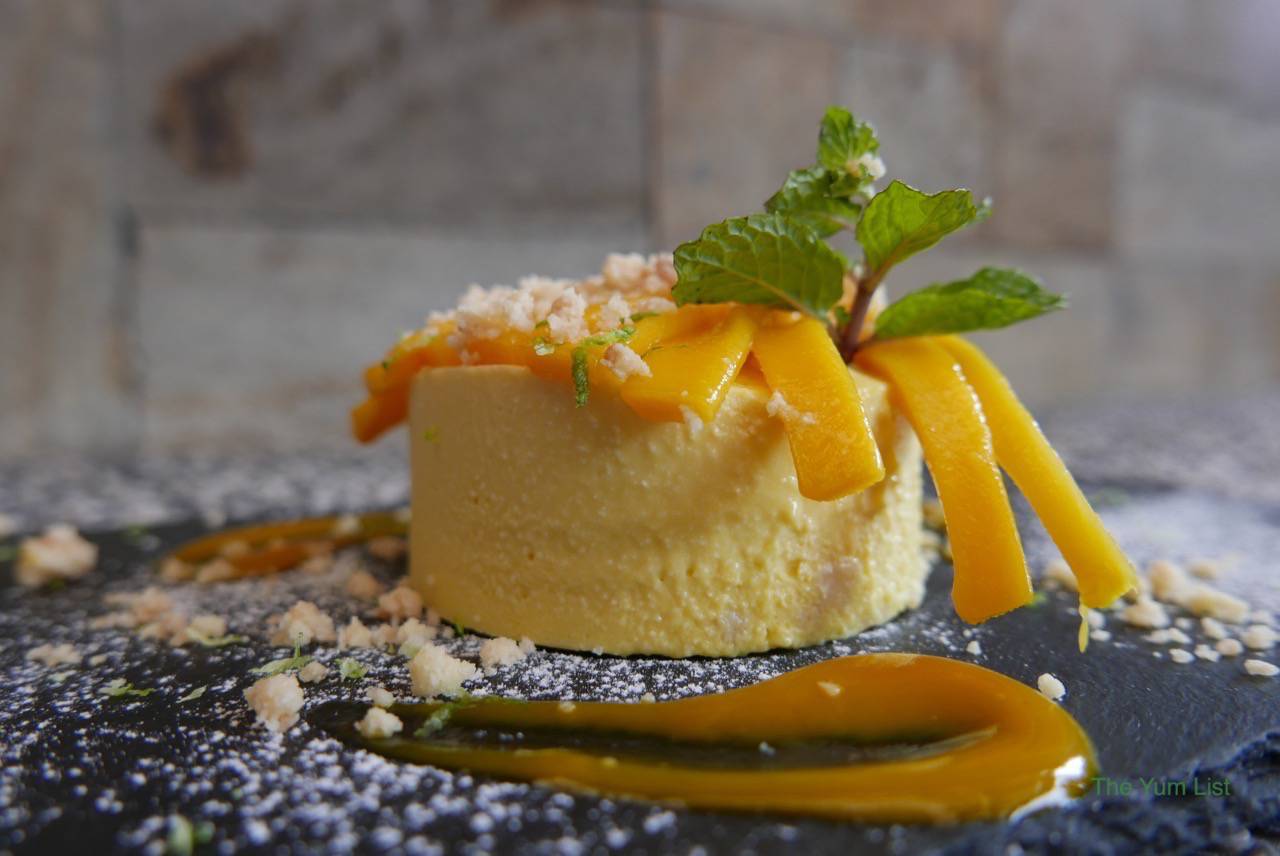 The passion in the provenance of the ingredients shines through here and is reminiscent of the Slow Food Movement. Whether you are an Italian aficionado or otherwise, I would urge you to try this hidden little gem. Perfectly suited for a smart business lunch or a romantic evening meal. I for one will be going back to revisit the delicious ravioli and Sauvignon Blanc as well as Giovanni's wonderful hosting.
Reasons to visit Sassorosso KL: quiet spot tucked away in the centre of KL; fantastic pizzas; excellent wine list with a range of affordable to very fine Italian wines; our favourite dish – the handmade ravioli, and you have to go with the crowd and try the parmigiana too.
*** The kitchen offers gluten-free pasta too!
Sassorosso Italian Restaurant KL
9 Lorong Yap Kwan Seng,
Kuala Lumpur, 50450 Kuala Lumpur,
Malaysia
http://www.sassorosso.com.my/
Sassorosso opening hours:
Sunday to Friday: 12 pm to 3 pm
Saturday to Thursday:  6 pm to 11 pm
Friday and Saturday:  6 pm to 12 am