Heather Onderick & Monica Tindall
The team and restaurant concept has changed completely since our visit. We have not returned to see the latest changes but hear that it is going in a different direction.
What does it mean to be Modern American? I asked myself this question walking into Drop KL in TREC on a Wednesday evening. As an American living abroad, I can romanticize its significance. It means exhibiting an air of worldly knowledge, being well-read across genres and generations but most of all to me, it represents, having a distinct respect for the immigrants that moved and still move to America today to start anew and contribute in all ways possible to the cultural melting pot America is.
Drop KL, TREC KL
When you enter Drop KL, you have a multitude of options to cater to your dining and entertaining needs. If you are single and craving a spiritual cocktail experience, head to the new-fashioned bar sporting soft curved wooden bar stools, an impressive stash of top-shelf American whiskeys and bourbons, and a cultivated bartender, eager to please but also to extend a recommendation based on his breadth of international experience.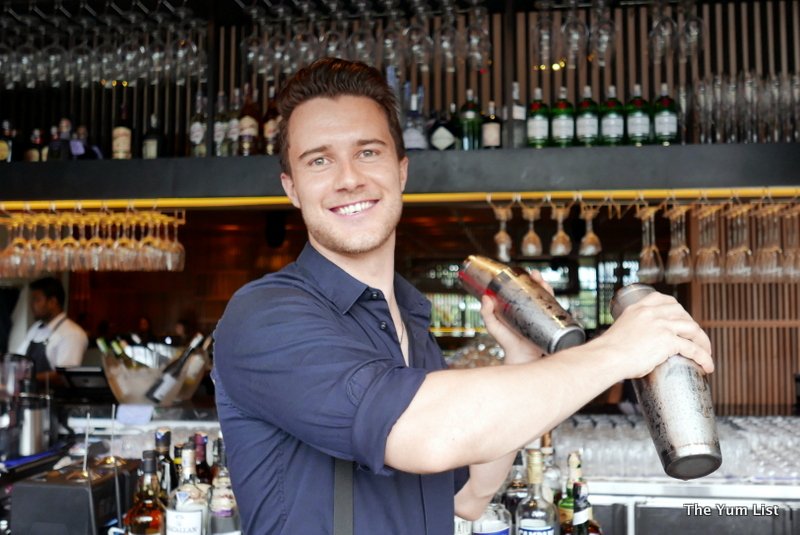 Perhaps, it's date night, so you tuck into one of the cozy corners lining the entryway or off the bar.  If you've had enough of the hustle and bustle of KL, take a seat on the terrace; it beholds stunning views of the sprawling Royal Selangor Golf Club and canvas furniture reminiscent of an LA director's poolside.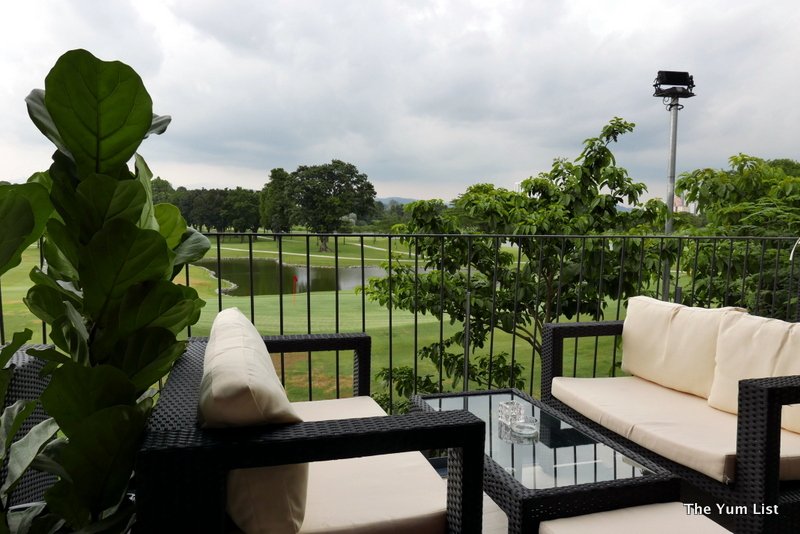 Finally, if you are looking to go back in time a bit, and potentially entertain some important clients in a classy way, reserve a spot in the dining room, set behind the bar, complete with matte black leather booths circa the 1920s. If I haven't convinced you, yet, know that Drop KL stays open late and their kitchen closes at 1 am on the weekends, which make it a great stop post theatre or concert goings.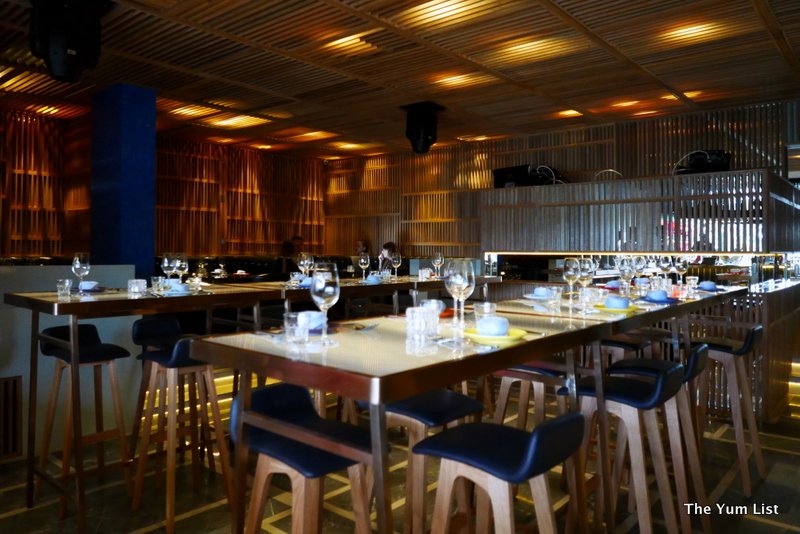 Drop KL prides itself on having Modern American cuisine, a mix of the different cultural elements contributing to the diverse American food scene these days. Executive Chef TJ takes his food a step further because he tries to cater to the rising field to table scene, making healthy plates with unique mixes of flavors. The alcoholic shaman, Tim Clark, works alongside him to balance out the tastes with carefully created cocktails that resemble little works of modern art at times.
Drinks Menu Drop KL
Our first two drinks are house specials. The Apollo (RM 42), derived from the Roman god of medicine, contains fresh cardamom syrup, pomegranate juice, Diplomatico Mantuano rum and a touch of Vermouth. It's well balanced and warming, reminding me of a homemade iced tea with sharp citrus at the beginning and a brush of spiciness midway through. The Unholy Matrimony (RM 37), is made with Strega Liquor, which derives from an Italian town famous for witches who made love potions, Cimarron Blanco tequila and fresh grapefruit juice. A mouthful takes me immediately to a sweet tart candy – perhaps mirroring the name in more ways than one.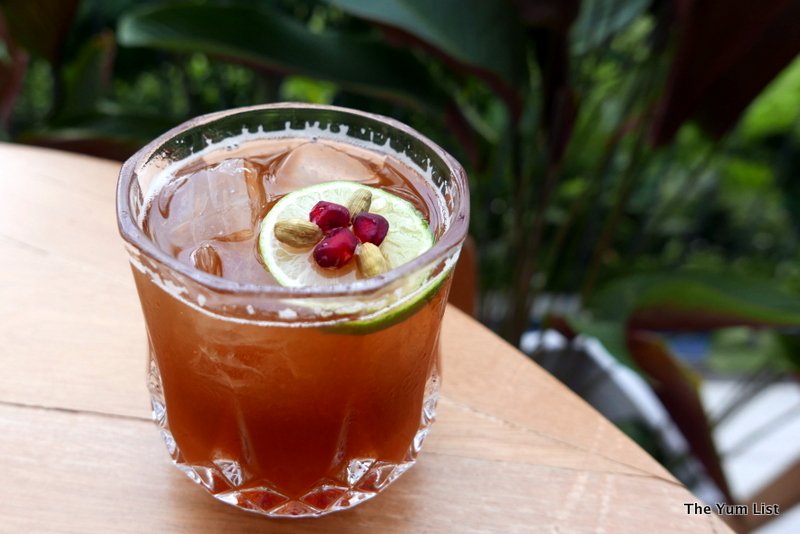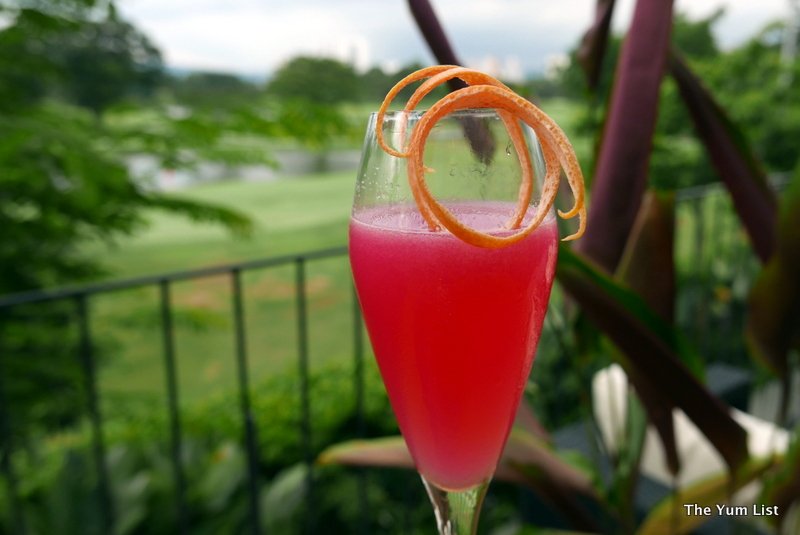 Food Menu Drop KL
The food begins to shuttle out. Initially, it's the Buttermilk Quinoa Salad (RM 35) with tender baby romaine greens, damp with a soft buttermilk dressing, quinoa, grilled artichokes and sliced juicy beets. Chef TJ explains that due to the nature of the US' diverse culinary preferences across regions, the menu unintentionally has some dishes that Americans may place in certain regions. For me, this plate reminds me of the South and a lighter, more sophisticated version of creamed collard greens.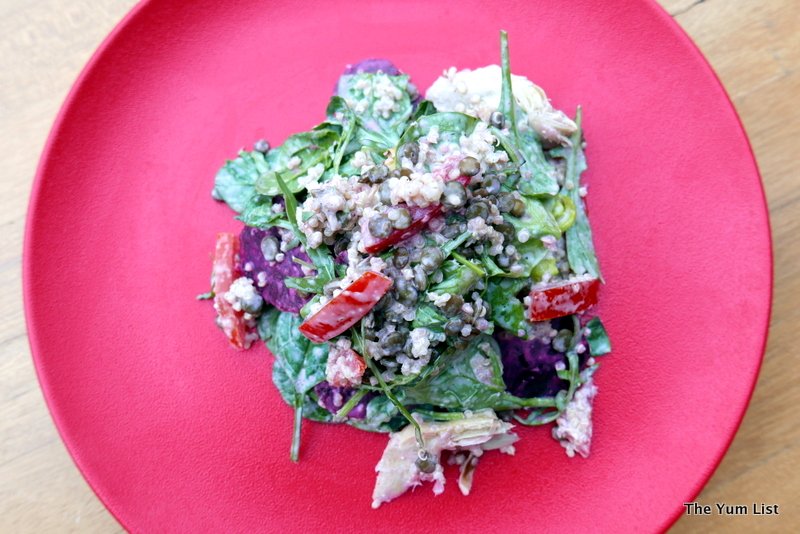 The next plate caters to Southern California health food fans. The crunchy Flax Seed Tuile (RM 24), features a wholesome flax seed flatbread with chia and walnut seeds smeared with white bean hummus on top and served under a bed of herbs, greens and pomegranate pearls.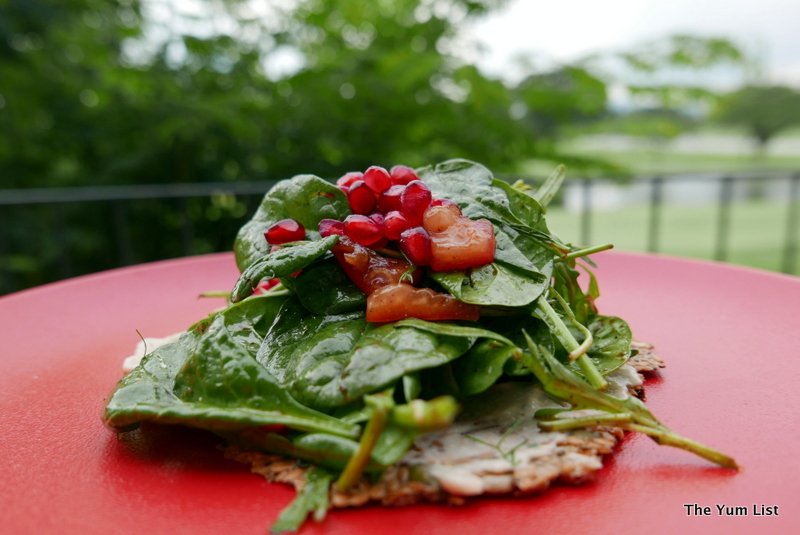 If you are looking for something a little richer, consider the Creole Sweet Potato Pie (RM 42). This includes a lush, whipped sweet potato mash covering a bed of spicy seafood in a creamy creole sauce. This takes my thoughts back to my grandmother's house in New Orleans.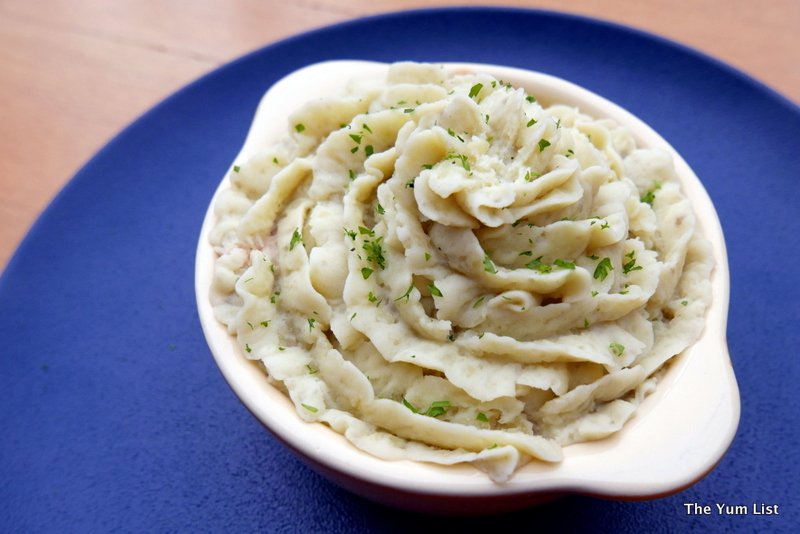 More Craft Cocktails, Drop KL
Before we know it, our drinks are done, and Tim, cocktail maestro extraordinaire, has returned with two goodies: The Mia Vista (RM 36) and The Pilgrimage (RM 39). The former's Cimarron Blanco Tequila, Alipus Mezcal, watermelon, lime juice, and agave syrup take me to a recent bbq where I had savoured grilled watermelon. For those of you who like smoky fruity combinations, this is a winner.  Those appreciating stronger, whiskey-based cocktails will appreciate the latter: a classic ode to European travel, taking you through Scotland with its Isle of Skye Talisker whisky and France with a drop of Creme De Cassis and finally through Italy with Amara Montenegro. Add a dash of sugar, lime juice and a rim that can be adjusted to meet your preference of sweet, dry or sour, and you have a testament to Tim's skills and creative depth.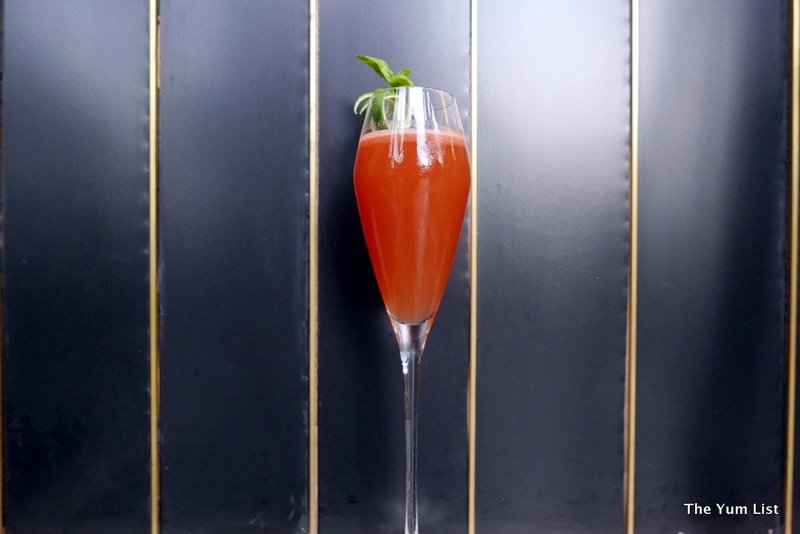 Food at Drop KL
Within minutes, a crusade of plates files out. The Go Ask Alice Rabbit Stew (RM 85) is layered with zesty chilli beans, pulled rabbit, chipotle seasoning and is dressed with a tangy red pepper paste. It's all served over a ground chickpea base. This plate reminded me of a modern take on a seven layer dip, with a good blend of South American and Mexican tastes and textures.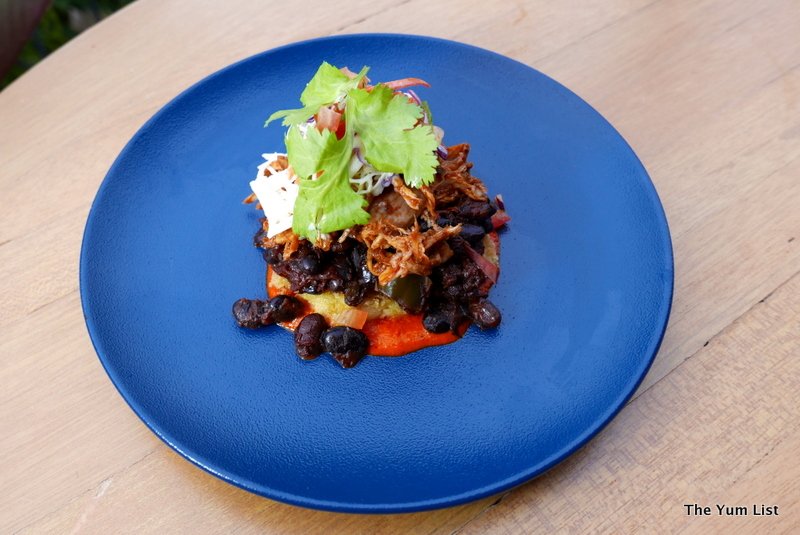 The kitchen also offers a number of tasty flatbreads. We luckily get to sample the premier, Duck Duck Goose (RM 85). It is served with smoked duck, foie gras, prunes, miso and ginger. It's a complex mix of sweet, salty, creamy and sour and Caning thinks it pairs well with his American craft beer. Another option going well with the icy cold beer is the Mary Had a Little Lamb Burger (RM 29) with creamy goats cheese, tangy lime aioli and red pepper.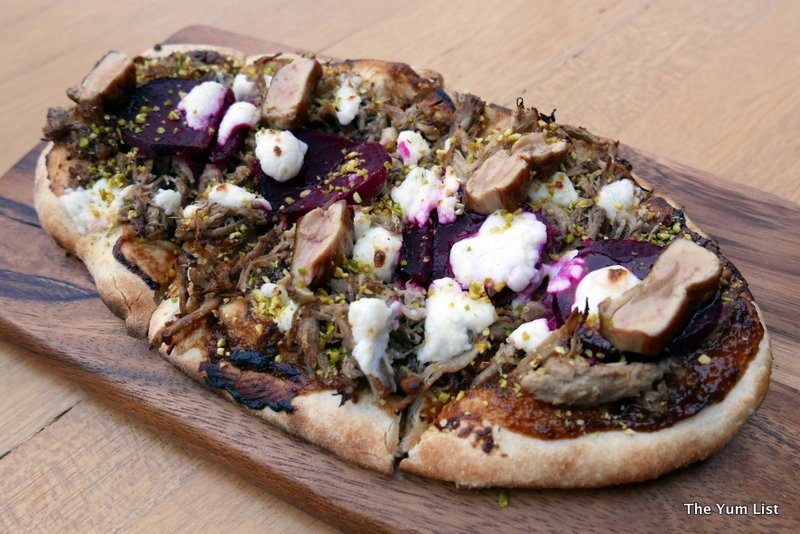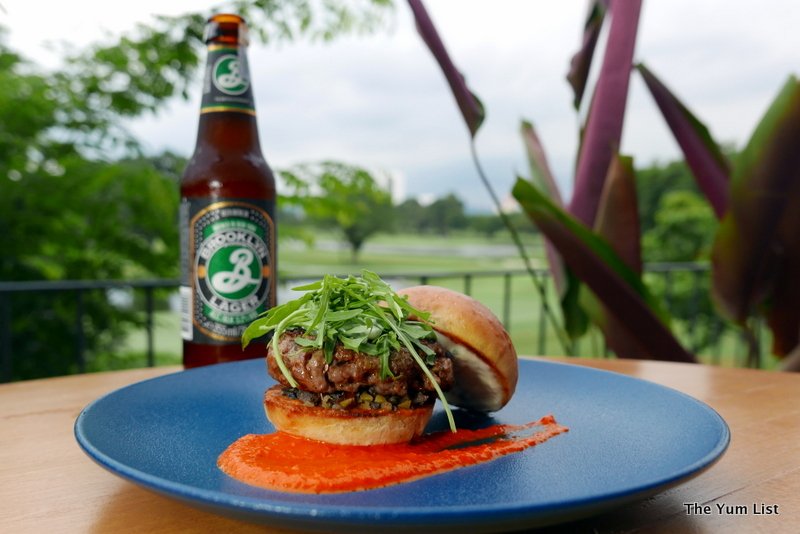 We end the meal with a wonderfully unique dessert, Stuffed Apricots (RM 15). It consists of beautiful amber colored poached apricots, mascarpone cheese, chocolate, and crushed pistachios. It's a hit, light, fresh, creamy and each one is done in a single bite!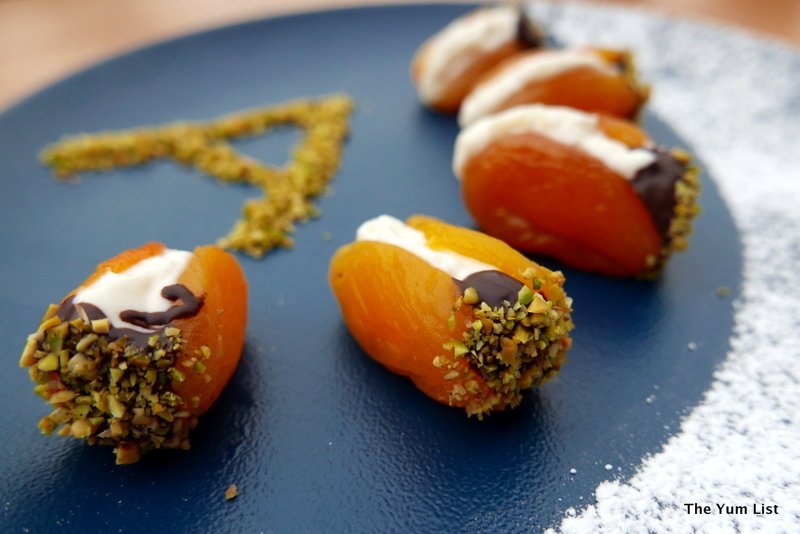 Organic, Biodynamic & Sustainable Wines at Drop KL
There is one more wonderfully Modern American aspect at DropKL: general manager and sommelier, Alison Christ, a Brooklyn native with an impressive resume of globetrotting and knowledge of wine, food and beverage and much more. She has curated a beautiful wine list with a solid selection of biodynamic, natural, organic and sustainable wines. We sample a Riesling Semillon Blend, the Tangerine Dream by Small Fry Winery in the Barossa Valley. Cloudy amber in the glass, the wine wafts aromas of orange peel, spice and whispers of nuttiness. It's round and dry in the mouth with some grainy tannins – a good introduction to natural wines. Whether orange wines are your thing or not, Drop KL has 25 wines by the glass – an impressive list for an independent restaurant.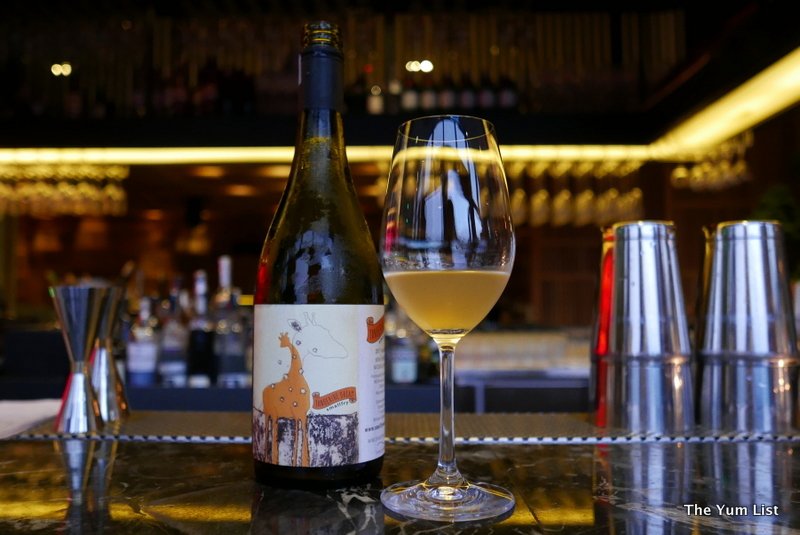 Catering to a variety of occasions and needs, Drop KL is definitely worth a visit if you are into exploring the emerging F&B scene in Kuala Lumpur. The charming and knowledgeable staff will help create an experience for you that you will not forget. Whether you are a wine, beer or cocktail drinker, someone will be there to recommend something special to cater to your palate and the light eats will more than satisfy your taste buds' needs.
Reasons to visit: Fantastic location – views, views, views; expertly curated drinks list – both craft cocktails and wines are sure to impress; modern American food menu.
Drop KL (to the left of Wine Connection)
The Terrace TREC 3
438 Jalan Tun Razak
50400 Kuala Lumpur
Malaysia
www.dropkl.com
+60321104343
[email protected]
Opening Hours
Sun & Mon: Closed
Tue to Thur: 5 pm – 1 am
Fri & Sat: 5 pm – late