Words: Kirsten Durward   Photos: Monica Tindall
When living elsewhere, one can reflect on the many joys of KL life, not least the variety of delicious food available, and of course my wonderful Yum List experiences. A short trip back offers so many delights and opportunities. Just this morning, Monica asked me what I had been craving for, and the answer was – fish and seafood. How perfect then, that we should be dining tonight at the delightful Fisherman's Cove KL in Feast Village, where there is literally nothing else on the menu.
Cheerful Chef Wai, announces that he has selected dishes for us, much to our delight, as we are often overwhelmed with the choices presented on a menu. Do we mind starting with fresh oysters and progressing to salt-baked sea bass via poached lobster? No, indeed we do not! But Chef has also been a little naughty and has some surprises in store for us!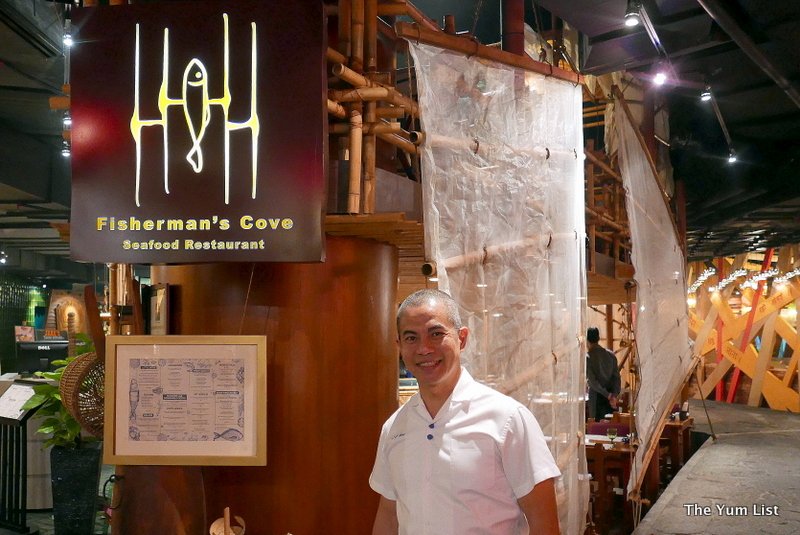 Wine Menu Fisherman's Cove KL
Fisherman's Cove offers a range of wines by the glass, red, white, rose and sparkling; something I always look out for as I often travel and dine alone. Tonight we opt to be traditional and try two of the proffered whites alongside our fish and seafood menu.
The dark colour of the Gerard Bertrand Reserve Viognier (RM 38) is pleasantly resonant; fresh and fruity with notes of honeysuckle, peach and orange blossom. The wine is a lovely accompaniment to the slightly stronger flavours of the tiger prawn skewers and lemon buttery lobster (more on these to come).
Allan Scott Sauvignon Blanc (RM 43) is a typical mid-range Marlborough Sauvignon with the expected notes of lychee and passion fruit, with citrusy and herbaceous overtones. Light in the mouth, it follows the salty tastes of oysters well and holds its own with the meatiness of the salt baked sea bass.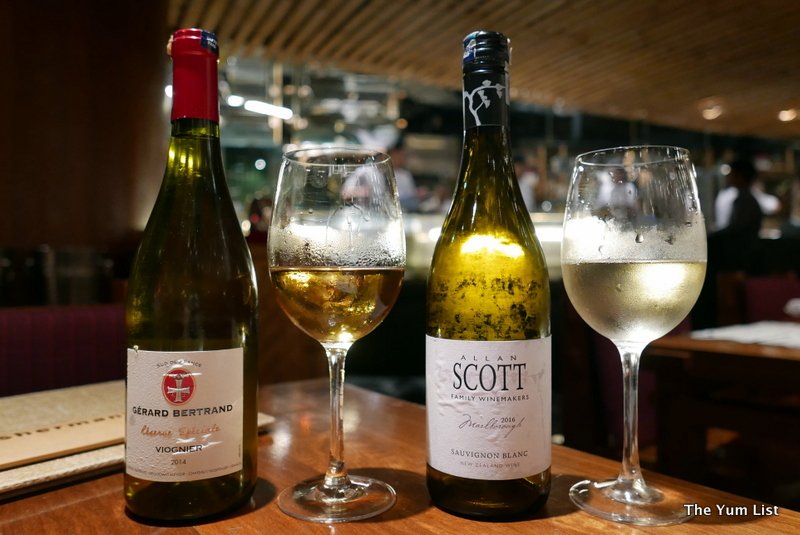 Seafood Menu Fisherman's Cove KL
Shucked Live Canadian Oysters (RM60 for 6) arrive accompanied by cocktail sauce, vinaigrette, lemon, and Tabasco. Preferring a clean hit, we dive straight in, slurp and the deliciously salty freshness is down, followed by a sip of wine, perfection!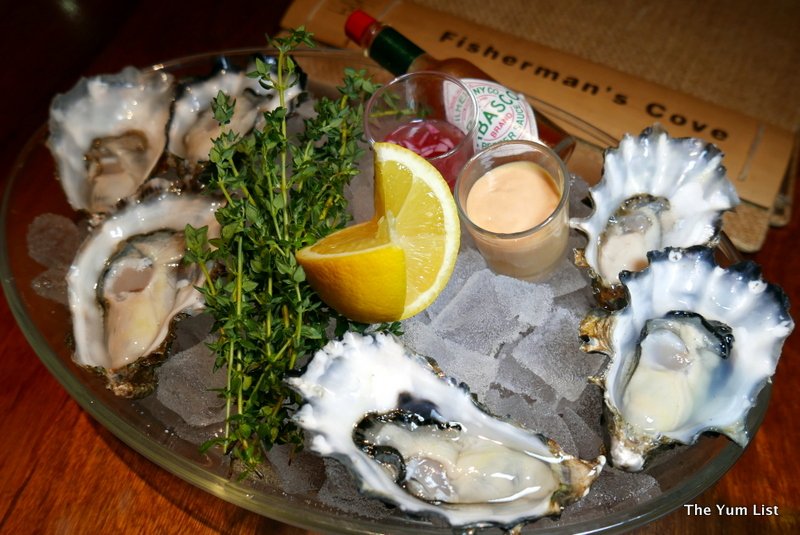 Chef sneaks in two dishes from the 'Little Bites' section of the menu (RM 28 per dish). It is clear that his understanding of 'little' is far from mine. Crispy Calamari is the first to arrive; a bucket load of soft white loops delicately fried in light batter, with a choice of dipping sauces. Togarashi Tiger Prawn Skewers follow in short order and we both ooh over the exotic savouriness of these large juicy specimens as we bite in eagerly. They're some of the most delicious skewers I have tasted to be sure! Hard to stop nibbling but there is more to come…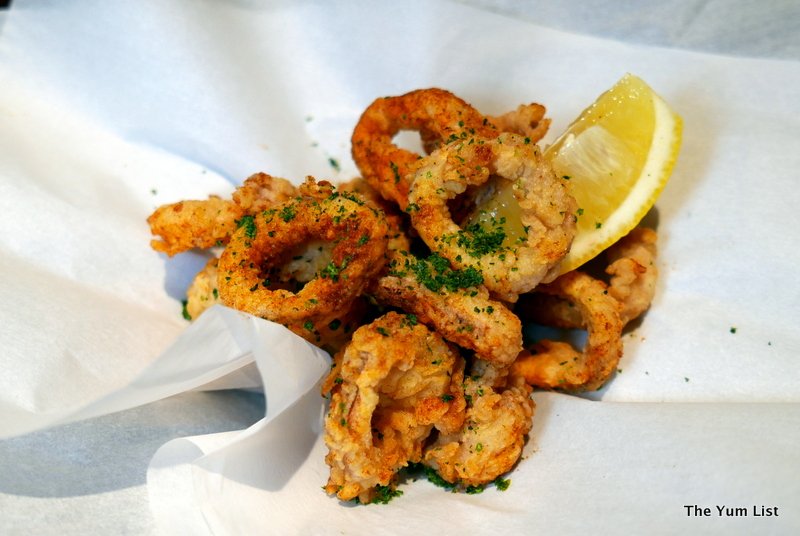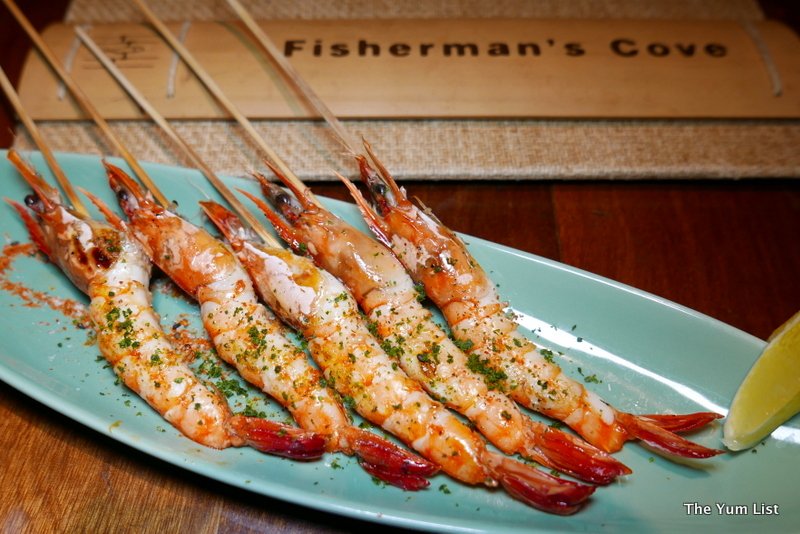 Mains Menu Fisherman's Cover KL
Live Boston Lobster (RM218/650grams) comes with a choice of preparations; ours is classic lemon butter sauce. The claws are cut and it is easy to dig out the sweet flesh, the tails are impeccably cooked, the meat clean and firm. Chef clearly knows his timings. We chomp away happily, pausing only to wipe away smears of delectable lemon butter from our faces. Bliss!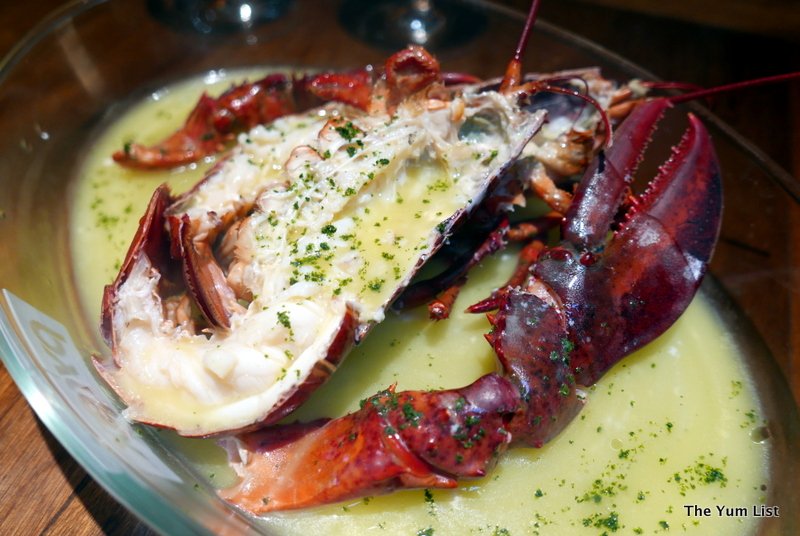 Salt-baked fish is one of my all-time favourite dishes, and the Fisherman's Cove herb infused Salt-Crusted Sea Bass does not disappoint. Waiting patiently as the crust is chipped away, Monica painstakingly documenting every step, I am happily rewarded with forkfuls of steaming white flesh, deliciously flavourful and balanced ever so nicely by the accompanying fresh mesclun salad.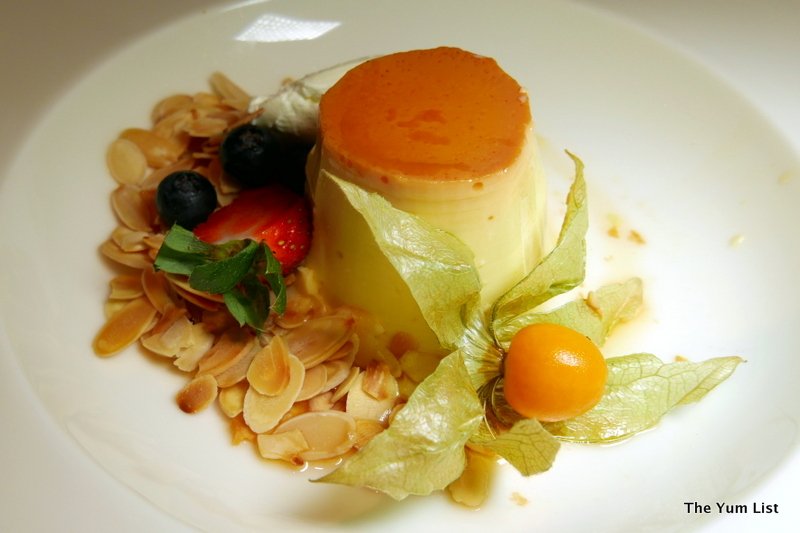 Fisherman's Cove KL Review
Once again we have been over-fed and this amount of protein should really only be attempted by four people. We are missing Caning's appetite as we have no doubt that he would have polished off everything in sight with his signature exclamations, "Outstanding! Fantastic! Amazing!" As it is we are so replete and sleepy, that we are glad our lovely poolside room at the J W Marriot Kuala Lumpur is only a few floors above. The splendid seafood at Fisherman's Cove has been a wonderful addition to our 'staycation' weekend (more on that in a future post).
Reasons to visit Fisherman's Cove KL: Delicious fresh seafood impeccably cooked, decent range of wines by the glass.
* Check out some other yummy items from the Fisherman's Cove menu in a previous visit here.
Fisherman's Cove KL
Seafood Restaurant Kuala Lumpur
Feast Village, Starhill Gallery
181 Jalan Bukit Bintang
Bukit Bintang, 55100 Kuala Lumpur
Malaysia
www.feastvillage.com
+60 3-2782 3875
[email protected]
Opening hours:
Monday – Sunday: 12:00pm – 3:00pm | 5.00pm – 10.00pm