Words: Chris Moore     Photos: Monica Tindall
Perched high above the congestion of KL's busy streets and far beyond the reach of the hustle and bustle of PJ lays perhaps one of the city's newest and best-kept secrets. Picture a clear city night with the glimmer of lights flickering in every imaginable direction – your eyes catching shimmering streetlights and tail lights for as far as you can see – from the far stretches of Sepang to the towers of KLCC. If you can somehow envision this, then you have an incredible imagination, yet if you cannot grasp the magnitude of this than perhaps you ought to venture to the New World PJ Hotel and check out PJ's Bar & Grill, because the rooftop bar on the 30th floor of the new 5-star luxury business hotel offers just these views. The outdoor bar and restaurant boasts unobstructed 360° views of KL and the surrounding municipalities – but trust me, you're not coming for just the views because the food and drink at PJ's are equally as good.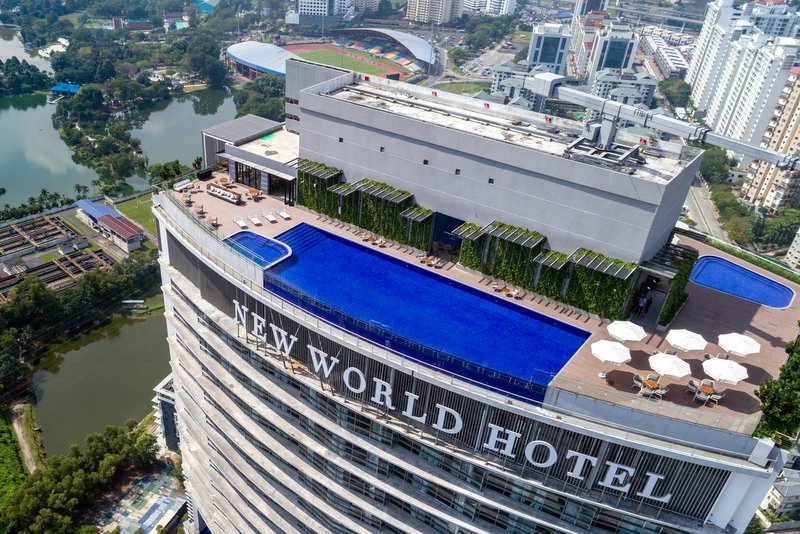 Marketing itself as a craft cocktail bar, the options for food and drink epitomize the opulence and magnitude of the surroundings. With a good selection of wine by the bottle and the glass, plus a variety of single malt and blended whiskies to choose from, the standard options for libations are readily available. However, the open aired patio and surrounding infinity pool beg for more than just standard – they demand something far exceeding the norm.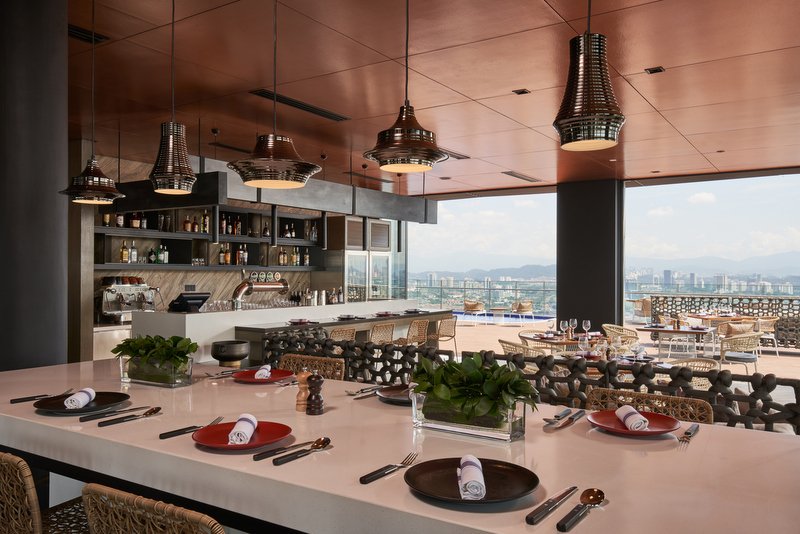 Drinks Menu PJ's Bar & Grill
The cocktail options at PJ's are equal parts extravagant and delicious, with some offering intimate touches to the all-time classics and others creating beautiful combinations of flavour and presentation. The Whisky Sour (RM35) for example, which is made with Jim Beam, fresh orange and lemon juice, simple syrup, and fresh ginger, is brilliantly balanced between the smoke from the bourbon and spice from the fresh ginger and goes down far too easily and quickly under the Malaysian night sky. On the other end of the spectrum, the Pineapple Ginger Margarita (RM35) has the perfect amount of sweet and is bursting with citrus and tropical characteristics from Jose Cuervo Gold, Triple Sec, lemon ginger honey, and fresh lime juice. Unlike the classic though, PJ's margarita is shaken and served over a glassful of crushed ice and freshly chunked pineapple.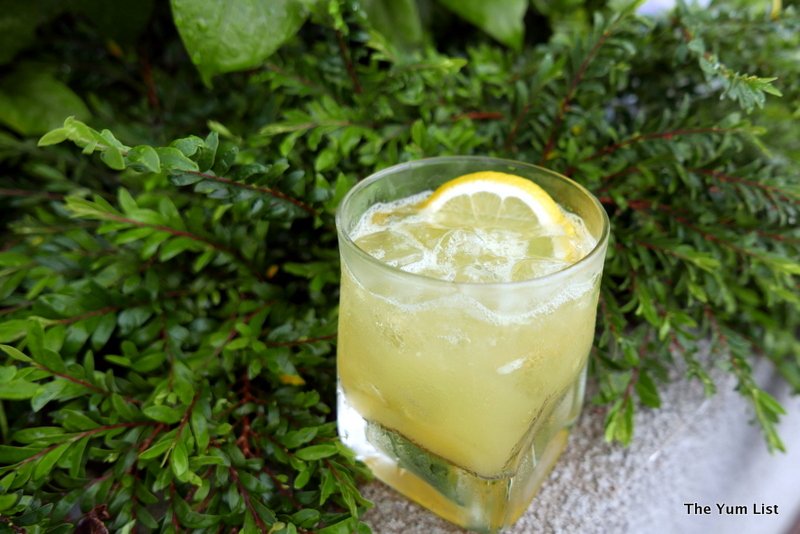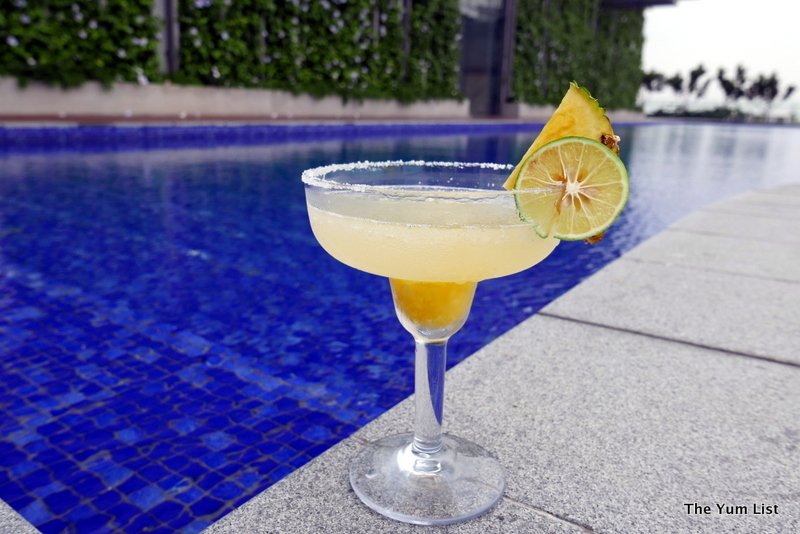 Should neither of those suit your fancy, there is also PJ's Spritz (RM35) which is made with Aperol, Bianco, prosecco, Angostura bitters and fresh mint. The fresh mint and citrus bitters take the traditional spritz up a level but add to that the fact that this is not topped up with anything other than prosecco, and you've got something altogether magical. Finally, PJ's transformation of the Negroni (RM35) is divine. The traditional Negroni is normally made with gin, but in an attempt to do things differently PJ's Bar & Grill makes theirs with Jose Cuervo Gold, Aperol, Martini Rosso, and Angostura bitters. The smoky, woody flavour of the tequila combines delightfully with the bitterness of the other liquids.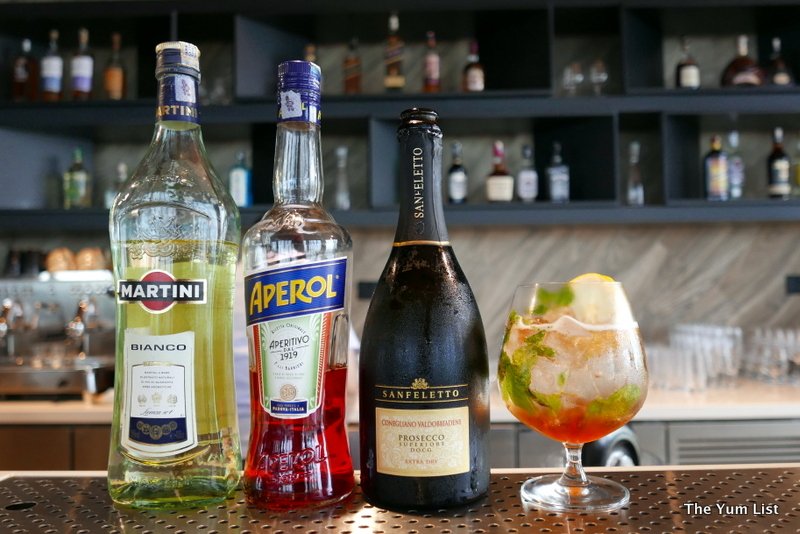 However, should you really want to elevate things to match the altitude of the bar, then I say go for one of PJ's Champagne-based cocktails. The Kir Royal (RM95) for example is a gloriously fruity cocktail made with Taittinger Reserve Brut and Crème de Cassis. The drink explodes with the essence of blackcurrant and is incredibly refreshing. If you are looking for something less fruity but equally as quenching, you can't go wrong with the rum-based Airmail (RM95). Made with two varietals of rum – Bacardi Carta Blanca and Myers Dark – and topped with Taittinger Reserve Brut, this drink is big, bold and delicious. Perhaps the best option though is one that is so good that it needs to be specially requested. Think of an amplified version of a Dark & Stormy, and take my word for it, order the Old Cuban (RM95). Made with a base of Myers Dark rum, fresh lime juice and mint and topped with Taittinger Reserve Brut, PJ's version of the timeless and often forgotten classic is beyond anything else you will drink (lover of both rum and Champers, this is one of Mon's favourites and she made sure that it will not be forgotten ;-). Everything about this drink is incredible – from the creamy bubbles to the sweet and sour combination of the rum, the citrus and the fresh mint.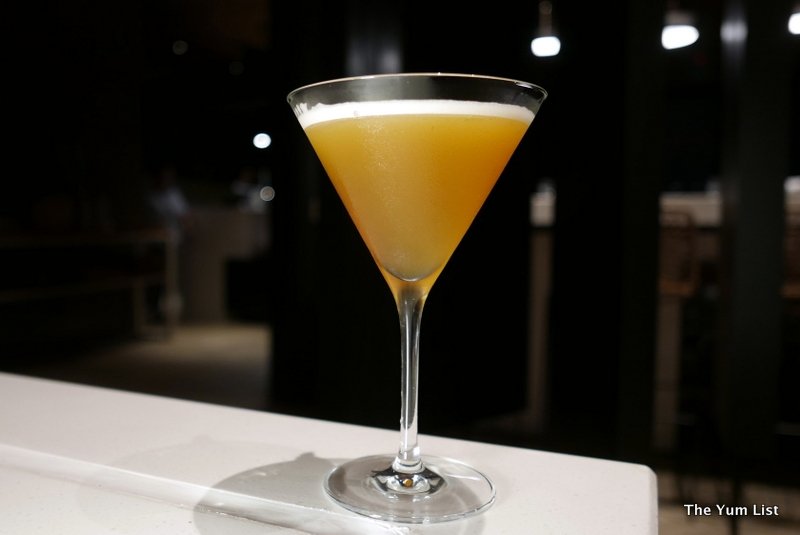 Food Menu PJ's Bar & Grill
Now, you'd be amiss to think that the dining options at PJ's Bar & Grill aren't as appetizing and mouth-watering as the drinks. Offering a diverse array of appetizers and main course items, plus a few options that are meant for sharing, you are bound to find something, or better yet, multiple things that will satisfy your cravings. For example, the homemade Baba Ganoush (not a regular menu item) with freshly baked bread rolls is thick and hearty and has an unbelievable combination of spice and flavours, while the Marinated Salmon (RM28), served with saffron sour cream, fresh dill, arugula and capers is cured in-house and is amazingly fresh and delicious.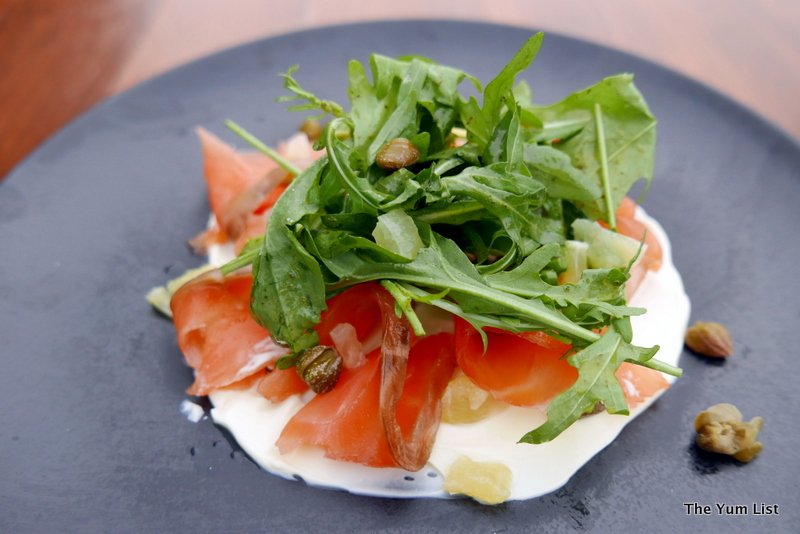 Should something hot and fresh out of the deep fryer be more what you're in the mood for then you can't go wrong with either the perfectly crunchy Crab Cakes (RM28) served with a spicy Sriracha remoulade, chive oil and fresh corn and tomato salsa or some of the most delectable Chicken Wings (RM26) that you will find in Malaysia. The wings are fried with curry leaves and chillies and are coated with an unbelievable house-made sweet and spicy barbecue sauce. If you can't decide between the two – just get them both. But, make sure you also save room for the Crabmeat & Shrimp Aglio Olio (another off the menu item). The elegantly presented dish served inside a mortar is as scrumptious as it is beautiful, with huge succulent shrimp, heaps of pine nuts and lots of fresh chillies.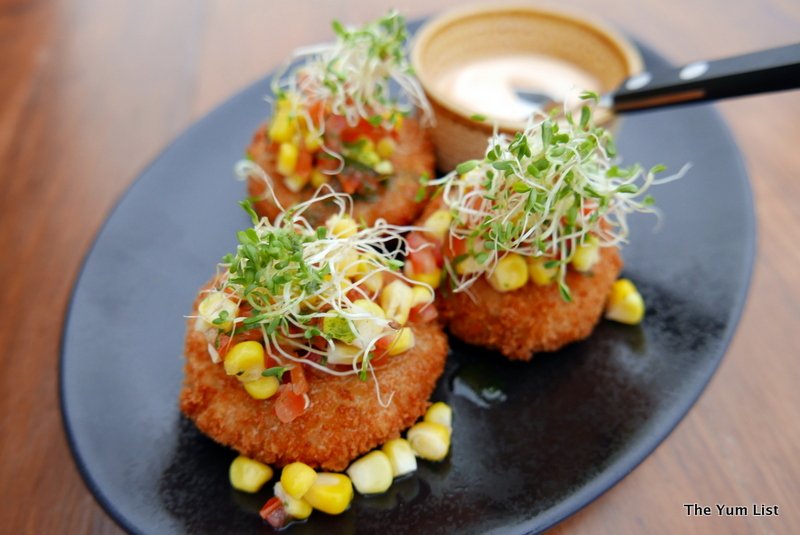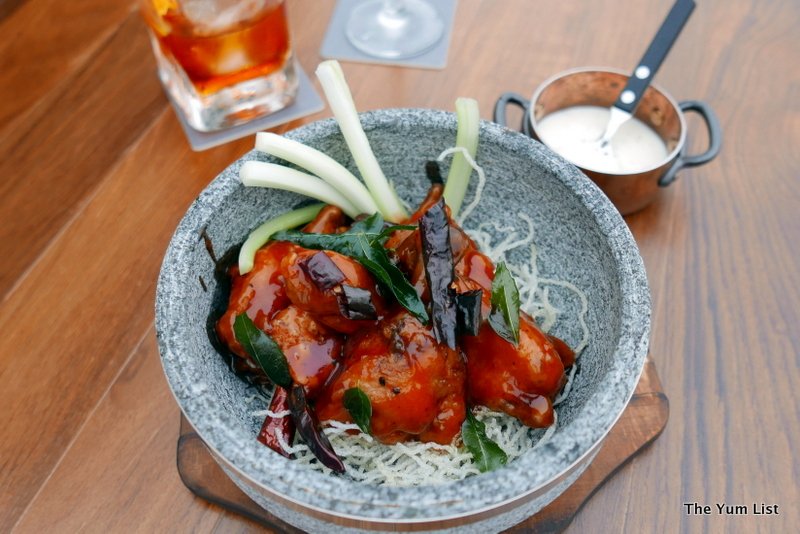 For those who might be looking to share a few different options with a dinner date, or for those with an insatiable appetite for meat, the Jumbo Satay (Chicken (RM28); Beef (RM38)) and PJ's Party Platter (RM38) are excellent choices. The satay is presented exactly as advertised – jumbo, with huge chunks of tender beef or chicken sausage grilled perfectly on what could double as mini samurai swords; and the party platter is a heavenly assortment of deep-fried delicacies, including breaded crab cakes, soft-shell crab, double fried french fries, and crispy wonton chips, all accompanied by an assortment of Asian dipping sauces. The flavours and textures from all of the different meats and sauces are all well-suited to my palate, so much so that might I suggest that if you are in search of the perfect meal, order the satay and the platter and wash it all down with a few Old Cubans!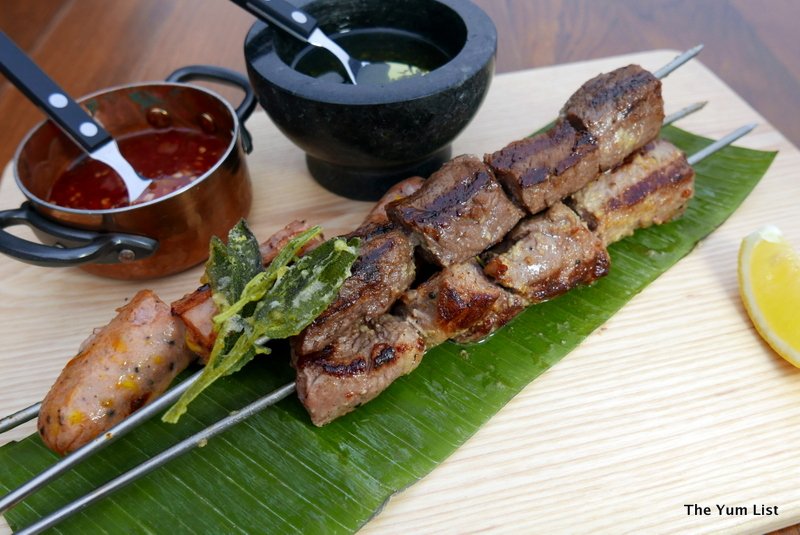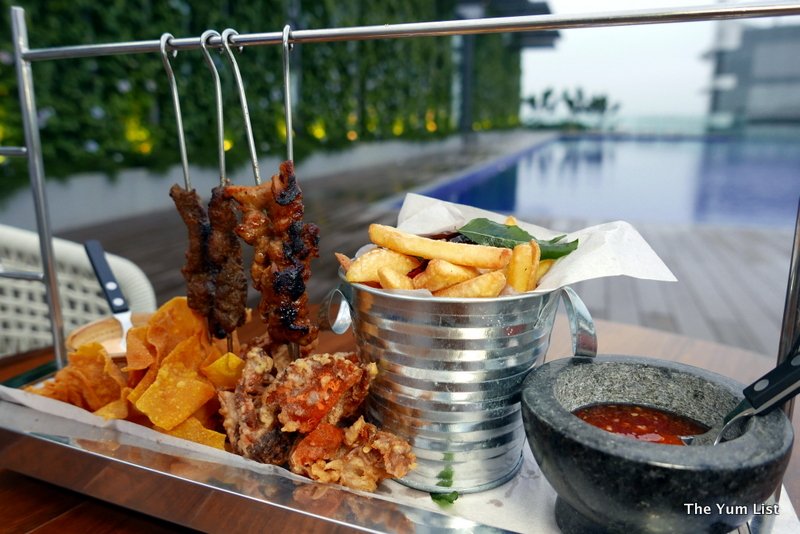 Dessert Menu PJ's Bar & Grill
While the decadence and appeal may first appear in the rooftop drinks, keep in mind that the dessert options at PJ's Bar & Grill are not something to be overlooked. For a more traditional offering, the Classic Vanilla Crème Brûlée (RM28) served with almond biscotti is rich, creamy and erupting with aromas of fresh vanilla. If you seek something a little less conventional, try the Gluten-Free Chocolate Tarte with Homemade Macadamia Nut Ice Cream (RM25). Plated with fresh strawberries, the chocolate ganache is pure bliss – rich and deep in flavour and complimented nicely by the sweet and nutty ice cream. Warning though, as much as this dessert is intended to be shared, I would advise against it because someone is inevitably going to walk away miffed by not getting the last bite.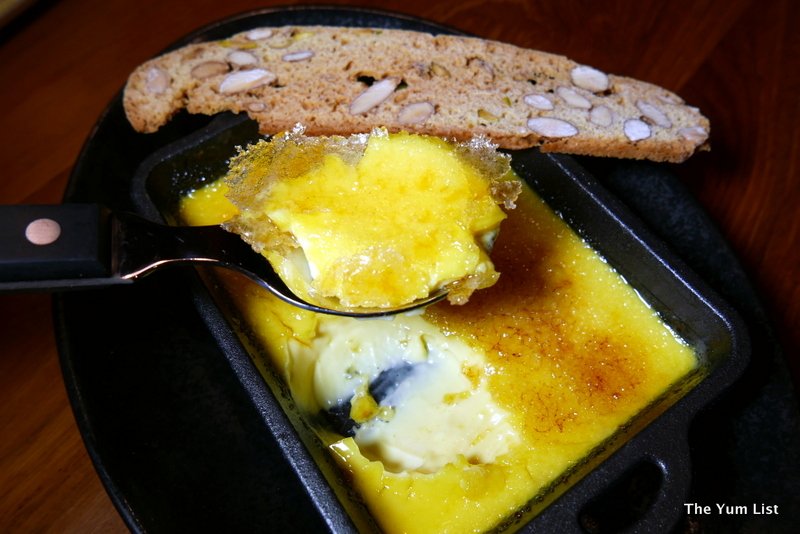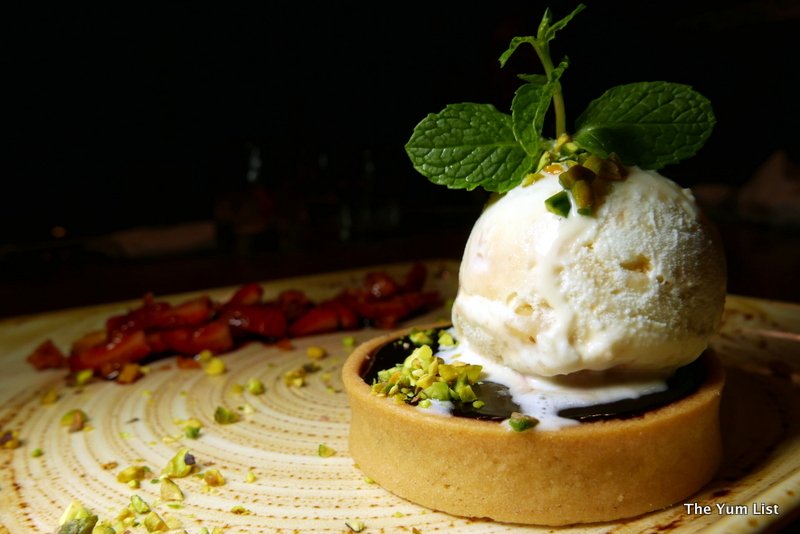 Reasons to visit PJ's Bar & Grill: The views are unprecedented in KL, and on a clear night you will be left breathless by the contrast of the KL's skyline lights on black sky; the crafty cocktail concoctions– specifically the Old Cuban and Negroni; the chicken wings are some of the best I've eaten in KL and the PJ's Party Platter is fried food euphoria.
PJ's Bar & Grill
30th Floor – New World Petaling Jaya Hotel
1 Jalan SS7/26A, Kelana Jaya
47301 Petaling Jaya
Malaysia
+60 3 7682 0000
petalingjaya.newworldhotels.com
Opening hours PJ's Bar & Grill: 11:30 am – 11:30 pm daily