Words: Tania Henry    Photos: Monica Tindall
Nestled at the end of a suburban street tucked away from the bustle of KL's city centre stands the authentic and lovely Italian restaurant, Luce Osteria Contemporanea. Our chef Christian Grandi, on his day off no less, greeted us out the front of this beautifully restored Mediterranean style restaurant. He led us past the hanging wooden cheese boards, the rustic brick feature wall, the certified Italian pizza oven in full flame and the extensive selection of imported cheeses and salamis provocatively lying behind a glass display. Up the winding staircase, we came onto the dining room and bar lined with an array of spirits and a glass cabinet of regional imported Italian wines. The Palladian windows, high ceilings, wooden floors and open-door to the back terrace allowed for a cool breeze to flow through the restaurant. With romantic Italian ballads playing softly in the background Luce's ambience would make for the perfect first date.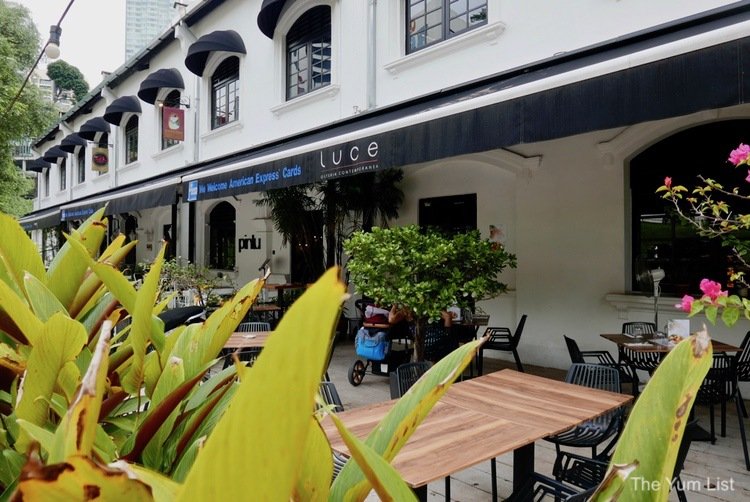 Drinks Menu Luce Osteria Contemporanea
While we flirted with the many options on the extensive drinks list we had to choose three to start, a Prosecco Vigneto Dirupo Superiore Extra Dry (RM44), the Perfect Gin & Tonic (RM40) and the restaurant's signature, a Luce (RM33). The Luce was a refreshing blend of Aperol, Bombay gin, ginger puree, lemon juice, tonic, fresh sprigs of mint and slices of orange, sweet at first with a bitter aftertaste. The Perfect Gin and Tonic was just that -Tanqueray gin, tonic water, plenty of crushed ice and an element of mystery with a secret ingredient, shhh I won't tell if you don't! For the cherry on top, or more accurately, at the bottom of the glass, a sweet and fruity prosecco from a small family-run winery, Andreola in Northern Italy.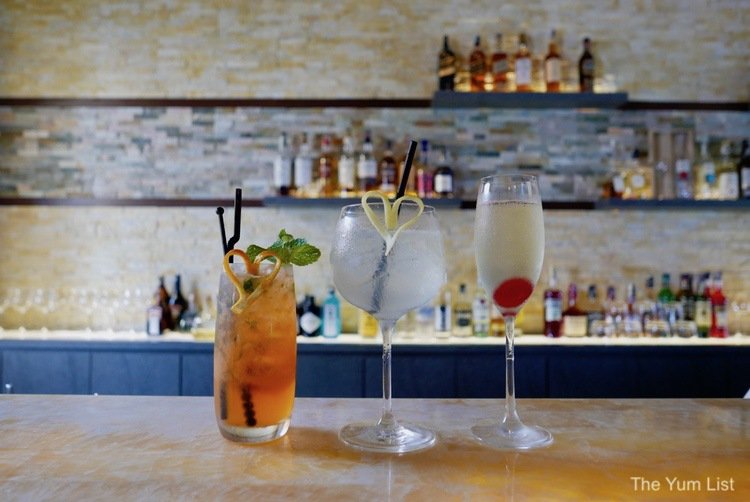 Luce Osteria Contemporanea Menu
The food can only be described as a smorgasbord of the senses. Not the bland and more-than-suspect cruise ship buffet but the Luce kind of equal parts excellence in quality, detail, ingredients and choice. To start, we devoured a carnivore's dream, the Grigliata Mista for two (RM138). A ginormous chopping board held smoked duck breast, pork mince engulfed in pork belly, beef ribeye grilled on the edges and pink in the middle, smokey bacon (yes real bacon!) and my personal favourite the chef's pork sausages, minced pork neck, garlic and rosemary. To accompany the meat was a homemade delicious black peppercorn sauce and an array of seasonal roast vegetables, courgette, eggplant and crispy-on-the-outside soft-on-the-inside rosemary potatoes. The flavours of tender mouth-watering steak, mixed in with woody, smoky tones of the bacon and the unmistakably quality pork mince sausages was honestly bliss for a meat lover like me!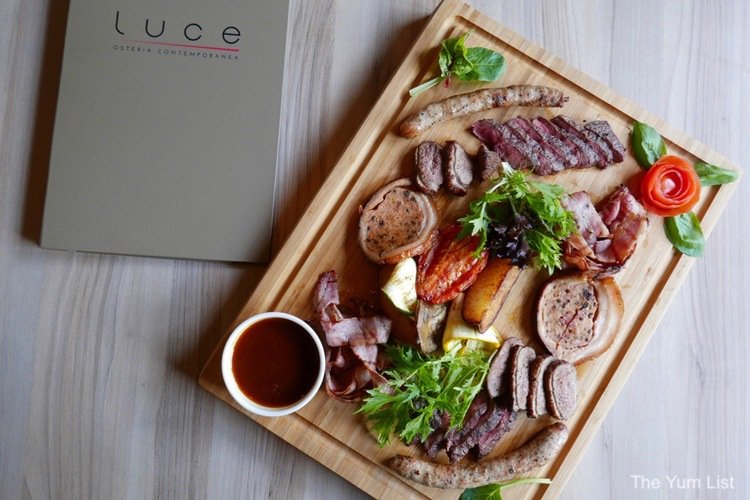 The Bruschetta Grassa (RM28) was the best of its kind, roasted homemade garlic bread, chopped cherry tomatoes, slithers of red onion, Roman porchetta drizzled in olive oil and finished off with droplets of balsamic vinegar. The Prosciutto e Melone (RM62) reflected Italy's traditional summer dish with salty Parma ham wrapped around sweet slices of rockmelon; the taste strangely resembled a boxing match with the sweet and salty flavours furiously competing for my attention. Next, a freshly made spinach ravioli gently pressed around fluffy parcels of baked eggplant and burrata cheese in a tomato and basil sauce, the Ravioli alla Melanzane (RM44).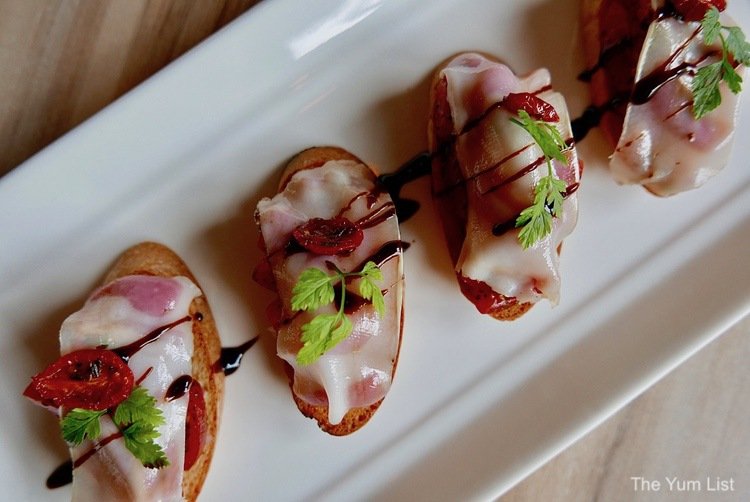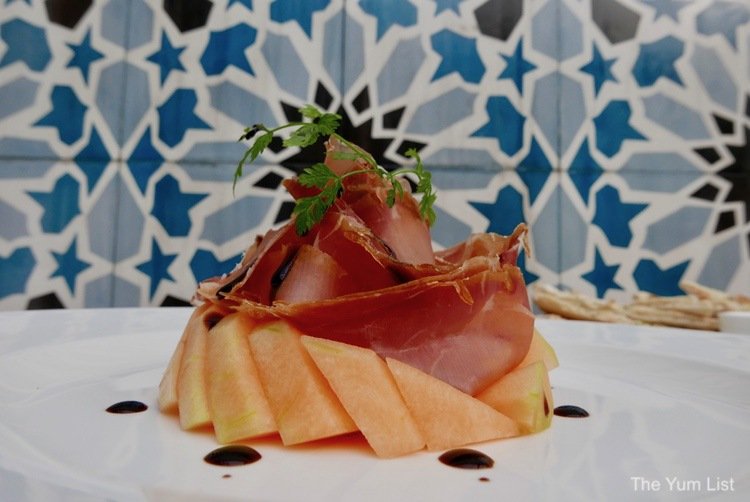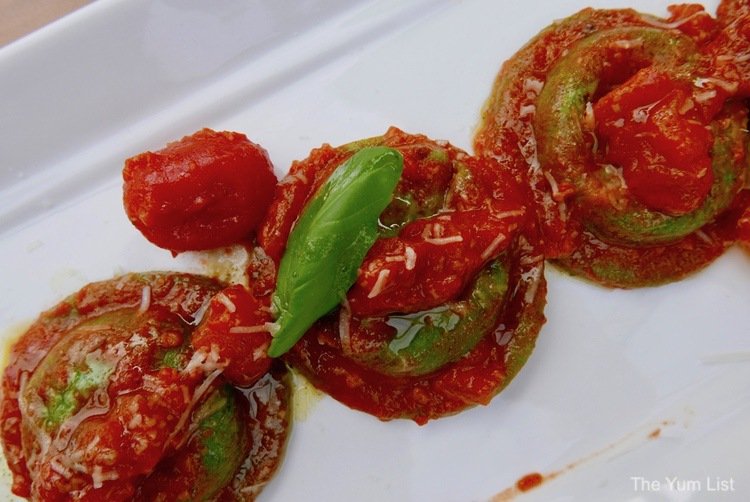 Some Say This is The Best Pizza in KL
Finally, we ended with a couple of pizzas and a chilled Peroni Nastro Azzurro beer (RM28). Can you think of a better combination? As we cut into the Pizza Sole (RM98) the clump of Burrata sitting on top popped like a poached egg oozing deliciously melted cheese all over the bed of rocket, sliced tomato and warm pizza dough. I enjoyed pulling off the rays of the sun and stuffing melted cheese, olives, tomato and rocket into the pockets of crusty dough. A contrast to the tomato base was the Biancaneve (RM62). With white truffle paste, porcini mushrooms, buffalo mozzarella and arugula, this pizza was rich in flavour and literally melted in my mouth.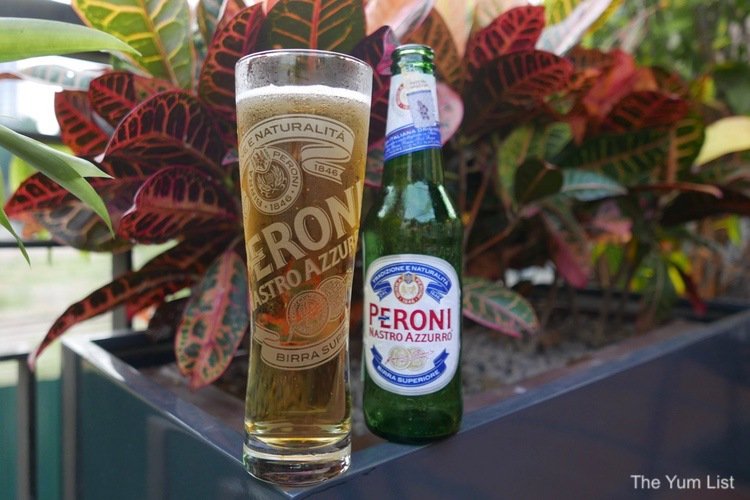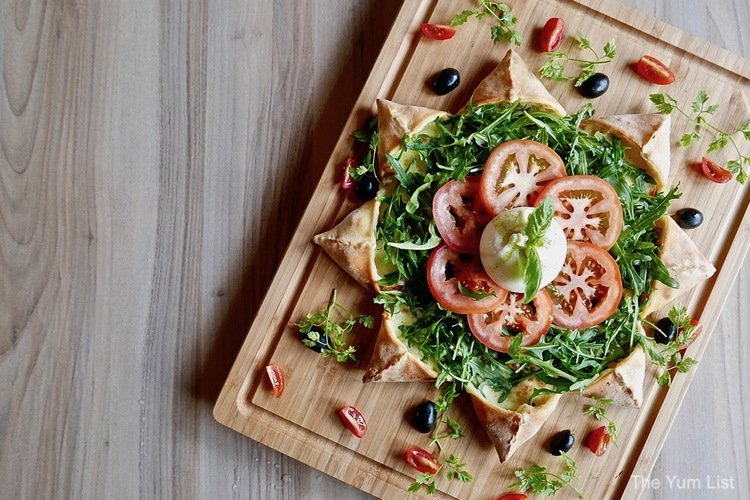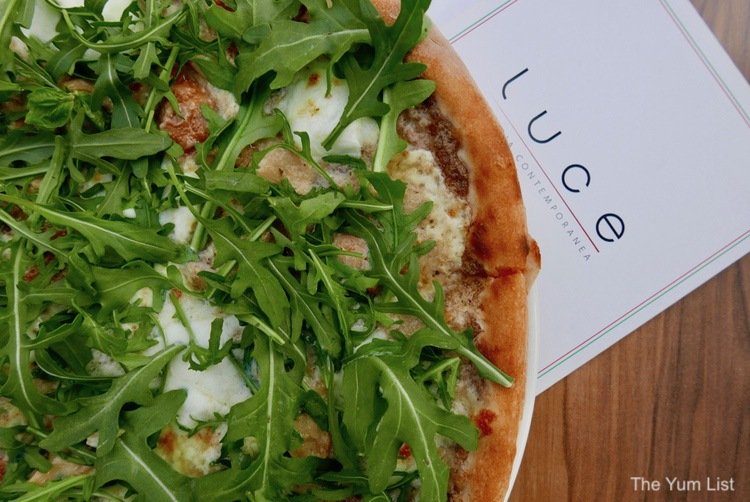 Homemade Limoncello at Luce Osteria Contemporanea
After dinner, we opted for a change of scenery and stepped outside to the pretty little back terrace. With blue patterned mosaic tiles, potted plants, an uninterrupted view of the KL tower, and can you believe it birds chirping (?), it was the perfect spot for a Homemade Limoncello (RM22). Christian talked us through his concoction as we sipped, explaining his process of soaking lemon skins for 45 days to give his blend the most glorious bright yellow colour. For us, it was the ideal seesaw between of sweet and tangy.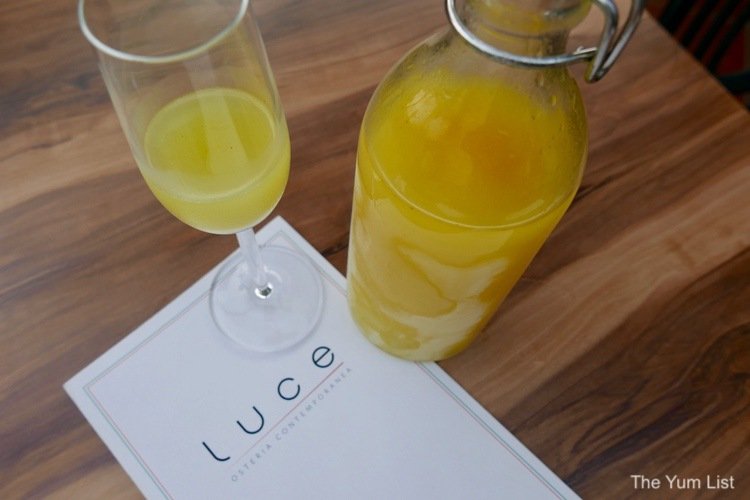 Italian Dessert Menu Luce Osteria Contemporanea
To further add delight to the evening we tasted a range of Christian's desserts. The caramel tones of a Semifreddo al Mascarpone (RM28) mixed in with dried apricots, cherries and cream was a refreshing start. Next, the Bigne alla Crema (RM26), satisfied the cream lovers amongst us with light profiteroles filled with dense custard cream and drizzled in melted chocolate. Salame al Cioccolato (RM28) was a fun dish resembling slices of the namesake cold cut with soft swirls of chocolate speckled with crispy biscuits, and the Panna Cotta (RM24) was velvety smooth with the pleasant tartness of passion fruit in the end. For the final round of applause, we indulged in the Cannoncini Della Nonna (RM26), Christian's grandma's original recipe, a crispy homemade cannelloni filled with custard cream and dusted with icing sugar. You are certainly doing her proud Christian!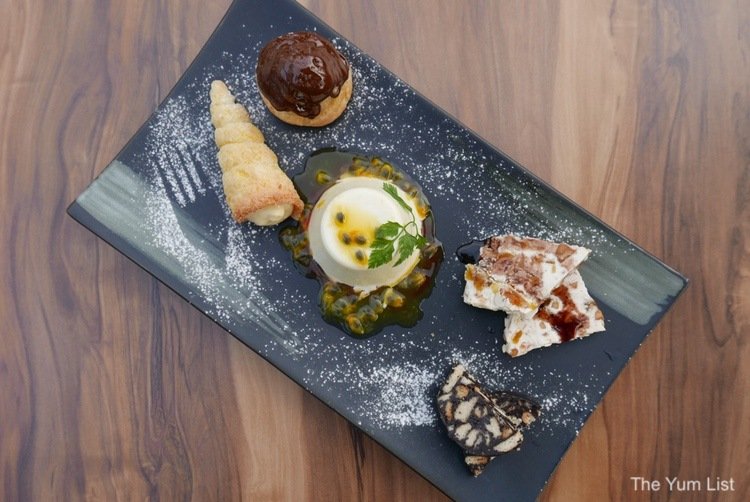 Overall Luce provides a complete Italian experience right here in the heart of Kuala Lumpur. Christian combines quality Italian, seasonal and regional ingredients to create simply delicious food. With a romantic Mediterranean setting, a menu that changes monthly to reflect the seasons of Italy and a drinks menu full of imported regional wines, you cannot go wrong.
Reasons to visit Luce Osteria Contemporanea: pizzas encompassing the freshest quality ingredients and fun-filled designs; devilishly good meat platter; beautiful tiled terrace with a view of the KL tower where you can sip on homemade limoncello after dinner.
Luce Opening Hours:
Monday: 4 pm onwards
Tuesday – Sunday: 12 pm onwards