Words: Kitty Lang   Photos: Monica Tindall
What do you get when you pair a renowned Japanese chef with a passionate Spanish winemaker? A superbly fun and delicious sparkling wine paired dinner at Babe!
Described as 'fun-dining as opposed to fine-dining', Chef Jeff Ramsay, who has previously earned a Michelin Star while serving at the Tapas Molecular Bar at the 6-star Mandarin Oriental Hotel in Tokyo, is a Japanese-American chef, who is passionate about his 'Japas' or Japanese tapas and head of the kitchen at Babe.
Pepe Raventos, the 21st generation owner of Raventos I Blanc, deprecatingly describes himself as coming from 'one of the most boring families in the world' (Raventos I Blanc has been owned by the same family for over five hundred years). However, as the evening proved, despite just having stepped off the plane three hours before, he is far from boring. Sporting a casual suit and tennis shoes, his dress style reflected his personality of smart informality.
Together, Jeff and Pepe created an interesting and enlightening evening of casual but unique dining.
Hosting an eager group of diners, many from the industry, Pepe passionately talked about the single estate where they grow a much lower proportion of grapes than the champagne or cava industries (they are not a cava – more about that later) which are still ploughed by horse, take an artisan approach and are biodynamic.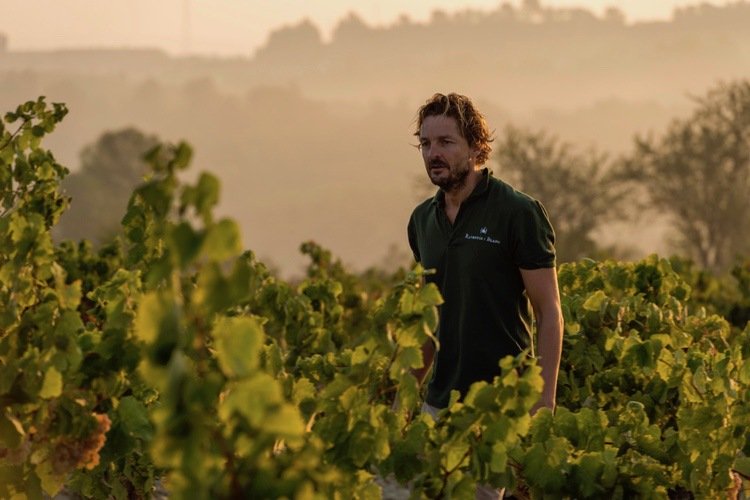 Raventos I Blanc Blanc de Blancs 2015
To kick the evening off, the first of the sparklers, produced 50 miles west of Barcelona, was presented. This was their 2015 Blanc de Blancs. Not normally my favourite as I think they miss the 'rounding out' provided by the red grapes one normally finds, but pleasantly, this was not a concern with this cheeky little number. The three native grapes, Macabeu, Xarel-lo and Parellada gave a mineral nose, thanks to the clay soil, a peachy palate and a biscuit finish. The feminine bubbles created the perfect accompaniment to our canapes and starters.
Taking questions from the floor, and impressively, remembering everyone's name, Pepe told how his great, great, great grandfather created the first Spanish 'Champagne' in 1870. In 2012, some 30 years after the classification of Cava (around the time the French claimed 'Champagne' and its golden triangle) the Raventos family declassified from Cava, with a passion to develop a new D.O. Conco del Riu Anoia. The oceanic valley creating a very mineral rich wine, prevalent throughout the wines tasted, comes from soils over 16 million years old. This uniqueness is what the family aspire to celebrate with the new classification.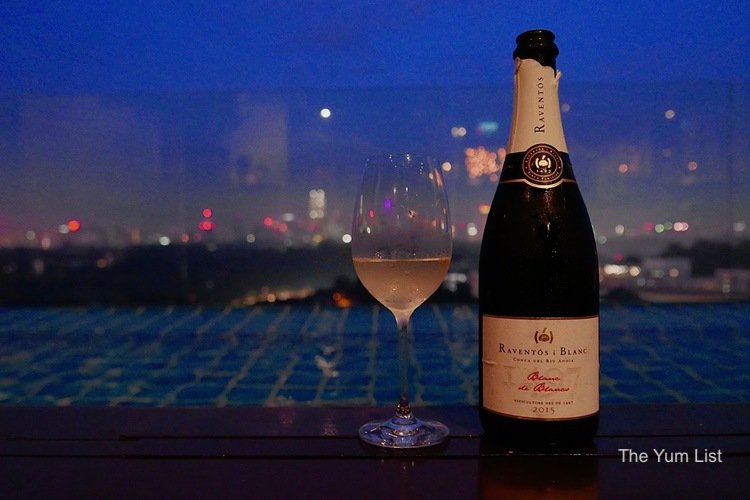 Canapes
To kick off our masterclass in 'Japas' the Sashimi Spring Roll was made with incredibly fresh tuna, a hint of wasabi and served in a crunchy case, atop a scattering of twigs. So far, so good!
Caesar Salad Capsule, next on our belly-filling agenda, was an explosion of cheesiness, (a bit like my writing). Encased in a lettuce 'shell' topped with crunchy and soft coconut and served in a pretty wooden box, this introduction to this particular food style had me pleasantly surprised and intrigued at what was yet to come.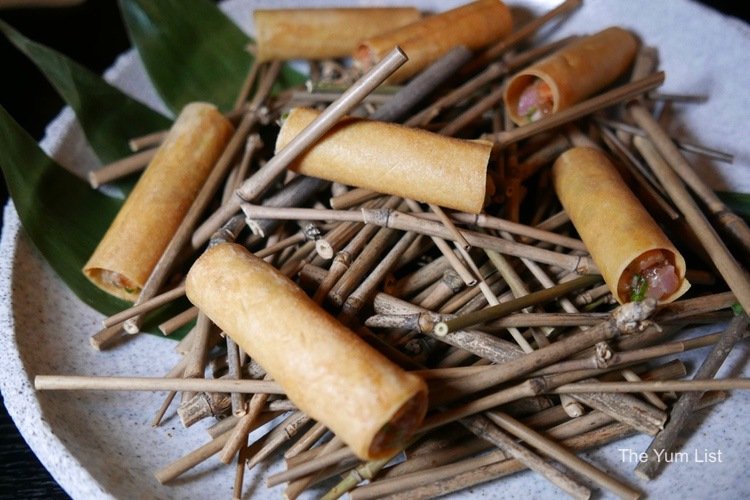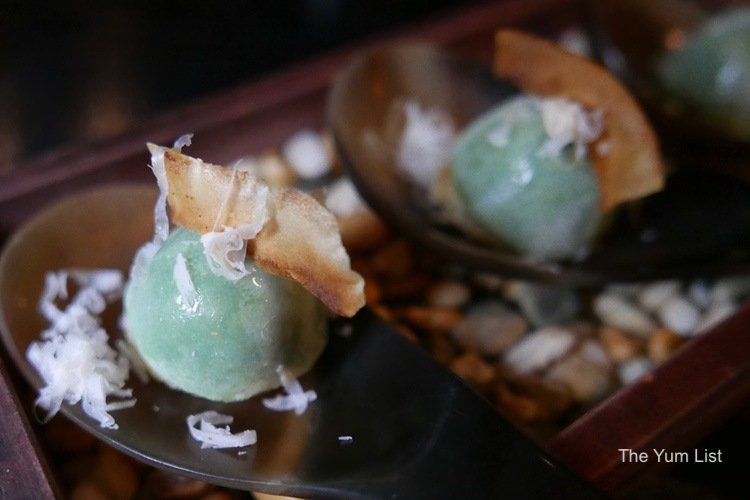 Babe's Amuse Bouche
I do love a whimsy, and Down the Rabbit Hole was a quirkily served trio of test-tubes, containing brightly coloured liquids, labelled 'drink me'. The job of the diner was to taste and identify the flavours packed into the bottles, expertly done by our very own Monica, who, impressively, correctly identified the Chicken Rice (Green), Miso Soup (Red) and Mango Lassi (Yellow). A clever play on local tastes, presented in a unique way.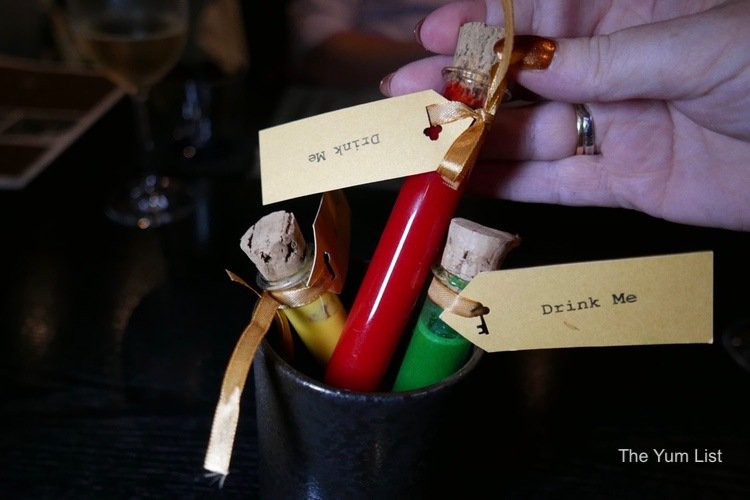 Starters Menu Babe
Having had our taste-buds, veritably tickled by the amuse bouche, the same wine we started with, continued to pair with our melee of starters. Mozzarella Explosion, designed to be eaten in one mouthful, was a creamy white mozzarella sphere, with a delicate outer, filled with the subtle flavour of the cheese, paired perfectly with the tart sweetness of marinated tomato basil and a clear tomato 'soup', a chilled consommé of tangy freshness.
The next, elegant offering was a King Crab Air Bread, a hollow, crisp bread topped with cured otoro (tuna belly), freshened by micro-coriander and kaffir lime leaf. As a lime-leaf lover, this was a delicious little starter, the only pity that there wasn't more of it!
To round of our appetisers, we were given Chawanmushi (Japanese steamed egg custard), which was layer upon layer of black truffle, king crab ankake and ginger. A delicate and cleverly balanced dish but filling enough that I could have stopped there. Not having been overly familiar with this recipe before moving to Malaysia, somewhat reminiscent of a savoury crème Brulee, this has become a little treat that I love.
At this point, we had an interlude, where Pepe, in all his gregariousness, explained how Cava is ready after nine months, Champagne after 15, but Raventos leaves their wine on the lees for 18 months, so between that and the growth per acreage, makes a much more extravagantly produced wine than that of its sparkling competitors.
Having had one wine to pair through the canapes, amuse bouche and starters, the wines were paired dish by dish for the mains.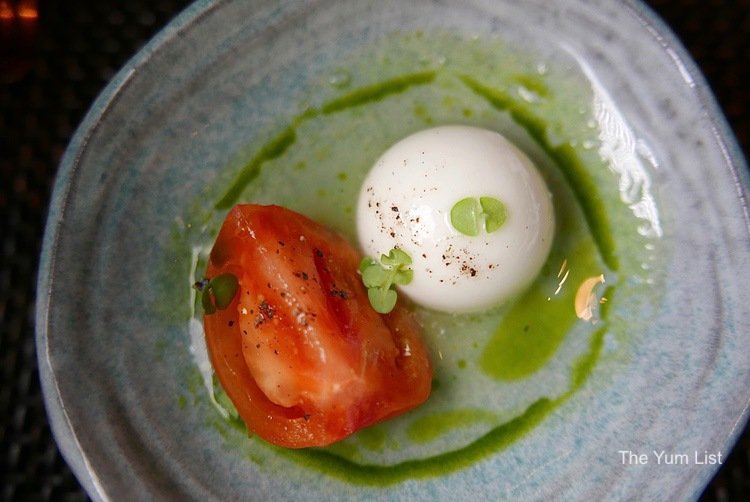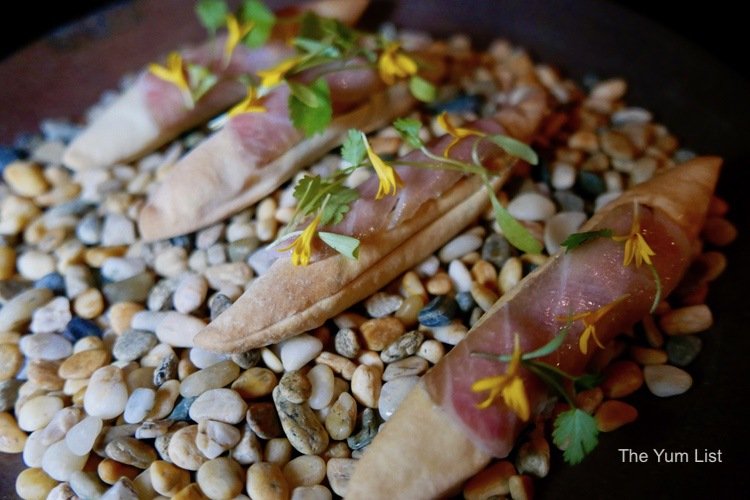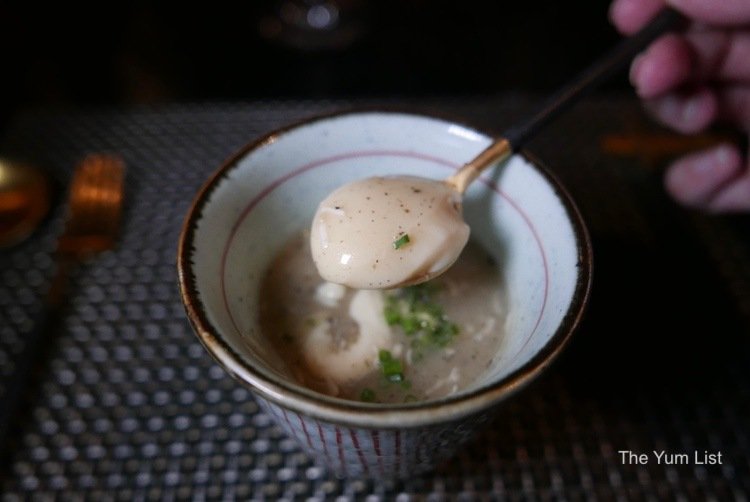 Main Menu at Babe
Raventos I Blanc La Finca 2013
'La Finca' Gran Reserva 2013 was selected, for the start of a vertical tasting to pair with the 'Babendaz', Babe's light-hearted, gimmicky take on a Haagen-Dazs. Foie gras, brandy and mirin flavoured ice-cream was sandwiched between light, savoury biscuits and served in their own 'Babendaz' box. A fun concept, but personally, I prefer unadulterated foie gras, where the taste shines through.
The wine was a sparkling rose with a concentrated nose of white fruit and red flowers, very delicate pink colouring with a super intense flavour. It was creamy and rich and, as per all the wines, organic and zero dosage; well-matched with the Babendaz.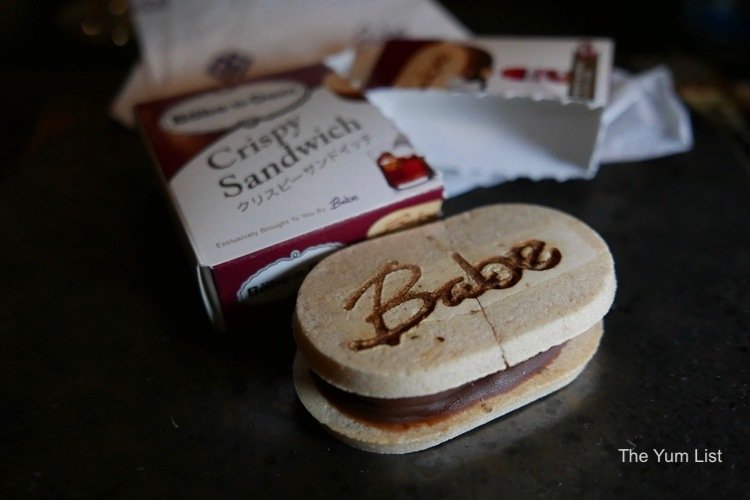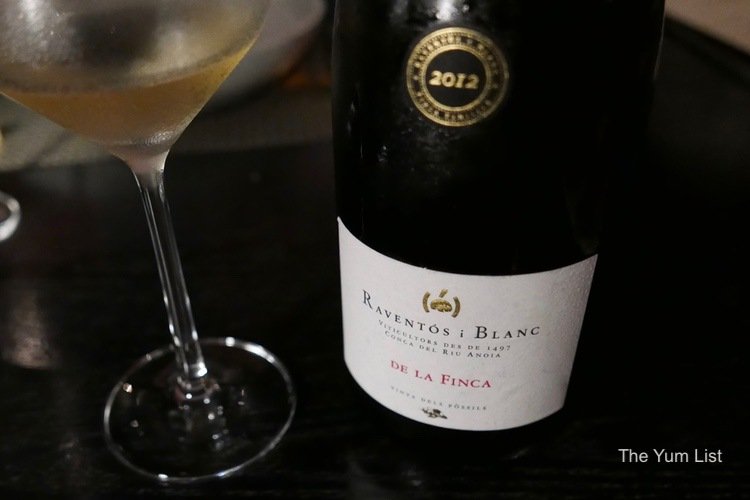 Raventos I Blanc La Finca 2012
Moving on to the next plate, perfectly cooked Black Butter Cod was served with dried shitake teri, sake and soy with deep red pickled mustard seeds and salty, crispy kale. The sweet syrupy sauce, beautifully married all the flavours and the mustard seeds were an unusual accompaniment that gave great texture to the dish. All were served with 'La Finca' Gran Reserva 2012.
The 2012, again displayed fantastic minerality with warm, slightly nutty, slightly spicy notes, lengthening to a rich finish that lingered. My new found drinking friend (this happens at communal tables especially when there's plenty of wine to lubricate conversation) and I couldn't decide between us, which we preferred, the 2013 or the 2012.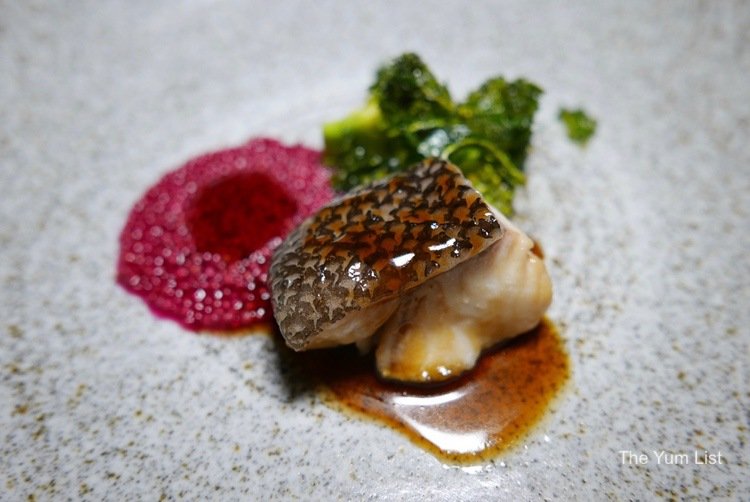 Raventos I Blanc La Finca 2011
To complete our reverse chronology of tasting, we had the 'La Finca' Gran Reserva 2011 as a pairing to our Roast Quail with duck fat fried sunchoke, fiddlehead fern (the young, curled frond of a fern) and roasted barley jus with clove. Sunchoke was new to me and I will certainly be looking for it again!
The wine, which I think would have paired just as nicely with the cod, was once again, high in minerality, with green apple and a potpourri of dried flowers, offering a very different proposition to the previous wines, due to its single varietal grape.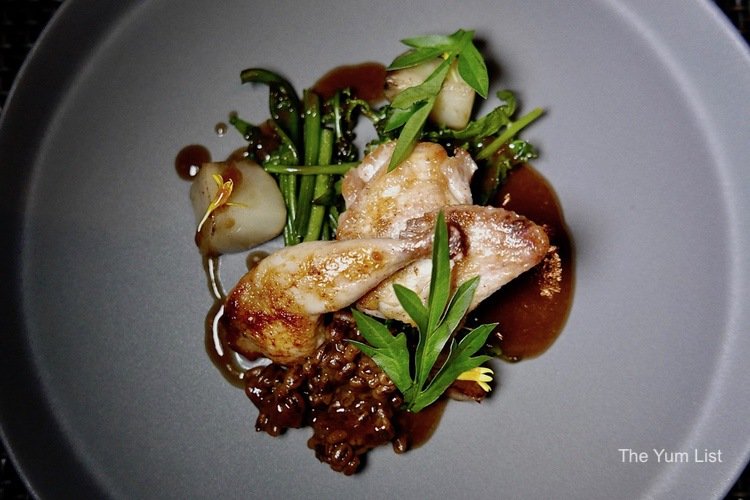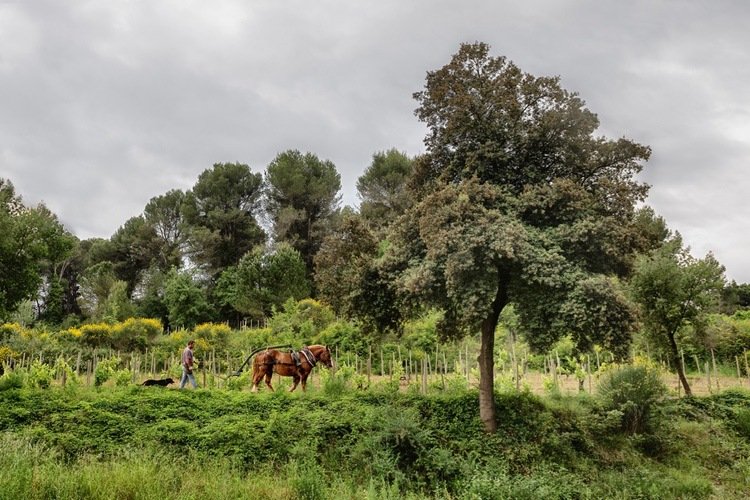 Dessert
Raventos I Blanc 'De Nit' 2015
We rounded off the night with Strawberry Shortcake with a pretty-in-pink pure strawberry sponge, almond cake, liquid sable and pickled rose petals. The pickled rose petals appealed to my not-too-sweet palate, with an intense rose burst, which nicely balanced the sugary dessert.
Matching sparkling wines to puddings can be a bit tricky, but 'De Nit' 2015 the final pairing of the evening, made light of this issue. With the midnight blue backdrop of the city, behind effervescent Pepe's final rhetoric, De Nit was a fitting end to the evening, again with a light floral nose, a clean citrus palate and an elegant end, rather like the host himself.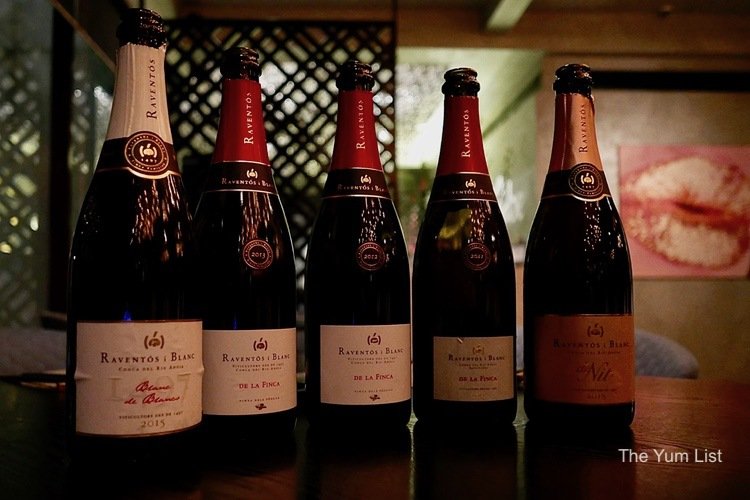 If you are a fan of fruity, sweeter sparkling wine, this Spanish wine house won't be for you, but, if like me, you love the mineral, crisp wines with a refined restraint, these are a delight and certainly worthy of a place at the table of decent champagnes, deserving of the price tag. I do, however, firmly believe that every glass should be served with a side portion of Pepe!
www.raventos.com
babe.com.my
www.facebook.com/straitswinecompanymalaysia
Babe opening hours:
Tuesday to Sunday dinner seatings: 6:00pm, 7:00pm, 8:00pm, and 9:00pm.
Read about our previous visits to Babe here, here, here and here.