Words: Alison Brand   Photos: Monica Tindall
If you are looking for a quality restaurant with a relaxed atmosphere that serves a wide range of freshly prepared modern Japanese cuisine, as well as holding an impressive range of fabulous Sake, Tabe Tomo should definitely be on your radar.
Tabe Tomo is conveniently positioned on Plaza Batai with easy access and plenty of parking. Upon entering the restaurant on the first floor, it is easy to see that this is a space designed and well-suited for a variety of different groups, with seating arrangements ranging from beautiful timber tables, to tatami spaces that offer patrons a little more privacy should they wish. The gorgeous centre table, made from one complete slab of timber is perfect for larger groups. Overall the warmly furnished interiors, also featuring stone, glass and ceramics contribute to the feeling of wanting to relax, kick back with friends and enjoy the fabulous array of food and drink on offer.
The name Tabe Tomo, in fact, means "eating buddies," and is the sibling of Nomi Tomo, KL's first speciality sake bar. Nomi Tomo was established in 2015 by its partners who fused their passion for celebrating friendship and quality sake into one venue. Tabe Tomo now extends upon this concept by serving modern Japanese food for those looking for something new from the well-loved cuisine.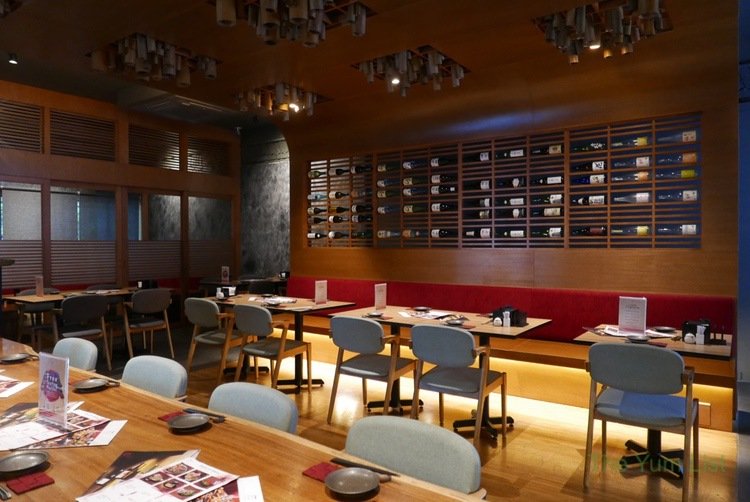 Tabe Tomo Food Menu & Sake
After being welcomed and seated we were promptly served with an appetizer to warm up the taste buds, with a selection of cream cheese in soy sauce, home cooked mashed potato bites and tofu in soba sauce. Served with hot green tea we were all then well settled and ready to sample what was being prepared with care and precision by the team of chefs (trained by the Grand Chef from Tokyo) in the well equipped open style kitchen.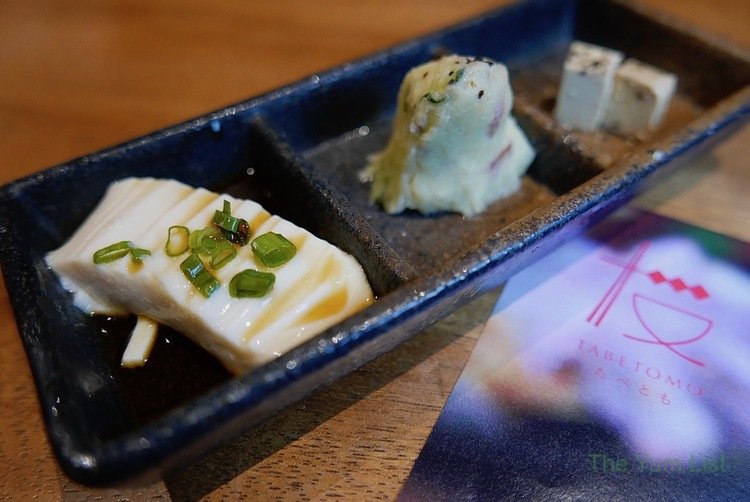 From the Sakura (seasonal) menu arrived the Sakura Ebi To Kani, a crab flake and shrimp salad with tuna dressing (RM22). This was simply full of freshness and flavour, and due to its popularity will become a permanent feature on the main menu from 1 June. The Nankotsu No Karaage deep fried chicken soft bone (RM12) was also served, which provided great crunch and flavour to complement the textures and tastes of the salad.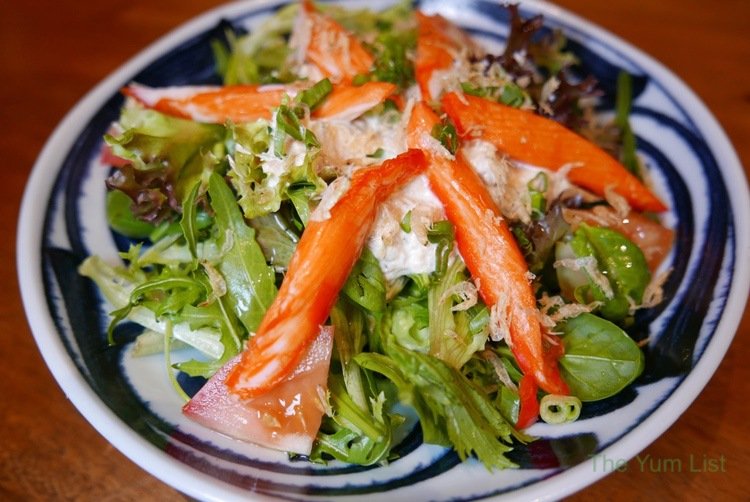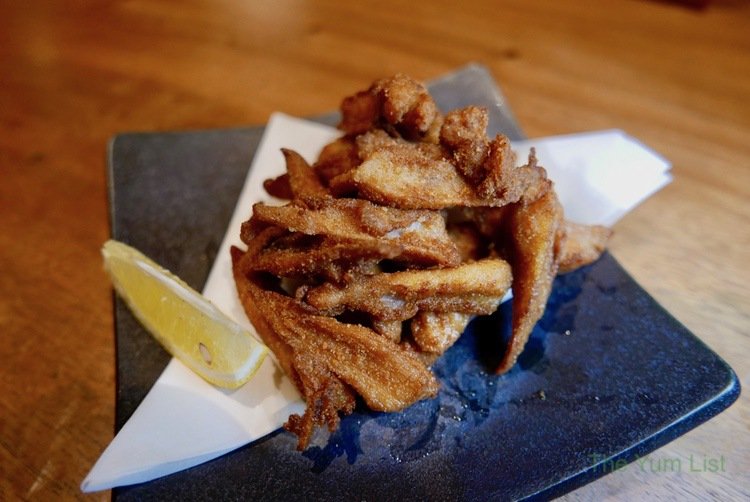 It was now time for sake, and the first to be presented was the Saki Dewazakura Oka (RM55 per carafe/RM220 per bottle). This crystal clear sake possessed an inviting bouquet, with a lovely pear-like flavour which could easily accompany any type of fresh salad.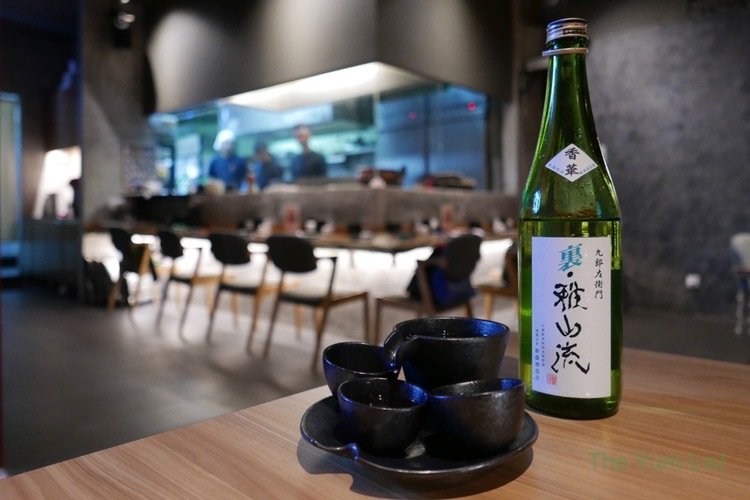 The next creation to arrive from the kitchen was the Pirikara Konnyakyu, a spicy Japanese yam cake. These little bundles of glassy yam noodles were full of flavour with a very definite kick, thanks to the birdseye chilli (RM14). The Atsuage deep-fried tofu with leek, bonito, onion and mataiko (RM20) was a popular dish providing lots of contrasting textures, with the crispy fried outer layer giving way to the silky smooth tofu centre, and the flakes of bonito giving a burst of flavour with each mouthful. The third plate consisted of the Tsukune-Tsukimi, a freshly homemade chicken meatball served with yakitori sauce (RM25). Again, there were lots of contrasting elements with this dish, including the fresh creamy egg yolk pairing well with the saltiness of the Yakitori sauce.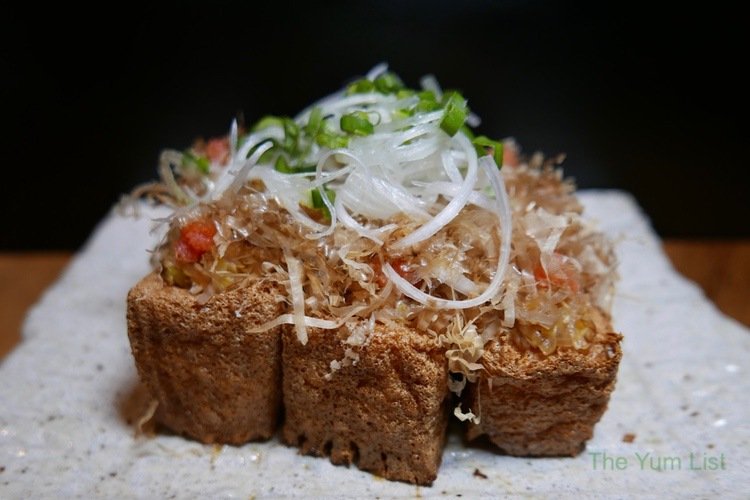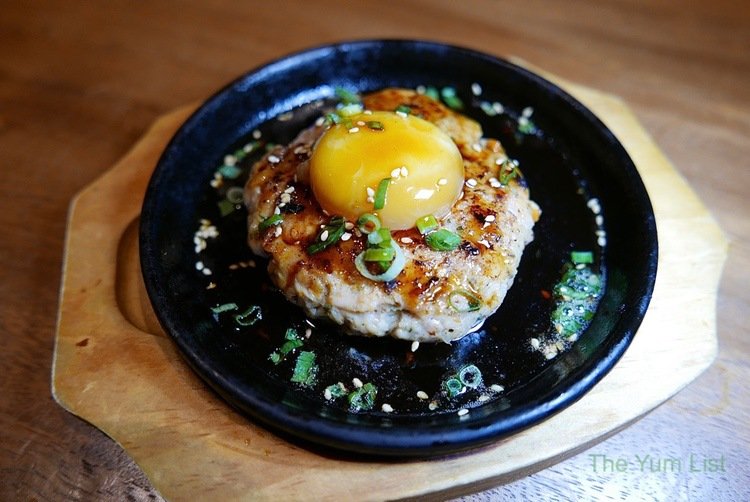 These dishes were all expertly paired with the Gasanryu Koka Honjozo sake (RM60 carafe/RM230 bottle), which was beautifully transparent with distinctive fruit tones and a smooth finish.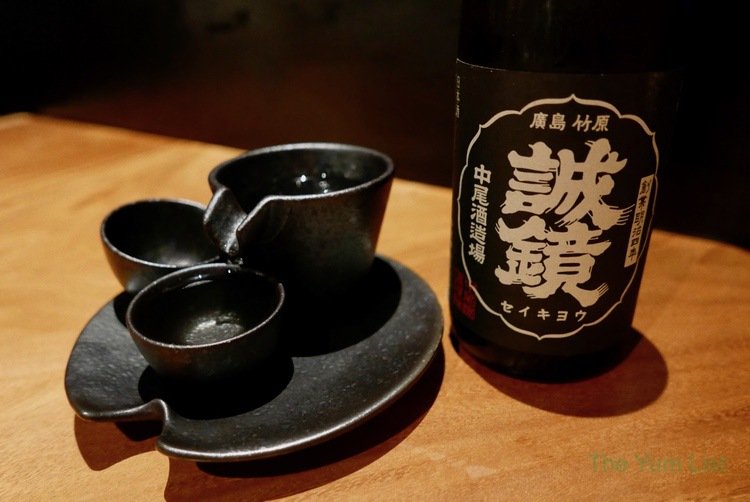 We were in for a treat with the next selection of plates to hit the table coming from the wagyu section. Featuring first grade Australian sourced wagyu, the Wagyu Yakishabu comes as thinly sliced beef, which you cook yourself on the cutest little hot blue-stone plate at the table. Once seared, the beef is dipped into a garlic-butter and soy dipping sauce, and literally just melts in your mouth. The second dish was the Wagyu Aburi Sushi (RM40), which was flame-torched to perfection in front of us at the table. Again, each bite-size piece was delectably tender with the flavours one would expect from such top quality produce. The range of dishes in the wagyu section of the new menu range in price from RM25 – 90.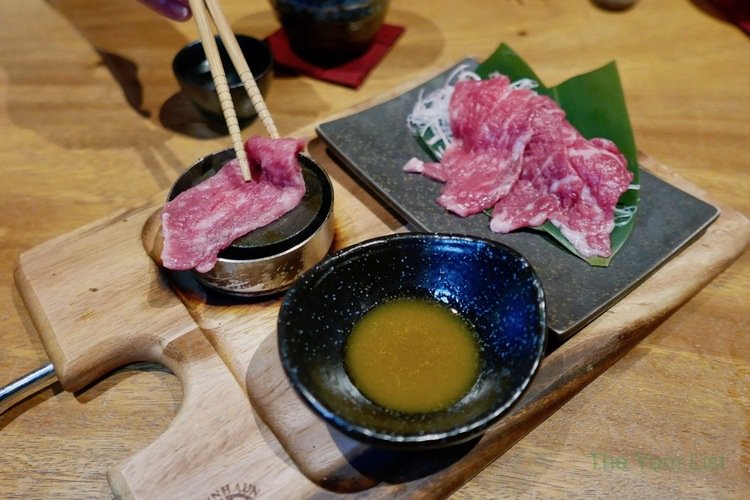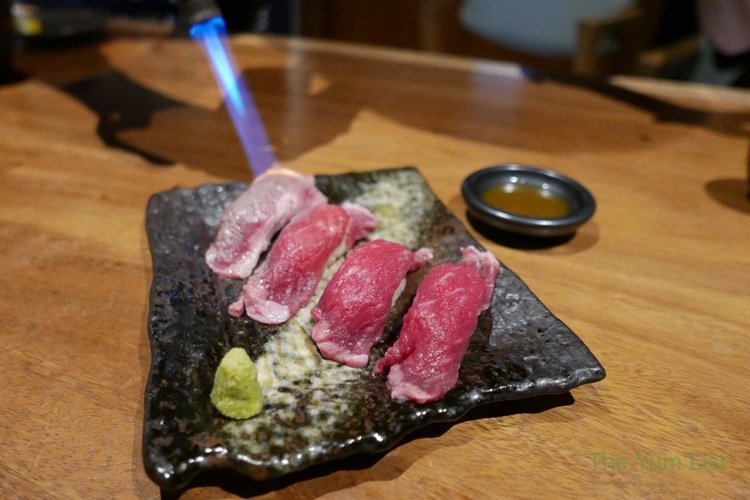 Specially selected to accompany these beef dishes was the Masumi Junmai Daiginjo Nagano sake (RM120 carafe/RM470 bottle), a mildly fragrant yet full-bodied sake with well-balanced acidity and a clean finish. This sake was served in chilled wine glasses to allow for the fragrant elements to be fully appreciated.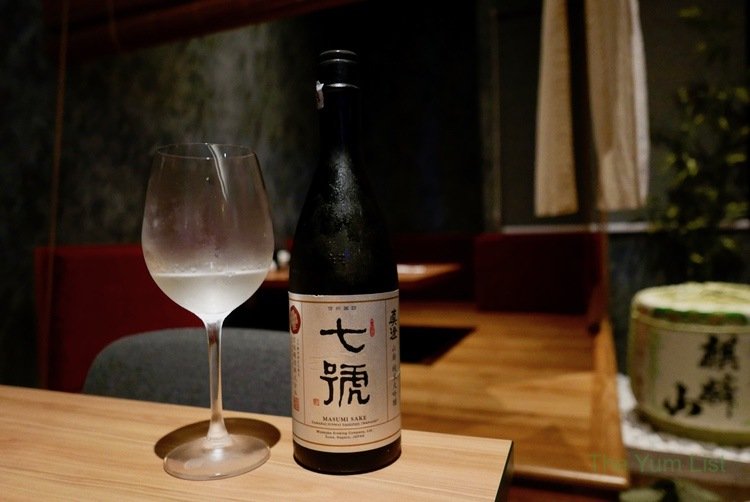 The next beef dish was a modern Japanese take on a well-known favourite, the Tamago-Korokke (RM25), or Japanese scotch egg, starring a half-boiled egg wrapped in minced beef and mashed potato croquette. Rolled in crunchy Panko crumbs and fried to golden brown, this was definitely a crowd pleaser! The sake super dry style Seikyo Tokubetsu Honjozo Chokarakuchi (RM220 bottle) was well-suited to the deep-fried elements of the dish, being medium-bodied with well-balanced acidity and a short aftertaste.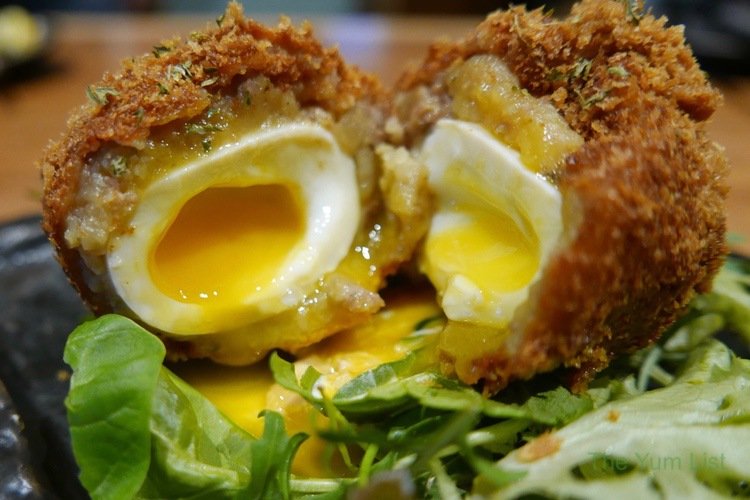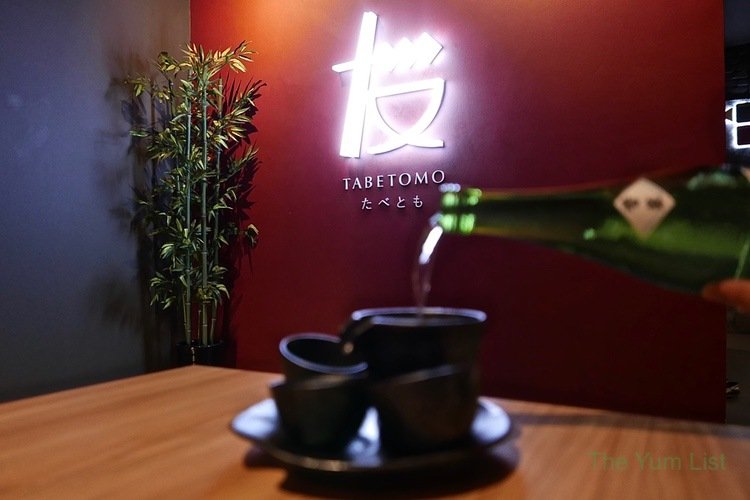 We were then treated to a selection of fare from the Yakitori pages of the menu, including Kawa (chicken skin), Negima (chicken thigh with leek), Buta Bara (pork belly), Pork Loin (shoulder), and Tebasaki (chicken wing). Prices for each plate range from RM6.50 to RM8.50. All were expertly barbequed full of smoky flavours to work well with the super-dry sake we were still enjoying.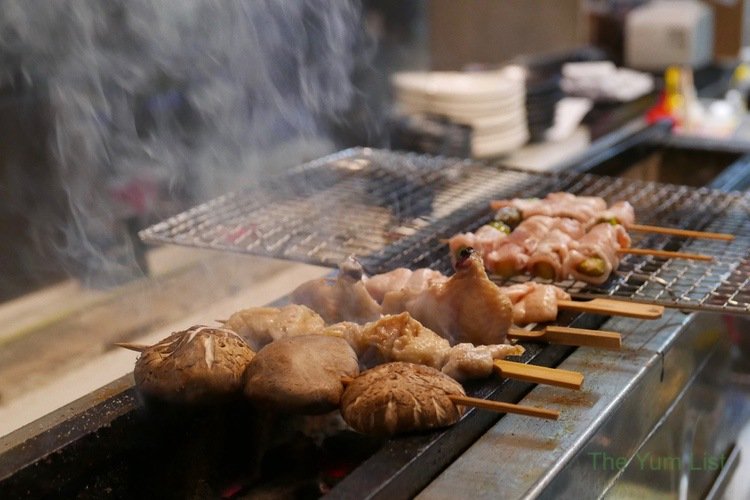 A surprising dish was the Shaka Shaka Chicken (RM10); a crunchy coated chicken served in a glass jar, shaken with a special selection of seasoned spices and served onto a ceramic plate. These juicy golden chicken morsels were super tasty and another firm crowd favourite.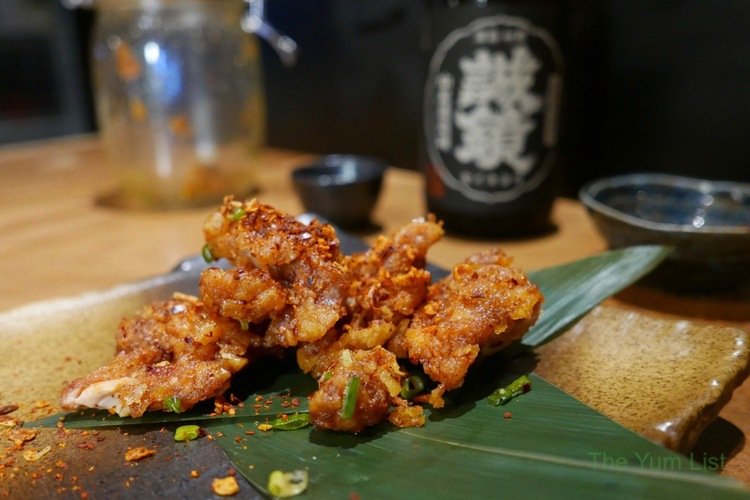 Tonkotsu Ramen, pork with wheat noodles in broth (RM20) was a simple yet delicious take on this famous traditional recipe. This was an honest, unpretentious dish that allowed each element to speak for itself, a great comfort item and one to fill and warm an empty belly.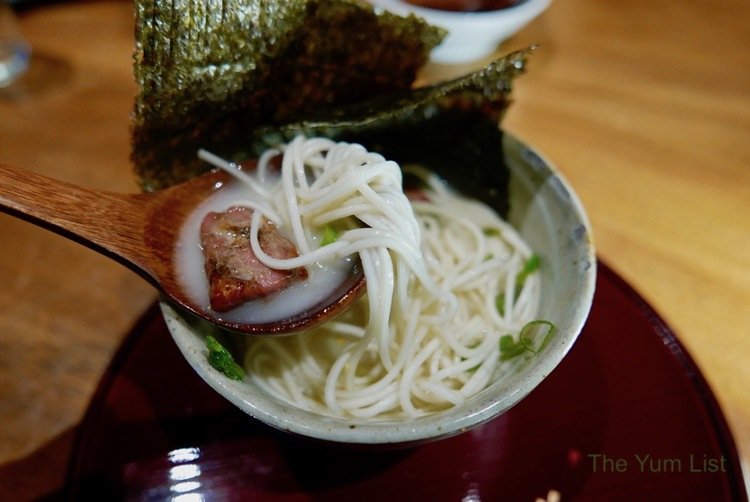 Dessert Menu Tabe Tomo
After experiencing such a wonderfully comprehensive selection of the menu, it was now time to move to the final part of the evening… dessert! Sticking to the mantra of keeping things uncomplicated and putting the focus on the quality of the food, the Homemade Smoked Cheese (RM8.50) was a simply divine combination of Japanese cheese smoked with applewood chips served grilled on a skewer and drizzled with a creamy honey dressing. So good!! Paired with the Sake Masumi from earlier in the evening, this time served in cute shot glasses, made it even better!!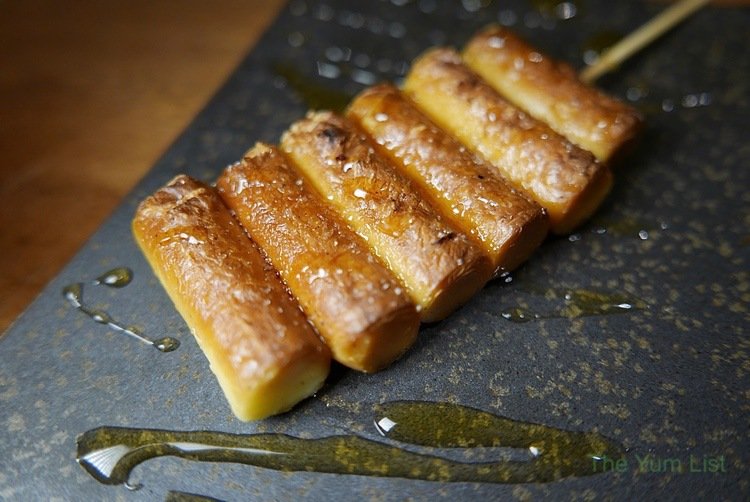 Finally, for us, the Raisin Butter (RM16) was a frozen homemade raisin cream cheese, served on saltine crackers and generously drizzled with honey. It proved a mix of crunchy savoury and frozen creamy sweetness to hit the taste buds for the grand finale of the evening.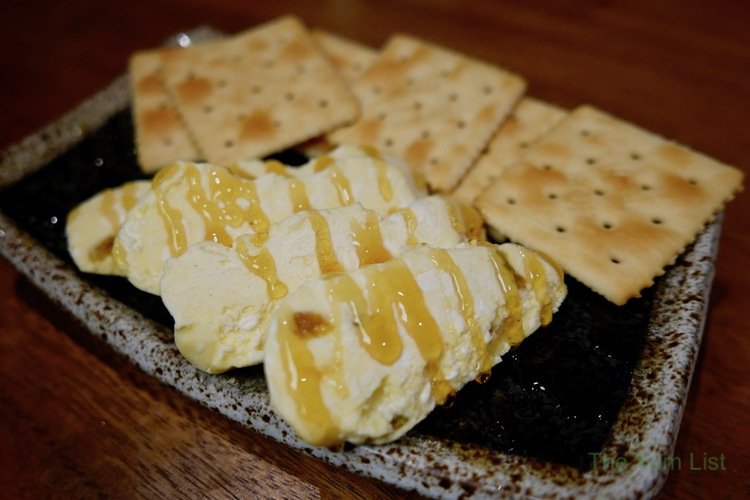 Reasons to visit Tabe Tomo: top quality modern Japanese cuisine at affordable prices; relaxed and welcoming atmosphere great for a social get-together; and, of course, an extensive choice of some of the best sake available in Malaysia.
Tabe Tomo
Lot No 8.11A, First Floor, Jalan Batai
50490 Kuala Lumpur
Malaysia
+603 2011 5005
www.tabetomo.com
Tabe Tomo opening hours: Monday to Saturday 5.00 pm to 1.00 am.