Words: Kitty Lang   Photos: Monica Tindall
Having just recently been to Mr Chew's Chino Latino Bar for a gala dinner, I was excited to see how they present their Sunday Brunch.
By night, the restaurant has an elegant, sophisticated, intimate feel to it so I was surprised just how bright and airy the place felt by day. Gone, were the starched linen tablecloths and slightly more formal style, leaving a distinctly more relaxed, bistro type of environment, with two storey windows adorned with top to bottom curtains.
With the tagline 'Eat Chino, Live Latino' you can see and hear the mood, the minute you walk through the door with the chilled bossa nova music and the vibrantly patterned attire of the serving staff. A Hawaiian shirt would not be out of place if you so desired!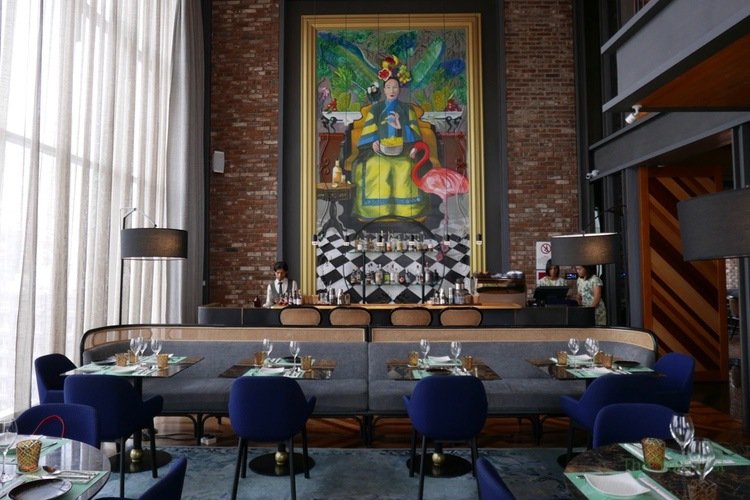 We were guided to the table and introduced to the brunch menu (RM 140 ++) and advised to try one of everything.
Starters at Mr Chew's Chino Latino Bar Sunday Brunch
The starters, all prepared a la minute and delivered directly to the table, were a series of 'little plates', including Acar-Acar Vegetables and Fruits, providing a crispy, sweet and refreshing tang, Irish Oyster Egg Omelette on the shell, which was prettily served along with salty, crispy Wonton Chips with Prawn & Kimchi Cream.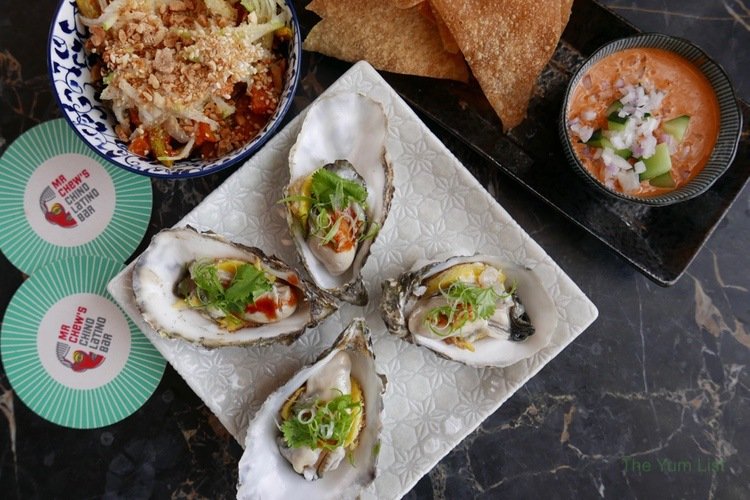 As soon as the first plates were reaching the bottom, more were dispatched with the Ohba Leaf, Bean Sprout Kimchi, Grilled Coconut Chicken giving an umami mouthfeel with a spicy hit. Being a century egg virgin, it was with no little trepidation that I tried the Cold Tofu, Century Egg, Ikura and Soy Oyster Dressing. As it transpired, however, it was rather lovely!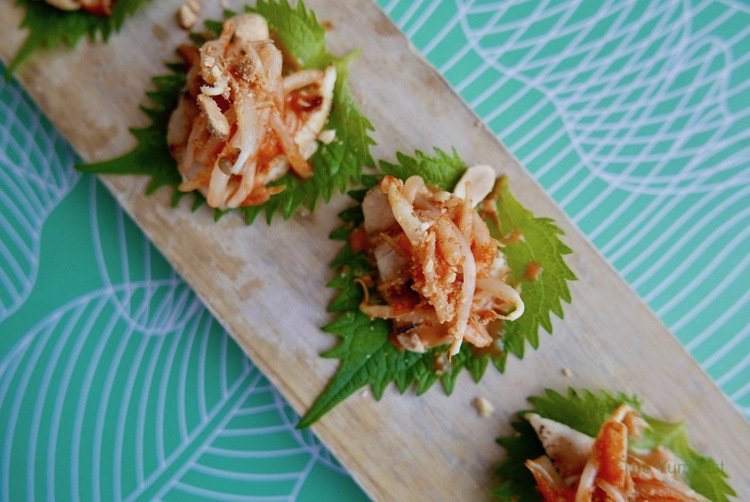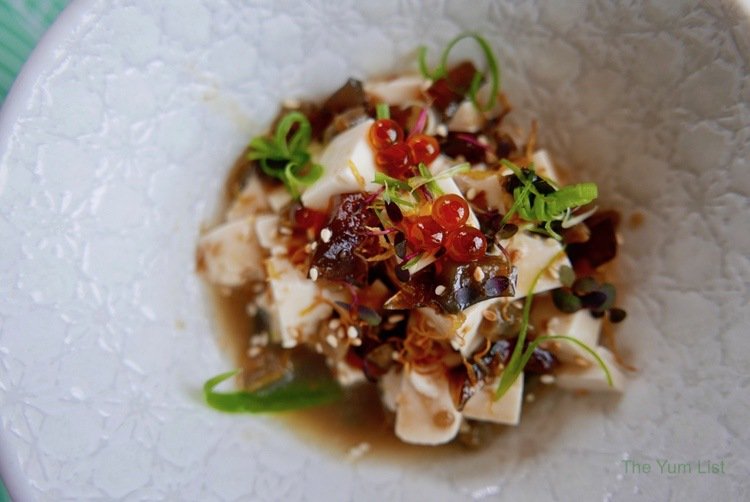 My favourite starter was the Tomato Salad with Truffle Oil and Aojiso – sweet, tangy and with the earthy hit of the truffle, I went back for seconds. Closely followed by, and a firm favourite of the entire table was the Tempura Prawn Nori Taco. The Nori Taco itself (literally a taco made from nori) was a labour of love. The chef had to try numerous recipes to find the solution that worked, without it falling to pieces or being a huge mouthful of seaweed. I have to say, the second time of trying this (having had it at the previous dinner) it was just as delightful. Crisp, rich, sweet with a subtle kick, packed with sushi rice, juicy prawns and enough kimchi cream to balance out the yummy flavours.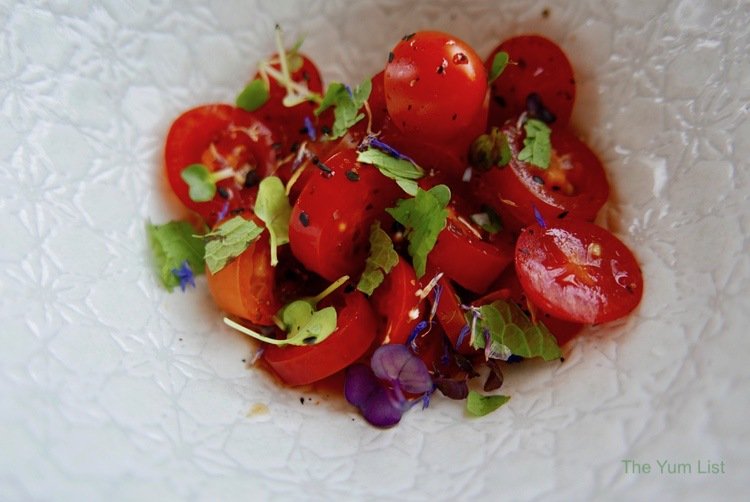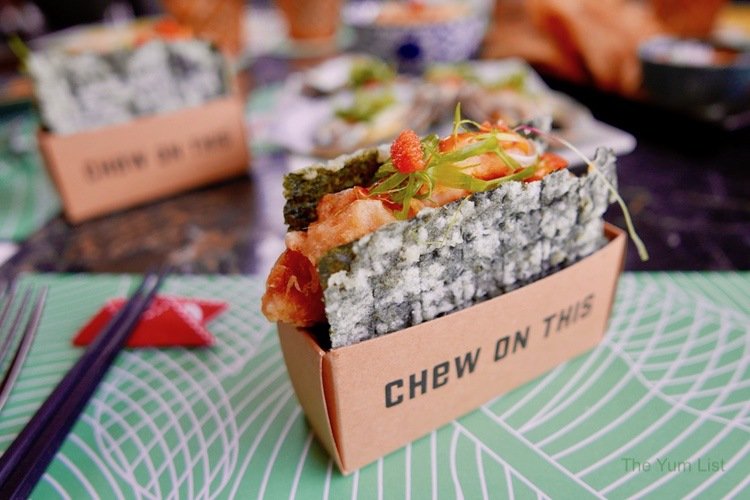 Lastly, Mr Chew's Pancake with Vegetables, Choi Po and Bonito flakes was really somewhere a cross between a pancake and omelette, stuffed with what could only be described as a warm coleslaw. This in itself would have been enough breakfast for your average human!! The fluffy Steamed Bun with Gochujang Chicken with Sesame Seeds was bright and zingy and signalled the end of the starters.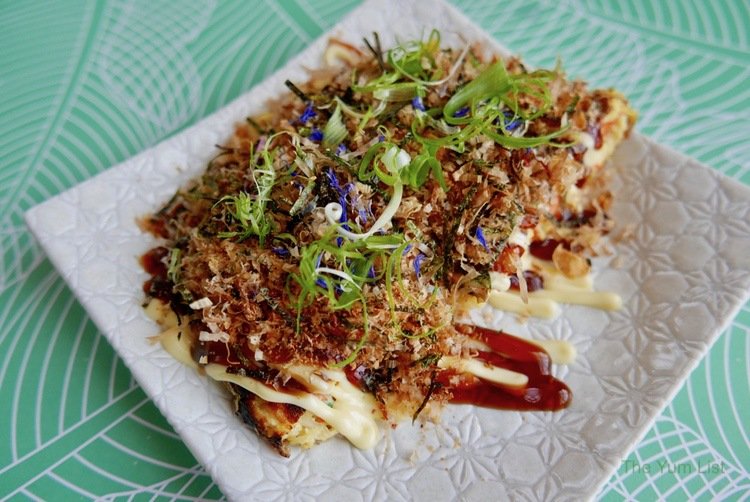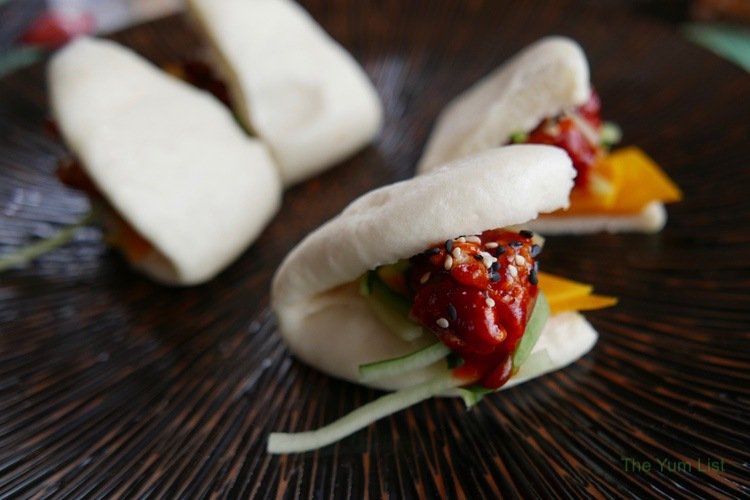 Cocktails at Mr Chew's Chino Latino Bar Sunday Brunch
With our appetites well and truly whet, a liquid intermission was welcomed and, given that there were five cocktails to choose from, it would have been remiss of us not to try one of each.
Mr Chew's Retox (RM 44) could be considered an acquired taste (one which I very much have) and somewhat reminded me of a tomato-free Bloody Mary (bear with me). Mezcal, tequila, vodka, green juice, jalapeno and salt, were expertly blended to create a savoury 'breakfast' drink. For me, it paired exceptionally well with the distinctly Asian flavours of the starters.
Kissed by a Dragon (RM 48) was a bright pink, pretty as a picture sparkling drink, again with a hint of the savoury about it, daintily served with a carnation.
Our bartender's favourite spirit is gin, which he expertly crafted into Mr Chew's Take-Away G & T (RM 42), so called as it is served in an Ophir take-away box. The gin was balanced beautifully by the Three Cents Agean Tonic with the garnishing pink peppercorns highlighting the subtle flavour in the gin itself. Monica rather took to this one and made short work of it. Perfect for us gin lovers.
Jiangxi Fresca (RM 38), broke away from the overriding theme of savoury drinks, satisfying the sweeter toothed guests with rice infused vodka, passion fruit, salted pineapple and vanilla soda. Watching the gentlemen of the table, trying to subtly steal the drink off one another was rather amusing.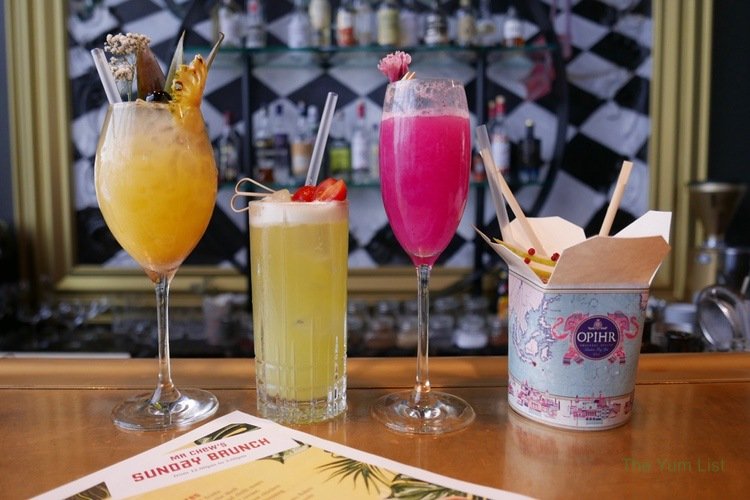 The grand finale of Frida Froza (RM 32) doubled up as a refreshing palate cleanser, a delicate touch of jasmine cordial complemented the white wine, shiso and dry vermouth.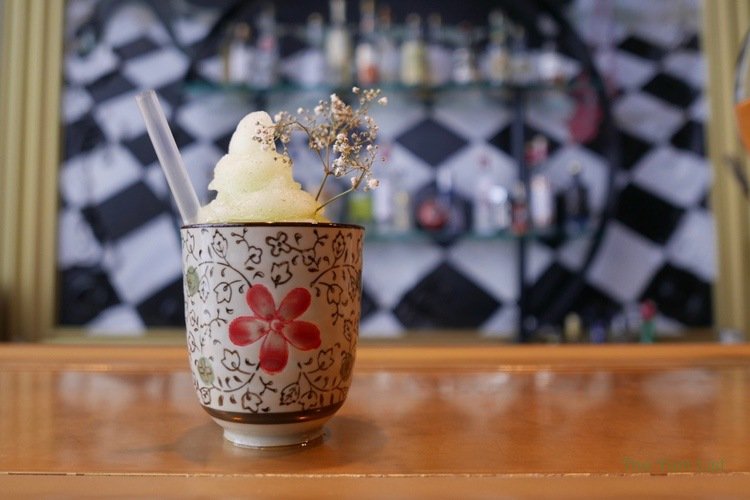 Wines at Mr Chew's Chino Latino Bar Sunday Brunch
To complete the picture, we also tried several of the wines throughout the meal, including Bollinger (RM 85) which speaks for itself, the Viognier (RM 40) which had the usual overtones of diesel and the strained astringency associated with a classic Viognier, and an orange wine called Smallfry Tangerine Dream (RM 54). The colour is due to the juice being left for some time on the pips and skins, which is perfect for those who like bitter flavours. For the red, we plumped for the I Muri Vigneit del Salento Negroamaro (RM 40) as a nod to our editor's upcoming Italian travels. A lovely mouth-feel with round, juicy fruits.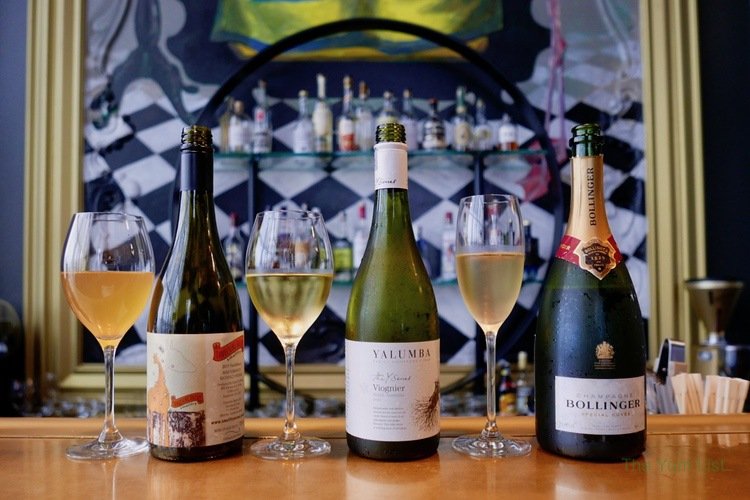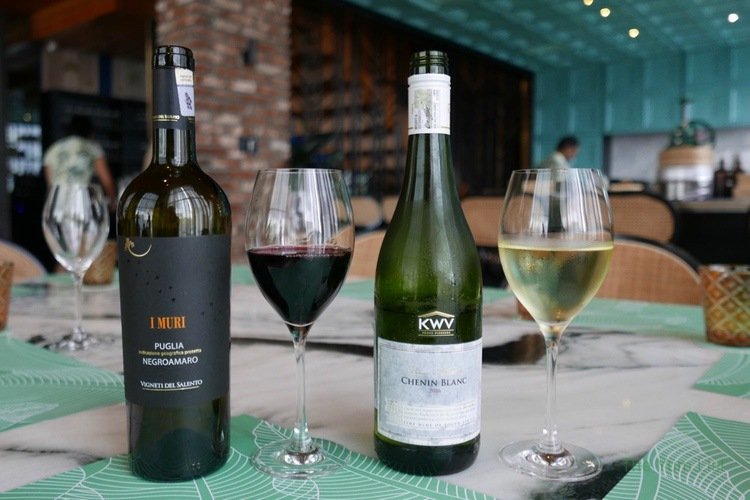 Soup at Mr Chew's Chino Latino Bar Sunday Brunch
Joining appetizers to mains, the Double-Boiled Chicken Soup with Prawn & Water Chestnut Dumpling was a beautiful clarified, rich broth packed full of flavours. The dumpling was silky and tasty and left me wanting more, but realising my limitations, I restrained myself.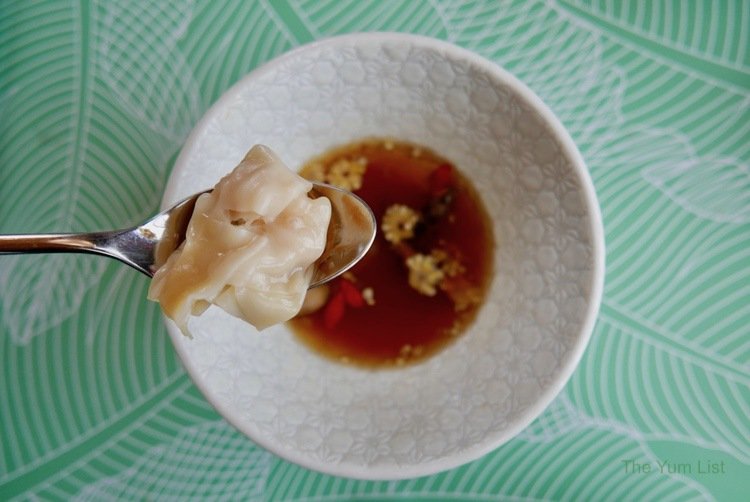 Main Course Menu Mr Chew's Chino Latino Bar Sunday Brunch
You might not believe that we still had room for mains after the generosity of the beginning, but with so much to try we eagerly pushed on. The Braised Chicken on Rice was so beautifully rich, it could have been mistaken for a darker meat, and the Twice Cooked Crispy Duck Pancakes had a modern twist, served with a spicy mayo and starfruit. The show-stopping star of the show, however, was the Barramundi, Fennel & Capsicum Salad, with Lodeh Sauce. Presented as a whole piece for the table, the perfectly cooked fish was highlighted by the vivacious yellow sauce lodeh, an Indonesian coconut based vegetable soup. The barramundi was translucent, flaky and juicy, against the richness of the sauce and the freshness of the salad. Sides came as bright, crunchy Stir-Fried Baby Kailan with Roasted Garlic & Soy Butter and sweet, tender, smoky Grilled Pumpkin with Daun Kesom Vinaigrette (of which we ordered seconds).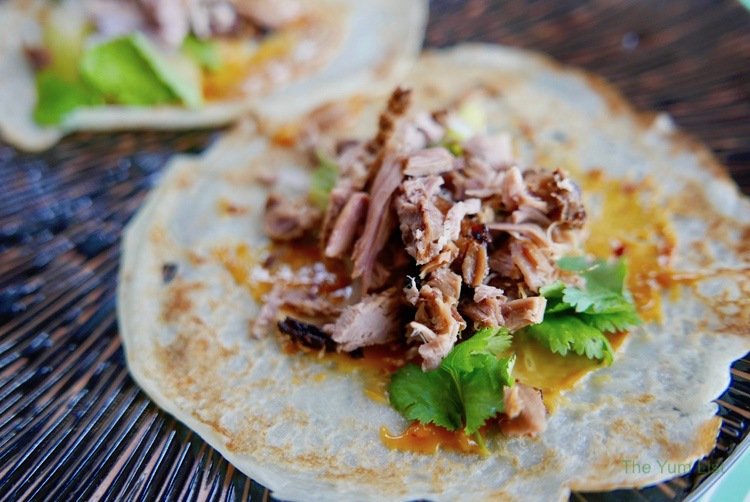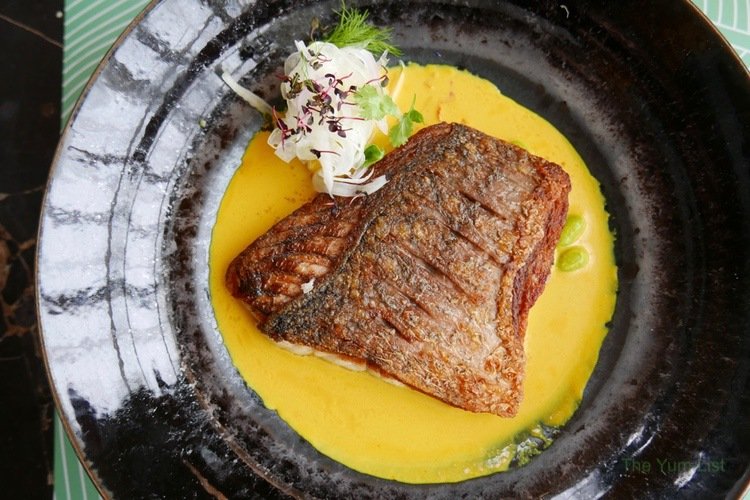 Dessert Menu Mr Chew's Chino Latino Bar Sunday Brunch
With stomachs starting to protrude, it was a welcome change to get up and walk a little (a few metres to the dessert counter). The bite-sized desserts were a buffet style presentation in a quirky, sage-green, kitchen. With a selection of… Chocolate Moist Cake with Morello Cherry Gel, Black Sesame Cream Puff, Caramelised Banana and Chocolate Hazelnut Taco, Cempedak Ice Cream with Chinese Churros, Mango and Coconut Ice Kacang, and Steamed Pandan Lotus Paste Bun… there is sure to be something for everyone!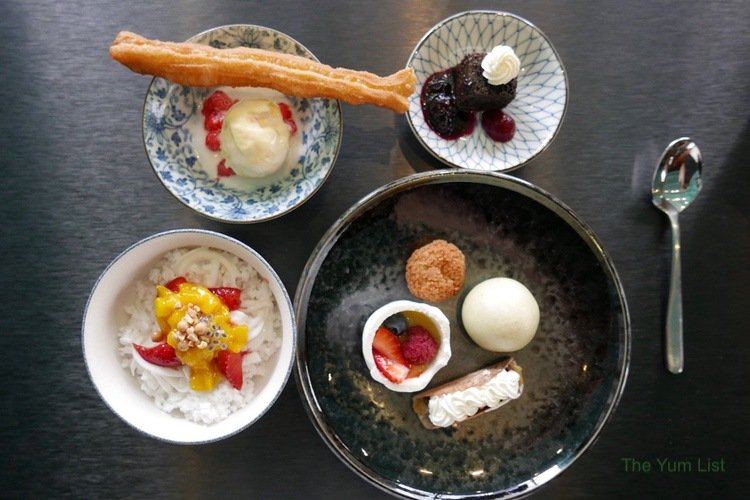 Overall, the ambience was chilled, the food eclectic and quirky and a there was a good selection of boozy drinks.
Reasons to visit Mr Chew's Chino Latino Bar for Sunday Brunch: leisurely brunch; cool Chino Latino vibe; Nori Tacos!!
Mr Chew's Chino Latino Bar
The Penthouse, WOLO Hotel
Bukit Bintang, 55100 Kuala Lumpur
Malaysia
+60 3 4065 0168
www.mr-chew.com
Opening Hours Mr Chew's Chino Latino Bar Sunday Brunch: 12:00 noon – 3 pm
Find our dinner visit to Mr Chew's here and drinks at their Kirin Bar here.