Monica Tindall
Long gone are the days when I was willing to catch multiple long-haul flights one after the other to reach a destination. Gee, when I lived in Venezuela it would take us up to 48 hours sometimes to get from door to door to return to Australia. Much older, and wiser, (and perhaps a little more temperamental) I refuse to go through that torment and have put an eight-hour limit on flights.
Our favourite European destinations, however, are at least a 14-hour journey from South East Asia. We've come up, though, with the perfect solution: a stopover in Dubai. Not only does it break up the trip allowing us to shower, sleep and refresh but also encourages a good deal of fun while there.
Location – InterContinental Dubai – Festival City
Food, shopping and entertainment are all within steps of the InterContinental Dubai. Located in Festival City, the hotel suits the purpose of our stay to a tee! Just a 10-minute drive from the airport, we're checked in and refreshed within an hour of landing. And, with Festival City on our doorstep, we don't have to go too much further to begin our merrymaking.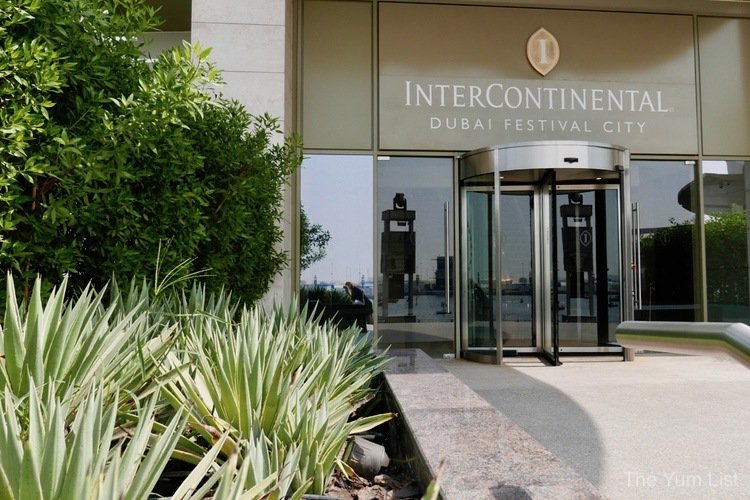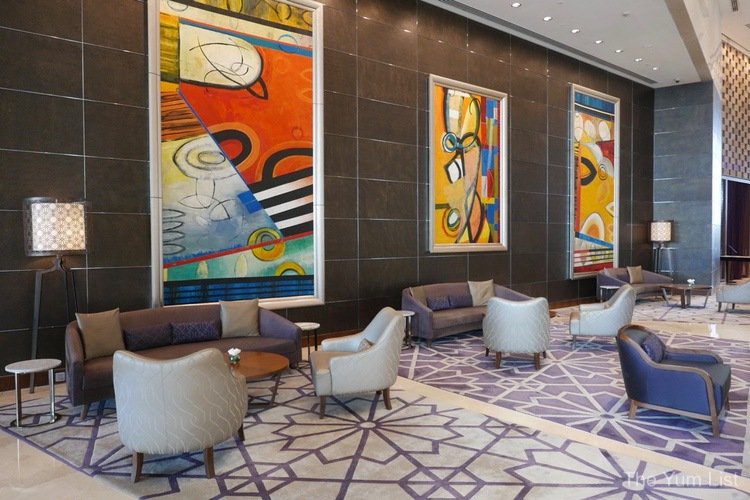 Dubai Festival City Mall boasts over 500 (!) stores and also houses the much-talked-about IMAGINE water, laser and fire spectacle. This enormous water screen projection attraction breaks the Guinness World Record featuring cutting-edge water, pyrotechnics, laser, light and dramatic effects technology. Best of all, the show is free and is right next door to InterContinental Dubai. The below video is just a snippet of the show and it changes every half an hour. In cooler weather we could have easily sat outside with a picnic and viewed it for the entire evening.
Rooms at InterContinental Dubai
With just as many rooms as there are shops in the mall, guests can find just the right lodgings to suit their needs at InterContinental Dubai. From Classic and Executive Rooms to Suites, all are fitted with contemporary flat screen TVs, stand-alone bathtubs and complimentary Wi-Fi. A palette of beige and fawn on walls, carpets, and lounges allows the spattering of mauve in bed throws and the magnificent views take the reins. We stay in an Executive Room and soak up the privilege of Club InterContinental benefits to go with it.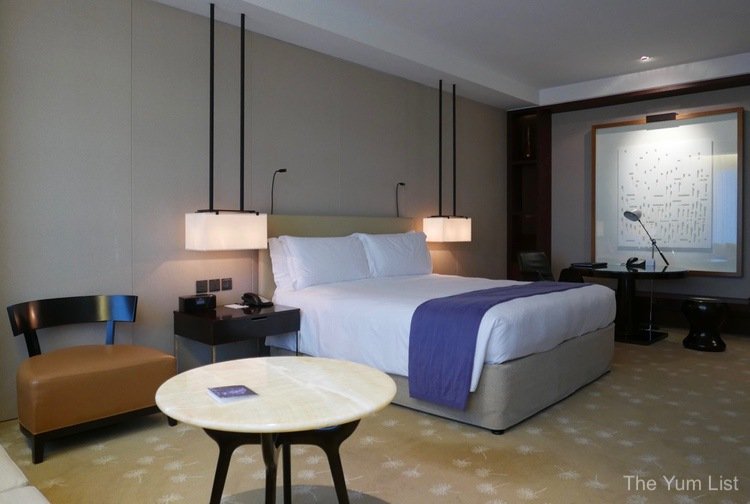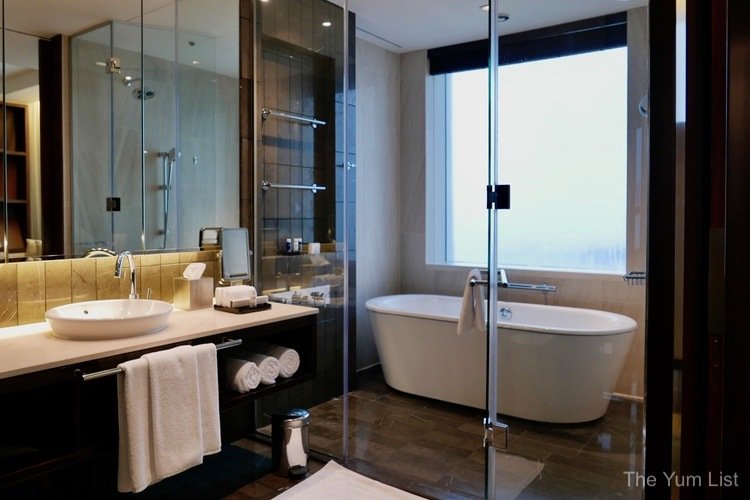 Club InterContinental
Whenever given the opportunity, we will always sign up for a club room. Not only do we delight in the private check-in and personalised service but having a quiet place to write (outside of the room) where someone will bring me tea, coffee and cold drinks at the rise of an eyebrow is a writer's dream. And then there's the benefit of a gourmet brekkie every morning and complimentary cocktails and canapes in the evenings – it makes life just that little bit (or a good deal) nicer.
Restaurants InterContinental Dubai – Festival City
Despite the endless options in the neighbouring Dubai Festival City, InterContinental Dubai has enough of their own food and beverage outlets to tempt any foodie to stay in. Beginning with some Latin-themed tapas and a sundowner at Vista Bar & Terrace, the views of the creek and city skyline are enticement in themselves. Then there's the all-day dining restaurant, Anise. Its distinctive star-like composition is supported by enormous windows and natural accents in the furniture. Choose a la carte or go for the international buffet; either way, it's a fuss-free place to grab something delicious at any time of day.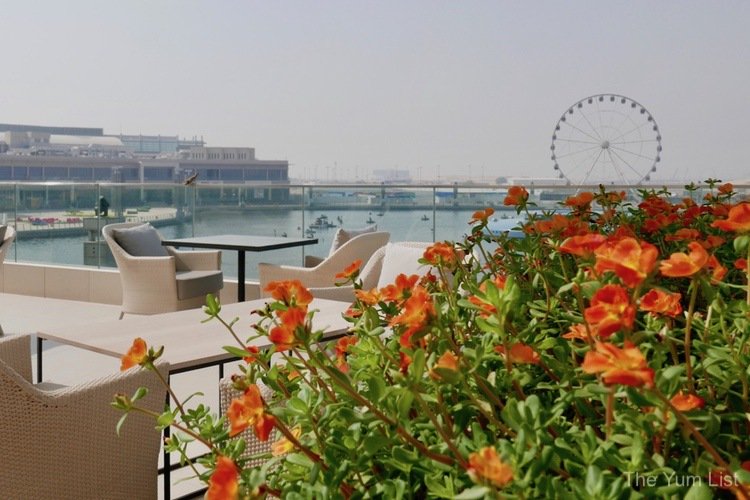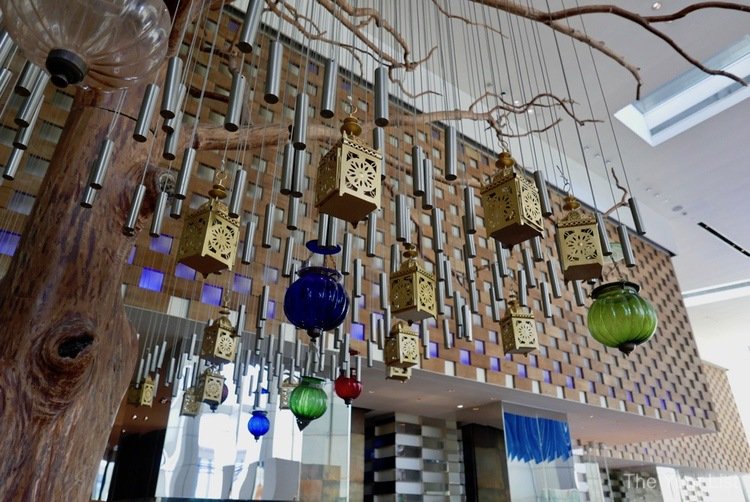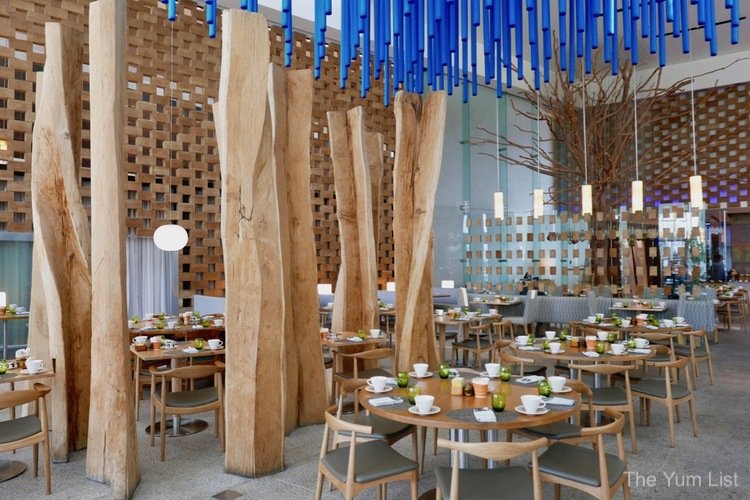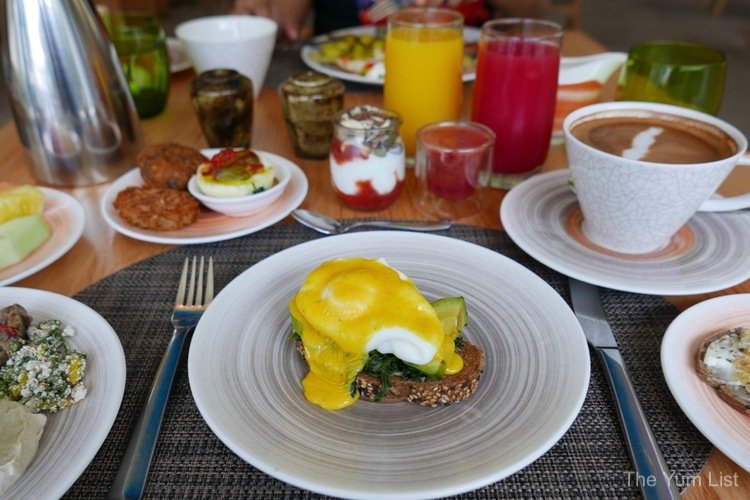 For a Michelin-starred meal, Choix Patisserie and Restaurant headed by chef Pierre Gagnaire is an all-white taste of elegance. Breakfast, lunch and dinner are all served here but Dubai residents know that it's the luscious collection of fine French desserts and pastries that draw the crowds. High tea fans should be sure to put it on their list of must-eats in the UAE.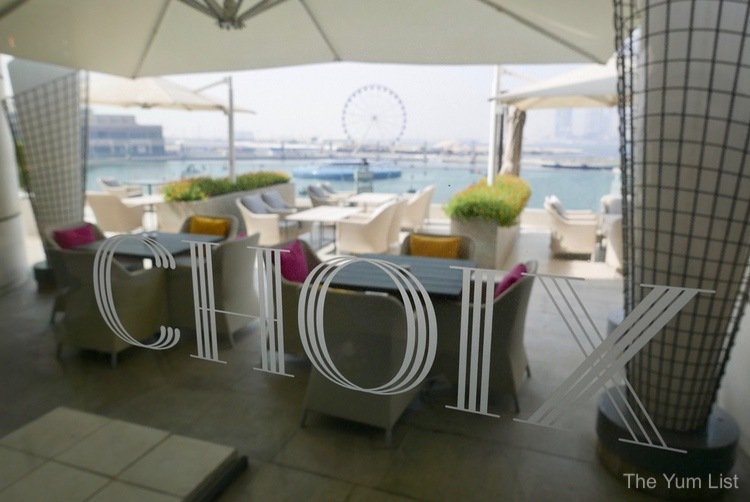 A recent addition to the food and beverage wonderland at InterContinental Dubai – Festival City is that of Pierre's Bistro and Bar. The same Michelin-starred chef renowned around the world for his multiple fine-dining restaurants has opened his first more casual affair, Pierre's Bistro & Bar. A tropical pink flamingo themed setting adds whimsy and a bit of fun to the dining experience but the food remains fine with premium ingredients, exquisite service and a tasty drinks list. Find the full experience here.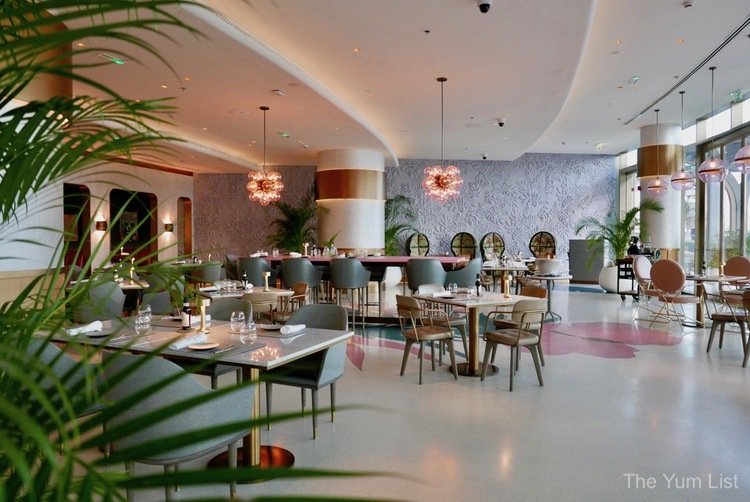 Making good use of the adjacent Dubai Creek, The Fish House promises a "boat to table" experience where the day's catch (locally sourced) is cooked fresh to order. The blue and green splashes of colour in tiling and upholstery complement the clean white walls and giant French windows, fashioning a cheery and social setting.
But, the real showstopper and a perfect match for us Yum Listers is the rose-coloured Eclipse Champagne Bar. With its spectacular location on the 26th floor and panoramas of the Dubai Creek, it's a terrific spot for a glass of bubbly while watching the sun cast its final day's rays over luxury yachts.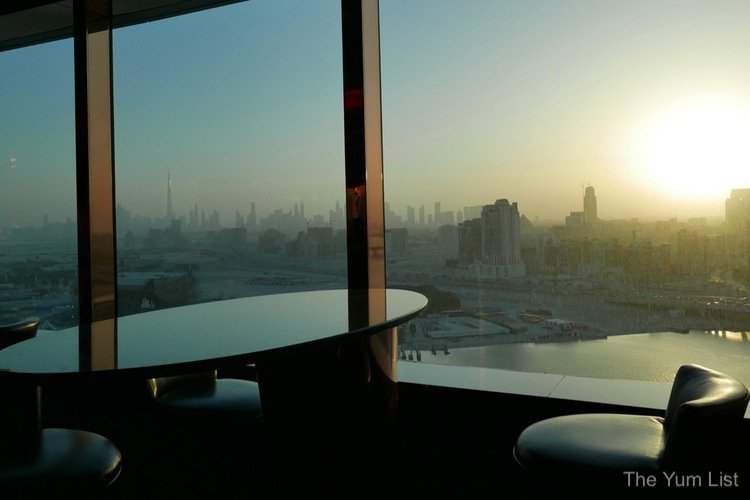 Facilities, InterContinental Dubai – Festival City
Of course, being InterContinental, the hotel is well-equipped for business travellers with meeting rooms, function spaces and office services. We're here for leisure though so the pool and the fitness room are what we're most interested in.
Ever so grateful for 24-hour access to the gymnasium, I can get my early morning workouts to begin the day. The fitness room is well-equipped with a good number of cardio and strength machines alongside free weights, mats and balls.
The pool brings a resort feel to the fourth floor of the hotel shaded by palms and with infinity edges that seem to drop down over the Dubai Creek. The sun chairs quickly fill up and the water is the temperature of bath water at this time of year; perfect for those of us who don't appreciate the cold.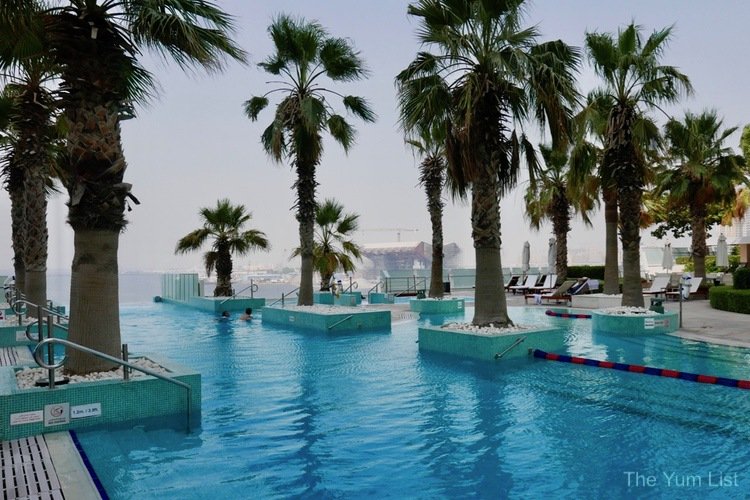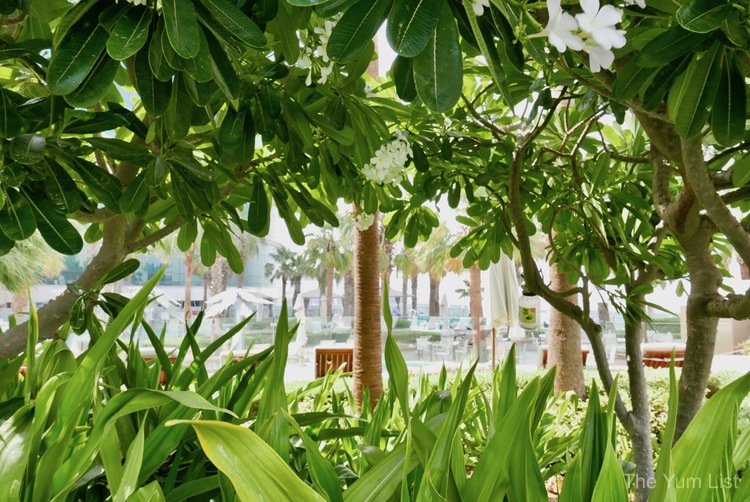 If only we'd stayed longer, we'd book in for a massage at Spa InterContinental. While I don't have time to report on an experience I do pop my head in and discover ten private treatment rooms (each with a view of the city), a couple's room, nail salon and relaxation lounges. The base design is neutral and calming in colour with marks of Arabian motifs appending a sense of opulence but the crowning glory is the entrance of stars – check out the pic below!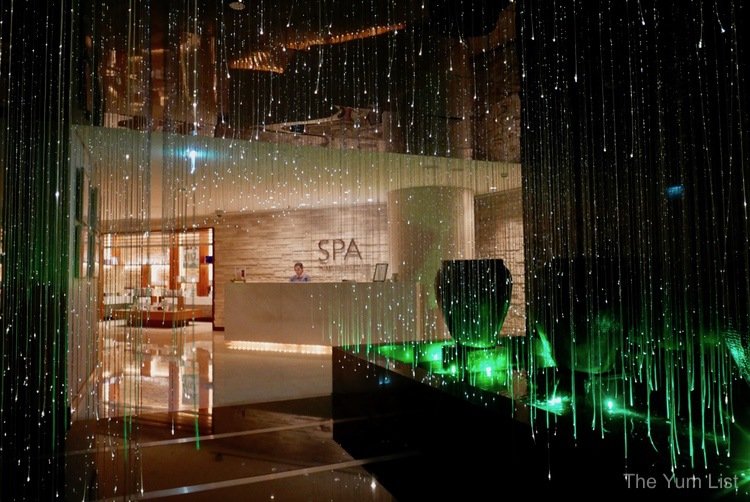 Service at InterContinental Dubai
Despite the stylish rooms, incredibly convenient location, good facilities and excellent food and beverage outlets, InterContinental Dubai would not hold the reputation it does today without the staff. Just as last year's stay at InterContinental Abu Dhabi had me singing the praises of the team, our experience at InterContinental Dubai has been equally impressive.
The staff manage a fine balance between professionalism and friendliness. It's clear that expectations of service are high but it's also evident that staff are given the freedom to achieve this in their own individual style. From the moment we arrived and the front desk manager responded to our description of a rough night flight with, "Now it's all okay as we're here to take care of you," to the fresh blooms and sweet treats in our room as an acknowledgment of slower Internet the morning of our arrival, to the kind farewell from our porter who thanked us for staying with them and hoped he "could look after us again sometime soon," we felt genuine hospitality. The staff made our stay much more than just a stopover: we felt as if we were welcomed into someone's home, a home we hope to return to again very soon.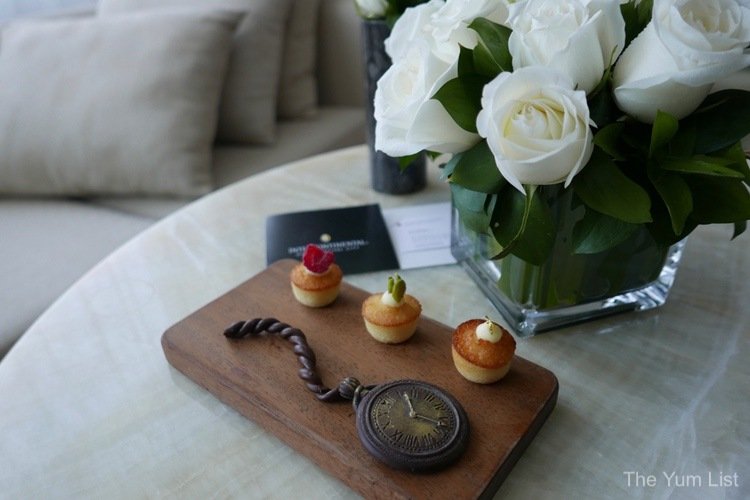 Review InterContinental Dubai – Festival City: incredibly convenient location – ideal for stopovers in Dubai, good facilities, stylish rooms, excellent food and beverage outlets and outstanding service.
InterContinental Dubai – Festival City
Dubai Festival City
United Arab Emirates
+971 04 701 1111
Website
Read about last year's stopover at the InterContinental in Abu Dhabi here.