Monica Tindall
After a day of exploring the charming town of Locorotondo nearby, we return to Leonardo Trulli Resort for dinner. We had such an impressive experience at lunch that we didn't want to risk falling into a tourist trap in the popular town centre so came back to see Chef Francesco Cataldi and again get a taste of his authentic Apulian recipes.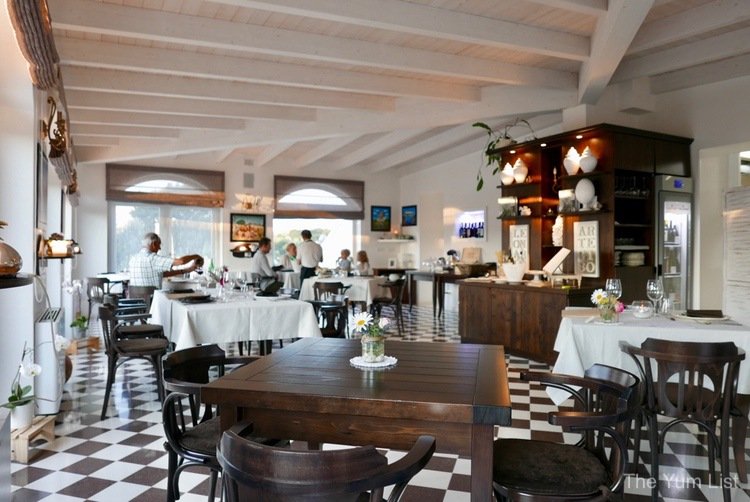 Aperitivo at Leonardo Artecibo
We are in Italy and the aperitif of overwhelming choice is the Aperol Spritz. Three parts Aperol, two parts prosecco and a dash of soda make a sweet and bitter cocktail perfect for bridging day to night. We take a glass in the picturesque garden blooming with edible flowers and herbs before moving inside to a candlelit table for dinner.
Antipasto at Leondaro Artecibo
We learned a few days back that our foreign perception of antipasti was extremely limited. Tainted by an international market, our experience of Italian starters has primarily been cold cuts, cheese and a few grilled vegetables. This is not the case in the south. Antipasto in itself could be an entire meal. Plate after plate of recipes made from local produce comes from the kitchen and, if you see antipasto on the menu in the south, you should order wisely, knowing that you are going to get an eye-opening and stomach-filling parade of plates. Antipasto is for all tastes. Chef says he thinks about all of these friends and the variety of tastes and ensures that what comes out of the kitchen will satisfy a wide range of preferences.
Chef speaks of the seasons and the days and life and art. He cooks with passion and says that every day he wakes and is affected by the beauty of his surrounds. He uses life as inspiration and all five senses to design his recipes. He compares cooking with great artists such as the works of Michelangelo, saying that when you view the works you can see, maybe touch and perhaps feel, but with a chef and recipes, you use all of your senses.
It would be hard not to feel enlightened after a speech like that and even more so quieten tummy rumbles so we're gladdened to see the first plate. Capesante con morbido di violetta presents a beautiful dish of purple potato mousse rosettes surrounded by fresh scallops and stems of pea sprouts. As with our lunch earlier in the day, the produce has been recently harvested and we taste the quality with every mouthful. I enquire about the dressing, and Guiseppe tells us that he'll have to check with the chef but for sure there is extra virgin olive oil that they have made themselves, "We put it in everything," he confirms, "It's good for you!"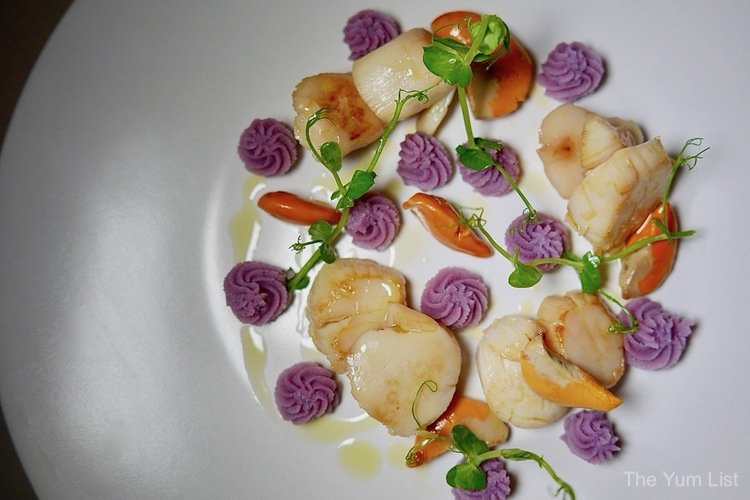 As I lean in to take a photo of the next dish, the coniglio alle sette erbe su croccante di verza, a mouthwatering aroma literally makes me salivate. The seven herb rabbit smells so good! Our waiter Guiseppe smiles. He knows what I'm thinking. "These herbs are all from our garden. That's why it smells so "delizioso," he confirms. It's a dish where you should make full use of the bread basket to soak up every last drop of the remaining jus.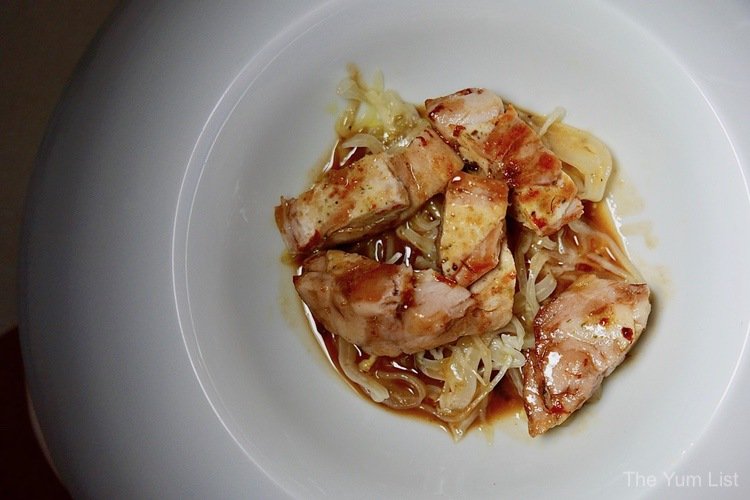 Moving onto red meat, summer veal chops, braciola estiva con zabaione al basilica, couldn't possibly be more tender. Rolled into mini rugs, the slim slices are coated with a light herby green foam and are of generous portion filling a large bowl so much so that it could easily be a main.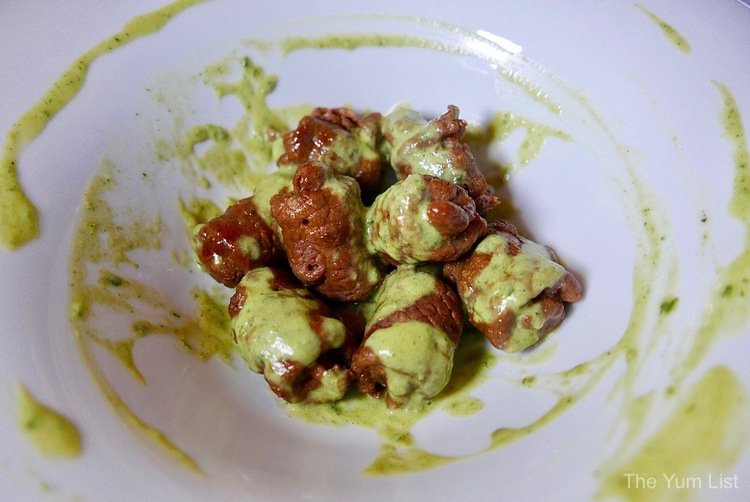 Even though all of the ingredients in our final antipasto are local, there's a distinctive international touch. Sashimi alla Pugliese showcases a tartar of fresh prawns from Gallipoli, zucchini slices, sweet and sour sauce, and rice with coconut. The shrimp taste as though they have jumped on our plate directly from the ocean and while the surrounding mounds of rice are tasty, I'm saving space for the main and am more than satisfied with the prawns alone.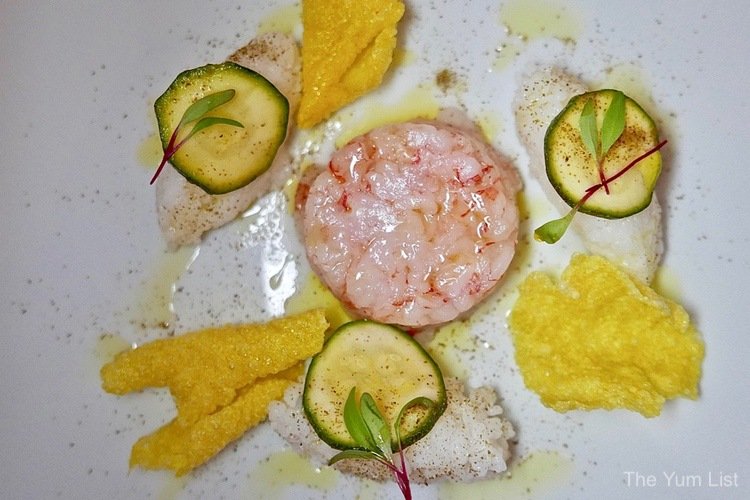 Leonardo Artecibo Menu – Secondo Piatto
"Simple things are the best," says Leo as he describes the main dish, "The chef will prepare a mixed catch of the day, simply steamed, with vegetables." We agree that taste buds are won with simplicity and after the eating adventures we've been on during this trip are grateful for a lighter main. Fresh from the ocean are red prawns, ombina and sea bream.
The fish is excellent but it's the red prawns that have captured our attention. The shrimp are cooked in a solution replicating the seawater from which they came. The flavour is intense but not fishy. Chef tells us that fish coming from the different seas in the region (Apulia is blessed with the Adriatic on one side and the Mediterranean on the other) so the different depths, bases (stones or sand) and temperature greatly affect the flavour of the seafood. "You have to know the sea from which the fish came to be able to cook it properly."
While the seafood is on top, three types of greens are found in the bottom basket: two types of wild chard and long green beans. Leo returns with Leonardo's own olive oil as "it goes with everything," he advises. Our waiters, Leo and Guiseppe have sold us on this olive oil both at lunch and dinner insisting that we have it on bread and extra for our orders: I think we're going to have to take some home with us.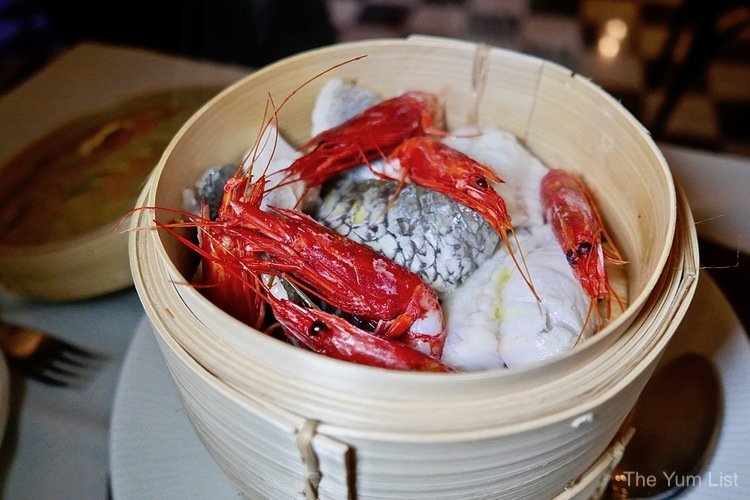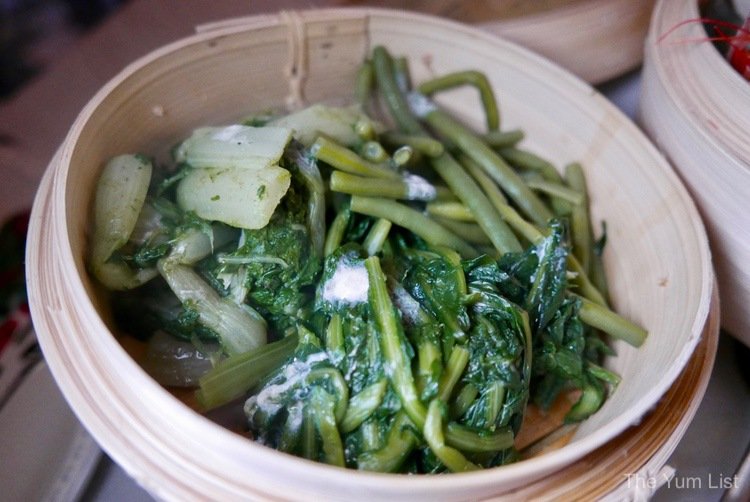 Dessert at Leonardo Artecibo
Chef returns with dessert and tells us how important it is to eat well, live well and love well. As if to justify a sugary ending, he lectures, "You must eat well, so what if I'm a little fat, it would be a sin to die healthy." And with that, how could we possibly not give in to a little pudding?
Dill and pea sprouts break up the soft sweetness of the semifreddo. Cherries, blueberries, meringue cones, and chocolate soil add some fruitiness and a change of texture to the superbly velvety pistachio cream. It's an ideal balance of gentle sweet fruit, cream and herb, and leaves our palates satisfied that the meal has concluded but without a single regret of overindulgence.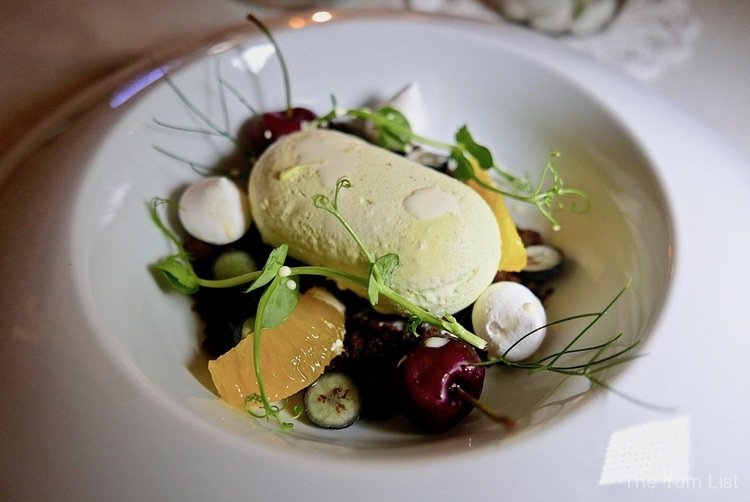 Reasons to visit Leonardo Artecibo: incredibly fresh produce; a passionate chef who truly cares about giving the best of Apulia to his diners; intimate setting; friendly service.
Leonardo Artecibo
Leonardo Trulli Resort Restaurant
S.C. 54 C.da Semeraro, 107
70010 Locorotondo – BARI
+39 333 162 3529 / +39 366 646 7310
[email protected]