Monica Tindall
You say Apulia I say, Puglia. Either way, both translate to images of hills blanketed with olive and almond trees, thick foliage occasionally broken by the peaks of trullo, the aquamarine Adriatic Sea and people so genuine and helpful that you feel as though you're long lost relatives.
This is where we spend part of our summer, living the Italian dream of calling a villa our home for a few days. At the end of a narrow dirt road bordered by stone fences and greened by 1000-year old olive trees, we find an oasis of relaxation and inspiration, Twin Geckos Villa.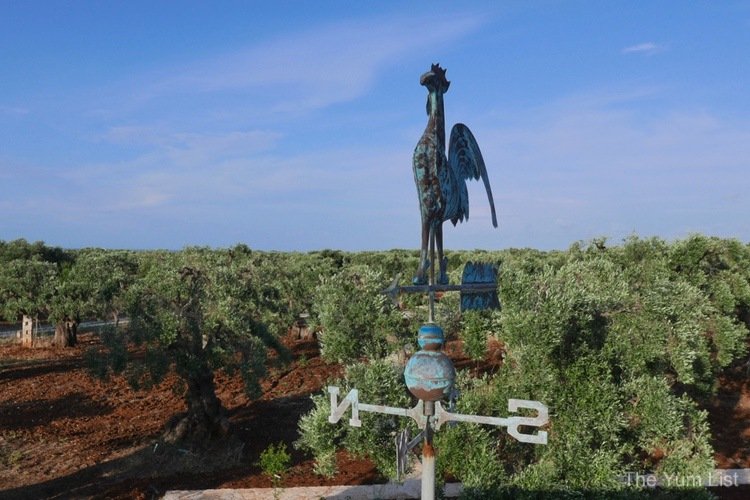 Twin Geckos Villa
An architect by trade, villa owner Francesco certainly has an eye for design. His compound, an olive grove, houses two villas: fully equipped with kitchen, living areas, three bedrooms and rooftop deck and pool; and a single cottage rented as an additional bedroom to second of the main villas. All artfully weave traditional and contemporary, local and international, into stylish abodes providing the home we dream of but have not yet managed to acquire.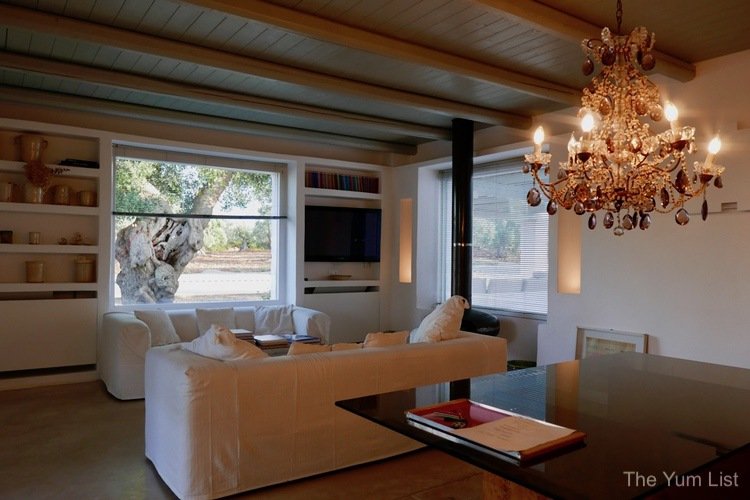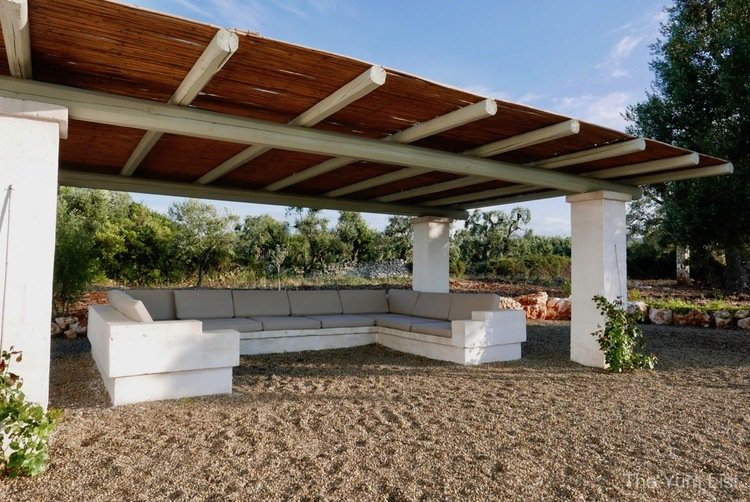 It's just hubby and me on this trip but with the ability to sleep up to 12 guests between the three buildings I imagine a stay with family or friends for a few weeks would be a very pleasurable experience. With two usable rooftops and generous spaces around two grand pools, the compound would also make a fantastic event space.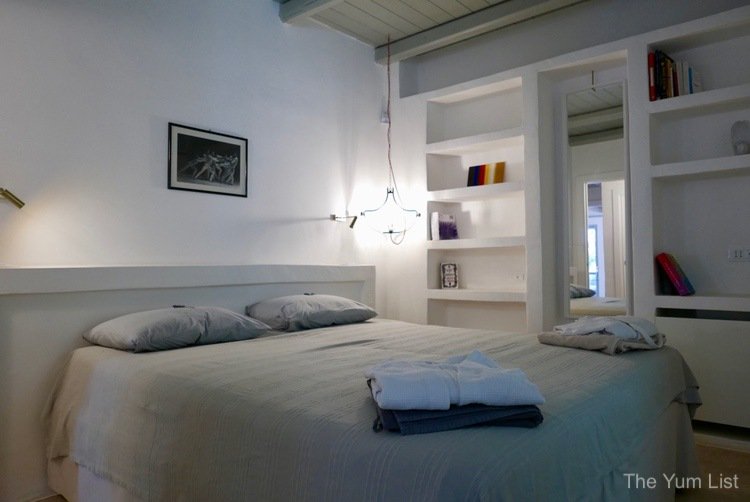 It is "just us" though, and the pleasure of having an entire home to ourselves, immediately surrounded by nothing but nature, delivers a quietude yearned for during our routine city lives and one which is rarely fulfilled. Clean lines, open spaces and contemporary artworks conceptualize the home. Hubby is taken by an extensive library of beautiful books on Italian artists and a coffee table collection of pages of dreamy Apulian lifestyle publications.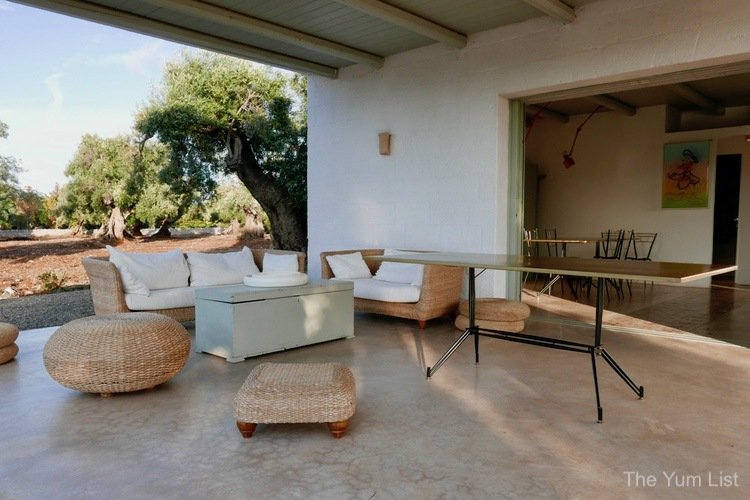 The kitchen is thoughtfully stocked with fresh fruit, a bottle of wine, some biscuits and cereals for breakfast, and an espresso machine that sure gets a good workout. There's also a fabulous can of extra virgin olive oil, pressed from the olives in the area of course from properties managed by LAP, that has us drowning crusty sourdough bread slices in it, so much so, that the excess squeezes out and rolls down the sides of our mouths each time we bite in. There are a full-size fridge and cooking facilities including stovetop and oven: if we so desired, it would be easy to stock up on luscious local produce and cook in for the entirety of a stay.
Our "see-and-eat-and-drink-it-all" schedule, however, has us up and around the area for most of the days yet how I crave to spend a few hours just sitting. Sitting on the patio. Sitting on the sun chairs by the pool. Sitting on the outdoor lounge. Sitting under an olive tree. Just breathing this air. When city life is the norm, crisp air, the sounds of nature and the ability to use long vision (as there are no buildings keeping you constantly short-sighted), are incredible luxuries. It's not to be on this trip though, as, we're in Italy and the FOMO (Fear of Missing Out) in me can't resist the new discoveries!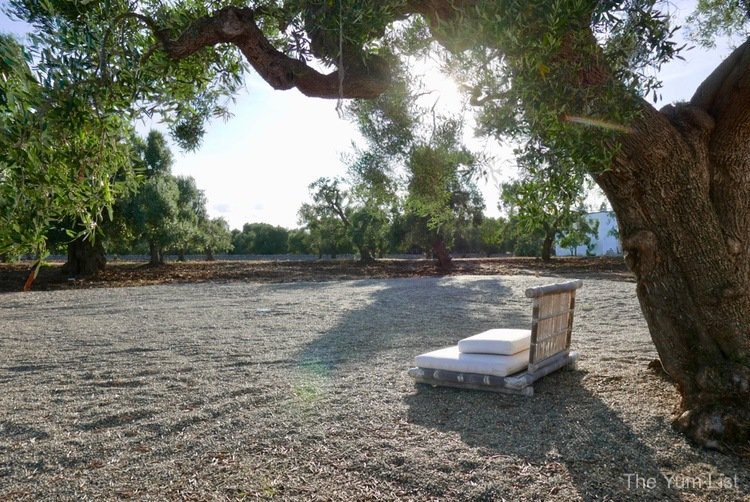 Twin Geckos Villa Location
With the "White City" of Ostuni on one side and the Adriatic Sea on the other, you can't ask for a better location. Out the front gate and to the right, a few minutes-drive has us wandering ancient white-washed streets, sipping fresh sparkling wine drawn just hours ago from the barrel and admiring the talent of local creatives in art galleries and boutiques. Five minutes in the other direction has us on the Adriatic Coast, eating fish platters plucked fresh from the sea and dipping our toes in the white sand and aquamarine waters.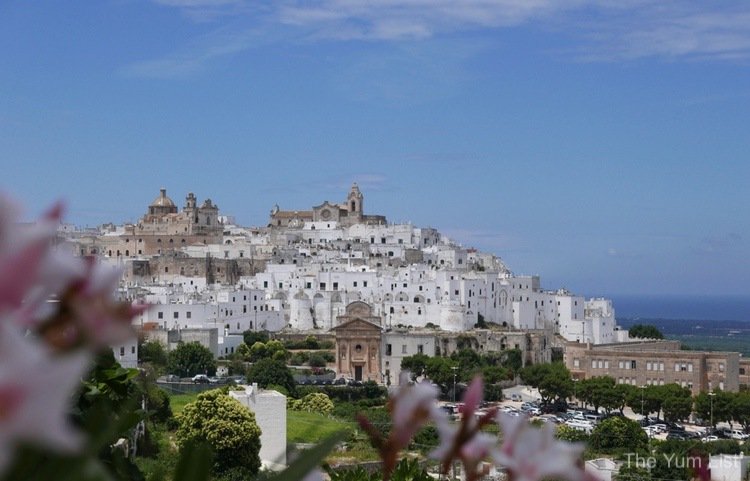 Venture out a little further, say a whole hour even, and the diversity of Apulia is at your camera's lens. Polignano a Mare and Monopoli, stunning towns on the rocky shores of the coast, beckon sun lovers. Lecce, Martina Franca and Alberobello call to those who appreciate architecture. Matera, the European City of Culture for 2019, a city built into a rock mountain, is a comfortable drive's inland, and grove after grove, hill after hill, town after town, promise to fill tummies and hearts with a local taste of Apulia and its warm hospitality.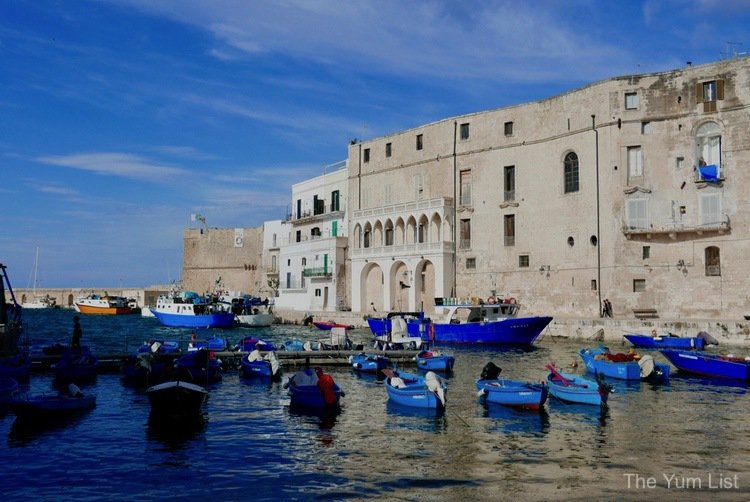 More of that to come in future posts…
Meanwhile, check out Twin Geckos Villa and find other Apulian dream stays here.