Monica Tindall
Tuscany is the stuff dreams are made of, or at the very least the set for fanciful movies that often make the heart flutter and the stomach grumble with envy. Rolling hills of green, groves of olives, fields of grapevines and old castles blanket the countryside. Boutique wine producers seem to be found upon every turn and kitchens tempt stomachs with regional specialities. At the heart of it all, we find an Agriturismo in Tuscany, Castello di Querceto, from which to delight in all the region has to offer.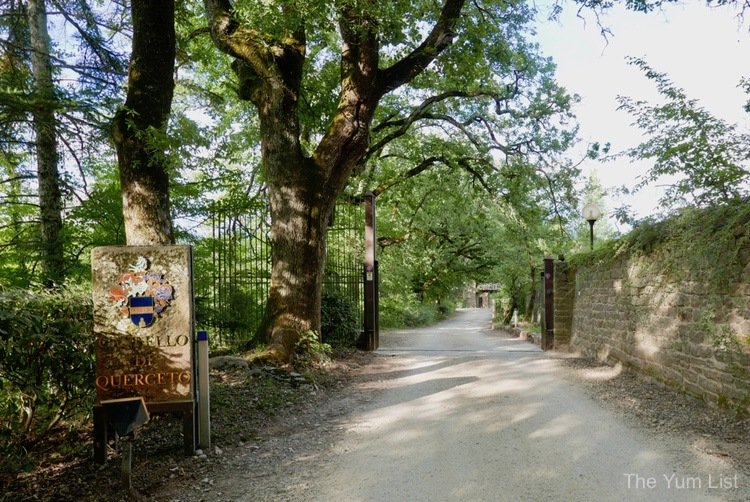 Agriturismo Castello di Querceto
Agriturismos have become popular all over Italy in recent years. Often simple abodes established on small farms or wineries, guests use them as a base to explore the surrounds, connect to local culture and often learn a new skill such as cooking or wine appreciation. Agriturismo Castello di Querceto, part of the very foundation of Chianti Classico, offers rooms connected to an ancient castle and a refurbished farmhouse to guests looking to spend some time in the area.
Location
The Tuscan Agriturismo Castello di Querceto is a beautiful headquarters for day trips to Florentine Chianti Classico but also easily accessible to charming historic towns such as the likes of Florence, Siena, San Gimignano, Arezzo and Pisa. Nestled atop a small hill, the grounds are encircled by lush forests, vineyards and a colour story of green as far as the eye can see.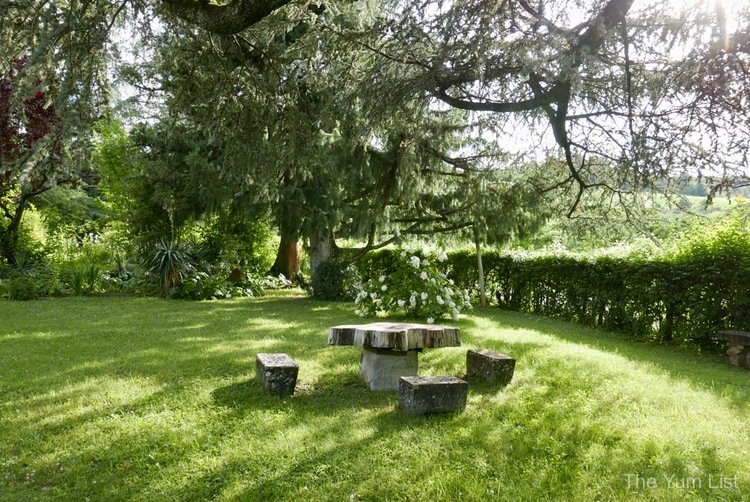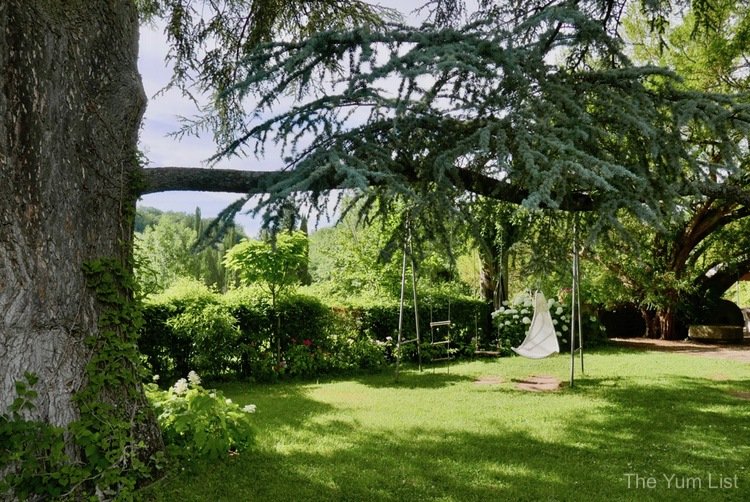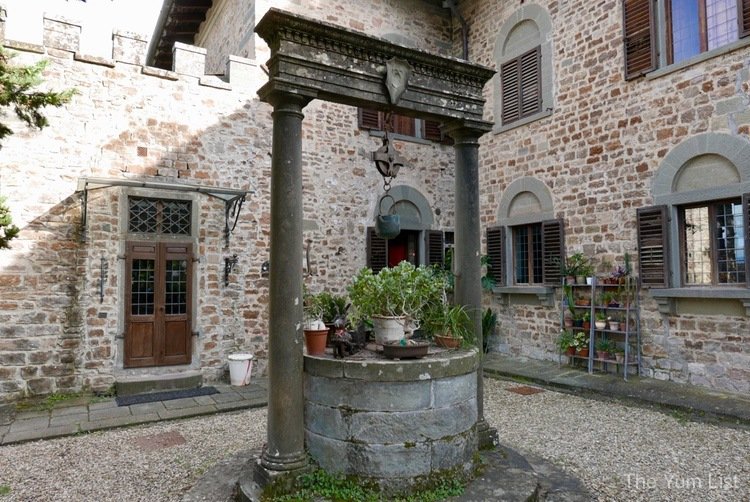 Apartments at Agriturismo Castello di Querceto
Some of the apartments of the agriturismo are a stone's throw from the medieval castle itself and others are the result of refurbishments to an old farmhouse just minutes down the road.
Traditional Tuscan furnishings deck out the apartments with warm wooden furniture, terracotta floors and exposed beam ceilings. All include kitchenettes, heating, telephones, satellite TV and complimentary Wi-Fi. If staying during the cooler months, I'd definitely seek out one of the apartments that also contains a fireplace – I can already imagine myself snuggled in front of the flames with a glass of Chianti Classico in hand.
The spaces are large and make staying for a week or more very convenient with separate sleeping, bathroom, living and kitchen areas. A laundry service is available upon request and a decent breakfast is included daily downstairs in the castle's kitchen. Coffee, freshly squeezed juice, yoghurt, cereal, bread, pastries and eggs are more than enough to begin the day.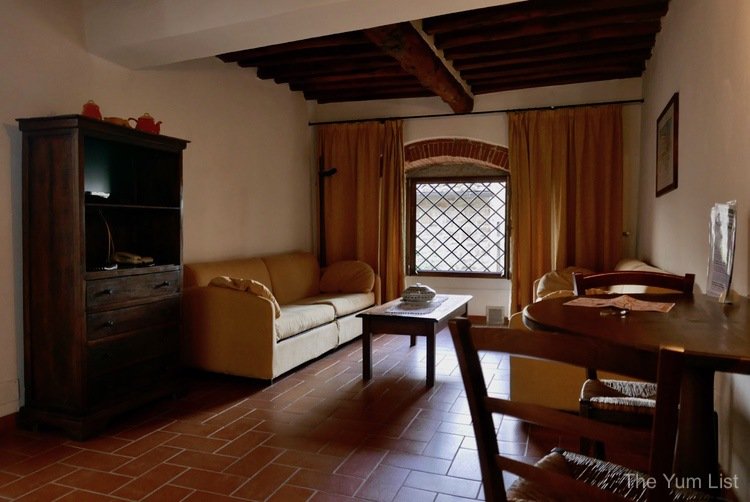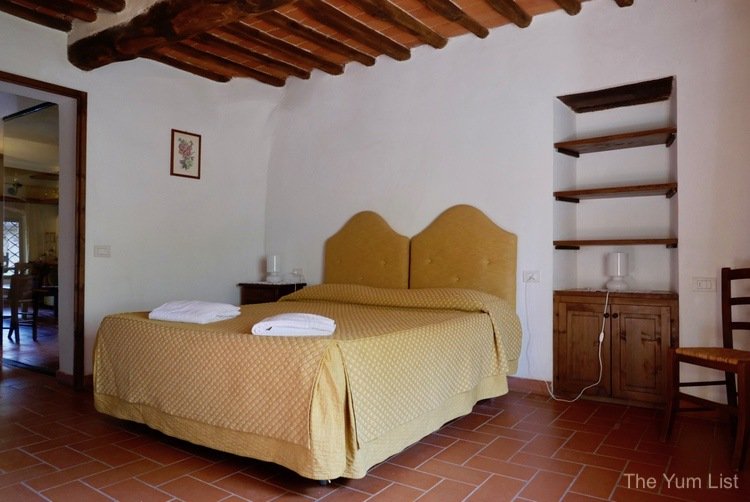 Facilities at Agriturismo Castello di Querceto
A swimming pool with sun loungers, deck chairs and white umbrellas is ideal for a morning dip, pre-calorie burning for a day of culinary exploration, or end of day relaxation soaking up all the Tuscan summer has to offer. Pretty gardens embrace the castle with plentiful spots scattered around the property for picnics under trees, reading a book, or even the simple pleasure of taking a nap.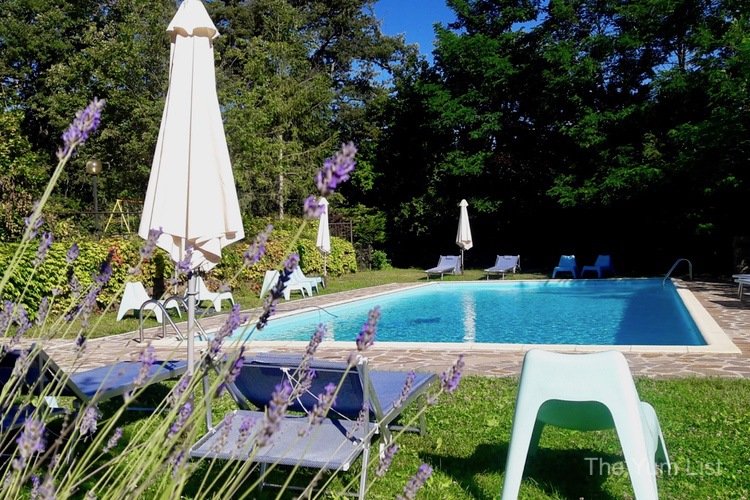 Surrounded by hills, vineyards and forests, a stroll through the enveloping vegetable is irresistible. Giant oaks and chestnut trees almost beg for a rug, a book and great local bottle. Of course, the reason many people visit Tuscany is for the wine and guided visits to the Castle along with a tour of ancient cellars and wine tasting can all be arranged. Check out the wine tasting and tour we did here.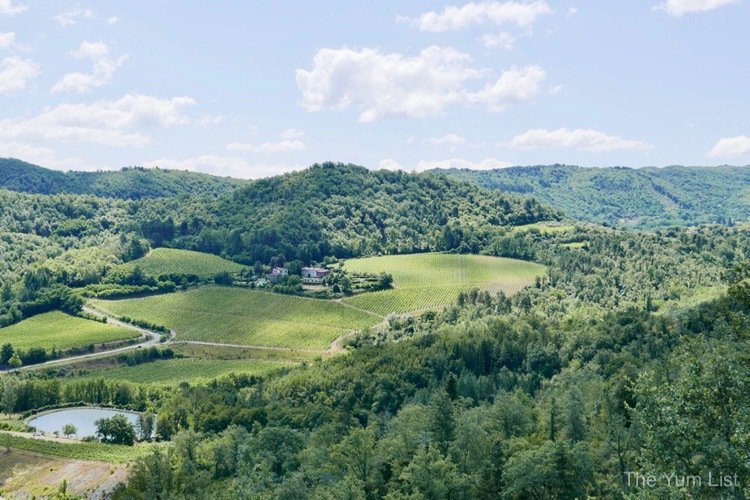 Reasons to stay at Agriturismo Castello di Querceto: beautiful location in the heart of Chianti Classico; an apartment with full facilities making travel expenses less and giving the freedom of cooking in if desired as well as sufficient space to make an extended stay comfortable; fine Chianti wines; plenty of places to picnic, relax and just enjoy nature.
Agriturismo Castello di Querceto
Via Alessandro François 2
50022 Greve in Chianti FI
Italy
www.castellodiquerceto.it
Love Italy? Find more recommendations for gourmet travel through the country here.