Monica Tindall
The first sip I had of a Castello di Querceto wine was in an Italian restaurant in Kuala Lumpur. Tucked away in a bungalow in a quiet street in the city centre, Giovanni, Italian chef, restaurateur and wine importer, shared his affection for this wine and why he had such an elevated drop available by glass, "Good food should be taken with good wine and people who just want one glass shouldn't have to sacrifice quality for quantity."
Adoration for wine and food is an inspiration for our travels and it just so happens that this summer we're in Italy, Tuscany to be exact, the home of Castello di Querceto, where I have no plans on sacrificing on either quality or quantity.
Wine enthusiasts can visit Castello di Querceto for a simple tasting, stroll around the lush gardens or discover more about the castle and its cellars on a guided experience. We opt for the full package taking in history, culture and oenology all in one visit.
Visiting Castello di Querceto
Alessandro Francois, the big boss and our guide, shocks us by sharing that he is 83 years old! He reveals that his secret is that he "never drinks water." His father and his father's cousin who lived to be 98 and 107 respectively also claimed the same philosophy. Alessandro was an engineer until the age of 50 (studying and working in Milan) when he decided to pursue a more enjoyable life. "Fortunately, all of my people followed me. My wife, my children, their spouses; they all help. They now take the responsibility and I fly around the world (three to four months a year) promoting my wine to the people," says Alessandro.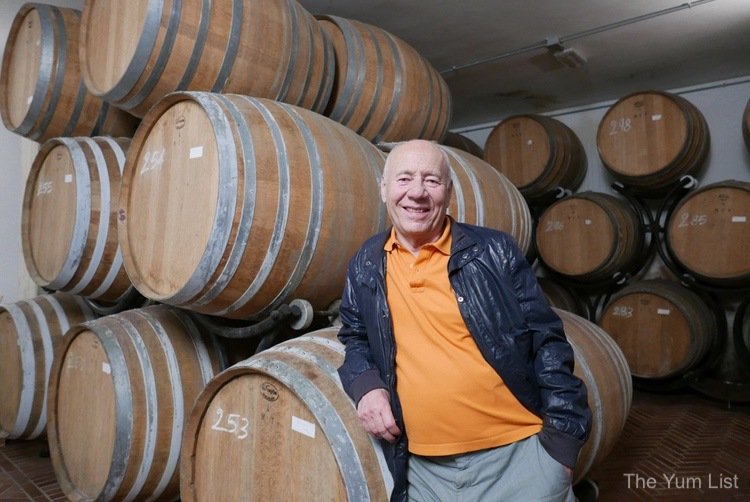 Castello di Querceto
Our tour begins with the castle. Just as the castle once watched over the main roads in the Roman era, today Castello di Querceto overlooks Chianti's honoured vineyards, olive groves and rolling hills. Built in the 16th century, the Canigiani family originally began restoration work, which was carried over by the Pitti family. Most recently, (1897), the property has been in the hands of the Francois family who have maintained the character of the period while at the same time fitted the property with modern technology.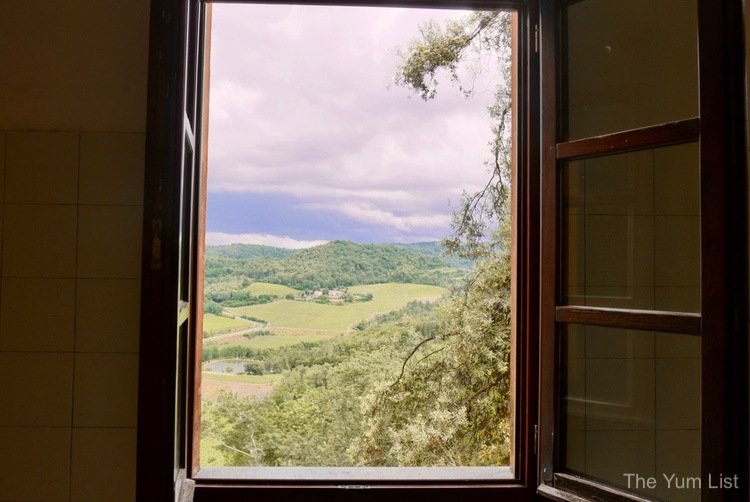 Castello di Querceto Cellars and Production
Phase two of the excursion takes us through both the old and new production and cellaring areas. With such history, there is much to see. Perhaps the most fascinating though is the old stone storage area where bottles over a 100-years-old are stored! Alessandro talks us through some of them in the video below.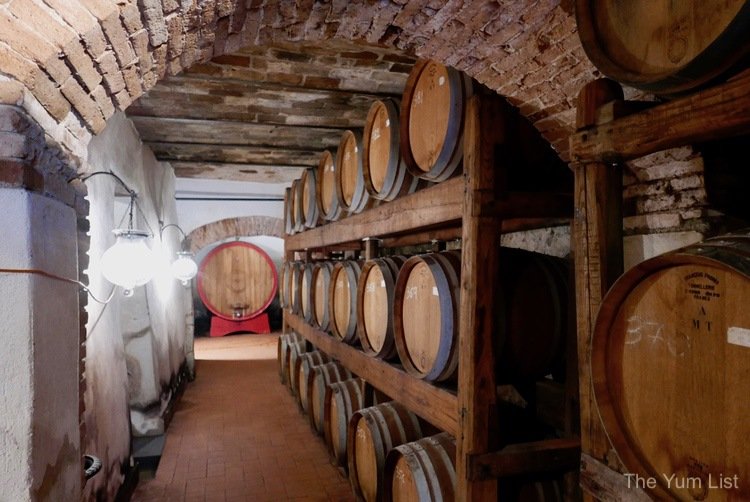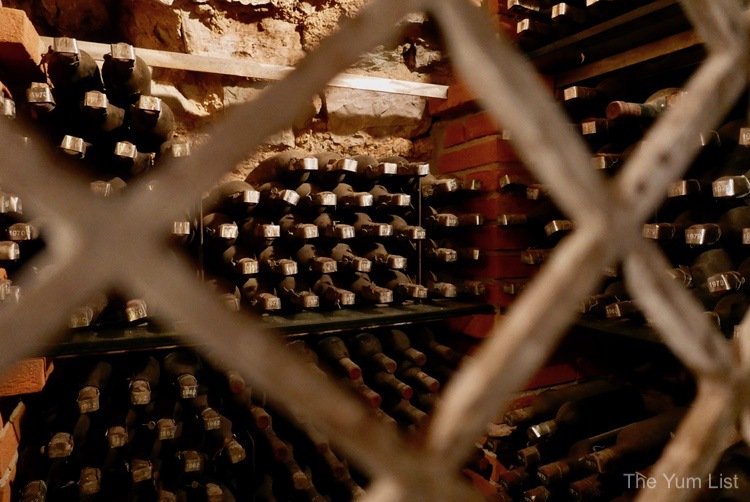 Tastings at Castello di Querceto
The history lesson has worked up a thirst and so we're happy to retire to the tasting room to sample the fruits of over a century's worth of effort.
Chianti Classico at Castello di Querceto
Some of the world's most picturesque landscapes also bring to us some of the globe's most renowned wines. Chianti Classico's allure lies in undulating hills cloaked in a colour story of green, lush flora, medieval architecture and a rich connection to the local environment in all things culinary. Dating back to the mid 19th century, growers in the area of Chianti were already training vines up posts in specialized crops and varietals from the region became known for quality and ageing potential. Today, Bettino Ricasoli's formula of 70% Sangiovese, 20% Canaiolo and 10% Trebbiano and Malvasia regulates production.
We try three of Castello di Querceto Chianti Classico wines from 2015 and Alessandro shares that he prefers to let the terroir take the lead and let the oak play only a small component of the overall profile in these wines. Most pair well with grilled red meats, ragu pasta, old cheeses and more complex meat recipes.
Chianti Classico is the entry-level wine, blending 95% Sangiovese and 5 % regional varieties. It's an easy launch to a meal, with less intensity in colour and is lighter in tannins than the reserve. The Chianti Classico Riserva takes things up a level only being made with vines that are over 25 years old. The wine is richer and more complex. Lastly, Castello di Querceto Il Picchio, Chianti Classic Gran Selezione offers bolder tannins but these are displayed with more elegance. The encircling forest of the single vineyard gives a lower night temperature assisting in the development of a more sophisticated taste. This one can be aged for up to 25 years depending on the vintage.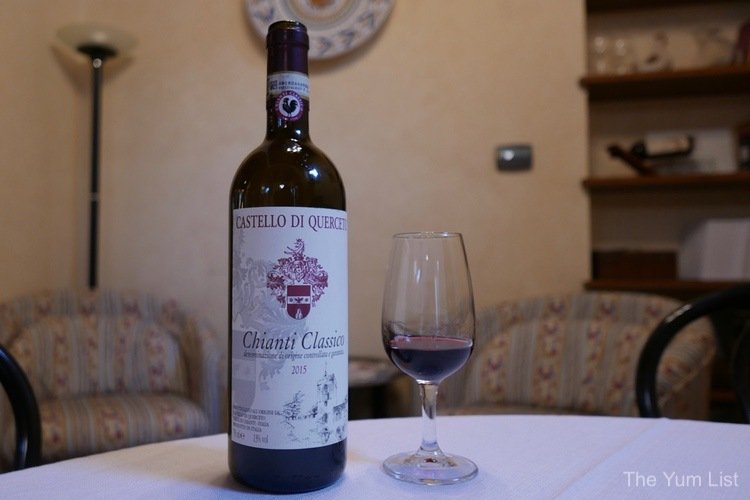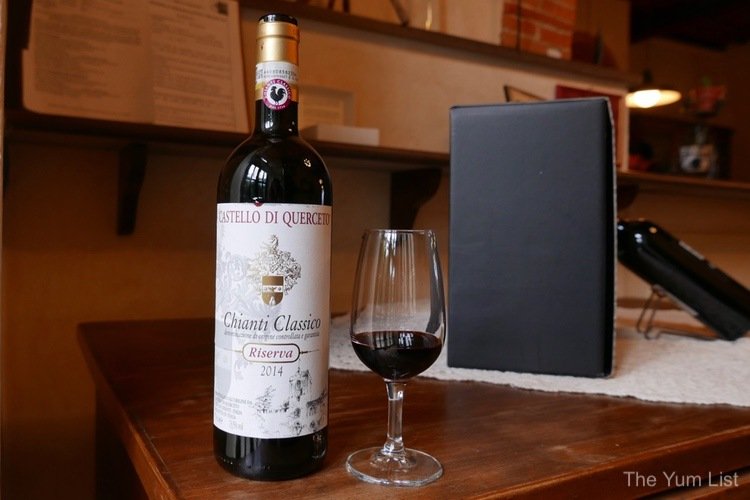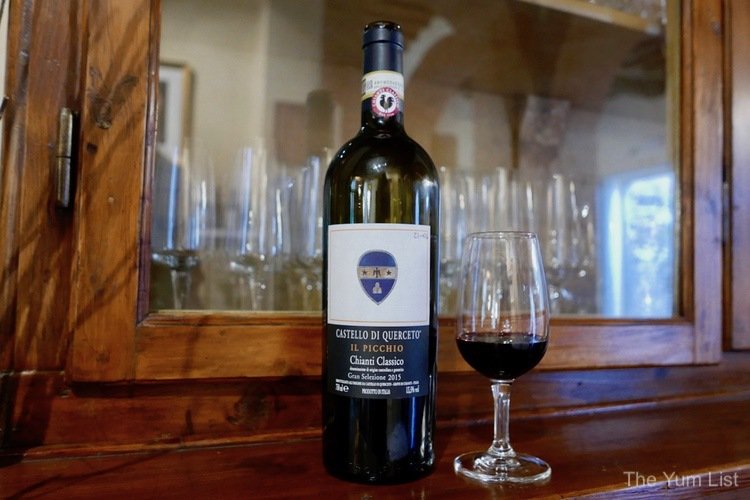 Super Tuscans from Castelllo di Querceto
The team at Castello di Querceto are known for their fine Chianti Classico but Super Tuscans, all coming from single vineyards, have found equal if not more fame.
Castello di Querceto 2012 La Corte, IGT Colli Della Toscana Centrale (13.5%) comes from the same land that Carlo Francois originally planted 100% Sangiovese over a century ago in 1899 – many say this was a precursor to the Super Tuscans. Alessandro replanted the vineyard in 1973 and the result is a wine that is said to be a bit rough around in the edges in its youth but develops into a real beauty as it ages.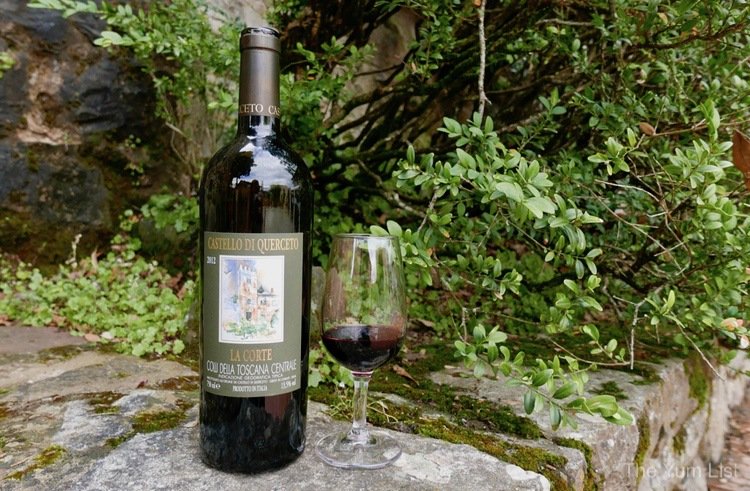 Castello di Querceto 2012 Il Querciolaia, IGT Colli Della Toscana Centrale gets its name from the small forest of oak that surrounds it. A blend of 65% Sangiovese and 35% Cabernet Sauvignon, this one is bold and structured and would be well suited to recipes with beef and venison.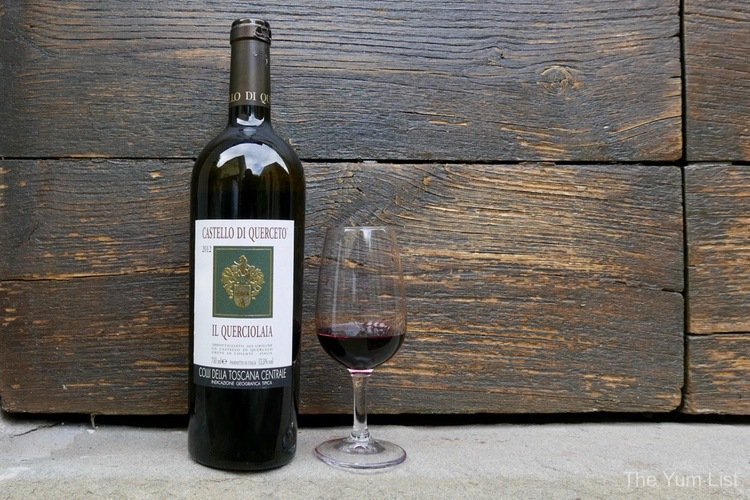 An interesting story surrounds the six different labels of the Castello di Querceto, Cignale Colli Della Toscana Centrale. Apparently, the first harvest was attacked by wild boars destroying the entire crop. You can now find six different images, assigned randomly on the bottles and aficionados have made it a challenge to collect them all. We try the 2011, a blend of 80% Cabernet Sauvignon and 20% Merlot, and delight in its aromas of wild berries, mouth coating texture and lingering finish.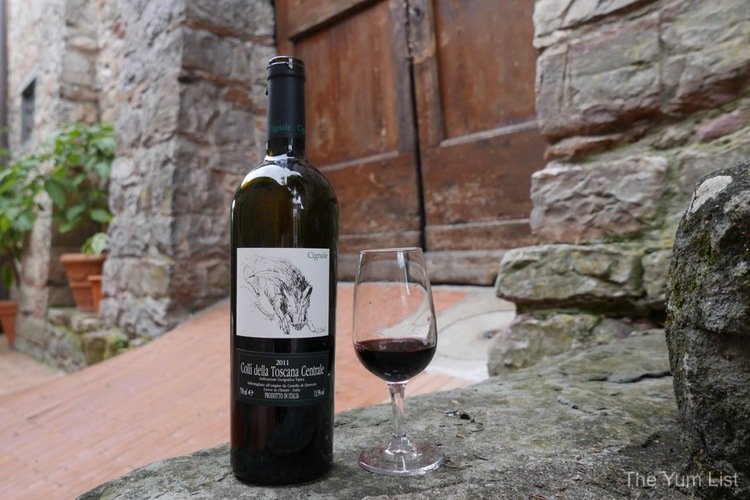 Following the success of Cignale, Alessandro searched for an entire year to find just the right microclimate to plant an exclusive crop of Cabernet Sauvignon. Castello di Querceto, 2010 Il Sole di Alessandro, IGT Colli della Toscana Centrale is the outcome of that successful search showing red berries and hints of eucalypt on the nose alongside an elegant complexity in the mouth and persistent finish. Game from the forests of Tuscany, stew and aged cheeses are agreeable pairings.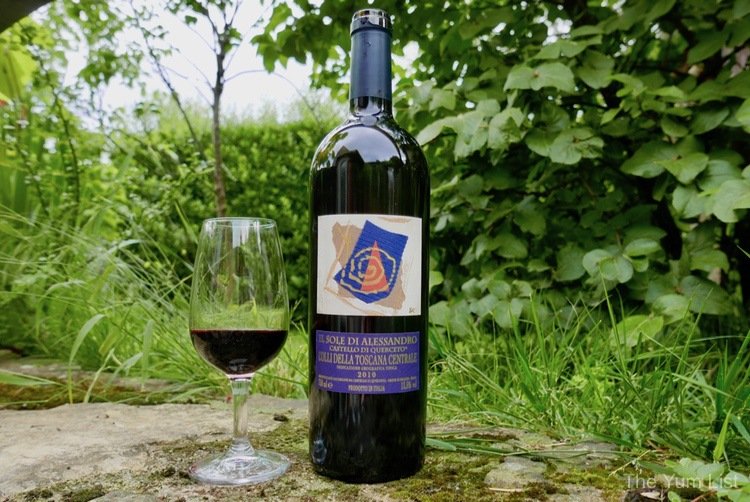 Saving the most loved of the Super Tuscans 'til last, we indulge in a glass of the Castello di Querceto, 2011 QueRceto Romantic IGT Colli Della Toscana Centrale. Yes, that is a QR code on the bottle – named after the god of wine, Bacchus, who is said to be born in this valley, you can scan the QR code to get the full love story. This labour of love cost Alessandro quite some turmoil in deciding on the precise blend. Experimenting with crops of Petit Verdot and Syrah (that had never been used in this area before) he made over 15 different combinations before he called a group of friends to try them all. The winner, 50% Petit Verdot, 30% Merlot and 20% Syrah, gained international acclaim with James Suckling awarding the wine 97 points! And, in James Suckling's words, it presents a bouquet of "blackberries, blueberries and black olives." "Full body yet agile and so refined with integrated tannins and a silky, gorgeous finish. It goes on for minutes. 2011 even better the 2009."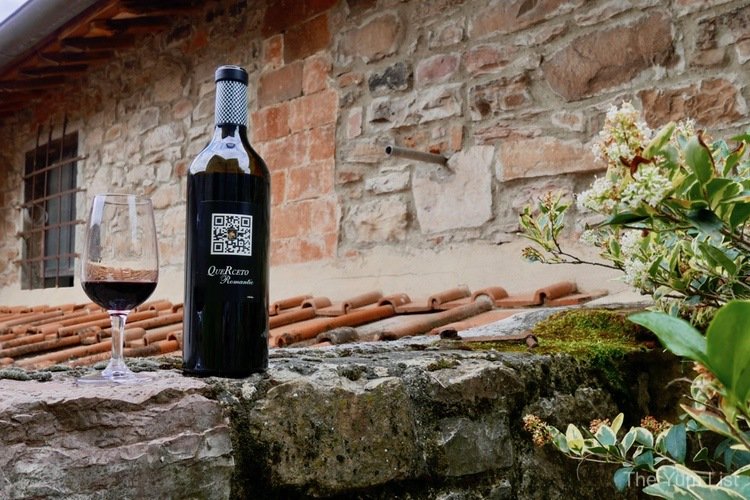 Secondary Wines Castello di Querceto
The team at Castello di Querceto produce a number of secondary wines such as sparkling, dessert and even grappa on occasion. We try a classic for the region, the 2014 Vin Santo del Chianti Classico. This dessert wine is a whopping 16.5% in alcohol volume and is made with Malvasia and Trebbiano grapes. The most well-known pairing is with biscotti also typical to the region (please don't dip your biscuit in the glass; you'll suffer a scolding from the boss) but Alessandro suggests that it's also very well combined with blue cheese and foie gras. It is a sweet wine but nicely balanced; not overly syrupy with a welcomed bite of acidity in the finish.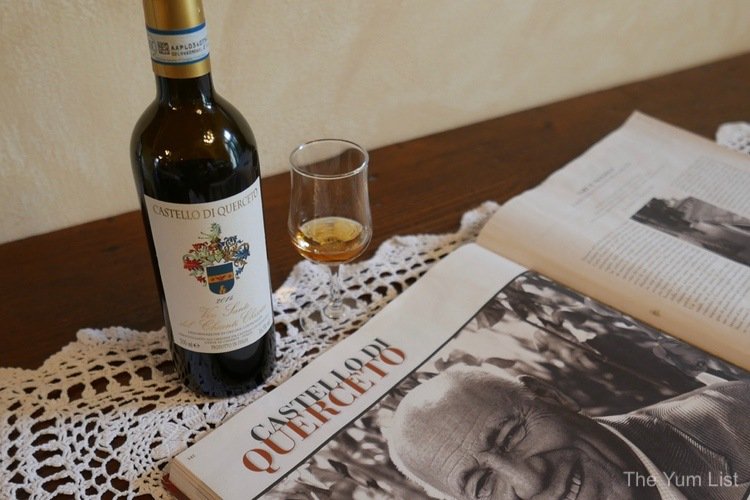 Reasons to visit Castello di Querceto: beautiful location with a long history; some of the finest wines in Tuscany; if you're lucky, you'll get to meet the boss himself.
Castello di Querceto
via A. François, 2 50022
Greve in Chianti (FI)
Phone (+39) 055 85921
Fax. (+39) 055 8592200
www.castellodiquerceto.it
Castello di Querceto Opening Hours:
Monday to Friday, 9 am – 5:30 pm
Find more inspiration for gourmet travel throughout Italy here.