Monica Tindall
I first discovered Azienda Uggiano wines at an event at Drift Dining and Bar in Kuala Lumpur. Immediately finding affection for these Tuscan wines, meeting one of the winemakers in person and imbibing in such happy surrounds only increased my fondness for the production.
Spending a month of the summer in Italy this year, I couldn't resist the chance to visit the winery in person, and thanks to our gracious and knowledgeable host, Giacomo, we got a good look at the story behind the wine and the beautiful terroir from which it is made.
Azienda Uggiano
Located in the heart of Chianti Colli Fiorentini, Azienda Uggiano has been going from strength to strength for the past 40 years. Taking over from Giuseppe Losapio who retired at the age of 82, the winery is currently in the hands of three friends, all long-term employees, who chose to take over, keeping all the staff and continuing production.
Giacomo gives us a tour of some of the vineyards where we see the typical grape of the region, Sangiovese, just beginning to bear fruit. He shares that all wines from Azienda Uggiano are classified DOCG and the current trend is moving towards better balancing the barrique with the terroir of the grape. The expression of the soil and climate makes wine unique and this individual pronouncement of the area is what gives each product its value.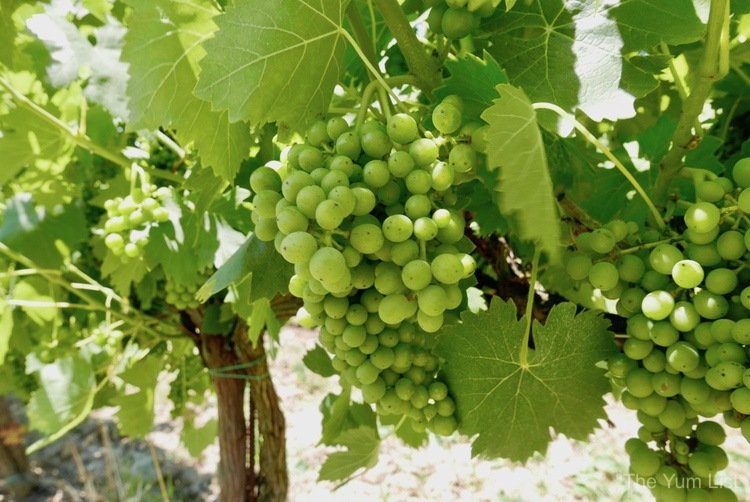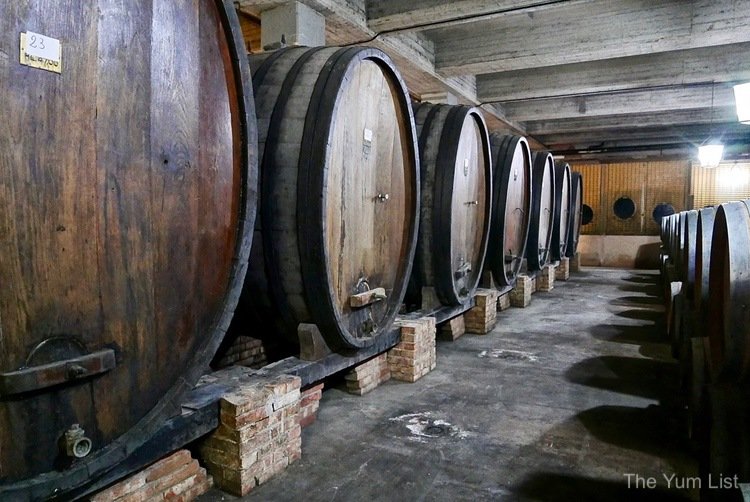 Azienda Uggiano Range
Back at headquarters and up to the tasting room, we have a chance to sample across the Azienda Uggiano range.
Chianti Wines
Chianti
Starting with some very easy drinking, Uggiano Prestige Chianti DOCG 2016 is a blend of 90% Sangiovese and 10% Canaiolo. Fermentation and maturation have been done in steel tanks so the full expression of the grape comes out in the wine. An intense ruby hue fills the glass and a bouquet of fruit with ripe cherries are immediate to the nose. It's smooth and velvety and is quite versatile. Giacomo apprises, "It's an easy red that doesn't take over the conversation. "You want to have it with grilled white meat, okay. You want to have a glass of wine while you're cooking; good too. It's a great wine by the glass. A properly made everyday wine. You have fruit, a nice nose and good acidity so it does well with food and it's a typical interpretation of the region."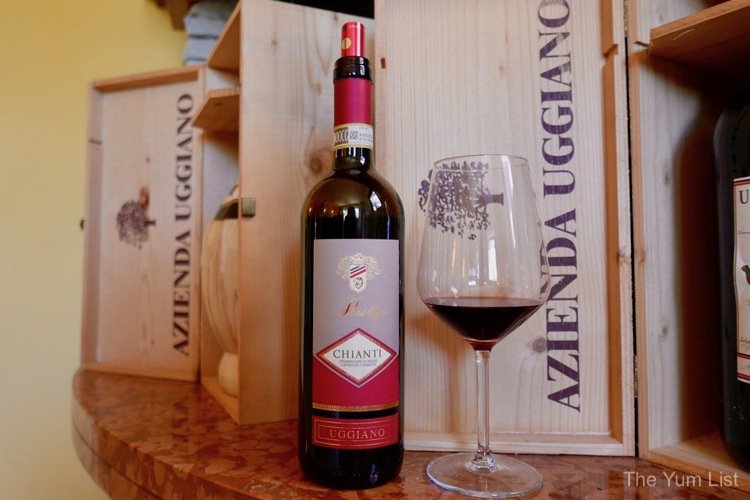 Chianti Classico
Jumping over the border we move to the famous region of Chianti Classico with the Uggiano Prestige Chianti Classico 2015. The colour is a little more of a charged red and the nose has an increased intensity. The body has more structure and complexity due to ageing in big oak casks. Again, it's a blend of 90% Sangiovese and 10% Canaiolo.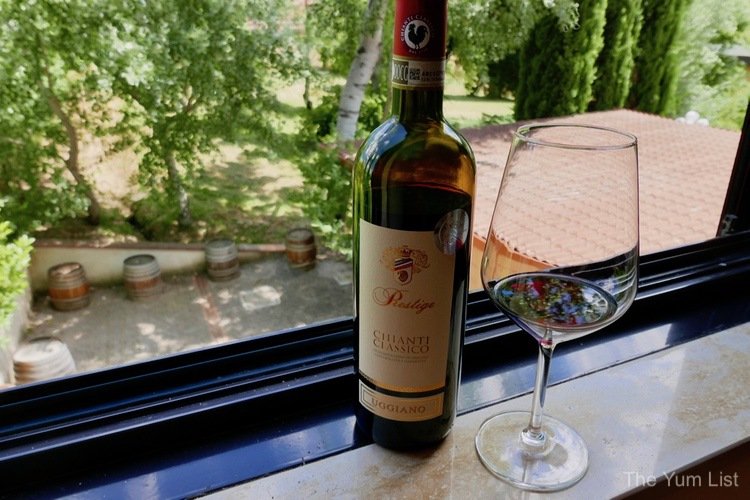 Chianti Riserva
Uggiano Chianti Riserva 2013 presents the same proportions of Sangiovese and Canaiolo but the release has been delayed a year more than Chianti. The colour is a deep dark red and displays aromas of preserved cherries, plums and floral scents while picking up a little vanilla from maturation in oak. This wine has been awarded 91 points by James Suckling and also won the Gold, Food Match and Critics Choice in the Sommelier Wine Awards (SWA). Very important though is the Best in Show Award, which credits it as an "on-trade wine of character, value and excellence" – basically excellent value for money. It's characteristic of Chianti, an excellent wine and very good value.
Traditional, IGT & Super Tuscans
Vermentino
Uggiano Prestige Vermentino Toscana 2017 showcases a traditional white grape from Tuscany. In recent times, it has gained popularity as different regions of Italy have been paying more attention to indigenous grapes. It's very aromatic with notes of spring blossom and fruit. Its light minerality and crisp finish do well with seafood. It has a fine body; very easy to drink. Chill it a few degrees more and it makes a good aperitif; a little warmer and it goes well with cheese, lightly cooked seafood and even light pasta. Only fermented in stainless steel, it's a simple wine with no tertiary aromas provided from the oak.
Syrah
After a number of years of experimentation, Syrah, which was once only used in their blends is now used 100% in the "Syra" Syrah di Toscana IGT 2016. It's an intense ruby red in colour. On the nose, berries with a whiff of spice are present moving on to a full body, smooth palate with graceful tannins and a long finish. Dark poultry such as duck and pigeon served with pasta or risotto are ideal pairings.
Cabernet Sauvignon
"Falconeri" Cabernet Sauvignon di Toscana IGT 2010 is a blend of 85% Cabernet Sauvignon and 15% Sangiovese. As you might expect, it's a perfect companion to red meat, especially that freshly charred off the grill or stewed game meats such as wild boar. The colour is a deep garnet reminiscent of the dark berries found in the nose. The aromas continue with fresh herbs and vanilla. The wine is full-bodied with delicate tannins and lingers in the mouth for a good few minutes.
Petraia
One of my favourites from Azienda Uggiano is the "Petraia" Merlot di Toscana IGT 2011. Eighty-five per cent Merlot is blended with 15% Cabernet Sauvignon to produce a shadowy red hue and complex bouquet see-sawing between sweet and spice. The mouth brings further complexity with the fruit of the merlot and liveliness in the finish. It's a wine that would age well; up to 10 – 15 years. Grilled red meats and wild game make good partners.
Brunello
Brunello di Montalcino DOCG 2013 is made with 100% Sangiovese Grosso. It's the finest example of a Sangiovese that you can find in Tuscany. "Grosso" means that it's a clone of Sangiovese and the skin it a little thicker, growing specifically in this region. It's packed with complexity in the bouquet with wild berries, tobacco and spice from the oak. Warmth on the nose continues with warmth in the palate in a round, plump body and the aromas continue right through to the long-lasting end. This has a life of around 15 years. Again, wild game, steak and aged cheeses bring out the best of the vintage.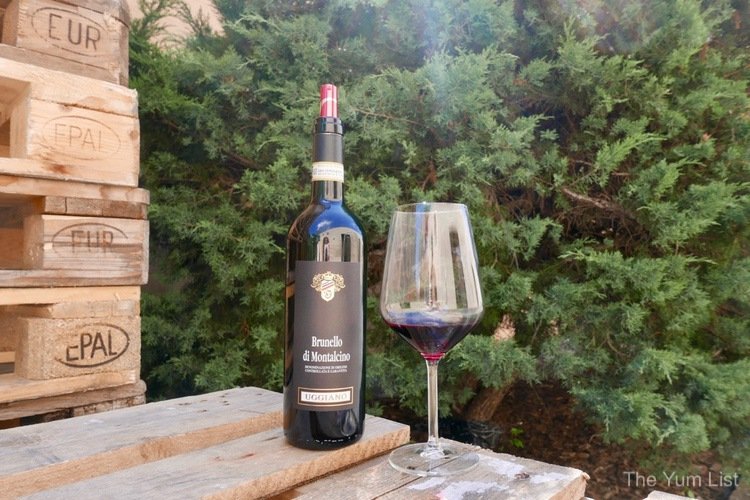 Reasons to drink Azienda Uggiano wines: value for money Tuscan wines; the Vermentino goes down very easily making it a lovely quaffing wine for the summer; I'd grab a bottle of the Chianti Riserva for barbecues and lots of charred meats and veggies; for some fine conversation with friends I'd choose either the Petraia or Brunello (or both).
Azienda Uggiano
Via Empolese, 20/D
50018 – S. Vincenzo a Torri
Florence, Italy
055/769087
www.uggiano.it
Azienda Uggiano wines are currently available in Malaysia through Straits Wine.