Words: Tania Henry     Photos: Monica Tindall
The luxurious and world-renowned Banyan Tree has recently opened in Kuala Lumpur and most impressive is its spa on level 53. With comforting and beautifully designed treatment rooms hosting incredible views of KL's city skyline, this spa presents the perfect opportunity to escape, relax and rejuvenate from the stresses of living in a busy city. Despite its location, right in the heart of Bukit Bintang, this spa is a hidden slice of tranquillity presenting an oasis away from traffic jams and crammed shopping malls.
Treatment Rooms @ Banyan Tree Spa Kuala Lumpur
While all the treatment rooms at the Banyan Tree Spa Kuala Lumpur are lovely, The Kasturi room is the most luxurious. The startling corner relaxation room with floor to ceiling windows has unbeatable views of both the Petronas Twin Towers and the KL Tower. Having a foot bath here before treatment or sipping tea afterwards gazing down over the bustle of the city, happy that you're well above it, literally, is like no other spa experience in town. Top that with a feeling of warmth and comfort with soothing spa instrumentals, fresh flowers, burning candles, aromas of 'Litsea Cubeba', soft lighting and marble finishings and you have yourself a truly regal sanctum of calm. The space itself consists of four areas, housing a large therapy room with two long and lush massage beds, a free-standing bathtub with enough room for two, a room with incredible views of KL city to relax in before and after your treatment, and a private ensuite inclusive of a steam room, toilet, lockers and shower.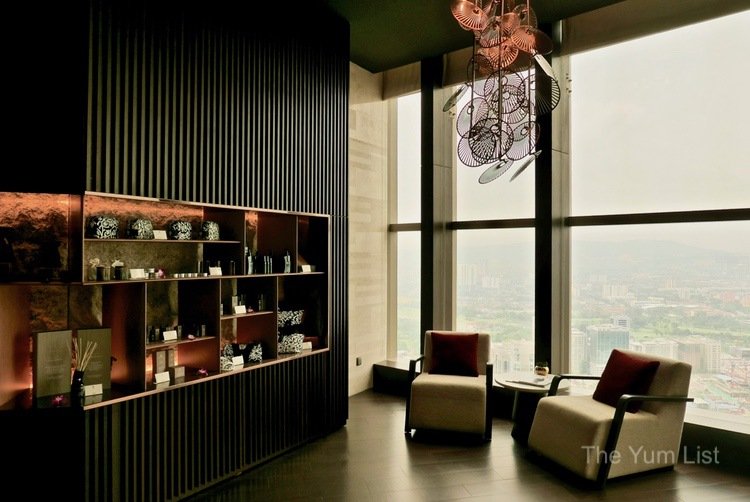 Royal Banyan Experience at Banyan Tree Spa Kuala Lumpur
Banyan Tree Spa Kuala Lumpur has a number of treatments to choose from: facials, body masks and scrubs and massage as the highlights. We got a little bit of everything in The Royal Banyan (RM650 off-peak; RM750 regular); 150-minutes of utter bliss! From the beginning of our treatment we were attended to like royalty starting with a chilled refreshing lemongrass tea waiting for us on arrival. We slipped into something more comfortable, a silky sarong, in our private ensuite and settled into plush armchairs facing those exceptional views. An indulgent foot bath followed with the hands of two masterful Thai therapists. They soaked our feet in warm water filled with rose petals and infused with green tea and honey and scrubbed away our dry skin with a fresh cucumber and coriander exfoliant. With both products made in-house and with natural antibacterial and antiseptic properties, my feet felt fresh, smooth and delightfully clean!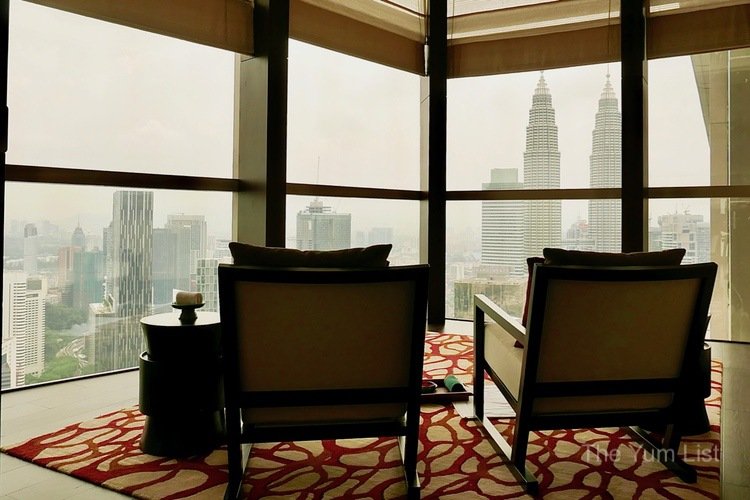 Cucumber Coriander Cleanse
The treatment continued with a Cucumber Coriander Cleanse. Starting off with some time in the steam room naturally scented with lime and lemongrass, the heat relaxed my muscles, balanced my mind and forced my breath to slow. From here I moved in a somewhat meditative state from the steam room to the massage bed lined with linen sheets, a light blanket and a plush comfortable base for ultimate comfort. Laying on the bed I was scrubbed from head to toe in a fresh homemade coriander and cucumber scrub said to increase blood circulation and replenish moisture to the skin encouraging a healthy glow. To end the cleanse I enjoyed washing off the scrub with a gloriously large rainmaker shower head and Banyan Tree essential products of jasmine, lemongrass and coriander. This experience left me feeling lighter, restored and refreshed!
Royal Banyan Herbal Pouch Massage
From refreshed to relaxed the one-hour Royal Banyan Herbal Pouch Massage combined the best of Eastern and Western massage techniques with the goal of improving blood circulation and easing muscle aches. With the perfect amount of pressure (I like it hard but not painful), long tender strokes and a few stretches in between I was treated to the most incredible massage I have ever experienced. The most divine part was the warm herbal pouches which were dipped in warm sesame oil and pressed on my body in a gentle rotation technique to create a cushioned pressure all over my body – a key feature of Banyan Tree's massages!
Jade Face Massage
The Jade Face Massage was uplifting and left me feeling a good deal younger! Using Pevonia products, a natural skin care brand fit for the most sensitive of skins, the treatment began with a cleanse and scrub and ended with a face massage. Chilled smooth jade stones were gently rolled along my jaw, forehead and cheekbones and lightly massaged the soft tissue in my face. The cool temperature of the balls felt glorious, and I imagined my skin becoming tighter and pores narrowing locking in the nutrients from the products. This treatment left my face feeling fresh, super clean and revitalised!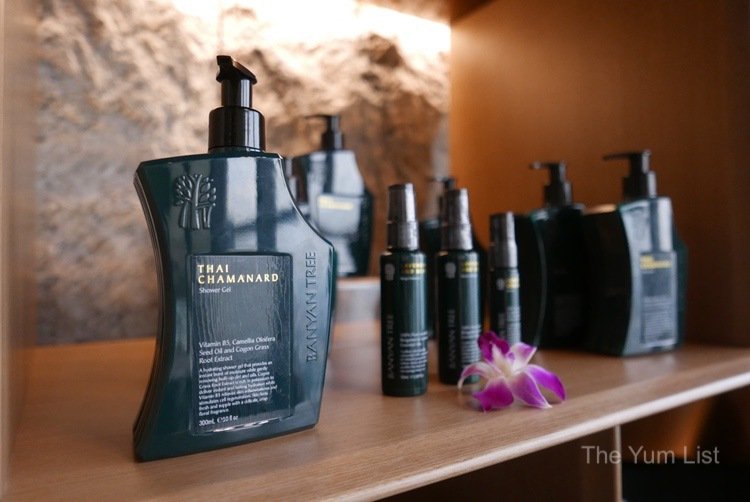 Therapeutic Herbal Bath
As I lay in a blissful bubble of complete and utter relaxation on the massage bed I was gently woken and informed that my Therapeutic Herbal Bath was ready. I sunk into the perfectly warm rose petal bath and wondered if I was dreaming. In a deep state of relaxation, I enjoyed an afternoon tea in the bath of deliciously creamy Greek yoghurt, fresh fruit and a hot lemongrass tea. They do say that food tastes better when relaxed and this was certainly the case! I took my time in the bath while Monica enjoyed the view in the room next door both sipping on our teas and feeling thankful that places like the Banyan Tree Spa Kuala Lumpur exist.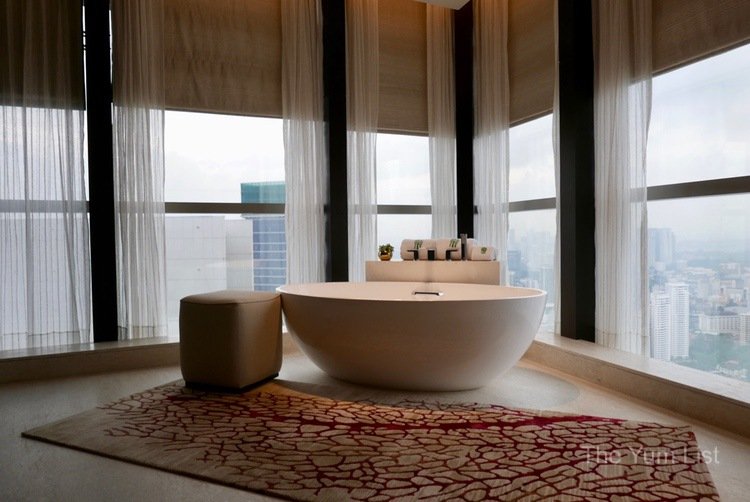 Reasons to visit the Banyan Tree Spa Kuala Lumpur: the most luxurious spa in Kuala Lumpur; stunning views of the city; world-renowned treatments from Banyan Tree – perhaps the most celebrated spa in Asia.
Banyan Tree Spa Kuala Lumpur
Level 53, 2 Jalan Conlay (just across the road from Pavilion)
50450 Kuala Lumpur, Malaysia
+603 2113 1888
www.banyantree.com
Banyan Tree Spa Kuala Lumpur Opening Hours: 10 am – 10 pm daily.
Love a good spa experience? Find out more about some of the best spas in Asia here.
Stay tuned for ShopFest, Asia's Biggest Year-End Shopping Festival for exclusive sales and promotions!