Monica Tindall
It wasn't that long ago that we discovered Fat Olive Food Garage. Despite being around for a number of years, it took moving to a new location in Mont Kiara to get this Mediterranean gastronome's kitchen into the mainstream line of vision. Needless to say, it only took one meal here for it to quickly move up the ranks to being one of our favourite eateries in Kuala Lumpur. Today we return to check out their brunch menu.
Brunch in Mont Kiara Drinks
Cava Sangria (RM120 jug) lubricates conversation right from the start with its light fresh fruitiness. And, beautiful crusty sourdough accompanied by an olive tapenade and balsamic and olive oil is an agreeable mate. You've read this before, I'm sure, but I repeat: a good glass of wine and quality bread and I am a happy girl.
Brunch in Mont Kiara, Fat Olive Food Garage
The brunch menu is a simple one composed of eggs with various accompaniments such as bacon and Spanish chorizo. Three fried kampong eggs with semi-dried tomato sauce and bread with chorizo (RM26) is our choice. It's way more than simple sausage and egg though. Fat slices of homemade bread hug perfectly cooked sunny side up eggs. They're seasoned with a sprinkling of salt and pepper and the rich tomato and chorizo boost the dish maximising flavour.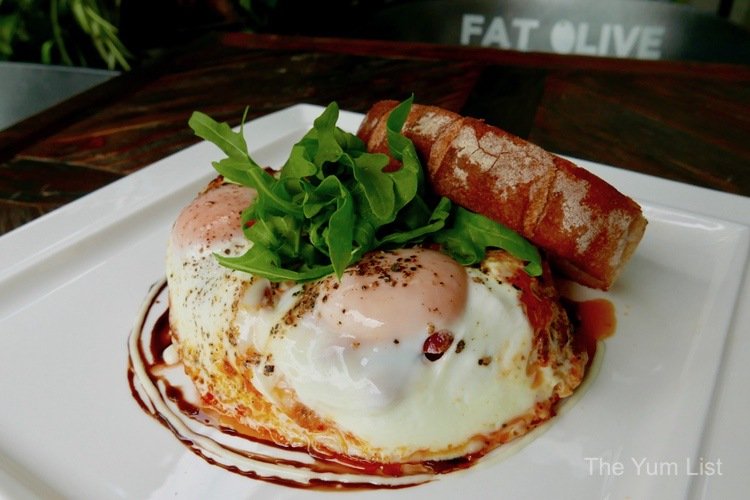 Soup
The creaminess of pumpkin soup (RM16) is balanced out with a nice kick of pepper. Cream drizzles the top along with toasted pumpkin seeds that make a pretty garnish. Cardamom, onion and coriander seeds add a layer of complexity.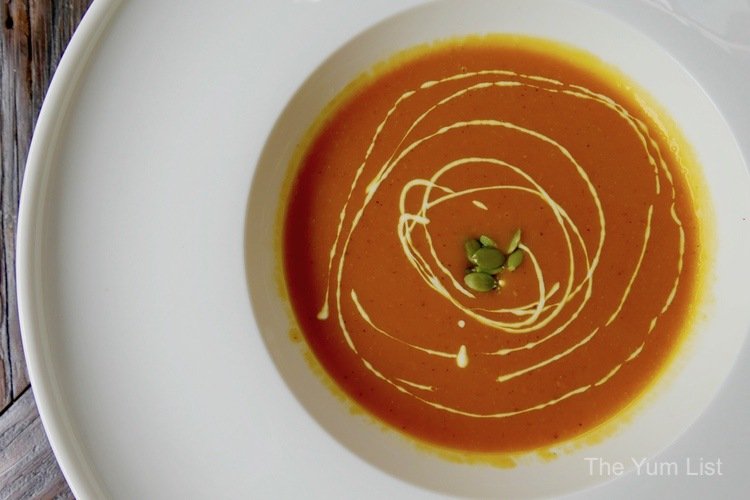 Sandwiches and Burgers
Since our first experience with the Iberico pork burger, we couldn't wait to return to try its sister, the wagyu beef burger (RM38). The same gorgeous fluffy bun envelopes semi-dried tomatoes, caramelized onion, melted mozzarella, bacon, romaine shreds, aioli and a deliciously moist patty. Crisp fries, mayonnaise and tomato sauce side it. Hubby, burger fuss, gives it two thumbs up.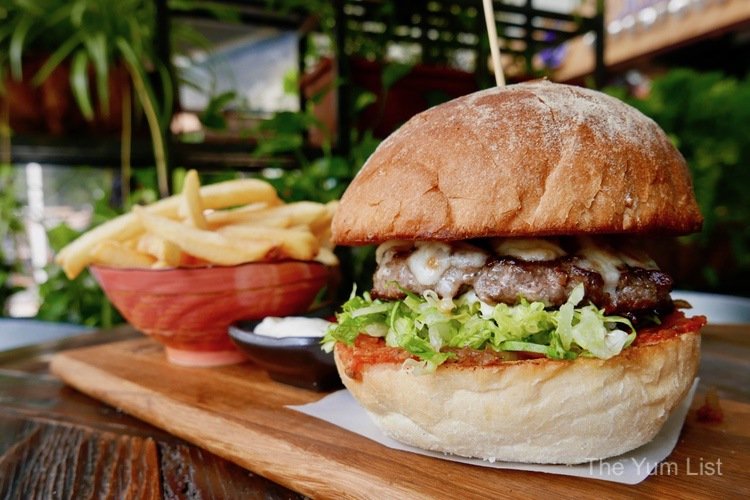 Tapas for Brunch in Mont Kiara
We can't resist ordering some tapas; the chef is Spanish after all. Spanish tortilla (RM16) with at least 10 layers of potato slices is slow-cooked and nicely compressed. Chickpeas sautéed with spinach, Parmesan and a light cream sauce (RM20) comes ringed with toasted slices of baguette – delicious. And house beet-cured salmon with toast (RM30) is not only pretty but tasty too, assisted with a grating of egg as garnish and a sensational jalapeño aioli (really – grab this and put it on everything – so very yum).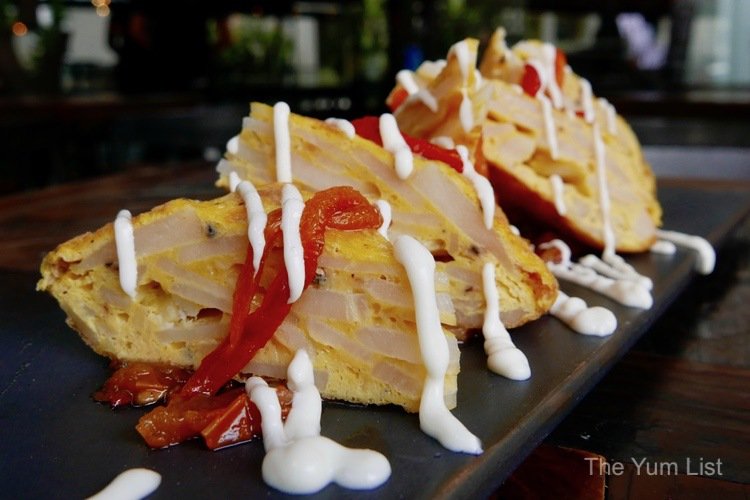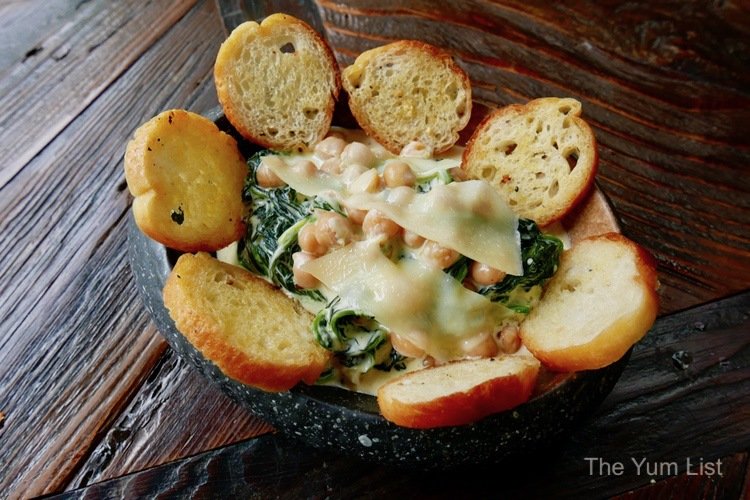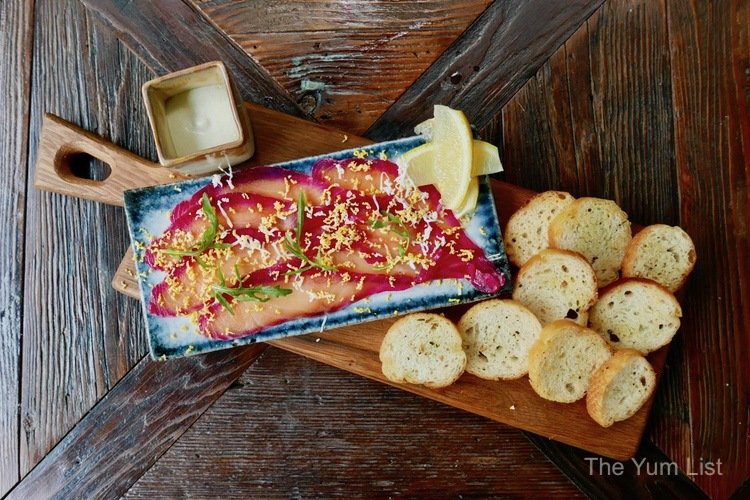 Goat cheese walnut lollipops (RM25) are a fabulous recent addition to the menu and possibly my new most-loved dish! Caramelized orange zest acts as a garnish but also taste companion. Crunchy on the outside, warm and oozy within, with a nice sharpness from the cheese – scrumptious!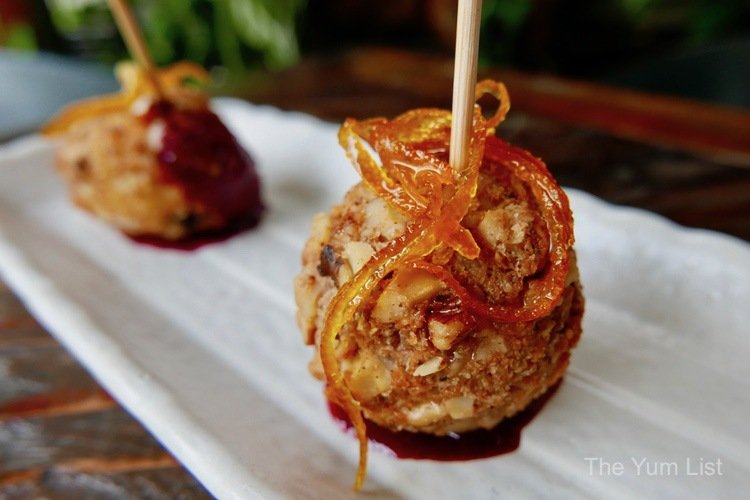 Spanish Paella
One of the highlights on the menu is chef's list of paellas. Needing advance order of a day or two, they are made with the freshest of ingredients and brimming with seafood. The Squid Ink Paella features mussels, squid, tiger prawns and chicken and is topped off with quartered eggs, lemon wedges and aioli sauce. Chef says it serves four or five alone but eaten with a few tapas or other dishes could feed up to ten to twelve guests. The rice is tender yet with bite and the full flavours of the seafood and squid ink stock reach their very core. It's a full flavoured dish best enjoyed with a glass of Spanish wine.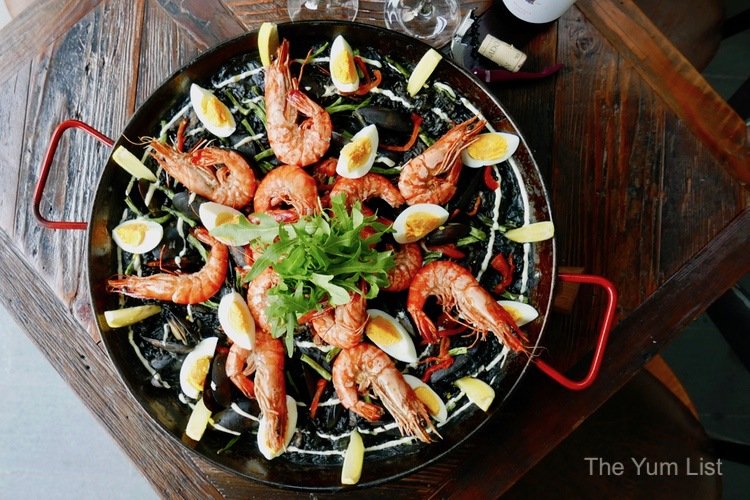 Spanish Wine for Brunch in Mont Kiara
A new wine on the menu, a Spanish white, Vionta Albarino Rias Baixas, does well with the seafood. Light, fruity and easy drinking, it would also make an appealing aperitif. My taste buds though are taken by El Coto de Imaz Reserva, Tempranillo 2013 from Rioja, Spain (RM208). Aromas of fruit and chocolate in the bouquet follow through with a good complexity, soft tannins and well-balanced acidity. This is one delicious wine and I think good value for the price.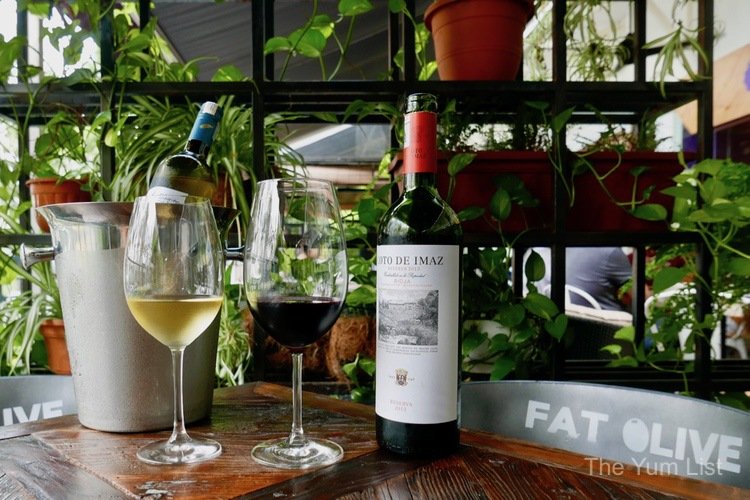 Once again, we've had an enjoyable meal with friends at this little Spanish gem in Mont Kiara. I highly recommended grabbing a bunch of your best amigos and heading over for brunch at Fat Olive Food Garage.
Reasons to have brunch in Mont Kiara at Fat Olive Food Garage: rustic chic setting; a small but generously portioned brunch menu; paella; tapas – must try their new goat cheese walnut lollipops; start with Cava Sangria and continue with El Coto de Imaz Reserva, Tempranillo.
Check out other items on their menu here.
Fat Olive Food Garage
Brunch in Mont Kiara
G-3 VERVE Shops #8,
Jalan Kiara 5, Mont Kiara
50480 Kuala Lumpur,
Malaysia
+60 3 6419 5868
www.facebook.com/fatolivefoodgarage
Opening Hours Fat Olive Food Garage:
Monday 11:30 – 22:30
Tuesday 11:30 – 22:30
Wednesday Closed
Thursday 11:30 – 22:30
Friday 11:30 – 22:30
Saturday 10:30 – 22:30
Sunday 10:30 – 22:30