Words: Monica Tindall
Photos: Rich Callahan
Soul Sacrifice in Desa Pandan was the talk of the town when it opened two years ago. Popular with Instagrammers, diners would drive from the other side of the city just to capture a shot of their famous Scotch egg so prettily dressed in purple sweet potato. The café's menu has evolved, however, and it's now much more than just a photogenic click for social media. Managers Akmar and Izaz have listened to community feedback and, along with their innovative recipes, have added some simpler items and a dinner menu too!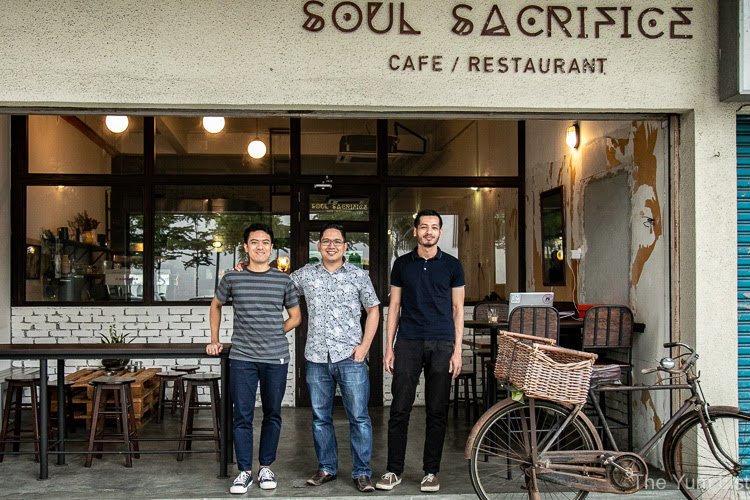 Drinks Menu Soul Sacrifice
One thing that hasn't changed, thankfully, is their seriousness about coffee. It is the only café I know of in the area serving locally roasted speciality beans prepared by an expert barista. To be more precise, it is the only café in this suburb where I'll drink coffee. Their espresso-based drinks, such as today's Flat White (RM10) are as good as ever and they've even added Nitro Cold Brew (RM13). It's not only fun to watch as it's poured, changing colour from light to deep brown but is just what the barista ordered for those wanting a chilled coffee with extra caffeine and a nice bubbly fizz.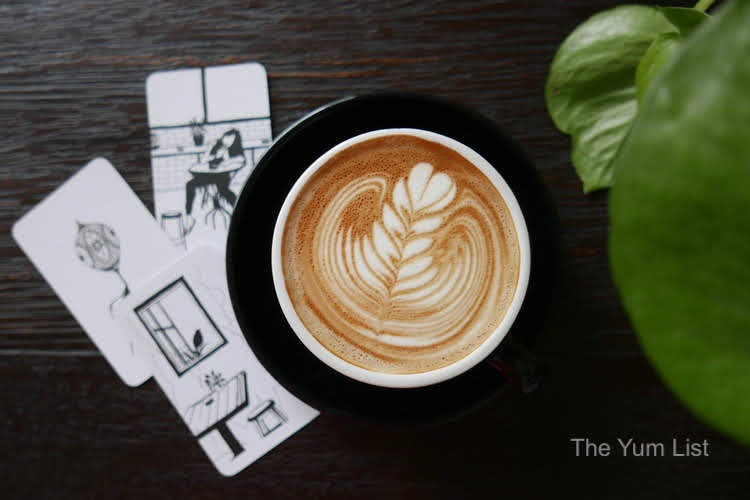 Another bit of drinkertainment is the Blue Magic (bunga telang) with kelulut honey (RM12). It's given its name as the blue tea (simply made by seeping the dried butterfly pea flower) "magically" turns purple when the local honey is added. It's light, clean and refreshing. Something I'll definitely come back for.
Food Menu Soul Sacrifice
Breakfast
Brekkie is served to allow a nice long lazy morning from 8 am to 2 pm. A handful of sweet and savoury items give enough choice to please but not to overwhelm. The Duck Hunt (RM16) has stood the test of time, a mainstay on their menu since opening. It's testimony to the senses of humour of the owners; look at the picture below and consider the name. Not only does it look visually appealing but it is also packed with punchy flavours. This duck and plum omelette is served over a thick chunk of wholemeal toast with beetroot puree and spinach jazzing up the colour palette. It's a hearty serving but the flavours are so nicely balanced that I have no problem polishing it off.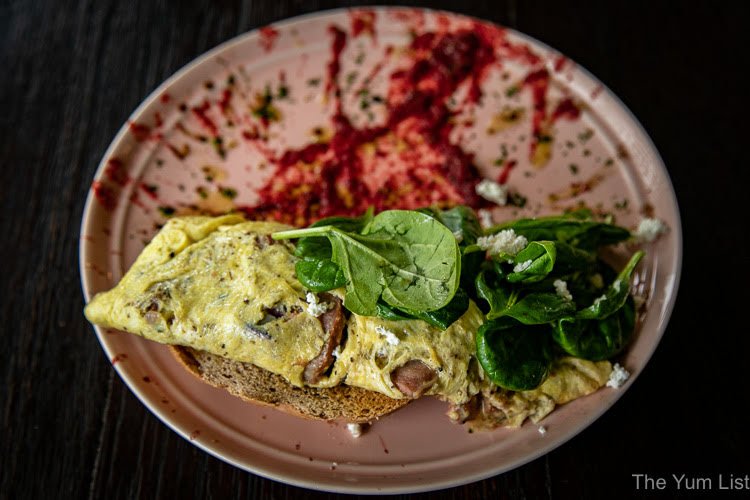 For a sweet fruity breakfast, we try the Tago Mago (RM18). This orange crepe is pimped with a blueberry filling and topped off with honey and orange sauce and delicious shreddings of toasted coconut. On the side comes Greek yoghurt, sliced fruits and mixed nuts. And, what does Tago Mago mean? One of chef Nas' favourite bands, Can, has an album called Tago Mago with a big orange themed cover.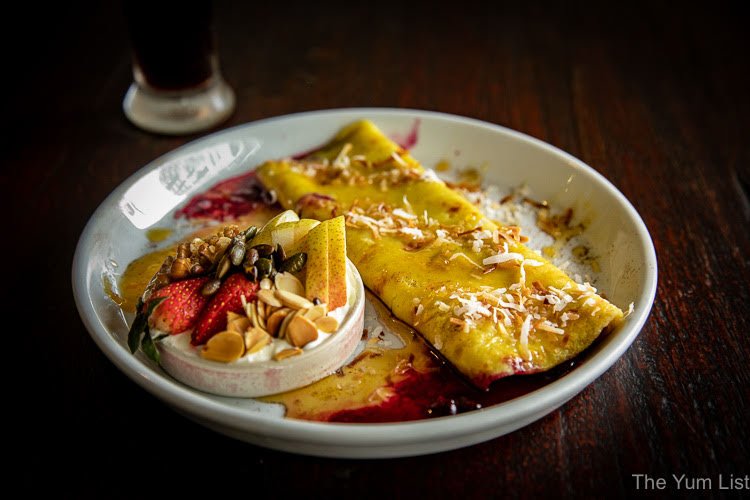 Mains
Who knew meatballs could look so good? The team at Soul Sacrifice glams them up in the dish, Gish (RM25), with a beetroot hummus seasoned with cumin and coriander, sautéed asparagus, mint yoghurt, sliced onions, cucumber, radish and fresh sprigs of parsley. And for soaking up all of that fabulous mash? Turkish bread. Yum.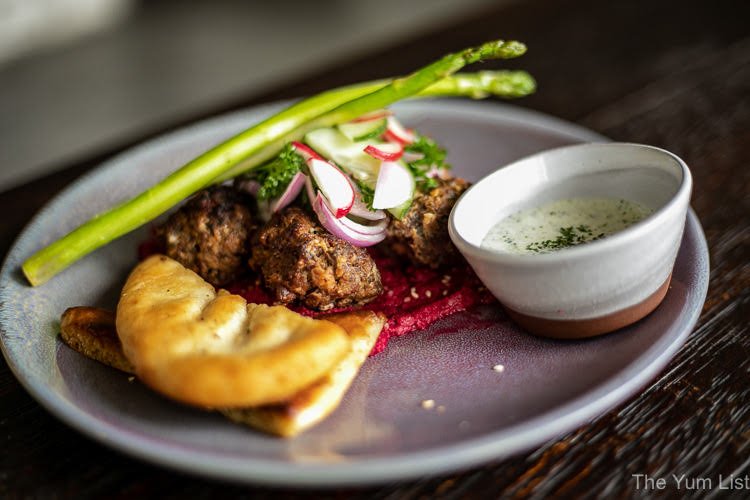 Toasts and Sandwiches
In what might be considered a "leftovers dish" (aren't the best type?), the Ricotta Toast (RM13) with kelulut honey and peanut butter crumble is literally made with the leftovers of the cafe. Homemade ricotta cream comes from the remains of the steamed milk after foaming a coffee top. The crumble consists of cookie crumbs and is combined with kelulut (a local stingless bee) honey. While the toast is sweet, the side of spinach, pumpkin and balsamic dressing provides a nice contrast of savoury.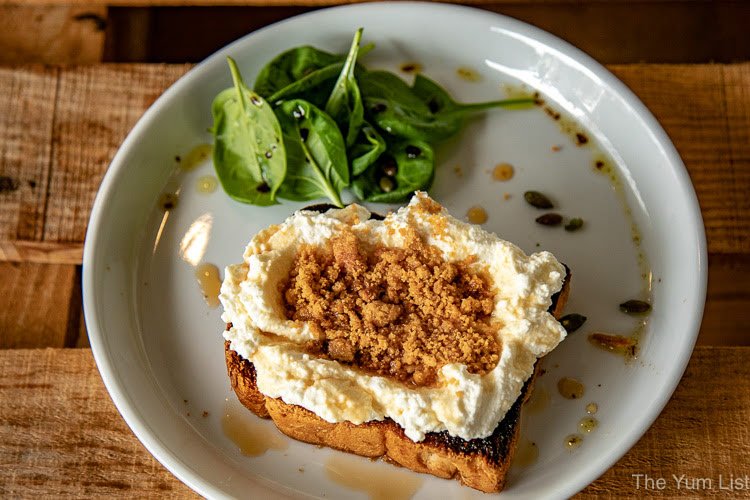 Munchies
Abba (RM17) is inspiration from Izaz's travels to Sweden where he fell in love with herring and cranberry sauce. Returning to KL he created a local version using barramundi fillets coated in a herby batter, deep-frying them into fish fingers and complementing them with tartar sauce (scrumptious) and blueberry sauce. The dish is given vibrancy with mashed sweet potatoes and Melba toast. I enjoyed tasting each component separately and then combining them all for one powerful thwack of flavour.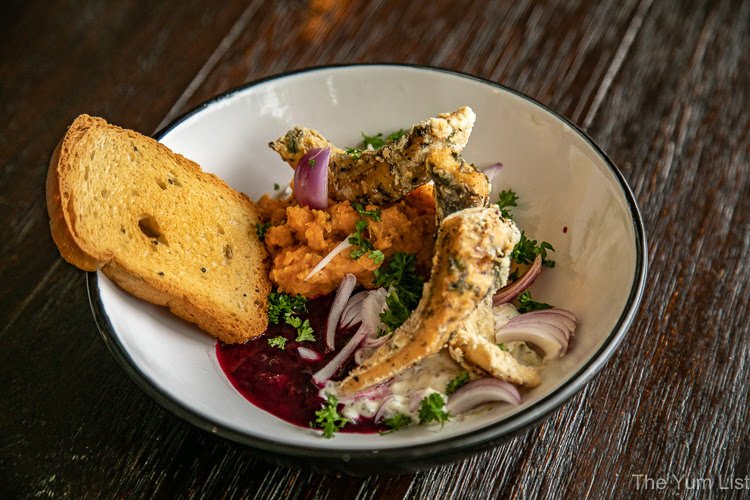 Sweet Menu Soul Sacrifice
Vegan Key Lime Pie (RM12) is sure to please with a thick chocolaty coconutty crumb base filled with an avocado cream. Zesty lime gives a great zap to the dessert and it goes down well with a cup of the delicate Blue Magic tea. For something soft and comfortable you must try the Cheesecake (RM12): it's a baked recipe made with love by Akmar's mum. They gently warm it before delivering it to the table. It's light and luscious. Thank goodness for mothers.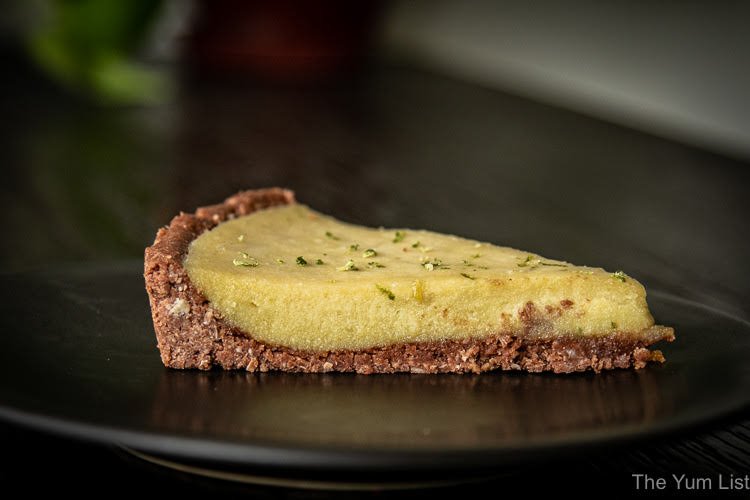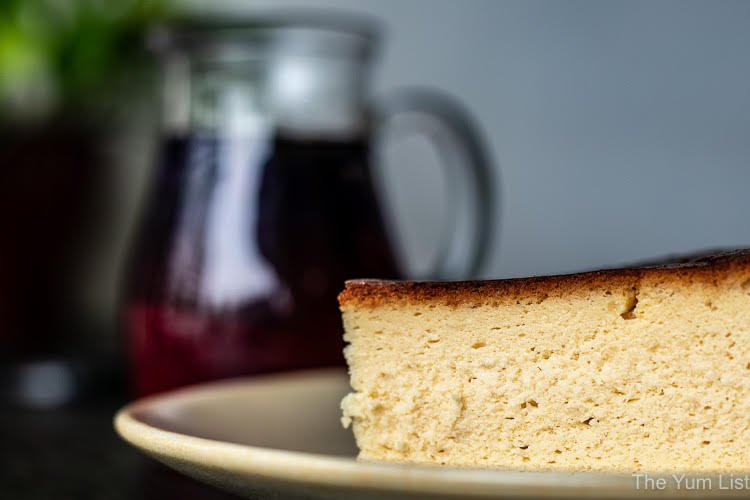 Reasons to visit Soul Sacrifice Desa Pandan: seriously good coffee; innovative menu packed with flavour and reasonably priced; don't miss the Duck Hut, Abba and Akmar's mum's cheesecake.
Soul Sacrifice
38 Jalan 4/76C, Desa Pandan
55100 Kuala Lumpur, Malaysia
About a 15-minute walk from the new International School of Kuala Lumpur campus.
www.facebook.com/pages/Soul-Sacrifice
Soul Sacrifice Opening Hours:
Closed Mondays
Weekdays 8 am-11 pm. Last food order by 9:45 pm.
Saturday & Sunday: 8 am – 7 pm.
Love a good cafe? Find some of KL's best cafes here.