Words: Craig J Selby
Photos: Monica Tindall
Hidden just a street behind busy Jalan Ampang, Super Saigon Ampang is a new outlet for this rapidly-growing Vietnamese bistro. It's cute, quirky, and reminiscent of a laid-back street café. Great for a chilled out lunch with friends, it's the type of place where you can unwind, chit-chat, and enjoy some decent grub. The Yum List headed over for a Sunday lunch. Parking was aplenty and the restaurant was well sign-posted – so you can't get lost.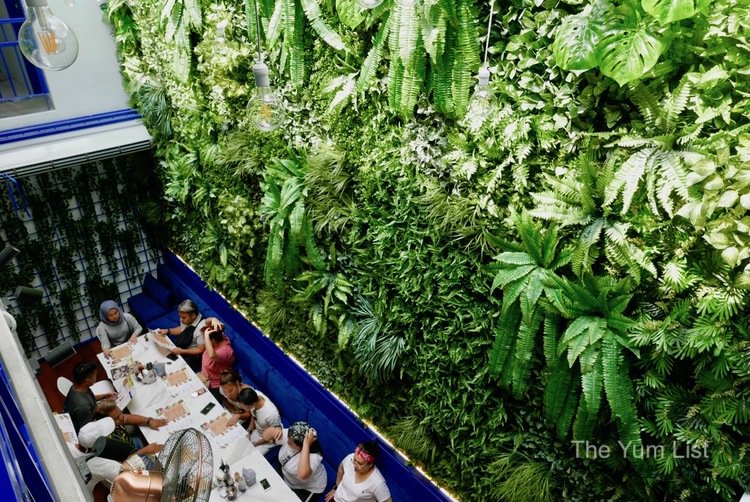 Vietnamese Restaurant Ampang
Having travelled quite a bit in Vietnam, I love the freshness of Vietnamese street and cafe food, and the subtle flavour combinations that come from using great ingredients. Super Saigon did a good job in replicating this, especially with a pork-free menu.
Banh Mi Menu Super Saigon
Most of us are familiar with Banh Mi and Pho – and these two popular Vietnamese dishes have several iterations on the Super Saigon menu. Most people think that Bahn Mi must be pork – but there is a huge variety of what can go into such a succulent sandwich. What is most important is multiple layers of meat, cold cuts, or the like, pate, and fresh vegetables. This makes for a great, balanced sandwich.
We had the Mixed Chicken Cold Cuts Banh Mi (RM12.90) – layers of sliced chicken cold cuts, smothered with chicken liver pate, with shredded carrot for crunch, spring onion and coriander, egg mayo, and some red chilli pepper for that hint of spice. The cold cuts were tasty and had a nice balance with the fresh ingredients. The baguette was pretty decent too – crispy and pretty authentic.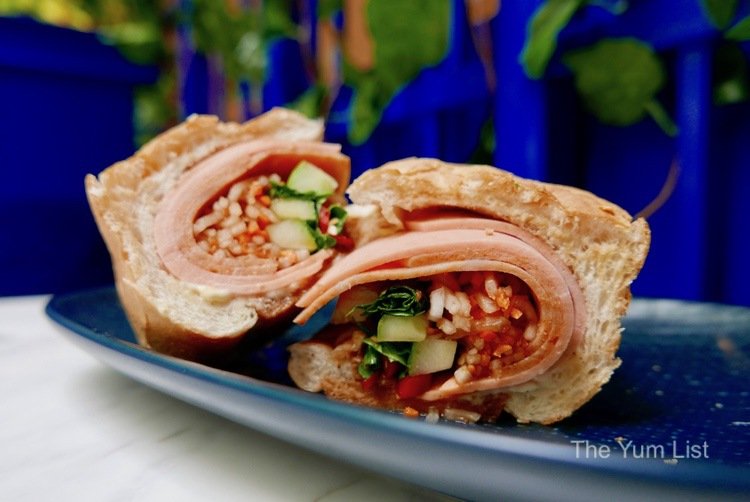 Super Saigon Ampang Menu – Pho
The Pho (RM 18.90) was a delicious light broth, amply filled with sliced beef. The beef is served rare and slowly cooks within the broth. Add to that plenty of juicy sprouts and this is a great lunch or evening dish to satisfy. Super Saigon offers a solid range with their pho: for the less faint-at-heart, tripe and tendon options are available as so too is a vegetarian bowl. I'll stick to lean sliced beef though, thanks.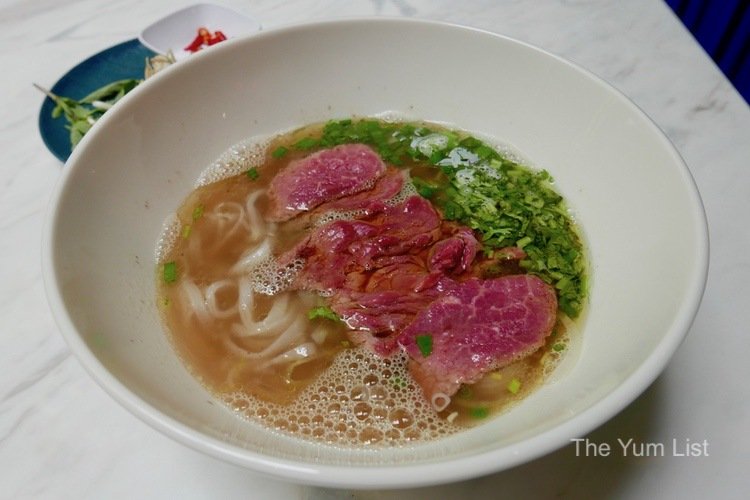 Vietnamese Rolls
Fresh rolls are also a popular street food choice in Ho Chi Minh. At Super Saigon, we enjoyed the Tiger Prawn and Veggie Spring Rolls (RM 9.90) – these were bright and fresh, well-balanced, and were accompanied by a delicious creamy dipping sauce which elevated the flavours nicely. The Vietnamese make some great sauces, and each one is crafted for a different style of dish. Mix and match a bit though – it creates some great flavour combinations.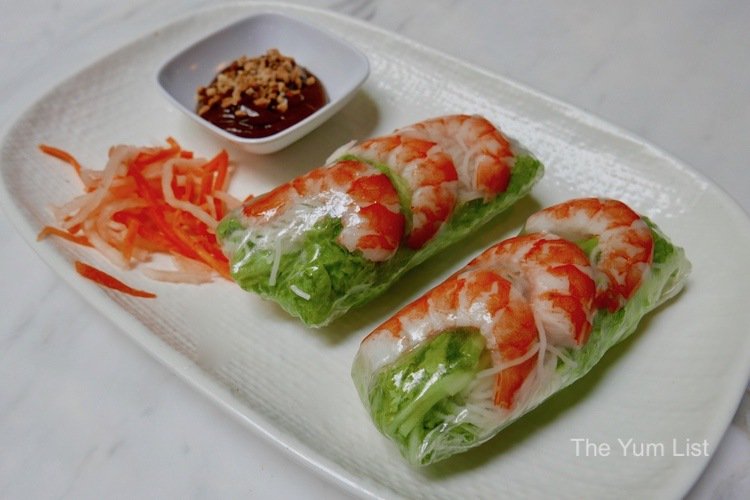 Bun Cha at Super Saigon Ampang
If you're looking for something a bit more substantial, try the Bun Cha and Sauteed Sliced Beef (RM 16.90). The sliced beef had a great fresh-off-the-BBQ taste, and the moist spring rolls were tasty. Personally, I prefer my spring rolls a bit more deep-fried to get that really chewy texture but these were certainly good and I'd order them again.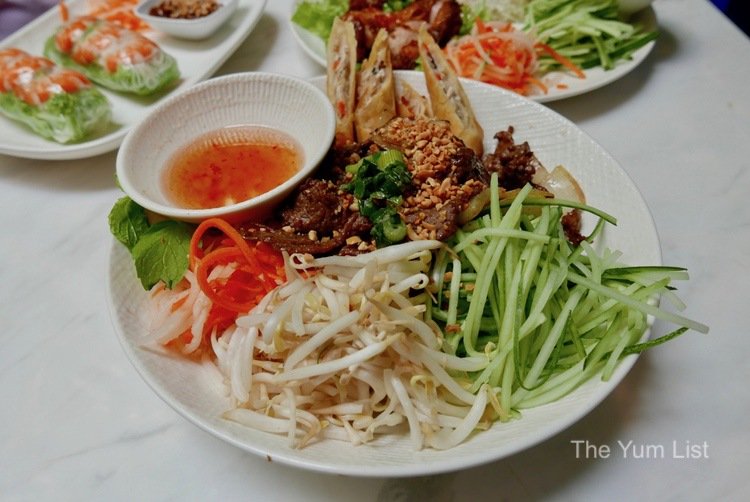 Vietnamese Broken Rice
Another popular street dish is broken rice. We enjoyed it with Grilled Lemongrass Chicken (RM16.90). The chicken was tender with a crispy skin – yummm (!) and the dish came with a traditional-styled meatloaf. The meatloaf was tasty, a little dry and crumbly, however, well-seasoned. The dish was accompanied by pickled vegetables and a fried kampong egg – great for lunch or a hassle-free evening meal.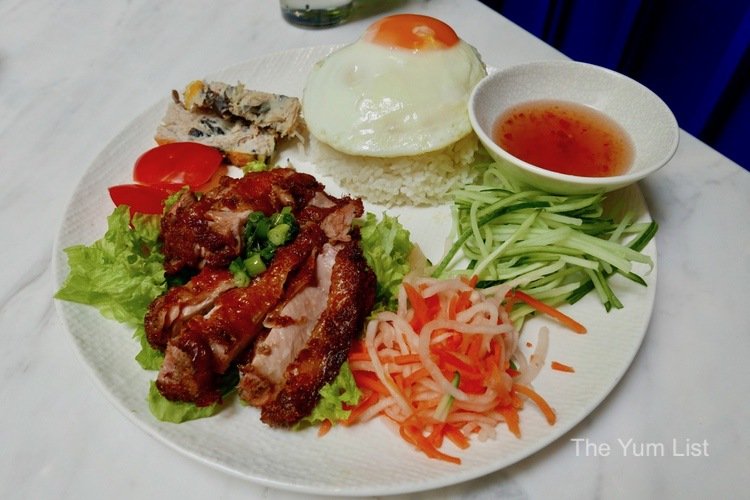 Drinks Menu Super Saigon Ampang
Vietnamese drip coffee is in abundance and Monica enjoyed a good strong glass of iced coffee. Fresh fruit juices are courtesy of the La Juiceria (same owners) and other fresh fruit concoctions are available too, such as the Iced Longan – a refreshingly local drink to quench the thirst.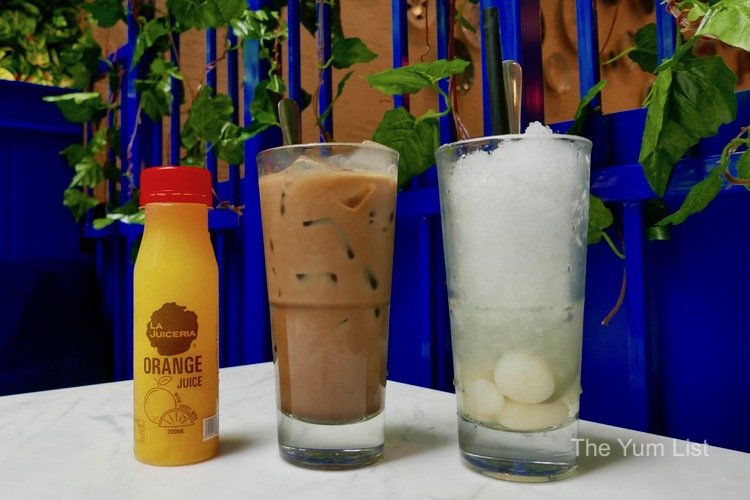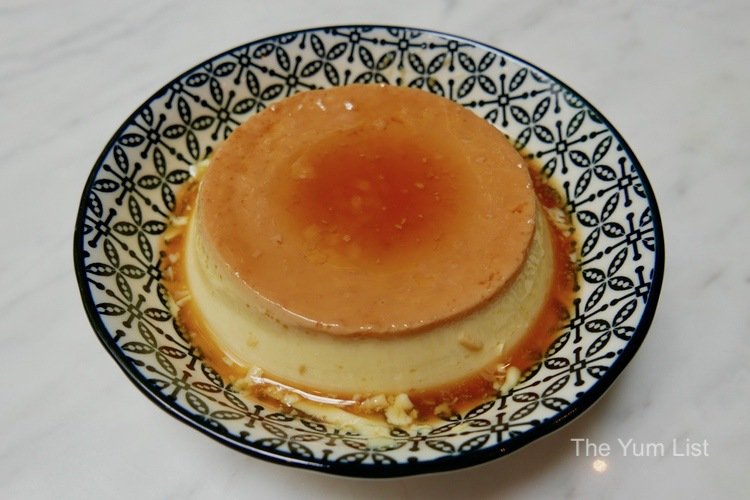 Reasons to visit Super Saigon Ampang: come for the beef pho, get your caffeine kick with a strong iced coffee, and appreciate it all in a pleasant, cheery setting.
Super Saigon Ampang
34 Persiaran Ampang
Desa Pahlawan
55000 Kuala Lumpur
Malaysia
+603-42653853
supersaigon.com.my
Super Saigon Ampang Opening Hours:
11:30 am – 10:30 pm weekdays
10 am – 10:30 pm weekend and holidays