Words: Patricia Podorsek
Photos: Monica Tindall
When Monica contacted me with the possibility of going back to Nadodi Kuala Lumpur to review their new menu, I was prepared to cancel my own wedding not to miss it! Nadodi KL easily sits among the finest restaurants in the city, and is not a place to be missed for foodies who love experiences that are both uncommon and sublime. Led by a team of four creative chefs and mixologists, I think it may not be long before we see this place hit Asia's Top 50 or a Michelin star behind their name.
First, a little background for those unfamiliar with this unique culinary encounter. Billing themselves as "engaging nomadic cuisine," Nadodi Kuala Lumpur scours the markets and kitchens of Sri Lanka and southern India to lace their exotic strings into refined culinary shoes with the intent of walking you to places you've never been before.
To this end, Nadodi names their degustation menus "journeys." Tonight we are walking the 12-Mile Journey, not the 7-Mile or the 9-Mile, and choose the cocktail pairing over the wine pairing. All are also available as Vegetarian or Vegan; simply note this when you make the reservation.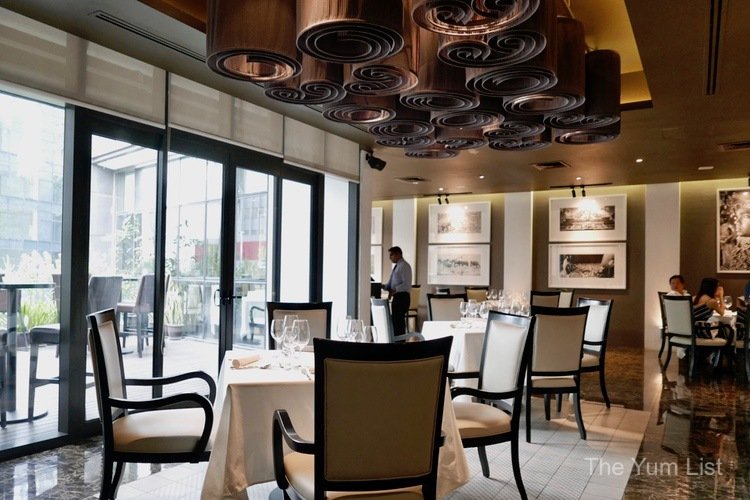 Cocktail Pairing Menu Nadodi Kuala Lumpur
Encouraged by Akshar, mixologist and operations manager, we opt for the cocktail pairing over the wine pairing which, true to its name, is truly a Liquid Degustation – you'll see what I mean as the night unfolds. Our first endeavor is Cocktail Without a Name. Here, rum is bruised with truffle and basil and foamed with a dash of egg white. Served in little egg cups, this elegant shooter is bright and cold with the crystalline purity of both earth and tree.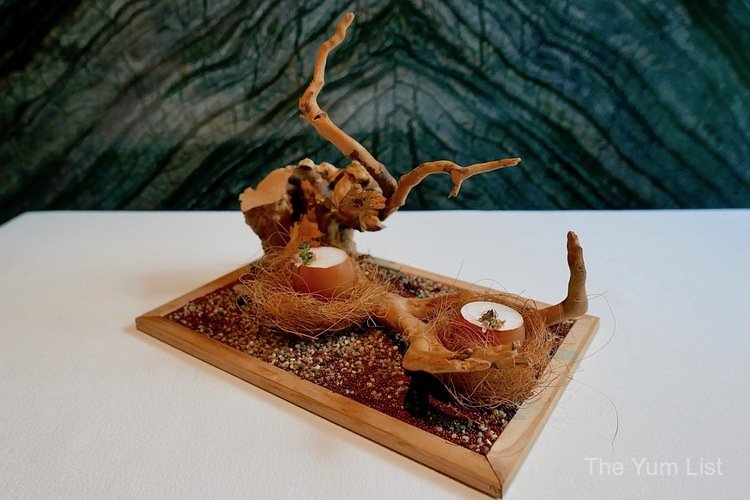 New Menu Nadodi Kuala Lumpur
The enthusiasm of our chefs begins with a three-part starter course. Part one appears to be a classic samosa, that triangular package of yumminess we all know and love, but here the hearty pastry is filled with caramelized onions. A touch of date chutney and a few dill flowers adorn the top, which warm and sweeten the crunch. Secondly, an adorable miniature cone is filled with thayir, sweetened curd rice with subtle hints of garlic pickle. A few pomegranate seeds give extra bursts of sweetness. Lastly, like drifting on a meringue life raft down a mango river, we get a mouthwash of tropical curry in one sweet burst.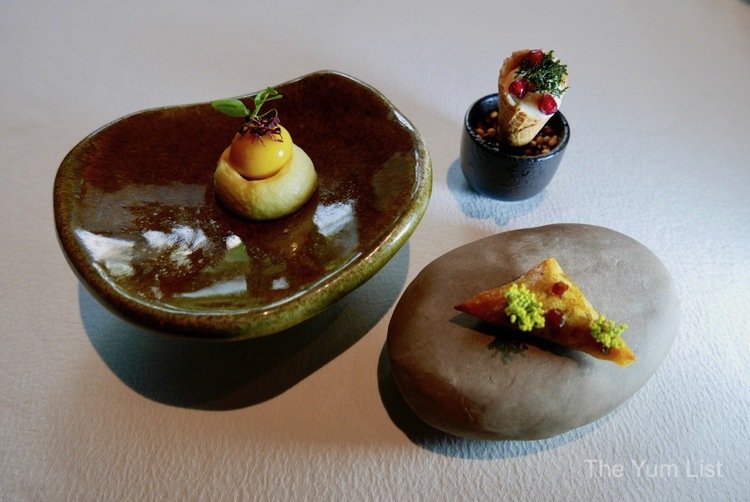 Our cocktail journey takes a turn with the next course. Akshar tells us that he has been playing around with reconstructed classics. The next "cocktail" shows up in a glass, but drinks with a spoon. The Edible Bloody Mary features three types of tomato: Green tomato is turned into ice cream, red tomatoes become granita, and yellow ones form a gel. Above all of this float vodka caviar bubbles. Dill flowers and a dash of celery salt bring recognizable binding to this most unusual variation. Bloody Mary fan that I am, it was certainly the most interesting one I've ever had, and not anywhere near the most disappointing.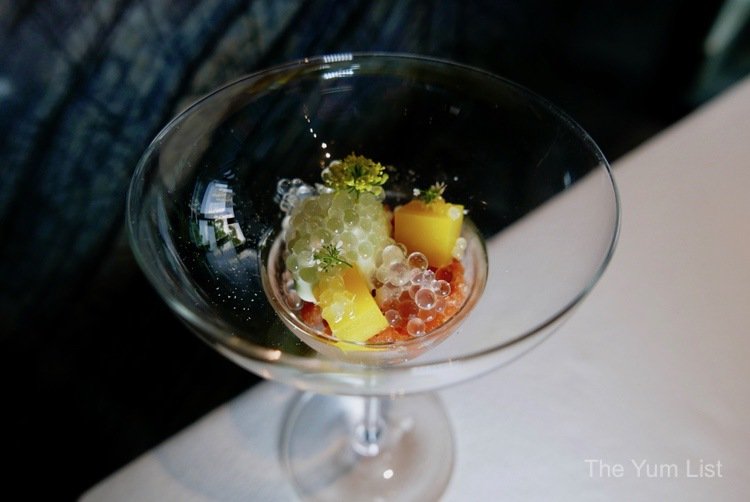 One of the (many) things I love about Nadodi is that you really have no idea what might be around the next bend in the menu. Thus, we shouldn't be surprised that the next course is aptly called Surprising Duo. In an unlikely combination, we see before us sausage, beer, and…(wait for it)…escargot?? The sausage is actually Sri Lanka's famous coconutty Mutton Paal Poriyal stuffed into a casing. What appears to be a tiny mug of draft beer is actually gingery black tea from Kerala that's been fermented, like kombucha, which makes Mon a very happy girl. With a little anise foam on the top, you've got a bubbly drink like none you've ever seen before at an Oktoberfest party! Now all this might be interesting enough, but the chefs pair it with an open-ended eggshell that conceals – at the very bottom under delicate cilantro mousse – a whole escargot that's been tossed with mustard seed, onion and just a little chile. There is a certain synergy to all of the flavors that helps you remember their common regional genesis, but the presentation is just, well, amusing! The little beer is adorable.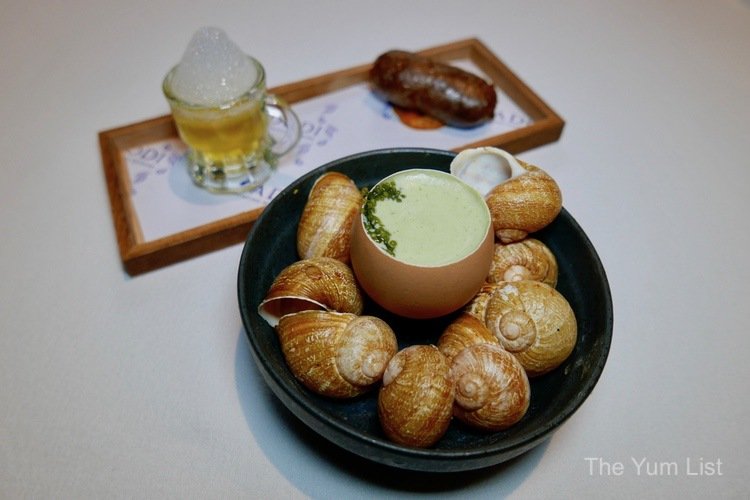 Akshar is back again with another of his re-purposed classic cocktails. This time it's a spherical Pina Colada. Yes, you read that right. A hollow sphere made out of coconut cream cracks like a Kinder Surprise in one big bite to release a rush of sweet pineapple and Malibu. Only the palm tree is missing.
With the next food course, Chef moves from playful to artful. Red Curry is a study of beetroot in three forms. Sorbet, glass, and dust sit beautifully arrayed on a base of coconut curry espuma flavored with peanuts and pickled beet. Who knew that humble beetroot could be so versatile…and so elegant?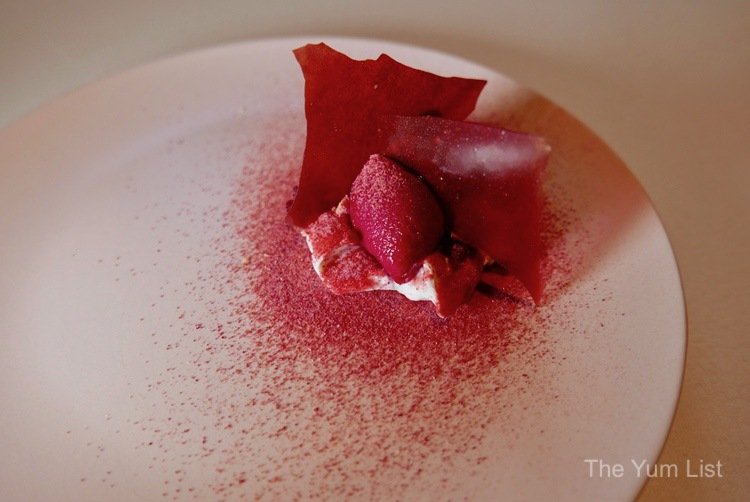 So, nests have birds and birds lay eggs. I have no problem with that. Akshar's next cocktail has both nest and "egg" but the raw yolk appearance of the egg without its shell is a little unsettling. The good news is that this reconstructed cocktail lays an "egg" of Mango Margarita into a nest of dehydrated mango and black salt. A burst of ripe mango and tequila crowned with paprika dust and lime sends our taste buds flying.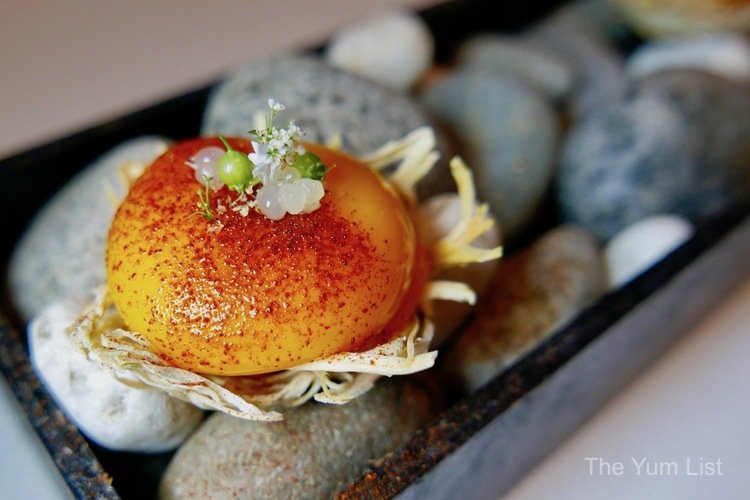 Food course number four is a coastal stop on our journey. A slender nugget of marinated Alaskan King Crab and Hokkaido scallop are literally scalloped with thin slices of pickled daikon and served with a little jasmine gel and finger lime caviar on the side. The result is nothing but fresh elegance: Rich and citrusy, with a little tang from the daikon. The word that comes to my mind is seamless, smooth as pure silk.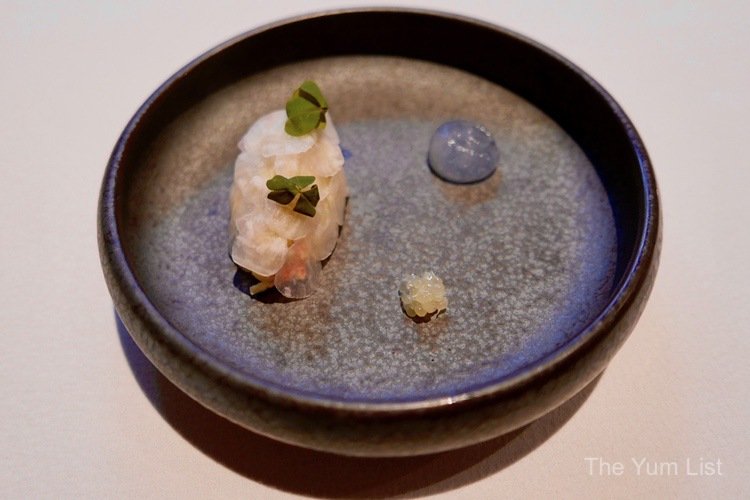 Akshar returns to deliver another cocktail that twists the brain. As I've learned from previous experience, he likes to experiment with hot and cold blends. The Rassam Cocktail chills vodka infused with tomato and curry powder and layers it with very warm cream on top. In one shot, you get hot and cold, spice and tang, clear and cream. Together, this equals unusual and awesome.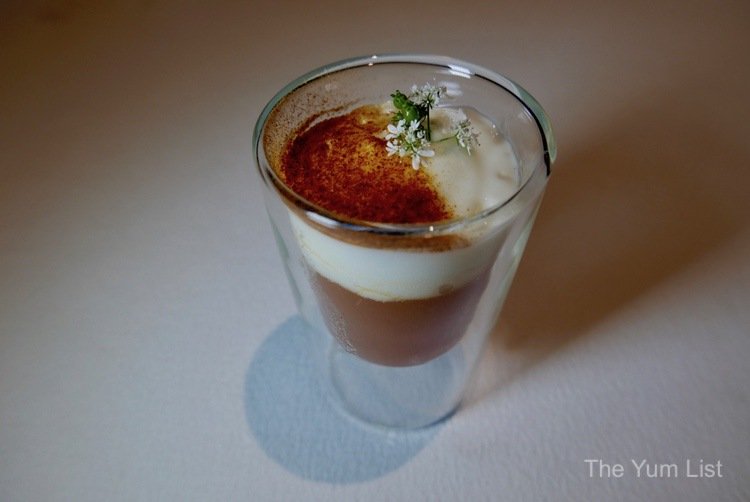 Continuing on the coastal part of our food journey, the course called Ambul arrives concealed under smoky glass. With a flourish, our hosts remove the cap and as the smoke dissipates, a colorful display of seared trout is revealed, adorned with a single nasturtium leaf. On the side, Chef has spooned a bright sauce made from tangy ambarella and a bit of fruit and mustard pickle. I think to myself, ok, there's smoked trout and then there's SMOKED trout. Delicious.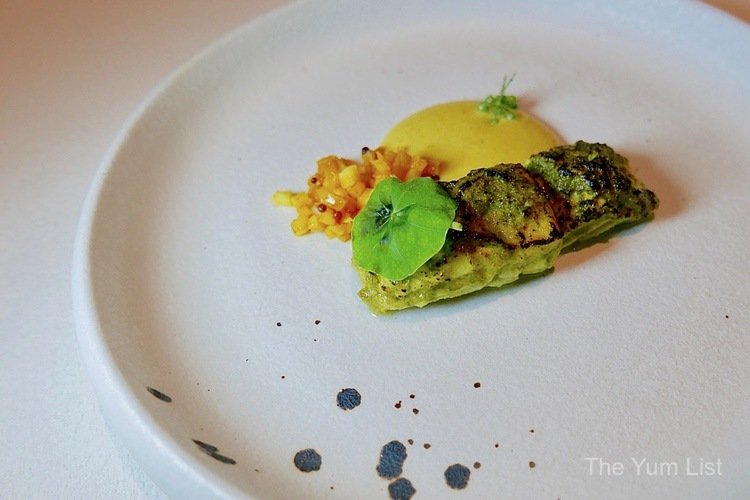 Our sixth stop takes us back into the countryside for some old-fashioned chicken noodle soup, Kampung Rasam. At the table, a beaker of deeply-flavored warm stock is poured over the noodles as we catch wafts of coriander, ginger, and cumin. But here's the rub: the noodles are actually made of chicken! "Chicken noodle" literally mean chicken noodles! Chicken mousse is rolled out and cut into thin strips to provide the base for the dish. Crazy! But very, very tasty.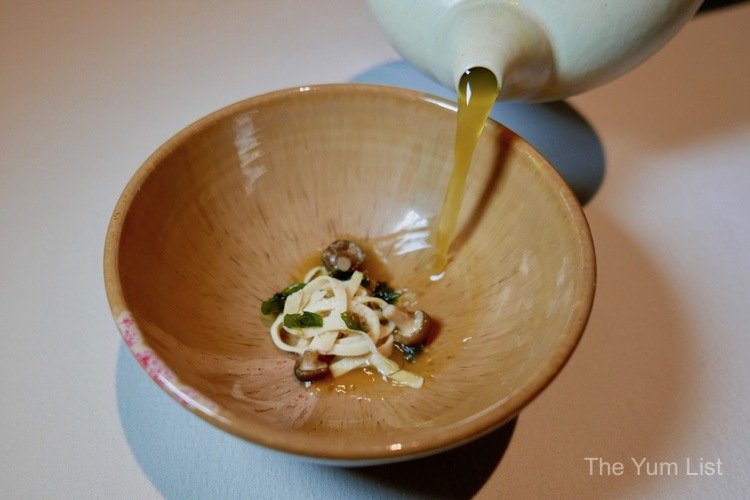 The lingering zing of pepper from the soup is washed clean by our next cocktail. A fruity concoction of pressed pomegranate, passion fruit, and rum is served with a straw in a (should I still be surprised?) SHELL. Of course, it is. The drink is bright and sweet, deepened by a crisp edge of basil.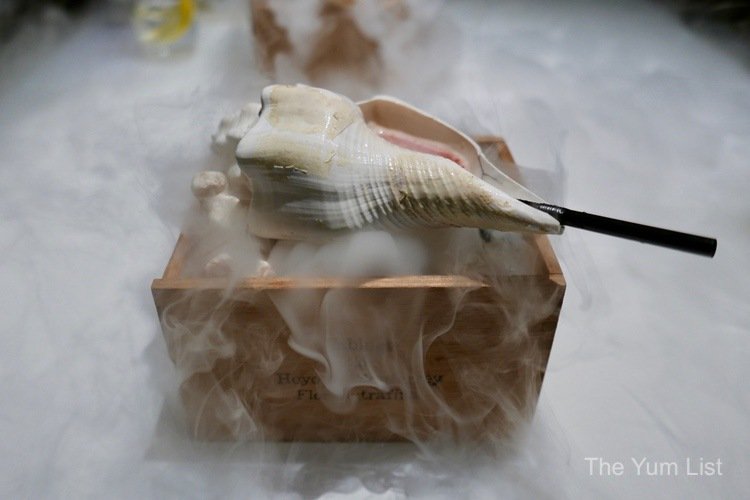 But if we want to talk about creative presentations, the next food course was my favorite of the night. Breakfast Like a King arrives like a tray in bed, all the pieces of a beautiful meal ready to be combined at our leisure. At the center is a tender swirl of lobster. The wooden box to the right is filled with string hopper cereal laced with toasted pumpkin seeds. A small jug of sodhi, spiced coconut milk, gets poured over the top. Then you add a sprinkle of pandan leaves, shredded jackfruit seeds and edible flowers and mix it all up like your morning granola. Crunchy, creamy, rich, textured…It's amazing. Wacky, but amazing. Obviously, we are back to the playful side of our culinary curators.
We return to art and elegance with the Lamb Serfoji. A poppy seed crust encases a buttery lamb chop, giving it a little crunch along with the bed of mint and chickpeas. A swath of beetroot curry adds some sweetness and spice. The meat is a perfectly medium tender.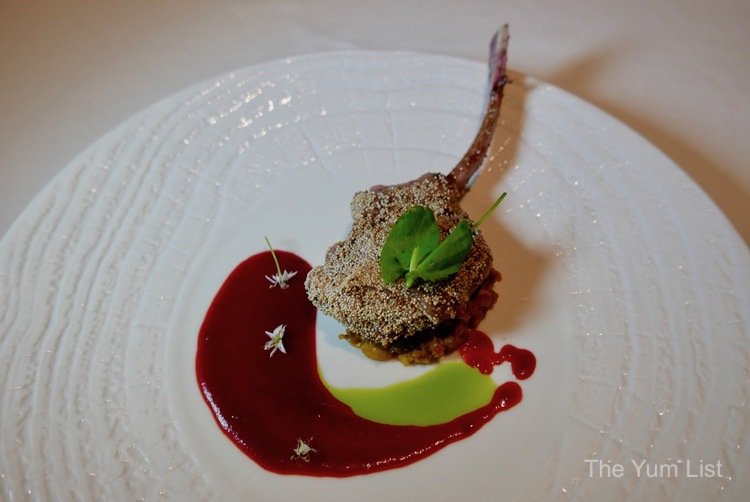 As if we might be ready for a hangover cure after the slew of cocktails that have already arrived, Akshar arrives with Klinik Nadodi. What appears to be an unassuming lime juice bubbles up with the addition of the little effervescent tablet clipped to the rim. This fizzy mojito brings plenty of sweet lime and subtle hints of mint to what ails me. I'm feeling better already!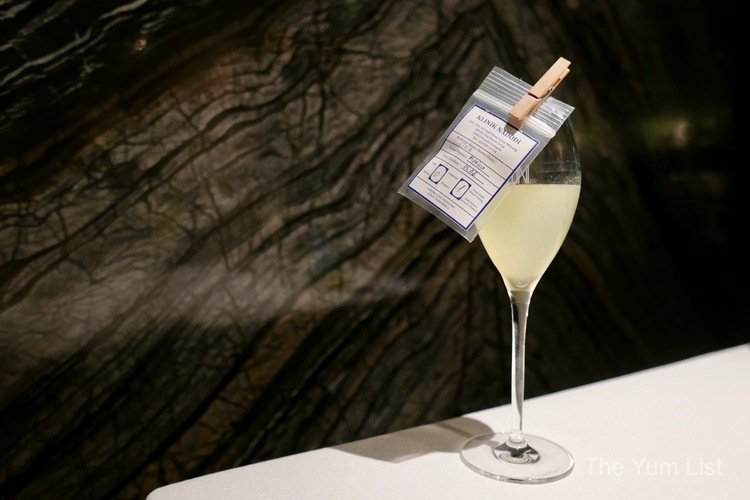 The next stop on the journey speaks to the very nature of the restaurant's theme. Nomads Globe is a signature dish of Nadodi, one that begins with creamy pongal rice spiked with lentils, peppercorn and ginger. In the stacked layers of a tiffin, we find the enhancements: a nugget of tender morel, caramelized onions, slices of roasted quail pallipalayam, and a rice cracker topped with coriander and carrot chutney. Marvelling at the beauty as we unpack it all, we are encouraged to mix it all together and eat it at once like good Indians. We do, and the result is a well-balanced, spicy, nuanced finish to the savories.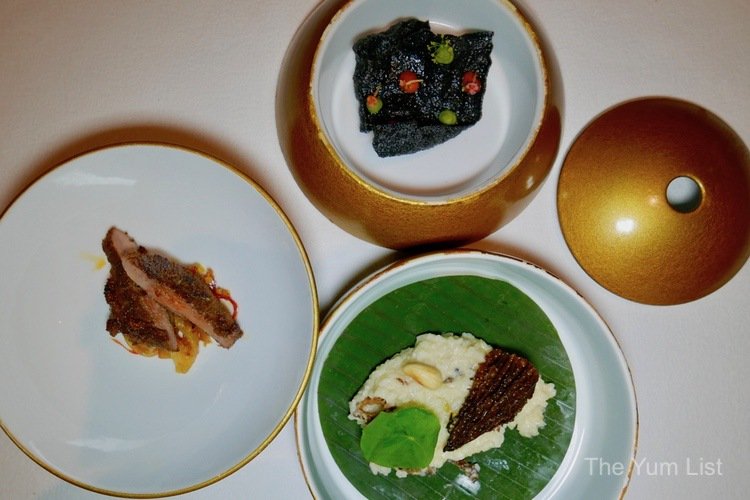 The last stops are sweet ones. Mind of Coconut takes the homestyle idea of crumble and ice cream but gives it a South Indian spin. Pradhaman ice cream is flavored with coconut cream and cane sugar, served on a bed of toasted coconut crumble, and then gets crowned with more of the same. Coconut lovers will lose their mind here, just as the name suggests. The second sweet (because when is one dessert ever enough??), It's Fall, pairs white chocolate cream with a wedge of white pumpkin halwa and surrounds it with hazelnut cookie crumble crumbs and dollops of lemon meringue. Like the rest of the meal, layer upon layer of fine culinary paving stones lay the groundwork for a smooth path to a gratifying finish to the meal.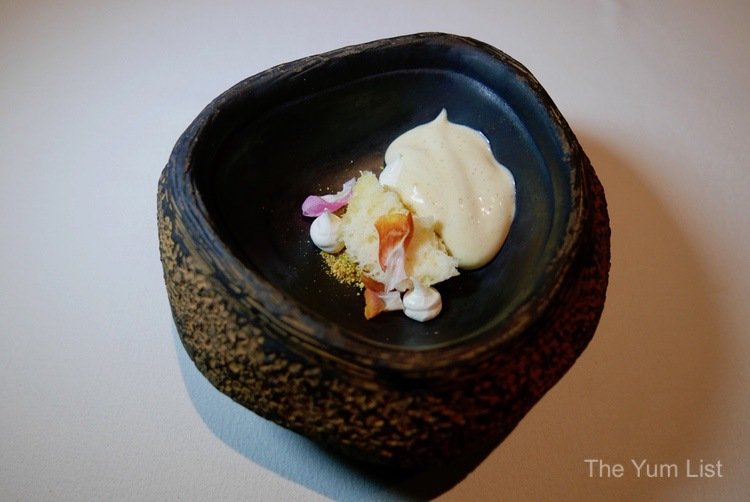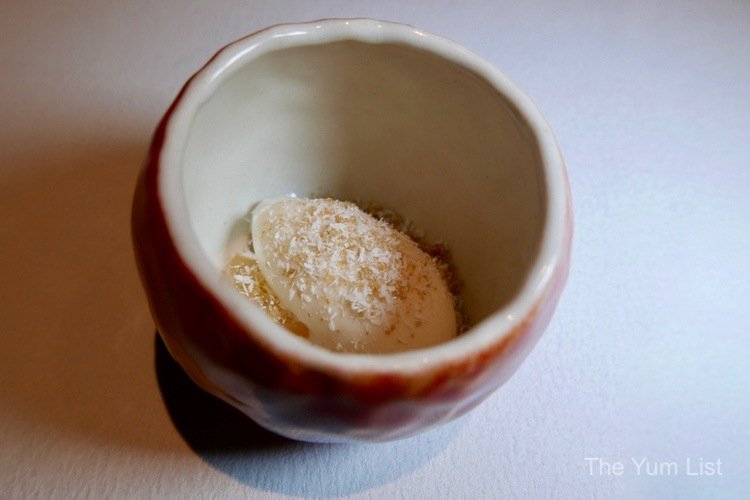 Thankfully, I am already happily married and so did not need to cancel any festivities on behalf of my betrothed to undertake this journey with Monica and the team from Nadodi. I would advise you to do the same: Lace up your culinary shoes and step into this sublime food experience.
Nadodi's 12-Course Tasting Menu runs RM490+. Smaller stomachs might choose to take in the 9-Course Menu at RM430+ or the 7-Course at RM360+. Wine pairings will add an additional RM280+ and the cocktail pairings RM260+.
Reasons to visit Nadodi Kuala Lumpur: The culinary wanderings of top-quality subcontinental food prepared with passion and originality.
Nadodi Kuala Lumpur– Engaging Nomadic Cuisine
Lot 183, 1st Floor
Jalan Mayang, Off Jalan Yap Kwan Seng
50450 Kuala Lumpur, Malaysia
+60 3 2181 4334
+60 17 390 0792
www.nadodikl.com
Nadodi Kuala Lumpur Opening Hours:  Monday – Saturday for dinner from 6:00 p.m. – 11:00 p.m. Reservations are recommended.
Find our previous visits to Nadodi Kuala Lumpur here, here and here.