Words: Louise Miller
Photos: Monica Tindall
One of the first images that pops into my mind when I think of China, is the hustle and bustle of street vendors industriously grilling, frying, stirring and shouting about their tantalisingly delicious fare. This image is of course coupled with aromas galore: from smokey scents to deep-fried fatty fragrances, the scene is an exquisite assault on all senses
Yunnan street food fits this description perfectly and no trip to the province would be complete without tucking into its authentic roadside cuisine. Along with the excitement and newness of many of its dishes is the potential to overwhelm so, since we travelled around with local guides who kindly steered us in some delicious and safe directions, we are more than happy to share some of our highlights…
Shao Er Kwai – Yunnan Street Food Carb Overload
Roughly translated as 'sticky rice pancake,' this is a super filling carb overload – naughty but very nice! The pancakes are heated on a hot plate and filled with a fried dough stick, local goats cheese, a hot dog and the sauces of your choice. Mon and I opt for a meat-free version, I go for spicy and Mon for sweet. The pancakes are rolled up to make a wrap and popped into paper pockets for easy holding and we tuck in. Yum!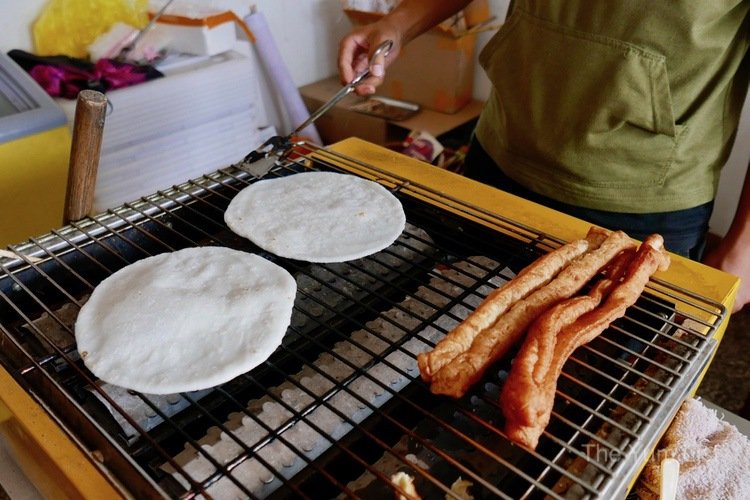 Ji Dou Liang/ Re Feng – Yunnan Street Food Dessert
Ok, so the translation really doesn't represent the deliciousness of this snack so don't be put off by the sound of 'Chicken Bean Cold/Hot Jelly'. We stopped in the place most famous for the dish, Stone Drum Village (between Leaping Tiger Gorge and Lijiang) to have a taste. The cold version sees the jelly cut into thick noodle shaped strands whereas the hot version is in bigger chunks and fried. They are both topped with a dousing of vinegar and soy sauce before a sprinkle of fresh coriander, ground peanuts, carrot and turnip shreds, sesame seeds and a chilli paste. The result is fragrant, tangy and spicy – I loved both the hot and cold varieties.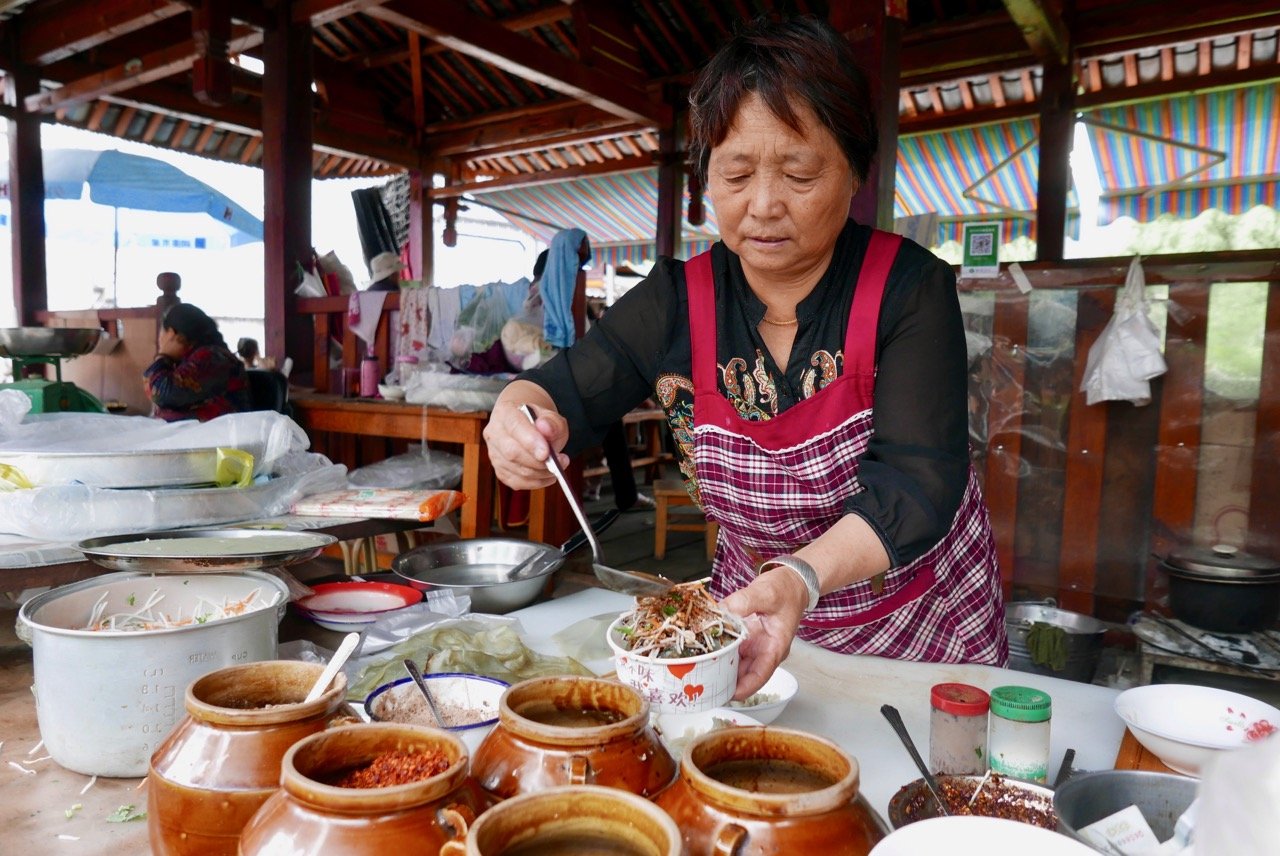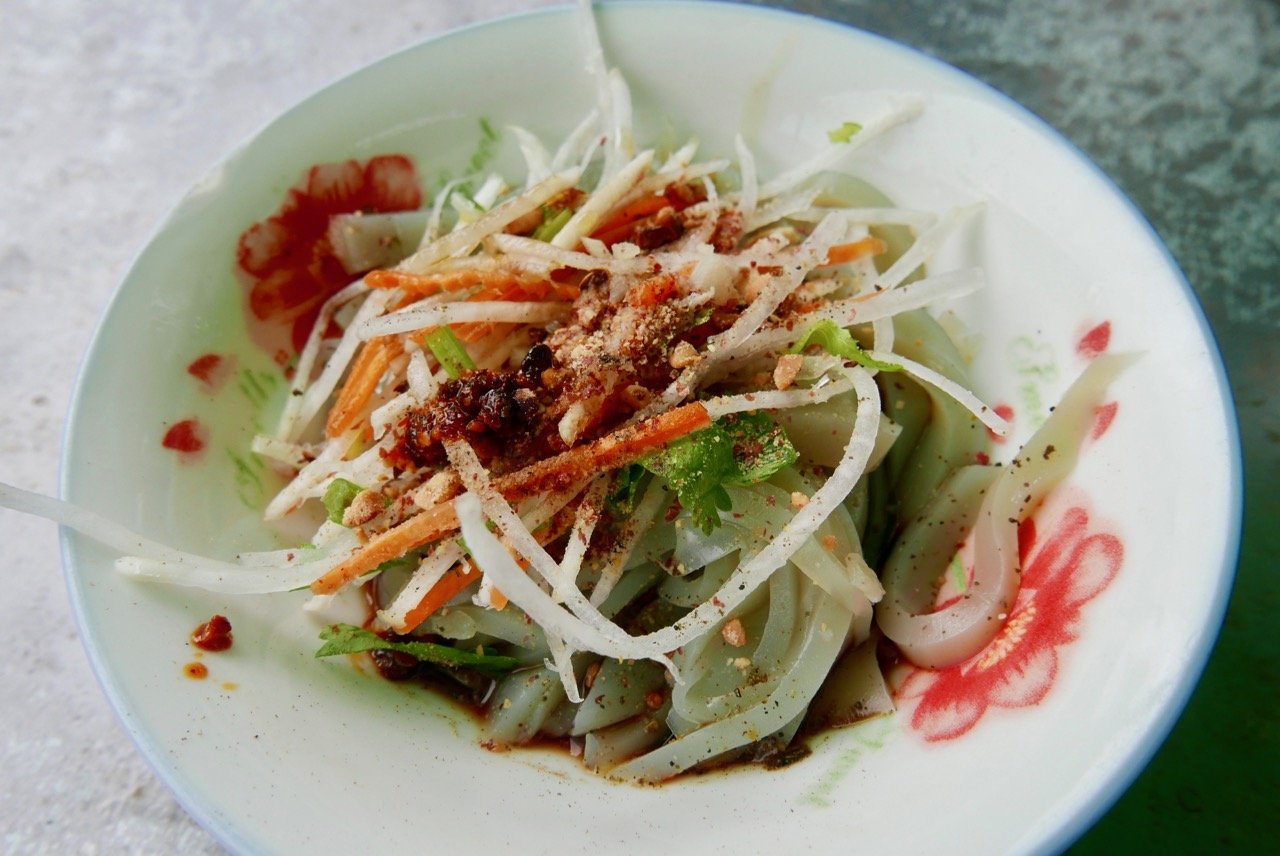 Mei Gui Bing (Rose Cake) – Yunnan Street Food for the Sweettooth
After having spent the morning feasting our eyes on the blooms in the world's second largest flower market, it seemed fitting that our stomachs should follow suit. Rose cake can be found all over Yunnan with many shops selling only this. The light and flaky pastry cakes stuffed with an aromatic minced rose petal paste make a very tasty sweet treat.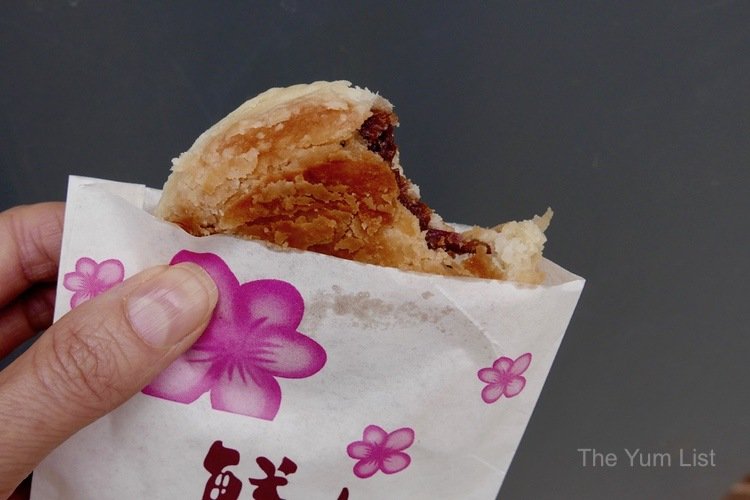 Mi Xian (Rice Noodles) – A Yunnan Must-Eat
Eaten mainly as a breakfast dish, boiled rice noodles provide all the energy you might need to power through a day of sightseeing. Chicken or Beef soup is poured on to the noodles with if you so choose, some leafy veg and enoki mushrooms. What I love about this dish is that you can personalise it with an array of ingredients and condiments: there's a choice of herbs, pickles, pastes and spices galore to add further flavour layers to the dish. Mine will always be spicy! I can't get enough of the minced pork in chilli oil that gives a kung-fu kick to the soup and tinges it a vibrant orangey red.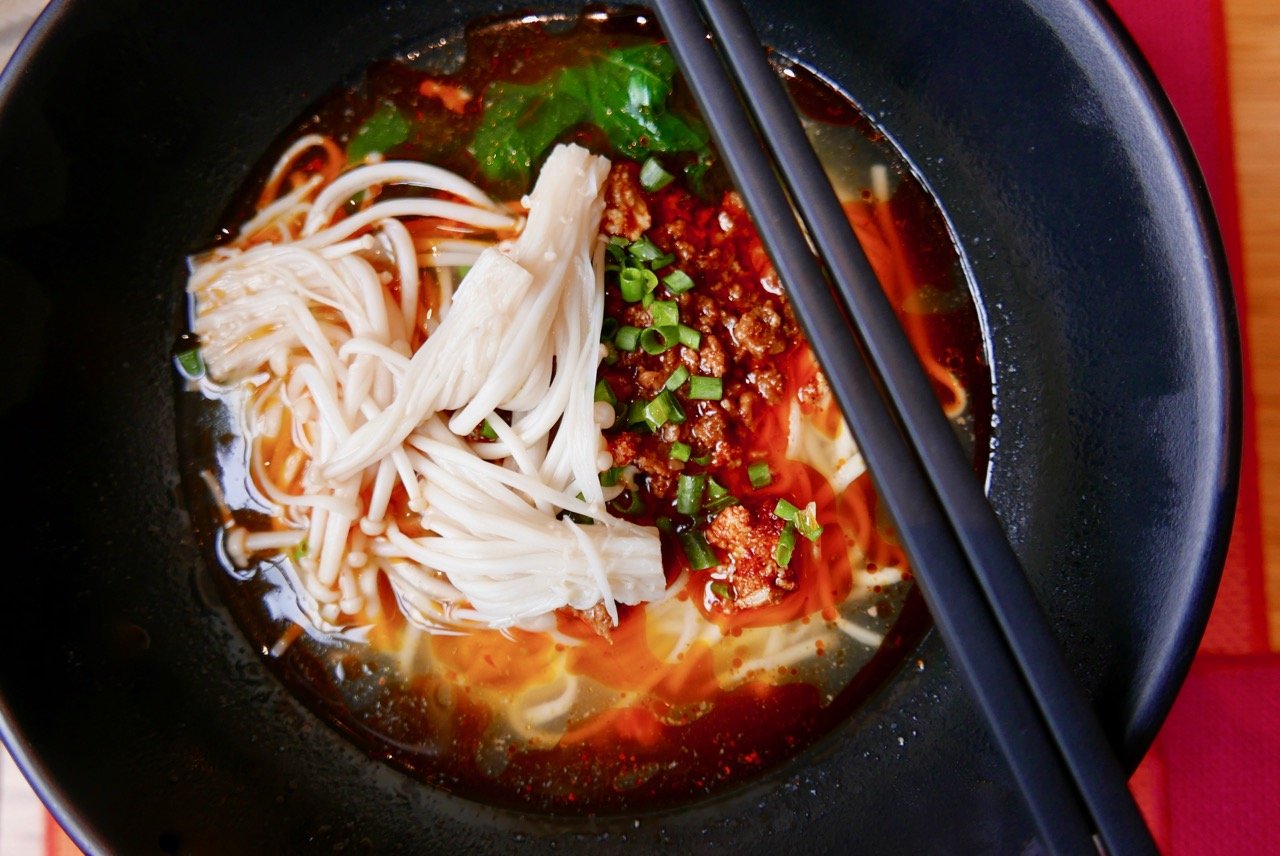 Yak Milk Cheese Balls – Yunnan Street Food
Yak products are big in Yunnan from the meat itself to a whole host of yak milk products. The cheese balls were our favourites. We tried both fresh, sweet cheese balls with soft barley flower cookies and a fried savoury variation. Both were very tasty indeed. We loved the creamy textures and sour yoghurt flavour of both versions. These are not to be missed!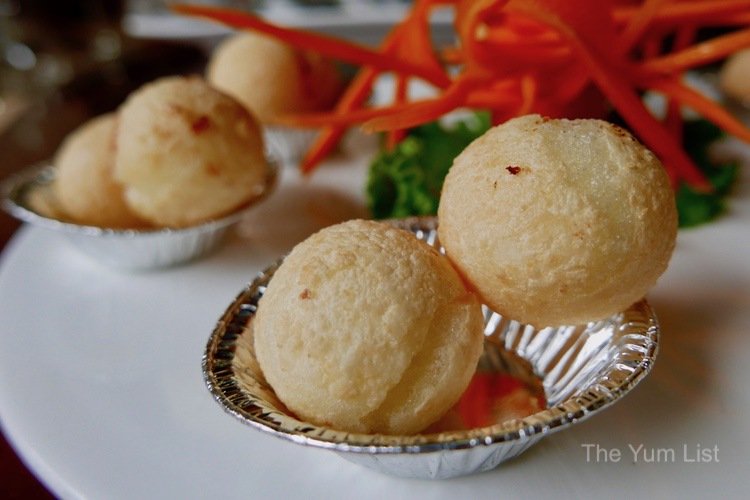 Yak Butter Tea
Drinking yak butter tea is a quotidian affair in Tibet. Since the main ingredient is indeed yak butter, it's particularly high in calories and therefore believed to be an excellent source of energy to fuel up in the harsh winters, prevent chapped lips and acclimatize to high altitudes. It's made by combining boiling tea leaves with butter and salt in a special churn, and mixing vigorously before serving. I have never had anything remotely like this before and although I don't dislike it at all, I would say that it's an acquired taste. The buttery richness is deeply satisfying but a few sips are probably enough for me. The tradition and uniqueness of this speciality, however, certainly make it a 'must try' for visitors.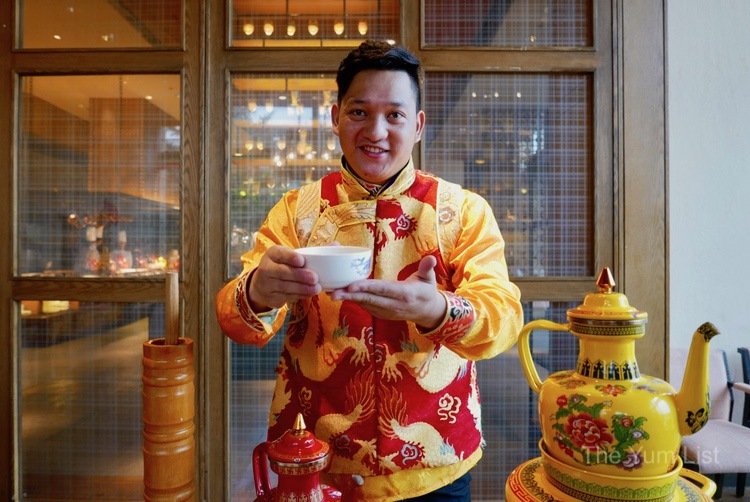 Deep-fried Insects of Yunnan
Many kinds of insects make popular crunchy snacks in Yunnan. High in protein and fibre and low in fat, not only are they nutritious but they are far tastier than you might imagine. We tried bamboo worms, locusts or grasshoppers and dragonflies all of which were salty, tasty and surprisingly moreish!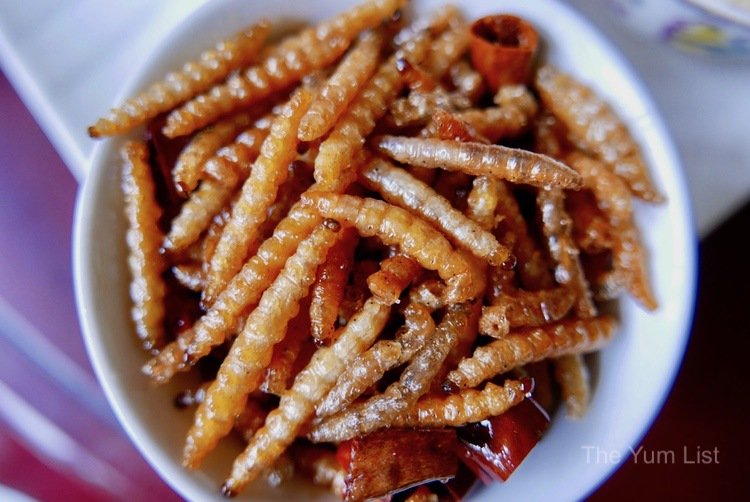 Baba
Baba is a Yunnan staple that translates as both pastry and flatbread. Made with potato, glutinous rice flour, buckwheat flour or barley flour, you see these piled high in every street food market. They are a perfect side to accompany a main dish and mop up some sauce or a great little snack on their own. We recommend trying a few to get a sense of the range of textures and flavours.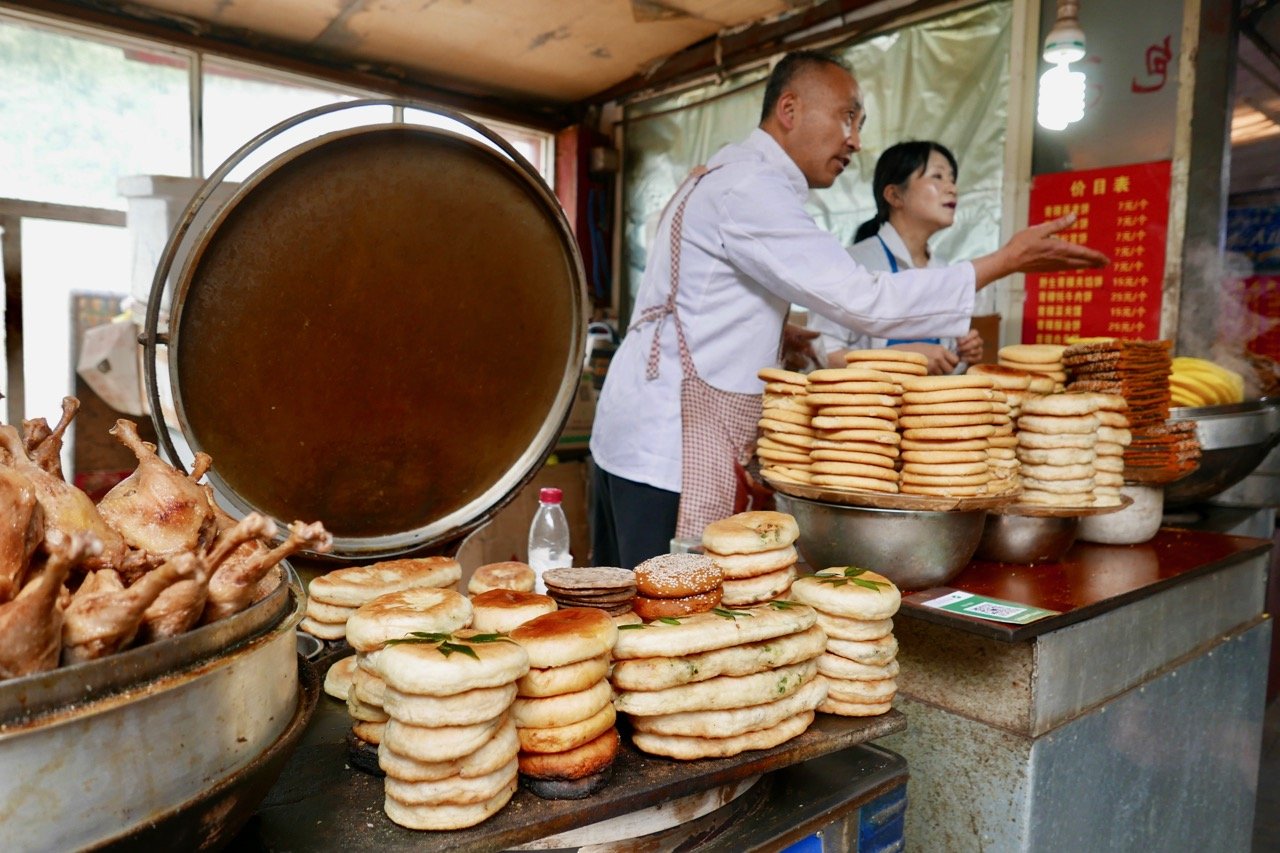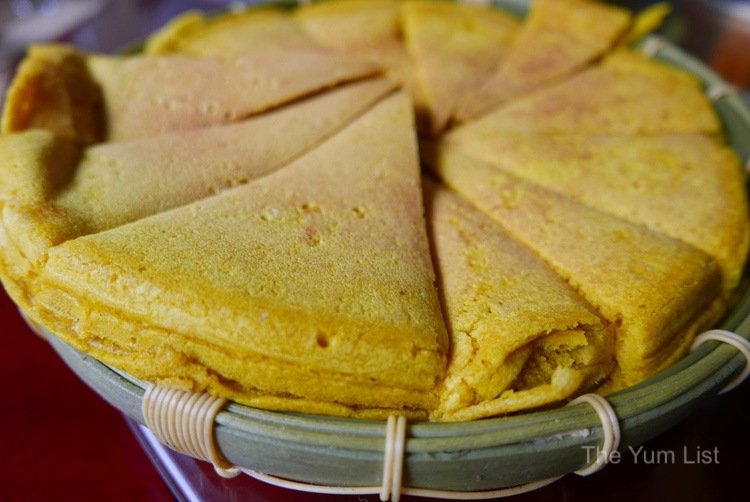 Yunnan Street Food – Barbecue
Smoking hawker stalls offering a multitude of both meat and veggie grilled skewers epitomises my perception of Chinese street food. Here in Kunming, popular carnivorous choices are beef, chicken feet, wings and skin, pigs' ear, trotter or tail. Plentiful herbivorous choices include beancurd cubes, potato, scallions, leeks and of course, mushrooms.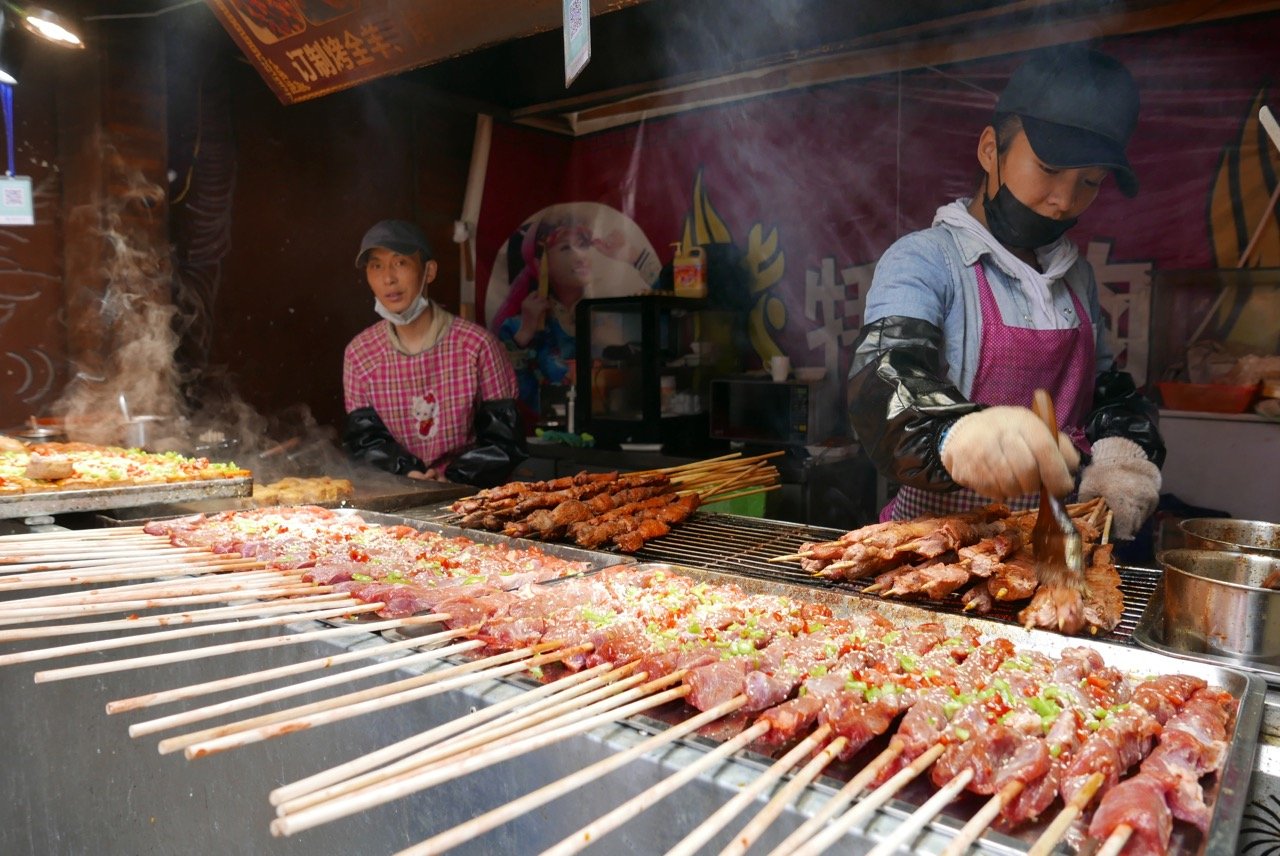 Top Tip for Street Food Yunnan
Our advice before taking the street food plunge is to seek recommendations from hotel staff. They will know which stalls have the best reputations for both deliciousness and hygiene.
Find more tips for gourmet travel throughout Yunnan here.