Monica Tindall
The international Beach Road Kitchen at JW Marriott Hotel Singapore Beach Road provides a vibrant buffet of cuisines from around the world for breakfast, lunch and dinner. Live cooking stations add some eatertainment to the menu and ensure fussy eaters like myself are satisfied with dishes made a la minute. Here we dine for Sunday brunch, experiencing the restaurant in cheerful daylight with a buzzing weekend crowd.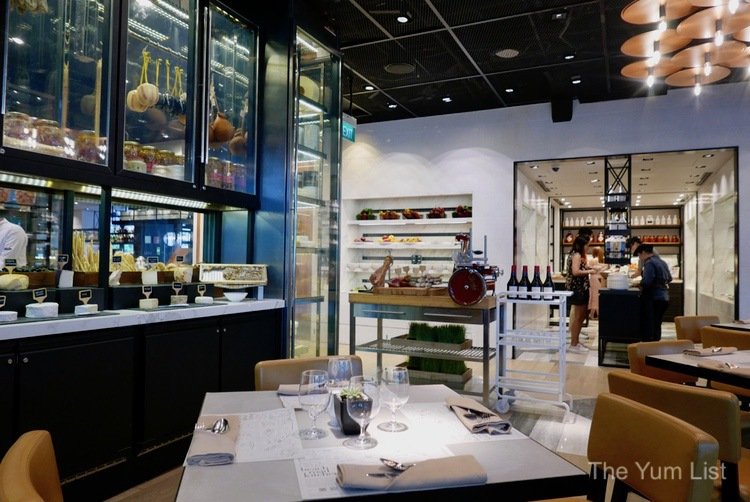 Brunch Beach Road Kitchen
We've been forewarned that for Sunday brunch at Beach Road Kitchen the chefs, "basically put the entire kitchen on display." We are advised to come very hungry. What we find is a mind-boggling line-up of food, which has to be one of the most extensive buffets I've been too (considering I've written articles on over 3500 thousand restaurants, that is quite the statement).
The number of stations is far too many to explore all in depth so we do our best to hit the highlights.
Cheese and Charcuterie Station
All I can say is wow! The cheese and charcuterie station looks like an entire deli-worth of dairy and cold cuts. No less than twelve exquisite cheeses and two handfuls of cured meats are for the slicing. And what a lush slicing machine it is. A beautiful red Ferrari-resembling Italian device sits with pride alongside the selection. For the cheese, there are bread, honeycomb, fresh figs and berries as accompaniment. Guests can even pour themselves a cheeky glass of Penfolds Tawny Port as an escort.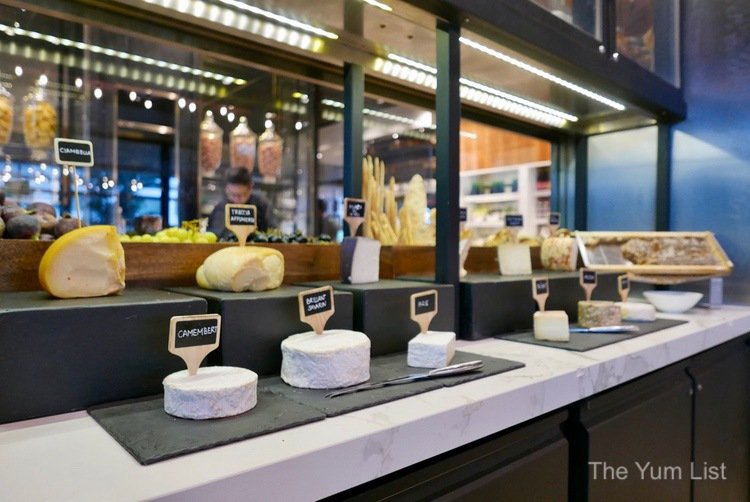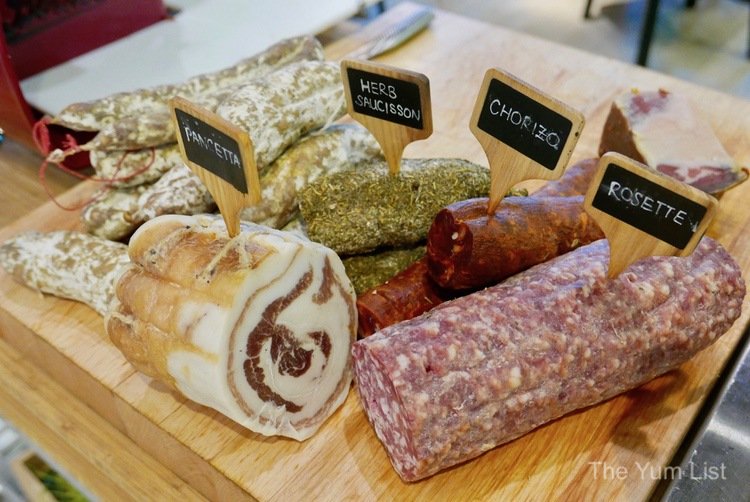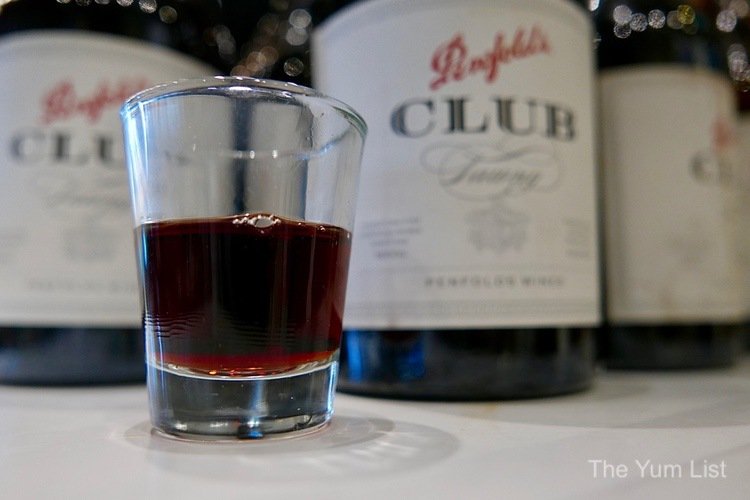 Seafood Room
The seafood room is magnificent! And, this is where I see most Singaporeans strategizing their master food plan. Time seems to be divided between this chilled creatures-of-the-sea room and the roasts (more on that station next). Not one but four types of oysters are freshly shucked to order and there is shellfish galore! Crab, yabbies, lobsters all types of molluscs, crustaceans and bivalves are on display. And then there's the fresh fish: sashimi, marinated bites, ceviche – the choices are endless. But, as I said, a game plan is needed to conquer the buffet at Beach Road Kitchen, so it's time to move on.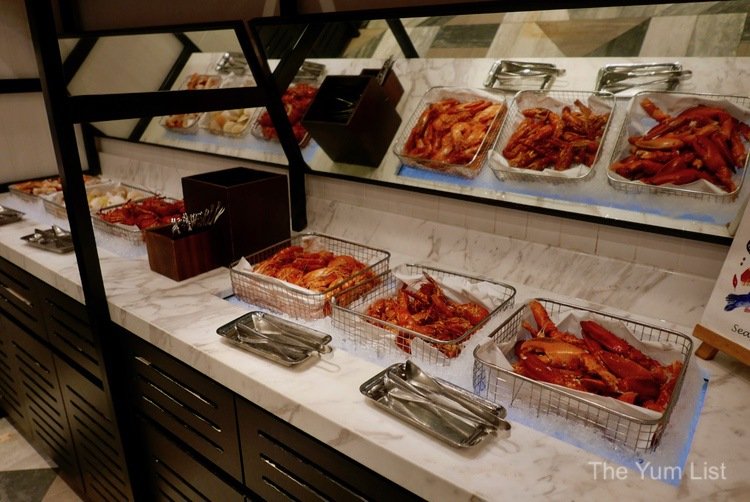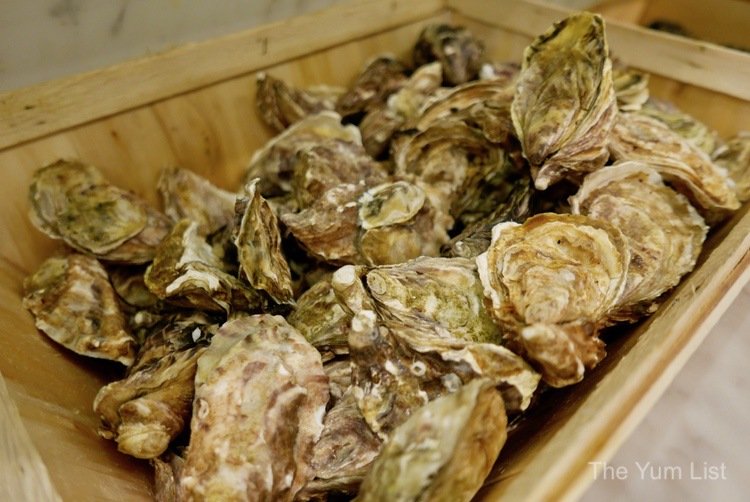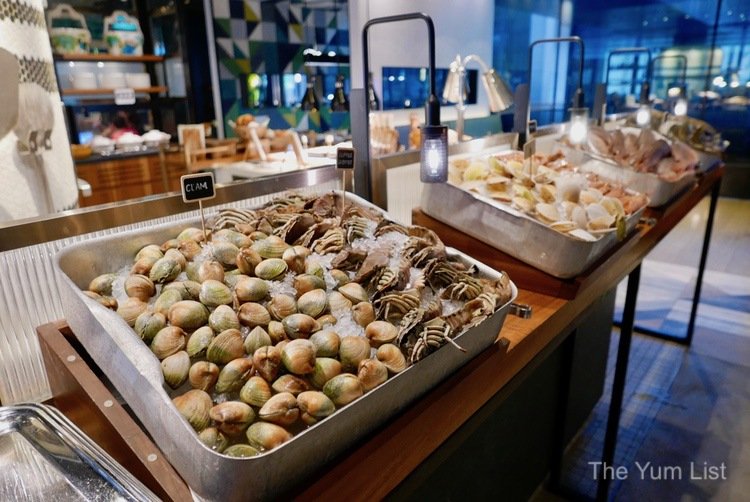 Roast Station
As with the seafood, the roast section is mind-blowing. Whole animals are on display: lamb, fish and chickens. But that's not all! A chef wheels around a cart with a whole crispy suckling pig and slices it tableside. The enormous beef tomahawk is another star attraction. Pink in the middle and charred around the edges, some diners don't seem to make it past the roasts, satisfying their Sunday brunch desires in a single station.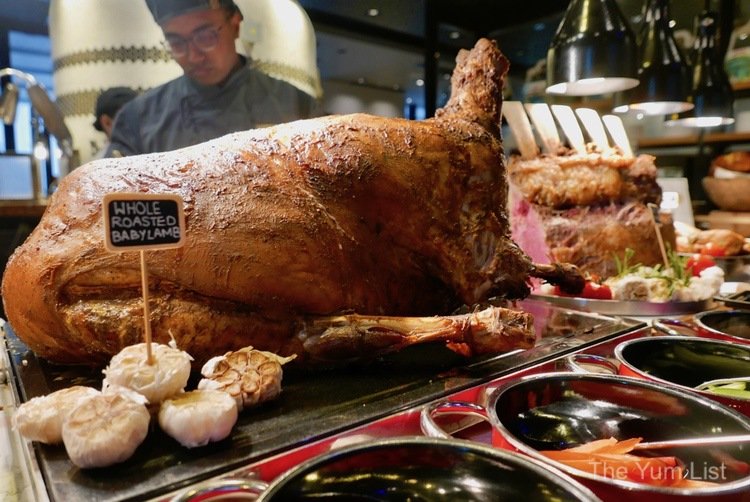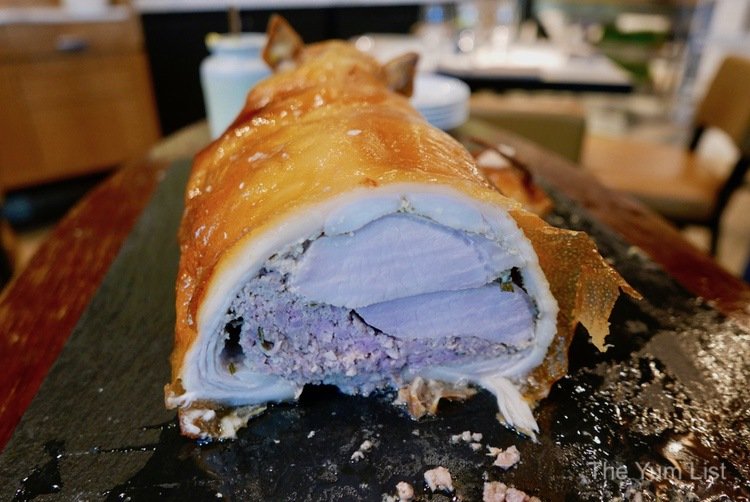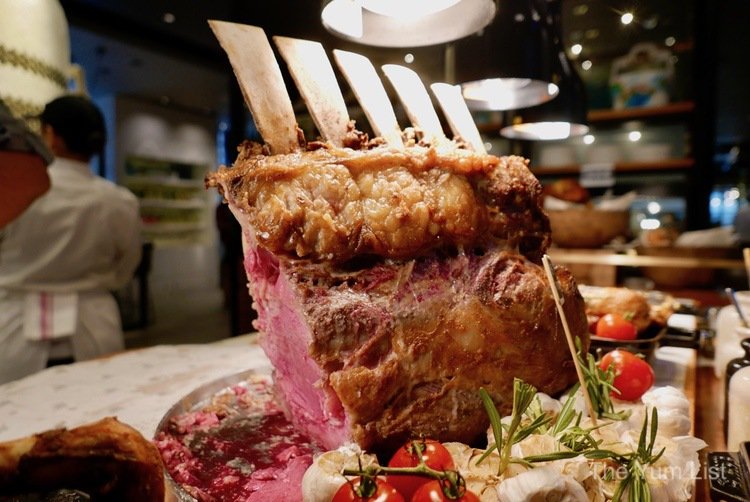 Salads
For some, salads might not be worth a second look. Health-nuts like me, however, love the balance and selection of the various types of leaves, vegetables, nuts, grains, seeds, beans and legumes. While the buffet is sure to make the muscles of protein lovers bulge in anticipation, I can assure you that there is plenty for our veggie loving friends too.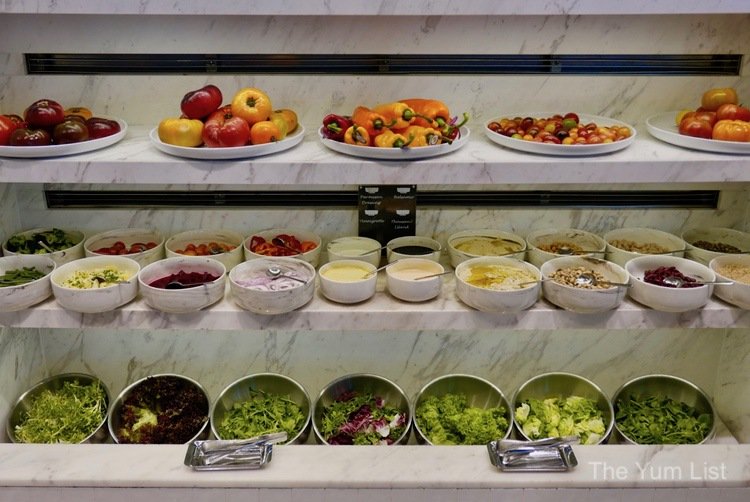 Local Favourites
Chilli crab, laksa and a whole range of other local specialities await. My stomach square footage though has been taken up with cheese, seafood and salads, so, despite these recipes looking mouthwatering, I don't even get a spoonful onto my plate. A hot noodle station is popular with guests choosing their ingredients and chefs dipping them with noodles in boiling water before serving. Steam also rises from bamboo baskets, a sign that the dumplings inside are hot and ready to go. A line up of brilliant copper pots embrace Indian curries, rice and bread. Again, however, these don't even get a snap of coverage. (Have to save something for a return visit, right?)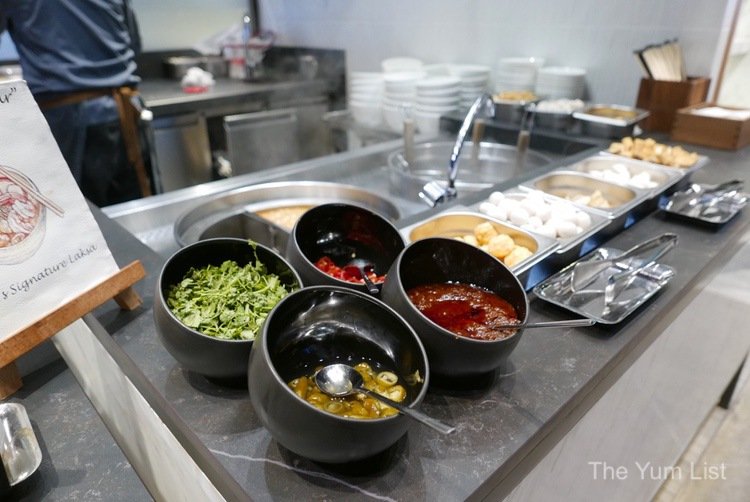 Dessert Showcase
Funnily enough, a full tummy is no deterrent for sweets. Just as well, as the dessert display has its own entire corner. Towers of macarons, buckets of ice cream, hot plates tossing off crepes and shelf upon shelf of pastries, cakes, tarts, chocolate and just about any other sweet you can imagine: there is plenty to make every sweet tooth drool with delight. My favourites are the handmade pralines, rich and creamy in flavour and mini pieces of artworks for the eyes.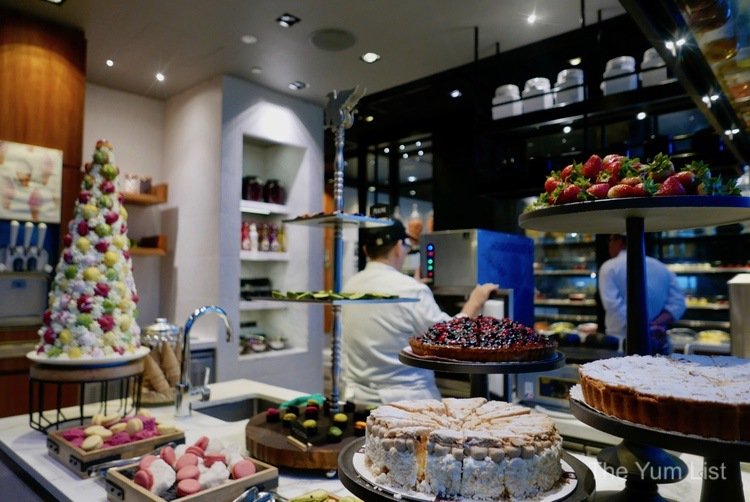 Beach Road Kitchen Price
Sunday buffet brunch at Beach Road Kitchen is priced at SG $108++. For various add-ons, you can have a free-flow of wine, beer and sparkling and for another premium, you can throw in a free-flow of Taittinger Rose or Brut Champagne.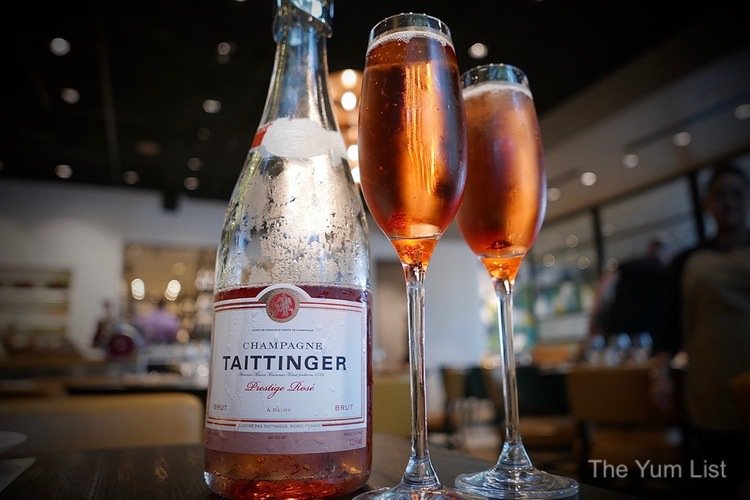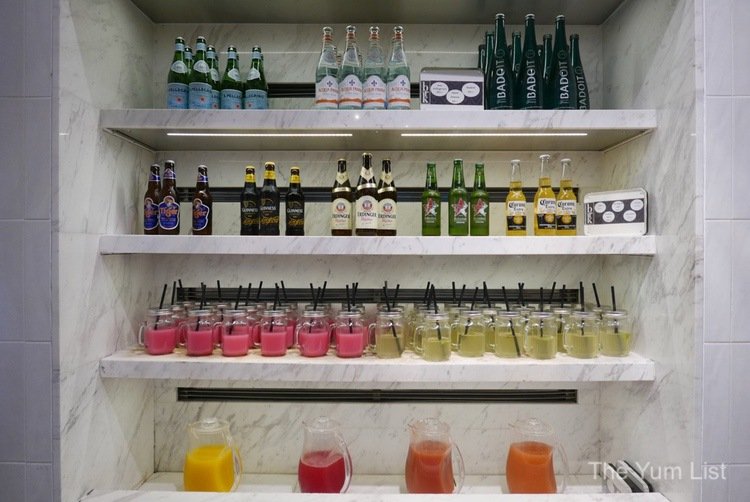 Beach Road Kitchen Review
Service is attentive but not intrusive. Plates are quickly cleared. Glasses are promptly topped and help is only a request away. The buffet is one of the most extensive I've come across and meat and seafood lovers are bound to be happy here. It's a top-notch brunch in a cheery location – I highly recommend it.
Reasons to visit Beach Road Kitchen: an extensive buffet of high-quality food; excellent selection of cheese, seafood and roasts; gracious service; cheery setting.
Beach Road Kitchen
JW Marriott Hotel Singapore South Beach
30 Beach Road, Access via Nicoll Highway
Singapore 189763
+65 6818 1888
www.marriott.com
Beach Road Kitchen Buffet Hours:
Monday – Friday: 6:30 to 10:00am, Noon to 2:30 pm, and 6:00 to 10:00pm
Saturday and Sunday: 6:30 to 11:00am, Noon to 3:00 pm, and 6:00 to 10:00pm
A La Carte Menus are available every day from 6:30 am to 10:00 pm
Buffet Breakfast: $42++
Buffet Lunch: $58++
Sunday Brunch: $108++
Buffet Dinner: Monday to Thursday – $78++. Friday to Sunday – $88++