Words: Monica Tindall
Photos: Rich Callahan
I view pop-up dining events much like a chef's table. It's a chance for chefs to be creative and also an opportunity for diners to try something new. Five Elements Pop-Up Experience at Lafite certainly ticks both of these boxes and the thought that has gone into curating this affair makes us certain that following an initial visit, guests will return again and again.
Building on the theme of the Five Elements, the adventure begins at the reception. Guests are invited to enter their birthdate into a tablet, which then calculates their element. For those wanting to forego the fun, you can also simply take your table and order. We, of course, want the complete adventure, so particulars entered, we discover that hubby is Fire and Rich and I are both Metal.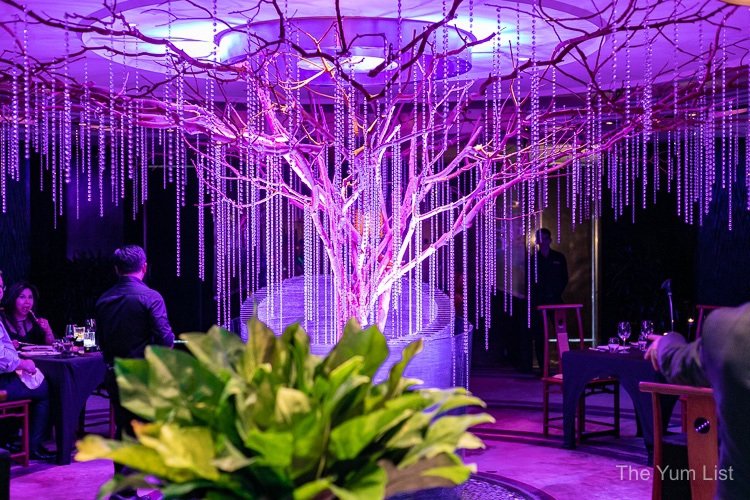 Five Elements Pop-Up Bar, Lafite, Shangri-La Kuala Lumpur
We ease into the evening with a cocktail (RM65) to match our label. Served in a dramatic flame of fire, hubby's Inferno is a tropical mix of Jamaican rum, grapefruit, lime juice and sugar syrup. An ice-filled tumbler garnished with a slice of dried mandarin is quickly alit with a pouring of Sambuca over a ladle and onto its crest. The Metal Fizz is a much cooler number served in an icy cold metal pineapple. Absolut Elyx Vodka, dry white wine, elderflower cordial, lemon juice and club soda are poured over crushed ice and prettied up with an edible flower. It's another refreshing combo and a great pre-dinner drink.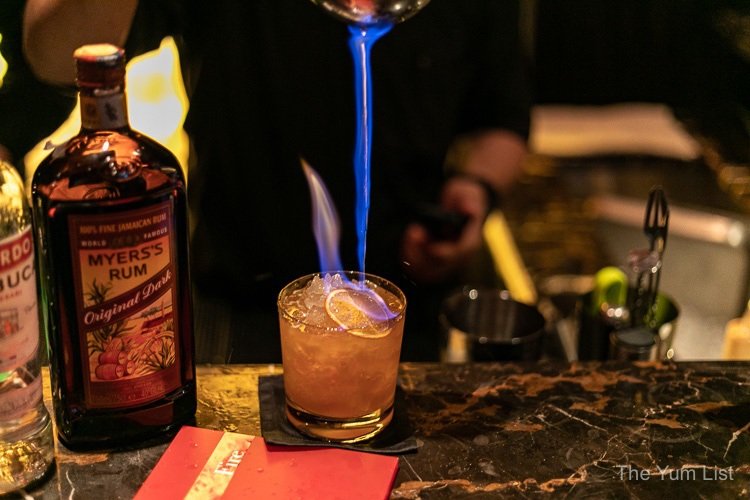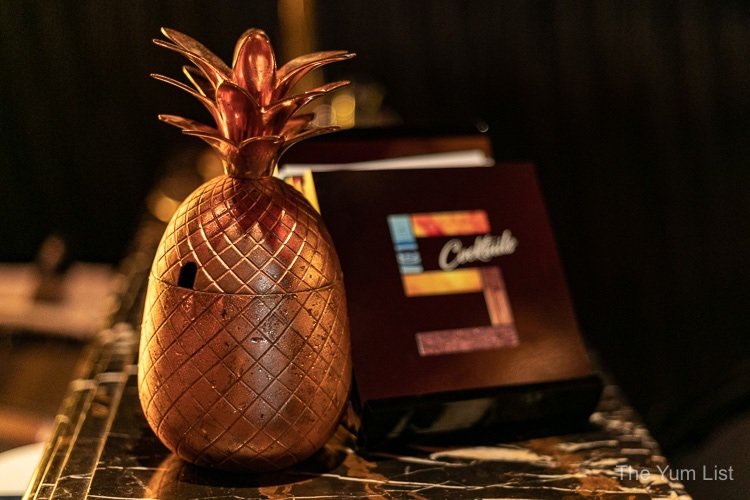 And, just for fun, we order a third to see how Wood would mix with Fire and Metal (actually it's a smoky Negroni, one of my fave cocktails, so…). Gin, sweet Vermouth and Campari are mixed as usual but a smoke bell of Grand Marnier soaked hickory chips gives it a decadent edge. Genius.
The bartenders seem keen to show off all of the elements and offer us another so, who are we to refuse? Water – Aguador, is a Caribbean Sea blue with its mix of Blue Curacao, tequila, sugar syrup and a dash of club soda. A margarita glass holds the aquamarine liquid with a rim of brown sugar. This fruity concoction reminding us of Caribbean shores is hubby's fave – perhaps he needs some H2O to quell that fire.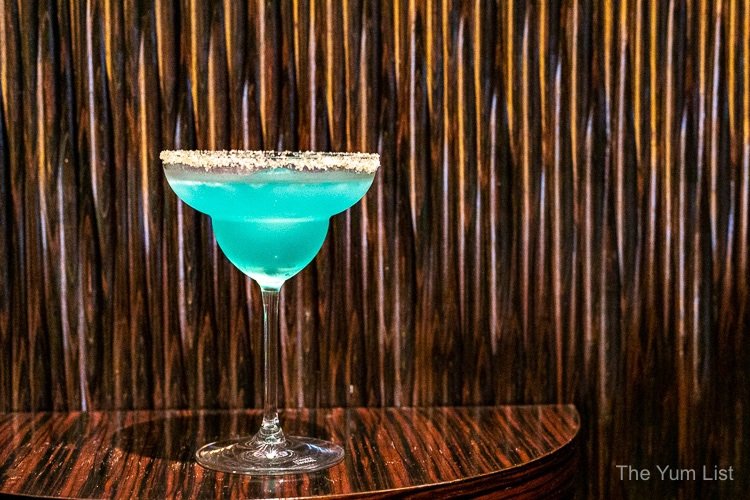 And, well we've done four out of the five cocktails, so it would be remiss not to do the fifth (right?). Earth – Planet Sazerac is a simple pouring of Wild Turkey Bourbon Whiskey, Absinthe, Peychaud's Bitters and sugar. This one is a stronger brew with the distinctive flavour of anise weaving through from start to finish – best suited to those who are solidly grounded.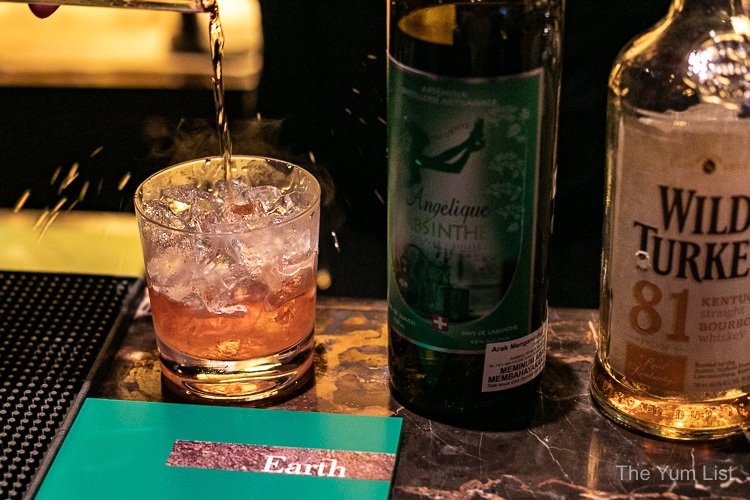 Hard enough as it is to leave our enthusiastic bartenders, it's time to add some solids to our up-until-now liquid diet.
Five Elements Pop-Up, Lafite
Five three-course menus are stylishly printed on acrylic blocks with a choice of two mains and three suggested wine pairings for each element. Guests are invited to take the fuss-free option and choose an element or play the game and pick from across the menus. Hubby and Rich ditch their assigned titles in favour of Water and Earth. I stick to my forecast with Metal, and we get all get a little surprise with a Fire starter.
Five Elements Pop-Up, Lafite – Water
Starter
A rectangular fishbowl is a base for hubby's confit tomato. The tomato is robust with relish and soft mozzarella has been injected with a lemon and herb jus. On the side, a rich Cardoret oyster sits on a bed of rock salt in the lid of a caviar pot and lastly, tomato tea refreshes the palate with a mild sweetness and distinctive herbiness from a sprig of rosemary.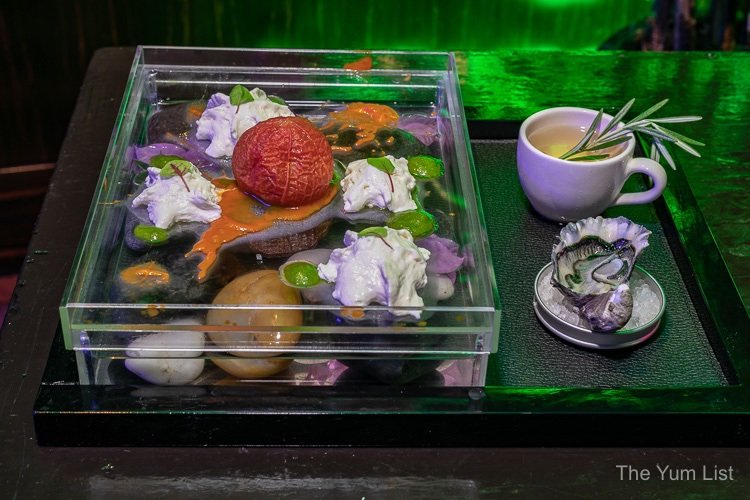 The level of thought that has gone into the menu is evident in the wine pairing, which is different for every element with a choice of three wines by the glass (RM70) for each. A chilled glass of Katnook Estate 2009 Sauvignon Blanc takes hubby's fancy in the Water menu. Displaying all of the typical characteristics of the new world grape, tropical fruits on the nose and a fresh crispness in the mouth, it is a vibrant wine that does especially well with the tomato starter (and my first dish of mussels too – of course, I had to try it).
Main Course
The main is a choice of grilled octopus or beef. Hubby goes with the Australian beef short rib and is not disappointed. The succulent meat is accompanied by oyster and seaweed emulsion, cauliflower, lemon gel, crisp capers, tarragon powder and pickleweed.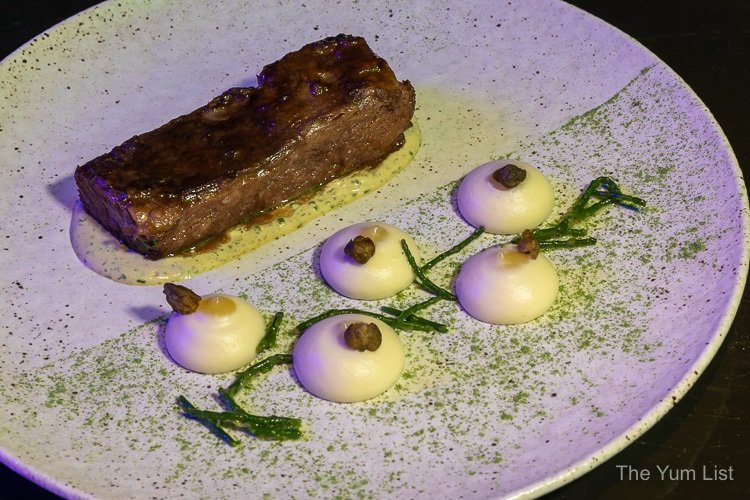 Dessert
Going with the lightness of water, the sweet ending is a light candied lemon. Limoncello espuma, caramel crumble and lemon sorbet make a refreshing finale.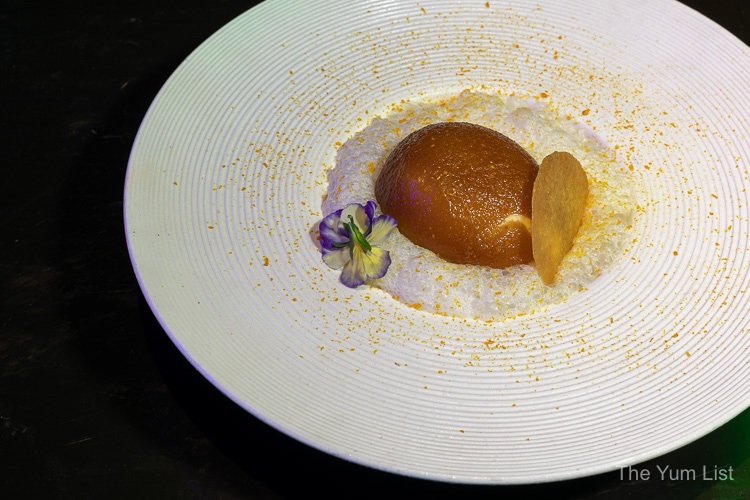 Five Elements Pop-Up, Lafite – Earth
Rich has decided upon the Earth menu as the line-up of poultry has caught his eye.
Starter
Duck rillette looks like it's sitting on a bed of soil with natural wood and moss sprouting from the earth. The duck comes in a wafer cone furnishing a nice contrast of sweet and savoury. The chicken egg parfait with sorrel sauce is rich and delightful. I imagine it as a Sunday brunch with a loaf of crusty sourdough. It's all beautifully presented.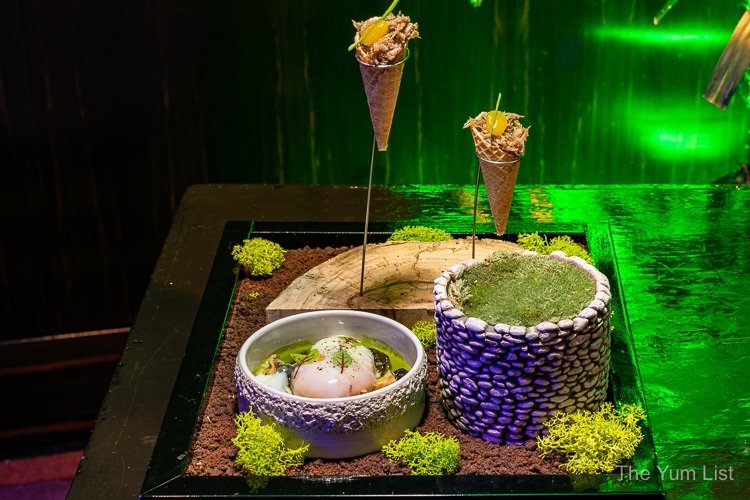 Main Course
Arctic char or quail are the alternatives for the main. Poultry is the theme for Rich tonight so he continues with the bird. Roasted Spanish quail – leg is confit and breast (so tender) is seared – comes with Arborio rice risotto and black truffle shaved on the top. The confit tomatoes are so sweet that it feels like biting into a piece of fruit. Arugula and Reggiano Parmesan complement with a touch of bitter and some saltiness.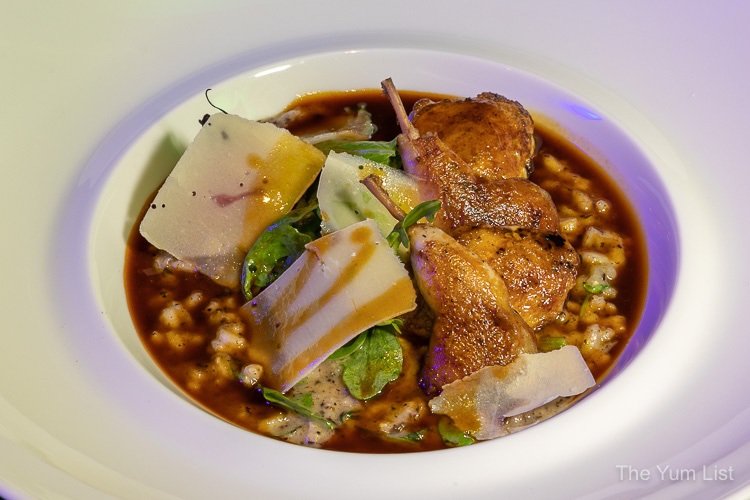 Dessert
We all ooh and aah as the desserts are delivered to our table and the Valrhona Manjari is the main inspiration. Arriving in a waft of smoke, the 64% Grand Cru Chocolate features chocolate espuma and meringue cooked in liquid nitrogen. It's a brown ball of beauty that breaks open to a hollow shell. A sprinkling of chocolate soil and vanilla crème Anglaise only add to the flavours and somewhere in the mix, I detect a splash of Grand Marnier. Rich confirms, "That is chocolate heaven."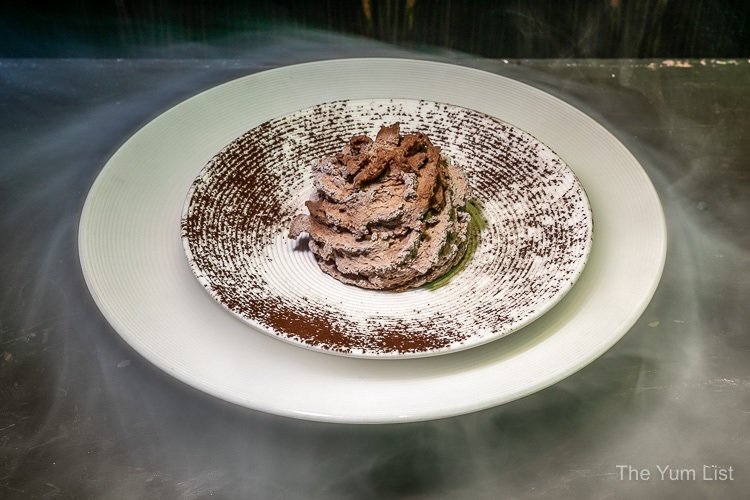 Five Elements Pop-Up, Lafite – Fire Starter
Concerned that none of us has ordered any of the Fire dishes, the chef insists on sending out the Fire starter. Marinated grilled tiger prawns sizzling on a block of Himalayan rock salt leaves half of the cooking to us – we're told to flip them over and cook the other side before eating. They're springy, lightly charred and have a delicious savouriness from the salt block. A fresh salad of smoked celeriac and granny smith remoulade provides the perfect balance.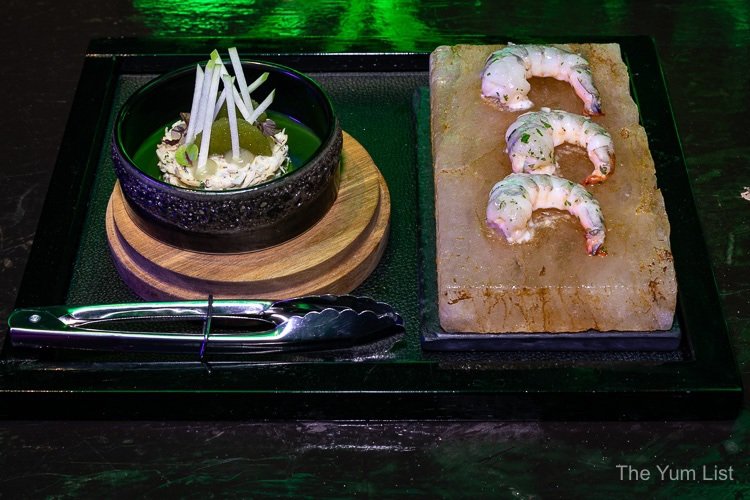 Five Elements Pop-Up, Lafite – Metal
Starter
I and am especially pleased with my starter of mussels poulette. The shellfish are cooked with a rich garlic, herb, butter and cream sauce and come inside a red metal pot. On the side, there's a basket of pommes grenailles. Again, in full French style, the baby potatoes come slathered with cream, butter and herbs. Hello, French cooking! The sauce in both is so delicious that it begs to be sopped up by the house-made bread. And, as executive chef Olivier Pistre (mastermind behind the concept along with F&B director Chris) has told us that he is aiming for a more relaxed fine dining experience, we're happy to use our hands.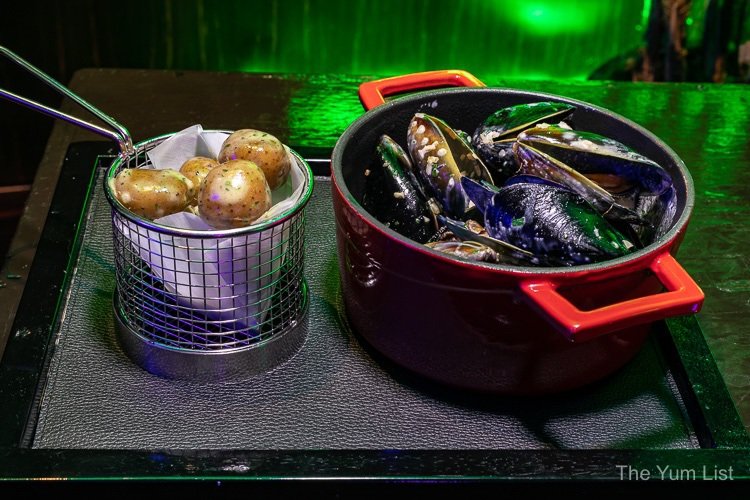 The wine pairing for my set offers a trio of New World wines. I'm keen on the 2008 Reserva Chardonnay from Stonier for my seafood options. It is fabulous with the creamy sauce of the mussels and does equally well with my rich fish.
Main Course
Fish or lamb are presented as the mains but I stick to the ocean. Red snapper comes with potato liegeois (potato espuma with cacao powder) and grenobiose sauce (browned butter with a mild hazelnut flavour is combined with capers, lemon juice and croutons). Oh my! The layers of complexity in this dish are divine. Fresh flaky fish is complemented with the addictively tangy croutons soaked in the grenobiose sauce. A must-order for fish lovers.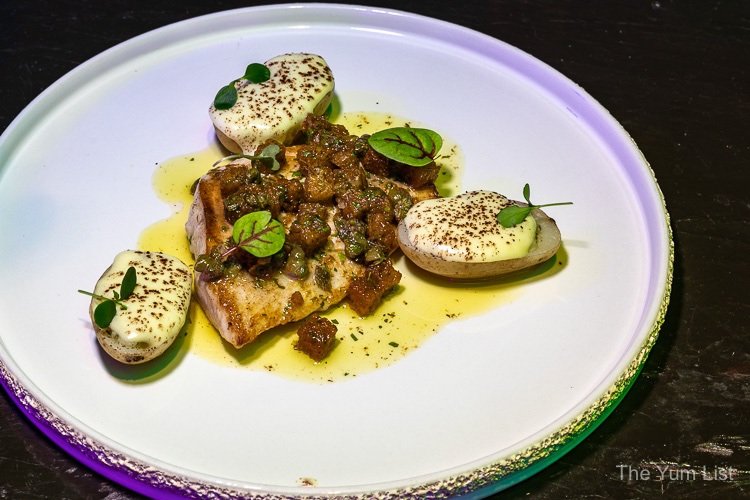 Dessert
I heard earlier from the communications director that Cherrie's Surprise was her favourite sweet so I'm happy to see it on my metal menu. Cherry mousse is encased with the thinnest of shells and holds a tangy marmalade within. Cherry ice cream, mini dots of meringue, cherry cream and buttery biscuit drops add texture. Our table is full of congratulatory remarks to the chef. It has been a beautiful menu throughout and dessert has led us to the climax.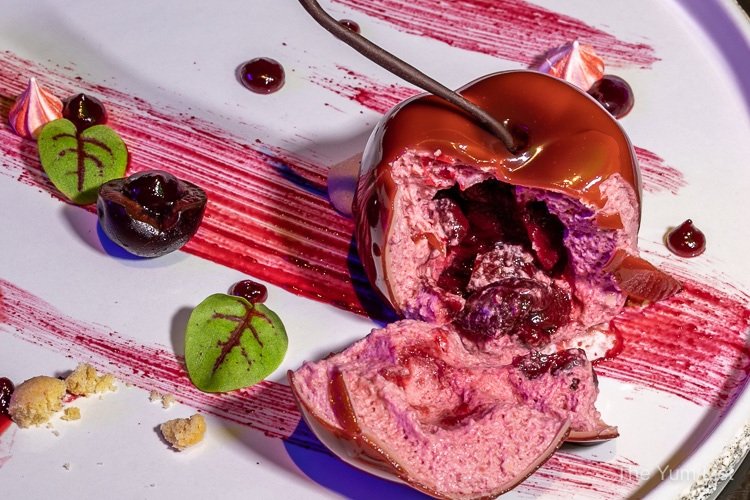 The Five Elements Pop-Up Experience at Lafite, Shangri-La Kuala Lumpur is available until November 24th.
Reasons to visit the Five Elements Pop-Up Experience at Lafite: fine-dining quality injected with a sense of fun and energy; great interactive experience for date night or a social evening with family and friends. Our fave dishes are the confit tomato, mussels poulette, marinated grilled tiger prawns, roasted Spanish quail, red snapper, cherrie's surprise and the Valrhona Manjari. For something on the lighter side of the cocktails try the Metal Fizz or for something somewhat more serious go for the Wood inspired smoky Negroni.
Five Elements Pop-Up Experience
Lafite
Shangri-La Hotel Kuala Lumpur
11 Jalan Sultan Ismail, Kuala Lumpur
www.shangri-la.com/kualalumpur
+6 03 2074 3586
Follow this link for more contemporary dining experiences in Malaysia.