Photos: Monica Tindall
Words: Kirsten Durward
Dionysus Asia, with the 9 Vines Festival, has exploded wine and dining events around Kuala Lumpur during the month of September. The penultimate experience of the month this Saturday are four wine paired dinners in restaurants on Persiaran Ampang, each featuring wine from a different region of the world.
We are lucky tonight to be hosted at Sapore KL, the delightful Mediterranean style restaurant. 'Sapore' is Italian for 'flavour' and the restaurant is known for the authenticity of taste in their signature Italian and Spanish dishes. Tonight, Chef Fabio Ruggiero, the restaurateur and executive chef, offers us a menu with tremendous range to showcase the delightful Boschendal wines from South Africa.
Boschendal Wines at Sapore KL
To accompany our first tasting of the Boschendal Pavillion Chenin Blanc, we nibble on bruschetta with smoked salmon and mascarpone, a light quiche di zucchine and dense cubes of Manchego cheese. I enjoy the off-dry fruitiness of the wine, a crisp acidity balanced with just a hint of tropical fruit.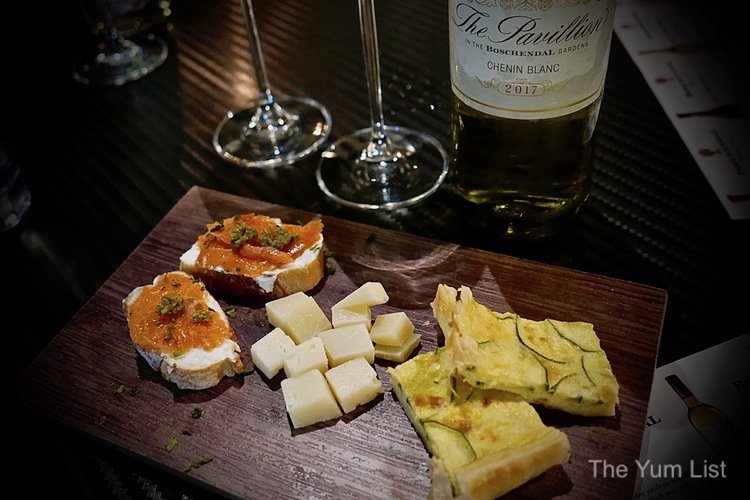 Our starter is a surprising combination, a fine clean tuna tartar swathed in a bowl of creamy burrata sauce, with tiny confit tomatoes adding a boost of flavour. We are both impressed by the elegance of our tasting of the Boschendal Chardonnay Pinot Noir. With almost a champagne structure, minus the fizz, this unusual blend of grapes has just a touch of spice, a hint of red fruits, but without the boldness of a true blush wine. Very charming drinking that has us returning for a second taste.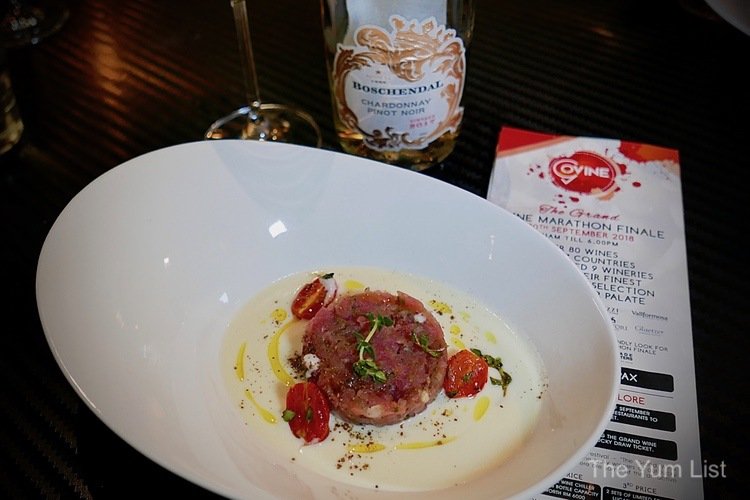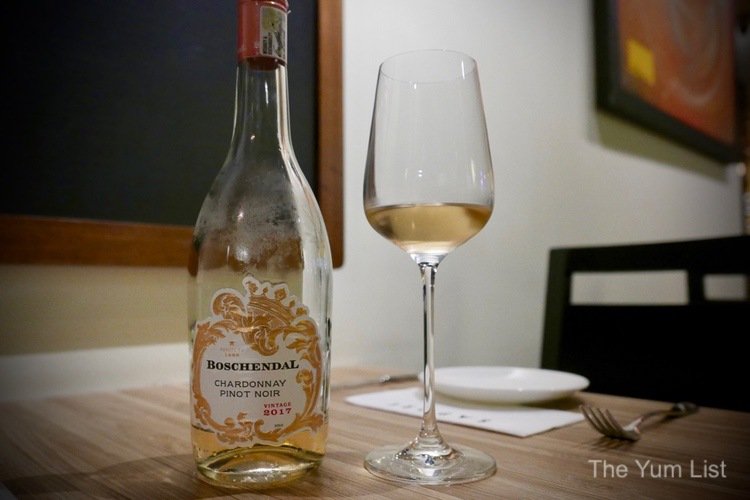 Who could resist the temptation of homemade pappardelle with mushroom and truffle oil? With just the right 'bite' of texture, the pasta soothes our souls, and the Boschendal 1685 Chardonnay complements the bold flavour of truffle oil, offering aromas of lemon, cinnamon and nutmeg; altogether a well-rounded wine.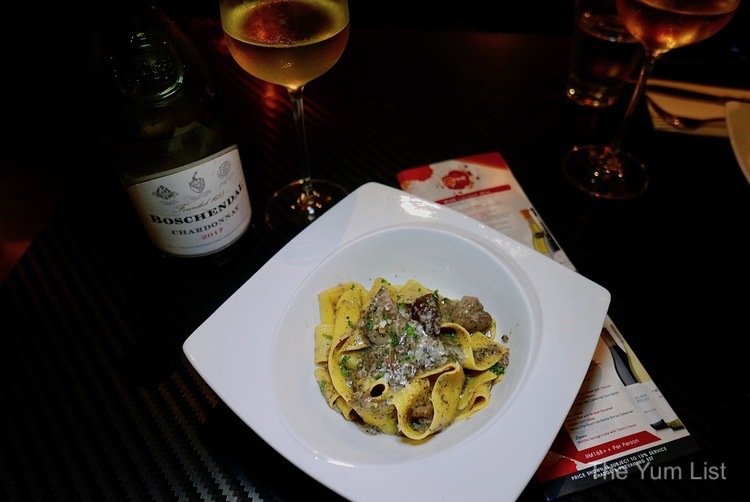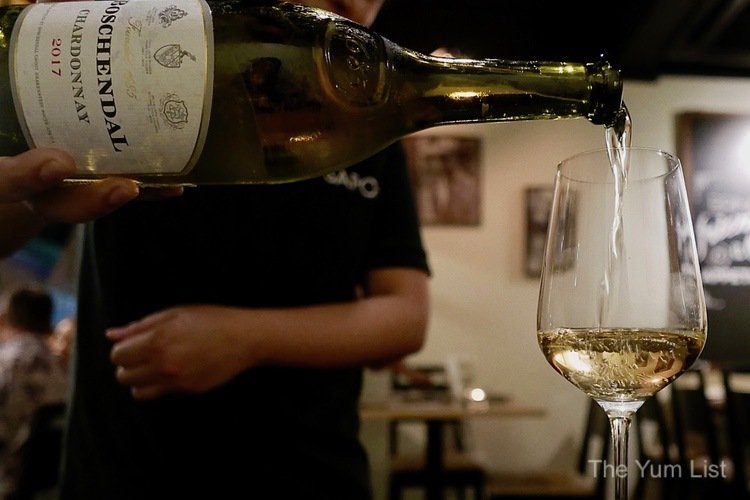 A twist on one of Sapore's signature dishes arrives in the form of a juicy slice of Iberico Abanico loin. Sumptuously served with smooth mashed potatoes and a pork demi-glaze, this rich combination is well served with the vibrant Boschendal 1685 Pinotage. A varietal particular to South Africa, this classic wine offers us vibrant red and black fruits, with a hint of tobacco spice. A popular choice to serve at a South African 'Braii' (local grilled meat barbecue).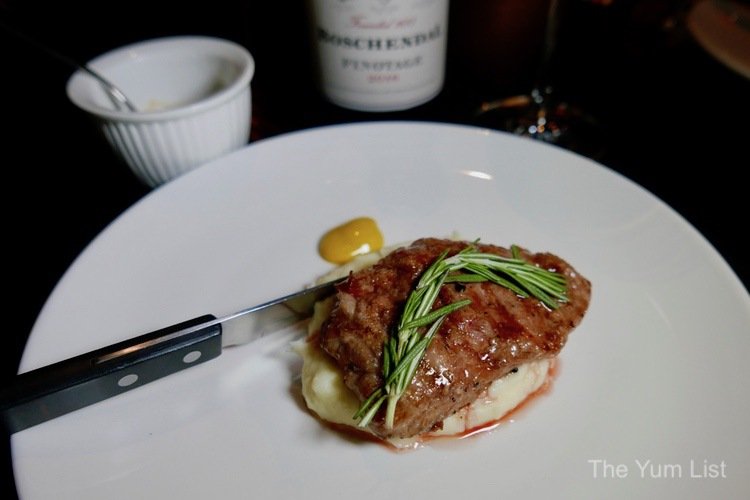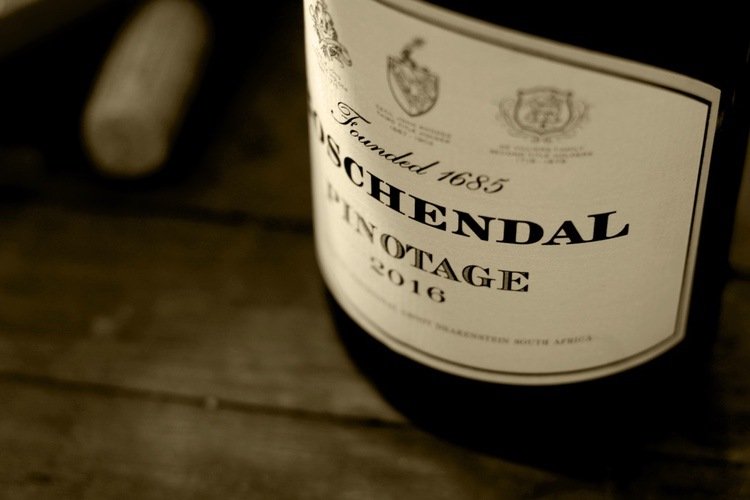 We are starting to run out of tummy space when the main course finally arrives. We share a taste of each choice; one moist lamb loin with pumpkin puree and black pepper sauce, and one pan-fried salmon fillet with creamy capers and baby spinach. The Boschendal 1685 Shiraz proves a delightful foil to the lamb with a strong structure and an intense fruity core. Less forward in spice than some of its Australian cousins, the South African Shiraz has tender notes of cherry and hints of tobacco. For the salmon, I am tempted back to the earlier Chardonnay Pinot Noir blend.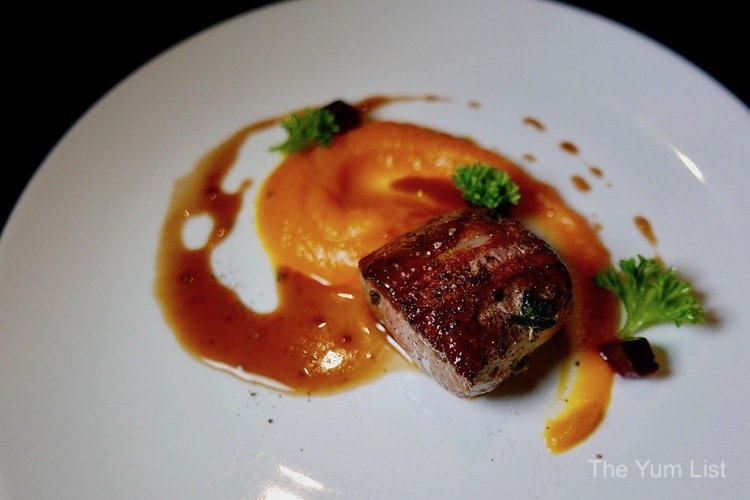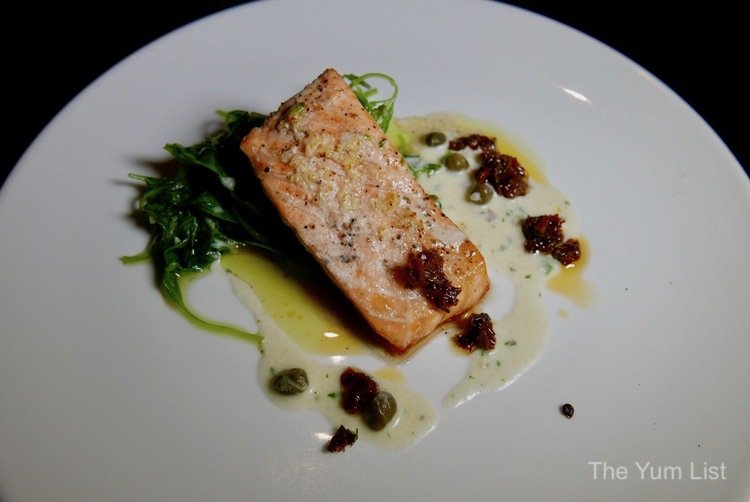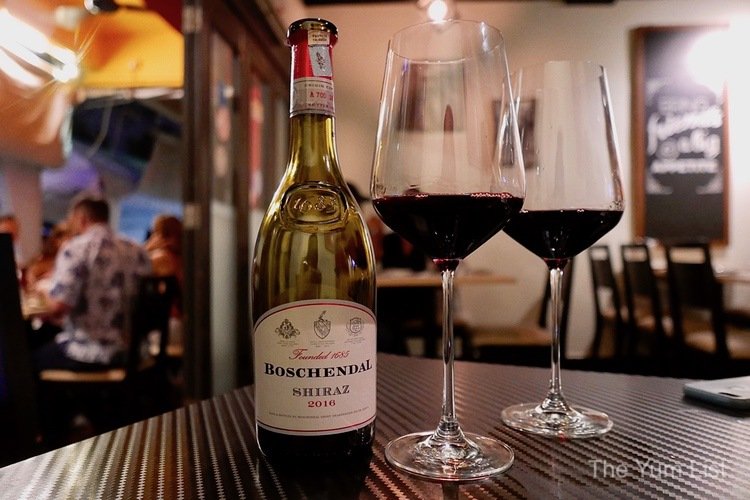 After all of this, dessert almost feels like overkill, but the beautiful plating soon has us tempted to dip our spoons in the chocolate finale! I love the intense flavour in the warm mixed berries scooping them up with the delicately creamy vanilla gelato and just a corner of the dense rich chocolate brownie at the centre of the dish.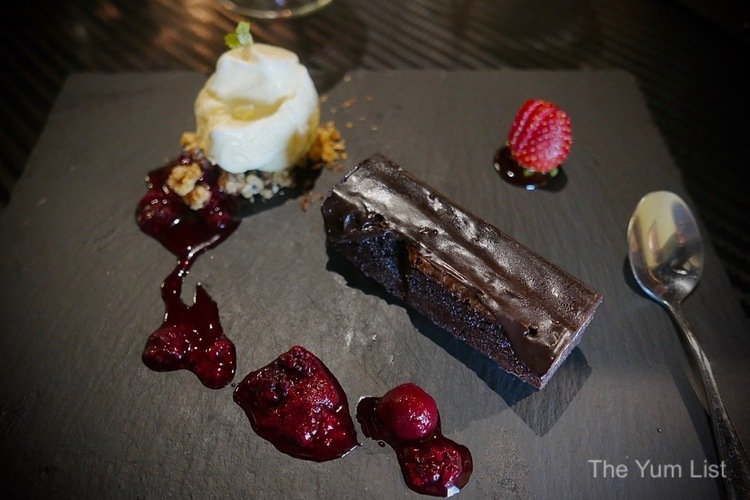 As usual, we have been treated like princesses and eaten like queens! I can only say, if you missed a 9 Vines Wine dinner this year, be sure not to make the same mistake next year. In the meantime, Sapore's signature dishes and the Boschendal wines await you year round.
Reasons to visit Sapore KL: flavourful food accompanied by quality wines.
Sapore KL – Spanish Italian Restaurant
18 Persiaran Ampang
Desa Pahlawan, 55000 Kuala Lumpur
Malaysia
+60 3 4266 6362
sapore18my.com