Monica Tindall
"A renaissance of old world values"
Madame Fan, at first glance, looks like a glamorous restaurant from colonial times. It's a place you imagine high-society wining, dining and making deals. The mix of old school and Chinese charm somehow, though, blend magically with a vibe of contemporary coolness. A DJ standing centre-stage in traditional Chinese costume oversees the restaurant infusing the air with the liveliness of modern beats pledging a chic presence.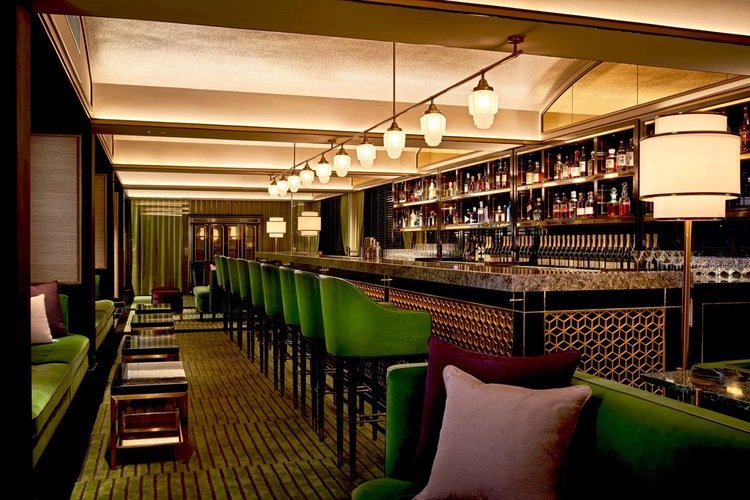 Celebrity restaurateur, Alan Yau, reengineers Cantonese cuisine at Madame Fan with a splash of Singapore and a spritz of style. French wine sommelier, Fabien Duboueix, ensures that just the right liquid indulgence is found for each guest's budget and personal tastes. And, the waitstaff makes sure that no glass is left empty, no dirty plates are let rest and that diners are comfortable and enjoying the experience.
Starter Menu Madame Fan
We've just had a wine tasting in the fabulous Stag's Room with sommelier Fabien. As such, he has learned our preferences and continues to please our taste buds with his intuitive pairings. A glass of pink Champagne, Guy Charlemagne Brut Rose ($43 glass), kicks off our meal with berry jam notes, elegant bubbles and carries just enough weight to balance our first duck dish.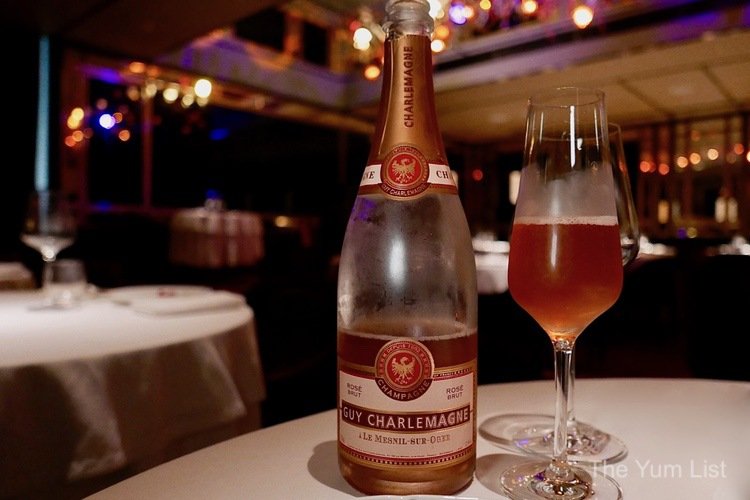 I hear how "absolutely beautiful" the Crispy Aromatic Duck is before I've even finished taking snaps of it as hubby has already tucked in and is declaring the restaurant a winner. He continues to switch between Spanish and English proclaiming its high points, "OMG. Que rico." The staff have kindly broken apart the duck and all we have to do is scoop some meat onto the paper-thin pancakes, top them with slices of baby cucumber, Thai spring onion and hoisin sauce. The duck is from London. Coming from a cold climate the bird is fattier than local species and hence richer in flavour. We wrap it all up together and it's one delicious bite.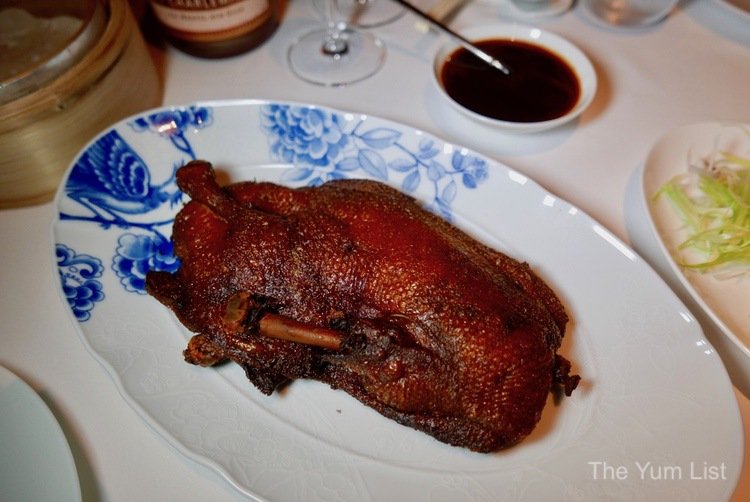 Four Treasure Soup is next. Double-boiled it is intense in flavour and brimming with sea cucumber, fish maw and dried Hokkaido scallops. A tropical note is gifted by the coconut bowl and banana leaf presentation. It's advised to first sip the soup solo. Then add a drop of vinegar and lastly add a sprinkle of pepper to play with the seasoning.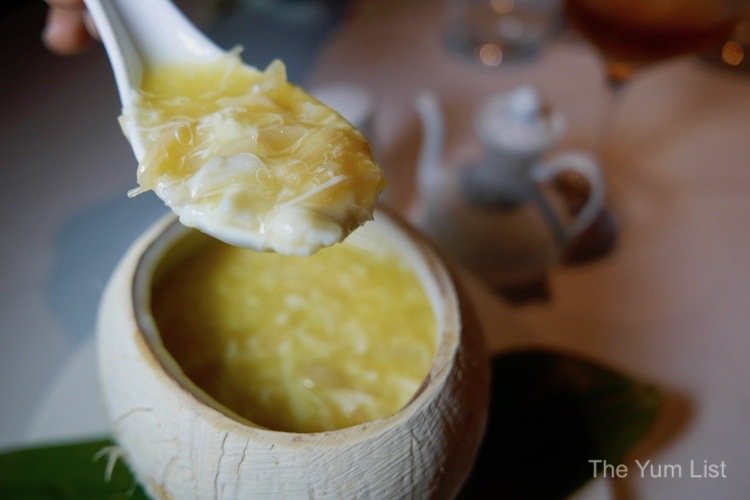 Madame Fan Menu
Just in time for our first main dish of fish arrives a drop from one of the top producers of Burgundy, Macon Vire-Clesse, Les Heritiers du Comte Lafon 2014 ($110 bottle). This Chardonnay has a typical buttery body with a good dose of minerality and crisp finish. It's quaffable on its own and also does well with the fish.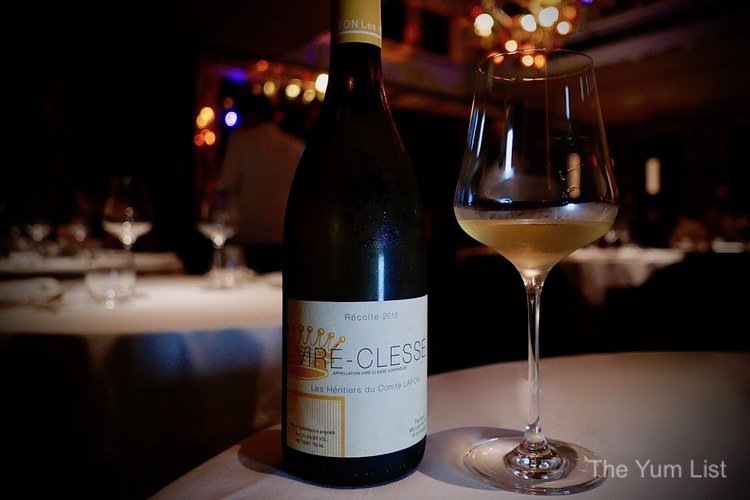 Our waitress shares with us that the steamed fish she is placing on our table is her favourite, Steamed Soon Hock (marble goby) with Hong Kong Pat Chun Premium Soy is simply served with ginger, coriander and spring onions. The freshwater fish sports a delicate flesh and on its own has a mild earthy flavour. Eaten together with the sauce, however, it is balanced and delicious making us yearn for a little rice to soak up the remains.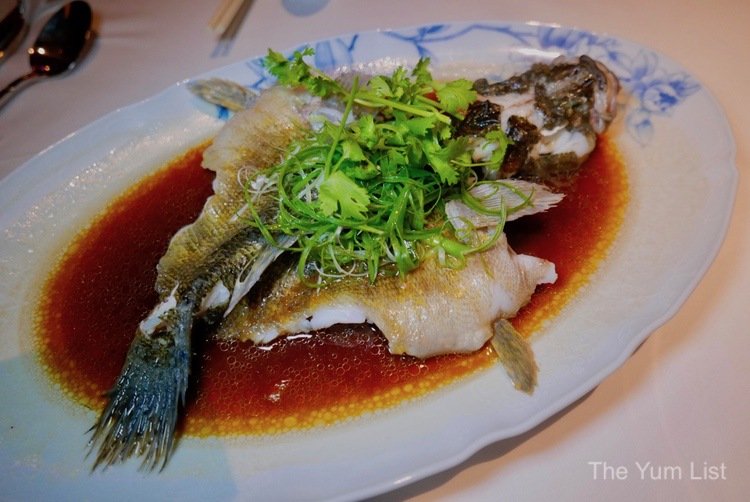 We move to red wine for the beef with one of the most iconic winemakers of Rhone. Half Grenache and half Syrah make the Mon Coeur 2015 Cotes-Du-Rhone Jean-Louis Chave Selection ($98 bottle). It's a simple wine with moderate fruit and a light spice. Its lack of complexity pairs suitably with the beef, which exhibits a wallop of punch from the pepper.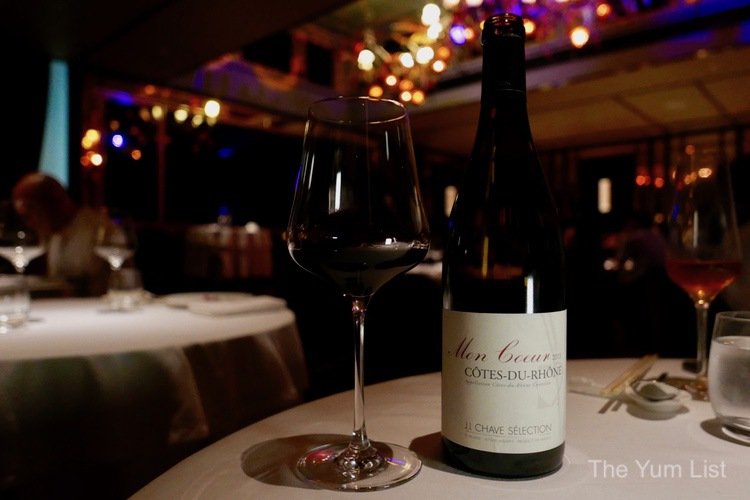 Pepper Beef made with Australian rib-eye and Sarawak black pepper is succulent, tender and absolutely delectable. The Bornean pepper leaves a light tingle on the tongue for me but an indelible burn for hubby. Lovers of spice should find this dish delightful but those more delicate of palate should be forewarned that the pepper dawdles in the mouth for quite some time.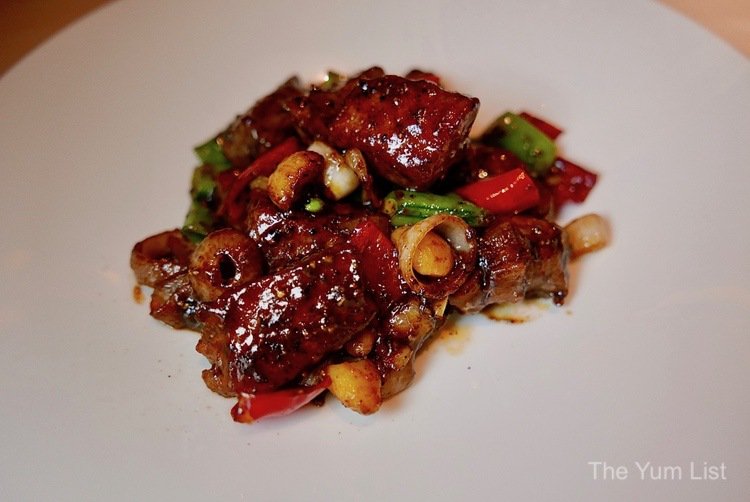 Lastly, Hand-cut Taiwan Noodles are a large bowl ensuring that no stomach pocket remains unfilled (with exception to the dessert pocket of course). Wind-dried pork similar to Italian porchetta and la la clams bring a level of saltiness to the recipe, which is smooth and mild on its own. Sleek and slippery, hubby ensures that not a noodle goes to waste and polishes off the entire bowl.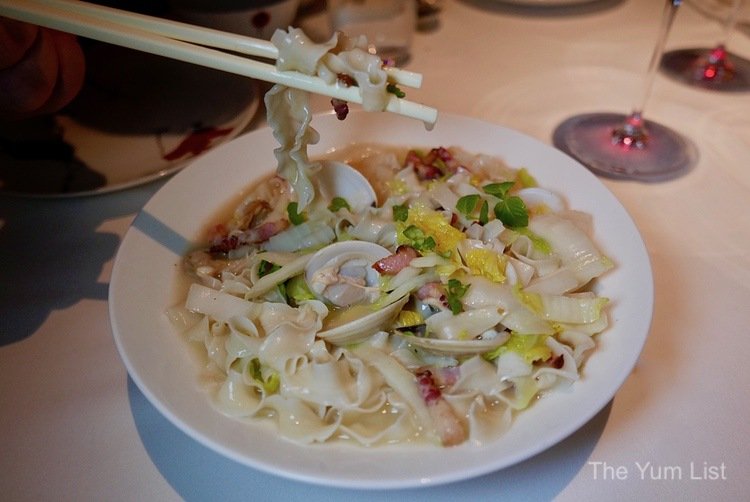 Dessert Menu Madame Fan
A fresh bowl of raspberries is a perfect fresh fruity ending to the meal. A smooth Sabayon with Sauternes Chateau Suduiraut 2009 coats the berries and hazelnut crumble adds crunch.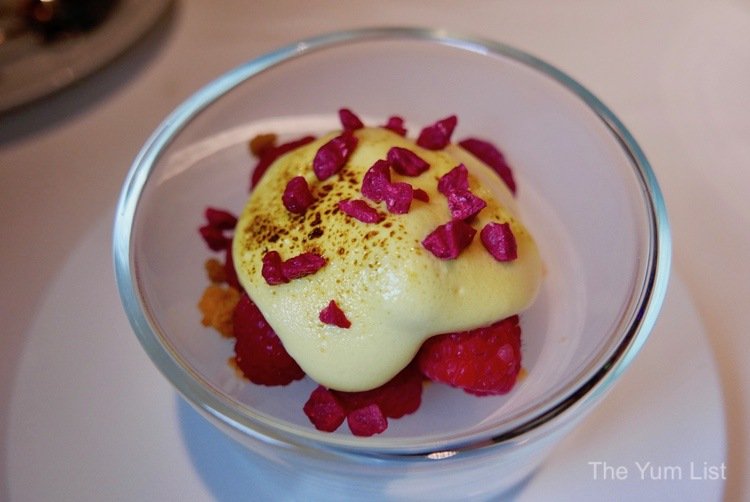 Madame Fan Review: an elegant meal in a dynamic setting; great wine list; friendly wait staff; must try the Pepper Beef and Hand-cut Taiwan Noodles.
Madame Fan Singapore
The NCO Club
32 Beach Rd
Singapore 189764
+65 6818 1921
[email protected]
madamefan.sg
Madame Fan Opening Hours:
Tuesday to Sunday
Lunch: 12 noon – 3 pm.
Dinner: 6 – 10 pm