Words: Monica Tindall
Photos: Rich Callahan
A good part of my 20s was spent in South America and it is with great fondness that I recall Chilean wine. As with many alcoholic beverages, part of the affection for a certain drink comes from the flavour but also a good deal extends from the moments surrounding the time spent drinking it. New friends, grand adventures and the excitement of having a whole continent waiting my discovery come flooding back as warm memories with every sip from the south.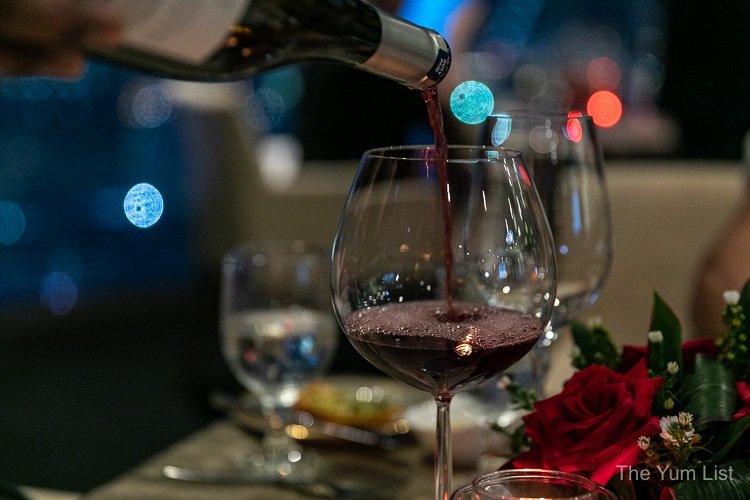 Cono Sur's distinctive bicycle label sends me back in time almost two decades. With a focus on quality, innovation and sustainability, Cono Sur Vineyards and Winery have risen to become one of the most recognized labels of Chilean wines around the globe. Elegant pinot noirs have turned out to be leading characters in the brand but, in general, the company is associated with a wide variety of expressive wines representative of the new world.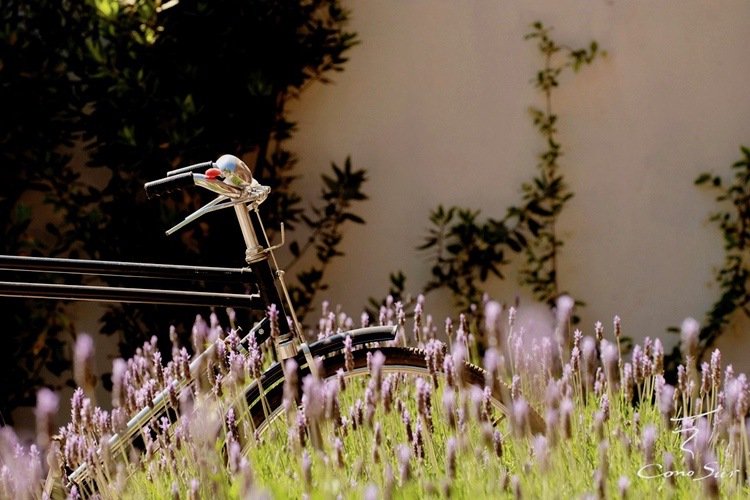 José Tomás Gillet, the representative for Cono Sur Vineyards and Winery, joins us at a dinner highlighting four approachable wines from the brand in a dinner on Samplings on the Fourteenth in Berjaya Times Square Hotel. Jose describes Chile as a paradise for viticulture: ideal in climate and terroir and isolated from contamination. We're about to see how these model conditions translate to the wine.
Chilean Cono Sur Wine Dinner, Samplings On the Fourteenth
Appetizer & Cono Sur Reserva Especial Chardonnay 2016
Carpaccio of Salmon with pepper terrine, pickles and a citrus dressing kicks off the meal. It's prettily presented with red and green peppers and pickles in a light gel held together in the form of a half sphere. Pieces of pink grapefruit, pickled daikon radish, capers, thin garlic toasts and crisp dried deep-fried salmon skin contribute texture and additional layers of flavour. An ideal match and a young, clean wine is found in the Cono Sur Reserva Especial Chardonnay 2016. Highly aromatic with notes of tropical fruits, citrus and some floral hints, it follows through as nicely concentrated in the mouth and leaves with a fresh, lingering finish.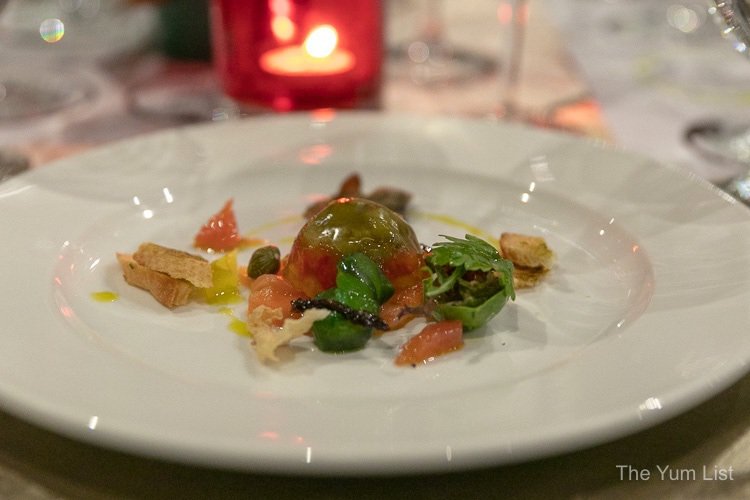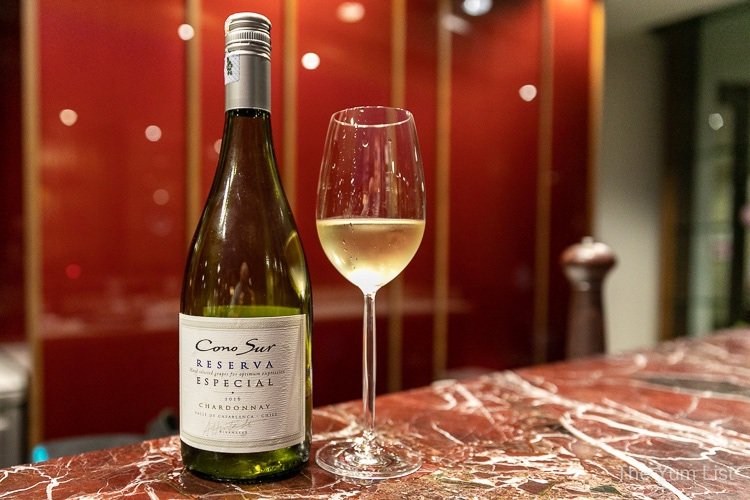 Warm Appetizer & Cono Sur Reserva Especial Pinot Noir 2016
Smoked Duck Breast with a polenta cutlet topped with morels and mushroom fricassee (porcini, button mushrooms and shimeji) is delicious in all of its components. The earthiness of the fungi and the richness of the duck is the perfect pairing for pinot noir. Cono Sur is one of the biggest producers of Pinot Noir in the world and their Bicicleta range is the bestselling Pinot Noir in the UK. As such, we're excited to try the Cono Sur Reserva Especial Pinot Noir 2016. Typical notes of dark berries and stone fruits come to the nose and added layers of complexity are found with whispers of flowers, coffee and chocolate. It's a hit at our table (and the table across from us as they raise their glasses to us with the first sip) and pleasantly lingers in the mouth.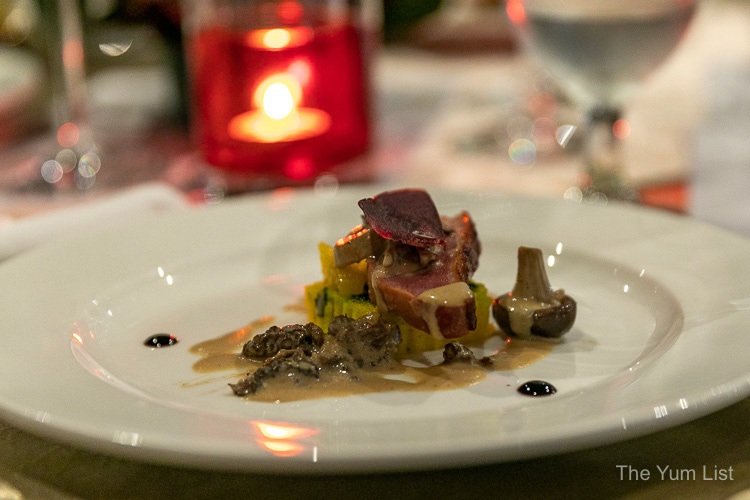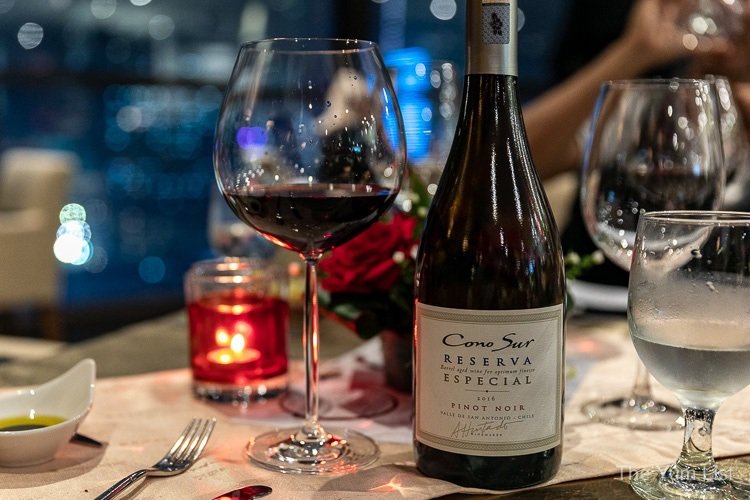 Soup
We continue sipping the pinot noir with the Jerusalem Artichoke Veloute. The soup is warm and lightly textured, with chicken quenelle and green oil complementing the grain.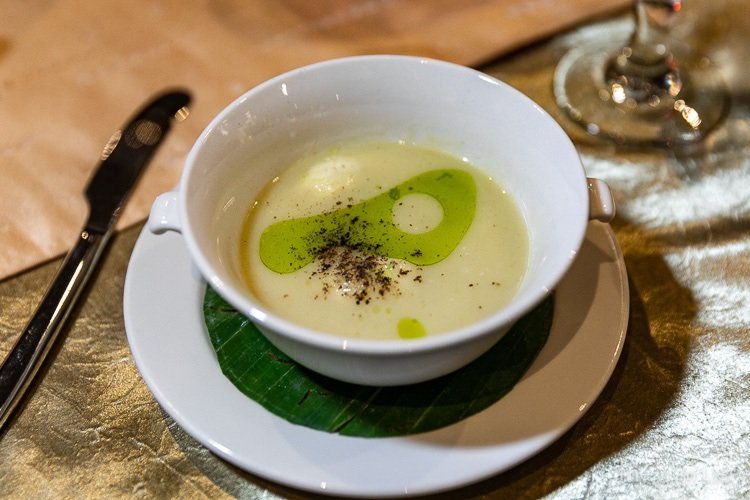 Palate Cleanser
The Citrus Sorbet is an intriguing palate cleanser in that it is almost the same consistency as a raw meringue. It's not icy but rather chilled and creamy. It's a pleasant surprise that has stirred conversation; not the norm surrounding a sorbet.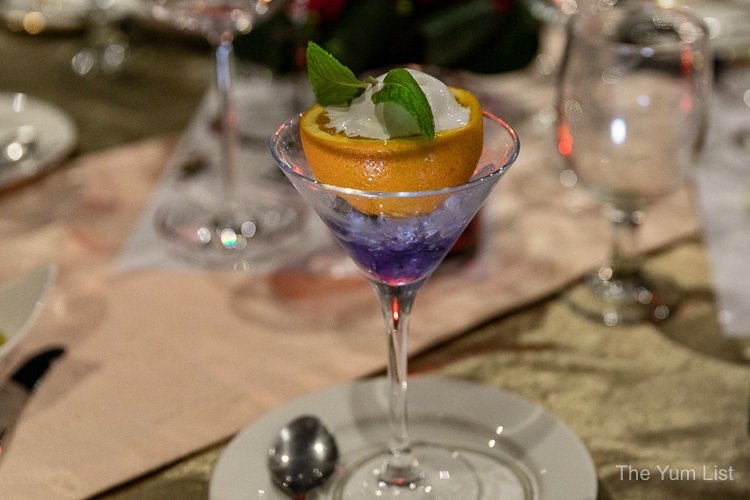 Entrée & Cono Sur Single Vineyard Pinot Noir 2016
Confit of Red Snapper is a solid piece of white fish accompanied by cilantro quinoa that has been pan-fried until crispy, a robust tomato jam and fennel coulis. It has us sipping back and forth between the last remnants of the chardonnay and the newly introduced pinot noir. The fish on its own does better with the white but taken together with all of the elements the red is a fine match. Cono Sur Single Vineyard Pinot Noir 2016 is a bright ruby-red in the glass with a bouquet of berries and tobacco. A full, juicy body elegantly coats the mouth and departs with smooth tannins and crisp acidity. It's slightly more complex in the mouth than the previous wine with a persistent finish and something that causes us to pause to take a few moments to contemplate its layers.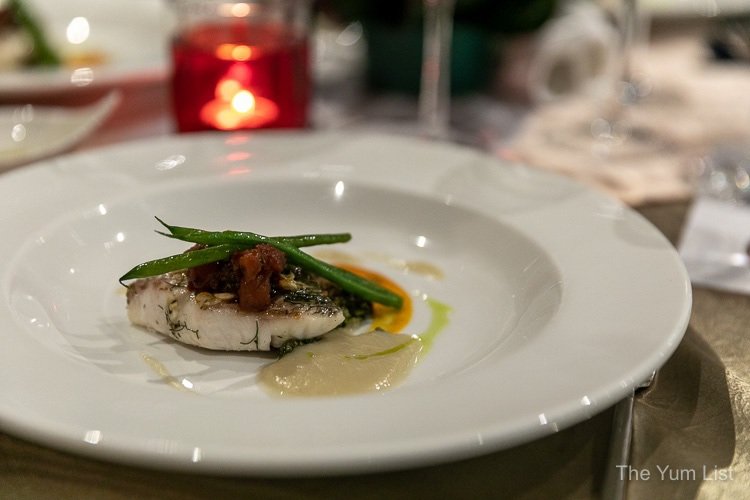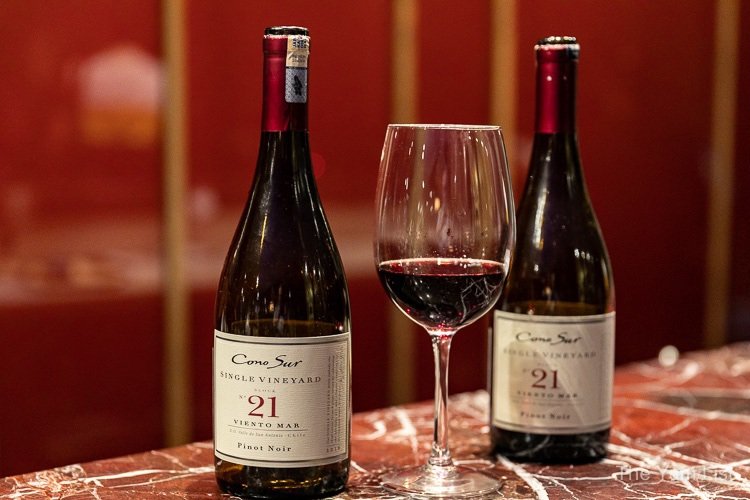 Main Course & Cono Sur Single Vineyard Cabernet Sauvignon 2016
The flavours climax with the main course and wine pairing. Medallion of Rib Eye is partnered with sous-vide vegetable, provençal sauce – herbs, garlic, onion, olive oil – and its own jus. The vibrant ruby red characteristics of the Cono Sur Single Vineyard Cabernet Sauvignon 2016 match the medium rare doneness of the meat. Rich aromas of fruit with touches of ash and tobacco greet the nose and this intensity continues on the palate. The mouth is concentrated, full, smooth and balanced with persistent tannins. It's ideal for this red meat pairing but would also marry well with cheese and bread.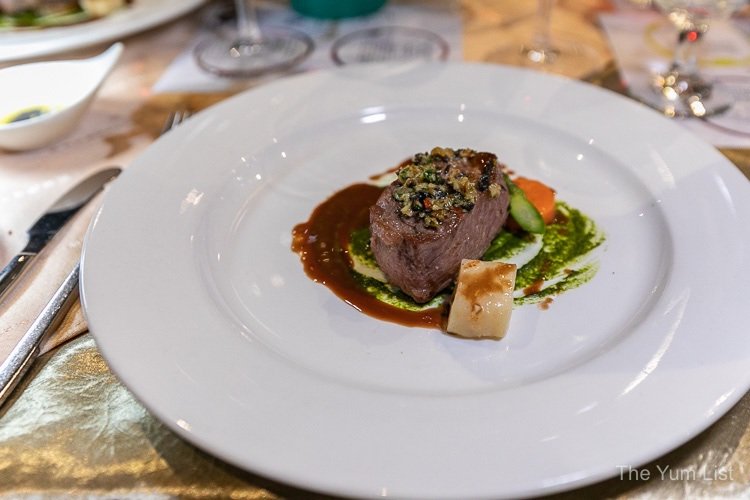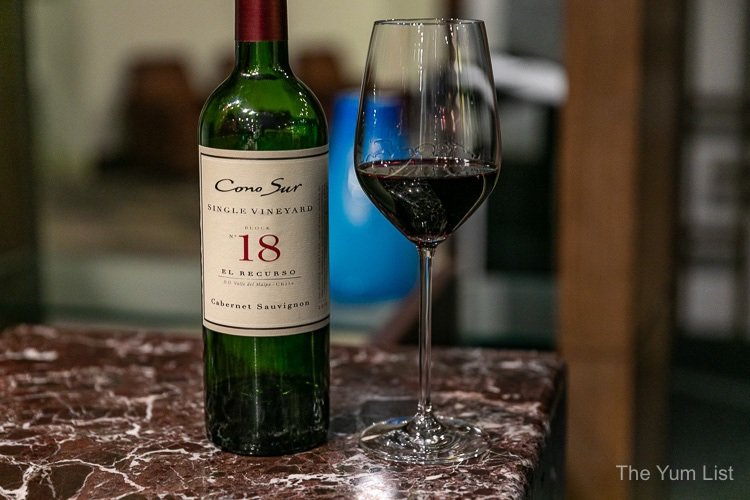 Dessert
White Chocolate Yoghurt Crémeux with pistachio ice cream and raspberry gel completes the dinner. Coffee or tea wash away the final sweet ending or the last drops of wine do the job equally well.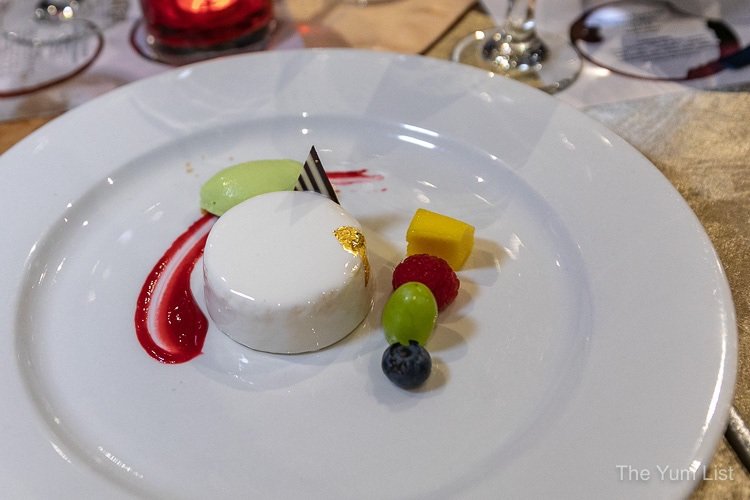 Samplings On the Fourteenth
Berjaya Times Square Hotel
1 Jalan Imbi
55100 Kuala Lumpur
Malaysia
+6 03 2117 8000
www.berjayahotel.com